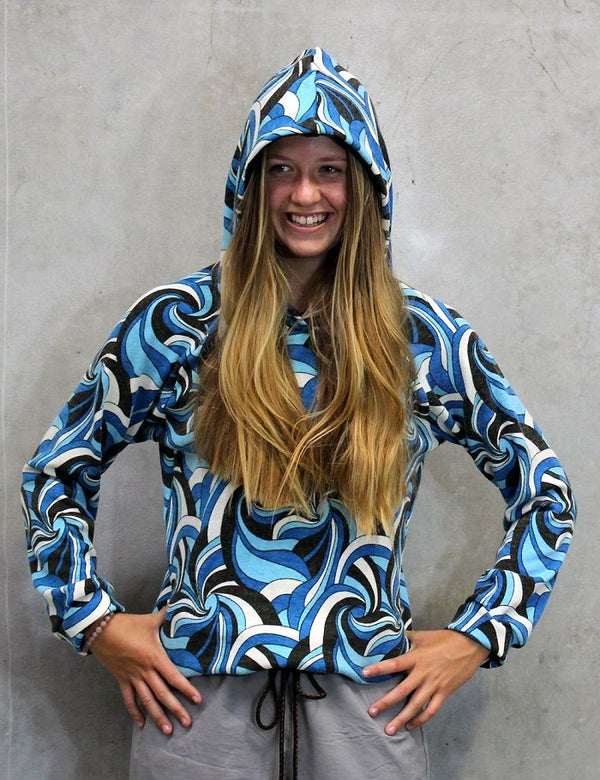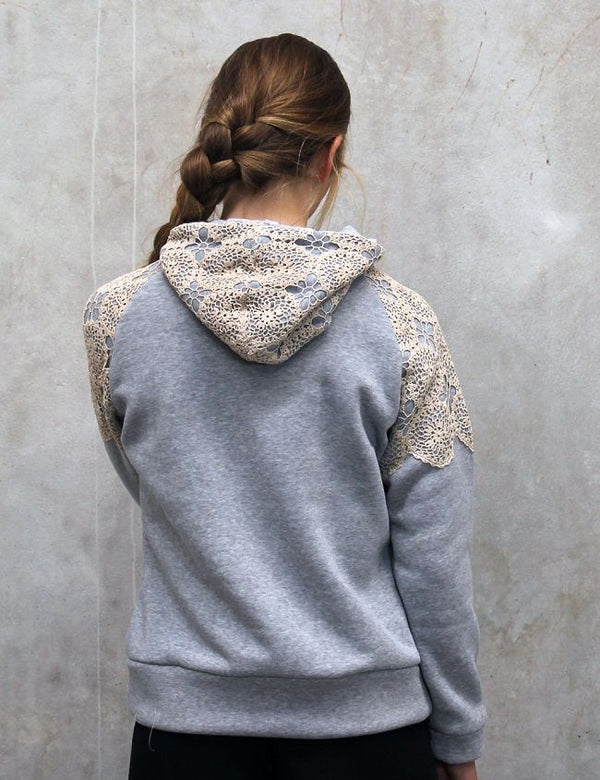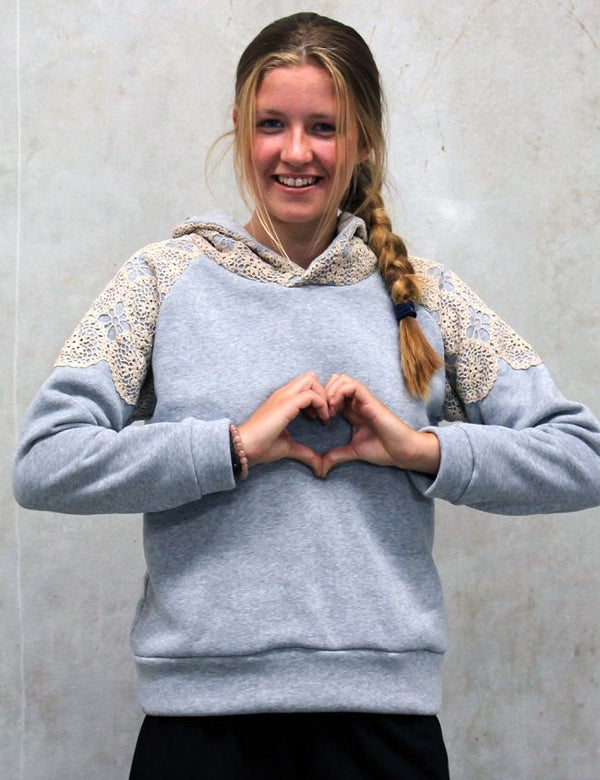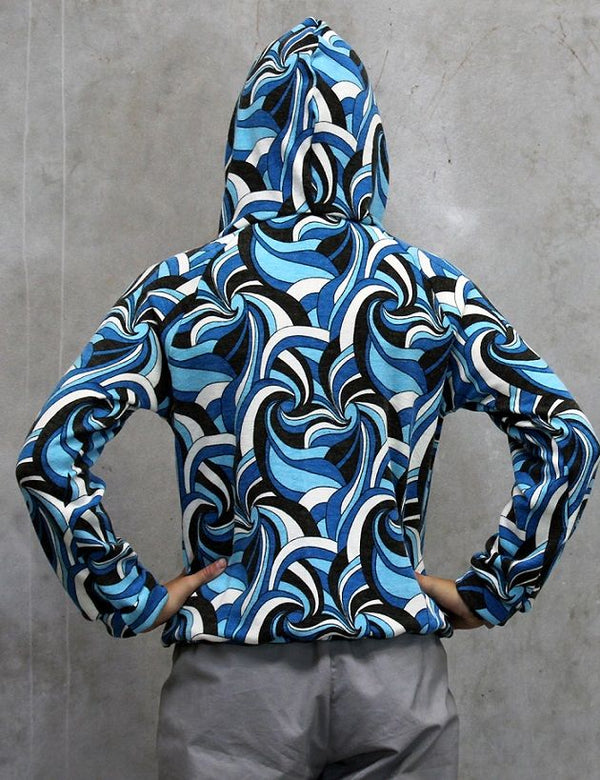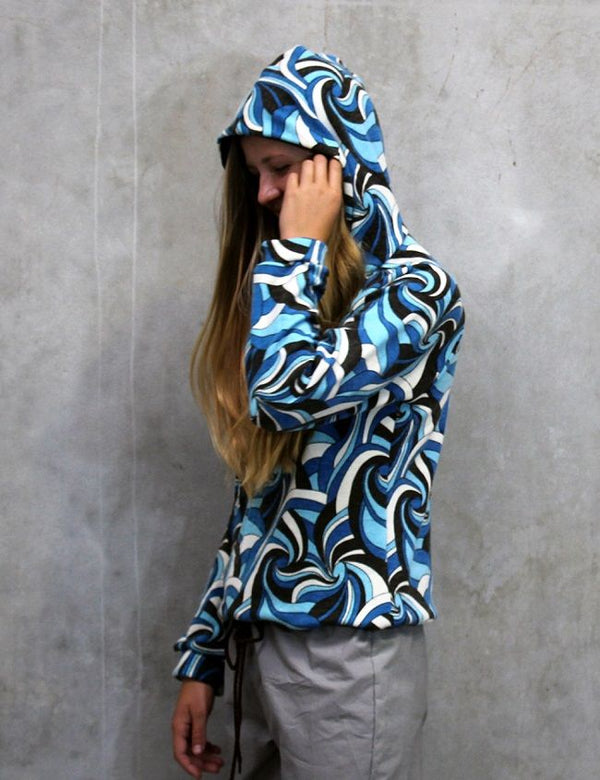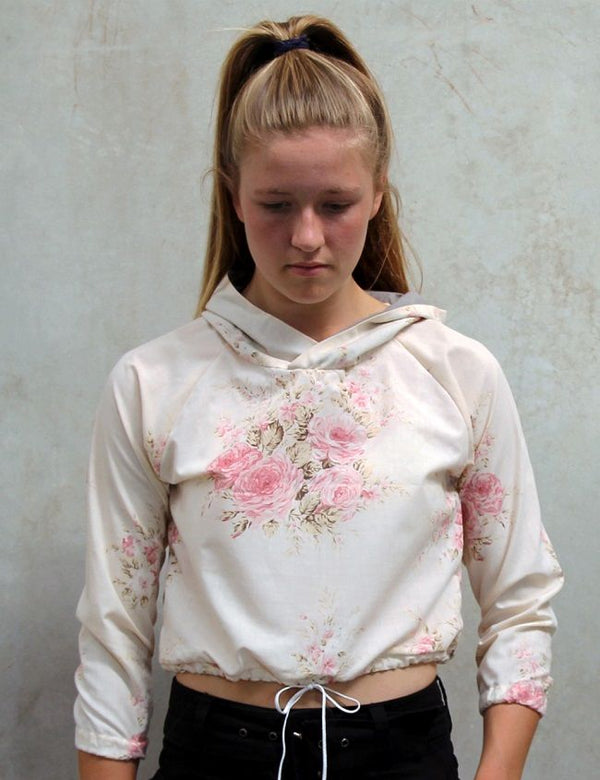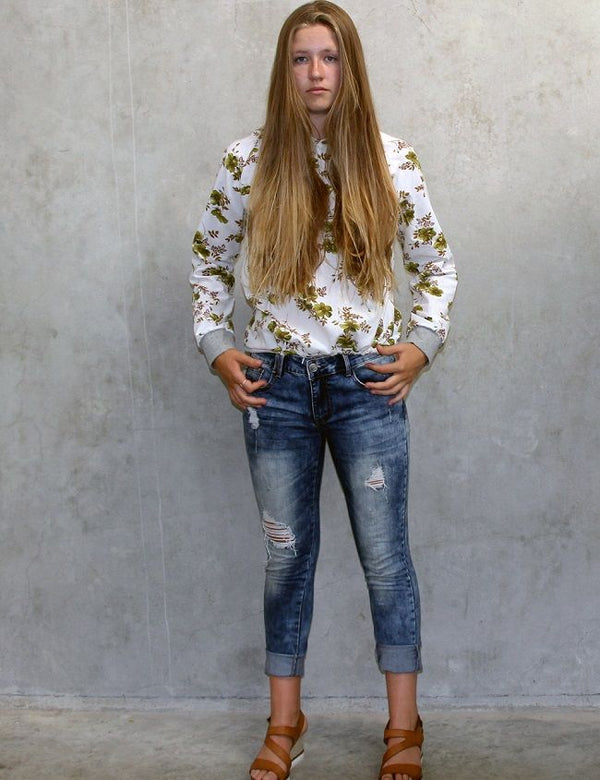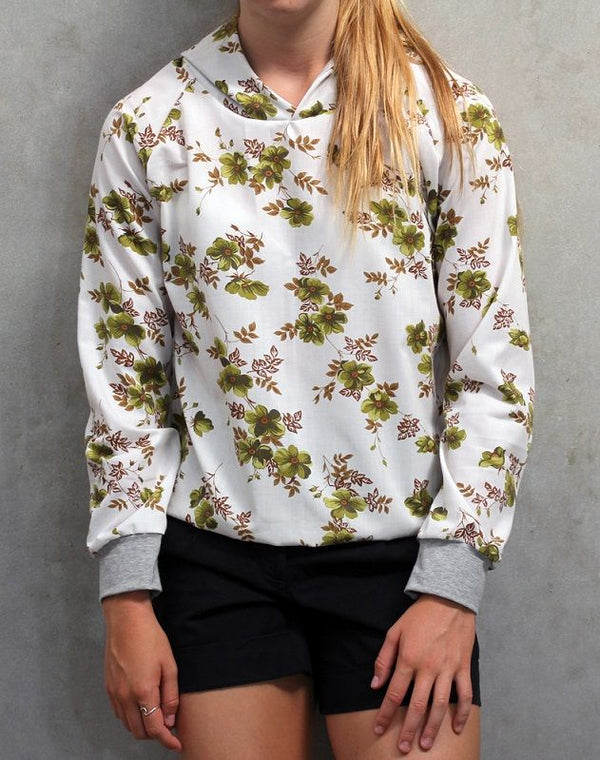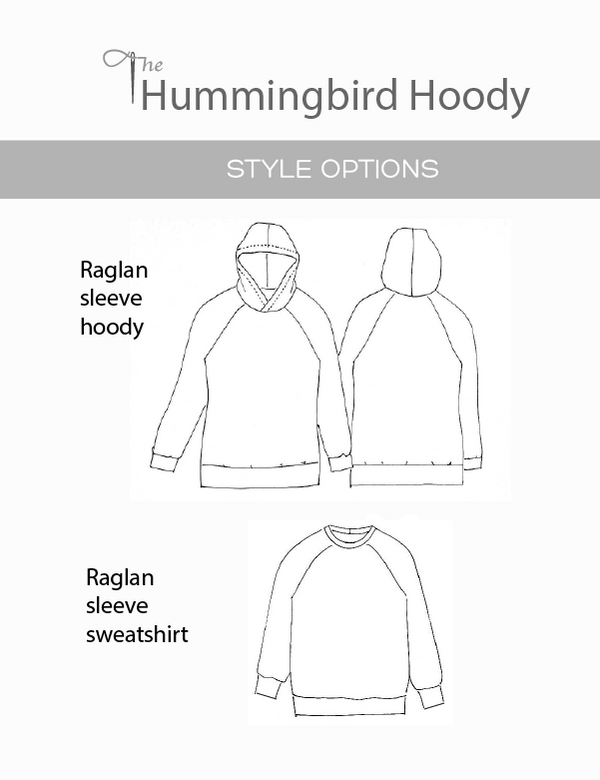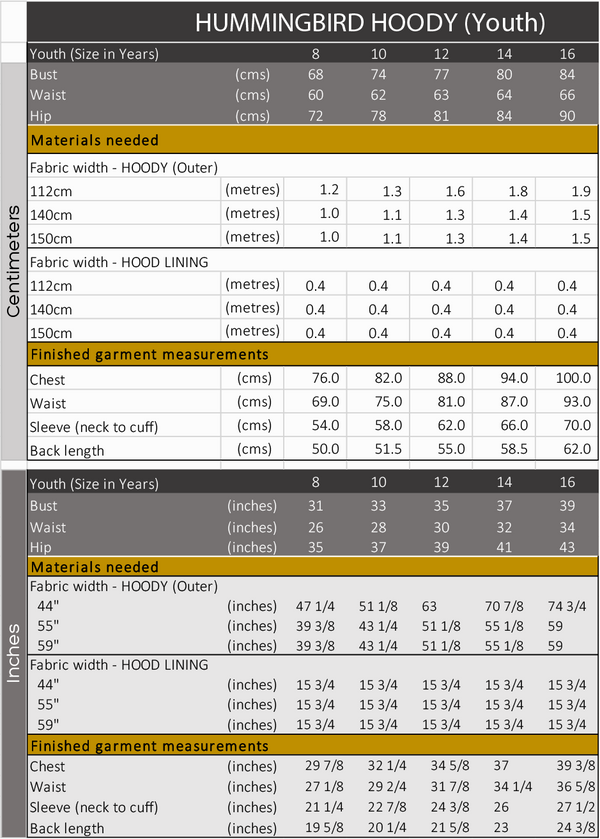 Hummingbird Hoody & Sweatshirt (Youth)
Super easy hoody pattern for beginners. No pockets. 
Great for active wear or smart casual, this hoody can be be made from warm winter knit or a light cotton weave for summer fashion. Full length, cropped or lengthened into a Hoody dress this pattern is extremely versatile.
Unleash your creative and make your hoody unique by embellishing it.  Line the hood with a contrasting fabric or add a screen printed image.  Ideas for embellishing are on our Pinterest Page. Our grey hoody has been embellished with an old crochet table cloth bought from a second hand shop and we love it.
This pattern is extremely versatile, made with or without the hood, winter or summer weight fabric, and either at full length or cropped.
STYLE VARIATIONS
Full length or cropped

With or without the hood

Elasticated cuffs or stretch knit

Warm knit and/or fleece fabric or a totally different look in lightweight wovens

Contrast sleeves, hood linings and cuffs

Embellished

Hoody dress - this pattern is able to be "hacked" by simply extending the length of the hoody. 
You might like to refer to the following blogs for pattern hacks and inspiration:
Embellishing your Hoody
Cropping the Hummingbird Hoody
Share your makes on Instagram & Facebook tagging #HummingbirdHoody #HummingbirdSweatshirt and @thesewingrevival
FABRIC
Please refer to the FABRIC REQUIREMENT CHART as one of the last images on this product listing. You can magnify this image if viewing it on a mobile phone whilst in a fabric store.
WINTER WEIGHT:  
Heavy knits like fleece cotton*, polar fleece, merino wool and wool mixes (for a winter hoody)
Our grey sample is made up in cotton sweat shirting and embellished with a second-hand crochet table cloth, the knit hoody was sewn from a polyester/acrylic knit.

SUMMER WEIGHT:
You may like to use a cotton or lightweight fabric to make a summer style hoody. This looks good cropped at the waist with a drawstring gather. Cotton, linens and cotton/polyester/rayon mixes are great for this but note that you might like to choose a larger pattern size than normal as woven fabrics do not stretch. Click the "Style Options" tab to learn more about the pattern variations.

The pink Crop Hoody & the green summer weight full length hoody have been made from sheets we found at the second hand store. 
Notes for woven fabric:
If you are planning to make the hoody in a summer weight fabric (like woven cotton) then you need to be mindful that a woven fabric does not stretch. There ware 2 ways to address this:
(a) you can cut out your bodice pieces slightly larger, by adding 1cm (3/8") more to the centre front and centre back or,
(b) use a pattern one size bigger than you normally would, and adjust the sleeve and body length to fit when hemming.

*Please also note that all (new) fabric should be pre-washed in case of shrinkage. Some fabrics will not shrink but 100% cotton, linen and rayon are almost guaranteed to shrink. It doesn't hurt to be safe and remove any dodgy chemical build up that may have occurred during printing anyway.
DIFFICULTY
Confident Beginner (3/10).
SIZE & FITTING
The Hummingbird Hoody (Youth) PDF pattern is available in sizes 10-16 years with 2 different purchasing options:

WHAT DO I GET WITH MY PURCHASE?
A. Print-at-home (on A4 or letter paper).  When you purchase this pattern you receive all YOUTH SIZES 10-16 years. Use the Adobe layers feature to print only the size you need (instructions included). Refer the Size Chart for help if you need. The Womens Hummingbird Hoody pattern is available here.
B. School Packs (for printing on A4 or letter paper). You can choose a Class Bundle of 30 or 10 downloads. Learn more about class bundles here.
INSTANT DOWNLOAD available immediately after checkout.

Opening the file in ADOBE READER will maximize the pattern features (Layers feature will allow you to print only the size you need.  You can also use the URL and bookmark links within the file to quickly access information and support).
Reviews
Customer Reviews
Brilliant day sewing with my daughter.
Thank you! My daughter and I had so much fun working together making her the hoody... She loves it and wears it ALL the time!! We will be back for more of your fun, easy and funky patterns - thanks again.