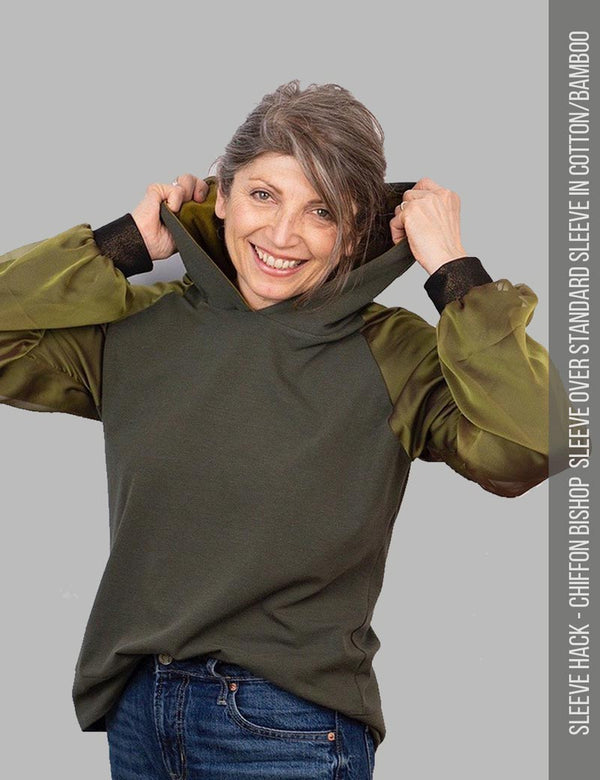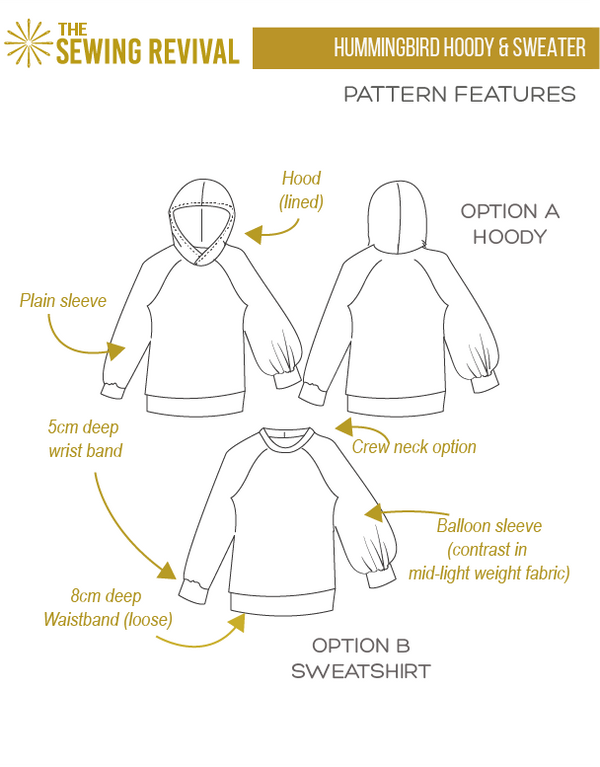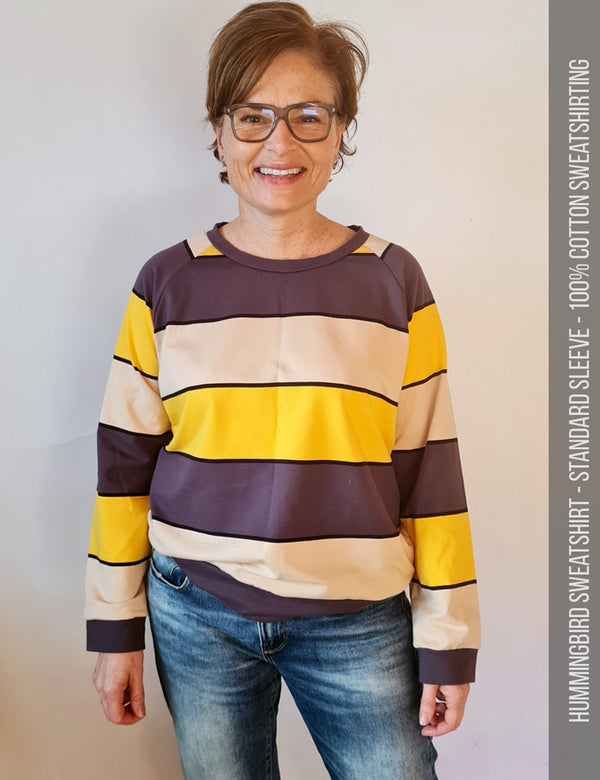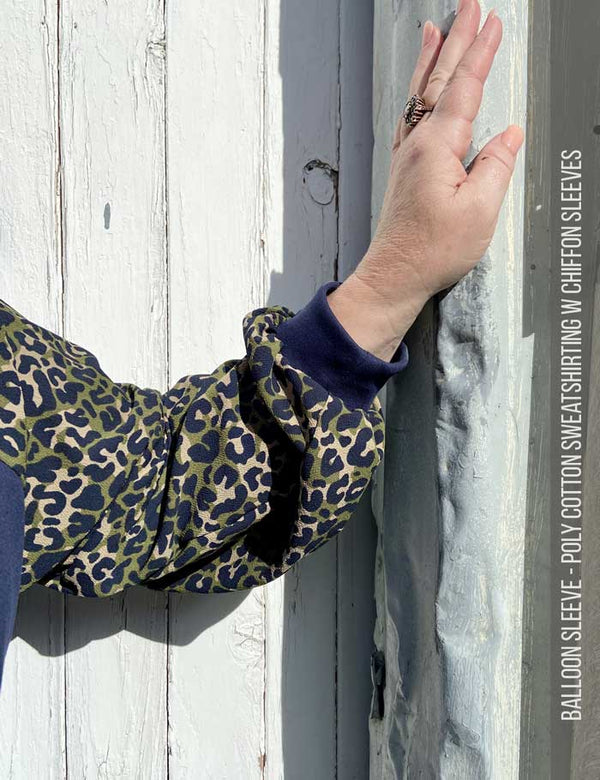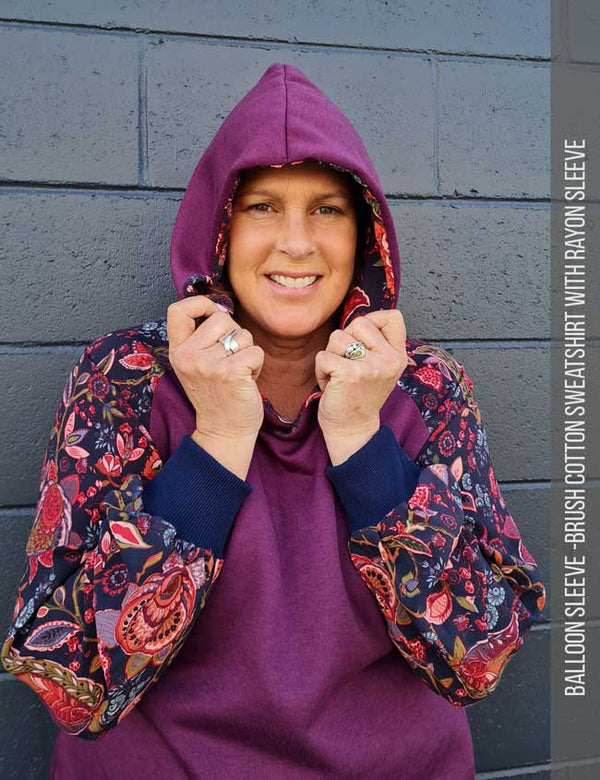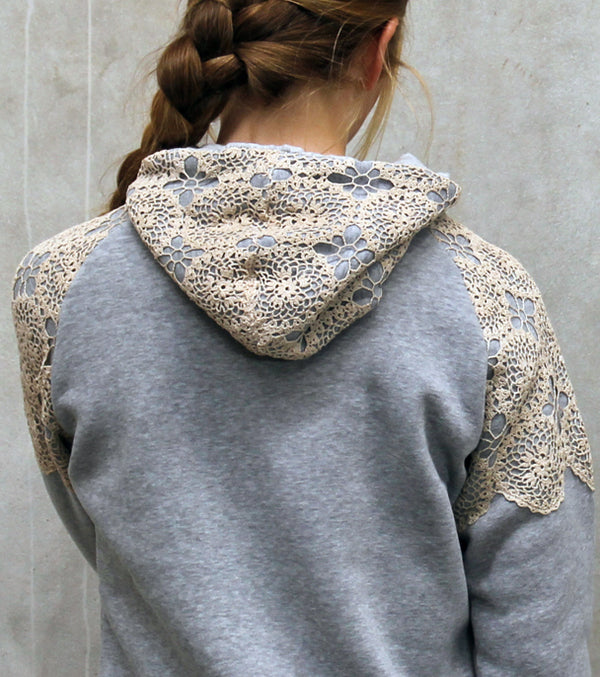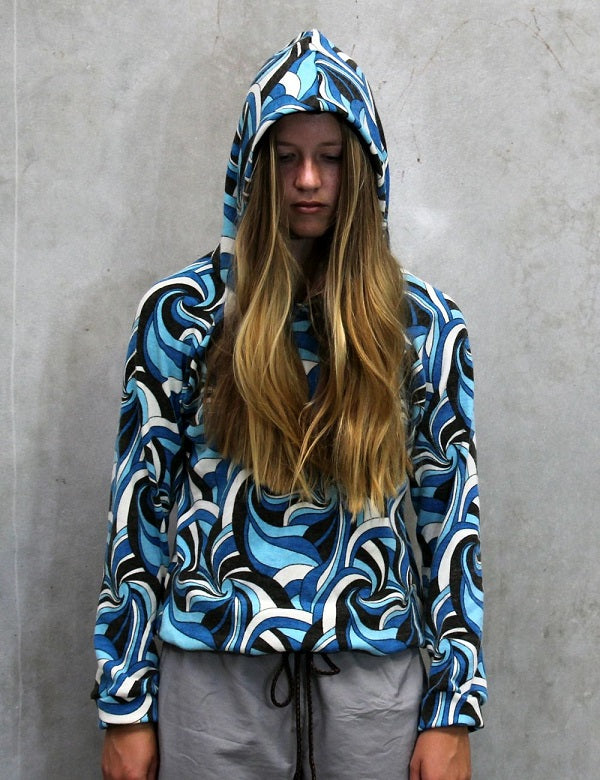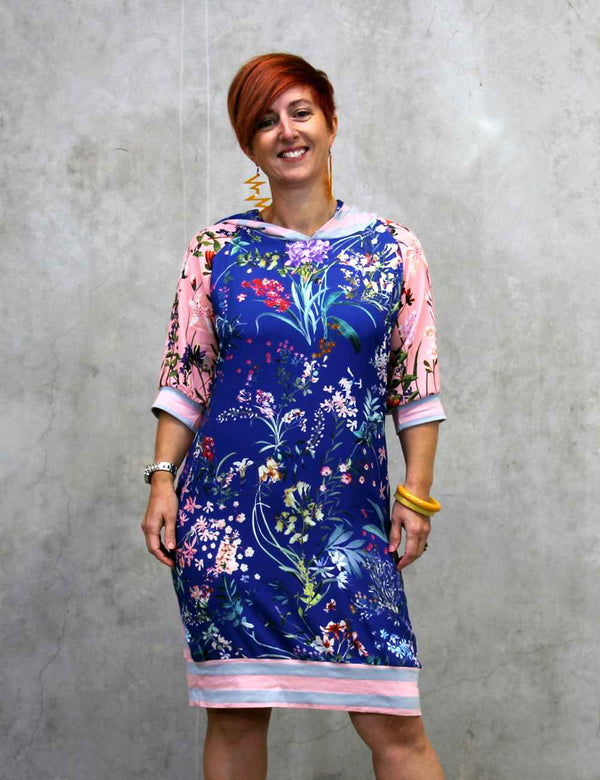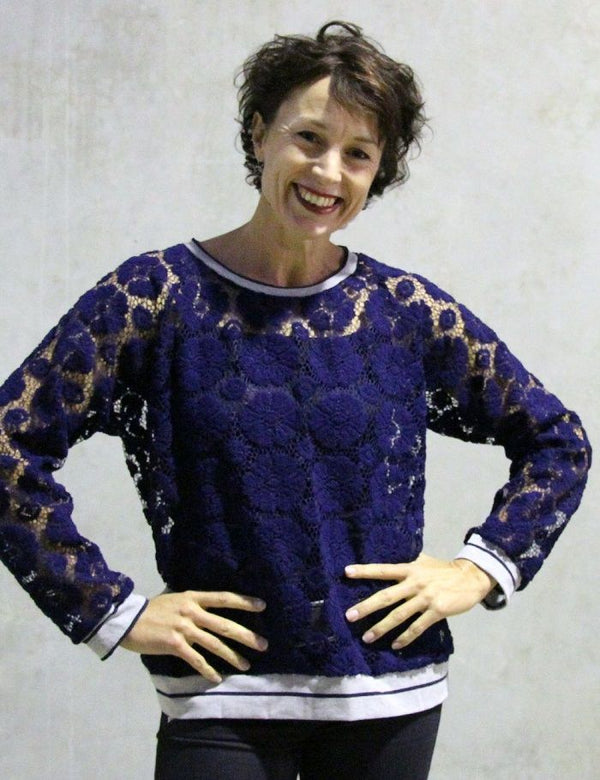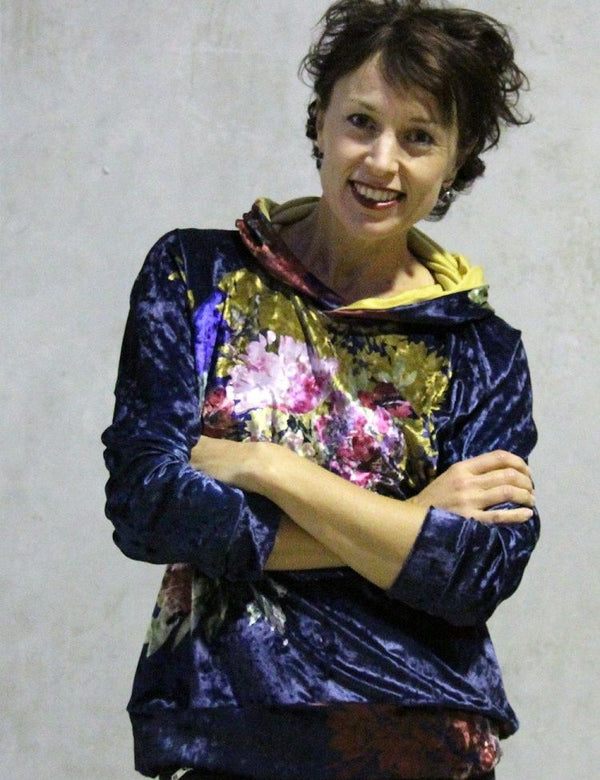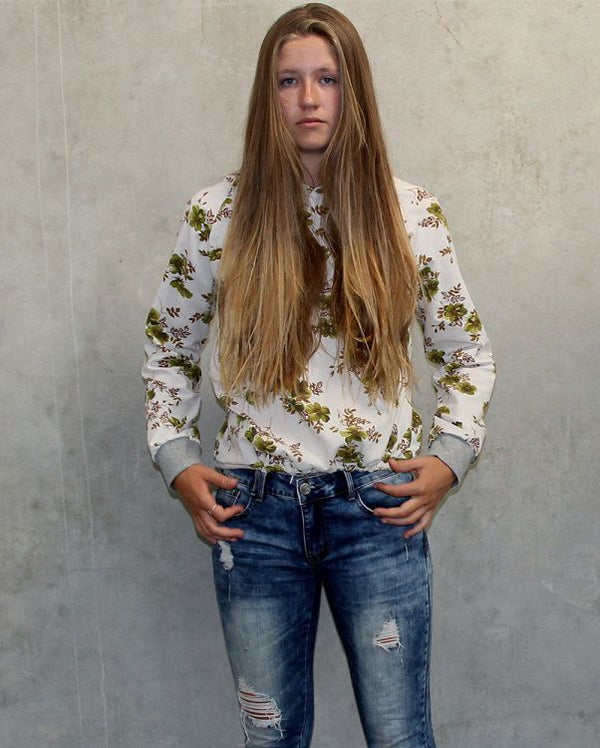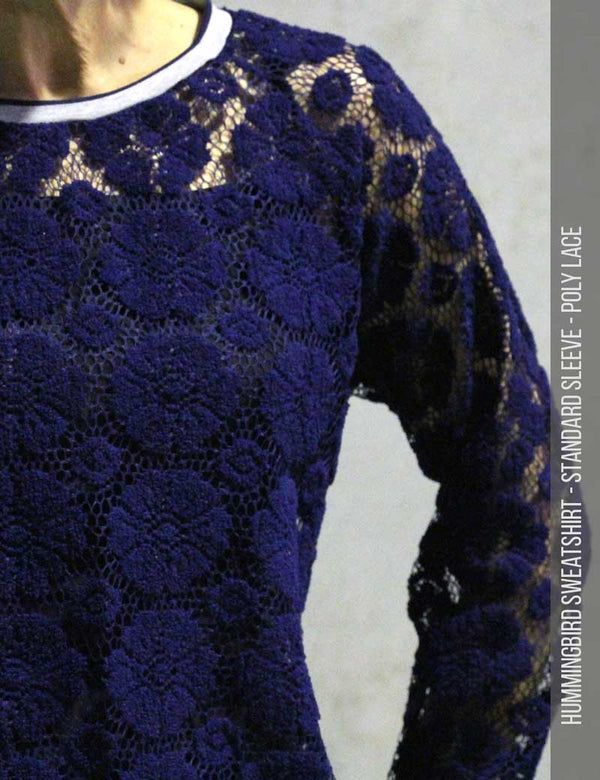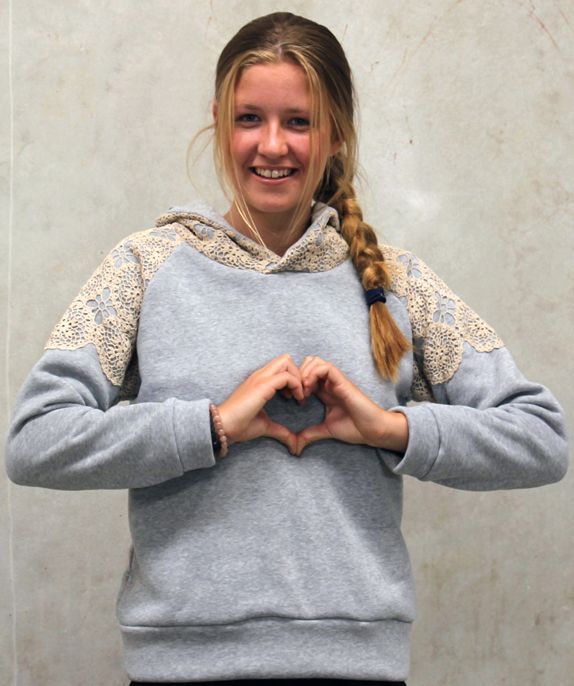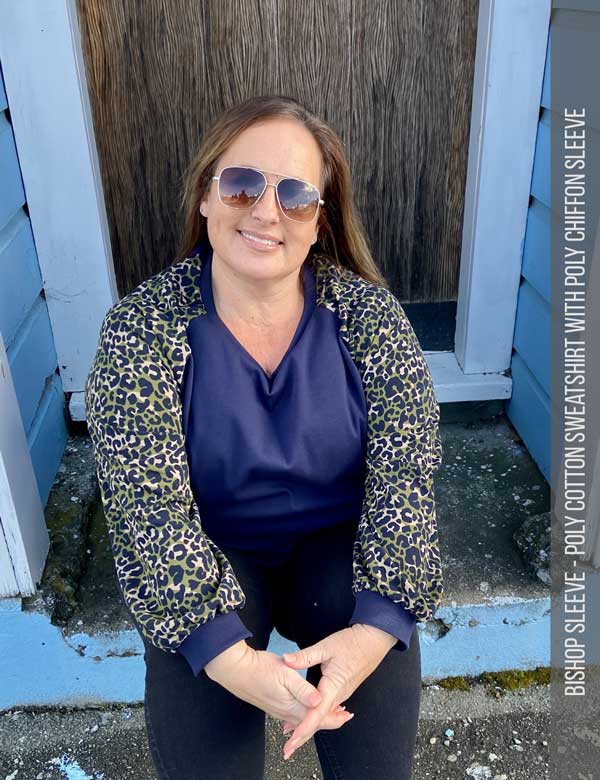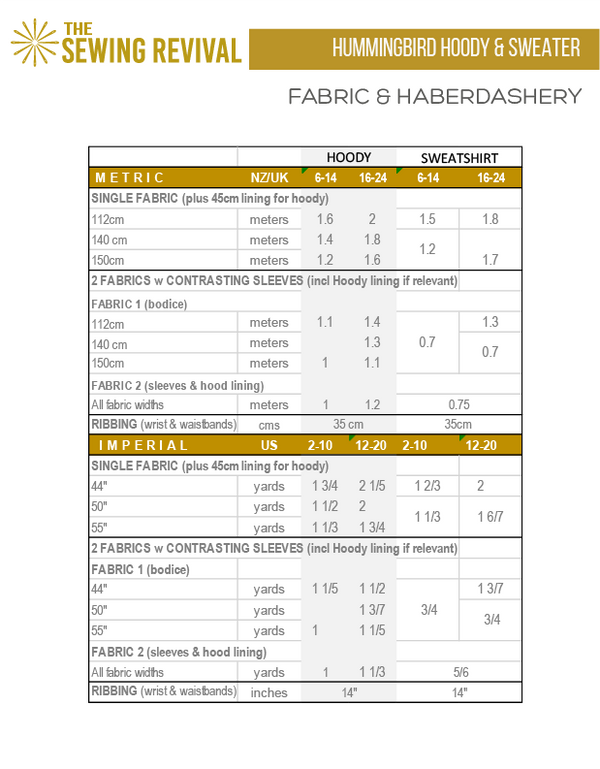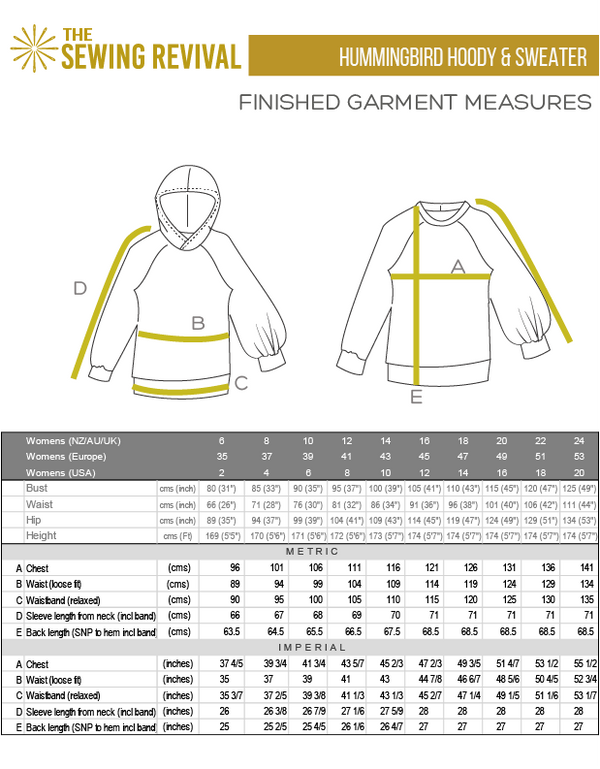 Hummingbird Hoodie & Sweatshirt
Super easy hoodie & sweatshirt pattern for beginners - which can also be lengthened to a dress.
This PDF sewing pattern can be be used to sew up a warm winter knit hoodie or a light cotton weave sweatshirt for summer fashion. Full length or cropped this pattern is extremely versatile.
Unleash your creative and make your hoodie or sweatshirt unique by embellishing it, or use fabric a little "out of the ordinary".   The full bishop sleeve is purposefully designed to contrast in a lighter weight fabric which will better gather at the wrist.  Ideas for embellishing are on our Pinterest Page. Our grey hoodie has been embellished with an old crochet table cloth bought from a second hand shop and we love it. We have also sewn samples from crushed velvet and an old cotton sheet (fantastic for summer).
PATTERN FEATURES:
Hoodie or sweatshirt

Standard sleeve or full sleeve in contrasting fabric
Raglan sleeves for easy fit
Wide waistband for drape, shape and durability
Versatile fabric options - heavy weight sweatshirting for winter or light weight cottons, chiffons, rayons or even silks for summer
Full length or cropped 
Hoodie can be lined with contrasting fabric
Easily embellished (see this

tutorial for inspiration

)
Sizes NZ/AU 6-24 | US 2-20 (purchased in size bundles of 4)-refer purchasing options

Share your makes on Instagram & Facebook tagging #HummingbirdHoodie #HummingbirdSweatshirt and @thesewingrevival

FABRIC
Please refer to the FABRIC REQUIREMENT CHART as one of the last images on this product listing. You can magnify this image if viewing it on a mobile phone whilst in a fabric store.
BODICE: We recommend that the bodice is sewn from a sweatshirt weight fabric (approx 300gms) - eg (mid-weight brushed or non brushed cotton sweatshirting). You may also use other mid weight knits.
SLEEVES: You can sew the standard sleeve in the same fabric as the bodice or choose to contrast it with a light weight woven fabric (like chiffon, rayon, cotton, tencel or blends). We recommend that the full bishop sleeve is sewn in a lighter weight woven to allow for gathering at the wrist into the wristband. The full sleeve was specifically designed to contrast in a lighter weight fabric.
CUFFS, NECK & WAISTBANDS we recommend are sewn in ribbing or a cotton with elastane to allow stretch over your wrist and head. If your bodice fabric has stretch and good memory (a lycra/cotton blend) then you can also use that.
WINTER WEIGHT:  
Heavy knits like brushed or unbrushed cotton*, merino wool and wool mixes (for a winter hoody) or other mid weight knits.
Our grey sample is made up in cotton sweat shirting and embellished with a second-hand crochet table cloth, the knit hoody was sewn from a polyester/acrylic knit.

SUMMER WEIGHT:
You may like to use a cotton or lightweight fabric to make a summer style hoody. This looks good cropped at the waist with a drawstring gather. Cotton, linens and cotton/polyester/rayon mixes are great for this but note that you might like to choose a larger pattern size than normal as woven fabrics do not stretch.

Notes for woven fabric:

If you are planning to make the hoodie in a summer weight fabric (like woven cotton) then you need to be mindful that a woven fabric does not stretch. There ware 2 ways to address this:
(a) you can cut out your bodice pieces slightly larger, by adding 1cm (3/8") more to the center front and center back or,
(b) use a pattern one size bigger than you normally would, and adjust the sleeve and body length to fit when hemming.

*Please also note that all (new) fabric should be pre-washed in case of shrinkage. Some fabrics will not shrink but 100% cotton, linen and rayon are almost guaranteed to shrink. It doesn't hurt to be safe and remove any dodgy chemical build up that may have occurred during printing anyway.
DIFFICULTY
Suitable for Beginners. This hoodie or sweater is able to be sewn with or without an overlocker (serger). 
 Check out our Tips on Sewing Knits. 
SIZE & FITTING
This PDF pattern is available in sizes NZ|UK 6-24 (US2-20) & Youth (8yrs to 16yrs)
WHAT DO I GET WITH MY PURCHASE?
Please note you are purchasing a digital pattern that will be sent directly to your email inbox after payment. You can print this pattern at home on A4 or US letter-sized paper or take it to a print shop for large scale printing (AO size). *You will not receive a hard copy printed pattern.*
Instant download available immediately after checkout includes:

1. Instructions
2. PAH Pattern file (PAH=Print at home)
For printing in A4 or US Letter on a home printer. Printing at home is the most cost-effective, and sticking your pattern tiles together to make your full size pattern is easy. Further information for printing at home can be found in our Resources section here. 
3. AO Pattern file
AO is a large scale file designed to be printed at a Print Copy Shop. You cannot print this on your home printer as it is too big. If you choose to use this large file you will pay extra to have it printed but you do not have to stick anything together.
PRINTING
Each PDF sewing pattern comes with 4 sizes (please refer last image for size chart and international size comparisons - hover over the image to magnify).
Small - (NZ/AU/UK 6-8-10-12  | US 2-4-6-8)                     AO 2pg | PAH 29pg*
Medium - (NZ/AU/UK 10-12-14-16  | US 6-8-10-12)        AO 2pg | PAH 31pg
Large - (NZ/AU/UK 14-16-18-20  | US 10-12-14-16)         AO 2pg | PAH 31pg
X-Large - (NZ/AU/UK 18-20-22-24  | US 14-16-18-20)     AO 2pg | PAH 38pg
*PAH = Print At Home. For help printing at home click here.
AO= Large scale requiring a special printer. For help printing at a Copy Shop click here.
You can use the ADOBE LAYERS FEATURE to open the PAH pattern file and print only the size you need (and eliminate the "noise" of the unwanted sizes). You can also use the URL and bookmark links within the file to quickly access information and support. Download Adobe Reader for free (for Windows and Mac) here.
Reviews
Customer Reviews
Great Pattern with Comfy Fit
I love this pattern! I'm working on my second top with this pattern. I have tweaked this pattern for the second one to have curved lower edges and no waistband - as another option for layering. I love the clear directions!
07/05/2022
Kate N.

New Zealand
Hummingbird Hoodia and sweatshirt
It was my first time sewing a adult sweatshirt and the pattern was easy to follow. The video tutorials were good too. I will definalty be be making more, might give the hoodie a go next time
06/20/2022
Tracy N.

New Zealand
02/15/2022
Kate W.

United Kingdom
much needed inspiration - sorted!
I had been looking for a project to take me out of the February dodrums and found this via Clothspots Instagram photo! Really good pattern and easy to make, just needed to choose the correct fabrics and change the sleeves to loose fitting. See attached photo! Really helped my confidence and raised my spirits!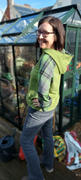 02/02/2022
Alice G.

United Kingdom
Hood up & set to go!
Loved this pattern. Everything went together so well as is always the case with TSR patterns. The fabric choices & stories on the site inspired me to get creative with sleeves, cuffs and hood linings - so a scrap-buster too. Love that it's not a bulky design and can be worn in different ways. True to size (12). Only hitch was that my overlocker choked a bit on the hood front where it crosses over. I should have followed the TSR instructions on sewing it with a stretch stitch and then finishing afterwards. Here's to next time!
11/18/2021
Jody P.

New Zealand
Awesome as always
Great pattern, LOVE the result. Particularly the variation on the sleeve. A very cool raglan with a bishop sleeve combine classics to make an ultra modern staple.
09/20/2021
Cindi E.

New Zealand
Easy sewing
This was my first experience using a PDF pattern. The whole experience was very simple and successful. I will definitely be making more.
09/13/2021
Wendy D.

New Zealand
Great design - Quick, easy sew.
I purchased this pattern in lockdown to use up some fabric from my stash. Perfect, quick easy pattern. I made the basic sweatshirt but I will definitely use it again for the hoodie with the additional wider sleeve design. I have used a number of The Sewing Revival patterns and all have been great designs that fit well.
08/28/2021
Chrissy L.

New Zealand
Humming Hoodie and Sweatshirt
Another great pattern. Very pleased with my effort.
08/13/2021
Karen H.

New Zealand
So easy!
Easy to print pattern and easy to follow instructions. Perfect for newbie sewers like myself. This is the third pattern I have used from The Sewing Revival. Love the patterns!
08/04/2021
Frances H.

Australia
Great patterns, easy to use.
I found the patterns easy to use, and adjust to size. I'm make samples first and taking notes on my modifications. ( first time in a lifetime of sewing) I just want to make simple things that fit nicely. Love your patterns. Thank you.
03/03/2021
averil b.

United Kingdom
Nice modern sweatshirt
Really pleased with the sweatshirt I made in French Terry. It has a nice boxy feel. I did shorten the sleeves a bit as seemed very long and a shame as I was stripe matching to my ribbing! I'll definitely make again and will have a go at the hoody. I suspect this will be a well used pattern.
12/02/2020
Anna C.

New Zealand
Hummingbird Sweatshirt
Great pattern very versatile made the sweatshirt, great instructions.
11/03/2020
Lauren O.

New Zealand
Love these patterns.
Thank you so much for offering current pattern styles that are easy to follow. I trust that anything I buy from you will be easy to follow and adaptable.
09/04/2020
Bridey F.

New Zealand
Excellent patterns!
I have started sewing again after quite a long break! I have tried a few of these patterns and they are great, easy to follow and fit really well. The variations mean I will definitely sew multiples - so glad I found The Sewing Revival!
Hummingbird hoodie
Great experience overall
Just what I was looking for
I had some soft french terry that I wanted to make a slouchy, oversized hoodie for autumn/winter out of, and needed the perfect pattern to make that happen. This fit the bill 100% I just love how it fits, and how it feels. This is my first sewing revival pattern but it certainly wont be my last
Versatile patterns, worth every cent!
I have the Rosella Top, Hummingbird Hoody and have just printed the pants pattern off. I have made 4 of the Rosella tops, they are all different, one with a band on the bottom, a long one, and 2 shorter. It is a great pattern. I have made two hoodies. They are versatile patterns and fit perfect first time. This weekend I will be trying the pants pattern, with fabric I got from Jellicoe last night in their sale.
Personalised hoody
I found it an easy pattern to make up. I really enjoyed using different fabric for the hood and lining, which makes it unique to me.It fitted well and looks great.