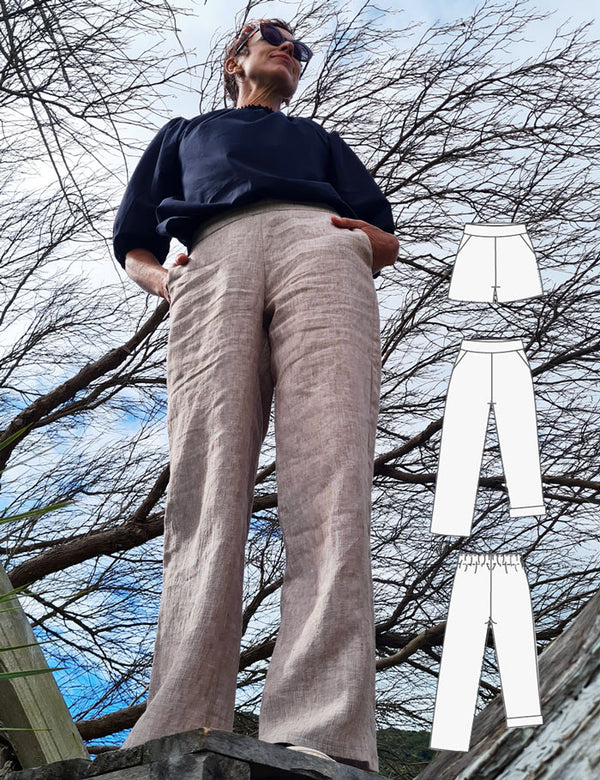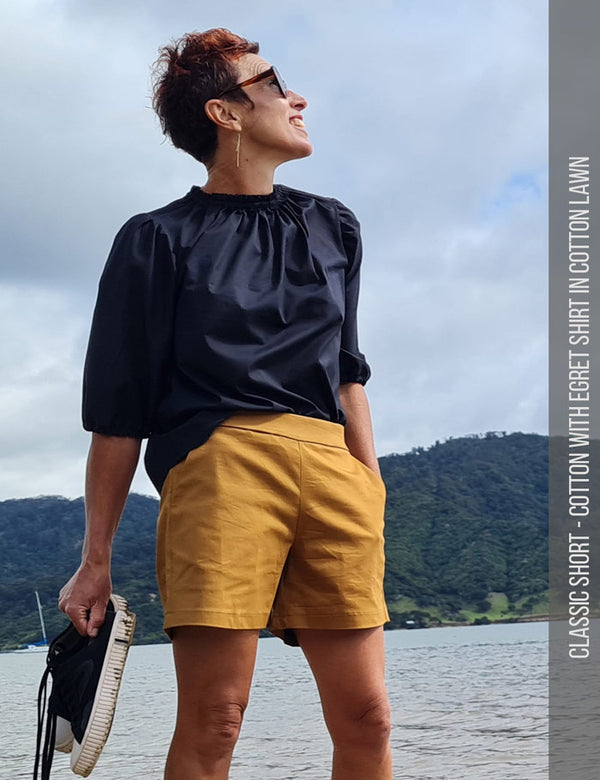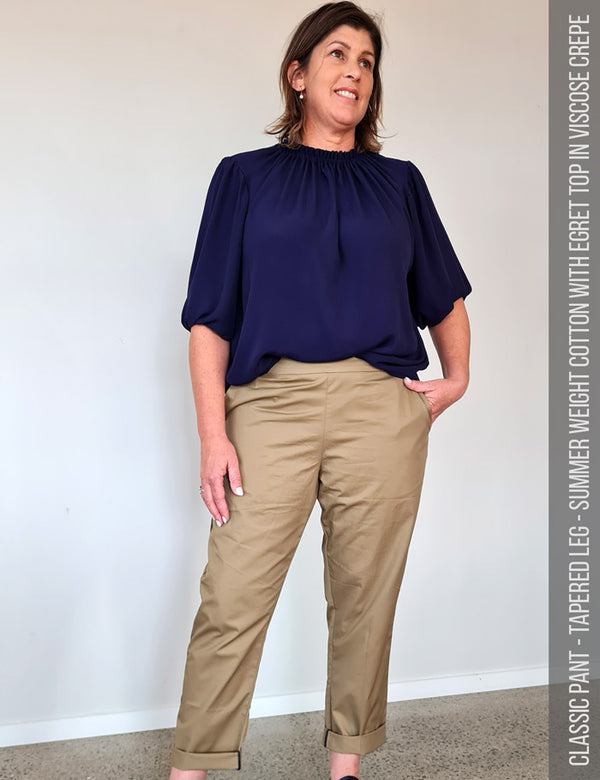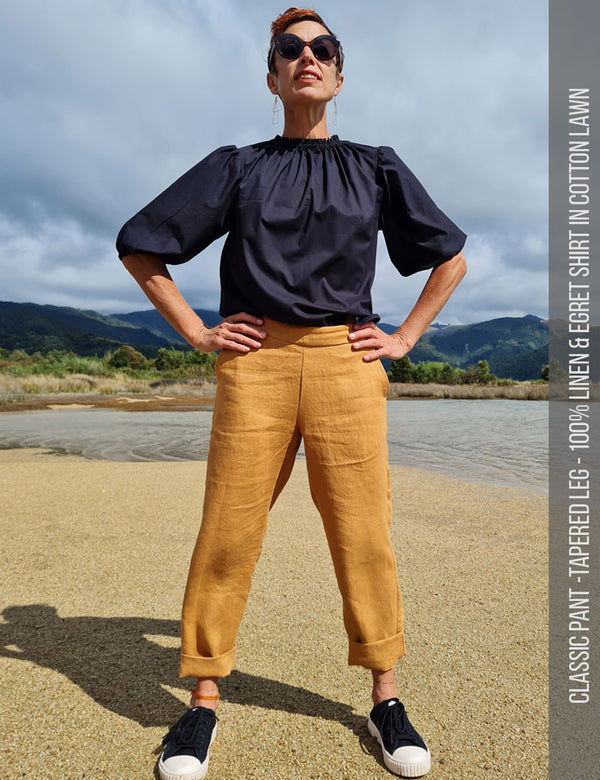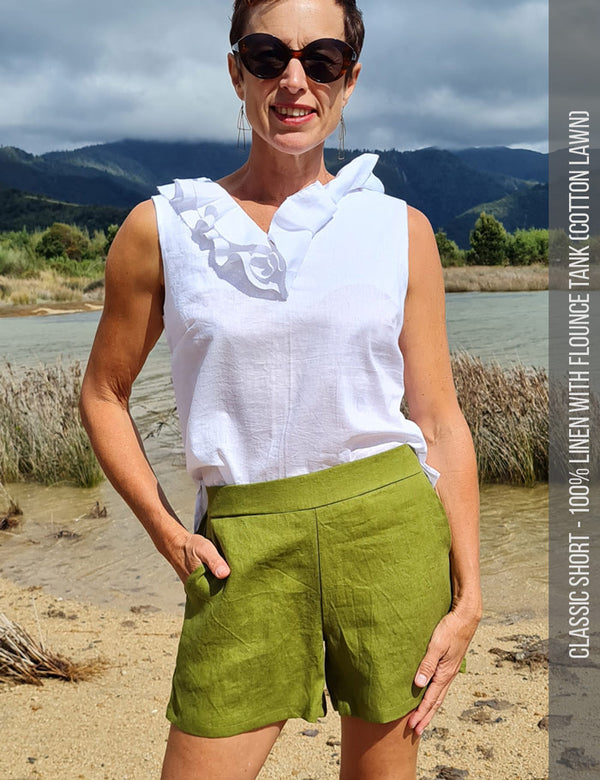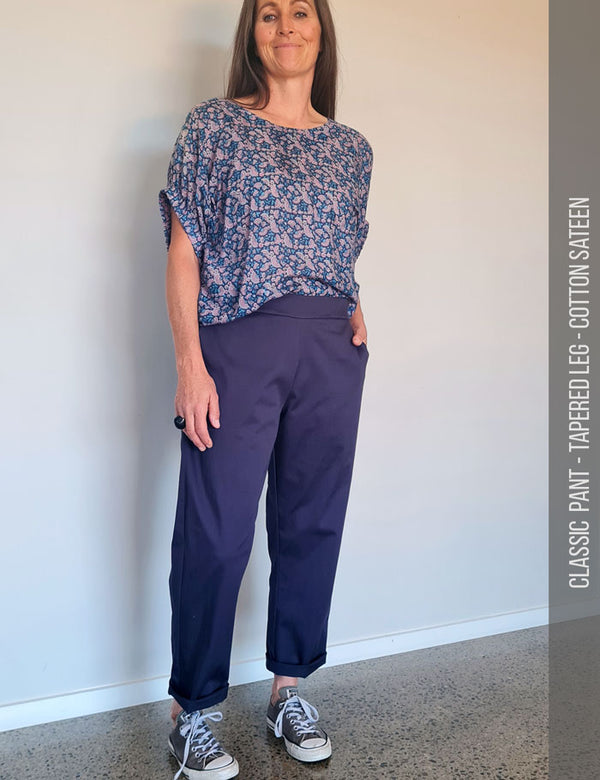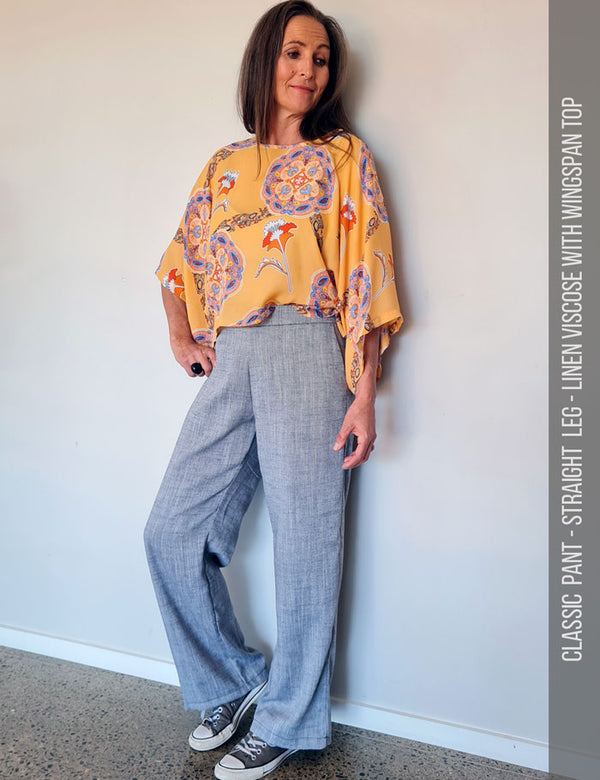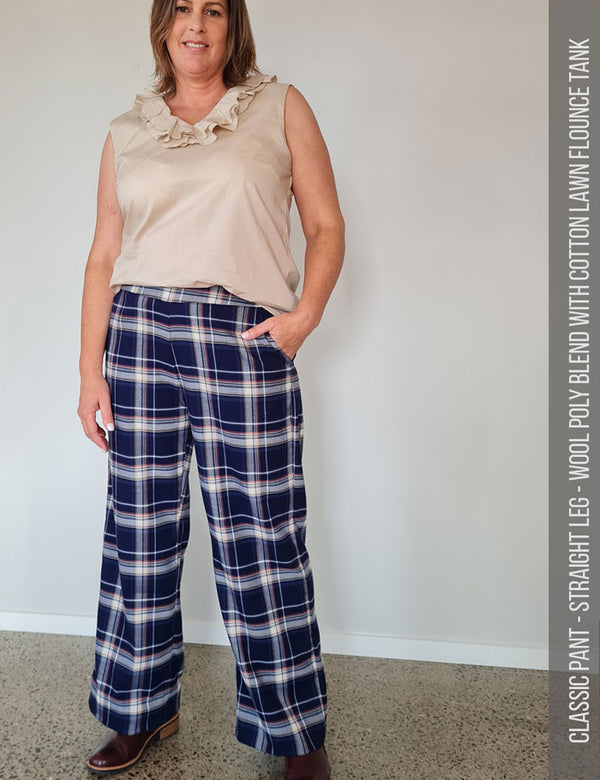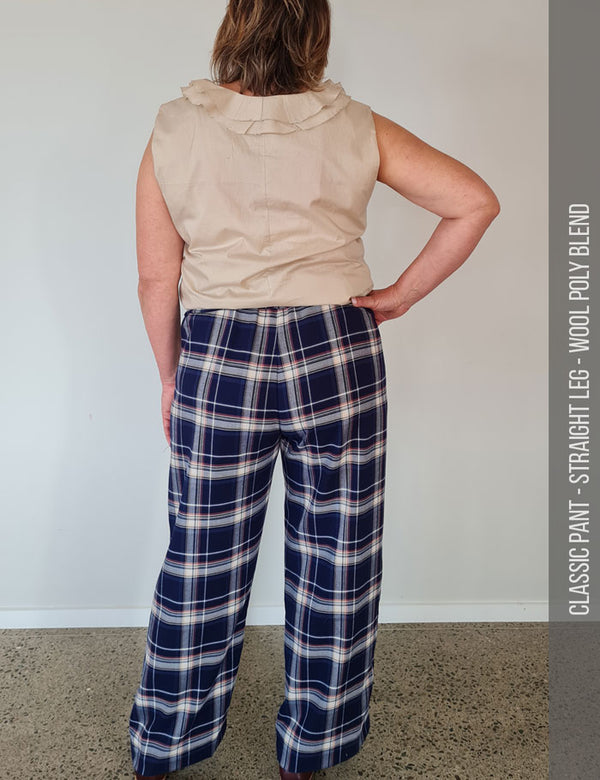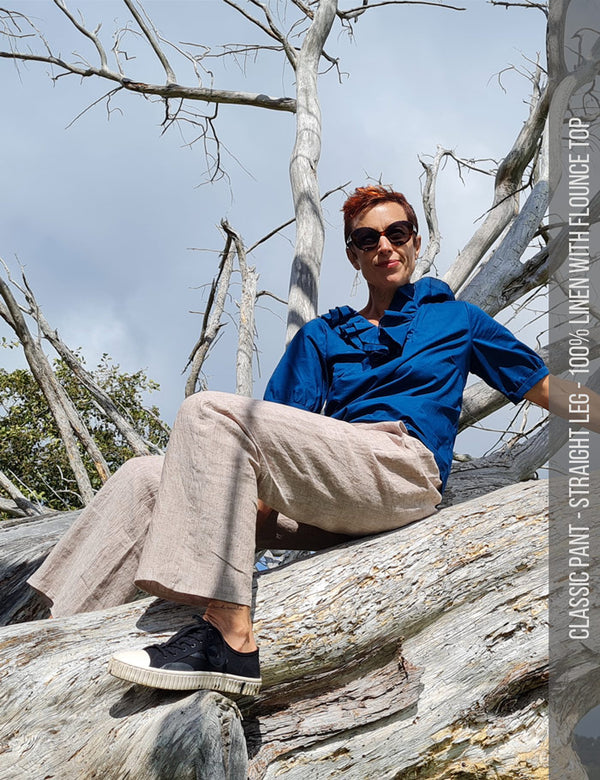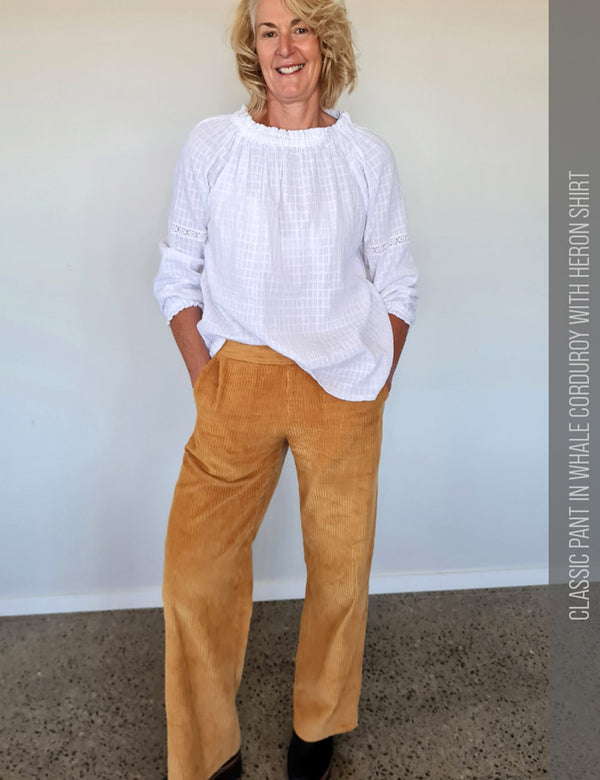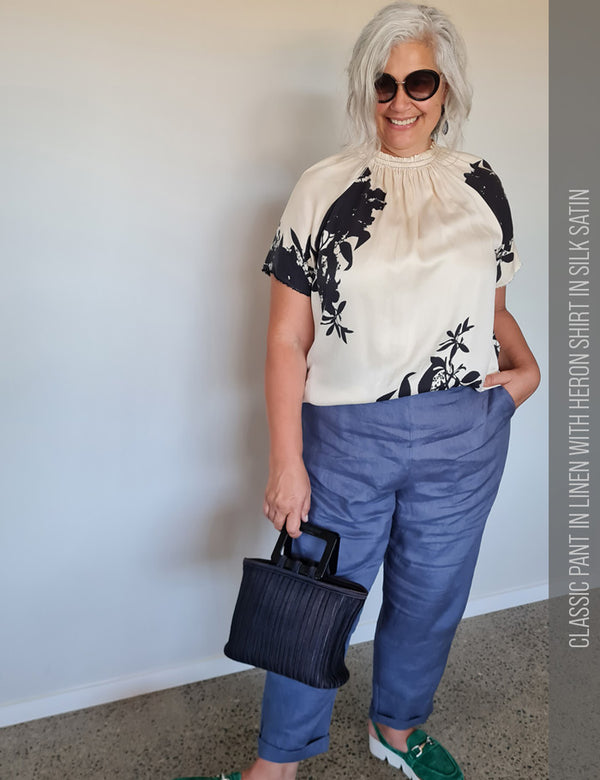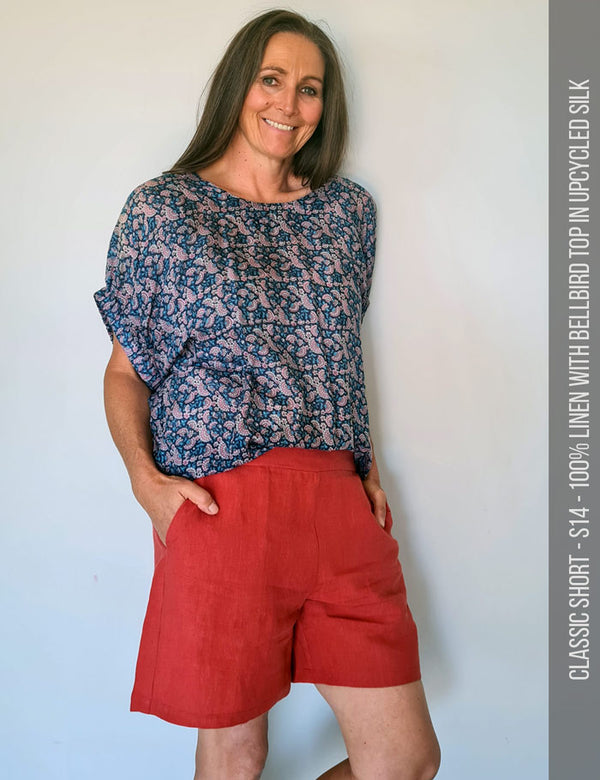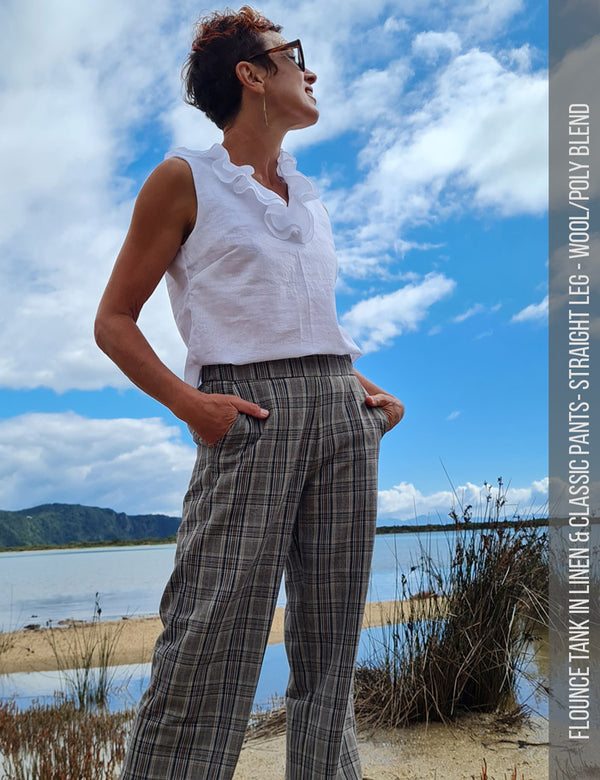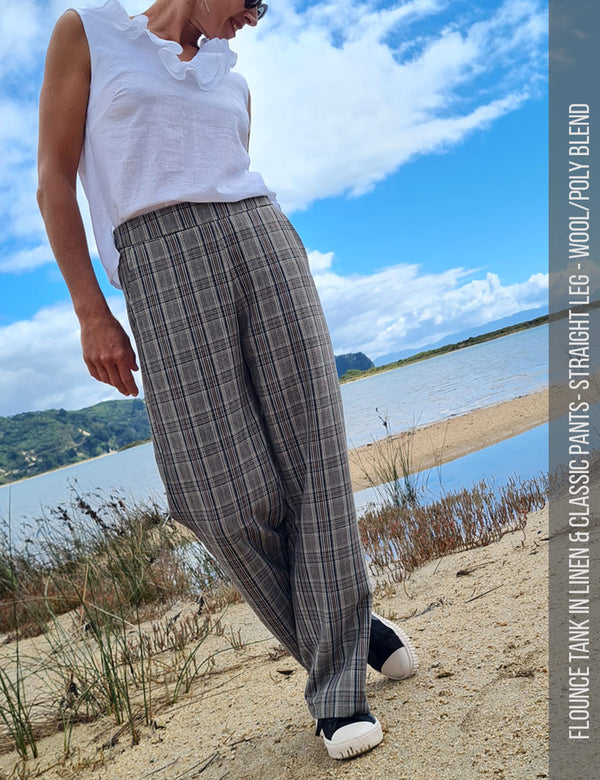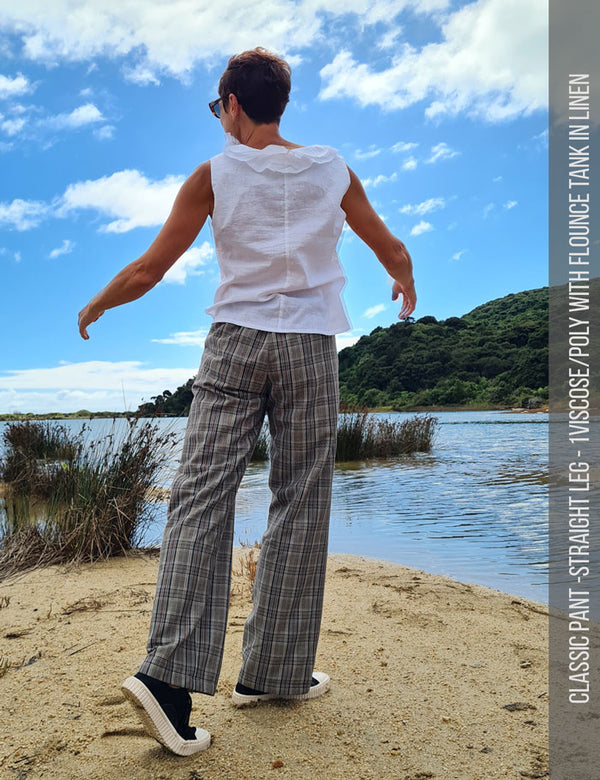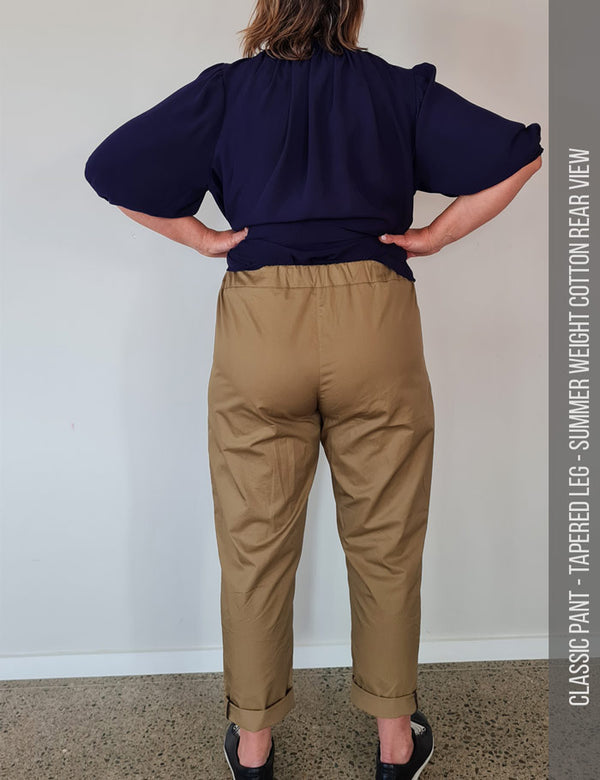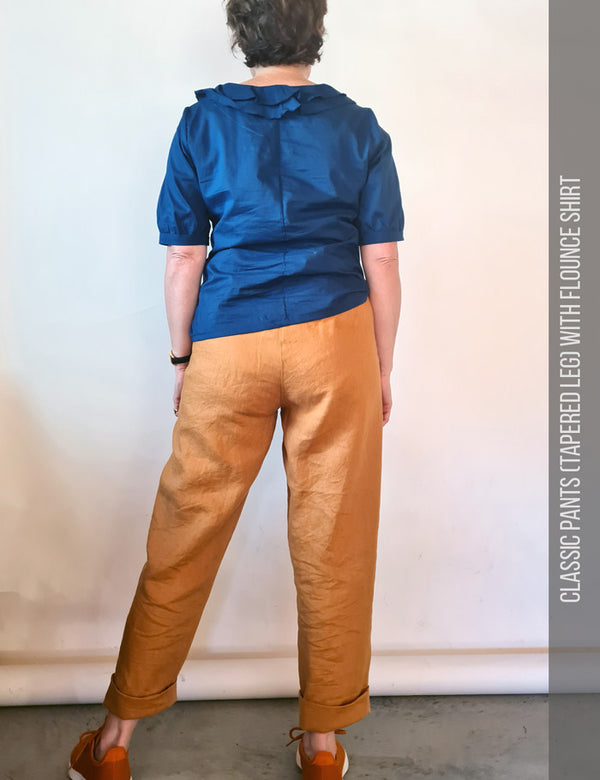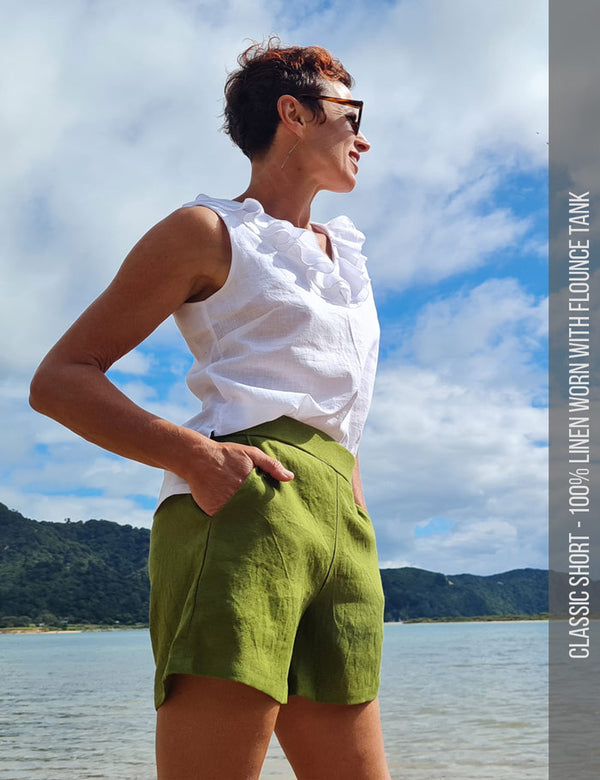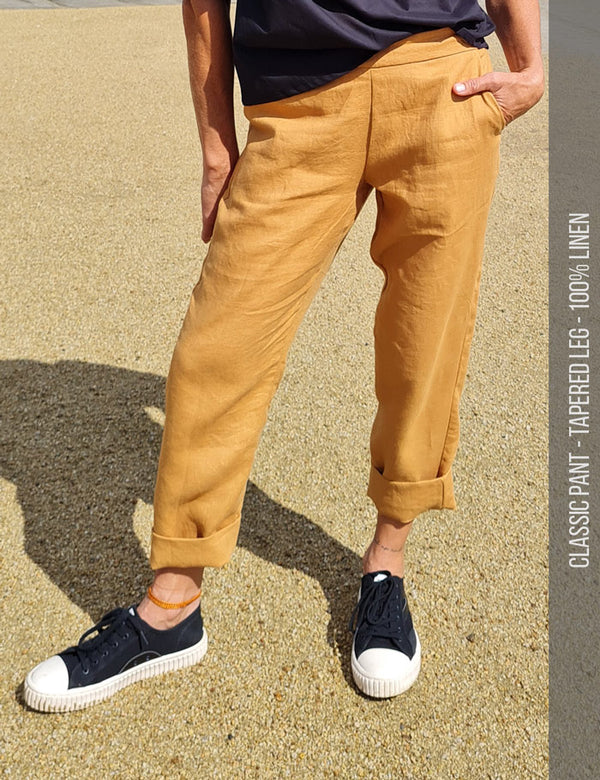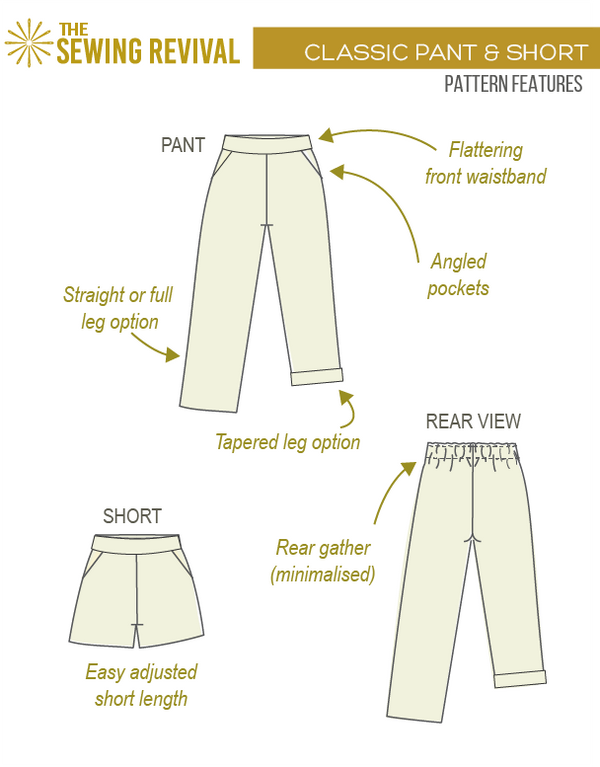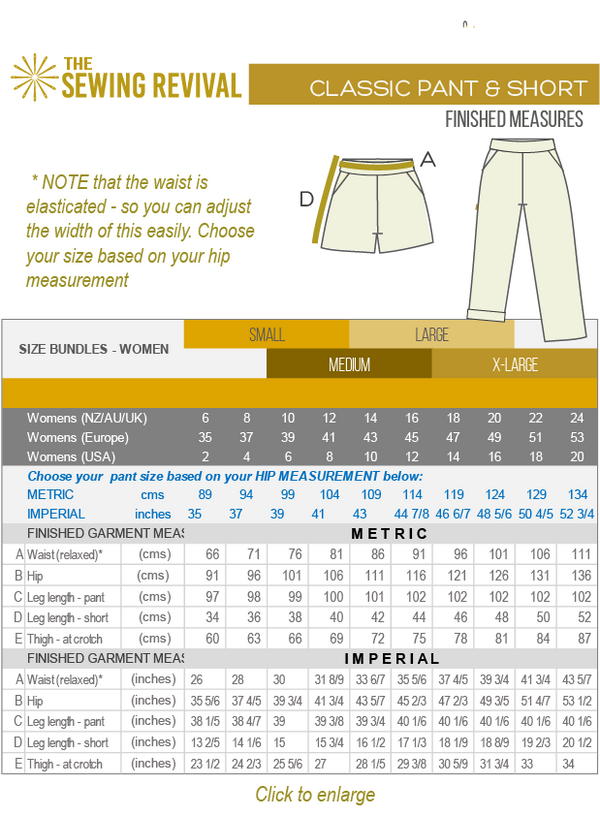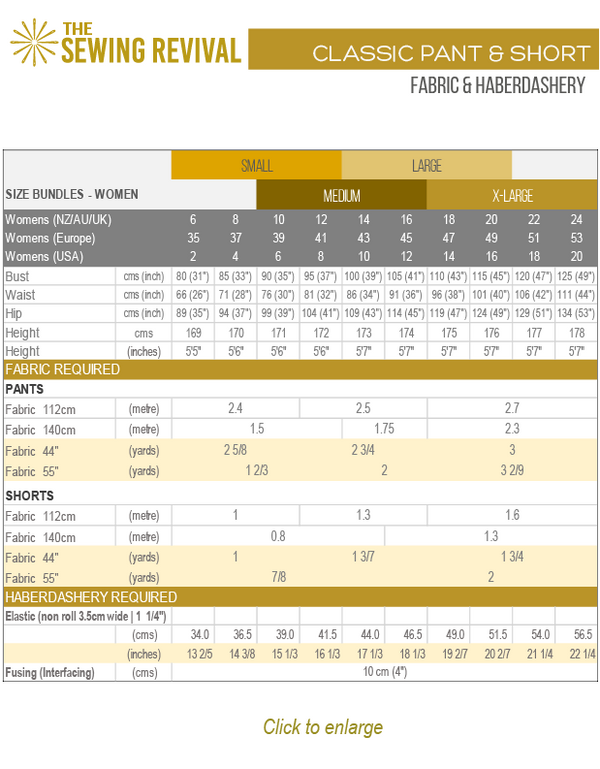 A true classic pull on pant with angled front pockets, flat front waistband and minimalised elasticated back waist. Sew with a straight leg, tapered leg or wide leg or summer shorts. A flattering design and quick sew, this printable sewing pattern is one of our most versatile.

Pattern Features:
* Angled side pockets
* Straight, tapered or wide leg options
* Pant or short
* Flat front waistband
* Pull on
Skill level: Confident beginner

Style with:
The Classic Pant or Short works beautifully with the following tops and shirts:
Flounce Dress,Tank&Shirt
Wingspan top
Egret tank and top
Heron Shirt
This pattern is also available in a bundle with the Flounce Dress,Tank&Shirt or the Egret dress, tank & top. So much choice!
Check out the Reviews for this product under the Reviews tab here and also under the Flounce and Classic pant bundle.
FABRIC
Please refer to the FABRIC REQUIREMENT CHART as one of the last images on this product listing. You can magnify this image by clicking on it if viewing on a mobile phone whilst in a fabric store.
The Classic Pants or shorts are designed for light to mid-weight WOVEN fabrics.
We highly recommend linen, cotton drill or cotton sateen. Well draped wool and wool blends are great for winter.


*Please also note that all (new) fabric should be pre-washed in case of shrinkage. 100% cotton & linen will shrink during the first wash. It doesn't hurt to be safe and remove any dodgy chemical build-up that may have occurred during printing anyway.
DIFFICULTY
Confident beginner

SIZE & PRINTING
Each purchase comes with 4 sizes (please refer to the last image for size chart and international size comparisons):
Small - (NZ/AU/UK 6-8-10-12  | US 2-4-6-8)                    A4/Letter=23   AO=2pages*
Medium - (NZ/AU/UK 10-12-14-16  | US 6-8-10-12)        A4/Letter=24   AO=2pages
Large - (NZ/AU/UK 14-16-18-20  | US 10-12-14-16)        A4/Letter=27   AO=2pages
X-Large - (NZ/AU/UK 18-20-22-24  | US 14-16-18-20)     A4/Letter=29   AO=2pages

*For the small size bundle you only need to print page 1 of the AO as the pocket is the only pattern piece on the second AO sheet. This can be printed on your home printer using the PAH file if you wish to save on printing costs (print pages 5-8 only for pocket).
WHAT DO I GET WITH MY PURCHASE?

Please note you are purchasing a digital pattern that will be sent directly to your email inbox after payment. *You will not receive a hard copy printed pattern.*
You will receive a link to download 3 different PDF files:
1. Instructions
2. Print at home Pattern Tiles (PAH=Print at home)
For printing in A4 or US Letter on a home printer. Printing at home is the most cost-effective, and sticking your pattern tiles together to make your full size pattern is easy. Further information for printing at home can be found in our Resources section here. 
3. Large scale Pattern file (AO) for taking to your local Print Shop 
AO is a large scale file designed to be printed at a Print Copy Shop. You cannot print this on your home printer as it is too big. If you choose to use this large file you will pay extra to have it printed but you do not have to stick anything together.
You can use the ADOBE LAYERS FEATURE to open the PAH pattern file and print only the size you need (and eliminate the "noise" of the unwanted sizes). You can also use the URL and bookmark links within the file to quickly access information and support. Download Adobe Reader for free (for Windows and Mac) here.
PATTERN UPDATE HISTORY


5 April 2023 - Pattern released
5 May 2023 - Pattern updated (.v2) to increase the waist width by 2cm. Instructions include how to adjust the waist back down if you require (if using fabric with a small amount of spandex, or would prefer a smaller waist and don't mind a "wiggle" to put them on for example).
Reviews
Customer Reviews
12/03/2023
Maxine D.

New Zealand
Classic pant in the shorts version.
I found the pattern quick to sew. I made shorts in some left over, heavyweight cream linen. I wanted to check the fit first as I have problems getting trousers to fit well. The classic pant are the first ever pattern to fit me well with no alterations needed. WOW. I really like the flat front and gathering at the back, So now I can make some more shorts for summer and longer trousers. Thanks Janine for a great pattern.
12/02/2023
Miriam Z.

United Kingdom
Lovely basic pattern for trousers
I have been a fan of Sidewinders for a while, but there was a tendency for the legs sometimes to feel as if they were not lying quite right, Therefore I am really happy you've brought out this pattern - same stylish approach but the legs are much better. And the variations look great - I am looking forward to trying them too. Excellent fit and great instructions.
11/27/2023
Donna K.

New Zealand
Fabulous Pattern
Have made both the pants and shorts from linen. Super easy and quick to make up. Great fit, used the hip measurement and then just needed to take in waist by 2cm each side on the back for best fit. Will definitely be making plenty more .
10/15/2023
Eileen B.

United Kingdom
Great service, very easy to order online
I haven't yet made the trousers up, in fact haven't had the pattern printed out as suddenly other priorities have intervened!
10/13/2023
Sarah G.

United Kingdom
Great everyday trouser pattern
Easy to purchase and download. Love the sidewinder pants so thought I'd give these a go. Slightly disappointed that the tapered pants aren't part of the pattern, there are instructions to do this yourself. It wasn't difficult but they were why I purchased the pattern. Still had to adjust pattern slightly but sewing revival are a good fit for me.
10/11/2023
Jane

New Zealand
Love these pants
I made these in a midweight linen. So comfortable to wear. I'll definitely be making more. I did put some pockets on the back. Also had to add extra to the width of the waistband so maybe my seam allowances were out. Fits me perfectly anyhow.
10/10/2023
Lynette B.

South Africa
Perfect fit
I have just finished these as a more formal pair and they fit perfectly. Instructions were easy to follow and I will definitely make them again and again.
10/07/2023
Robyn S.

New Zealand
Comfy & Stylish
I made these classic pants in a linen cotton mix, they were easy to put together and the instructions were very clear. I love Sewing Revival patterns and have made several and I always get compliments when I wear my makes.
10/01/2023
Lynley C.

New Zealand
Classic pants
Awesome. Have made a linen pair and a corduroy pair.
09/14/2023
Lucie J.

United Kingdom
09/03/2023
Margaret S.

Australia
09/01/2023
Fae M.

Australia
The only pants pattern you need
The classic pant/shorts pattern is the perfect pants pattern. I've made the shorts and the tapered pants and both look great. I have a large waist and took the advice to select the size based on the hip measurement - they fit perfectly! This pattern looks like fitted pants with only a very slight gather at the back (at least on me). Thank you Sewing Revival!!
08/31/2023
Sharon R.

New Zealand
Classic Pant
First time with an e-pattern (and making pants). Easy straight forward instructions, user friendly. Great result! Will be a staple pattern in my toolkit. Looking forward to making more and changing up the length and width.
08/21/2023
Natalie J.

United Kingdom
Great wardrobe staple
The pattern was well set out and instructions easy to follow. It included techniques that I don't normally use when sewing trousers so I learned some new things. I have sewn this pattern twice now - firstly with a green washed cotton material that I approached like a toile and wasn't that attached to if it didn't work out. They came up quite large so my next pair in a lightweight denim I went down a size which worked at the waist but still ended up being more like a wide leg pair of pants so my next pair I will be altering the leg seams to a more slim/straight style. I am appreciative in the sizing being more inline with actual real bodies and the pattern is simple enough that you can cater it to your own.
07/29/2023
Anne F.

Australia
Great pattern.
Did a size 12 and they fitted- for a change! Easy to print and cut pattern and good sewing instructions. The crutch area usually doesn't fit me but these did. Am hoping the sidewinders fit as well. Maybe if description could say if high or medium waisted? I'm hoping they are NOT high waisted..
07/18/2023
Jennifer G.

Canada
First pattern from Sewing Revival
This was my first pattern from Sewing Revival and my first pair of shorts. It went well. I wish I'd been able to turn off some sizes in the PDF. I followed the narrower leg lines of the trousers rather than the shorts. When I make the shorts again, and I will, I will add back pockets to hold my phone.
07/19/2023
The Sewing Revival
Hello Jennifer - you should have been able to print only the size you needed. Did you open the file in Adobe Reader? Please refer our blog (link below) - else click Resources/Getting-Started/Printing-at-home from the Main Menu. https://thesewingrevival.com/blogs/getting-started/printing-pdf-patterns. Kind regards, Janine
07/15/2023
christine m.

Canada
Great style
I love the way these turned out but I found I had to alter quite a bit after choosing my size by the measurements. It says I was 18 at the hip but graded to 20 at the waist and they were waaaay too big. I took it down to a size 16 and lowered the front rise by 3cm and they are still high waisted. Super easy to make and super comfy to wear.
07/15/2023
The Sewing Revival
Thanksfor taking the time to provide a review Christine. Everyone's body is different so we always recommend checking the size reference charts. We do recommend you sew up the pant size closest to your hip measure on the size chart (not the finished measure chart). There was no need to grade the waist as the waistband is fully adjustable as it has elastic (so you can easily adjust the waistline to fit comfortably). We naturally also recommend sewing a toille (sample) first. I am glad you have now made the adjustments to fit your body (particularly the rise) and you can now celebrate a few more Classic pants in your wardrobe.
07/13/2023
Susan C.

New Zealand
Classic pant
Easy pattern instructions to follow and pieces went together easily.
07/11/2023
Penny S.

New Zealand
07/05/2023
Suzie L.

New Zealand
Classic pants
Fantastic pattern! Am onto sewing my third pair. Being 6 ft tall and a size 8 (just) I had to extend the length which was straight forward. Found them easy to make and relatively quick to sew now that am on to repeats. Brilliant.