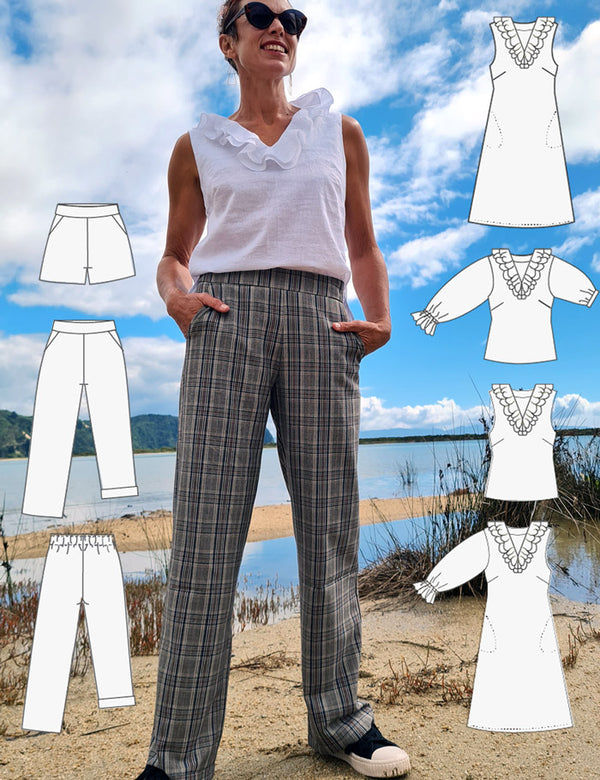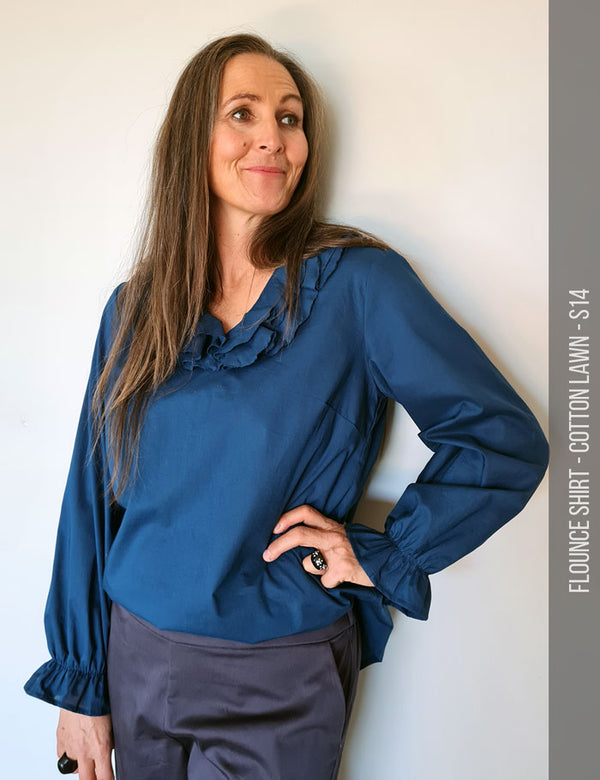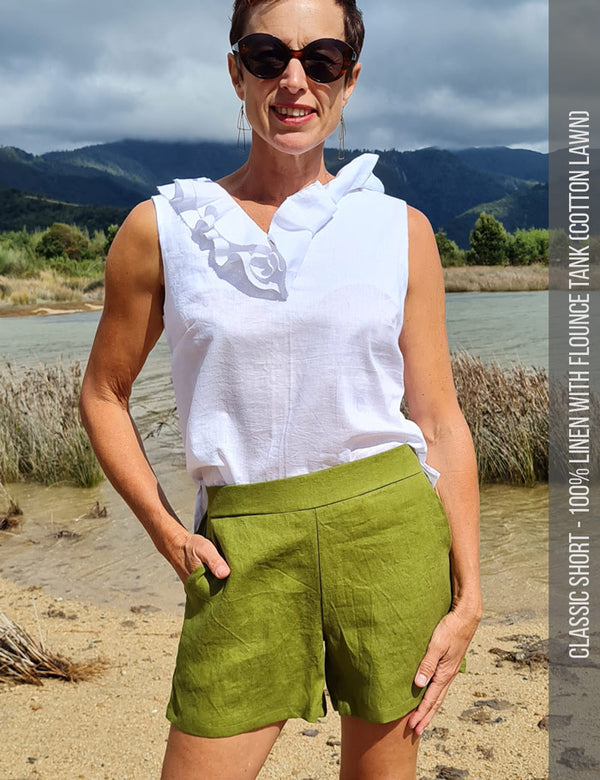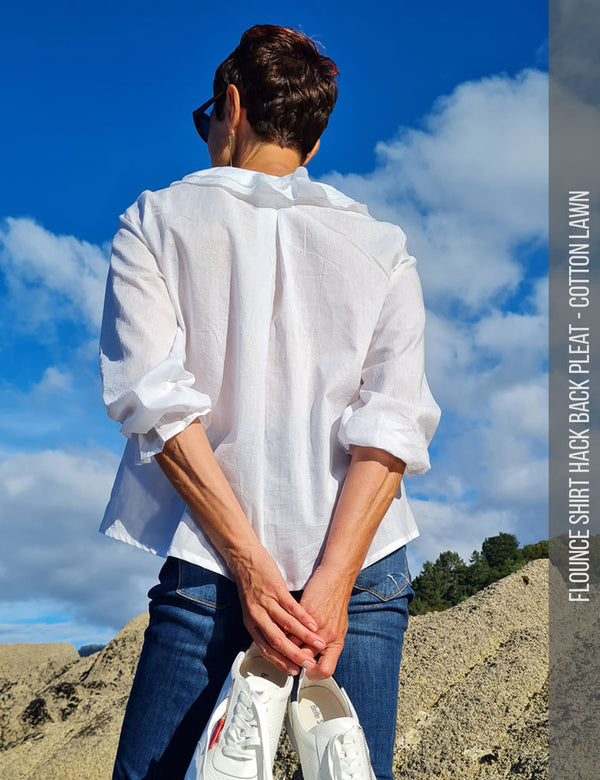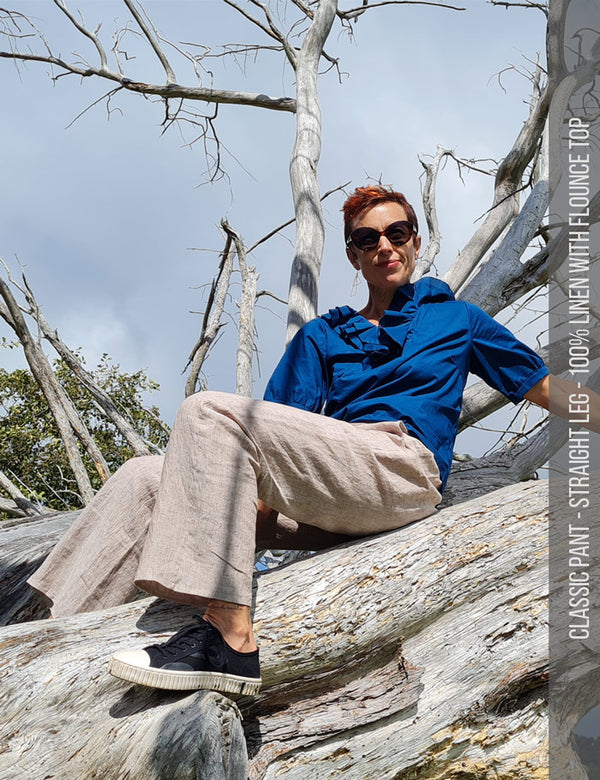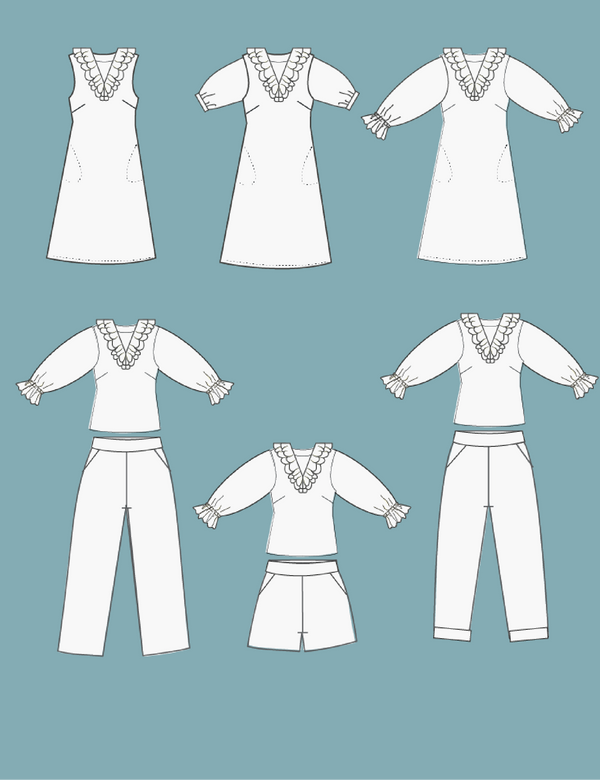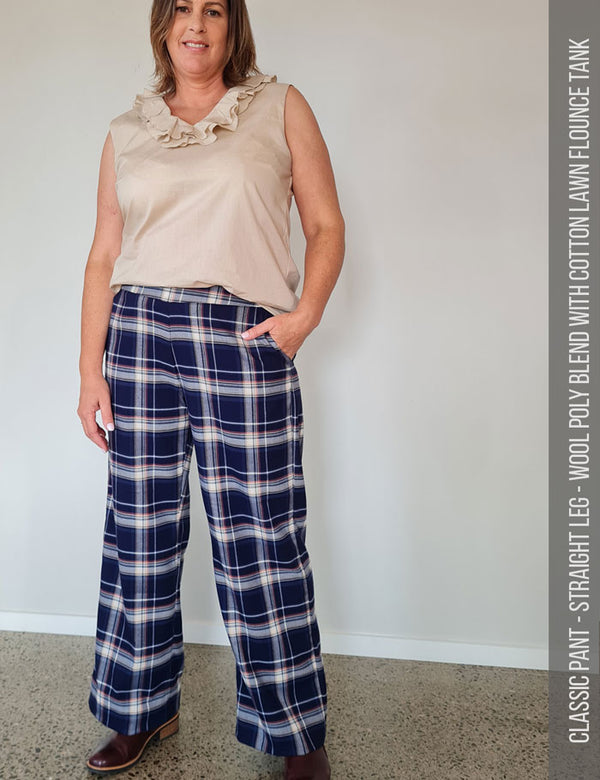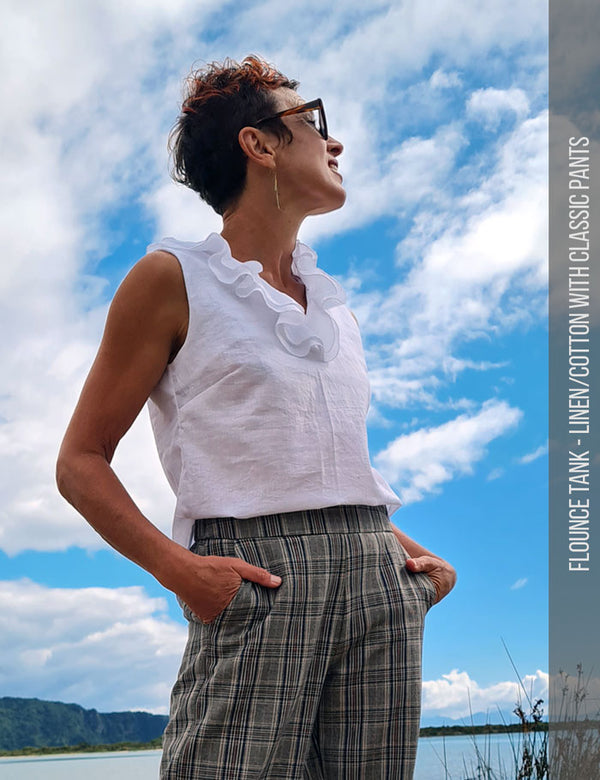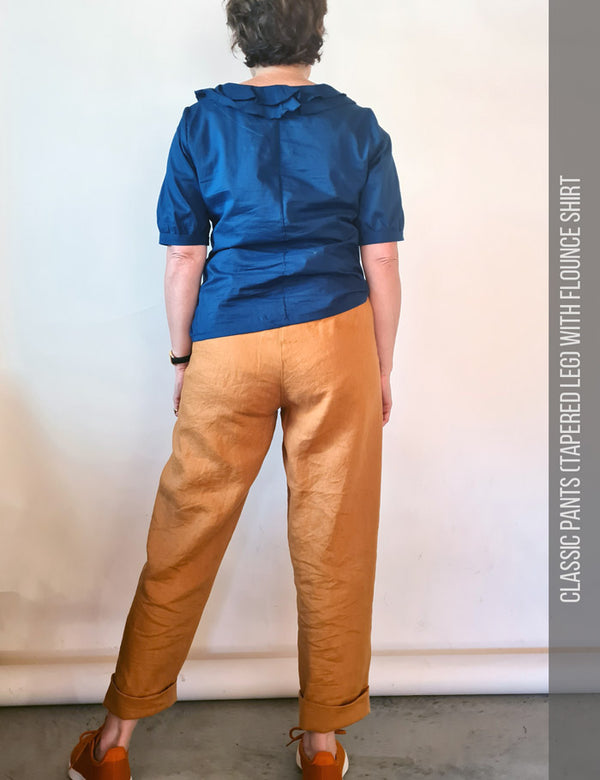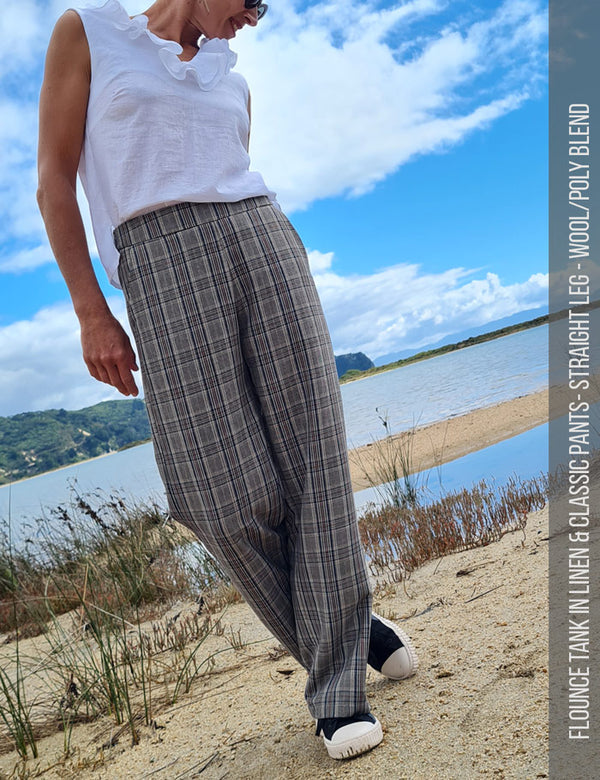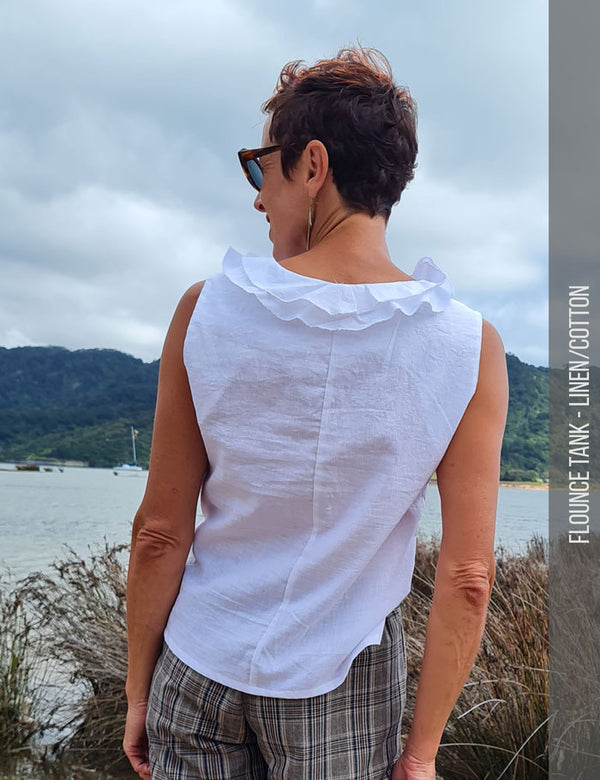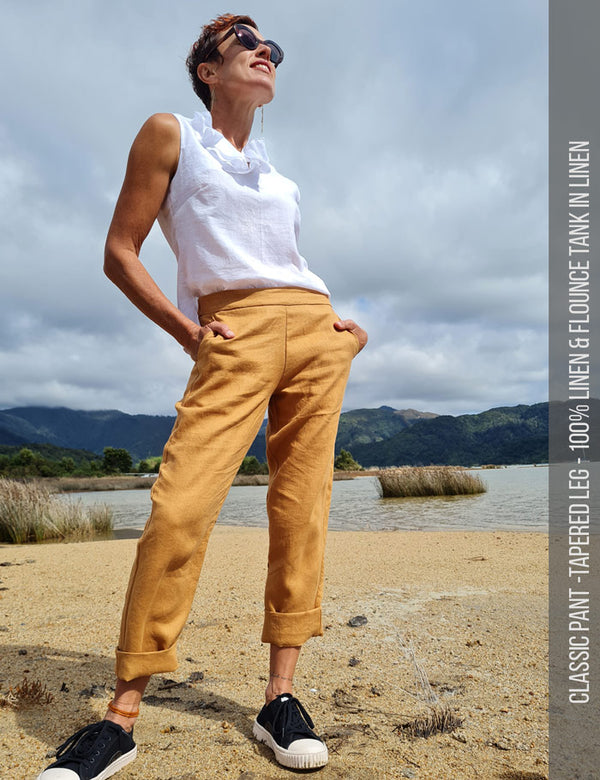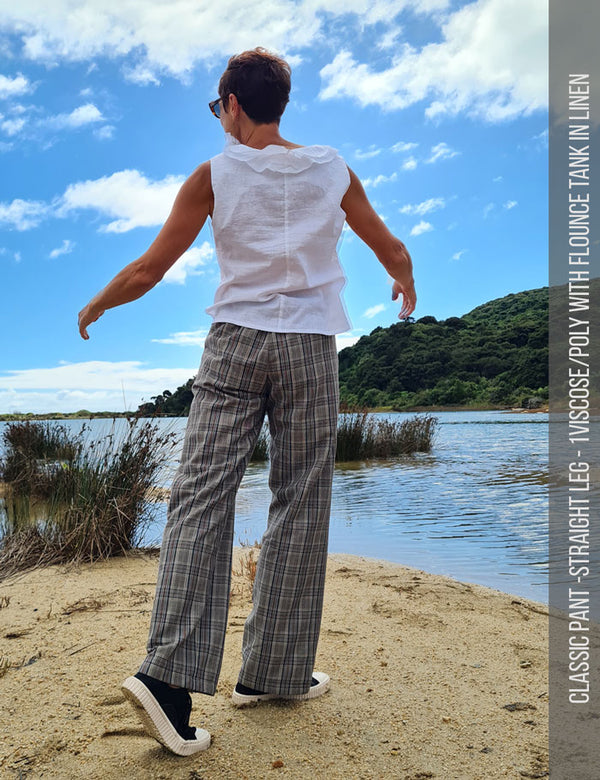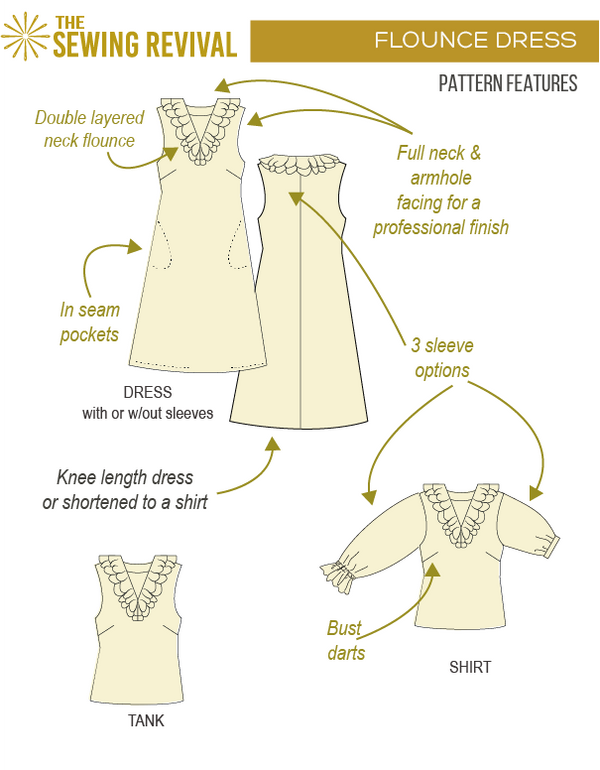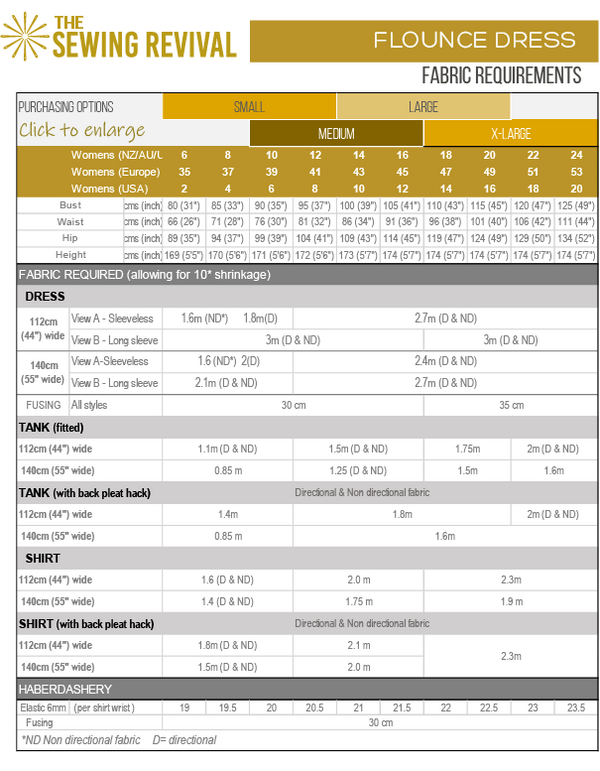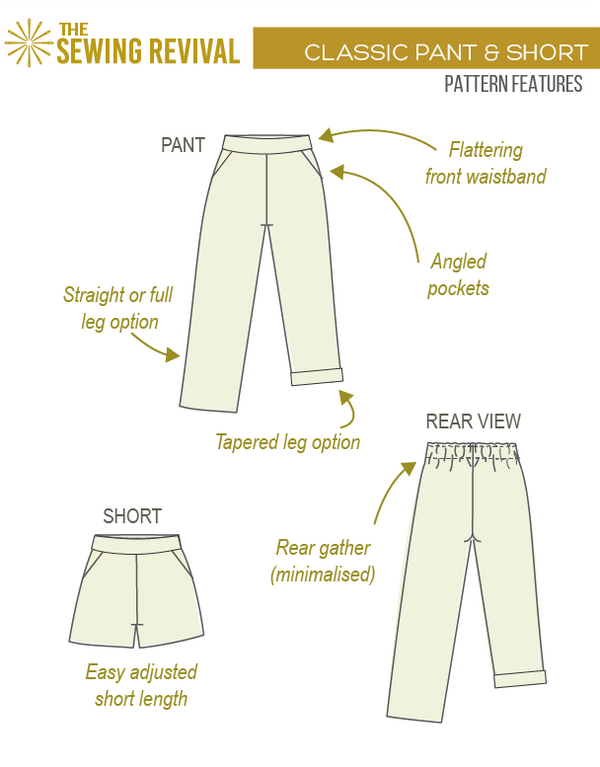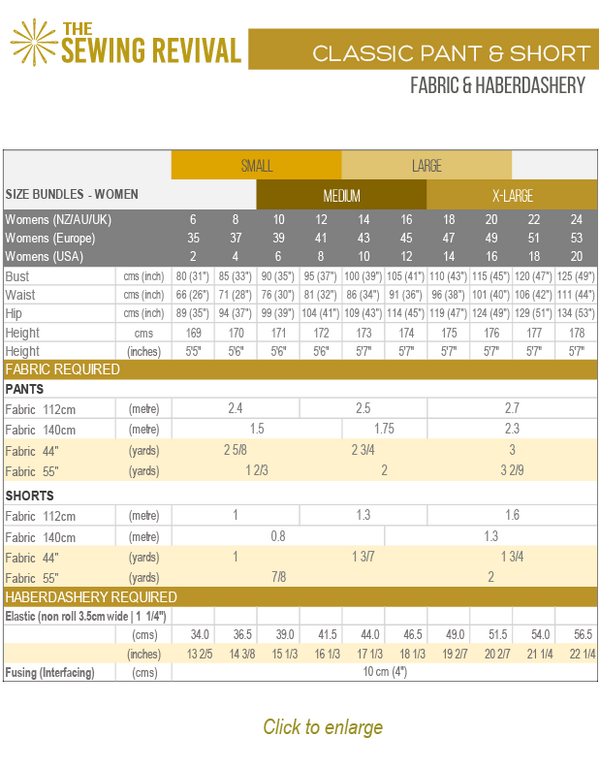 Pattern bundle - Flounce Dress|Top & the Classic Pant|Short
These two patterns will give you 15 different looks for summer and shoulder seasons.
Combining the Flounce Dress,Tank&Shirt  with the Classic Pants|Short provide a capsule wardrobe that is modern and versatile. 
Buy them together in this bundle and save yourself $NZD8 (25%).
Share your makes on Instagram & Facebook tagging #TSRFlounce,  #TSRClassicPantShort and @thesewingrevival
FABRIC
Please refer to the Flounce Dress,Tank&Shirt and Classic Pants|Short for more specific details and requirements. 
SIZE & FITTING
Each purchase comes with 4 sizes:
Small - ( NZ/AU/UK 6-8-10-12  | US 2-4-6-8)             
Medium - (NZ/AU/UK 10-12-14-16  | US 6-8-10-12)       
Large - (NZ/AU/UK 14-16-18-20  | US 10-12-14-16)  
X-Large - (NZ/AU/UK 18-20-22-24  | US 14-16-18-20)  

WHAT DO I GET WITH MY PURCHASE?
Flounce Dress,Tank&Shirt PDF sewing pattern AND
Classic Pants|Short PDF sewing pattern
Please note you are purchasing a digital pattern that will be sent directly to your email inbox after payment. You can print this pattern at home on A4 or US letter-sized paper or take it to a print shop for large scale printing (AO size). *You will not receive a hard copy printed pattern.*
Instant download available immediately after checkout includes:

1. Instructions
2. PAH Pattern file (PAH=Print at home)
For printing in A4 or US Letter on a home printer. Printing at home is the most cost-effective, and sticking your pattern tiles together to make your full size pattern is easy. Further information for printing at home can be found in our Resources section here. 
3. AO Pattern file
AO is a large scale file designed to be printed at a Print Copy Shop. You cannot print this on your home printer as it is too big. If you choose to use this large file you will pay extra to have it printed but you do not have to stick anything together.
You can use the ADOBE LAYERS FEATURE to open the PAH pattern file and print only the size you need (and eliminate the "noise" of the unwanted sizes). You can also use the URL and bookmark links within the file to quickly access information and support. Download Adobe Reader for free (for Windows and Mac) here.
Reviews
Customer Reviews
12/02/2023
Rona D.

United Kingdom
Classic pants flounce shirt and fress
These patterns are great. Easy to send off for printing and the instructions are very easy to follow. I will definitely buy from here again. Thank you
09/27/2023
Monica G.

Italy
Nice shorts
Until now I only made a pair of Classic Shorts and I am quite happy with them. They fit well, look really good and I love the size of the pockets! However, the finished waistband is quite a bit smaller than the hip measurement shown in the size chart for the size I used (my hips correspond exactly to the measurement in the chart) and I found the shorts a bit difficult to pull up and down. I will for sure use this pattern again but next time I will make the waistband a little larger.
08/07/2023
Kathy T.

United States
Awesome bundle value - like buy one get one half off
I first sewed the classic short in white linen blend. It fit perfect but way too sheer to wear in public. I then sewed the tapered pant but I used a stretch cotton this time and had a lot of issues getting the waist band to line up and overall they were too baggy in the rear and legs. I think it had to do with the stretch fabric. The pattern does call for a non stretch woven. Next time I'll heed that advice. The instructions were awesome! I made the Flounce blouse sleeveless version in a pretty light teal linen. Again the instructions were spot on and easy to follow. I loved learning how to do the burrito roll for the facing. The arm holes were a bit too low and show my bra so next time I will raise those when making the sleeveless one but I think it would be fine with the sleeves attached. The flounces were really fun to make and look so cute! Overall I am really happy with the bundle and will definitely buy several more patterns.
07/27/2023
Anna P.

Australia
Flounce Dress
Easy to order Easy to down load Instructions very good - nice to have links to tutorials Like the consistent seam allowances Quality of the pattern could be improved with regards to more notches especially on the neck line and flounce Will make again End result could also be improved with under stitching of facing and neckline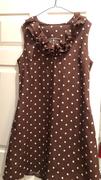 06/23/2023
Sharon W.

United Kingdom
Very flattering
I have made the shorts version of the classic pant and these are so flattering that I am currently searching for fabric to make the full-length pants. I have made two flounce tops and a flounce dress from duvet covers as toiles. They turned out so well that I have worn them numerous times over the summer. I daresay I will be making more versions of these.
06/16/2023
Helen W.

Australia
Pattern bundle
Both patterns look very nice. I have not had the chance to make them yet but look forward to it.
05/27/2023
Ann W.

Australia
Flounce top and classic pant bundle
Very easy to download patterns, just need to find the time to get material and make now
05/20/2023
Linda G.

Netherlands
Nice top
I like the top and how it came out. It is a fresh and happy look to wear. The flounce is really nice to cut and sew up and making the rolled hem on the serger was good fun. It seemed to be missing the instructions for sewing the short sleeve?
05/24/2023
The Sewing Revival
Hi Linda. Thanks for taking the time to review the Flounce pattern. I have updated the instructions for the short sleeve option today (25 May 2023). You should receive a link to the updated file by email soon. Kind regards, Janine
05/08/2023
Hayley A.

Australia
A staple for any wardrobe!
I'm a big fan of The Sewing Revival, so the minute I saw this bundle drop into my inbox I had to snap them up and I have no regrets. As always the pattern sizing is inclusive and the instructions clear and easy to follow. I've made the flounce top in a gorgeous Indigenous Australian printed Rayon from Spotlight and I couldn't be happier. I did change the sleeve cuffs to a straight forward elastic gathered cuff, but plan to make the cuff ruffle on the next one. The V neckline sits lovely and the ruffles aren't overpowering. If you have a larger bust, they're complimentary without adding bulk which is always nice. I am yet to sew up the pants (trousers are my nemesis) but I love the simple yet practical style and feel they may be my grail trousers if I can vanquish trouser fitting!!!
05/10/2023
The Sewing Revival
Thanks for taking the time to review the Flounce dress and top Hayley. I love your sleeve hack too! Thanks for the inspiration. Kind regards, Janine
05/06/2023
Bernadette A.

Australia
A great bundle
The pattern prints true and the instructions are very clear and easy to follow. I really appreciate the variations that are possible within the one pattern. This is not my first pattern purchase and it won't be my last.
05/05/2023
Lisa P.

Australia
Flounce Dress and Classic Pants Bundle
The pattern instructions were very clear and easy to follow. I have made 2 pairs of the pants so far and they are fantastic! I am still looking for fabric for the dress.
05/04/2023
Lorraine M.

New Zealand
Great first ever pants pattern
I have loved every single one of the Sewing Revival patterns I've made up. As a relatively new sewer, I'm always looking for achievable patterns but also trying to grow my sewing skills each time. I recently made up the Classic Pants using cheap $8/m drill from Spotlight as I just wanted to see how they would turn out before I used more expensive fabric. I needn't have worried because as usual, the pattern came with great easy to follow instructions and turned out better than I thought a first attempt would. I made them up in a Size 10 and the only thing I did differently was to shorten and taper them. I used a pair of pants I already had as a guide. I love them and I'm already looking for fabric to make a second pair. Well worth getting as there's so much flexibility with the pattern.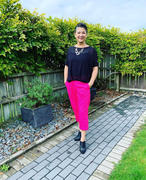 05/03/2023
Shirley P.

Canada
The classic pants
I loved this pattern. The fit was spot on! I did not make any adjustments. I have already made a 2nd pair with the narrower leg option. These will become a well used pants pattern for sure.
05/03/2023
The Sewing Revival
So glad you love your new Classic Pants Shirley. Thank you so much for adding the photos to inspire others. Kind regards, Janine
05/02/2023
Denise C.

New Zealand
Flounce top
End product was a great looking top! Instructions were easy to follow as well. I'll be making more for sure!
05/02/2023
Athina D.

Australia
Classic Pant
Excellent. Instructions - photos and written were easy to follow. Cut of pant was fabulous. Fit was perfect. I will be making this again.
05/02/2023
Eileen D.

United States
Flounce Dress Bundle
I purchased the pattern specifically to make the dress for an occasion, but I'm definitely planning to make a sleeveless and a sleeved top. Will also give the pants a try soon too. The pattern is great, instructions are easy to read and follow and the links to video tutorials would definitely be helpful to the less experienced sewist. I used a linen/rayon blend for the dress and it sewed up like a dream with the perfect amount of drape. I can't wait to use the pattern for some tops!
05/02/2023
averil b.

United Kingdom
Great dress pattern with a blouse thrown in !
Was surprisingly delighted how simple this dress was to put together. The size was a good fit and the flounce collar came together easily, great to learn how to do a little more with my overlocker! Instructions excellent as ever. I'm looking forward to making the sleeveless blouse with a lighter material for the summer and think I'll also like the longer sleeve version.
04/25/2023
Debra W.

Australia
The Flounce Blouse
Congratulations on a fabulous pattern, I made the long sleeve Flounce Blouse in a blue gingham double cloth, so medium checks on one side and small checks on the other side, made the body of the blouse in medium check and the double flounce in the small check. I made this blouse as an entry into the #SewAprilBlouse challenge over on Instagram, once I took my photos for YouTube and Instagram I did not take the blouse off, very comfortable and an easy sew, well drafted and came together perfectly. I would recommend using a soft fabric and nothing to stiff to ensure the flounce sits nicely, I did a rolled hem on the flounce and sleeve edge which gave a great finish. Having said that I do have some linen which I will be making another Flounce Blouse and using the zigzag edge finish as I love the way this looks on a linen fabric. If you would like to see my photos of my Flounce Blouse you can see them on YouTube https://youtu.be/42_ws5JtcVA and also on Instagram @db_designs_australia This was the first Sewing Revival Pattern I had made and I was very impress with the quality of the drafting of the pattern and with the instruction, two types of instructions, the first for experienced sewists and the second to guide you through all processes step by step, so really goods for the experienced or beginner as there are no closures or anything tricky with this pattern.
Mapua shorts
Absolutely love my Mapua shorts. This new pattern bundle has lit my sewing sparkle again - thanks.
04/06/2023
The Sewing Revival
I am so glad to hear that Sue. Thanks for the feedback. Happy Easter!