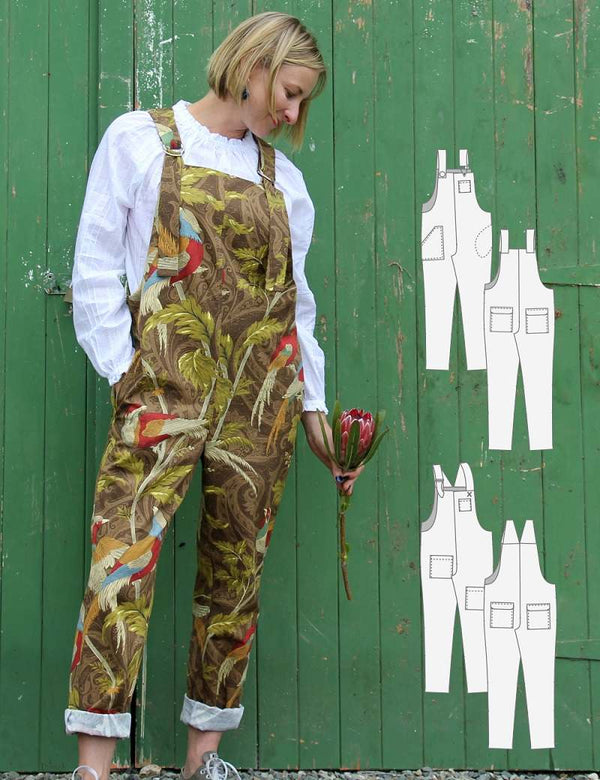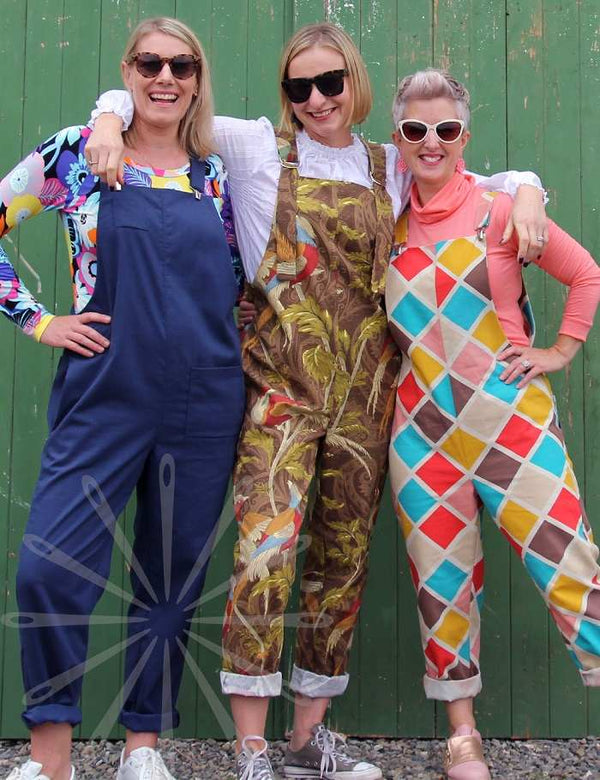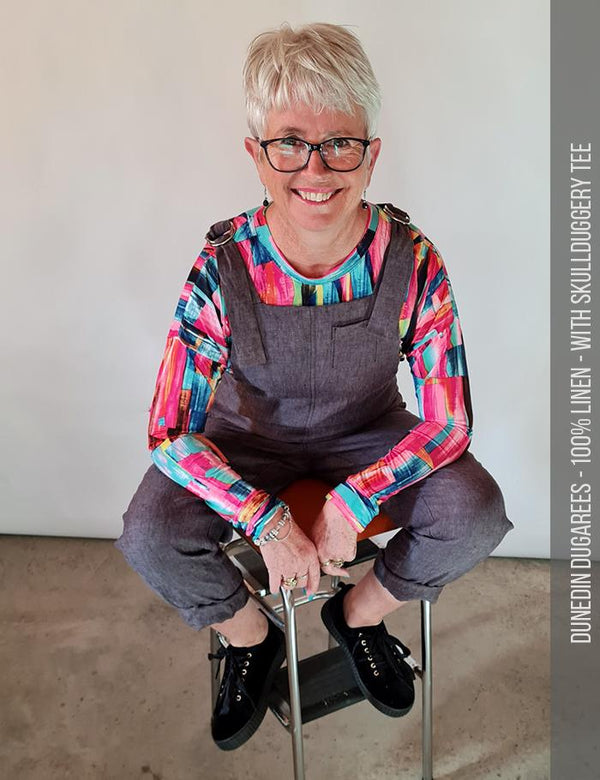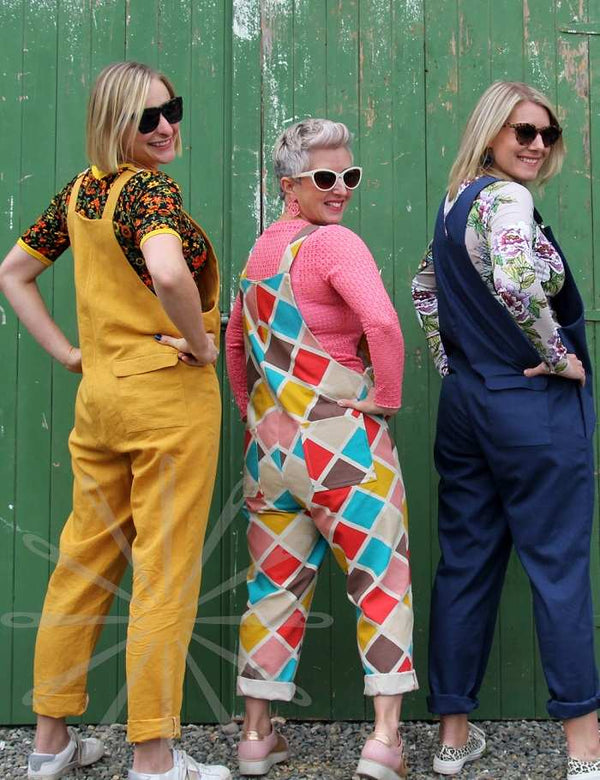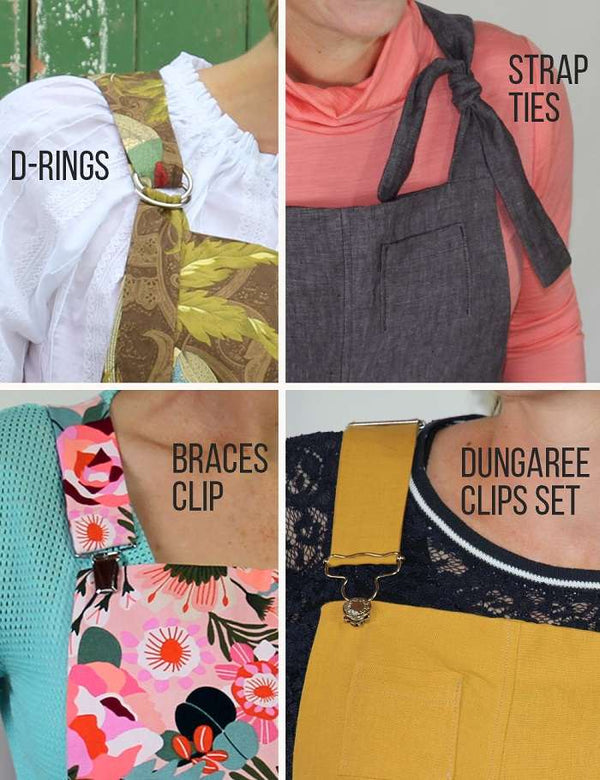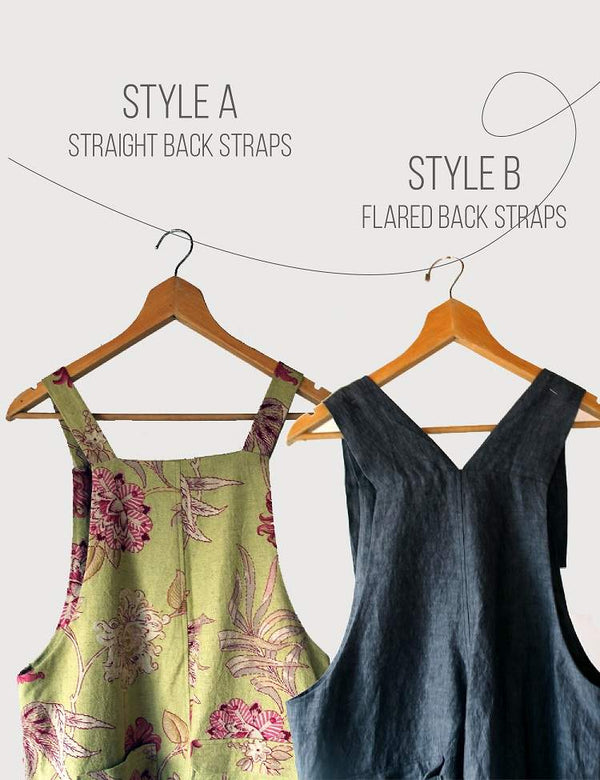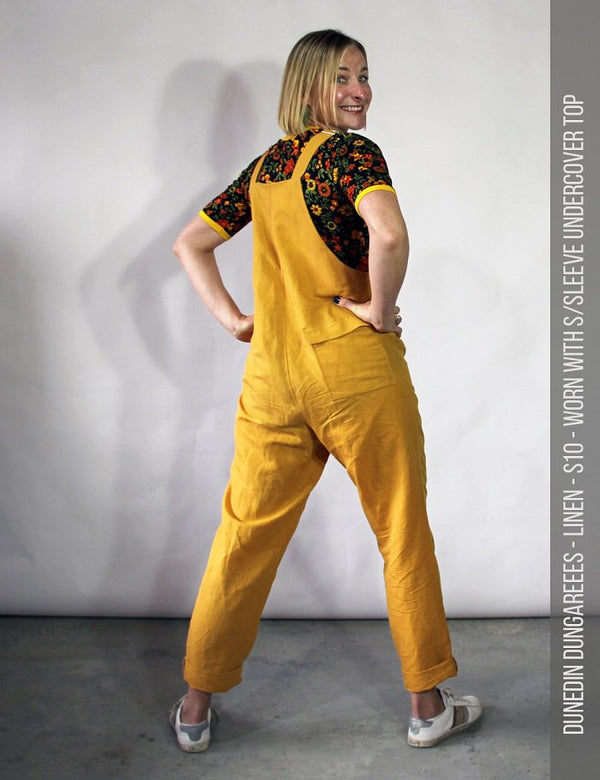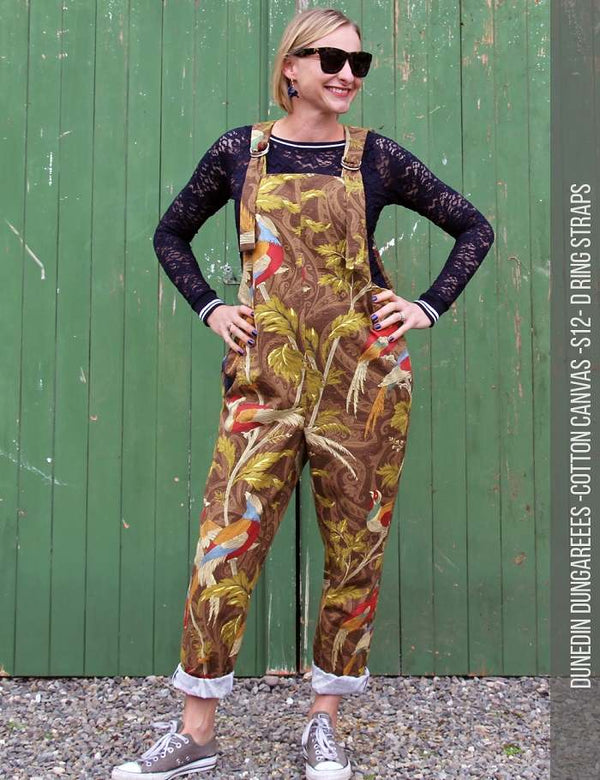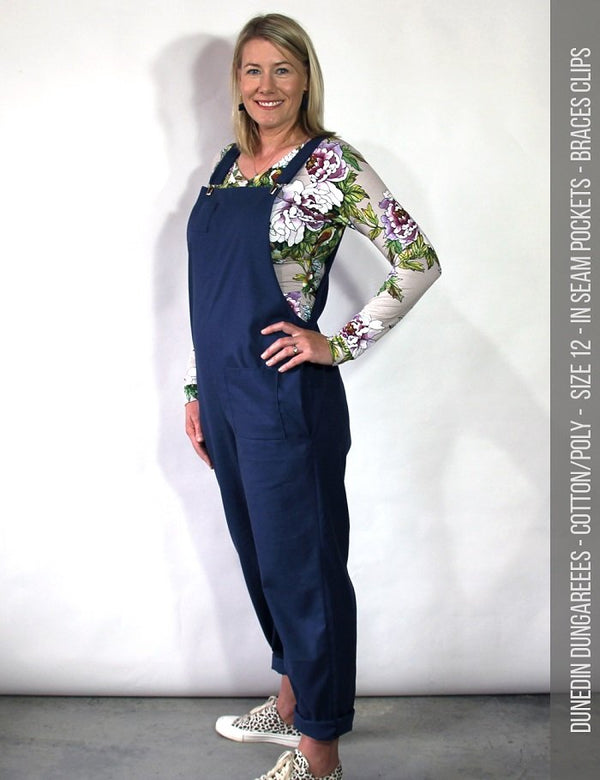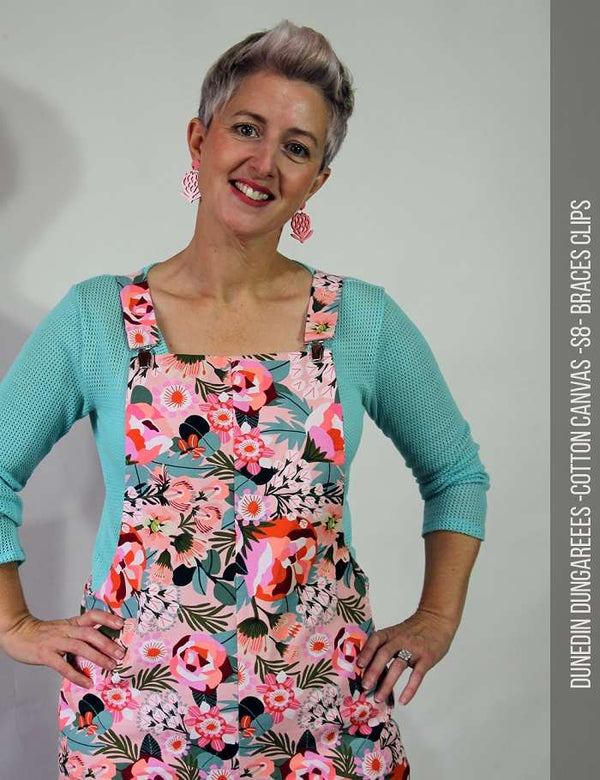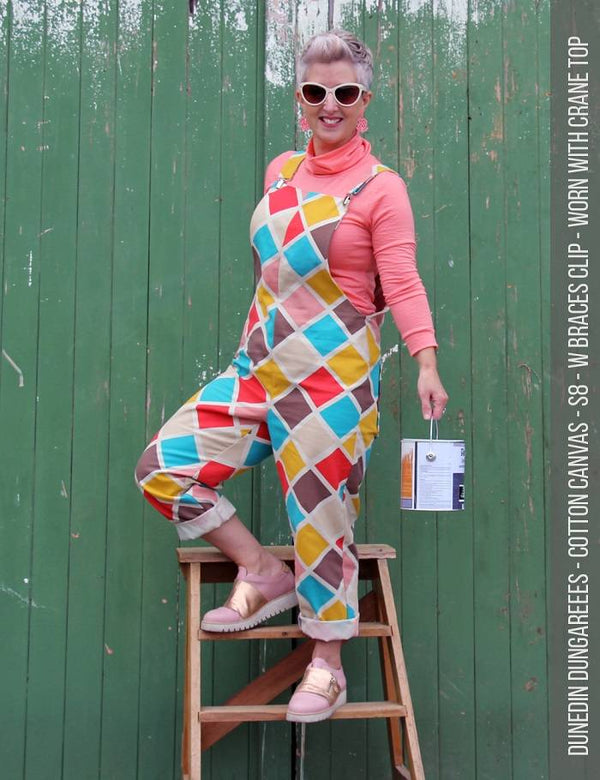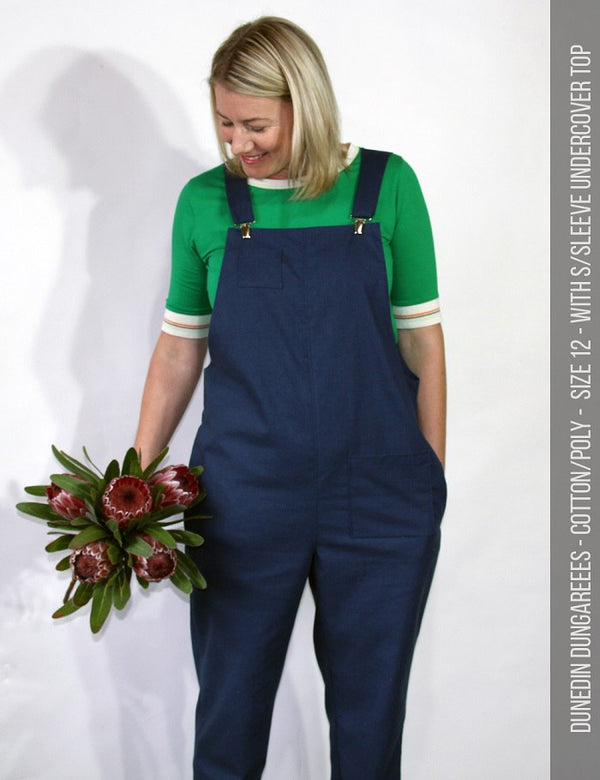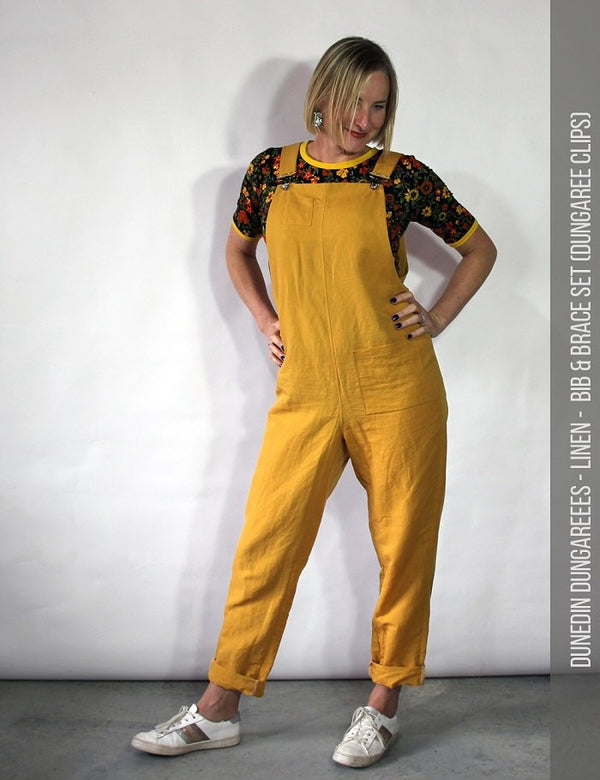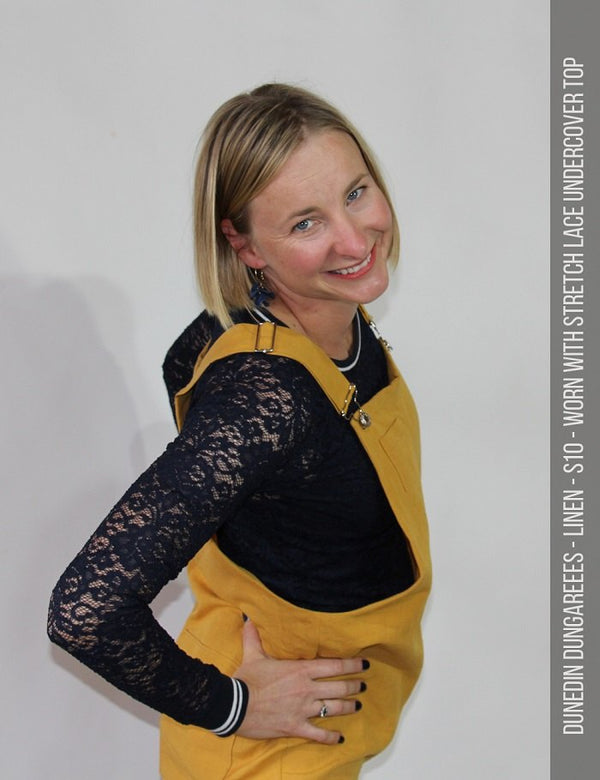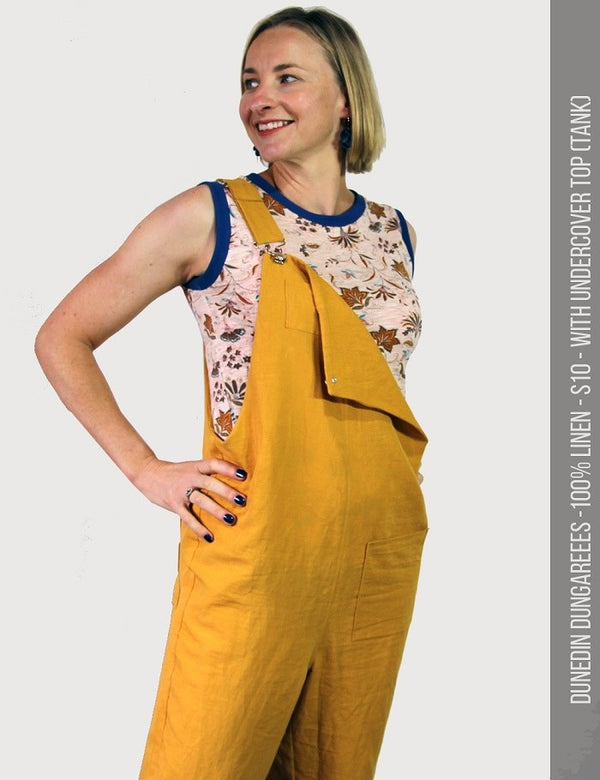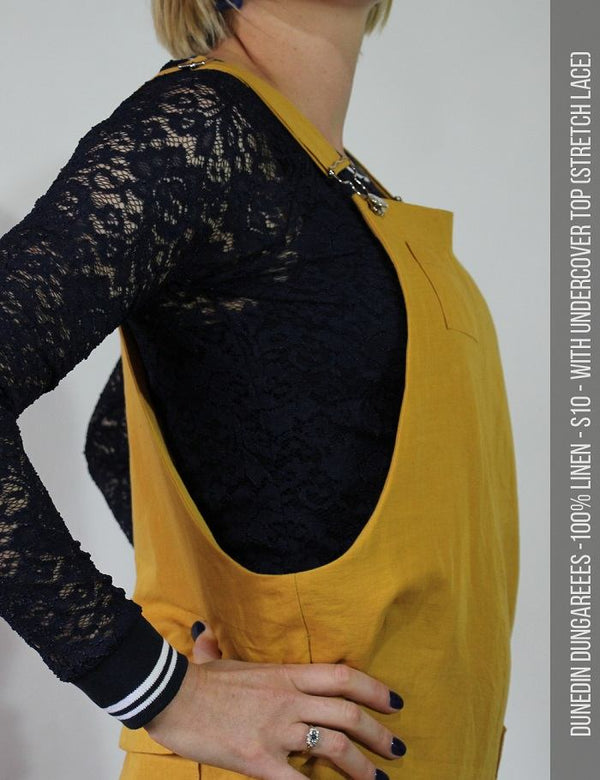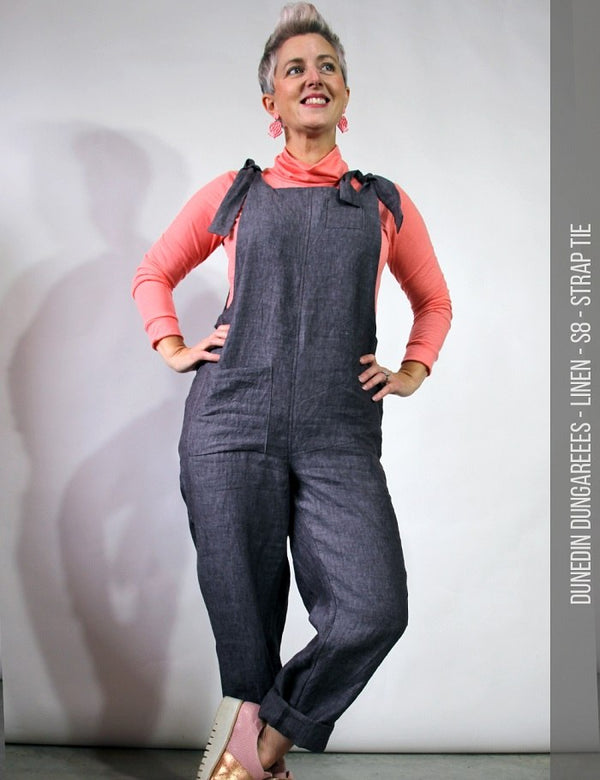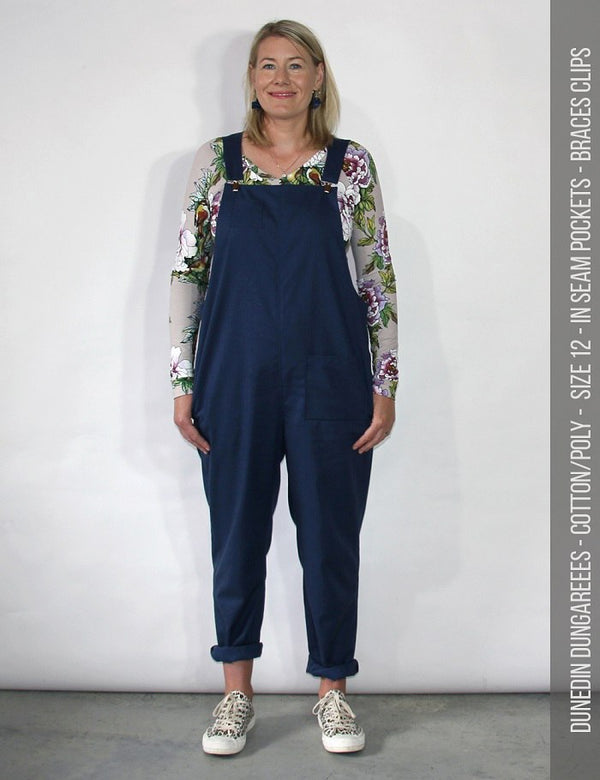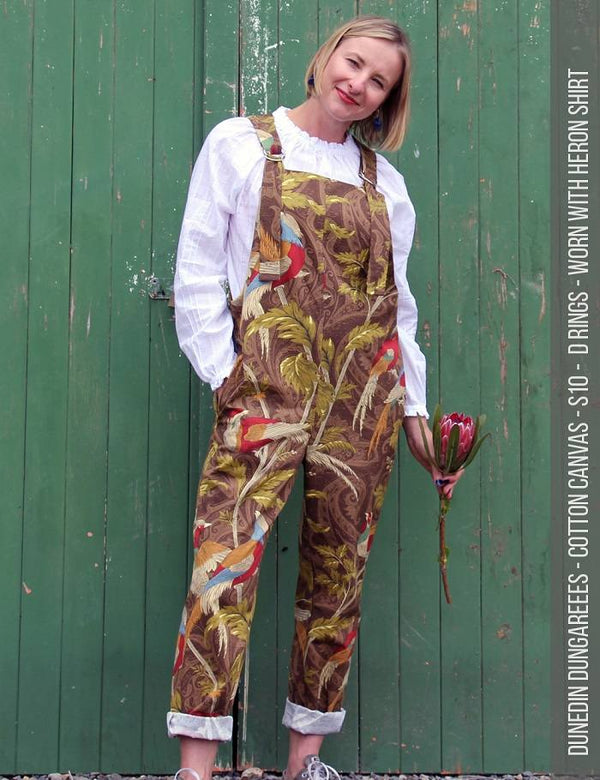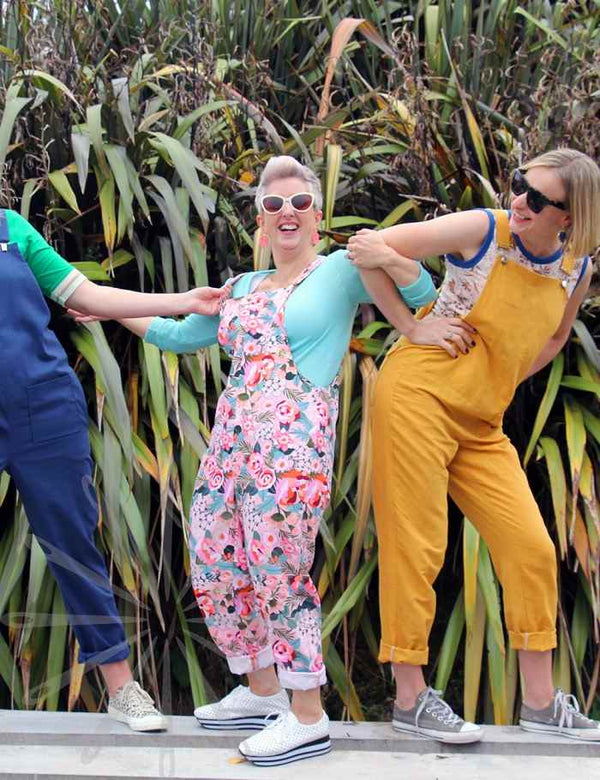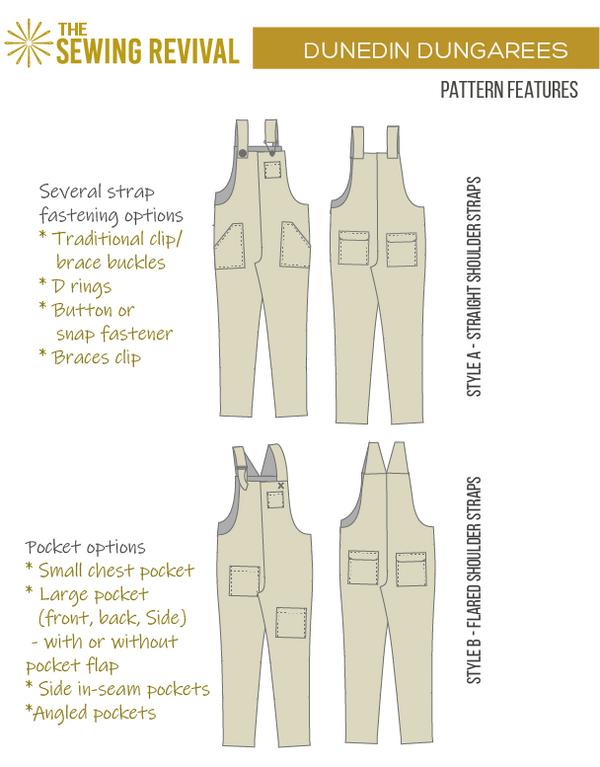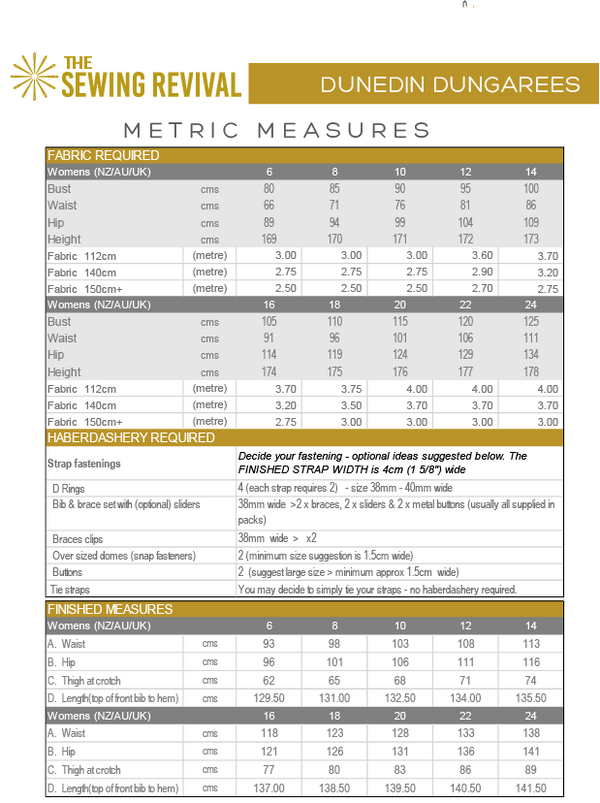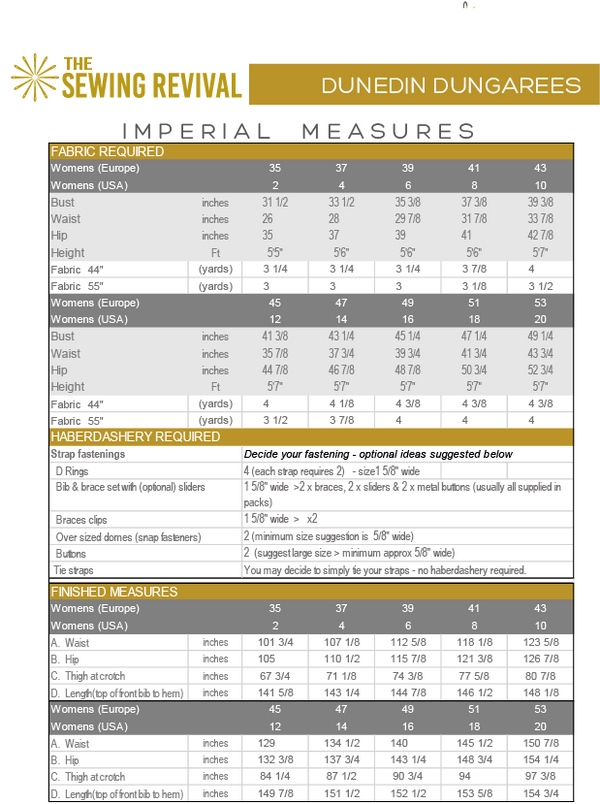 Have some fun with these easy-to-sew dungarees. 
Sew them in floral linen for some fun summer casual wear, or in corduroy or wool for winter. With 2 strap options and many fastening choices, the Dunedin dungarees come with a range of pockets to make them super easy to customize.
Wear your dungarees with an Undercover Top to complete the look. You can buy the Dunedin Dungarees and the Undercover Top as a bundle and save 25%. 
Share your makes on Instagram & Facebook tagging #DunedinDungarees and @thesewingrevival
PATTERN FEATURES:
2 backstrap styles (flared or straight strap)

5 pocket options (inseam, small chest, large square with or w/out flap, large angled pocket). Recommended pocket placements but get creative and play!
Loose-fitting for summer cool and easy layering underneath for winter warmth
Sizes NZ/AU 6-24 | US 2-20
FABRIC
Please refer to the FABRIC REQUIREMENT CHART as one of the last images on this product listing. You can magnify this image if viewing it on a mobile phone whilst in a fabric store.
WOVEN fabrics (all weights):
For SUMMER we recommend linen, cotton and/or blends of each. For WINTER we suggest corduroy, wool blends, cotton canvas.
DIFFICULTY
Confident beginner. These really are an easy fun sew with great results.
 SIZE & FITTING
Each purchase comes with 4 sizes (please refer to last image for size chart and international size comparisons):
Small - ( NZ/AU/UK 6-8-10-12  | US 2-4-6-8)                 Pages AO=2 | PAH=40
Medium - (NZ/AU/UK 10-12-14-16  | US 6-8-10-12)       Pages AO=3 | PAH=41
Large - (NZ/AU/UK 14-16-18-20  | US 10-12-14-16)       Pages AO=3 | PAH=46
X-Large - (NZ/AU/UK 18-20-22-24  | US 12-14-16-18)  Pages AO=3 | PAH=46

WHAT DO I GET WITH MY PURCHASE?
Please note you are purchasing a digital pattern that will be sent directly to your email inbox after payment. You can print this pattern at home on A4 or US letter-sized paper or take it to a print shop for large scale printing (AO size). *You will not receive a hard copy printed pattern.*
Instant download available immediately after checkout includes:

1. Instructions
2. PAH Pattern file (PAH=Print at home)
For printing in A4 or US Letter on a home printer. Printing at home is the most cost-effective, and sticking your pattern tiles together to make your full size pattern is easy. Further information for printing at home can be found in our Resources section here. 
3. AO Pattern file
AO is a large scale file designed to be printed at a Print Copy Shop. You cannot print this on your home printer as it is too big. If you choose to use this large file you will pay extra to have it printed but you do not have to stick anything together.
You can use the ADOBE LAYERS FEATURE to open the PAH pattern file and print only the size you need (and eliminate the "noise" of the unwanted sizes). You can also use the URL and bookmark links within the file to quickly access information and support. Download Adobe Reader for free (for Windows and Mac) here.
Reviews
Customer Reviews
02/03/2023
Rebecca K.

France
My dream dungarees
I loved this pattern so much, thank you for making it! The pattern was super easy to use and the fit is great :-)
08/18/2022
Rosa T.

Spain
07/11/2022
Karin V.

United States
Pattern instructions could use some fine tuning but LOVE all the design options!
Printing went well although it is 43 pages just for the pattern itself. Instructions for tie straps are confusing because no consistency in what piece 6 (strap) is called. Good for a beginner and fun options. Best pattern I could find on the internet for this style.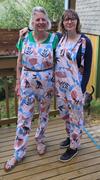 07/12/2022
The Sewing Revival
Hi Karin, Thank you for taking the time to review the Dunedin Dungarees - and we are so glad you love them. There is always the option of getting your pattern printed on AO (large format paper) at a Print shop if the print-at-home assembly is not something you enjoy. Please note that we have now updated the instructions to ensure we consistently refer to pattern piece 6 as the straight strap option. Thanks for your input. Kind regards, Janine
12/08/2021
Jane F.

New Zealand
11/20/2021
adrianne n.

New Zealand
dunedin dungarees
awesome easy to follow instructions.Quick and easy to make
10/27/2021
Lee M.

New Zealand
10/18/2021
Hanisi F.

New Zealand
10/06/2021
Elizabeth G.

New Zealand
Excellent
I was pleasantly surprised - this pattern is well written. Some internet patterns are hard to grasp. I've sewed for years and used to old school patterns but I found this one excellent.
09/17/2021
Lucy D.

New Zealand
Dungarees
It was super easy to follow. I love the dungarees I made, but I did end up changing the width around the chest. I took a few cm off, as it was too wide for me. If I made them again for myself or others I would definitely make it not as wide again. Otherwise awesome :-)
08/03/2021
Kate W.

United Kingdom
Excellent pattern
Really clear instructions. Love my new dungarees
07/28/2021
Elizabeth C.

United Kingdom
Very, very happy!
I finally made my first pair of dungarees and I love them. The Dunedin Dungarees are very well drafted and the instructions clear and didn't take long to make. I made my toile in a lightweight suiting type fabric which I had in my stash and they are awesome. I am smitten and plan to make more in denim and corduroy, oh and I have canvas fabric which would be perfect! This was my first pattern by the Sewing Revival and I am very impressed - thank you!
07/02/2021
Anna M.

Australia
06/08/2021
liz L.

United Kingdom
Dungarees
Couldn't make my mind up which size to make so made the 14,which ended up being a little too big in the waist and leg width,however like all of your other patterns it was easy to adjust the sizing and now have the best fitting dungarees I've ever owned,keep up the good work!
06/08/2021
Sharleen M.

New Zealand
Love them
A great pattern, very easy to follow. Now I am battling with the question "How many pair do I need"?
05/03/2021
Annie B.

Australia
Dunedin Dungarees
thanks for a great product. Just what I was looking for
05/02/2021
Fiona G.

United Kingdom
not sure what this means? I bought the Denedin dungarees pattern
Good, except i could not get the .pdf printed at the Printers, i had a therapeutic time sticking paper together!
05/02/2021
Rose P.

United States
Great Pattern
easy to sew, I had a problem with the width of the waist, but I hove the ease of wearing the dungarees.