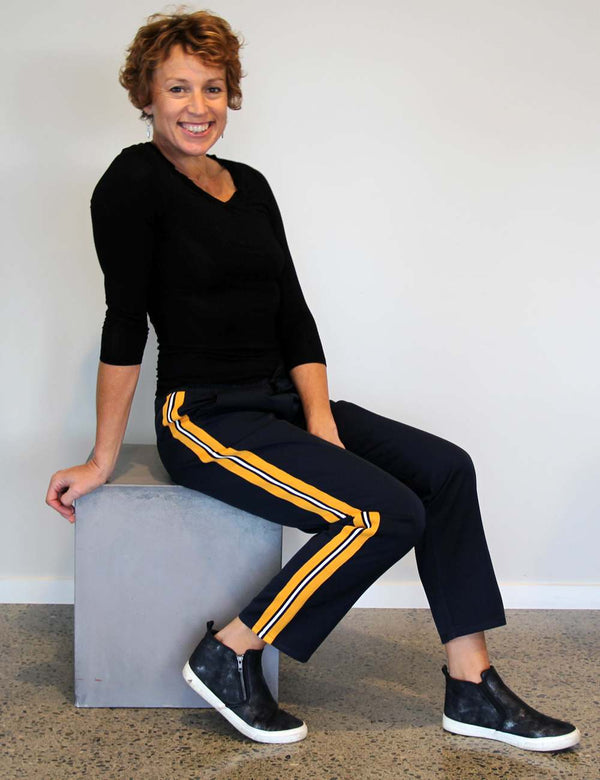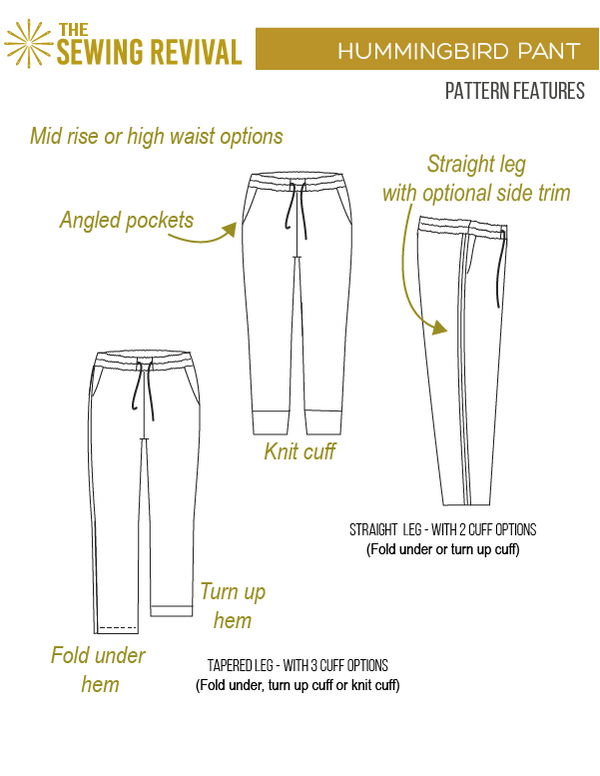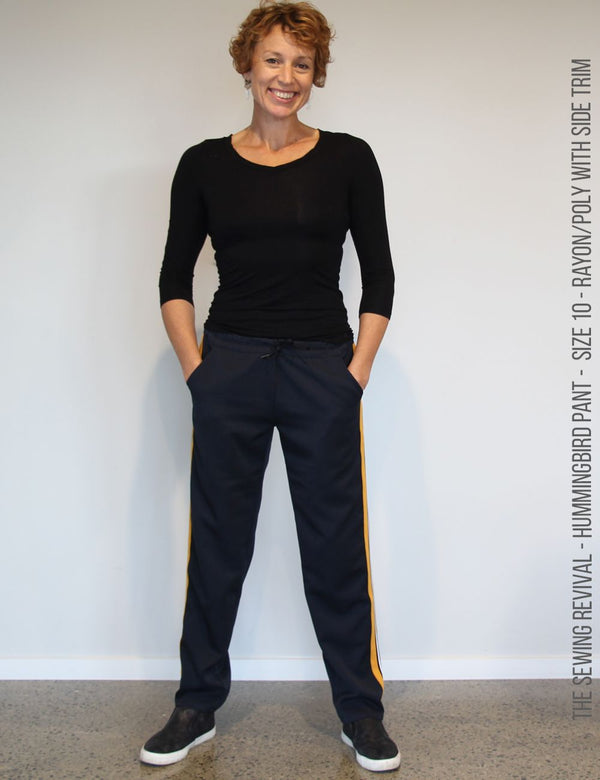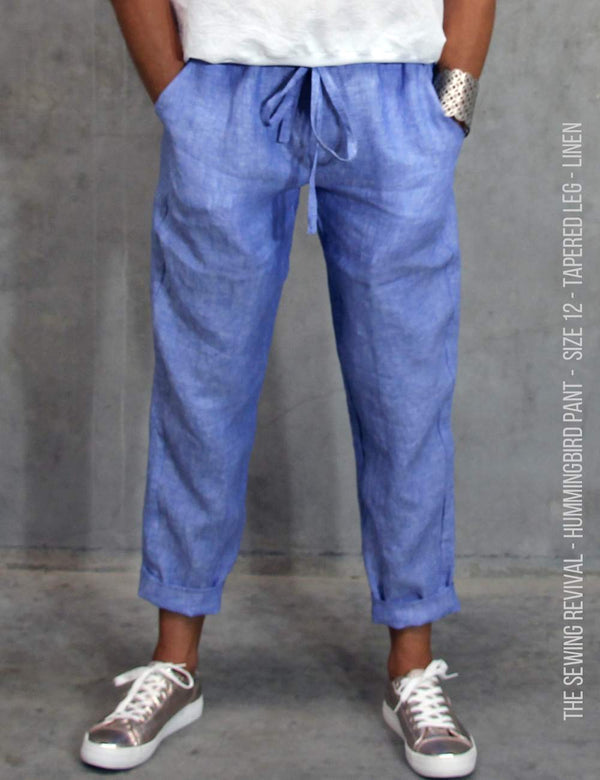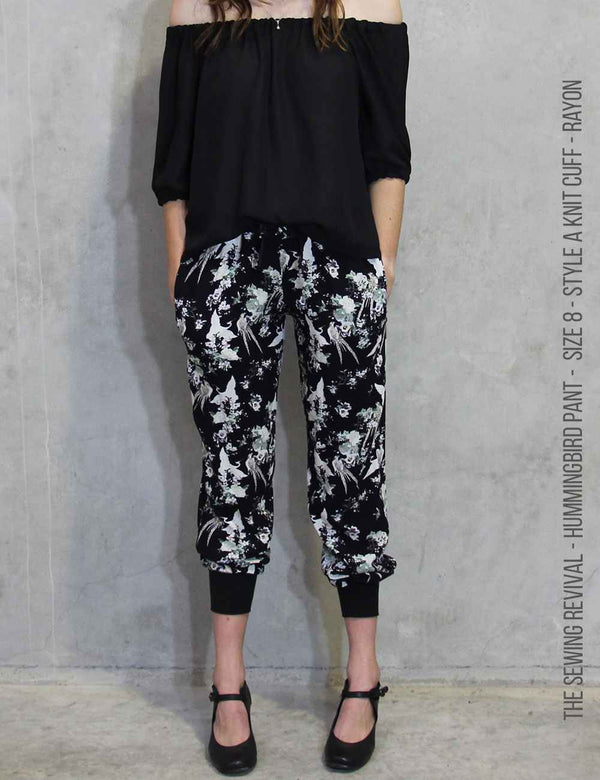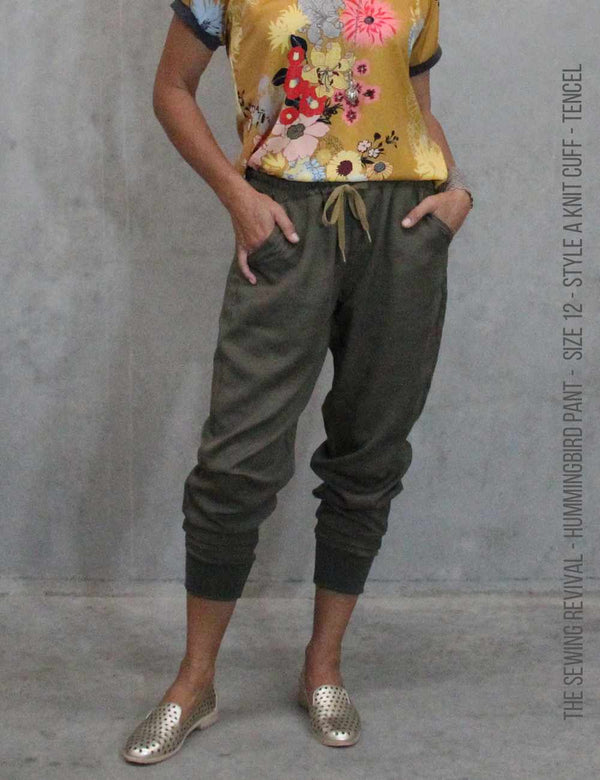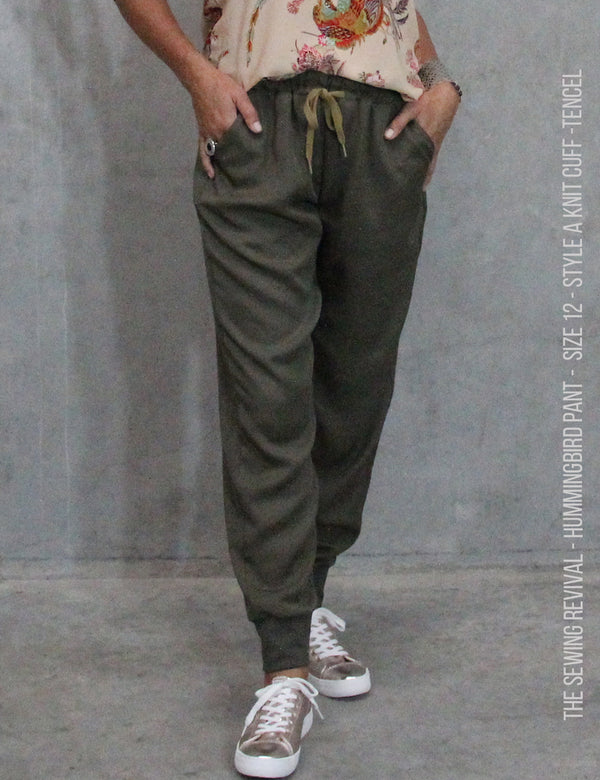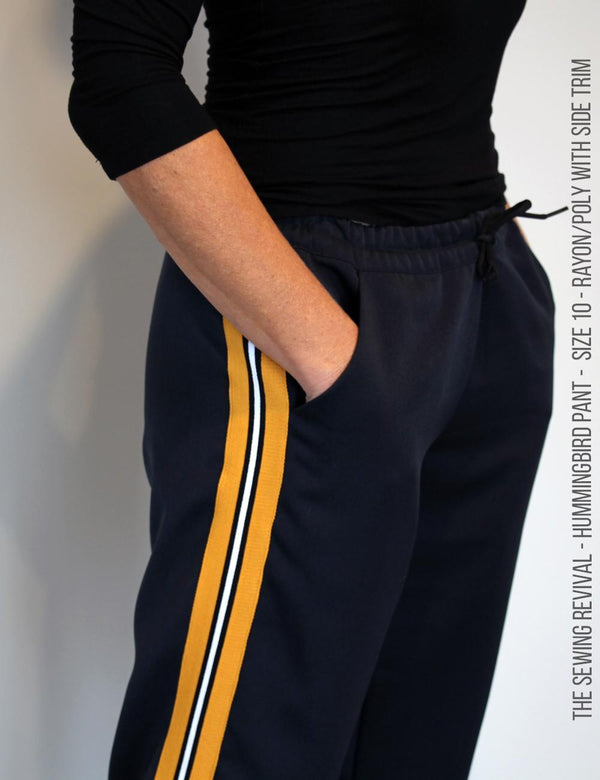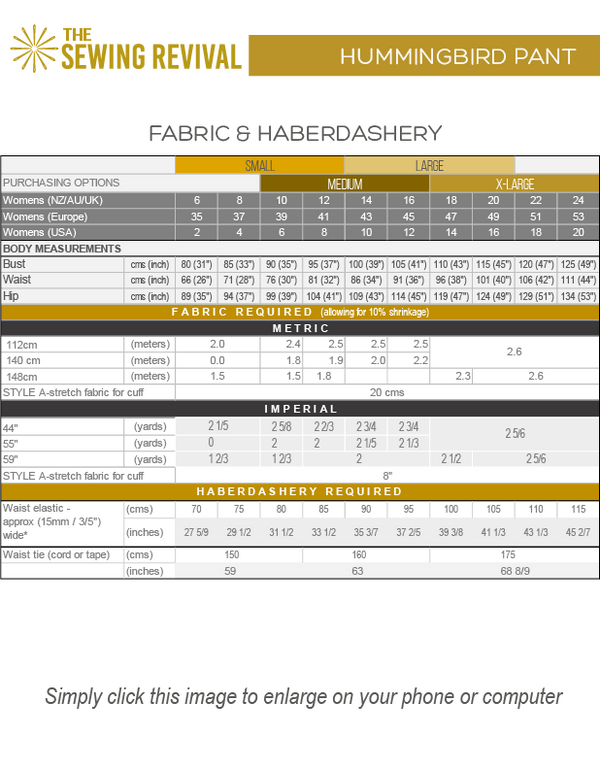 A go "anywear" pant to dress up or relax in. Easy construction with angled side pockets and gathered elastic & drawstring waistline ensuring a flexible and comfortable fit. The slight leg taper ensures a flattering look with 2 different style options:
STYLE OPTIONS
STYLE A - Leg hem finished in a stretch cotton/lycra band (to allow the pant to be worn at 3/4 length or full).
STYLE B - Simple turn under hem (that can be worn folded up or long).   
OPTIONAL Leg trim. Refer this blog for adding leg trim.
Share your makes on Instagram & Facebook tagging #HummingbirdPants and @thesewingrevival
FABRIC
Although designed for mid weight wovens or jersey knits, this is a super versatile pattern that can be sewn from almost anything. Your fabric choice naturally determines the look and feel of the pants, but it will work with most fabrics.
Light to medium weight fabrics that have a soft drape.
The pant samples pictured are sewn in tencel (khaki with stretch hem), Linen (light blue rolled hem), Viscose crepe (Black with stretch hem) and blue floral (rayon). 

We recommend:
Tencel, rayon*, rayon/poly,  cotton* and cotton blends (knits or wovens)- cotton/viscose and cotton/polyester, light weight linen*
We do not recommend heavy fabrics or fabrics containing elastane or lycra.

*be sure to pre-wash fabrics like rayon, linen and cotton which can shrink up to 10%. You will need to take this into account when buying your fabric.
WOVEN 
For winter corduroy, wool suiting (light to mid weight), poly/cotton blends.  
For Summer - linen, cotton, rayon/viscose, tencel, rayon/poly.
KNIT
Fine merino wool, cotton jersey knit, sweat shirting.
DIFFICULTY
Easy Intermediate sewers (difficulty 2.5/5).

Suitable for Advanced Beginners/Intermediate sewers. Able to sew a curved seam, insert elastic into waistband and hems. No buttons or zips required.

SIZE & FITTING
Please note that if you are in doubt, please choose the size depending on your HIP measurement. Choose your hip measure closest to the size chart in the first instance (and then refer to the finished measure chart for the amount of ease if you are "in between" sizes).
These pants have a gathered waist with added drawstring so the waist is easily adjustable. The hip measure should decide the size.
Each purchase comes with 4 sizes (please refer to the last image for size chart and international size comparisons). Hover over the image to magnify.

Small - (NZ/AU/UK 6-8-10-12  | US 2-4-6-8)                     
Medium - (NZ/AU/UK 10-12-14-16  | US 6-8-10-12)       
Large - (NZ/AU/UK 14-16-18-20  | US 10-12-14-16)        
X-Large - (NZ/AU/UK 18-20-22-24  | US 14-16-18-20)     

Please refer here for help choosing the size
WHAT DO I GET WITH MY PURCHASE?
Please note you are purchasing a digital pattern that will be sent directly to your email inbox after payment. You can print this pattern at home on A4 or US letter-sized paper or take it to a print shop for large scale printing (AO size). *You will not receive a hard copy printed pattern.*
Instant download available immediately after checkout includes:

1. Instructions
2. PAH Pattern file (PAH=Print at home)
For printing in A4 or US Letter on a home printer. Printing at home is the most cost-effective, and sticking your pattern tiles together to make your full size pattern is easy. Further information for printing at home can be found in our Resources section here. 
3. AO Pattern file
AO is a large scale file designed to be printed at a Print Copy Shop. You cannot print this on your home printer as it is too big. If you choose to use this large file you will pay extra to have it printed but you do not have to stick anything together.
Further information for printing large scale can be found in our Resources section here.

You can use the ADOBE LAYERS FEATURE to open the PAH pattern file and print only the size you need (and eliminate the "noise" of the unwanted sizes). You can also use the URL and bookmark links within the file to quickly access information and support. Download Adobe Reader for free (for Windows and Mac) here.
Click here for help with finding your size.

Click here with help to print only your size
Instant download available after checkout.
PRINTING
 Each Hummingbird pant PDF sewing pattern comes with 4 sizes (please refer last image for size chart and international size comparisons - hover over the image to magnify).
Small - (NZ/AU/UK 6-8-10-12  | US 2-4-6-8)                     AO 2pg | PAH 26pg*
Medium - (NZ/AU/UK 10-12-14-16  | US 6-8-10-12)        AO 2pg | PAH 27pg
Large - (NZ/AU/UK 14-16-18-20  | US 10-12-14-16)         AO 2pg | PAH 31pg
X-Large - (NZ/AU/UK 18-20-22-24  | US 14-16-18-20)     AO 2pg | PAH31pg
*PAH = Print At Home. For help printing at home click here.

AO= Large scale requiring a special printer. For help printing at a Copy Shop click here.
Reviews
Customer Reviews
06/19/2022
Elizabeth D.

United States
I love these patterns!
The Hummingbird Pants pattern is the third pattern I've bought from Sewing Revival, and the second pants pattern. I just finished sewing my first pair of Hummingbird Pants, and the directions were clear and easy to follow. I can see using the pattern for so many different pants options - in woven fabrics and sporty knits. I love this pattern.
06/05/2022
Alison M.

New Zealand
Hummingbird pants
The pattern was very easy to use. I made a size 12 as I usually take a 12 in jeans and pants I found the pattern for me a little big but it was easy to make a few adjustments. Overall I am very happy with the end result and will be making loads more of these pants for the Spring/Summer season. Thankyou for your wonderful easy patterns! Cheers Alison
01/24/2022
Sandra M.

Germany
Every time again
This pant is wonderful to sew and perfect to wear.
12/14/2021
Grace C.

New Zealand
Nice pants- choose wrong size
The pattern was easy to follow. They can up bigger than I expected, especially through the back. I'll try a size down next time. I like all the options in the one pattern
12/06/2021
Vanessa P.

New Zealand
11/20/2021
Denise C.

New Zealand
Great pattern
Easy to follow instructions lead to a fantastic pair of pants! They're so comfy! More on the horizon for sure
08/06/2021
Deb F.

New Zealand
Hummingbird pants
First PDF pattern, all went very smoothly. Only confusion was I had no way to insert the elastic, so had to unpick a section of the top tube. The holes allow the drawstring to be inserted, but the elastic casing was completely sealed. Maybe I am missing something!
12/02/2020
Sarah M.

New Zealand
FAB pants
Great pants, lover the EASY Pockets, so versatile. I made the legs of mine slightly wider for elegant evening pants
11/03/2020
Hilary J.

New Zealand
Hummingbird pants
Excellent...no fitting problems...made in a merino/silk fabric. Winter track pants....Just what I wanted
10/05/2020
Hans D.

Switzerland
Hummingbird Pant
Pattern is easy to assemble, very clear instructions
09/03/2020
Michele K.

South Africa
Humming Bird Pants
Absolutely love them ❤️ As well as the sidewinder. Your patterns are truly amazing and very user friendly. Have made a few dresses and have 3 patterns I have not done yet love your site
06/03/2020
Claire J.

New Zealand
Hummingbird pants
I found these pants to be an excellent fit. The pattern went together like a dream. Highly recommended.
02/06/2020
Jennifer H.

New Zealand
Easy to use and looks
Easy to use and looks great
Hummingbird pants
The pattern was so easy to use, and the pants turned out really great. Fitted well, so comfy, yet stylish to wear out. I'll be making a couple more pairs in different fabrics and colours. My sewing class friends are all taking note of the sewing revival website for themselves.
Best Pant pattern ever :)
Best Pant pattern ever :)