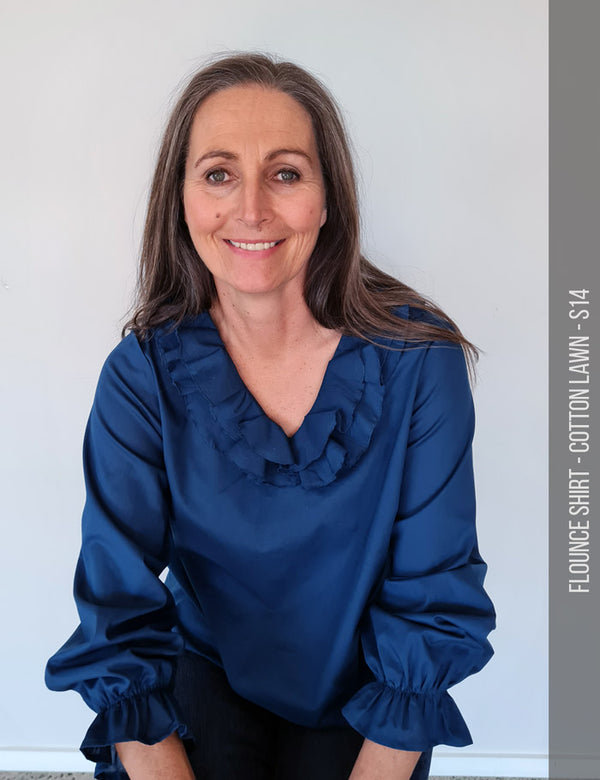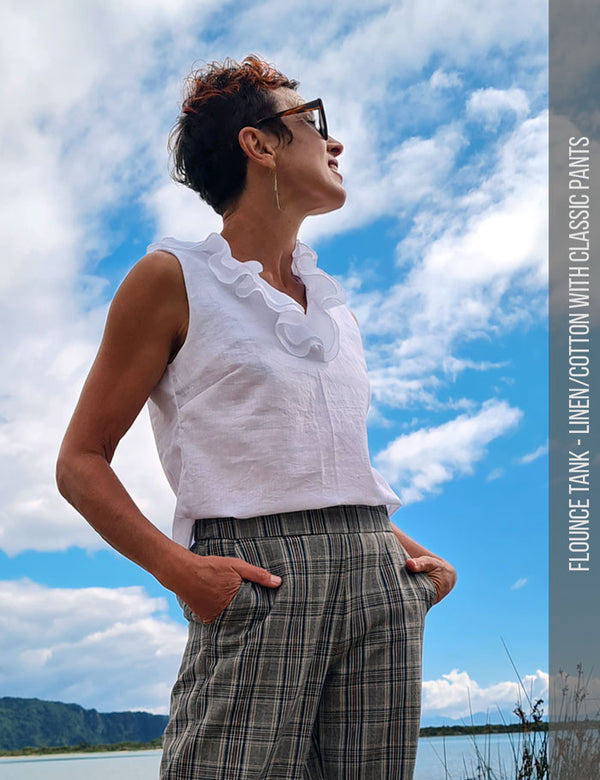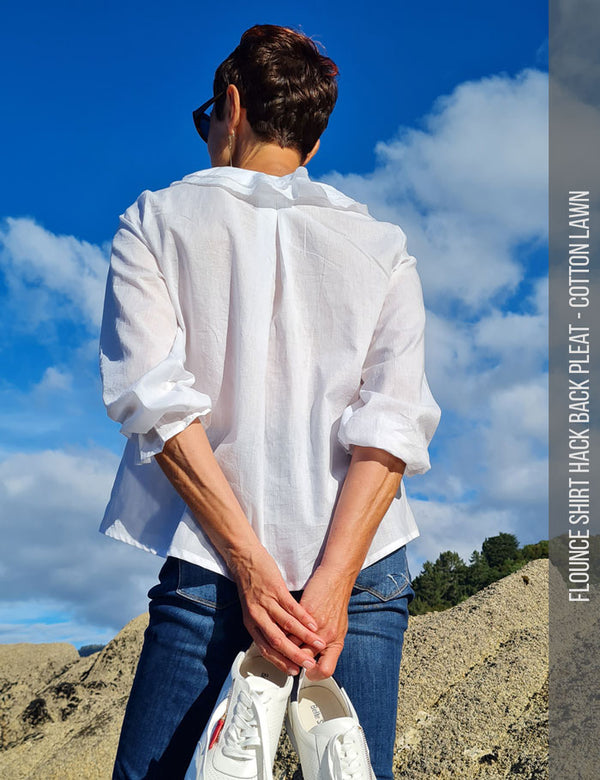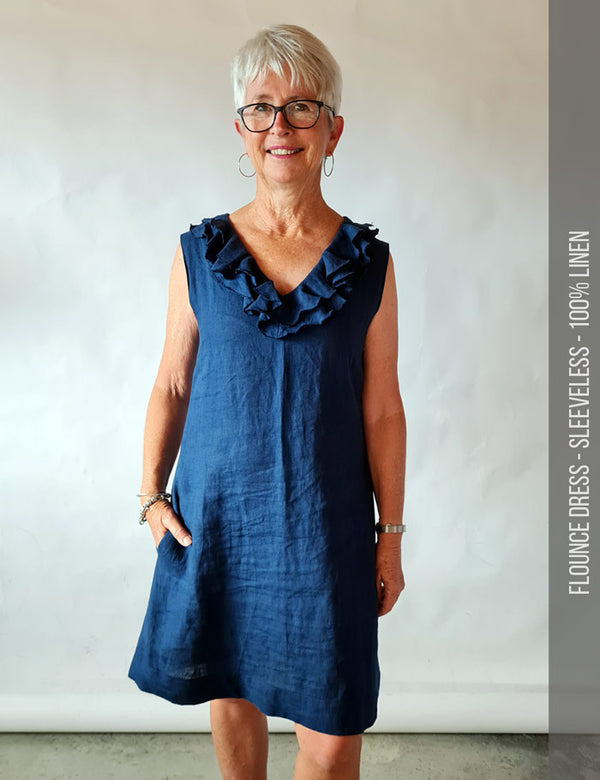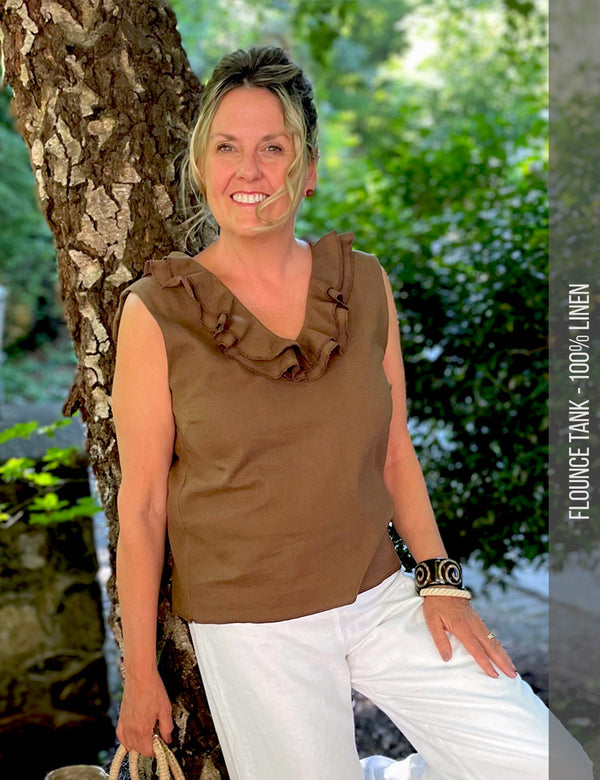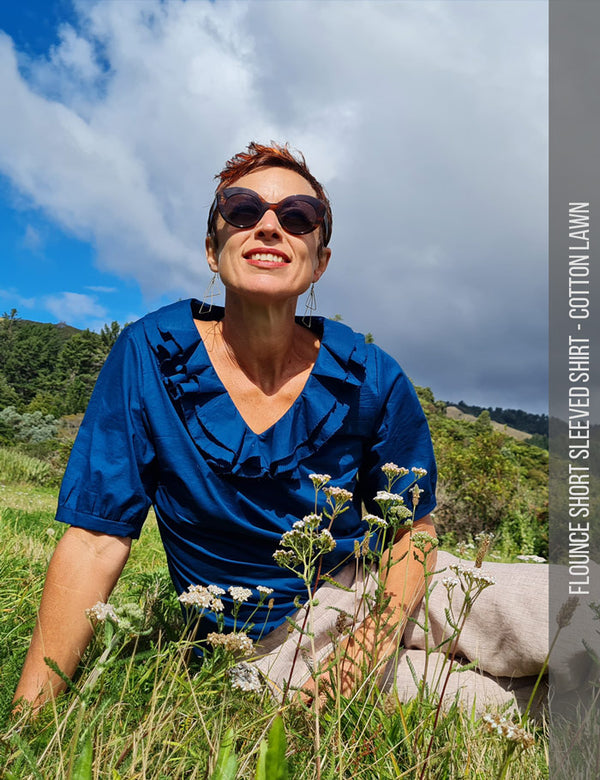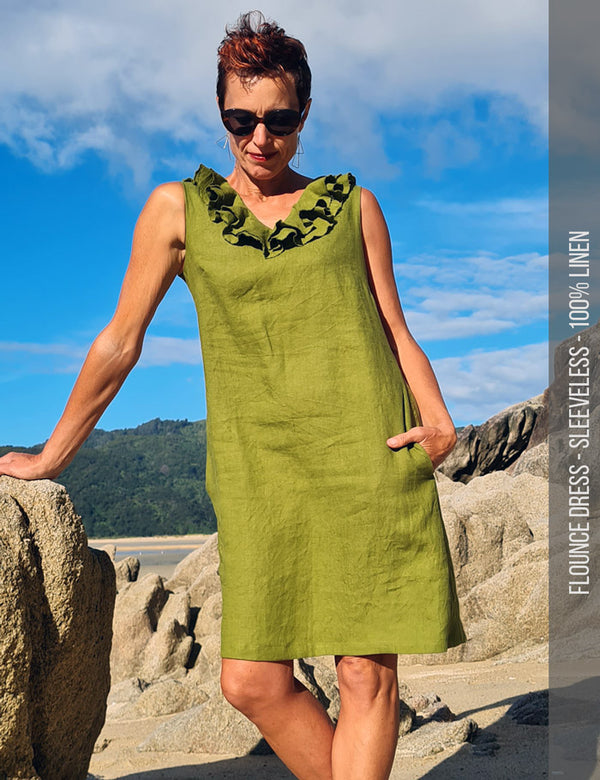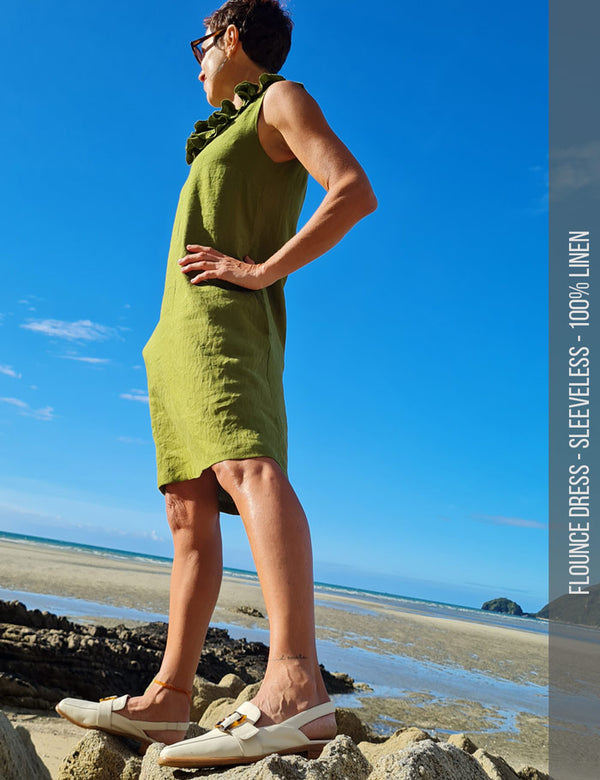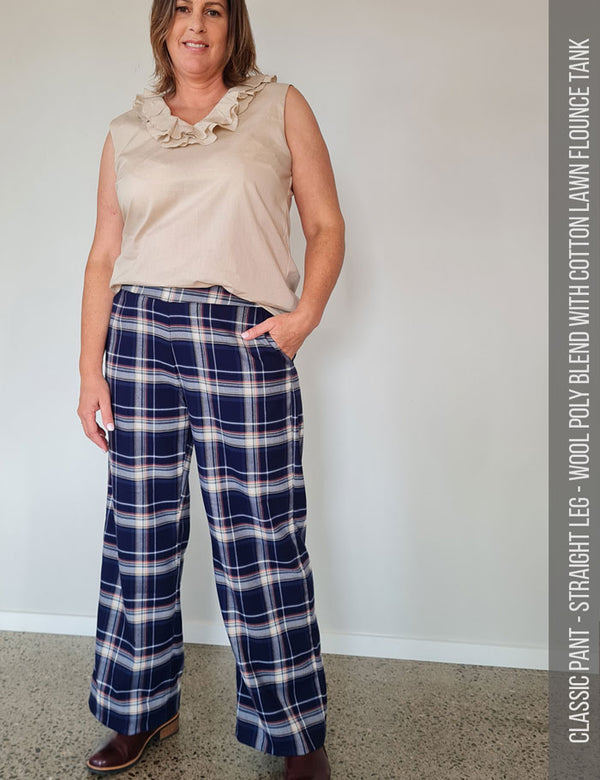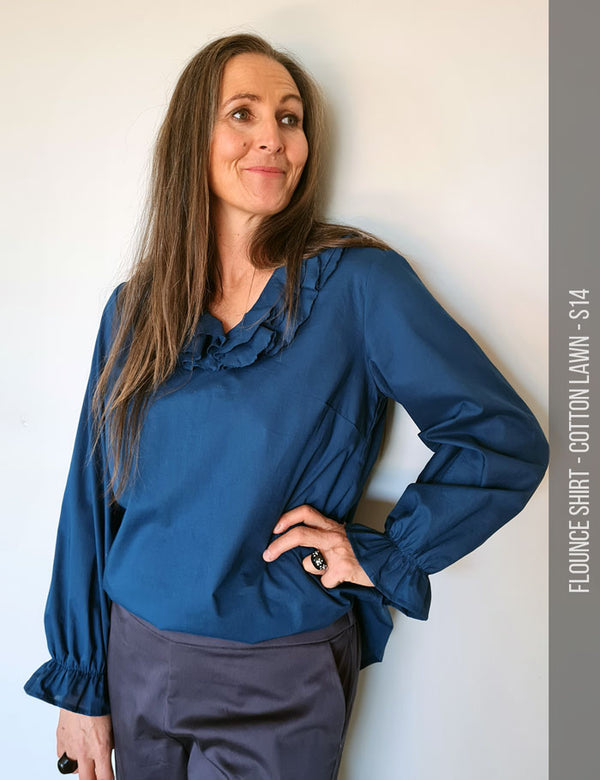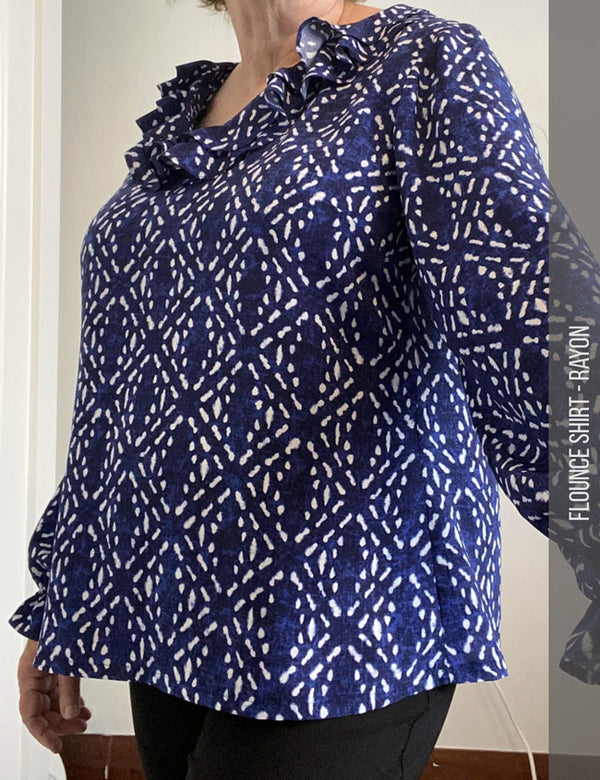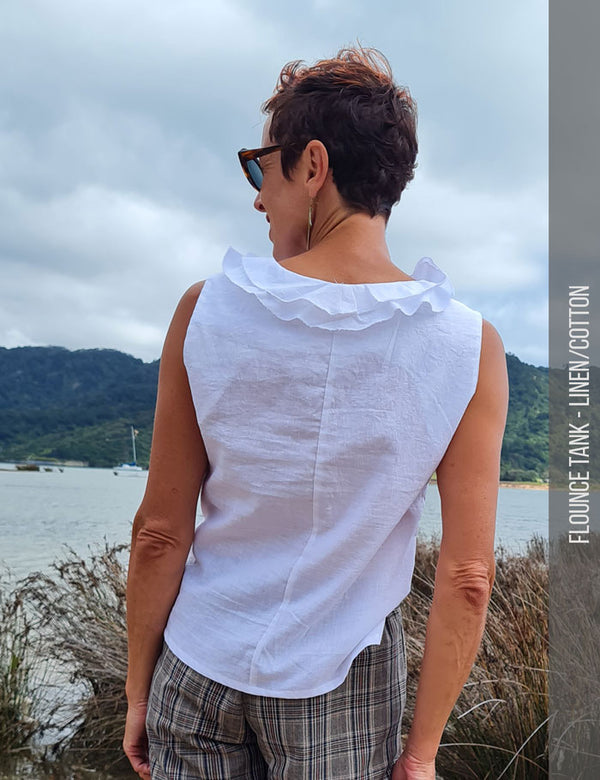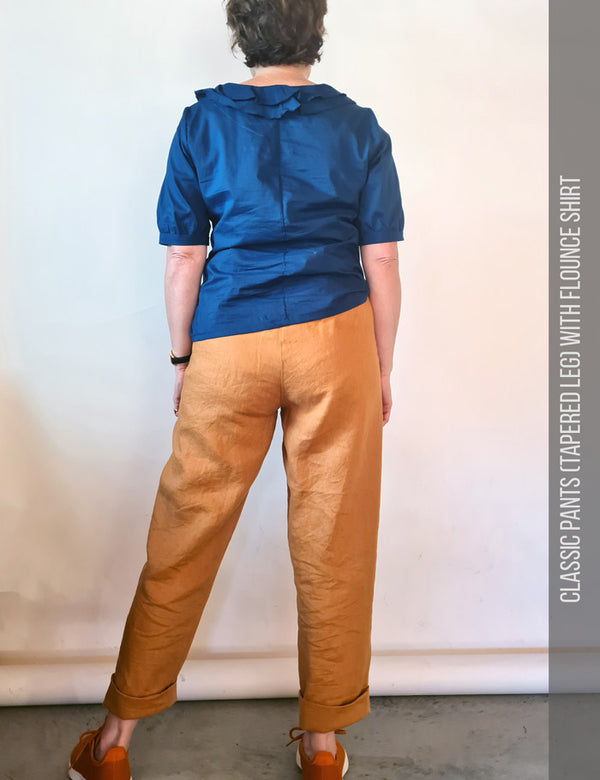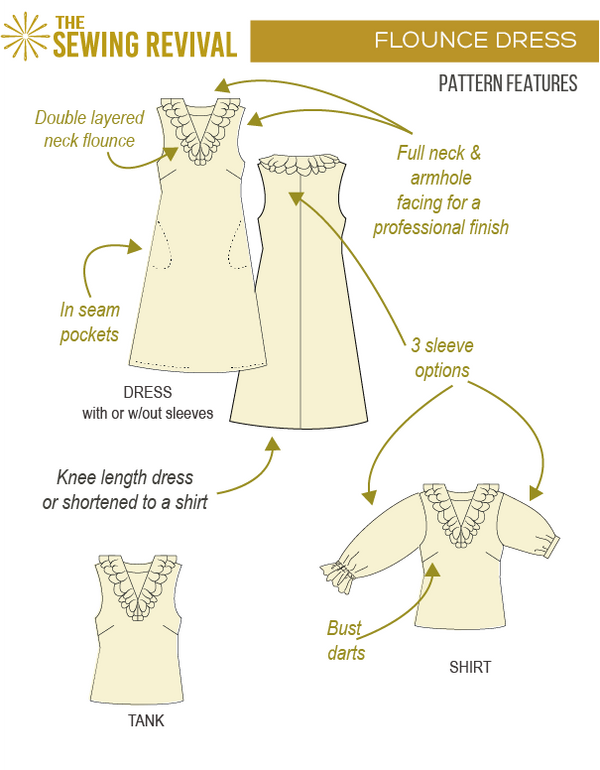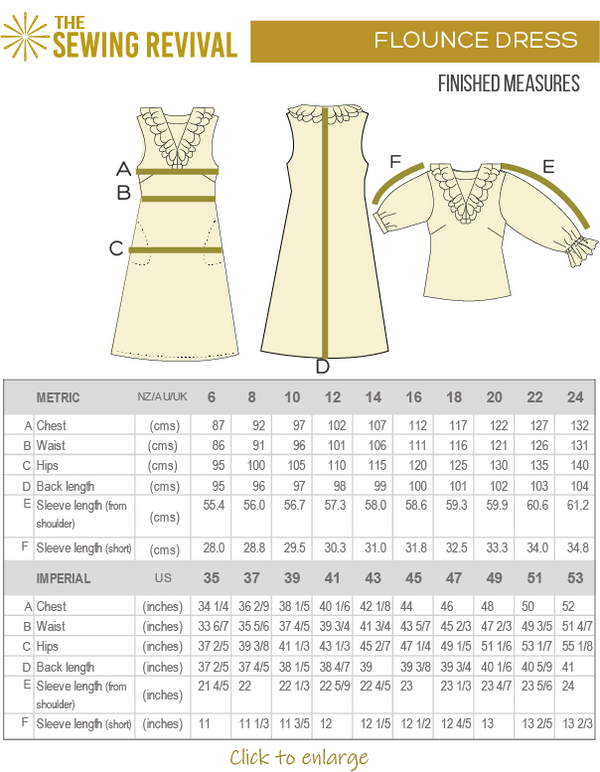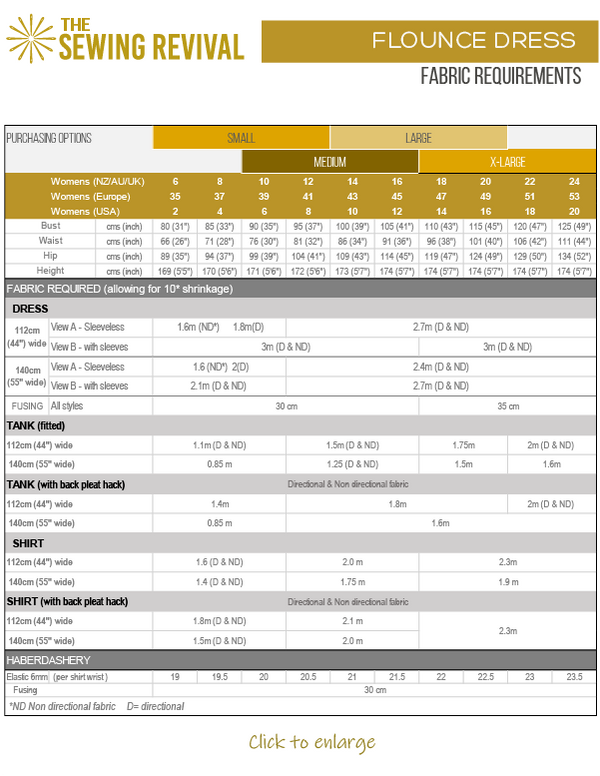 Flounce dress, tank and shirt
An easily constructed sewing pattern with a large range of options, the V Neck flounce ensures a feminine modern statement. Sew this as a dress with or without sleeves, a tank for summer or shirt for winter. Instructions include an easy step to add a full back pleat to the shirt if you please.
Pattern Features:
* V neck double flounce
* Dress, tank, fitted or full shirt.
* 3 sleeve options (sleeveless, short or long)
* Internal side seam pockets (dress option)
 Skill level: Easy intermediate

Style with:
The tank and shirt options work superbly with the Classic Pant|Short or Sidewinder pants.

This pattern is also available in a bundle with the Classic pant & short.
Check out the Reviews for this product under the Reviews tab here and also under the Flounce and Classic pant bundle.
Tag: #TSRFlounce in Instagram or FB to inspire others
FABRIC
Please refer to the FABRIC REQUIREMENT CHART as one of the last images on this product listing. You can magnify this image by clicking on it if viewing on a mobile phone whilst in a fabric store.
The Flounce Tank & Shirt is designed for light-weight woven linen, cotton lawn, rayon or viscose.
The Flounce Dress works best is mid weight linen but equally can be sewn in a satin for evening or special occassion wear.

*Please also note that all (new) fabric should be pre-washed in case of shrinkage. 100% cotton & linen will shrink during the first wash. It doesn't hurt to be safe and remove any dodgy chemical build-up that may have occurred during printing anyway.
DIFFICULTY
Easy Intermediate

SIZE & PRINTING
Each purchase comes with 4 sizes (please refer to the last image for size chart and international size comparisons):
Small - (NZ/AU/UK 6-8-10-12  | US 2-4-6-8)                    A4/Letter=31   AO=2pages
Medium - (NZ/AU/UK 10-12-14-16  | US 6-8-10-12)        A4/Letter=33   AO=2pages
Large - (NZ/AU/UK 14-16-18-20  | US 10-12-14-16)        A4/Letter=36   AO=2pages
X-Large - (NZ/AU/UK 18-20-22-24  | US 14-16-18-20)     A4/Letter=36   AO=2pages

WHAT DO I GET WITH MY PURCHASE?

Please note you are purchasing a digital pattern that will be sent directly to your email inbox after payment. *You will not receive a hard copy printed pattern.*
You will receive a link to download 3 different PDF files:
1. Instructions
2. Print at home Pattern Tiles (PAH=Print at home)
For printing in A4 or US Letter on a home printer. Printing at home is the most cost-effective, and sticking your pattern tiles together to make your full size pattern is easy. Further information for printing at home can be found in our Resources section here. 
3. Large scale Pattern file (AO) for taking to your local Print Shop 
AO is a large scale file designed to be printed at a Print Copy Shop. You cannot print this on your home printer as it is too big. If you choose to use this large file you will pay extra to have it printed but you do not have to stick anything together.
You can use the ADOBE LAYERS FEATURE to open the PAH pattern file and print only the size you need (and eliminate the "noise" of the unwanted sizes). You can also use the URL and bookmark links within the file to quickly access information and support. Download Adobe Reader for free (for Windows and Mac) here.
PATTERN UPDATES

5 April 2023 > Pattern launch
25 May 2023 >Improved instructions on constructing the short sleeve
Reviews
Customer Reviews
11/28/2023
Susan S.

New Zealand
Beautiful Pattern
The pattern instructions were very clear and easy to follow. True to size. So good I made one blouse without the flounce and cuffs on short sleeves and one with the flounce.
11/18/2023
Maria m.

New Zealand
Flounce dress
This pattern is so satisfying and gorgeous. Easy pattern and lovely end garment. Another winner from sewing revival thankyou
09/23/2023
Ros G.

United Kingdom
Easy as pie!
As a complete novice this pattern could not have been easier to follow! I will definitely use you again!
07/17/2023
Debra K.

United States
I can't open and use the download
I don't understand how to print and use the download I purchased.
07/17/2023
The Sewing Revival
Good morning Debra, There are many ways for you to get help with this: 1. We provided a link to our "Getting Started" tutorials on your Order confirmation email. You can also find this under the RESOURCES section of the websites main menu. These tutorials help you with a step-be-step guide to downloading & saving your files, printing options and assembling your sewing pattern. 2. You can always email directly for help at info@sewingrevival.co.nz or message us on our socials (IG and FB). The link to this email was provided in the text of the email you received with the links to download your pattern files. Please refer the tutorials as suggested and if you are still struggling - simply reach out to us by email. We strive to ensure every customer experience is a positive one - and we cannot help if you do not let us know. Kind regards, Janine
07/11/2023
Julie V.

United Kingdom
Stylish elegance
This pattern was so easy to follow and I learnt how to 'burrito' a bodice lovely dress which looks classy and stylish. This will become a firm favourite in my sewing room.
07/08/2023
Ros T.

New Zealand
Flounce dress, tang and top
I love this pattern. I have printed it off, cut the pattern out and the next step will be to sew. I am yet to start sewing it, but am really happy I found this pattern and I look forward to making it up.
07/06/2023
Elaine V.

United Kingdom
Great pattern
Pattern was really easy to print and put together. The sewing instructions were easy to follow. I made the top and it's lovely, fits really well.
07/01/2023
Marilyn S.

United Kingdom
Love this dress
My first time sewing with a Sewing Revival pattern. and it certainly won't be my last. The dress came together like a dream, the instructions were clear and easy to follow. I went slightly 'off piste' and bias bound the edges of the ruffle to give a more 'Latin American' effect. I have already cut out a top in Linen and will do the ruffle as per the pattern. I love my dress and have. had many compliments.
06/19/2023
Kristi W.

United States
One of the prettiest dresses I've ever made
And the first time I've ever done a narrow rolled hem on my serger. Why did I wait so long? It was a blast!!! The dress turned out great. As with any sew, it was not without some drama - mostly user error. Used a separate color for the flounce which worked out well. Both in 100% linen which serves us very well in our sweltering Arizona summers. My sewing buddy also made one. We both love the pattern. Thank you for a great one!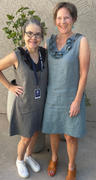 06/04/2023
Elaine D.

New Zealand
Loving the flounce!
Fabulous! Enjoyed using the rolled hem on my overlocker - a first for me! Took me a while, but very pleased with the final result. As usual clear instructions, easy to follow.
05/21/2023
Eileen S.

United States
Great stytle
I needed to double check multiple times the print out settings, first 2 times were a mess, and ended up due to miss print of pattern (never had the issue before with pdf's, yes I do adobe and 100%). The pattern is a touch short. It is a bit over sized, and I ended up increaing the length of the facings 2-3" to keep them down inside the dress…next time will make them a small bit smaller so lay better. I really like the style, the flounce sould look great a bit larger.
05/19/2023
Debra R.

United Kingdom
Just lovely
I have had my eye on this elegant dress for sometime. I even already had the exact same colour linen. It's a great pattern, easy make, good fit. Will be making it again.
05/17/2023
Brenda H.

United States
Flounce dress is beautiful
I love this dress! It fits me perfectly and it was not difficult to sew at all. The finishes inside are lovely especially the burrito method for the facings. I finished the flounce with my serger rolled hem. That was very easy and made a beautiful finish on the flounce. My Flounce Dress is made from the soft linen from The Fabric-Store. A great combination. Very nicely drafted dress. Thank you.
05/04/2023
Angela S.

United Arab Emirates
I can't download the pattern.
I usually buy patterns online and that is click and print. I thought it was the same here but it's too complicated on your site.
05/04/2023
The Sewing Revival
It's such a shame you didn't reach out to us Angela. We are always here to help. When you click the download button the file should open ready to print. We also recommend you save the file to your device for printing and reference again at a later date. As soon as you click "download" the files are also automatically saved to the downloads folder on your device. All this info is provided in your order confirmation and download emails (and in the FAQs on the website). Please get in touch at info@sewingrevival.co.nz so we can ensure you have a positive experience. Kind regards, Janine
05/03/2023
Henny V.

Netherlands
lovely pattern
it is a great fit, made it in a linnen
04/25/2023
Sew M.

New Zealand
I LOVE the Flounce!
I made the Long Sleeved Blouse in a lightweight, brushed linen. I made a toile and found that the bust was a great fit but I needed to add the pleat in the back and grade out at the hips for the best fit for me. Once I had made those changes it was the perfect fit.! I ran an overcast around a the two flounces and I love how the linen looks frayed, but the overcast stitch means they won't actually fray. I adore the elasticated sleeve, I hadn't done that technique before but I can tell you I am sure to use it in future makes. I will make this multiple times I'm sure, dress and blouse.