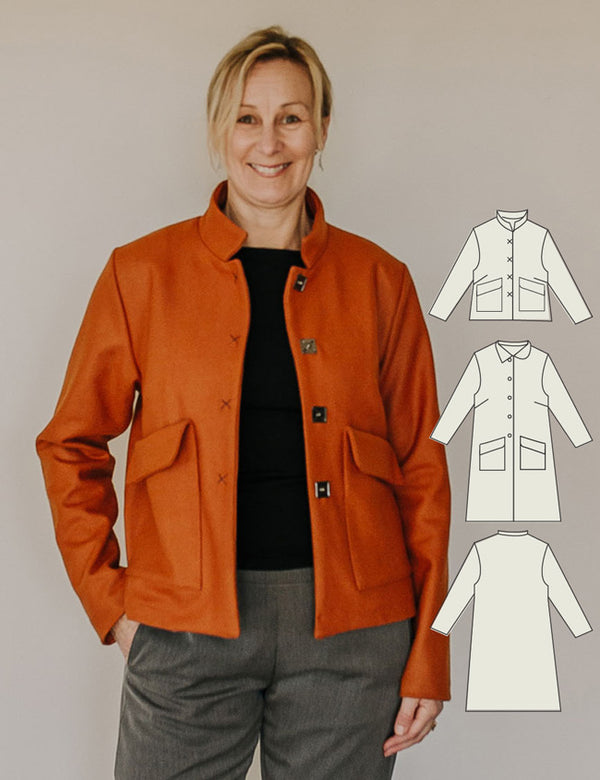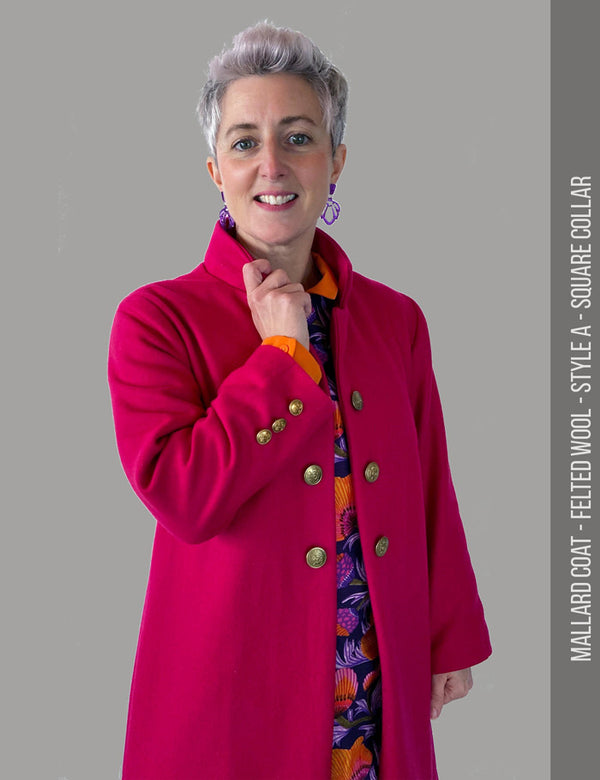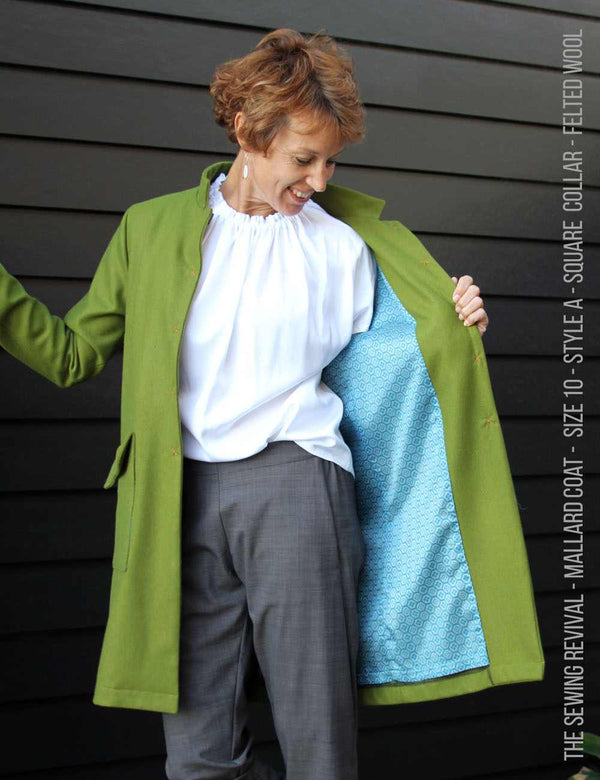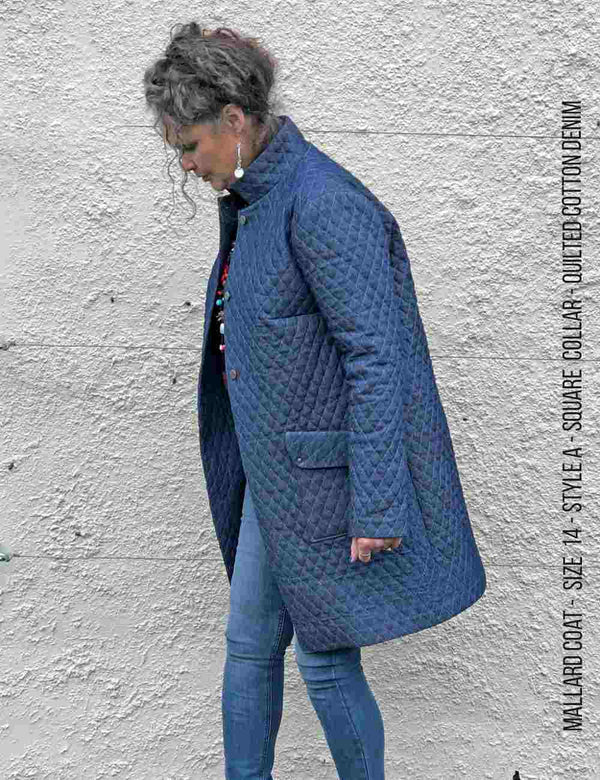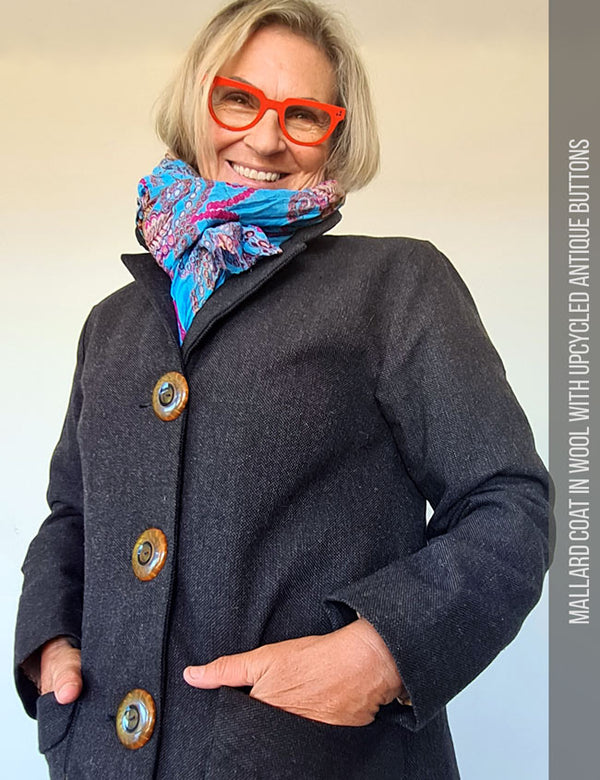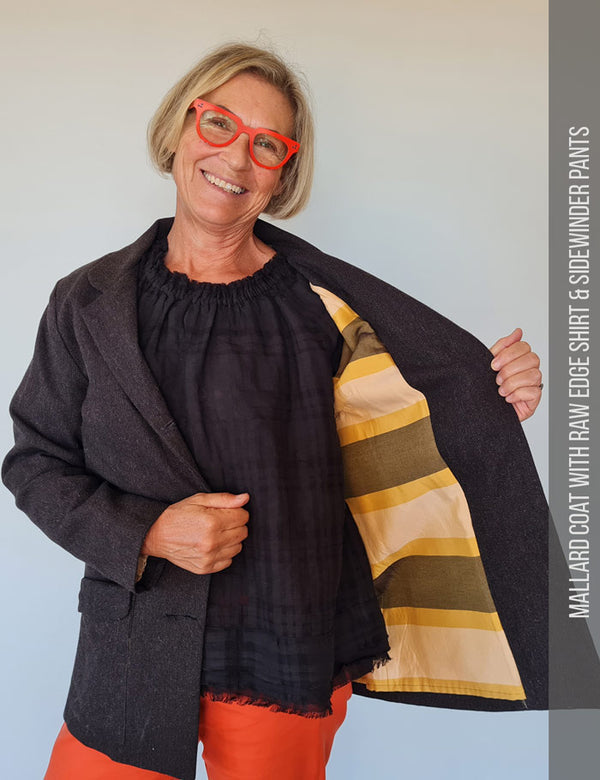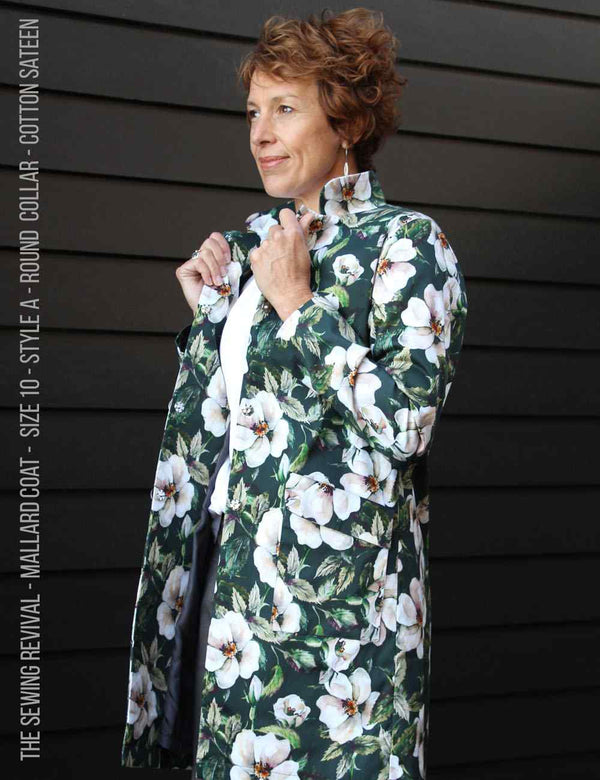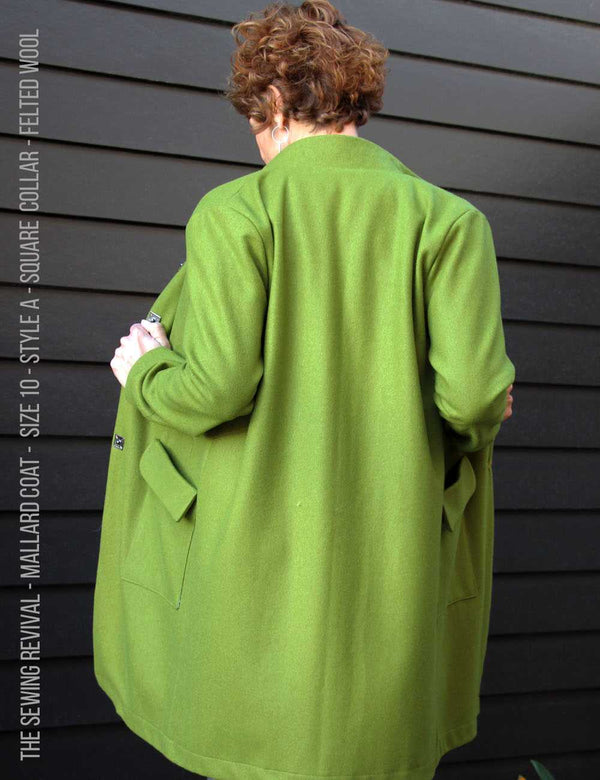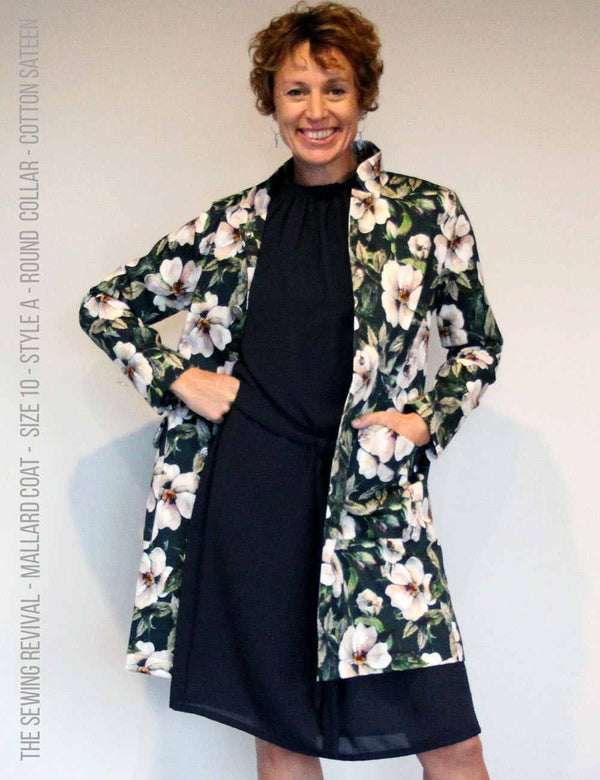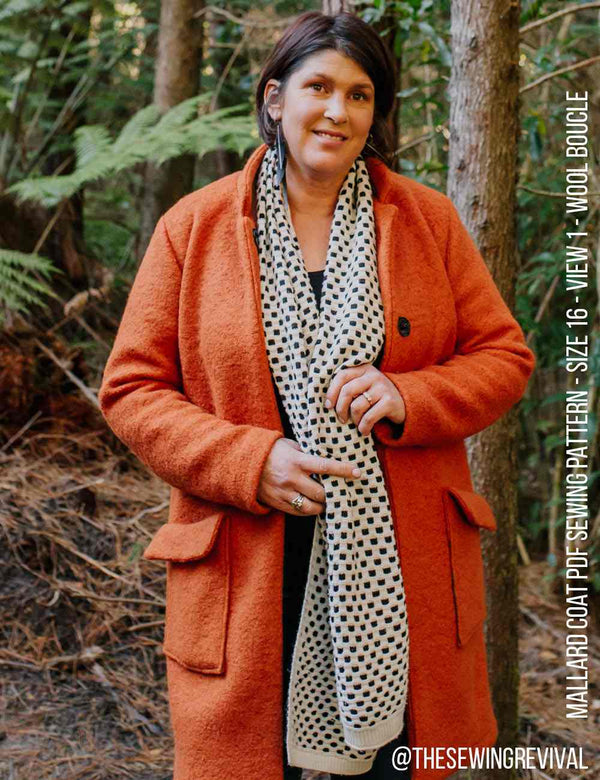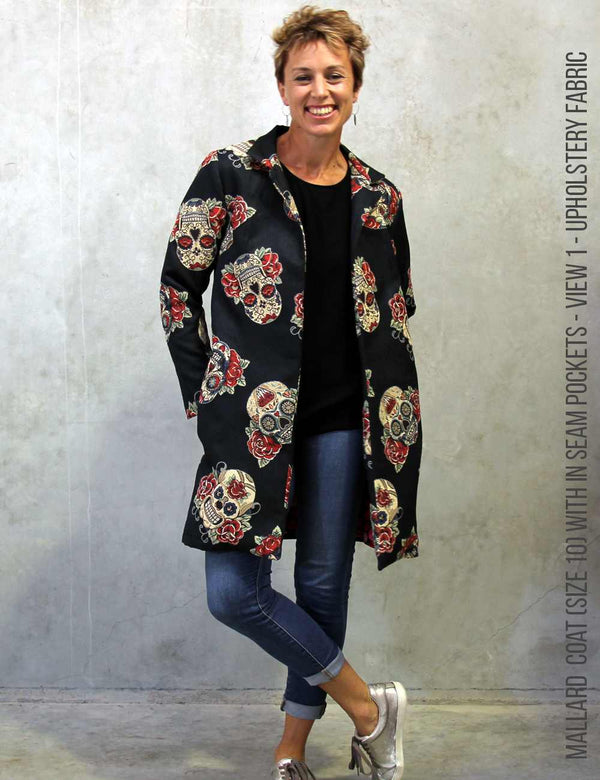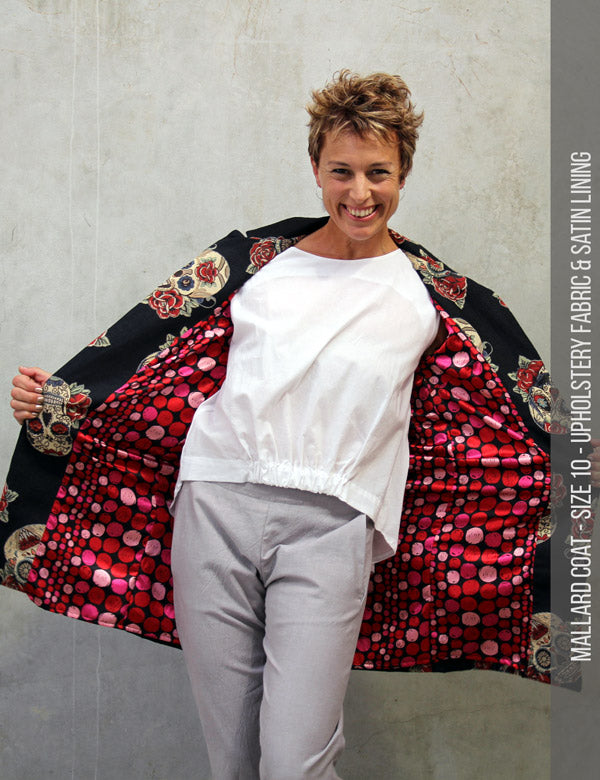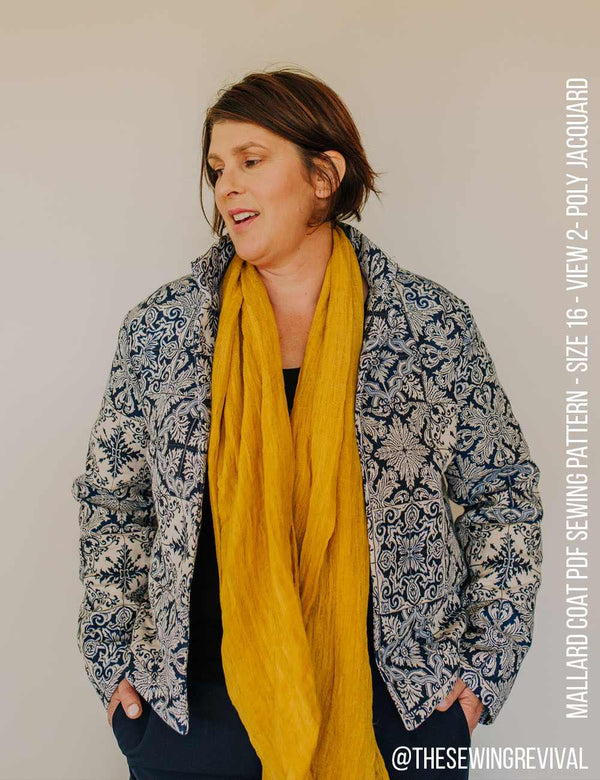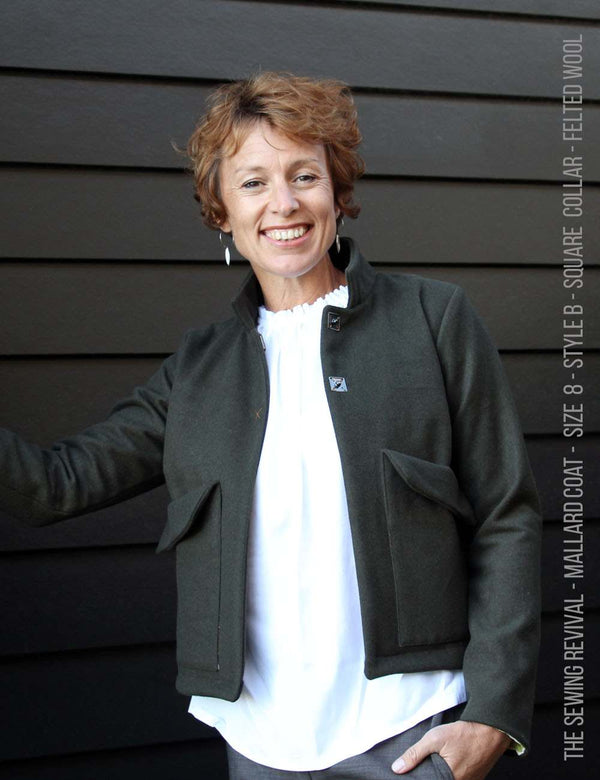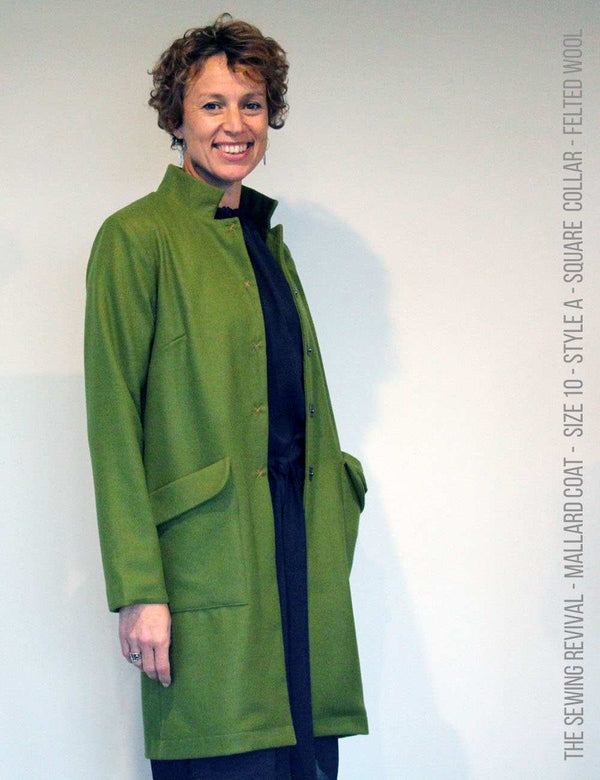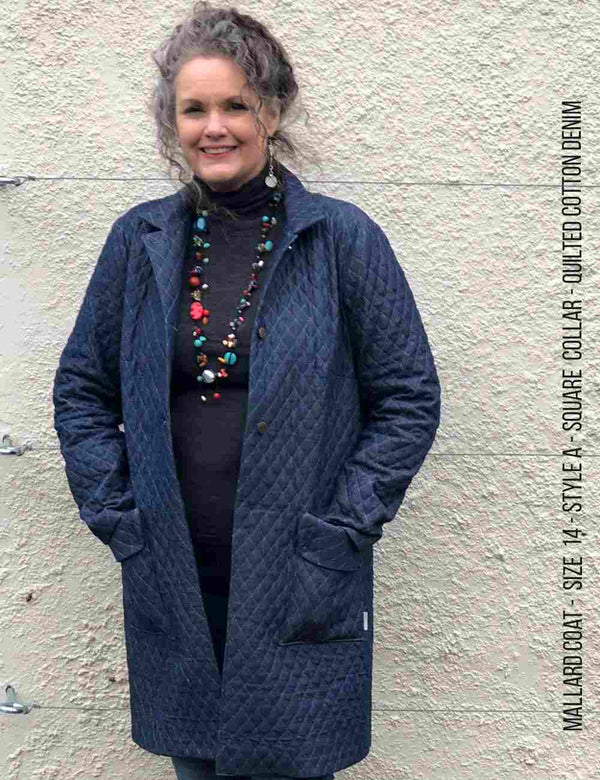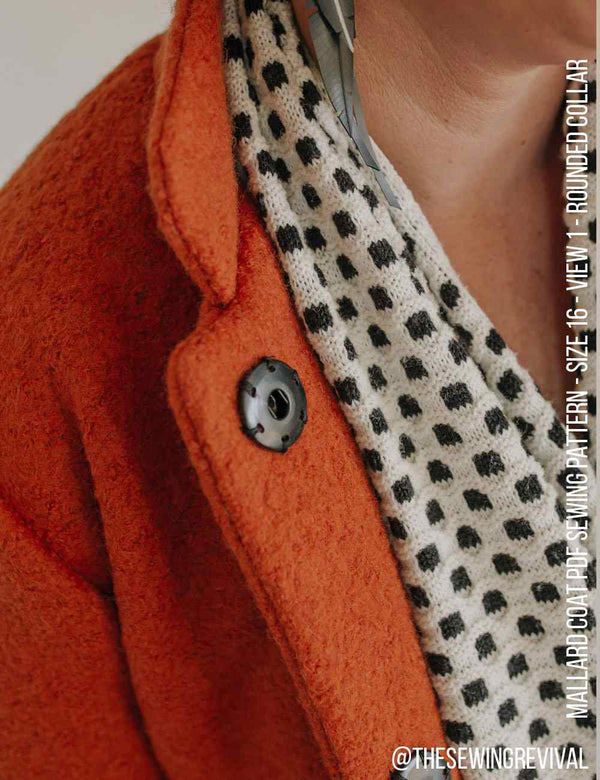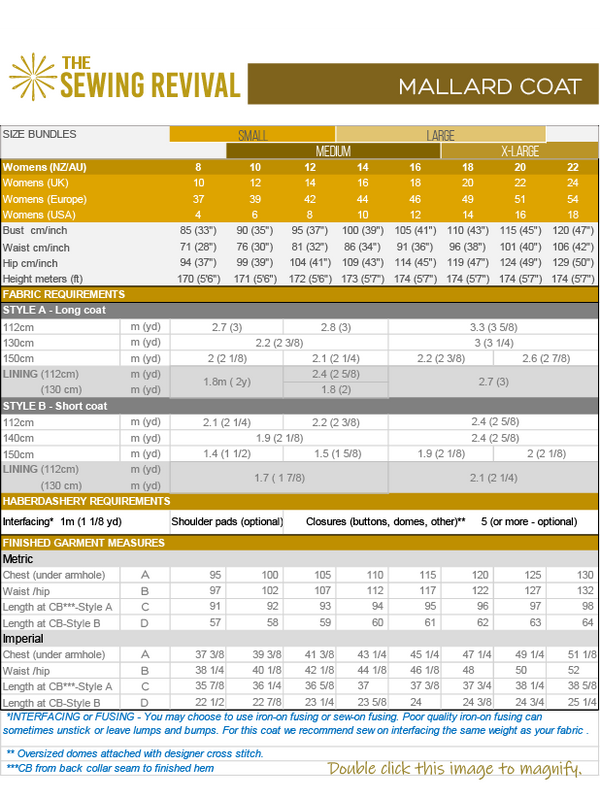 A stand out coat for summer evenings or cold winter days - in either waist or full length for 2 very different looks.
This is a perfect "first coat" sew and we've rated it "easy intermediate". You can create the designer look without having to sew a button hole (let's face it - you can wreck a great coat if you don't have a good button hole function on your sewing machine).
PATTERN FEATURES:
2 length options - waist or thigh lengths

Large flap featured pocket (optional)

2 collar options (round or square)

Collars can either stand up or fold down depending on preference

Fully lined 

Trans seasonal - a coat for winter warmth or summer evening
Instructions to create optional featured couture cross (for oversized dome closures)
Other closure options (buttons, domes, toggles, oversized hook and eye)
Sizes NZ/AU 6-22
SUPPLIES
Many of you have asked where to get the square snap fasteners.
Check out the suppliers listings here.
Share your makes on Instagram & Facebook tagging #MallardCoat and @thesewingrevival
FABRIC
Please refer to the FABRIC REQUIREMENT CHART as one of the last images on this product listing. You can magnify this image if viewing it on a mobile phone whilst in a fabric store.
WOVEN fabrics : Mid weight woven fabrics depending on your intended use.

WINTER COAT: Felted wool | Wool/poly blends | Upholstery fabric (size up as this has less drape/movement) | Mid weight quilted fabrics | Denim | Winter weight blends
SUMMER COAT: Cotton sateen (with or without minimal stretch) | Cotton drill | Cotton canvas | mid to heavy weight linen
DIFFICULTY
Easy Intermediate (3/5). 
SIZE & FITTING
Model 1 (green and floral coats) wears size 10 (NZ/AU) and is 171 cm tall
Model 2 (denim quilted coat) wears size 14 (NZ/AU) and is 178 cm tall
This PDF pattern is available in bundles of 4 sizes (please refer to image number 14 for the size chart):  
Small-      UK|AU|NZ 6-12    and US 2-8           PAH x 48 | AO x 3 pages
Medium- UK|AU|NZ 10-16  and US 6-12         PAH x 48 | AO x 3 pages
Large-      UK|AU|NZ 14-20 and  US 10-16      PAH x 54 | AO x 3 pages
X-Large-  UK|AU|NZ 16-22 and  US 12-18       PAH x 54 | AO x 3 pages
 

If you are between sizes and using a heavy fabric without any stretch, we recommend sizing up.

WHAT DO I GET WITH MY PURCHASE?
Please note you are purchasing a digital pattern that will be sent directly to your email inbox after payment. You can print this pattern at home on A4 or US letter-sized paper or take it to a print shop for large scale printing (AO size). *You will not receive a hard copy printed pattern.*
Instant download available immediately after checkout includes:

1. Instructions
2. PAH Pattern file (PAH=Print at home)
For printing in A4 or US Letter on a home printer. Printing at home is the most cost-effective, and sticking your pattern tiles together to make your full size pattern is easy. Further information for printing at home can be found in our Resources section here. 
3. AO Pattern file
AO is a large scale file designed to be printed at a Print Copy Shop. You cannot print this on your home printer as it is too big. If you choose to use this large file you will pay extra to have it printed but you do not have to stick anything together.
You can use the ADOBE LAYERS FEATURE to open the PAH pattern file and print only the size you need (and eliminate the "noise" of the unwanted sizes). You can also use the URL and bookmark links within the file to quickly access information and support. Download Adobe Reader for free (for Windows and Mac) here.
Reviews
Customer Reviews
11/14/2023
Phyllis H.

United States
mallard coat pattern
Some of the pattern pieces fit together perfectly. Some do not match up at all. Not really happy with purchase
11/14/2023
The Sewing Revival
Hi Phyllis, Thank you for your feedback. We havn't had this feedback before and have sewn the coat ourselves many times. Did you check your rouge pattern pieces against the paper pattern piece to ensure you cut them out correctly (ie, that they didn't move in the cutting process)? We take this kind of feedback seriously, so once you've remeasured against the pattern piece(s), could you please message us and be a little more specific so we can review it. Kind regards, Janine.
11/08/2023
Nola C.

Australia
Mallard coat
The instructions were clear but a bit scant on detail. Definitely not for beginners. The garment came together with very little size tweaking. Fabric used was a stretch twill with a rayon lining. All in all I was well pleased with the end result and intend to make short jacket version in stretch denim.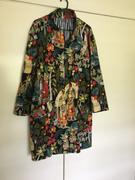 06/14/2023
Maxine D.

New Zealand
Pink Mallard Jacket
Hi Janine, I really like the Mallard pattern, especially the collar. My issue was I chose the wrong fabric to make it. Pink wool! I don't tend to wear pink. It was also a really bulky wool mix. I've had so much positive feedback on the jacket, both on Instagram and in person that I think I will grow to love pink. It's a very, very cosy and cuddly Jacket. I made a change with the pockets, as since I've learnt welt pocket making I want to use them on everything I sew.
12/26/2022
Sara W.

Australia
Mallard coat
Loved the pattern the finished garment was great
08/28/2022
Donna L.

New Zealand
Patterns
I love buying patterns this way you learn so much about the product you are using the types of materials that are best and putting your own look on them
07/19/2022
Vicki

New Zealand
Mallard Coat
This is the second time I've made up the Mallard coat. Last time I used a cotton sateen which came up beautifully. This time I tried a wool blanket purchased from an Op Shop. Using the shorter version. Once again the instructions were clear and precise. I even got to use the original blanket label on an inside pocket. Thank you again Sewing Revival for another easy to follow patterns.
07/18/2022
Lee M.

New Zealand
07/11/2022
Anna S.

New Zealand
Great coat but needed a tweak
Love the pattern and found it true to size. Good, clear instructions but shoulders weren't a great fit (droopy). Somewhat remedied by addition of shoulder pads.
07/11/2022
The Sewing Revival
Hi Anna, Thank you so much for taking the time to review the Mallard Coat pattern. We make shoulder pads optional for this coat as people's body frames are different and it also allows makers to style the coat depending on personal preference. You may have noted we provide instructions on how to insert shoulder pads on page 15 of the instructions. May you enjoy lots of wear and great compliments on your new coat.
06/21/2022
Nicola S.

Australia
Mallard Coat
Beautiful pattern and terrific service. Months after purchasing the pattern I decided to make it and couldn't find it on my computer. I received immediate and courteous help - thanks so much
05/12/2022
Julie S.

New Zealand
05/03/2022
Kim M.

New Zealand
Mallard Coat
I always thought that sewing a winter wool coat would be out of reach at my sewing ability, but this pattern made that goal achievable & looks great. Would definitely recommend for other novice sewers like myself.
10/04/2021
Sherralyn S.

United Kingdom
Looking Good !
I this this coat project yet, but the pattern and instructions look excellent
09/16/2021
Louise B.

Australia
I love a proper shoulder line
I purchased this pattern as I was seeking a 'set in' sleeve jacket pattern. This one has what I needed. I'm yet to make the jacket but it will get done
09/07/2021
Izzie T.

New Zealand
Amazing coat!
So easy to follow the instructions, the coat fits perfectly (very true to size) and I loved the whole experience making it. So happy and will buy more patterns.
08/25/2021
laura S.

New Zealand
Fab First Coat
Have made 3 short and 2 long versions of this coat and love them all!
08/09/2021
Liz K.

New Zealand
Fabulous Coat Pattern
Lovely sew, super easy instructions. I never imagined I'd be able to make a coat but this pattern is a brilliant introduction. I'll be making many more Mallard coats.
07/25/2021
Katie H.

New Zealand
Mallard Coat
I'm so glad I purchased the Mallard coat, the instructions were clear and precise. I now have a beautiful coat which will last for years.
07/16/2021
Liz V.

New Zealand
Mallard coat
I made mine from thick wool upholstery fabric with a cotton lining. I enjoyed the project and it took me a day to complete in between cooking meals etc. I found the lining instructions (attaching front linings and facing ) quite tricky and my finished product has the facings unattached- hence four stars, not 5. Photographs or clearer instructions at this phase would have helped, as the wording and the pictures in the instructions did not make enough sense to me. Over all, pleased with the result, and would make again, as I love some of the versions I found on line! FYI- this picture is taken at an angle- the pockets are lined up! Actually, they were easy to do. I top stitched them, the collar, and the edge of the front of the coat to help the upholstery fabric sit better, and it worked! Still deciding what to do with the buttoning- I purchased domes with a purple button, but am now thinking I might go and get some duffle coat toggles.
07/10/2021
Louise E.

New Zealand
Mallard Coat
I have been wanting to make this coat for a while. Great pattern with excellent instructions resulting in a professional finish. Have just ordered some navy wool fabric to make the long version. Highly recommend.
07/02/2021
Lara S.

New Zealand
Peacock Coat
Loved the Mallard Coat pattern. I had a bit of trouble finishing the sleeve to the lining on the sleeve end and would have appreciated a bit more instruction/pictures as got a bit confused (possibly me not paying attention). Very happy with the outcome, I used Peacock curtain fabric as a practice run but it turned out so beautifully that I am moving it up the ranks. I printed it out on A4 paper which was a bit of a nightmare with so many pages, is there anyway you can move the page markers to the corner so I don't need to cut/fold down the pages? Overall, great pattern, instructions are clear and would buy further patterns without hesitation :-)