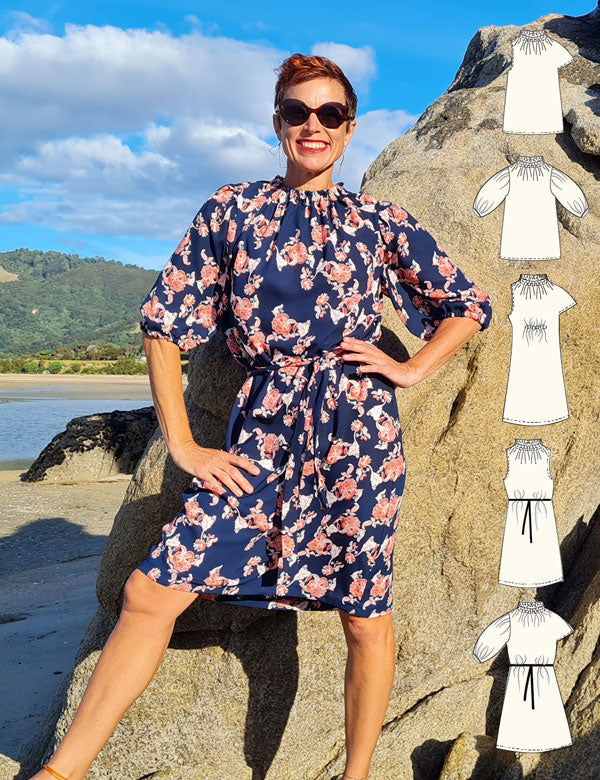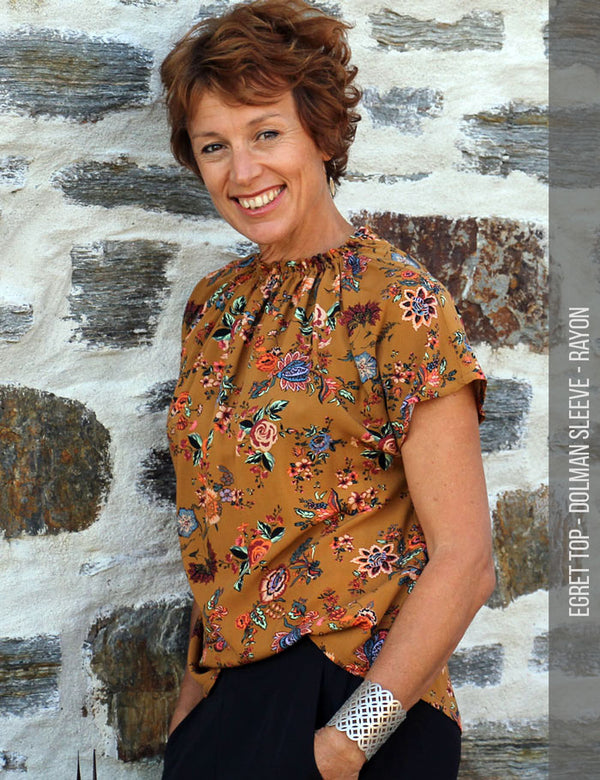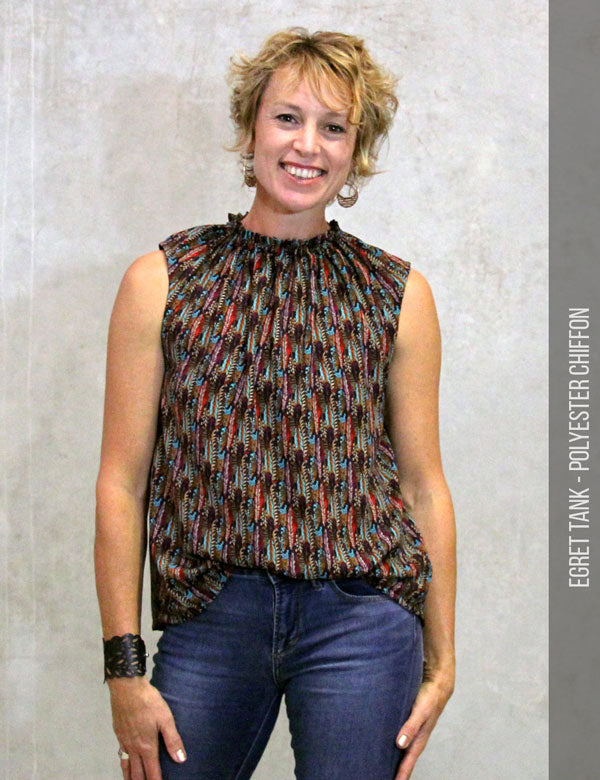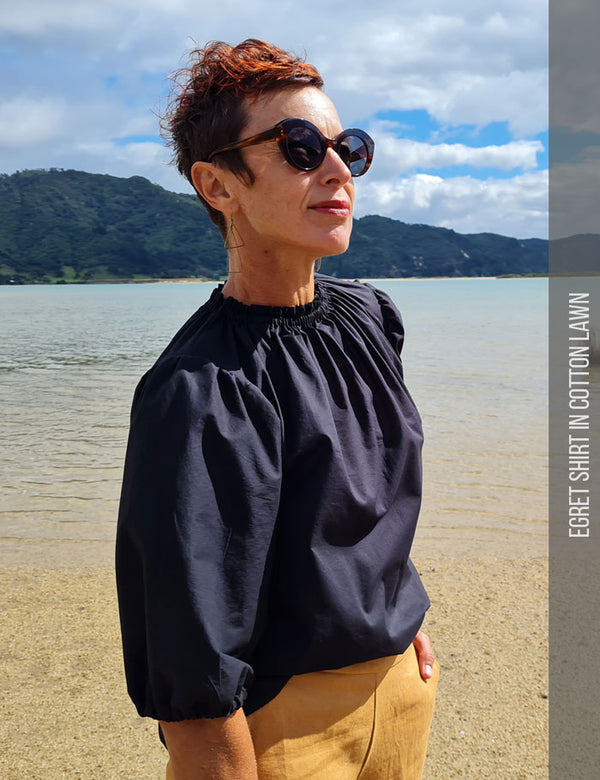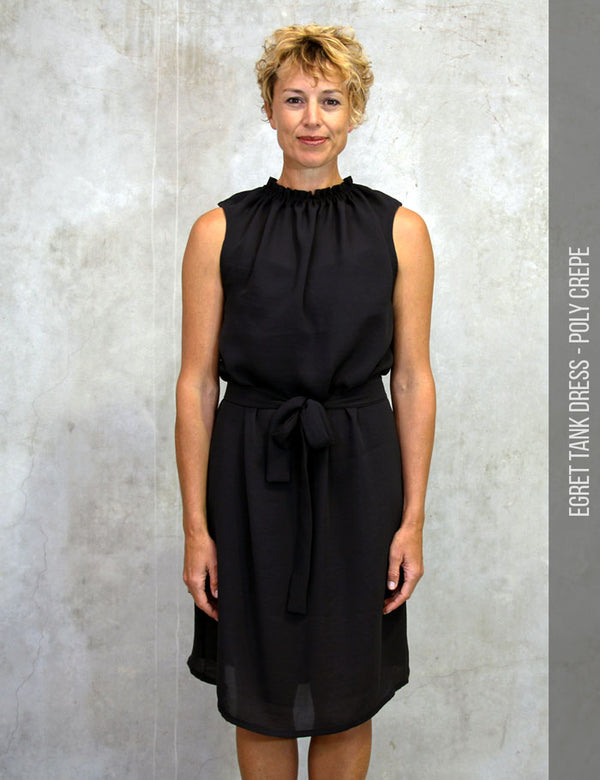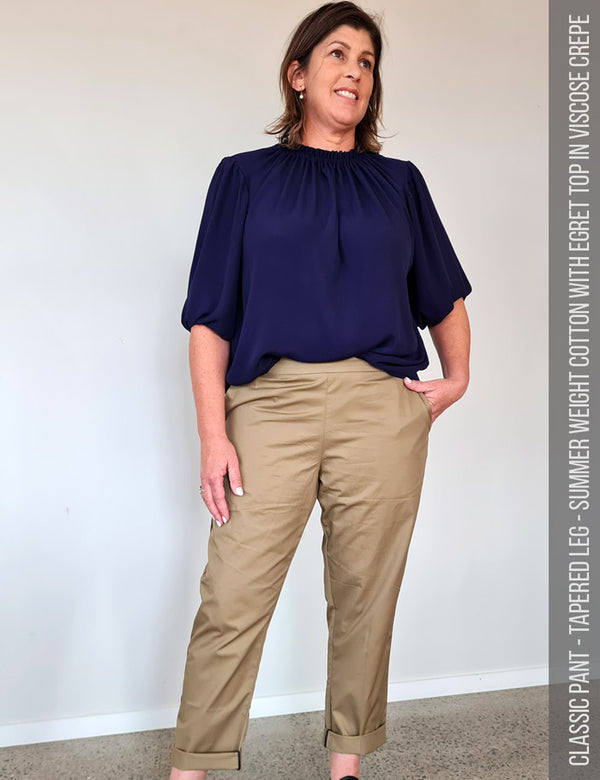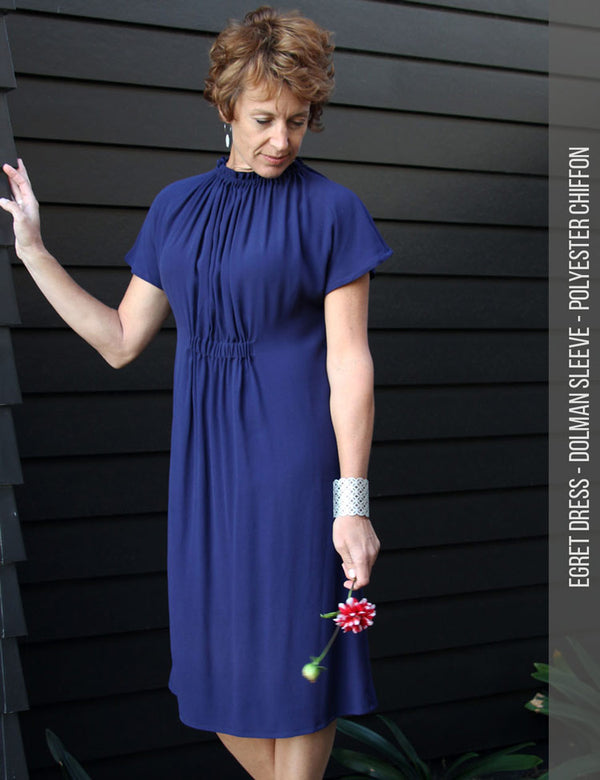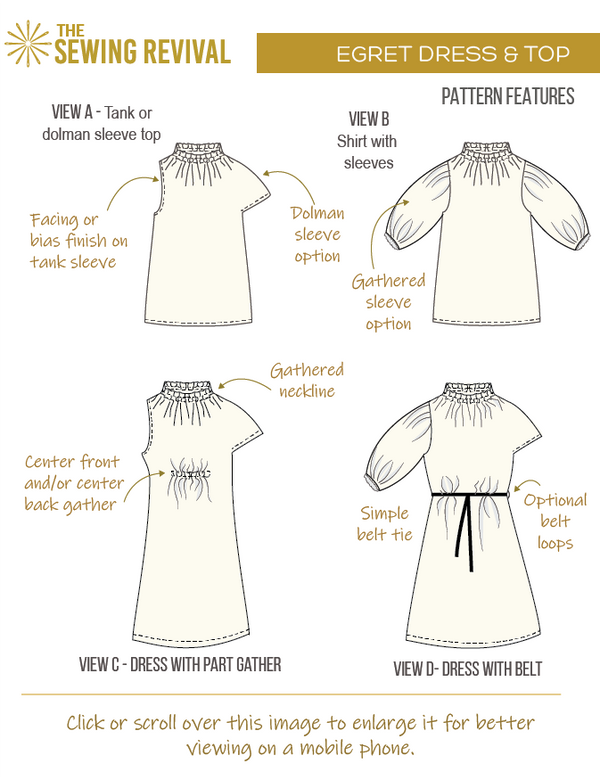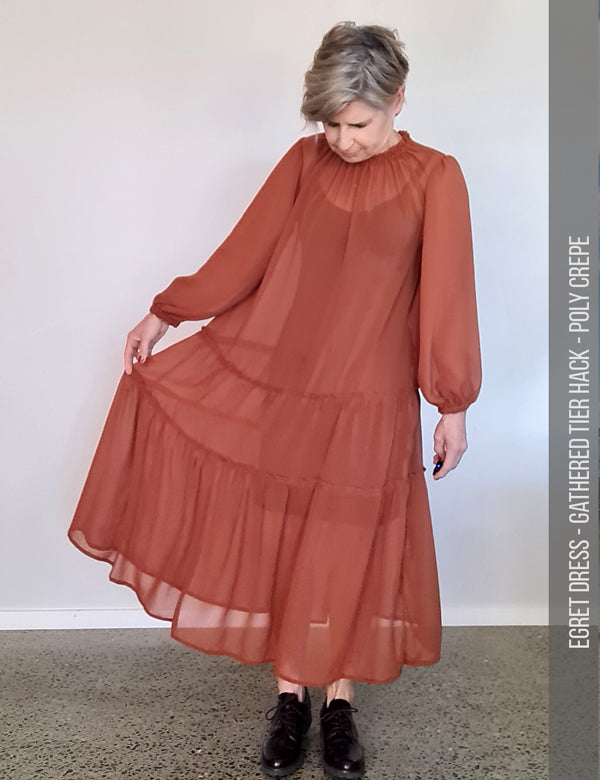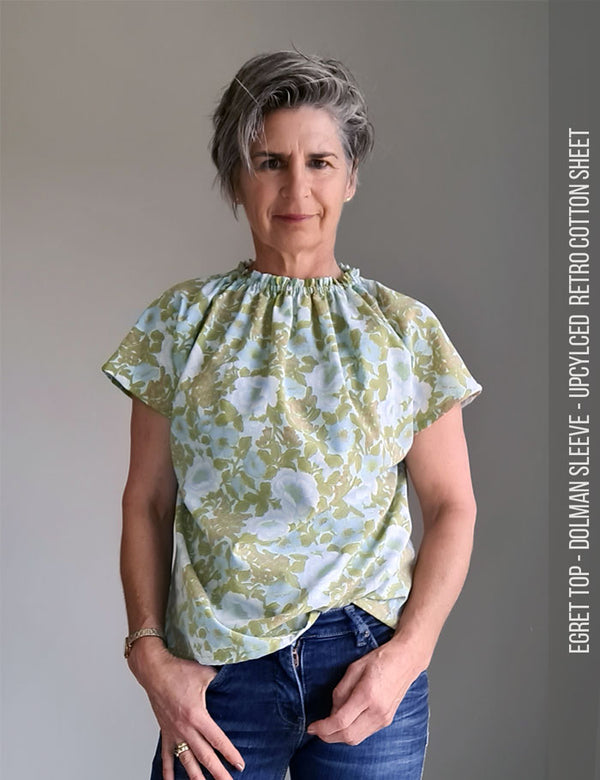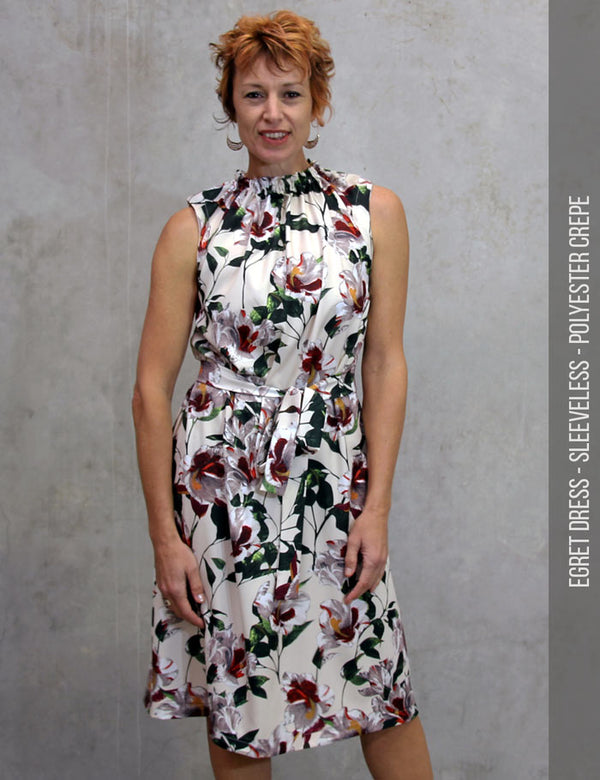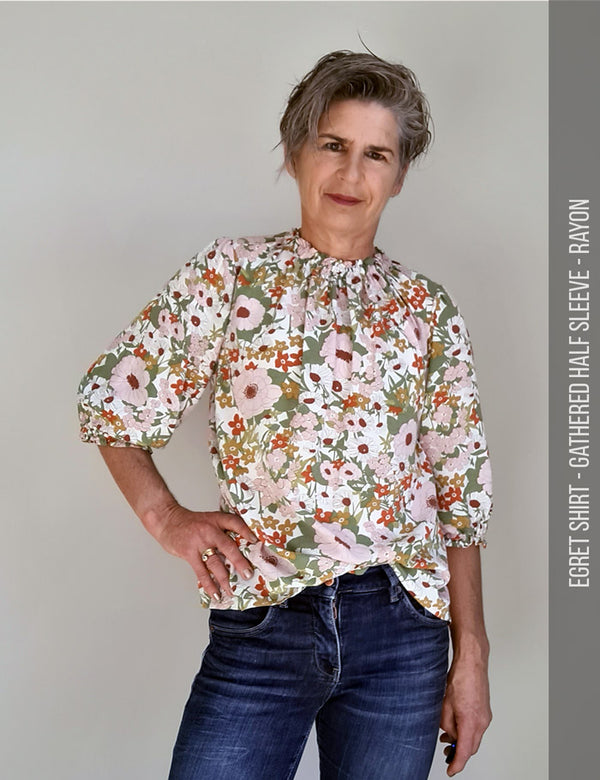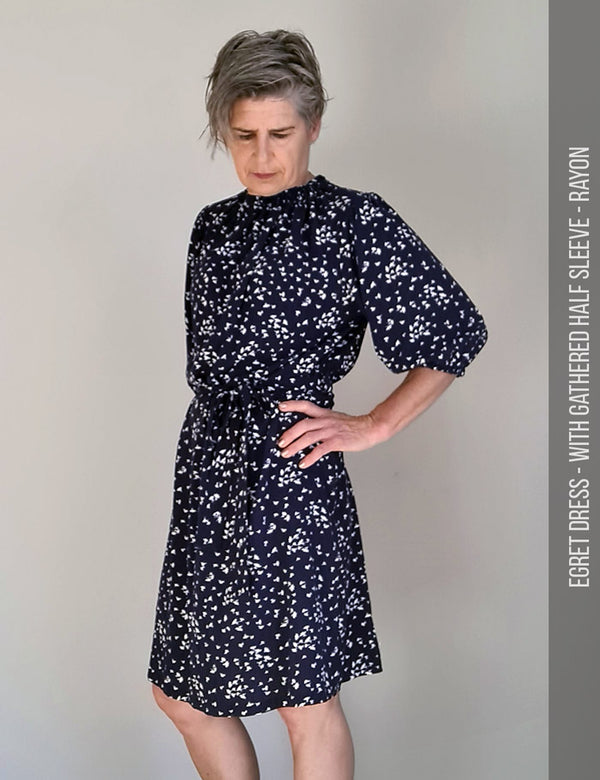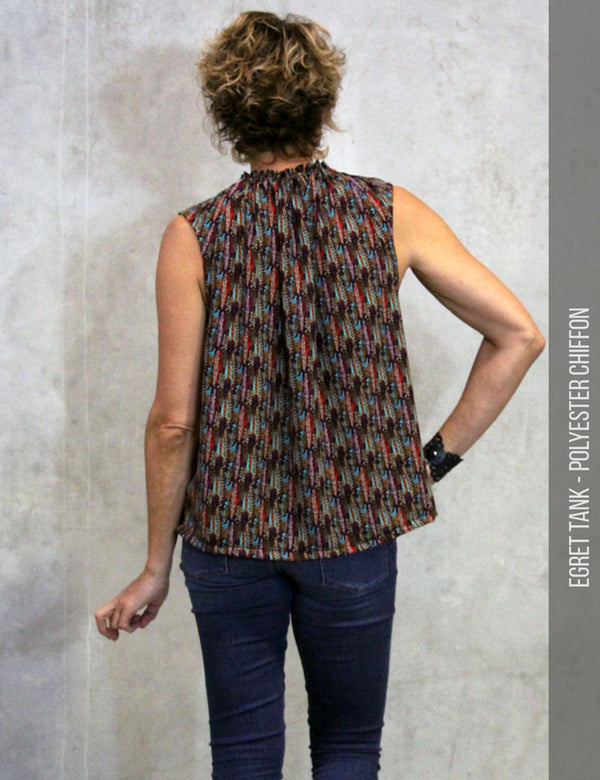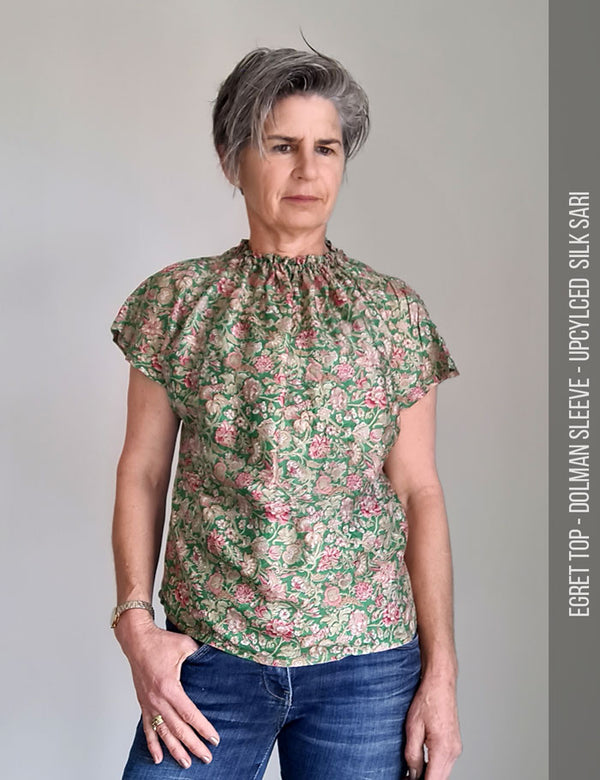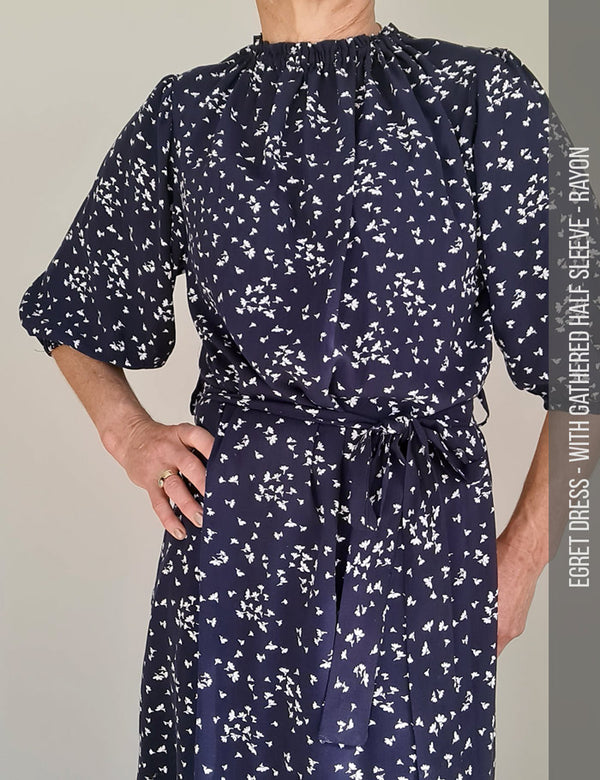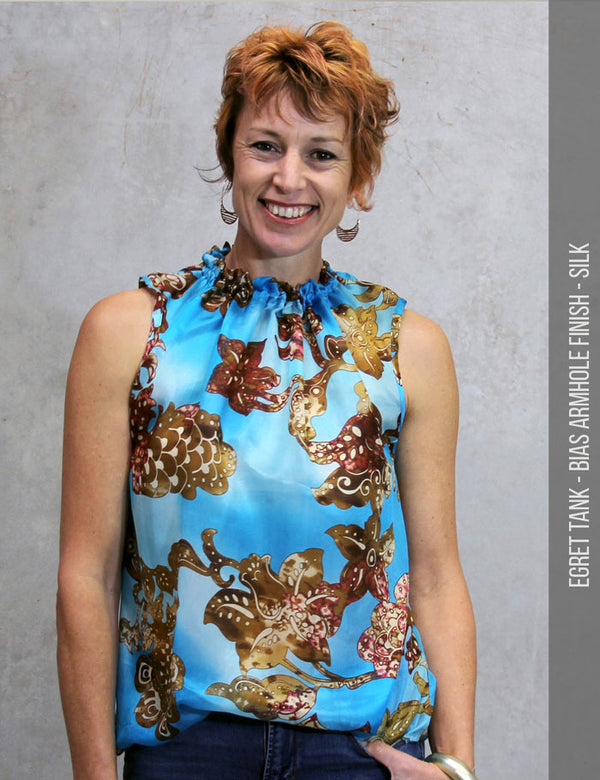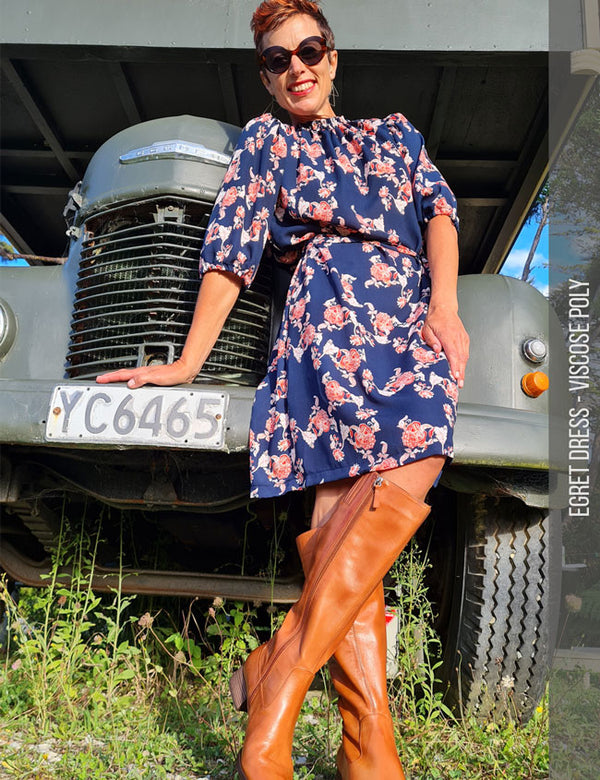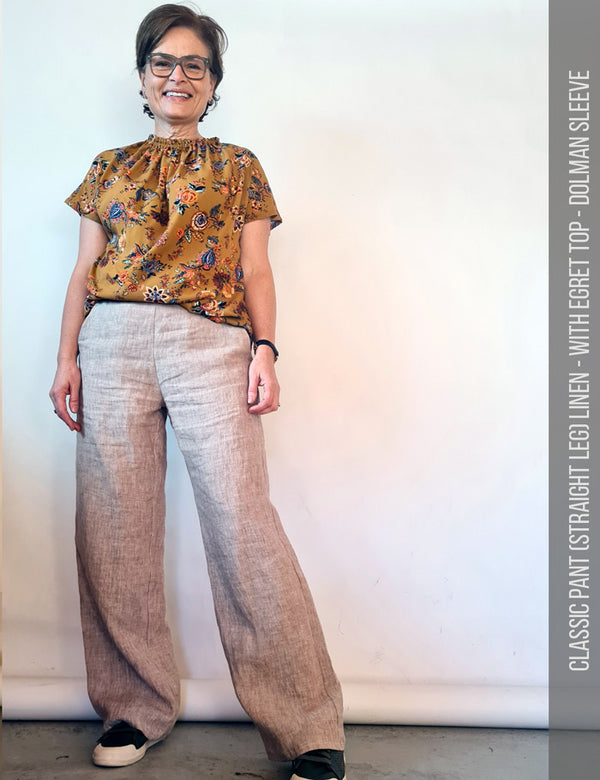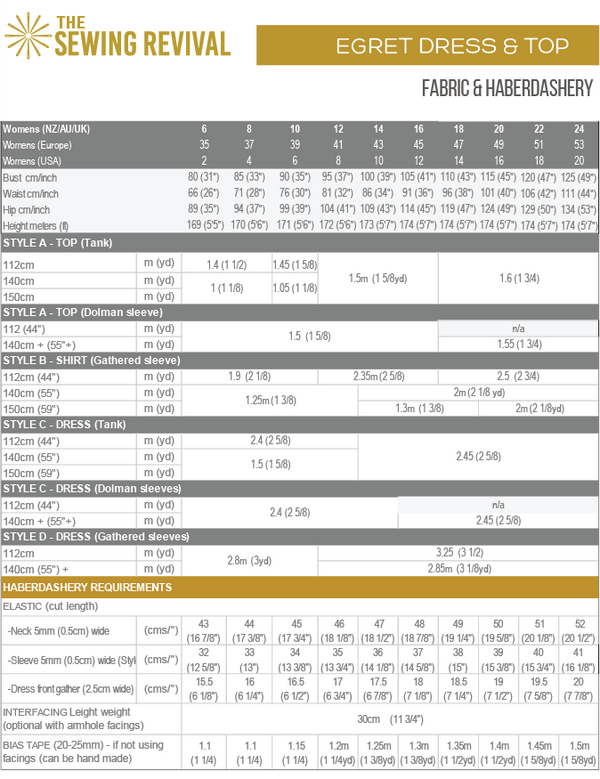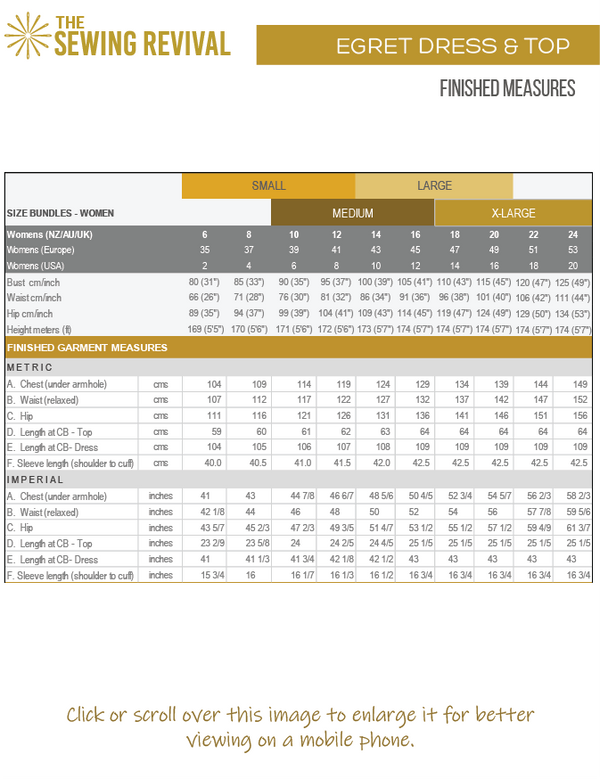 An elegant top or dress that will take you from summer to cooler temps and daytime to the evening.  The Egret is a quick easy sew with designer results. Choose from 3 sleeve options. Similar in style and construction to the Heron dress & Heron Shirt, the Egret is a gathered high neck but comes in a sleeveless tank, dolman sleeve or gathered half sleeve options.

The Egret dress, tank and top is now also available in a bundle with the Classic Pant & short saving you 25%.
PATTERN FEATURES:
Easy sew high gathered neck
Tank (sleeveless style) in top or dress
Dolman sleeve in top or dress
Gathered 1/2 sleeve option (top or dress)
Dress in belted waist or part gather (2 styles)
Tank sleeve edge finished with bias tape or facing.

Dolman sleeve finished with fold under hem
Sizes NZ/AU/UK 6-24  US2-20
Easy pattern hack to add tiers to your dress here
Share your makes on Instagram & Facebook tagging #EgretTank #EgretDress and @thesewingrevival
YOU TUBE REVIEWS of the Egret Tank:
 StitchyBeeUK
Alex Judge Sews
FABRIC
Please refer to the FABRIC REQUIREMENT CHART as one of the last images on this product listing. You can magnify this image if viewing it on a mobile phone whilst in a fabric store.
WOVEN fabrics : Most light to mid weight woven fabrics will suit this dress.
We recommend rayon, light-mid weight chiffons, crepes, cotton and cotton blends, silk and silk blends for summer.
DIFFICULTY
Tank or dolman sleeve top or dress: Confident beginner ready for the next step (2/5)
Shirt or dress with sleeves: Easy intermediate (3/5)
PATTERN UPDATES
25 Oct 2022
1. Pattern updated to include gathered 1/2 sleeve and belt loops for belted option.
2. Size range extended to our standard (NZD/AU/UK 6-24     US2-20)
1 May 2023
The Egret is now offered as a bundle with the Classic Pant & Short sewing pattern to offer 13 wardrobe combinations.
SIZE & PRINTING
Model wears size NZ/UK10 | US 6 (Small) and is 171 cm tall
Each purchase comes with 4 sizes (please refer to the last image for size chart and international size comparisons):
Small - (NZ/AU/UK 6-8-10-12  | US 2-4-6-8)                   AO 2 pg |PAH 33 pg
Medium - (NZ/AU/UK 10-12-14-16  | US 6-8-10-12)      AO 2 pg |PAH 34 pg
Large - (NZ/AU/UK 14-16-18-20  | US 10-12-14-16)       AO 2 pg |PAH 39 pg
X-Large - (NZ/AU/UK 18-20-22-24 | US 14-16-18-20)    AO 2 pg |PAH 39 pg
Refer help with choosing your size on our standard size chart.
WHAT DO I GET WITH MY PURCHASE?
Please note you are purchasing a digital pattern that will be sent directly to your email inbox after payment. You can print this pattern at home on A4 or US letter-sized paper or take it to a print shop for large scale printing (AO size). *You will not receive a hard copy printed pattern.*
Instant download available immediately after checkout includes:

1. Instructions
2. PAH Pattern file (PAH=Print at home)
For printing in A4 or US Letter on a home printer. Printing at home is the most cost-effective, and sticking your pattern tiles together to make your full size pattern is easy. Further information for printing at home can be found in our Resources section here. 
3. AO Pattern file
AO is a large scale file designed to be printed at a Print Copy Shop. You cannot print this on your home printer as it is too big. If you choose to use this large file you will pay extra to have it printed but you do not have to stick anything together.
You can use the ADOBE LAYERS FEATURE to open the PAH pattern file and print only the size you need (and eliminate the "noise" of the unwanted sizes). You can also use the URL and bookmark links within the file to quickly access information and support. Download Adobe Reader for free (for Windows and Mac) here.
YOU TUBE REVIEWS
Review of the Egret tank by Cheryl Temple
 StitchyBeeUK
Reviews
Customer Reviews
11/07/2023
Natalee C.

New Zealand
Egret Tank and Dress
Great pattern, helpful instructions. Beautiful style.
11/04/2023
Janine K.

Australia
Egret top/dress
Excellent pattern. Made the top with the 3/4 sleeve and it is perfect.
10/07/2023
June W.

Australia
Egret tank and dress
It was awesome. Easy instructions. Easy to print. I really like the pattern. I made 3 tops. 1 with cap sleeves and 2 tanks.
07/06/2023
Juliet W.

United Kingdom
Great pattern, easy to sew.
Pattern is easy to print. I Particularly like the inclusion of a shortened version of the instructions for experienced sewers alongside the detailed ones for those less experienced.
06/25/2023
Maria R.

United Kingdom
So simple but flattering design
This pattern is great! I've made the 3 quarter sleeve and the sleeveless versions so far, both in viscose, and have really enjoyed wearing them and the compliments I have received. I made a straight size 8 which is a size down from my usual UK dress size 10- I looked at the finished garment measurements to gauge this. I did have a go at the dress version, but chose a too thick fabric (velvet) for my figure (no waist) so I would agree with a previous reviewer that thinner fabrics work best- silk charmeuse is on my list. I think you get a lot for your money with Sewing Revival patterns and the designs are classics with a twist and won't date. Thanks!
06/24/2023
The Sewing Revival
Thank you so much for taking the time to review and upload some photos of your Egret tops Maria. They look fabulous - and as you have already noted, our fabric recommendations highlight lighter well draped fabrics (rayon/viscose/silk) so if you work within that your dress will turn out just as well I am sure. Kind regards, Janine.
05/31/2023
Kathy K.

New Zealand
Egret top
A great finish. I extended the sleeves and finished them like the neck.
05/27/2023
Ann M.

Ireland
Fabulous pattern have made 2 already ...
05/11/2023
Amanda

New Zealand
Easy, satisfying make
Love this top (I made the one with the gathered sleeves). It was easy to sew up and pretty quick, although I needed to slim down the sides as it was quite roomy. I'm looking forward to making a few more in different fabrics from my stash (yay! Stash-busting!). Love the gathered neckline, so flattering. I made mine in a lightweight cotton to wear with my Classic Pants and they look great together!
05/03/2023
Kathryn R.

New Zealand
Egret dress
I have made two tops and one dress from the pattern. Each came together pretty well. I really like the gathered neckline as it suits me well. I hacked the dress a bit - adding longer sleeves and a tier at the bottom for winter.
05/03/2023
The Sewing Revival
Thank you so much for your review and adding photos to inspire others Kathryn.
05/02/2023
Susanne H.

Switzerland
Super einfaches Schnittmuster
Ich bin begeistert von dem Schnittmuster. Habe ein Top genäht und es werden noch weitere folgen.
02/23/2023
Karin F.

Australia
Egret Dress and top
I am really happy with the finished product although it had its challenges. I measured between a size 14 and 16 and went with the 14 which was to big for me. I needed to take the dress in because the arm holes gaped so much. I chose the option of the gathered middle and did not like how this looked on me so I un-picked and was very happy with the belt instead. I had some material left over and made a size 12 top and it was a perfect fit.
02/21/2023
Ann W.

New Zealand
Egret Tank
This is a great little summer top. I have made two now. Such a simple, easy to follow pattern. I can see this being a new favourite of mine.
01/16/2023
Marge F.

New Zealand
Egret tank and dress
Great service quick , and pattern very easy to follow
01/14/2023
Robyn S.

New Zealand
Easy Pattern
I love Sewing Revival Patterns, this is probably the 10th garment I have made using them. The ease of being able to download and print at home. I am happy with my egret top. I used a cotton/linen mix fabric, which made the neck a bit bulky, so I increased the length of the elastic and it made it more comfortable around my neck. I recommend using a lighter weight fabric. Overall I am super happy with the result and will definitely be making again .
12/04/2022
Ros T.

New Zealand
Egret Tank
Great communicator as I had some questions. Quick to respond and very helpful indeed. Great price too. I have cut the pattern out but yet to sew as life is busy. Love the way you get so many variations to the pattern for one low price. Thank you
11/19/2022
Rachel B.

Australia
So quick and super stylish.
So easy to navigate the pattern. I will make this dress/shirt 10 more times before I've exhausted the different results.
10/26/2022
Irma H.

South Africa
Egret Tank and Dress
I am very pleased with my purchase. Instructions are easy to follow, and I love the end result.
09/05/2022
Cher-Ann T.

United States
Love this Pattern!
I made the top with sleeves, and it fits fabulous! The pattern was easy to assemble and no alterations were necessary but I did split the neck at the front and added thin ties as well as adding the elastic at the waist. I love this pattern and plan on using it again to make another top and a dress!
04/01/2022
Vicky U.

New Zealand
Egret Tank and Dress
Very simple, easy to follow instructions.
02/18/2022
E M.

New Zealand
Excellent Re-entry to seeing after a long hiatus!
Rewarding and fun. Instructions were clear and I'll definitely use the patterns I bought again.