An elegant top or dress that will take you from summer to cooler temps and daytime to the evening.  The Egret is a quick easy sew with designer results. Choose from 3 sleeve options. Similar in style and construction to the Heron dress & Heron Shirt, the Egret is a gathered high neck but comes in a sleeveless tank, dolman sleeve or gathered half sleeve options.

PATTERN FEATURES:
Easy sew high gathered neck
Tank (sleeveless style) in top or dress
Dolman sleeve in top or dress
Gathered 1/2 sleeve option (top or dress)
Dress in belted waist or part gather (2 styles)
Tank sleeve edge finished with bias tape or facing.

Dolman sleeve finished with fold under hem
Sizes NZ/AU/UK 6-24  US2-20
Share your makes on Instagram & Facebook tagging #EgretTank #EgretDress and @thesewingrevival
YOU TUBE REVIEWS of the Egret Tank:
 StitchyBeeUK
Alex Judge Sews
FABRIC
Please refer to the FABRIC REQUIREMENT CHART as one of the last images on this product listing. You can magnify this image if viewing it on a mobile phone whilst in a fabric store.
WOVEN fabrics : Most light to mid weight woven fabrics will suit this dress.
We recommend rayon, light-mid weight chiffons, crepes, cotton and cotton blends, silk and silk blends for summer.
DIFFICULTY
Tank or dolman sleeve top or dress: Confident beginner ready for the next step (2/5)
Shirt or dress with sleeves: Easy intermediate (3/5)
PATTERN UPDATES
25 Oct 2022
1. Pattern updated to include gathered 1/2 sleeve and belt loops for belted option.
2. Updated to include full size range (NZD/AU/UK 6-24     US2-20)
SIZE & FITTING
Model wears size NZ/UK10 | US 6 (Small) and is 171 cm tall
Each purchase comes with 4 sizes (please refer to the last image for size chart and international size comparisons):
Small - (NZ/AU/UK 6-8-10-12  | US 2-4-6-8)                   AO 2 pg |PAH 33 pg
Medium - (NZ/AU/UK 10-12-14-16  | US 6-8-10-12)      AO 2 pg |PAH 34 pg
Large - (NZ/AU/UK 14-16-18-20  | US 10-12-14-16)       AO 2 pg |PAH 39 pg
X-Large - (NZ/AU/UK 18-20-22-24 | US 14-16-18-20)    AO 2 pg |PAH 39 pg
Refer help with choosing your size on our standard size chart.
WHAT DO I GET WITH MY PURCHASE?
Please note you are purchasing a digital pattern that will be sent directly to your email inbox after payment. You can print this pattern at home on A4 or US letter-sized paper or take it to a print shop for large scale printing (AO size). *You will not receive a hard copy printed pattern.*
Instant download available immediately after checkout includes:

1. Instructions
2. PAH Pattern file (PAH=Print at home)
For printing in A4 or US Letter on a home printer. Printing at home is the most cost-effective, and sticking your pattern tiles together to make your full size pattern is easy. Further information for printing at home can be found in our Resources section here. 
3. AO Pattern file
AO is a large scale file designed to be printed at a Print Copy Shop. You cannot print this on your home printer as it is too big. If you choose to use this large file you will pay extra to have it printed but you do not have to stick anything together.
You can use the ADOBE LAYERS FEATURE to open the PAH pattern file and print only the size you need (and eliminate the "noise" of the unwanted sizes). You can also use the URL and bookmark links within the file to quickly access information and support. Download Adobe Reader for free (for Windows and Mac) here.
YOU TUBE REVIEWS
Review of the Egret tank by Cheryl Temple
 StitchyBeeUK
Reviews
Customer Reviews
04/01/2022
Vicky U.

New Zealand
Egret Tank and Dress
Very simple, easy to follow instructions.
02/18/2022
E M.

New Zealand
Excellent Re-entry to seeing after a long hiatus!
Rewarding and fun. Instructions were clear and I'll definitely use the patterns I bought again.
01/23/2022
Sandra J.

New Zealand
12/27/2021
Susan T.

Australia
Easy Egret dress
Love the pattern. The instructions were easy to follow and the pattern was a perfect fit. I am now about to start on my second dress.
11/30/2021
Raewyn H.

New Zealand
Lovely pattern and a great inspiration but….
Having to print to the correct scale and get the pieces together is more like doing a puzzle than getting ready to sew a garment! It has been very time consuming and the project stalled. Buying a pattern that arrives in the mail would have been a lot simpler. This requires a good home office and a lot of tenacity.
12/05/2021
The Sewing Revival
Hi Raewyn, if printing at home is not your thing you can always take/send the large scale print file (labelled AO) to a Print Shop.
11/29/2021
Jennifer

Australia
Egret Tank And Dress
I haven't made this pattern yet but looking forward to doing so. Such a stylish make
11/18/2021
Roslyn K.

New Zealand
Egret Tank and Dress
Lovely easy to use patterns, clear instructions.Good fit for real women. Easy to download and print and although I somehow lost my download Janie was great and sorted it out.
11/15/2021
Jenny B.

Australia
Egret Top
Loved this pattern. I made the Egret Top and found the instructions easy to follow. Looking forward to making the Egret Tank next.
11/15/2021
Linda M.

New Zealand
Egret Tank
Simple and stylish! Love this top.
11/12/2021
Jane F.

New Zealand
I'm out of practice
Lockdown has got me back into sewing again, thank goodness for my fabric stash! I think I am behind the times because I am used to 1.5cm seams not 1cm seam allowances. I did find it tricky with such a small seam allowance overlocking the seam allowance around the dolman sleeve curve, maybe there is some expert's tip link that could have been included in the pattern??? I'm going to have a go at the dungarees next!
09/07/2021
Zena D.

United Kingdom
Egret Top
This was my fourth Sewing Revival pattern, and another great one! Easy to follow instructions to make a simple sew with clever features that give the top a look that suggests something much more complex! Love it!!
09/04/2021
Rachel M.

New Zealand
Egret Tank Dress size 10
The sleeve openings are very deep - so will need to wear something underneath it. I made the gathered version to start with but found the dress too full, so took out that out and made the belt. I also relaxed the neck a little as found it too tight.
01/03/2022
The Sewing Revival
Hi Rachel, I am wondering if you made the correct size for you. You may find if you sew up the next size down the sleeve opening will be smaller and the dress less full. Kind regards, Janine
08/30/2021
Elizabeth M.

United Kingdom
Egret top
A quick and easy pattern that looks lovely
08/25/2021
Mrs D.

United Kingdom
Loved this - Great Instructions
The pattern was great and as a beginner I found the instructions perfectly easy to understand. Have made a toile and now I know I will be making a few of these. Thank you
08/09/2021
Jennifer H.

New Zealand
08/03/2021
Joann U.

Australia
Egret Tank
Recently made the Tank with sleeves in a Yoryu chiffon and it was stunning, the pattern just falls together. The instructions are so straight forward - thank you. The pattern is true to size, when I make it again in a light fabric I will go up a size to get a softer drape.
06/13/2021
Maria m.

New Zealand
Stunning top
Awesome stylish top. I have had some many compliments and friends wanting one too! Easy sew. Sits beautifully. Dress up or down. Will be making more including the dress. Thanks tsr. You guys are so clever and inspirational ❤
06/04/2021
Jillian M.

New Zealand
Such a fabulous neckline.
I particularly loved the neckline for the Egret Dress. So simple to construct with such great effect. Next time I would probably go a size smaller as I felt the armholes were a little low and the dress was a little too full for my liking. Superb instructions as always by TSR.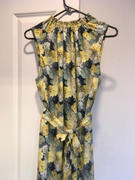 05/11/2021
Denise C.

New Zealand
Elegant top
This was a surprisingly easy, quick sew. I had it in my mind that the neck would be tricky-but it wasn't! Got so many compliments when I wore it to work
05/08/2021
Denet M.

United States
Egret for my niece
I promised a silk blouse to my niece. She chose Egret. I've worked up a toile— the pattern was simple and straightforward. Now to make a fabric shopping date with her to choose some silk!