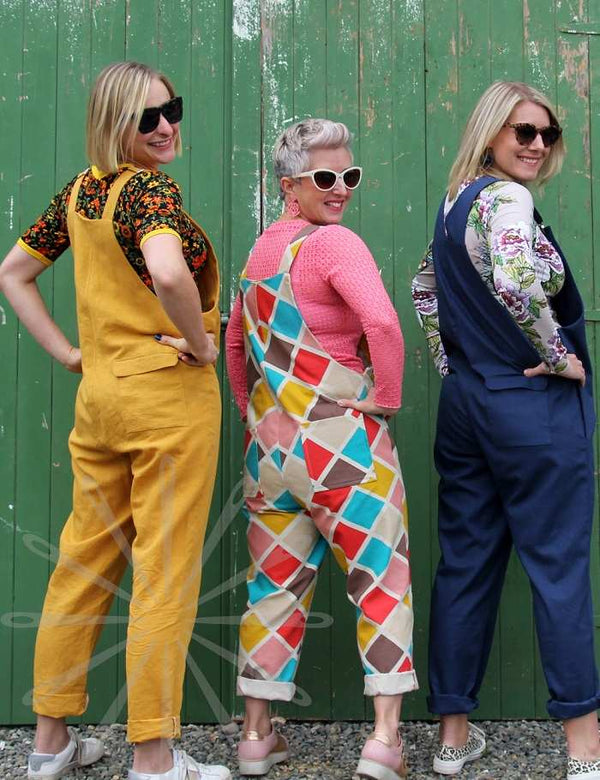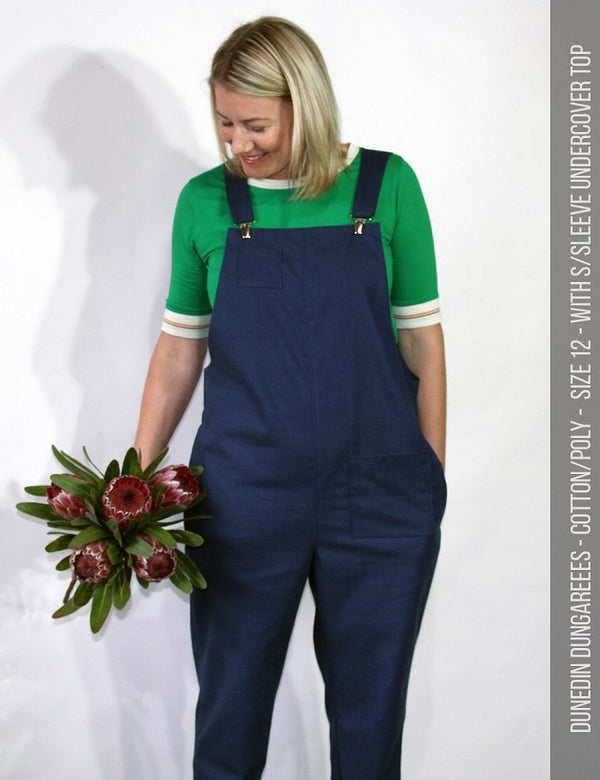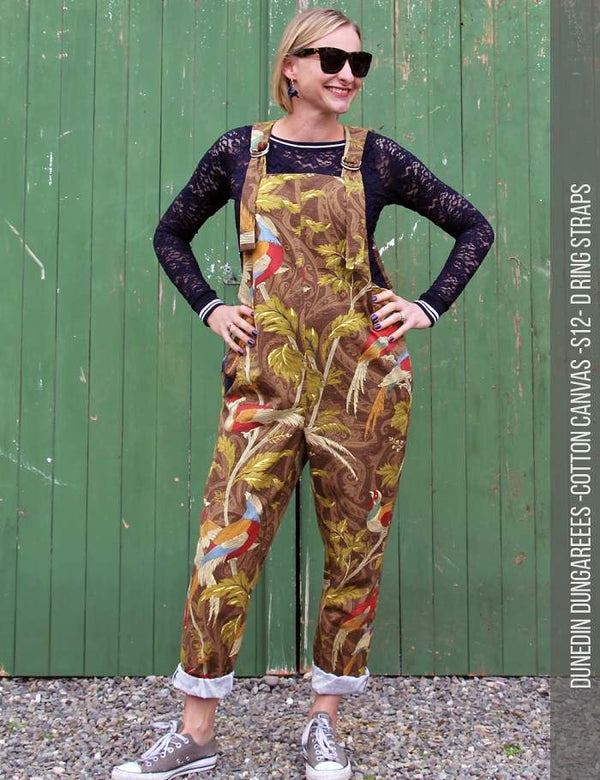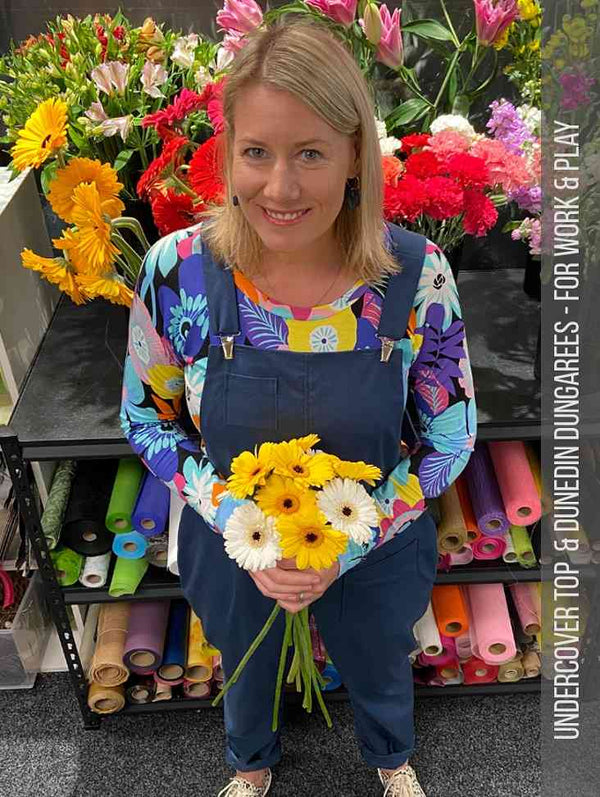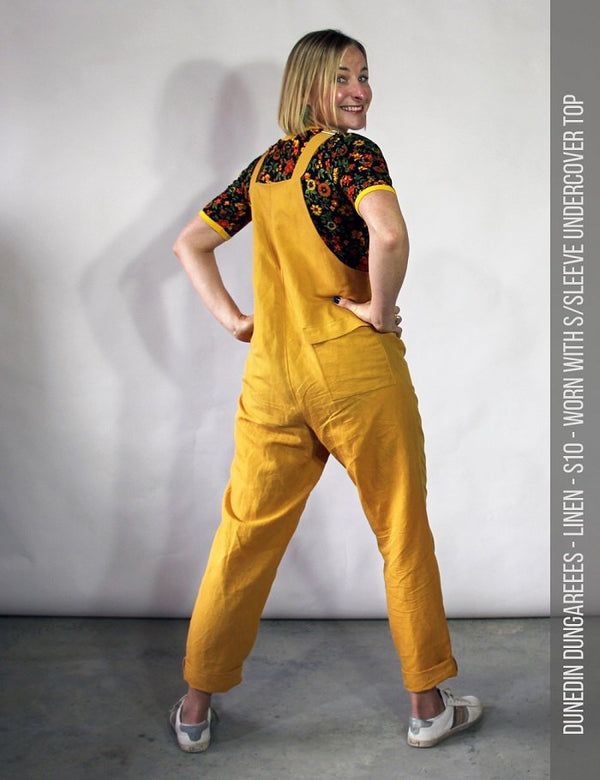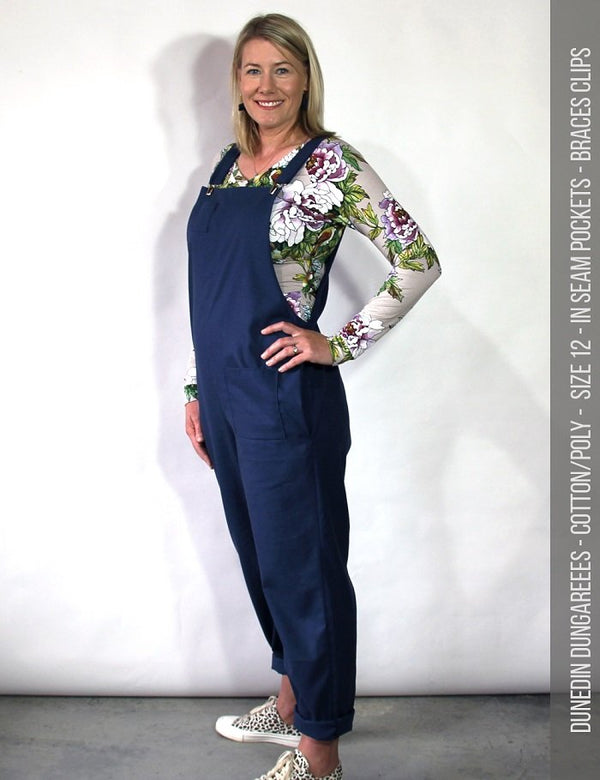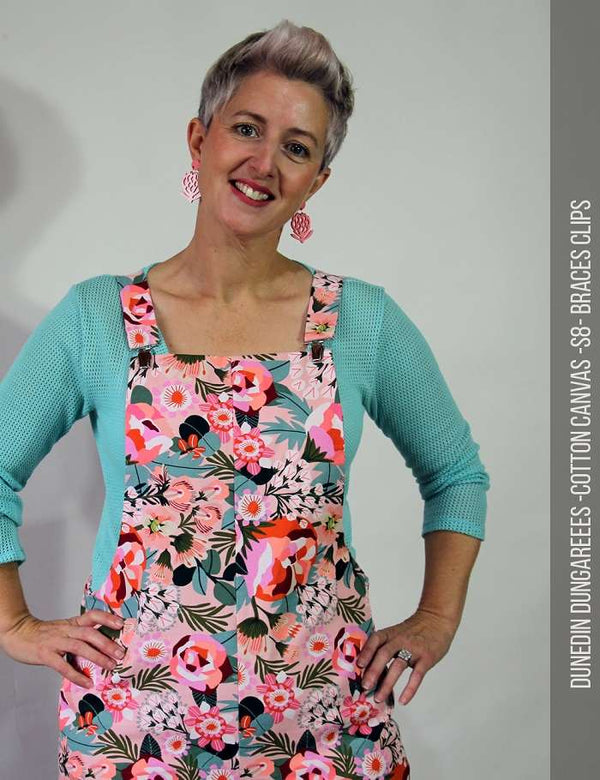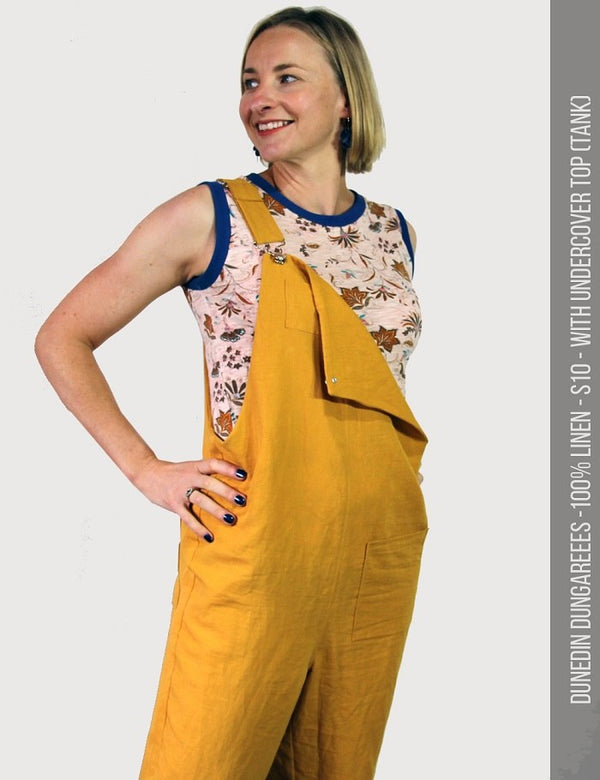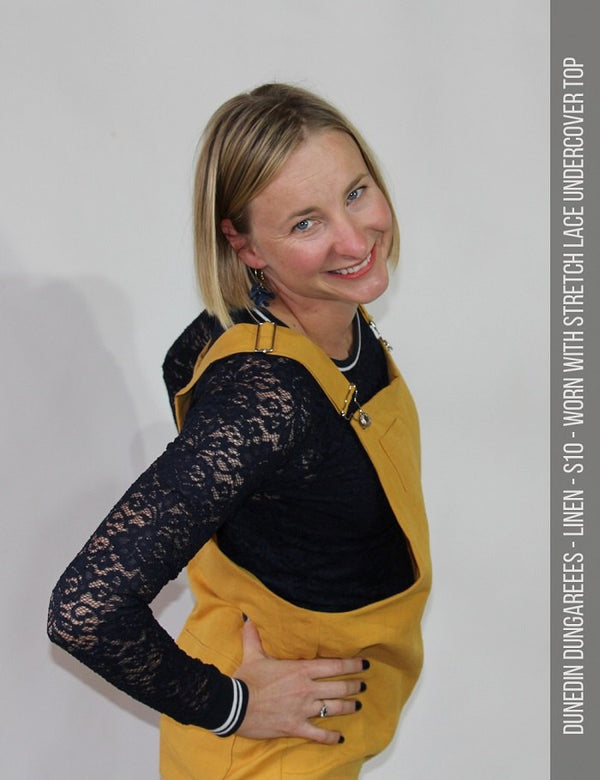 Pattern bundle - Dungaree & Undercover top
The Undercover tops were designed to live under the Dunedin Dungarees.  A match made in summer (or winter) heaven.
Buy them together in this bundle and save yourself $NZD8 (25%).
Pair your linen dungarees with a short sleeve lace undercover tee or tank for a feminine fun summer ensemble - or - sew up a long sleeve merino (or cotton/spandex) to keep you warm under your wool mix or winter corduroy dungarees.

All you need for fun and functional at work (Suzie wears hers at the Florist shop) or play (looking chic and stylish walking the dog in the weekend) - we think there are 1,000 ways to pair and wear your Undercover top or tank and your Dunedin dungarees.
Share your makes on Instagram & Facebook tagging #DunedinDungarees, #UndercoverTop and @thesewingrevival
FABRIC
Please refer to the Dunedin Dungrees and Undercover Top for more specific details and requirements. 
SIZE & FITTING
Each purchase comes with 4 sizes:
Small - ( NZ/AU/UK 6-8-10-12  | US 2-4-6-8)             
Medium - (NZ/AU/UK 10-12-14-16  | US 6-8-10-12)       
Large - (NZ/AU/UK 14-16-18-20  | US 10-12-14-16)  
X-Large - (NZ/AU/UK 18-20-22-24  | US 12-14-16-18)   *

*Please note re XL sizes:
The Undercover Top XL is NZ16-18-20-22 (US 12-14-16-18) whilst the Dunedin dungarees XL size includes NZ18-20-22-24 (US14-16-18-20)
WHAT DO I GET WITH MY PURCHASE?
Dunedin Dungarees PDF sewing pattern AND
Undercover Top PDF sewing pattern
Please note you are purchasing a digital pattern that will be sent directly to your email inbox after payment. You can print this pattern at home on A4 or US letter-sized paper or take it to a print shop for large scale printing (AO size). *You will not receive a hard copy printed pattern.*
Instant download available immediately after checkout includes:

1. Instructions
2. PAH Pattern file (PAH=Print at home)
For printing in A4 or US Letter on a home printer. Printing at home is the most cost-effective, and sticking your pattern tiles together to make your full size pattern is easy. Further information for printing at home can be found in our Resources section here. 
3. AO Pattern file
AO is a large scale file designed to be printed at a Print Copy Shop. You cannot print this on your home printer as it is too big. If you choose to use this large file you will pay extra to have it printed but you do not have to stick anything together.
You can use the ADOBE LAYERS FEATURE to open the PAH pattern file and print only the size you need (and eliminate the "noise" of the unwanted sizes). You can also use the URL and bookmark links within the file to quickly access information and support. Download Adobe Reader for free (for Windows and Mac) here.
Reviews
Customer Reviews
05/30/2022
Cindi F.

New Zealand
Dunedin Dungaree
Very happy with my corduroy dungarees. Great having so many pocket options and strap variations. Skipped the interfacing but will definitely include next time.
04/30/2022
Andrea W.

New Zealand
Dunedin Dungarees Bundle
I really enjoyed making the top, I used the flowery tencel and managed to use the stretch stitch on my Bernina 831 which is 50 years old. It all went together well. I love the dungarees now, but didn't realise they would be so big if I used size 10- they ended up big enough for a size 16. I thought that the photo showed the dungarees were reasonably fitting - not loose. I saw later that the pattern had finished measurements which indicated that that a size 10 really was more in line with a size 16. Next time I will make size 6. The finished dungarees are great and fit well (after taking 2.5cm off every seam). Finished product worth the effort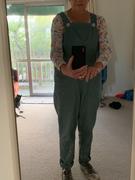 05/02/2022
The Sewing Revival
Hello Andrea, Thank you for taking the time to review the Dungaree bundle. Re size of the dungarees - may I ask that you check that you have sewn up the NZ10 and not the US10 (which is 2 sizes larger)? Regards, Janine
01/13/2022
Brigid M.

New Zealand
Summer of sewing continues
Loved this pattern and love Dunedin. It's come up wonderfully in cotton canvas. Great having lots of options re clasps/ties. Big thumbs up. Thanks Janine
10/26/2021
Catherine S.

New Zealand
Dungaree bundle
Great will be making lots using various wacky materials
10/19/2021
jayne C.

New Zealand
Sadly didnt realise it was an actual old style sewing pattern.
Unfortunately still waiting on my refund from PayPal.
10/19/2021
The Sewing Revival
I am sorry Jayne - we don't quite understand what you mean by an "old style" sewing pattern. This pattern is a PDF - it includes files to print at home, instructions and a larger scale pattern file if you would prefer to print at a Copy Shop. Your emails to us requested a hard copy paper pattern - which we do not sell and we refunded your money immediately on request (showing you proof of refund from PAYPAL). Please show the proof of refund and the PAYPAL transaction number we gave you to PAYPAL so they can follow up at their end to ensure you get your refund.
10/09/2021
Jocelyn H.

New Zealand
Feedback Dungaree Bundle
Yes and no. I think I missed a step in holding onto my downloaded patterns. I was in and out of them slowly figuring out what I needed to keep and trying to understand my printer/computer. So I didnt manage to get my instructions or pattern for the top before it froze on me. Apart from that I love the clear sewing instructions and am finally putting together the dungaree today.
10/08/2021
The Sewing Revival
Hi Jocelyn, Thanks for feeding back. Please note that you only need to click the download button once and the files are automatically saved to your device (please check out your Download or Documents folder). We give you three tries to download in case you accidentally click the download button on your mobile or other device that you can't print from - but you only need to click it once to have it saved on your computer. We always recommend you save the files to a folder where you can easily find them to reprint from any time (and as many times) as you choose in the future. Please contact us on info@sewingrevival.co.nz if you require further help. Kind regards, Janine
07/31/2021
Helen S.

United Kingdom
07/08/2021
Catarina H.

Germany
geniale Latzhose
Englisch lesen kann ich, schreiben muß ich leider in Deutsch, sorry! Ich war auf der Suche nach einem bequemen, ausgefallenen Schnitt für eine Latzhose, für mich ( Rubensfigur). Da bin ich durch Pinterest auf Ihre Seite gekommen, was für ein Glück! Nach ein paar Fehlversuchen klappte dann auch das Ausdrucken. Jetzt bin ich am Nähen und freue mich schon auf das Endprodukt. Vielen Dank, daß Sie Ihre Schnitte, auf für Frauen mit etwas mehr auf den Hüften machen.
07/05/2021
Gabrielle D.

Australia
The dungarees are a great pattern - but do a mock up first.
The dungarees are a great pattern and very easy to use. But a word of warning - the fit is for our tall, slender sisters. Those of us who have a more rotund shape (short waist, long legs and ever-expanding bottom) may need to adjust the pattern. I removed 8cm of length between the crutch and the side 'scoop' which returned my waist to where it should be. And I no longer look like Harry-High-Pants
05/22/2021
Andrea H.

Australia
05/08/2021
Sue L.

United Kingdom
Love the dungarees, but pattern pack has a few errors
Made up well, and love the look, but the instructions and pattern need a good proof. The list of things you need should upfront tell you all the things you need (I had to search for ages for the size of the clips for the straps), the yardage seems way too much, I had loads of fabric left, and the pattern is mis labelled, including the instructions having different numbers on pattern pieces. I could not find one pocket pattern piece at all, but maybe I missed it as it was a bit of a struggle to glue together as the pieces are all so large. Despite all that I got there in the end and am happy with the outfit. I will make again, but probably will size down as they are generously sized.
05/09/2021
The Sewing Revival
Hi Sue -The pattern haberdashery list has now been updated. The finished straps are 40mm or 1 5/8" so we recommend your clips to be about 38mm (approx 1 5/8") wide. Making them slightly smaller than the width of the straps helps create the friction needed for the dungaree clips and also works for the D rings and other options. I have rechecked the pattern and the pocket pieces are all there. The pattern piece numbers for the front and back facings is now corrected in the instructions (although each pattern piece was clearly labelled). We will recheck the yardage again and update if necessary. Thanks for your input. Our patterns are well tested but we (and our testers) are only human. Your feedback does helps us keep improving and result in our patterns being the best they can be. Kind regards, Janine