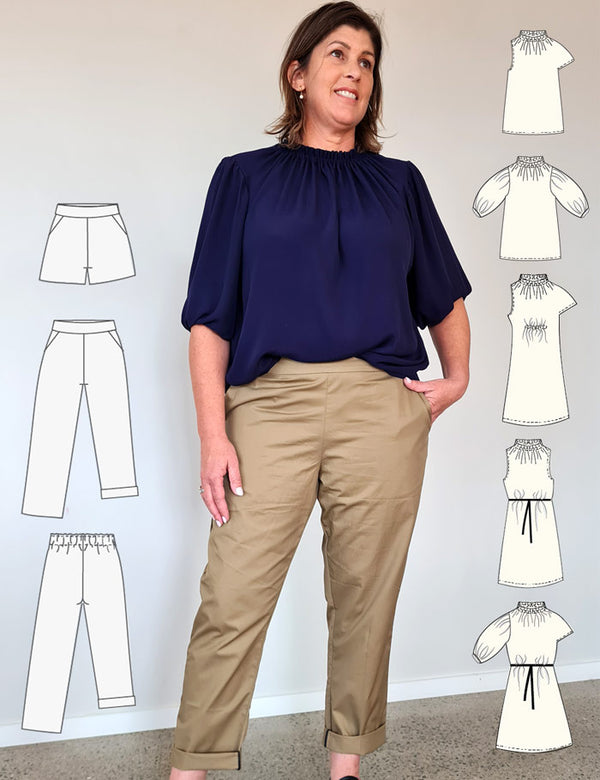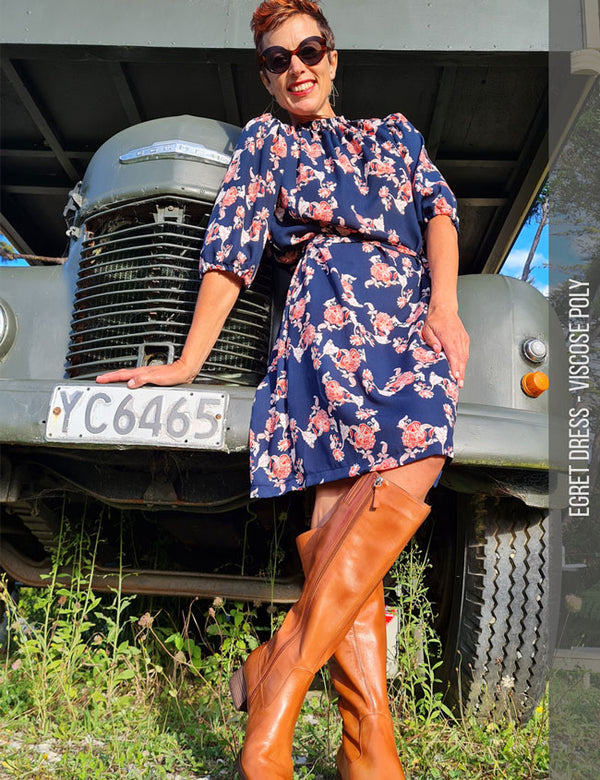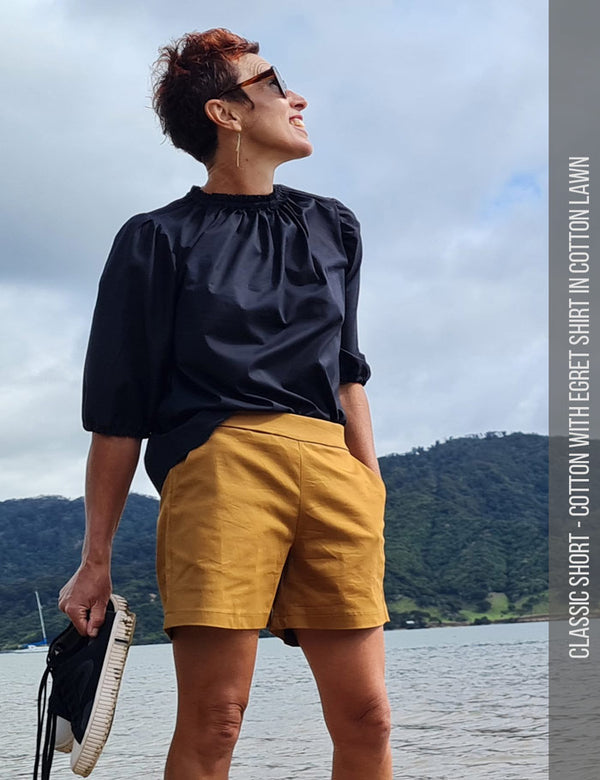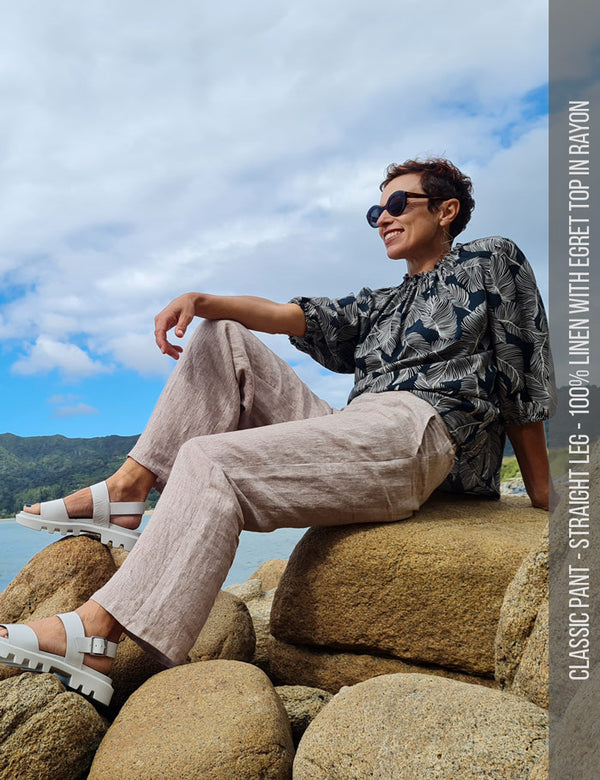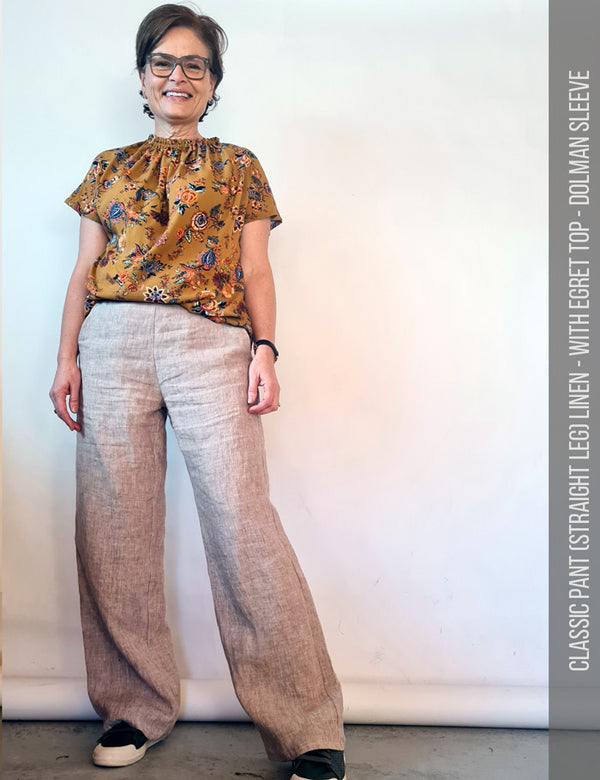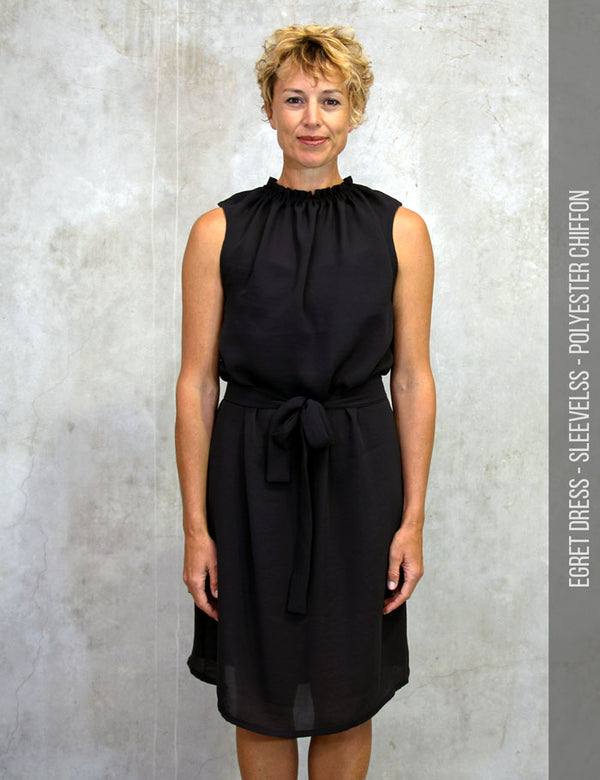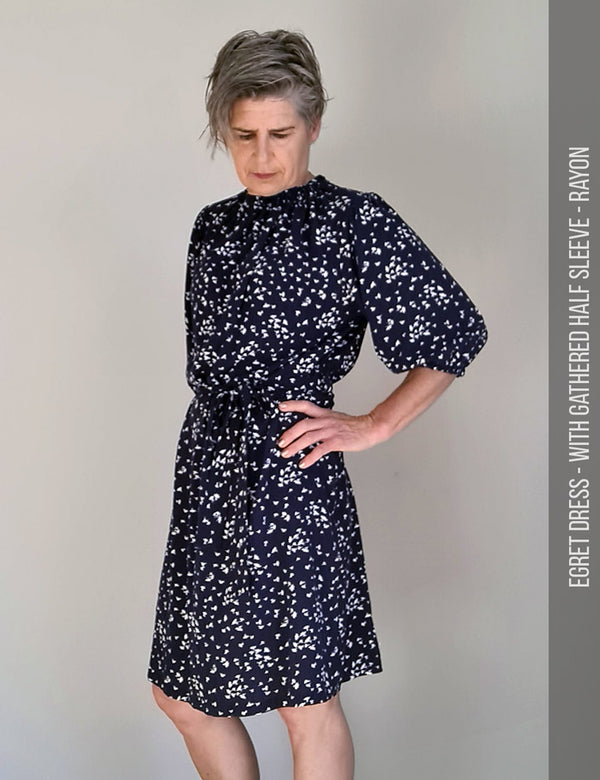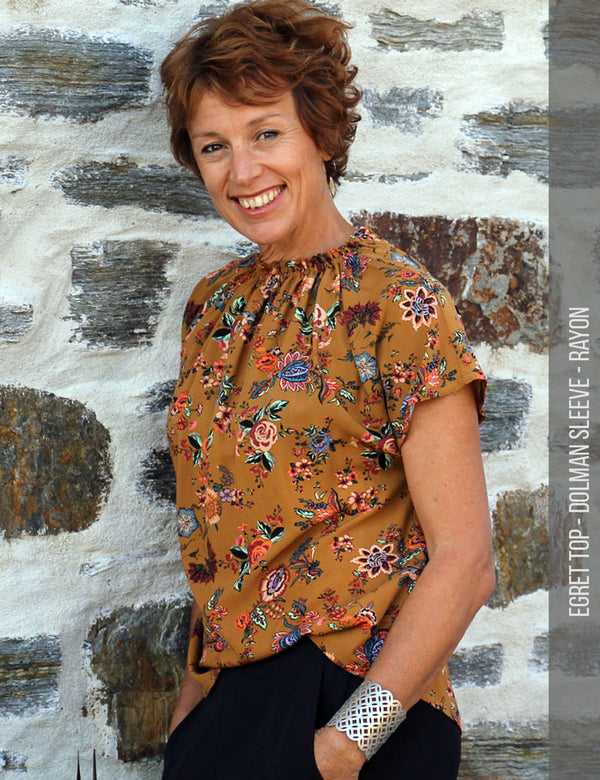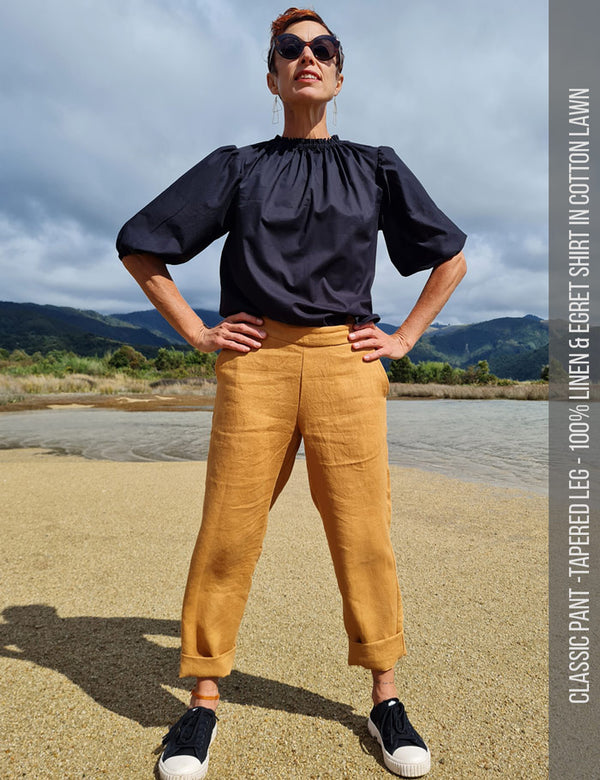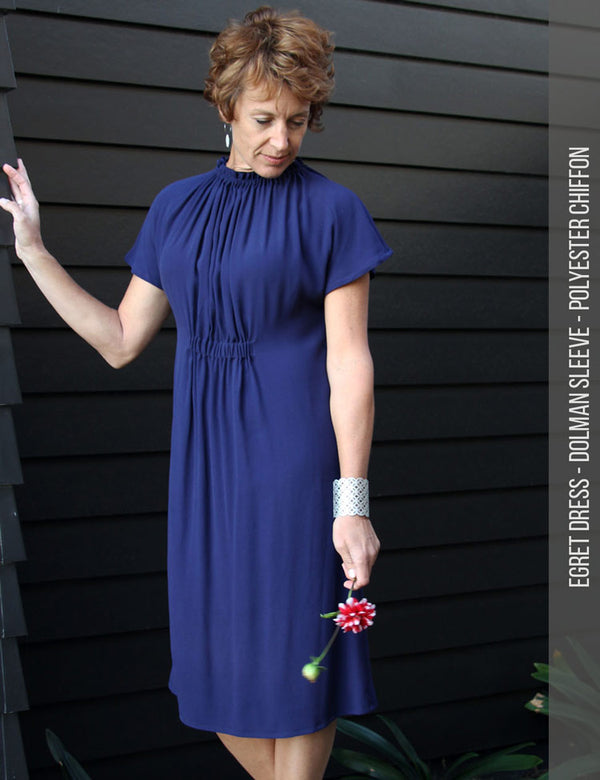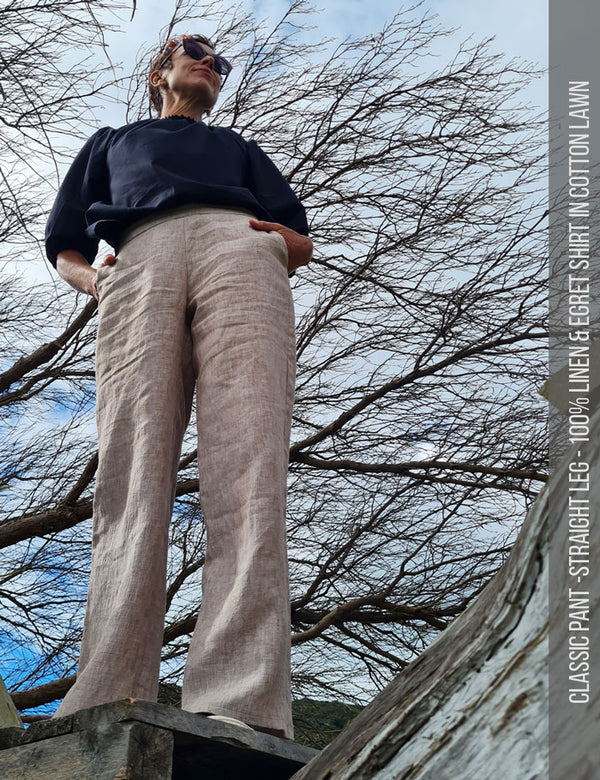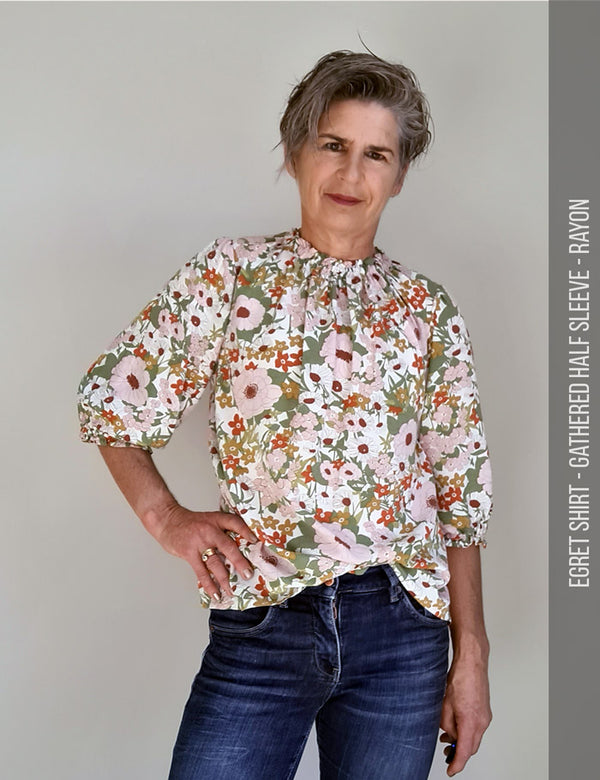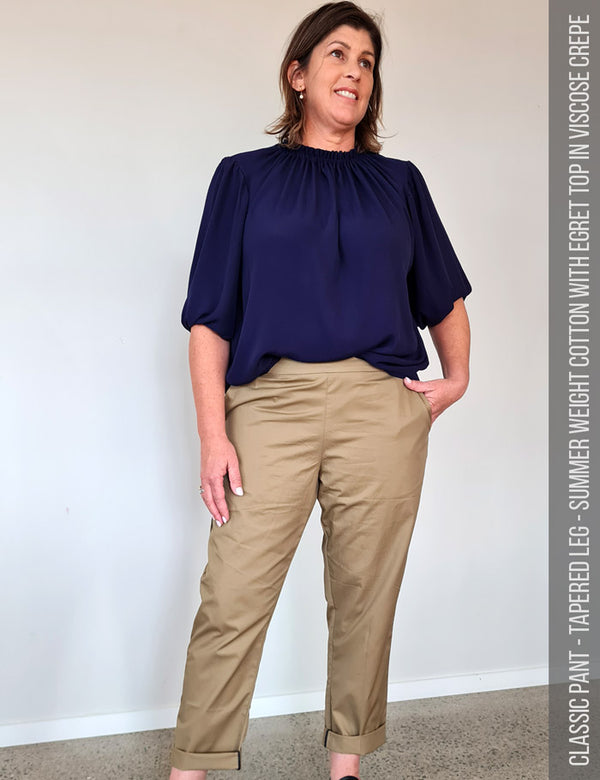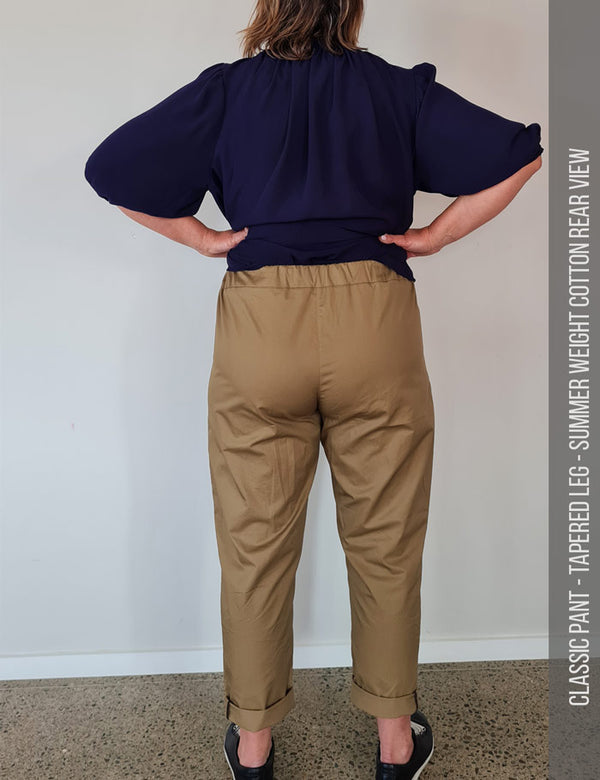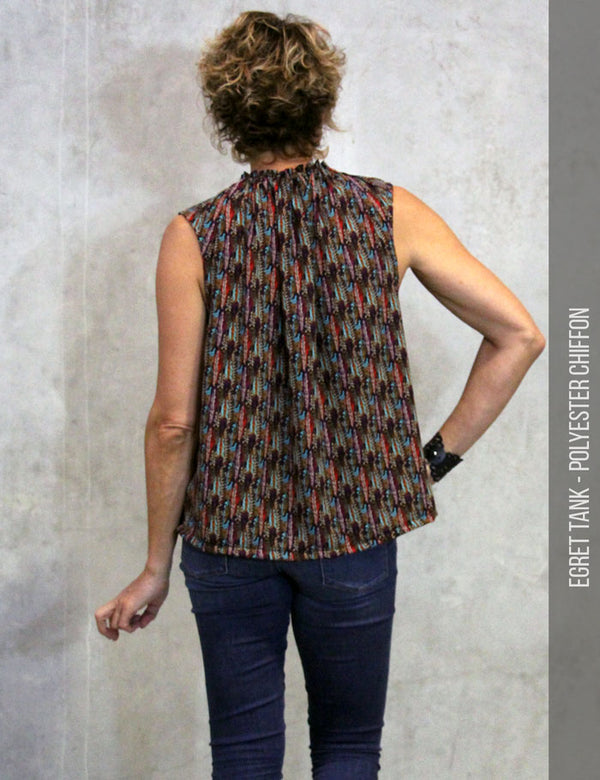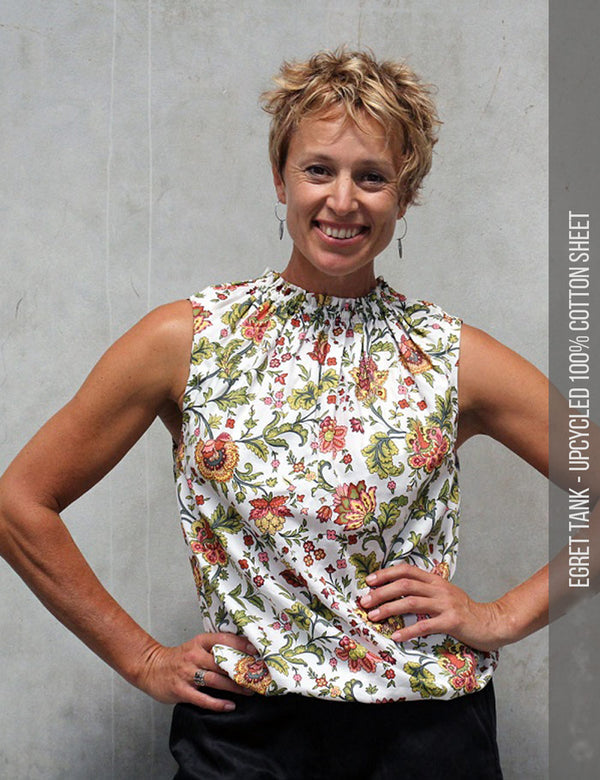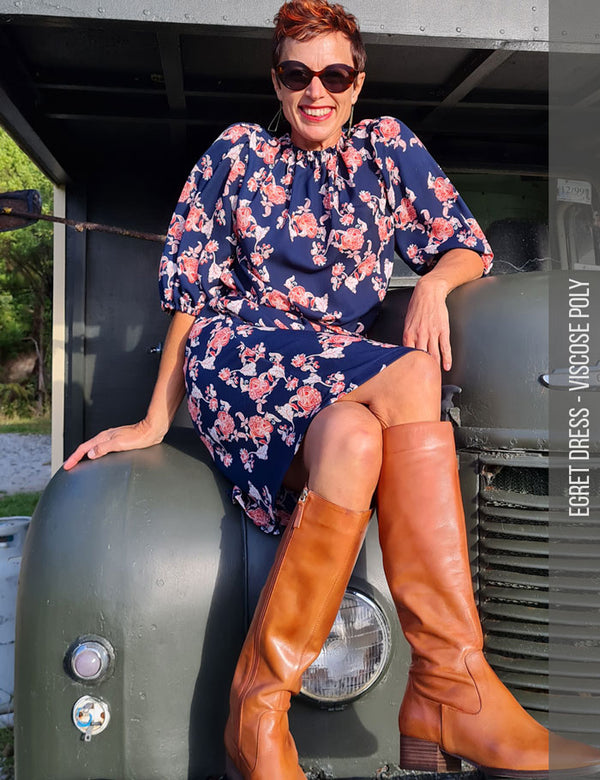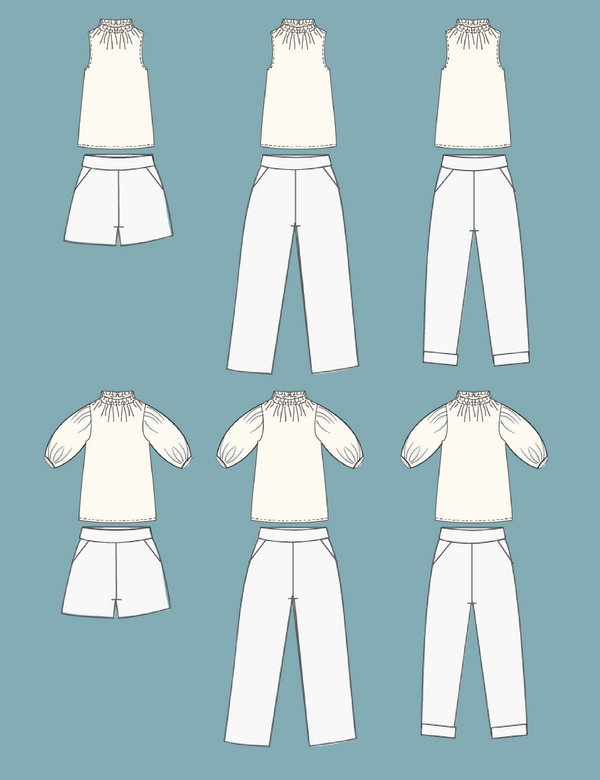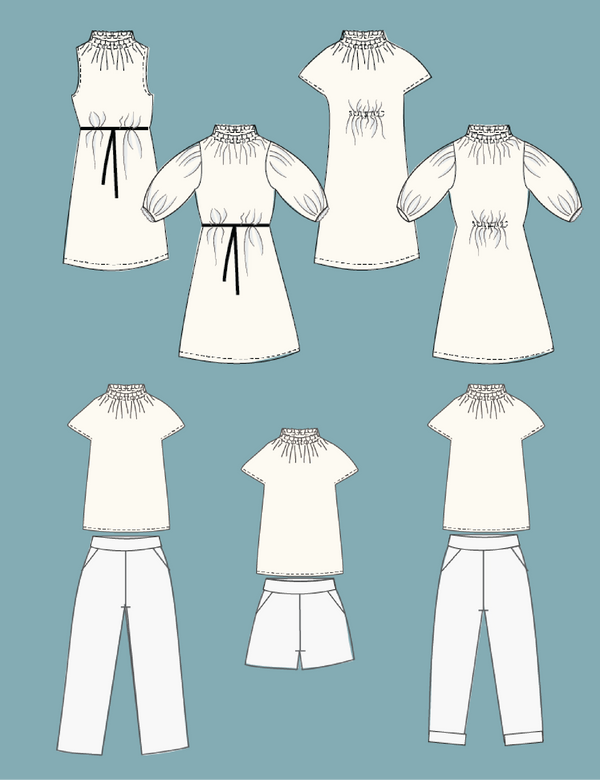 Pattern bundle - Egret Dress|Top & the Classic Pant|Short
These two patterns will give you 13 different looks for summer and shoulder seasons.
Combining the Egret Dress,Tank&Shirt  with the CLASSIC Pants|Short provide a capsule wardrobe that is modern and versatile. 
Buy them together in this bundle and save yourself $NZD8 (25%).
Share your makes on Instagram & Facebook tagging #TSREgret,  #TSRClassicPant and @thesewingrevival
FABRIC
Please refer to the Egret Dress,Tank&Shirt and Classic Pants|Short for more specific details and requirements. 
SIZE & FITTING
Each purchase comes with 4 sizes:
Small - ( NZ/AU/UK 6-8-10-12  | US 2-4-6-8)             
Medium - (NZ/AU/UK 10-12-14-16  | US 6-8-10-12)       
Large - (NZ/AU/UK 14-16-18-20  | US 10-12-14-16)  
X-Large - (NZ/AU/UK 18-20-22-24  | US 14-16-18-20)  

WHAT DO I GET WITH MY PURCHASE?
Egret Dress,Tank&Shirt PDF sewing pattern AND
Classic Pants|Short PDF sewing pattern
Please note you are purchasing a digital pattern that will be sent directly to your email inbox after payment. You can print this pattern at home on A4 or US letter-sized paper or take it to a print shop for large scale printing (AO size). *You will not receive a hard copy printed pattern.*
Instant download available immediately after checkout includes:

1. Instructions
2. PAH Pattern file (PAH=Print at home)
For printing in A4 or US Letter on a home printer. Printing at home is the most cost-effective, and sticking your pattern tiles together to make your full size pattern is easy. Further information for printing at home can be found in our Resources section here. 
3. AO Pattern file
AO is a large scale file designed to be printed at a Print Copy Shop. You cannot print this on your home printer as it is too big. If you choose to use this large file you will pay extra to have it printed but you do not have to stick anything together.
You can use the ADOBE LAYERS FEATURE to open the PAH pattern file and print only the size you need (and eliminate the "noise" of the unwanted sizes). You can also use the URL and bookmark links within the file to quickly access information and support. Download Adobe Reader for free (for Windows and Mac) here.
Reviews
Customer Reviews
11/14/2023
Kim S.

New Zealand
Egret Tank and top
Lovely pattern, a good fit, Great pattern makers.
11/11/2023
Judith H.

South Africa
Quick and easy
This is my second Sewing Revival purchase and I made the Egret top with three quarter sleeves. It was a quick and easy make and fits perfectly. I'll definitely be making more! A pair of Classic three quarter pants is also in the pipeline.
11/07/2023
Natalee C.

New Zealand
Egret Tank and Dress
Great pattern, helpful instructions. Beautiful style.
11/04/2023
Janine K.

Australia
Egret top/dress
Excellent pattern. Made the top with the 3/4 sleeve and it is perfect.
10/20/2023
Lesley G.

New Zealand
Pattern bundle
Great website, easy to view and purchase, instructions were simple to follow. Had a new shirt in an hour!
10/15/2023
Eileen B.

United Kingdom
Great service, very easy to order online
I haven't yet made the trousers up, in fact haven't had the pattern printed out as suddenly other priorities have intervened!
10/13/2023
Sarah G.

United Kingdom
Great everyday trouser pattern
Easy to purchase and download. Love the sidewinder pants so thought I'd give these a go. Slightly disappointed that the tapered pants aren't part of the pattern, there are instructions to do this yourself. It wasn't difficult but they were why I purchased the pattern. Still had to adjust pattern slightly but sewing revival are a good fit for me.
10/11/2023
Jane

New Zealand
Love these pants
I made these in a midweight linen. So comfortable to wear. I'll definitely be making more. I did put some pockets on the back. Also had to add extra to the width of the waistband so maybe my seam allowances were out. Fits me perfectly anyhow.
10/10/2023
Lynette B.

South Africa
Perfect fit
I have just finished these as a more formal pair and they fit perfectly. Instructions were easy to follow and I will definitely make them again and again.
10/07/2023
June W.

Australia
Egret tank and dress
It was awesome. Easy instructions. Easy to print. I really like the pattern. I made 3 tops. 1 with cap sleeves and 2 tanks.
10/07/2023
Robyn S.

New Zealand
Comfy & Stylish
I made these classic pants in a linen cotton mix, they were easy to put together and the instructions were very clear. I love Sewing Revival patterns and have made several and I always get compliments when I wear my makes.
10/01/2023
Lynley C.

New Zealand
Classic pants
Awesome. Have made a linen pair and a corduroy pair.
09/29/2023
Jann B.

Australia
Download
I haven't been able to open and download file so not real happy …..
09/14/2023
Lucie J.

United Kingdom
09/03/2023
Margaret S.

Australia
09/01/2023
Fae M.

Australia
The only pants pattern you need
The classic pant/shorts pattern is the perfect pants pattern. I've made the shorts and the tapered pants and both look great. I have a large waist and took the advice to select the size based on the hip measurement - they fit perfectly! This pattern looks like fitted pants with only a very slight gather at the back (at least on me). Thank you Sewing Revival!!
08/31/2023
Sharon R.

New Zealand
Classic Pant
First time with an e-pattern (and making pants). Easy straight forward instructions, user friendly. Great result! Will be a staple pattern in my toolkit. Looking forward to making more and changing up the length and width.
08/21/2023
Natalie J.

United Kingdom
Great wardrobe staple
The pattern was well set out and instructions easy to follow. It included techniques that I don't normally use when sewing trousers so I learned some new things. I have sewn this pattern twice now - firstly with a green washed cotton material that I approached like a toile and wasn't that attached to if it didn't work out. They came up quite large so my next pair in a lightweight denim I went down a size which worked at the waist but still ended up being more like a wide leg pair of pants so my next pair I will be altering the leg seams to a more slim/straight style. I am appreciative in the sizing being more inline with actual real bodies and the pattern is simple enough that you can cater it to your own.
07/29/2023
Anne F.

Australia
Great pattern.
Did a size 12 and they fitted- for a change! Easy to print and cut pattern and good sewing instructions. The crutch area usually doesn't fit me but these did. Am hoping the sidewinders fit as well. Maybe if description could say if high or medium waisted? I'm hoping they are NOT high waisted..
07/18/2023
Jennifer G.

Canada
First pattern from Sewing Revival
This was my first pattern from Sewing Revival and my first pair of shorts. It went well. I wish I'd been able to turn off some sizes in the PDF. I followed the narrower leg lines of the trousers rather than the shorts. When I make the shorts again, and I will, I will add back pockets to hold my phone.
07/19/2023
The Sewing Revival
Hello Jennifer - you should have been able to print only the size you needed. Did you open the file in Adobe Reader? Please refer our blog (link below) - else click Resources/Getting-Started/Printing-at-home from the Main Menu. https://thesewingrevival.com/blogs/getting-started/printing-pdf-patterns. Kind regards, Janine