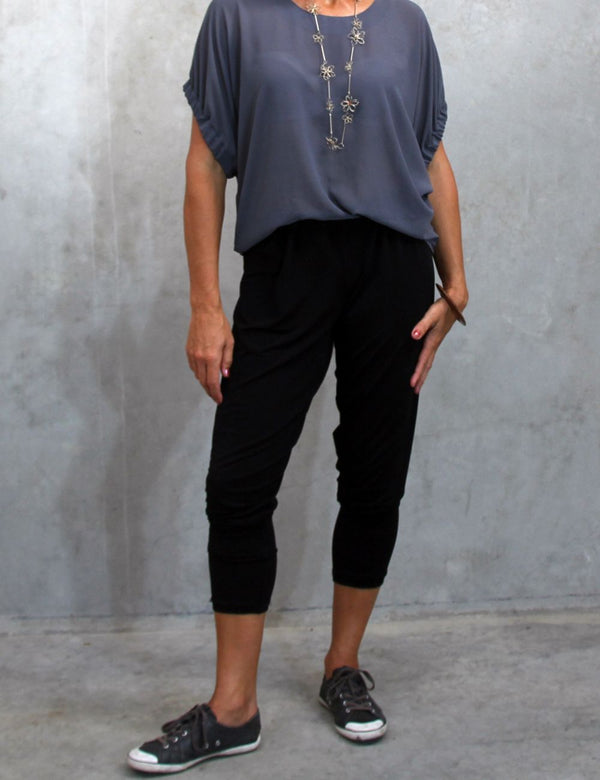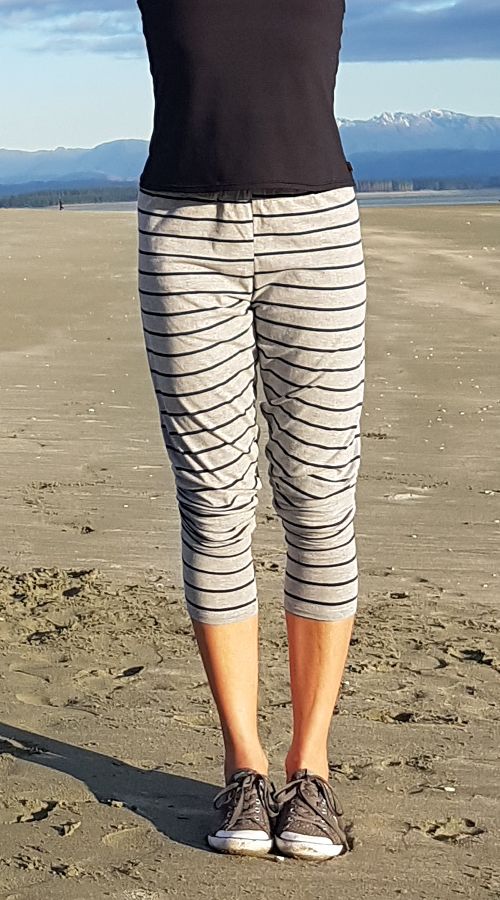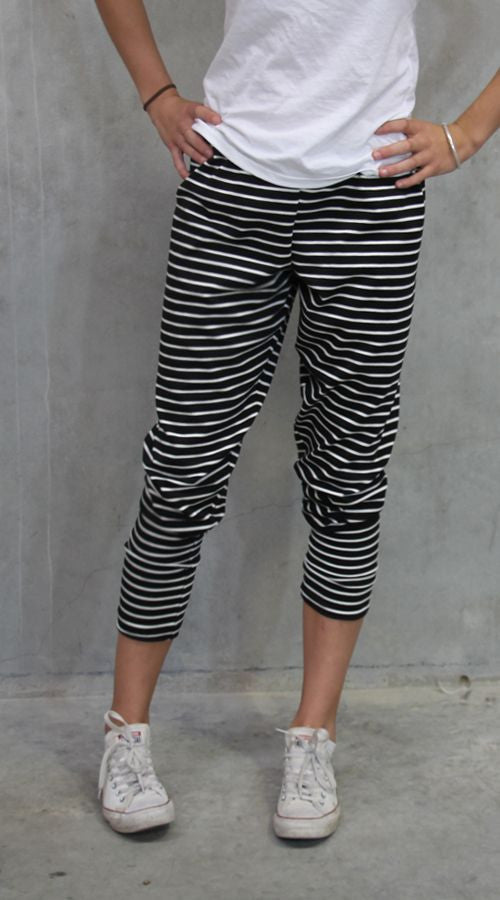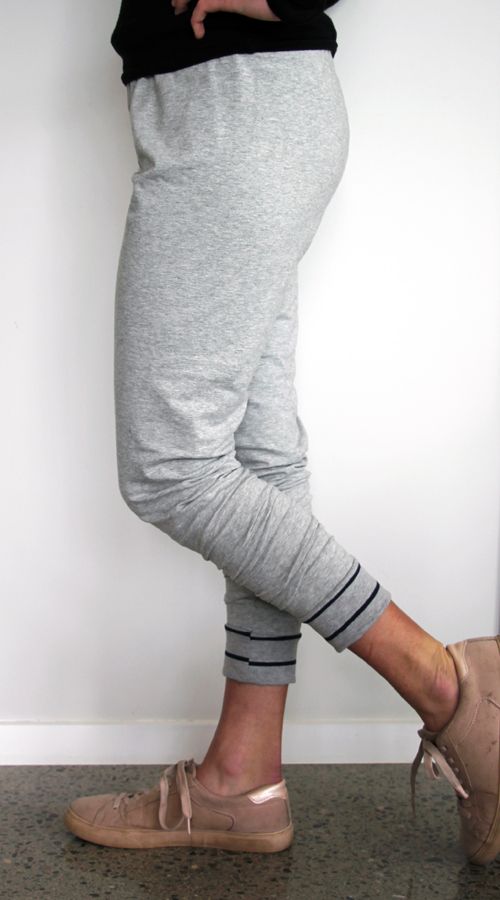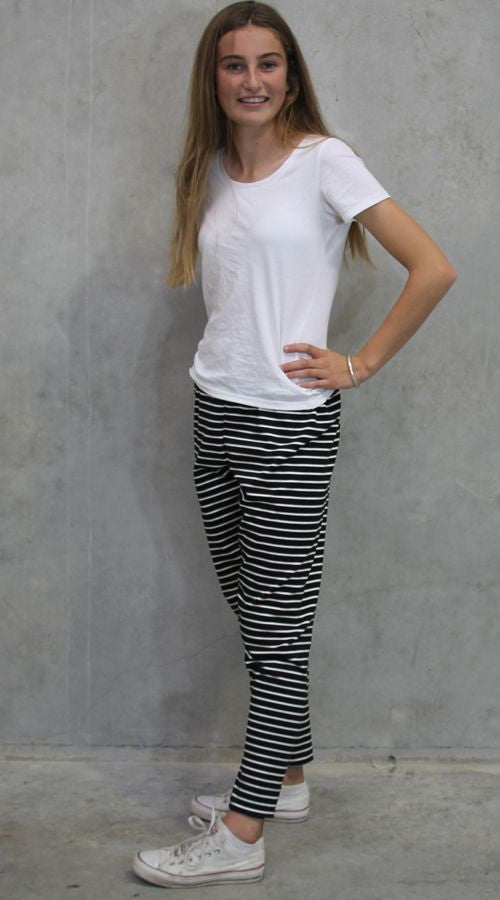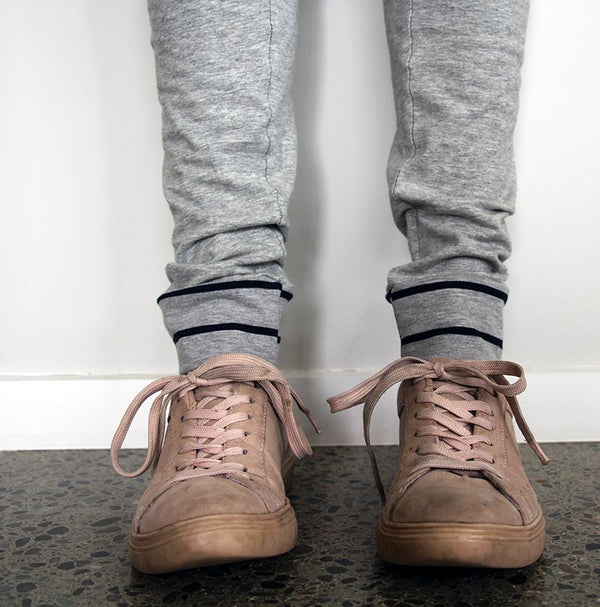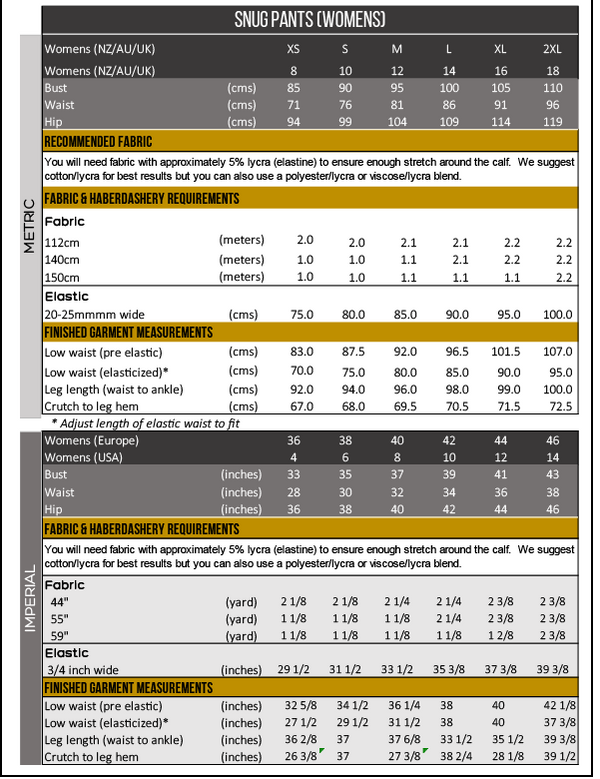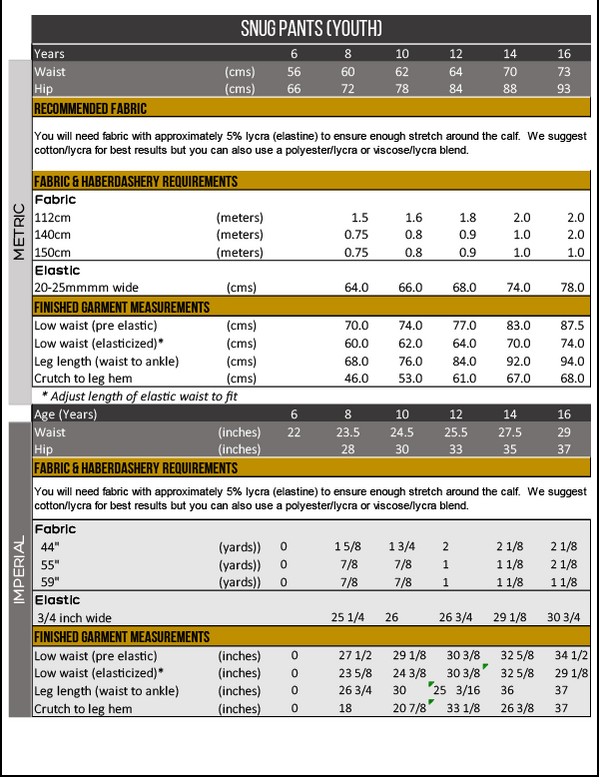 This one piece sewing pattern is so easy & so comfortable it's a perfect introduction to sewing with knits.  Designed for a stretch fabric to allow a gather pull up to 3/4 hem or worn full length - these pants are versatile and very very comfortable. Wear them full length or pulled up to 3/4 for a stroll with the dog, yoga or simply snuggling down at home.
Available in Youth and Womens' sizes and supported by several video tutorials.
TUTORIALS - Sewing stretch is not as hard as it looks. Check out the following tutorials to helo you get started:
Snug Pants(1) - Fabric layout and cutting
Sewing with Knits
Snug Pants(2) - Sewing up your pants
STYLE FEATURES - These pants have no side seam so are flattering at the hip.  The style is looser around the thigh, narrowing around the calves.
STYLE A  - Gathered waistband and turn up ankle hem
STYLE B - Gathered waistband with ankle bands (which look great in contrasting fabric)
Share your makes on Instagram & Facebook tagging #SnugPants and @thesewingrevival
FABRIC
Please refer to the FABRIC REQUIREMENT CHART as one of the last images on this product listing. You can magnify this image if viewing it on a mobile phone whilst in a fabric store.
Stretch knit fabric (cotton, polyester, viscose and blends that contain 3-5% elastaine/lycra).
Main Image- our stripped Snug Pants are made from 95% cotton/ 5% lycra mid weight knit fabric.

DIFFICULTY
Beginner - a perfect introduction to sewing with knits. 
SIZE & FITTING
This pattern comes in Print-at-home only (AO coming soon) in sizes XS-2XL (NZ|AU|UK 8-18) & US 4-14. 
WHAT DO I GET WITH MY PURCHASE?
Please note you are purchasing a digital pattern that will be sent directly to your email inbox after payment. You can print this pattern at home on A4 or US letter-sized paper. *You will not receive a hard copy printed pattern.*
INSTANT DOWNLOAD available immediately after checkout.
Opening the file in ADOBE READER will maximize the pattern features (Layers feature will allow you to print only the size you need.  You can also use the URL and bookmark links within the file to quickly access information and support).
This pattern comes with a full video tutorial on how to layout your fabric and sew your pants up. Preview the videos here.
Reviews
Customer Reviews
easy to use and loved the fit. ready to make a second pair
10/09/2023
Louise E.

New Zealand
Great Pattern
I really enjoyed making my snug pants. As a confident beginner it was my first time sewing a stretch fabric. I found the instructions clear and easy to follow. I shortened the pants to make a pair of long shorts in a lovely cotton jersey. They've been fab for travelling. Highly recommend
05/20/2023
Catherine

New Zealand
Best snug leggings ever
Great pattern, a great look. I have made this pattern 5 times in various knit blends with the cuff. I am 168cm tall and took 3 cm from leg length so there was less brunching at the bottom, kept the cuff length the same. I have made them in cotton/lycra, rayon/spandex, and merino/polypropylene/lycra. I wouldn't use rayon/spandex again as it tended to sag, in the seat when after wearing it for an hour or so. The merino/poly mix I made I used to cycle on a two-week bike tour in England this spring, and they were magic. The fit is a slightly relaxed legging, but not track pants. A real good in-between. I will be making more, so versatile, exercise wear, causal smart to pJs.
05/18/2023
Sacha M.

New Zealand
Snug pants
All the instructions were very clear. I love that I could print out just the size I needed. They turned out exactly like the picture and I'm only a beginner sewer. They were very quick to put together. Definitely recommend.
08/03/2021
Marilyn W.

New Zealand
Snug Pants
Really easy make and very comfortable pants. Made in French Terry . Will make more.
08/03/2021
Dani D.

New Zealand
Lovely Simple Pattern
Such a simple pattern to cut and sew. And I finally got my overlocker working, which has made these superquick to whip up. I had some problems with my printer not printing the exact parameters so struggled to match up the pattern pieces. Tried following the instructions and re printing but still no joy. I managed to adjust as I thought, but suspect theyre still not exactly right.
04/08/2021
Carmyl M.

Australia
Great pattern
Excellent have made 4 pairs. Go to comfort pants.
02/02/2021
Shari T.

Canada
nice pant
I had to adjust a few times to fit my skinny legs, flat bottom and large waist, but I got it right, and they fit well
11/03/2020
Chris W.

New Zealand
Snug pants
Great pattern - easy to make and comfy as
09/02/2020
kristy w.

United States
My New Uniform
I have made myself four pairs of these pants. I wear them daily. I had limited sewing experience prio to purchasing this pattern. The pattern is easy to follow and gave me the confidence to forge ahead. The semi fitted style is flattering, modest and forgiving for a novice. I like being able to wear a shorter length top with these too. This pattern has really transformed my wardrobe.
04/03/2020
Gini L.

United States
Snug pants
Love all of my sewing revival patterns !
01/24/2020
Cath H.

New Zealand
Super Easy
Clear instructions, easy to make even on my basic sewing machine. Love the pants. Will be making a second pair.