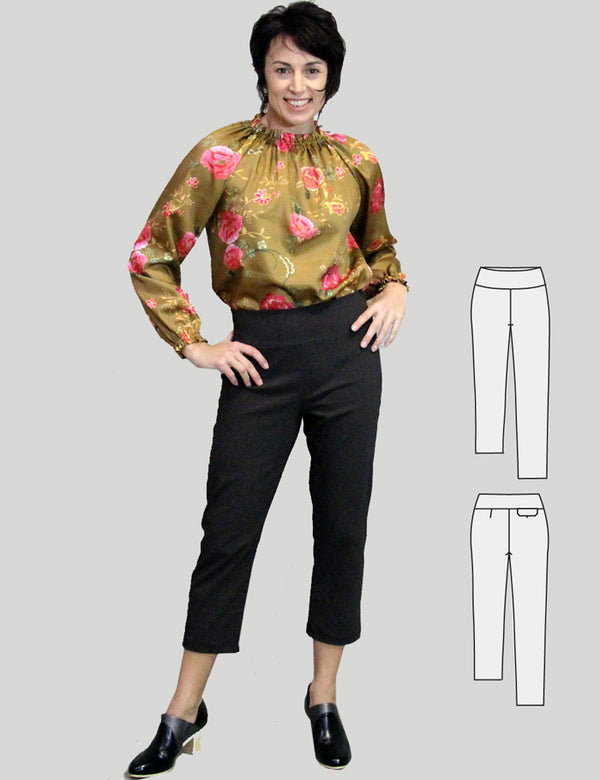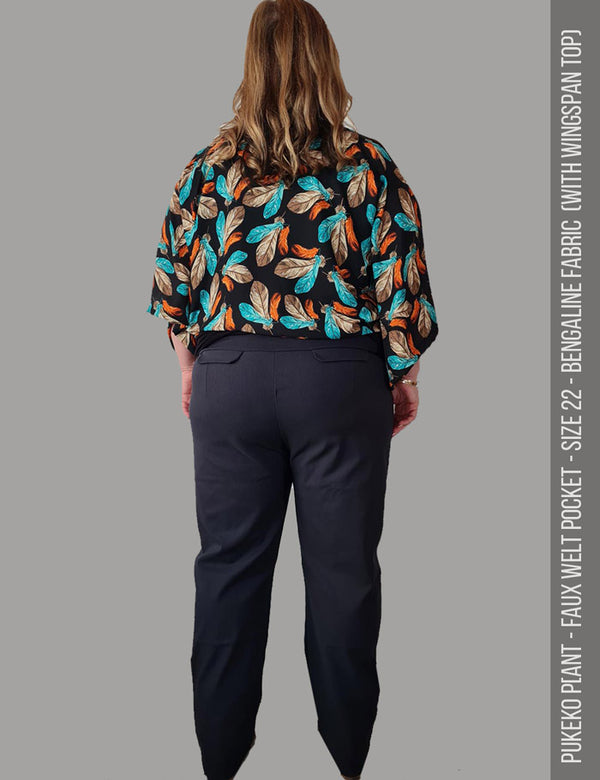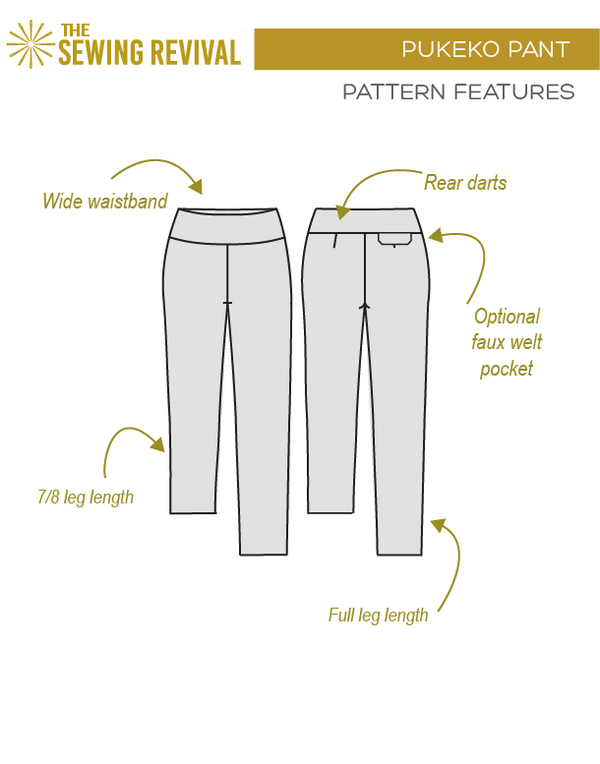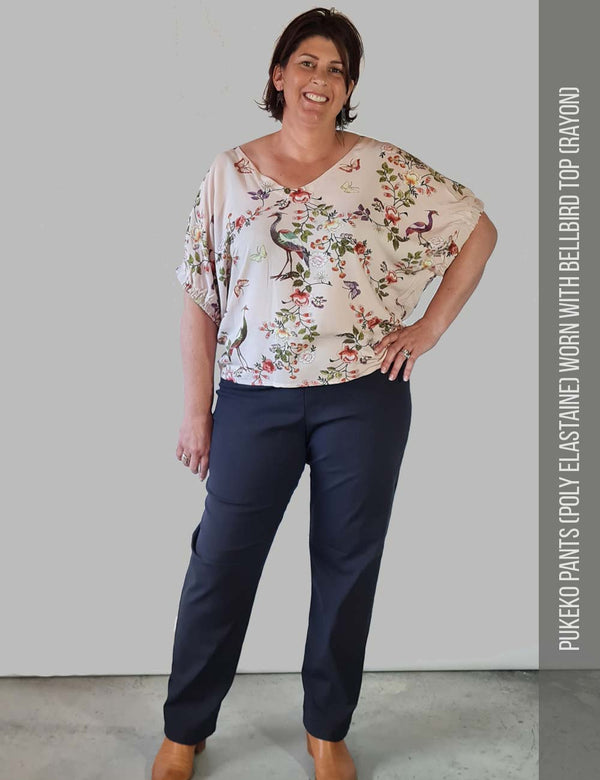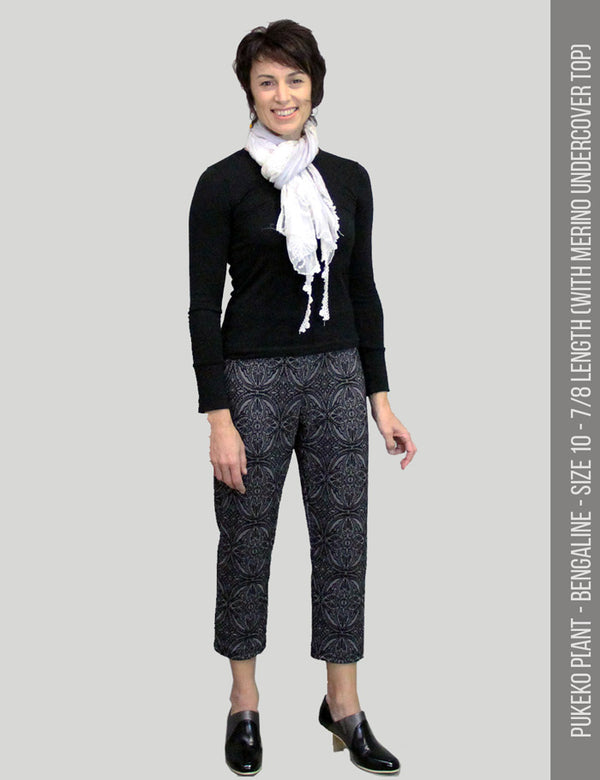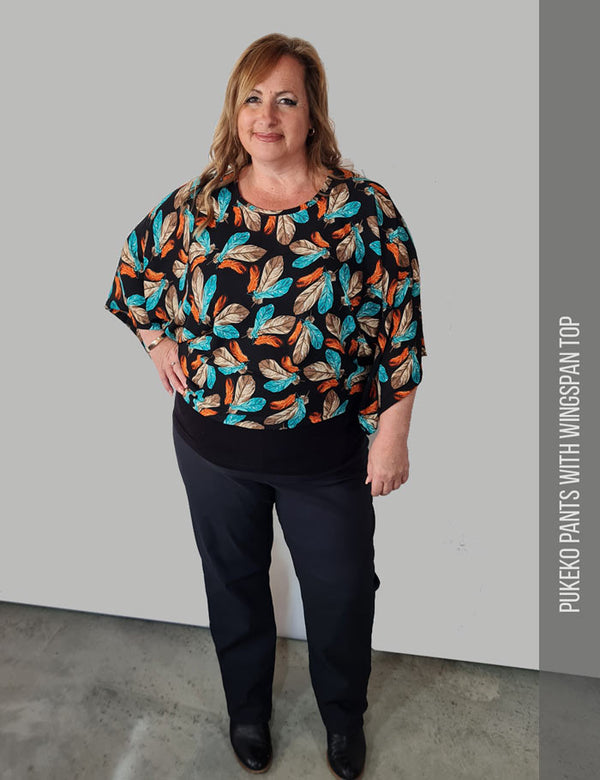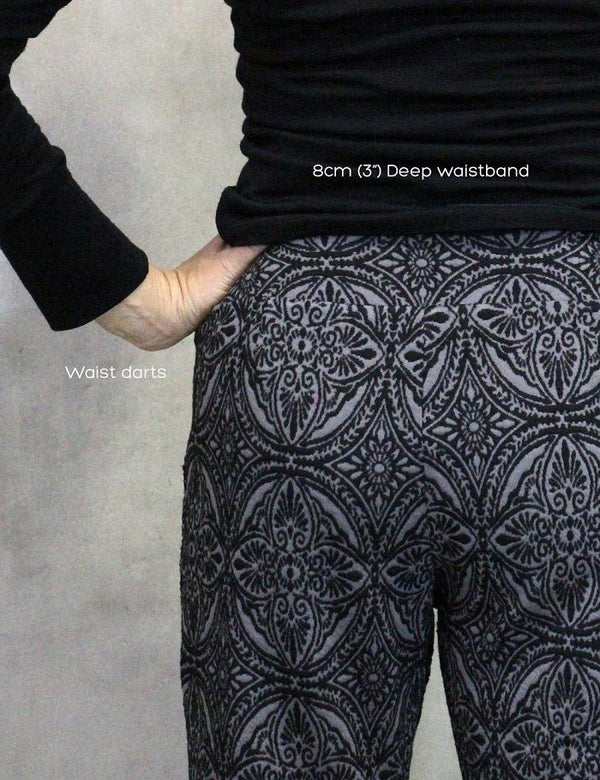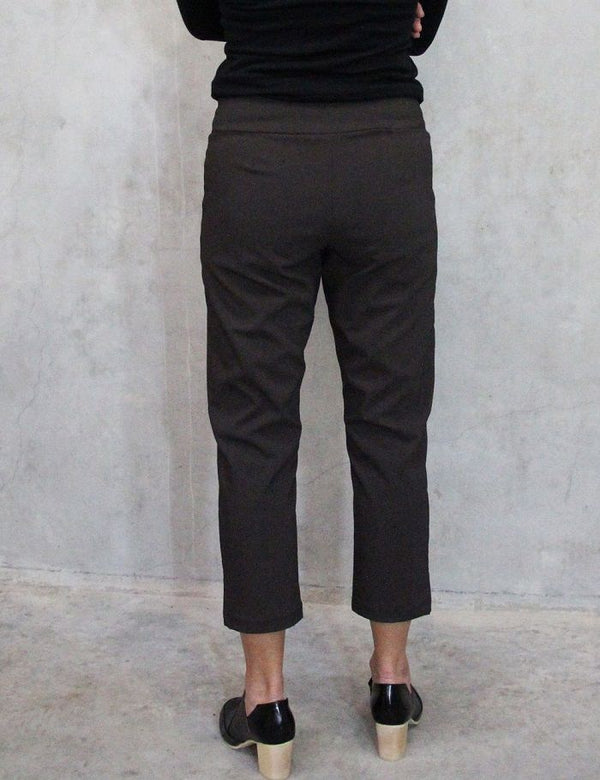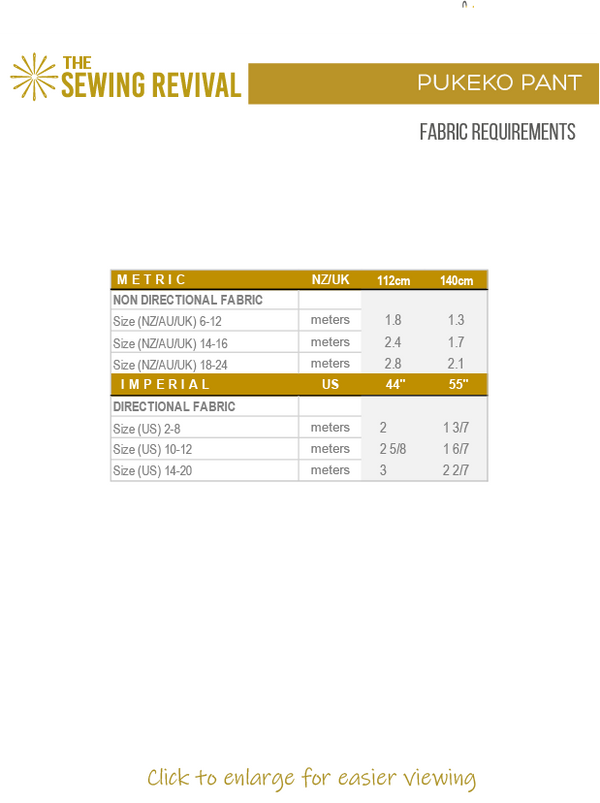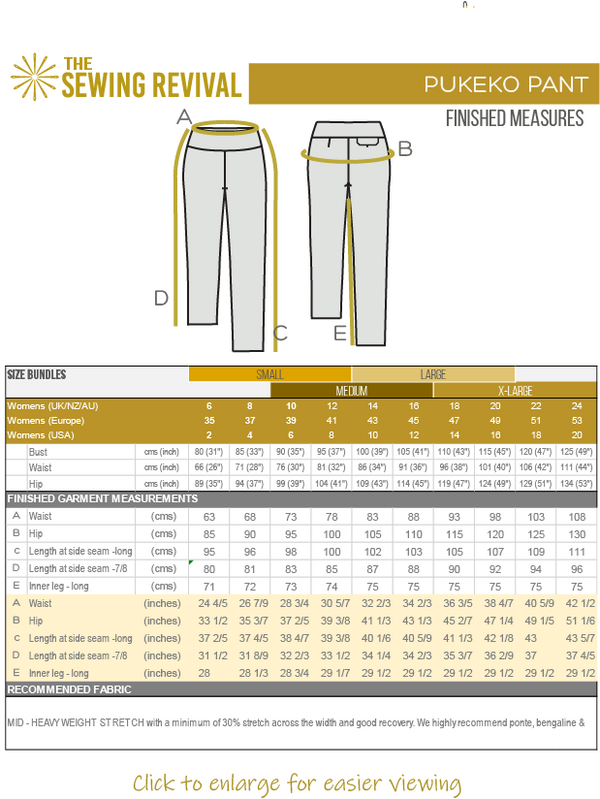 Pull on straight leg pant that are comfortable to wear & easy to sew. The deep waistband is flattering around the waist and hips with a classic straight leg that can either be worn as a 7/8 or full length trouser.
A good introduction to sewing with stretch. Whilst an overlocker (serger) makes sewing these pants a breeze, the stretch stitch on your sewing machine (and in the absence of that - a medium stitch length zig-zag) will do the trick. 
You will sew up this pattern more than once. The 7/8 length is perfect for shoulder seasons and looks great with heels, flats or sneakers. The full length Pukeko pant is ideal for work or evening wear. Because they are so super comfy - you might just find they are also great for simply relaxing at home too.
Share your makes on Instagram & Facebook tagging #PukekoPants and @thesewingrevival
FABRIC
Please refer to the FABRIC REQUIREMENT CHART as one of the last images on this product listing. You can magnify this image if viewing it on a mobile phone whilst in a fabric store.
Designed for STRETCH WOVEN fabrics*,  the pants look great in a woven stretch like bengaline, ponte or drill cotton (with 5% elastaine/lycra or spandex)
Mid weight stretch wovens (with approx 5% lycra/elastane/spandex)
*Ponte (rayon/spandex) - grey patterned fabric pictured
*Bengaline (viscose/nylon/spandex) - khaki pants pictured
DIFFICULTY
2/5 Confident Beginner
Suitable for Confident Beginners/Intermediate sewers. The Pukeko Pant is able to be sewn with or without an overlocker (serger) to neaten the raw edges of the seams. There are no zips or button holes. You will need to use the stretch stitch on your sewing machine (or medium zig-zag). Refer to our blog on sewing with stretch.

SIZE & FITTING
Each purchase comes with 4 sizes (please refer to the last image for size chart and international size comparisons):
Small - (NZ/AU/UK 6-8-10-12  | US 2-4-6-8)                   Pages =18  AO=1
Medium - (NZ/AU/UK 10-12-14-16  | US 6-8-10-12)      Pages = 21  AO=1
Large - (NZ/AU/UK 14-16-18-20  | US 10-12-14-16)       Pages =24  AO=2
X-Large - (NZ/AU/UK 16-18-20-22  | US 12-14-16-18)   Pages =24  AO=2
PATTERN UPDATES

This pattern was updated in July 2022 with the following changes:
* Sizing increased to full range NZ,AU,UK 6-24  (US2-20)
* The addition of the rear faux pocket flap
WHAT DO I GET WITH MY PURCHASE?
Please note you are purchasing a digital pattern that will be sent directly to your email inbox after payment. You can print this pattern at home on A4 or US letter-sized paper or take it to a print shop for large scale printing (AO size). *You will not receive a hard copy printed pattern.*
Instant download available immediately after checkout includes:

1. Instructions
2. PAH Pattern file (PAH=Print at home)
For printing in A4 or US Letter on a home printer. Printing at home is the most cost-effective, and sticking your pattern tiles together to make your full size pattern is easy. Further information for printing at home can be found in our Resources section here. 
3. AO Pattern file
AO is a large scale file designed to be printed at a Print Copy Shop. You cannot print this on your home printer as it is too big. If you choose to use this large file you will pay extra to have it printed but you do not have to stick anything together.
You can use the ADOBE LAYERS FEATURE to open the PAH pattern file and print only the size you need (and eliminate the "noise" of the unwanted sizes). You can also use the URL and bookmark links within the file to quickly access information and support. Download Adobe Reader for free (for Windows and Mac) here.
Opening the file in ADOBE READER will maximize the pattern features (Layers feature will allow you to print only the size you need.  You can also use the URL and bookmark links within the file to quickly access information and support).
Download Adobe Reader for free (for Windows and Mac) here.
Reviews
Customer Reviews
12/05/2023
Lynn V.

Canada
Pukeko Pants
I have made 2 pairs. The 1st was intended to be a muslin, (I used some stretch denim I had on hand) but turned out so well, I can definitely wear them. Making pattern adjustments for my measurements was easy. The pants fit perfectly
09/03/2023
Kathy T.

United States
Perfect in Ponte
I made these with a really nice black ponte from Joann. As always with TSR the pdf's and instructions are awesome. I'm a fan for sure.
06/22/2023
Tania H.

New Zealand
Great, instructions were clear and pattern easy to use
11/19/2022
Susan T.

Australia
Great relaxed pants
The pattern was clear and easy to follow. I added side pockets and I wear them for golf and out for dinner too. Love them.
02/26/2022
Liz V.

New Zealand
Pukeko pants
First and only disaster with seeing revival. Just didn't work out. Followed measurements and the pants were just too big and Ill fitting.
08/03/2022
The Sewing Revival
Hi Liz, So sorry you are disappointed with the Pukeko Pants sewing pattern. Could you please email or message us with your measures and the size you made up so we can follow up with you. Is it possible you sewed up the US size instead of the NZ? This is a well celebrated pattern and we haven't had this feedback before.
01/17/2022
M W.

New Zealand
Great fitting pants
Well cut, stylish pants with easy to follow instructions. Definitely recommended.
11/02/2021
Geraldine J.

Australia
Still waiting for the A0 sized patter
I haven't actually used it yet, as I am still waiting for the A0 version to be available. Sadly, had I known only the A4 print-at-home version was going to be provided, I probably would not have purchased it. I will be more than happy to update and provide a more positive response on receipt/when I have used it. :)
08/03/2022
The Sewing Revival
Hi Geraldine, the AO version has been available for some time - you just needed to purchase all the sizes. We updated the pattern to our standard offering today so the AO (Print shop version) is available with every size bundle. Kind regards, Janine
10/31/2021
Jenny C.

New Zealand
Wonderful Pants
Just love these pants. So easy to make and the most comfortable pants ever, especially for ladies of my age with a changing body shape. About to make a pair for my elderly mum as she tried mine on and loved them. Great pattern.....thanks so much sewing revival!
06/16/2021
Marion C.

United Kingdom
Best sewing pattern for trousers ever
The instructions were so easy and clear, I have already made 3 pairs of trousers and folded the pattern half way to make smart shorts. This will definitely be my go to pattern for trousers. I am a beginner but found this pattern one of the most useful so far. I used cotton sateen with stretch for this pattern.
06/04/2021
Sue S.

New Zealand
should have asked for help
This is the 4th TSR pattern I have used. I love them, however as an reasonalbly experienced sewer I should have checked out a concern I had before making these. The fabric I brought was one-way stretch but down the grain. When I lay the pattern out for cutting i was worried about the stretch but the patter specifically had a layout for 112cm one way stretch fabric so I thought should follow it. Disaster!! couldn't get hem past my knees…straight to the bin. Second pair I used 2 way Ponti, printed and cut a larger size after a careful measure of myself. 100% improvement but way too big Huummfff! Will have to consider whether I give these another go or stick to my absolute favourite Side Winder Pants!
06/03/2021
The Sewing Revival
Hi Sue, We are very sorry to hear this. The pattern indicates the direction of the grainline - not the direction of stretch. We will update this asap - but generally, a stretch always goes across the body. I am pretty confident that if you had put the stretch direction across the body (rather than up and down), with your first version, you would have had a good fit result with these pants. Please always feel free to reach out to use via email if you ever have a query. Kind regards, Janine Please always feel free to reach out any time
06/03/2021
Tina W.

Australia
Pukeko Pants
The download and instructions are very easy to follow. The pattern was easy to follow and the finished pants were exactly what I was hoping for.
05/11/2021
Sheryl J.

Australia
Amazing pants!!
Great, though when printing some of the matching up circles didn't print making it very difficult to piece together - I ended up taking it to get A0 print copy to make it more accurate.
05/02/2021
Annette D.

Australia
Great fitting pants
I love this pattern. Such a quick and easy make that came together really quickly. The fit is great. I may need to take them in a little at the waist for the next pair. I have a flat bottom so pants are often tricky to fit, but these look amazing on me.
04/08/2021
Iuliana U.

Australia
Great pants
Very good pattern, easy to use
12/02/2020
Diane M.

Australia
Great pattern
These are a lovely pants pattern. Very easy to make up and a great fit.
11/26/2019
Sandra W.

New Zealand
Perfect summer pants
I made these in a cotton satin /Lycra and a size 10. The fit was perfect and they are very comfortable. For a fraction of the cost of a pair I found in the shops. Looking for more fabric to make another pair.
09/14/2019
Vikki L.

New Zealand
Pukeko Pants
Nice easy pattern perfect fit
07/28/2019
Susan R.

New Zealand
Pukeko pants
Excellent pattern. Had to make a minor adjustment to back waistband, but that wasn't the pattern - just my shape. Already made two pairs!
I'm in love with my Pukeko Pants
The instructions were easy to follow. I only had to do some alterations at the front. It's a great pattern for beginners and for more curvy women.
Pukeko Perfection
This is one of my favourite patterns. Easy to sew up, looks great and will definitely make again and again. Only trouble is I want to try a size down but I've exceeded my download limit and can't find where I've saved the files on my pc. A download limit of three seems a bit mean, especially as I only remember downloading it once.