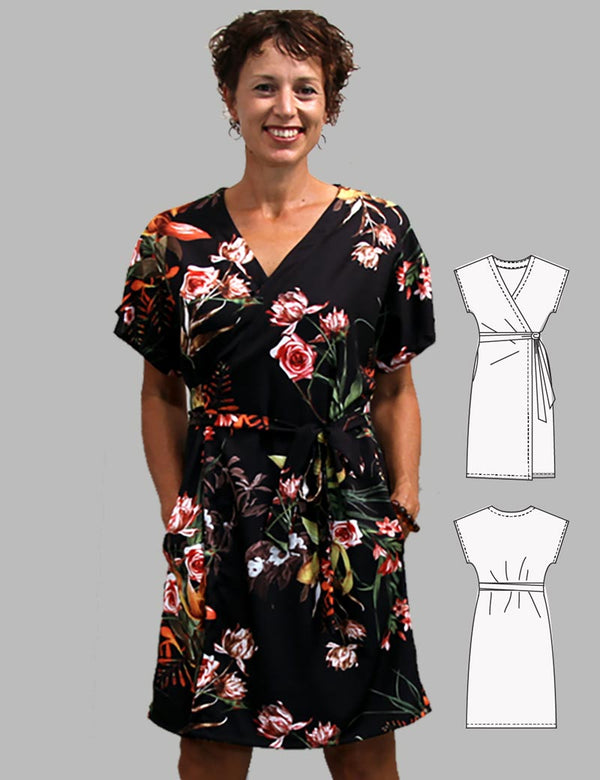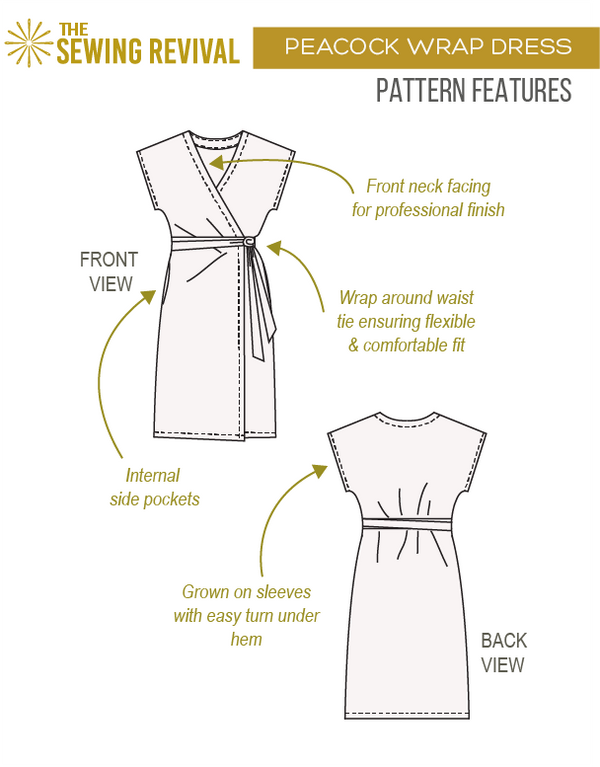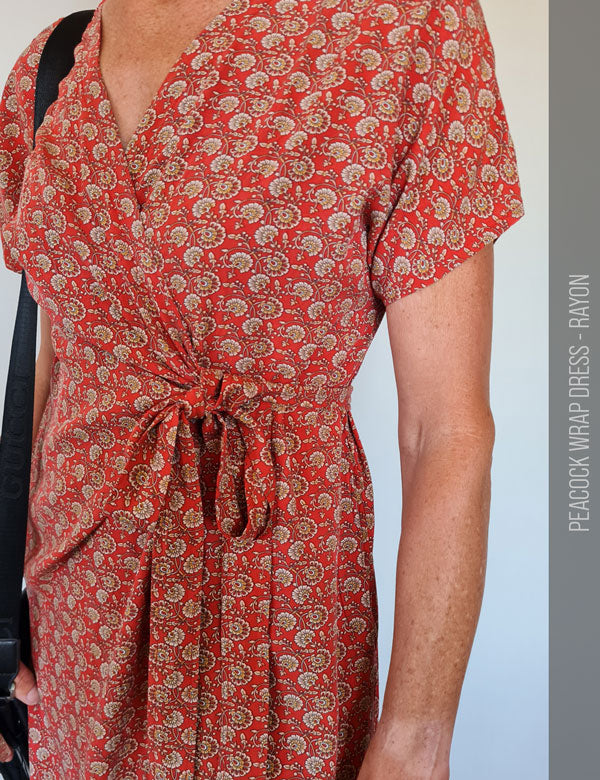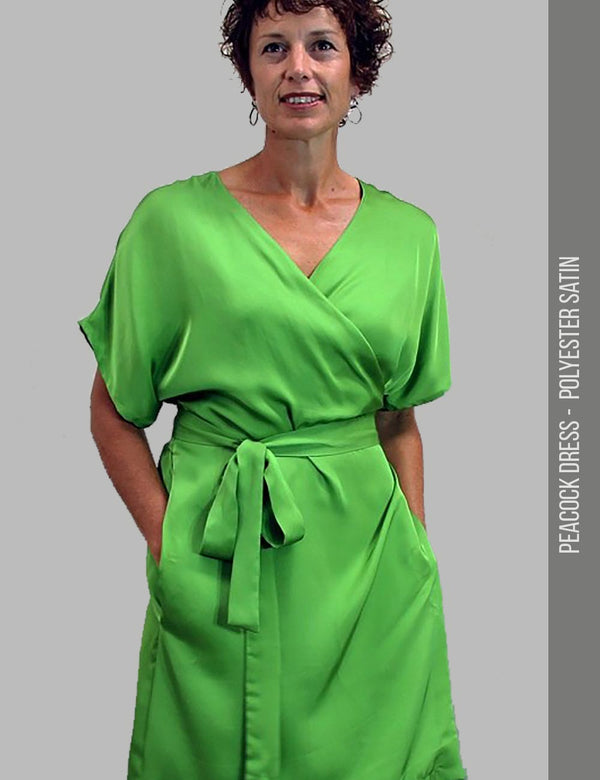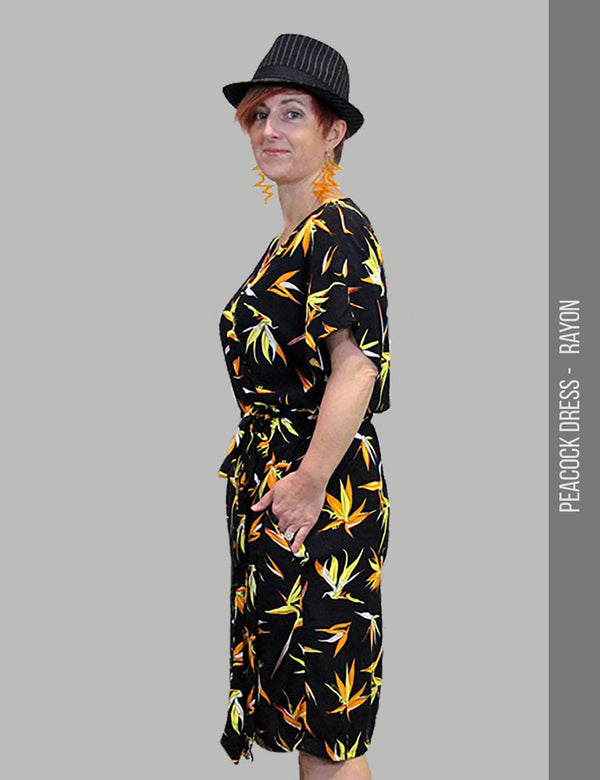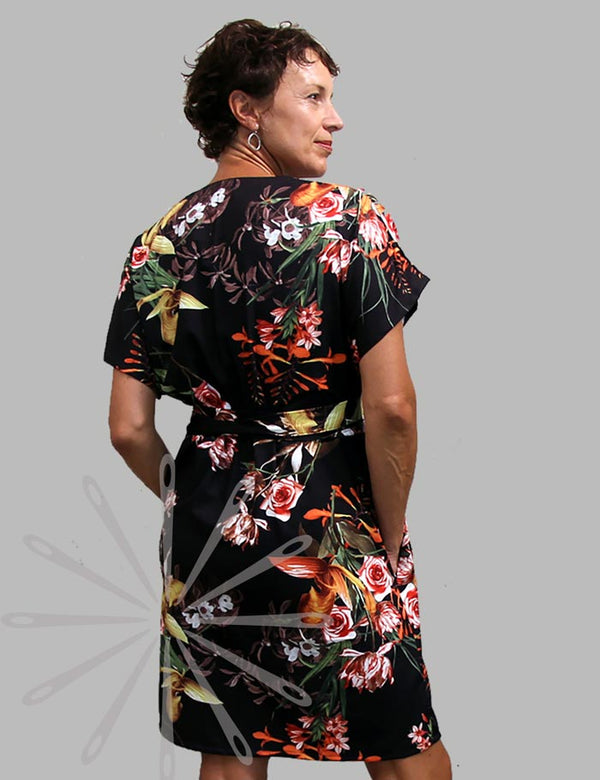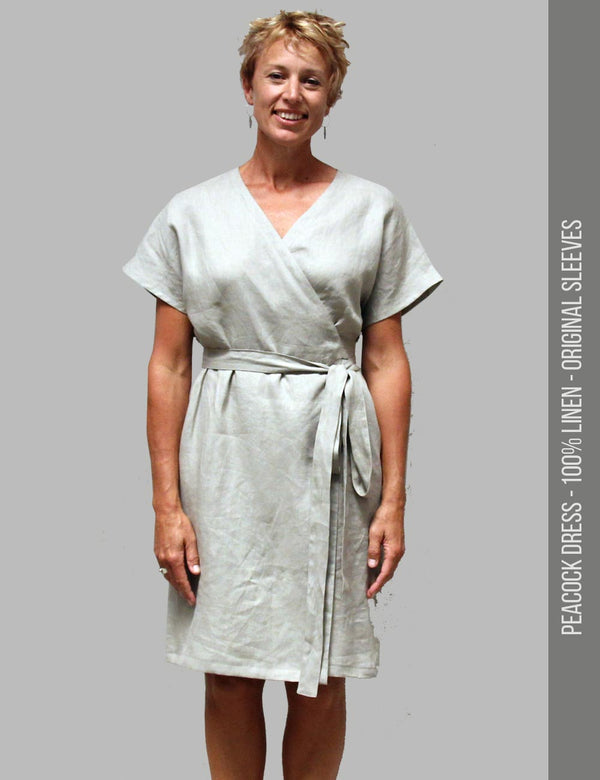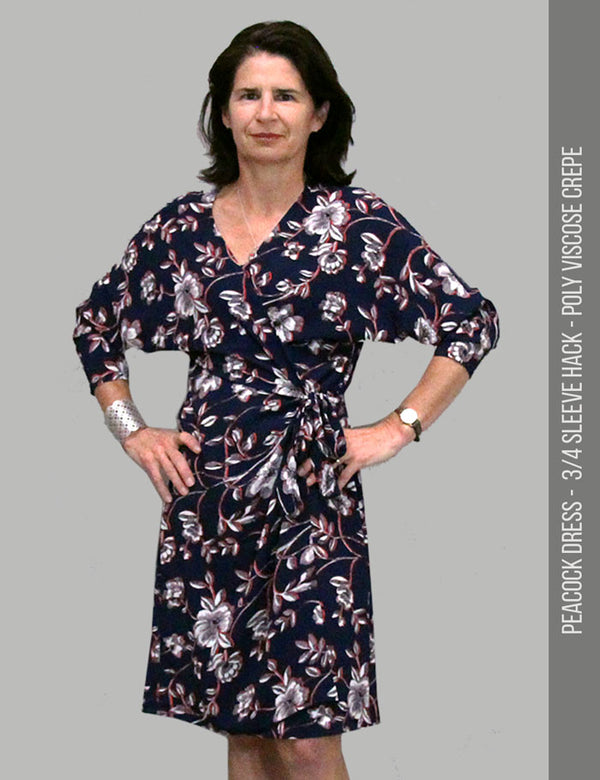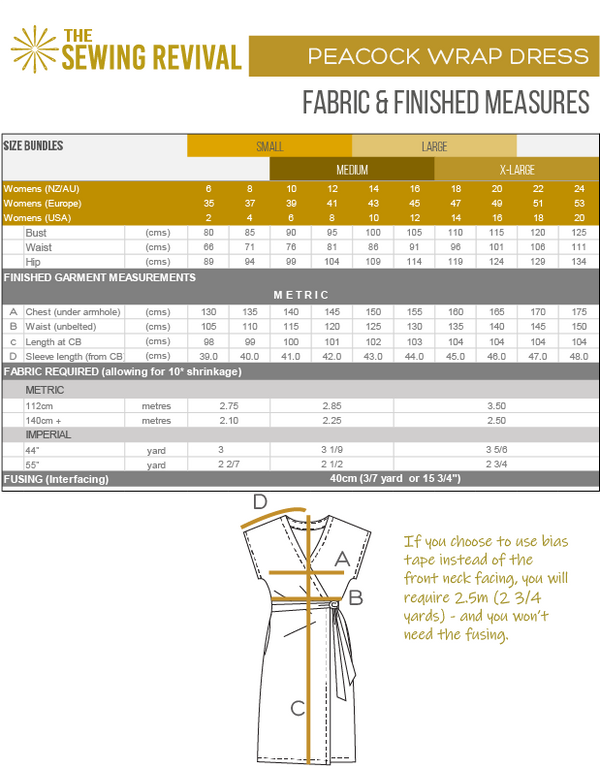 This dolman sleeve (grown on) wrap dress is an easy make and easy fit. With optional internal pockets & belt tie it is flattering & comfortable.  Great with boots for the shoulder season, with heels for work or the evening or sandals & sneakers (trainers) for casual weekend wear. Choose your fabric for the season & your footwear for the occasion.
Share your makes on Instagram & Facebook tagging #PeacockDress and @thesewingrevival
FABRIC
Please refer to the FABRIC REQUIREMENT CHART as one of the last images on this product listing. You can magnify this image if viewing it on a mobile phone whilst in a fabric store.
This dress will work well in most light to mid weight fabrics. 
A fabric with soft drape will give a more elegant feel (rayon, tencel and viscose), whilst natural fabrics like linen and cotton will give a nice crisp cool dress for warmer months.
A light weight wool blend is a great winter option (refer the Pattern Hacks section of the instructions for how to lengthen the sleeve).

Our black/orange floral fabric sample dress is made up in a polyester. This (or rayon) is easy to sew with great results. The green satin polyester dress looks spectacular but note that this type of fabric is tricky to sew (very slippery) and is only recommended for more experienced sewers.

*Please also note that all (new) fabric should be pre-washed in case of shrinkage. Some fabrics will not shrink but 100% cotton,linen and rayon are almost guaranteed to shrink. It doesn't hurt to be safe and remove any dodgy chemical build up that may have occurred during printing anyway.
DIFFICULTY
Suitable for Confident Beginners/Intermediate sewers. This dress is able to be sewn with or without an overlocker (serger) to neaten the seams. There are no zips or button holes and the style is a flexible (forgiving) design.

If you are an intermediate sewer you may like to use bias tape to finish the neck and CF edges rather than the neck facing provided.

SIZE & FITTING
The Peacock dress is a very flexible fitting garment. Because it wraps and ties either around your waist or at your waist, you can secure the front wherever it feels comfortable. There are no zips, buttons or darts.
Each purchase comes with 4 sizes (please refer last image for size chart and international size comparisons) or refer the Size Chart for help if you need. 

Small - (NZ/AU/UK 6-8-10-12  | US 2-4-6-8)                   PAH pages=26 | AO pages=2 
Medium - (NZ/AU/UK 10-12-14-16  | US 6-8-10-12)      PAH pages=30 | AO pages=2 
Large - (NZ/AU/UK 14-16-18-20  | US 10-12-14-16)       PAH pages=32 | AO pages=2 
X-Large - (NZ/AU/UK 18-20-22-24  | US 12-14-16-18)   PAH pages=33 | AO pages=2 
PATTERN HACKS


Instructions include how to extend the sleeve to a 3/4 style for cooler months.
WHAT DO I GET WITH MY PURCHASE?
Please note you are purchasing a digital pattern that will be sent directly to your email inbox after payment. You can print this pattern at home on A4 or US letter-sized paper or take it to a print shop for large scale printing (AO size). *You will not receive a hard copy printed pattern.*
Instant download available immediately after checkout includes:

1. Instructions (including both quick sew and more detailed instructions, links to online tutorials, diagrams and photos).
2. PAH Pattern file (PAH=Print at home)
For printing in A4 or US Letter on a home printer. Printing at home is the most cost-effective, and sticking your pattern tiles together to make your full size pattern is easy. Further information for printing at home can be found in our Resources section here. 
3. AO Pattern file
AO is a large scale file designed to be printed at a Print Copy Shop. You cannot print this on your home printer as it is too big. If you choose to use this large file you will pay extra to have it printed but you do not have to stick anything together. Further information for printing at a Copy Shop can be found in our Resources section here.
You can use the ADOBE LAYERS FEATURE to open the PAH pattern file and print only the size you need (and eliminate the "noise" of the unwanted sizes). You can also use the URL and bookmark links within the file to quickly access information and support. Download Adobe Reader for free (for Windows and Mac) here.
Reviews
Customer Reviews
10/19/2023
Angela S.

New Zealand
09/27/2022
Sahnet S.

South Africa
Peacock dress excellence
A well put together pattern and a joy to wear. Complements galore
08/28/2022
Sherri G.

United States
01/04/2021
Paulene L.

New Zealand
Easy peasy Peacock dress
It was great to give this dress a go. I'm not a great sewer but doing the stitchbird dress gave me confidence to do this one. Comfortable fit, easy instruction for the download and sewing.
07/04/2020
Jacqueline A.

United Kingdom
Lovely garment
A great pattern, easy to understand and very accurate. I haven't made a garment for a long time and this pattern was an easy process. I love the simple lines of the design.
11/14/2019
Margaret B.

New Zealand
Peacock Dress
pretty good. I'm a fairly new sewer and was referred to SR by a friend. dress turned out well (except for the neck but I know what I did wrong!) and I will confidently wear it to a wedding soon. once I got sewing I finished the dress in a day. looking forward to making it again with a perfect neckline
09/11/2019
Jessica L.

Australia
Really like the final dress.
Really love the fit of the dress! Turned out perfectly! 2 notes on the instructions. In the instructions the pictures only tell you to cut out 2 pocket pieces instead of four, which is needed for the two pockets. The instructions also say to overlock the edge of the main dress before sewing the dress together I think it's better to sew the dress together then overlock
Perfect Wrap Dress
This dress is easy to make, looks good, flattering and fits perfectly. I will be making this dress up time and again that's for sure
unfortunately I have not been
unfortunately I have not been able to sew the pattern, and I'm not sure when I'll be able to start it...if possible to post in the future I will update when I've actually been able to make it
Loved it
Thanks for such a great website and tutorials. I'm just getting back into sewing and this dress was perfect. Smashed it out in a weekend in between other things. Have already decided on the next pattern to buy! Bring on the weekend.
Great, easy pattern!
The instructions were very clear. No problems at all. I love a basic wrap dress and I think I will make this one several times over. Very happy to have found your company I love all your practical, easy styles and I know they will all be staples for years ahead.