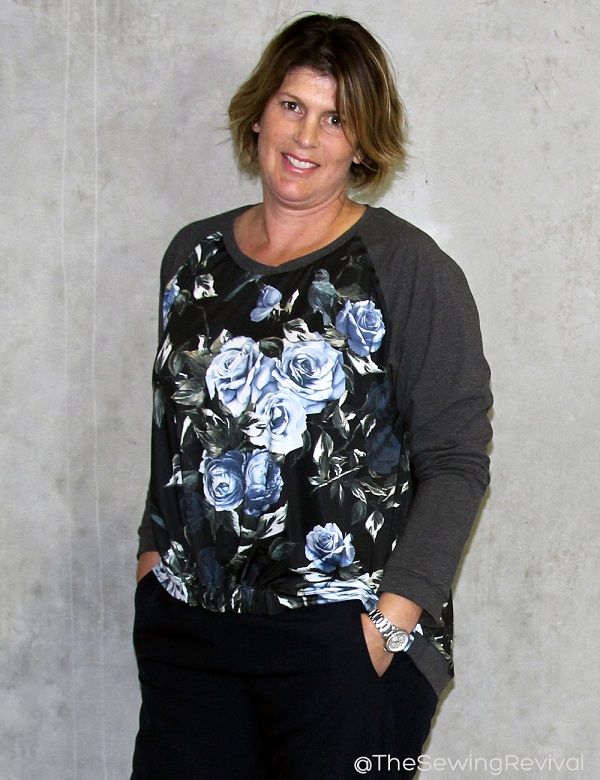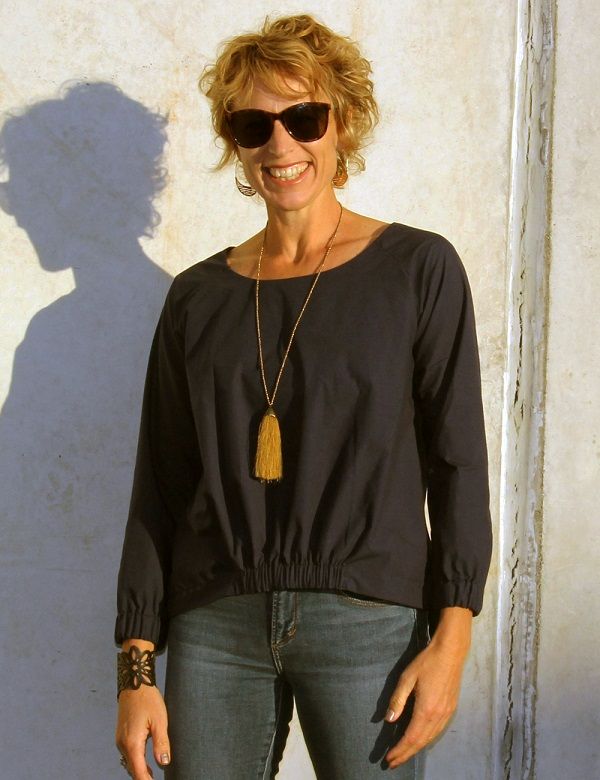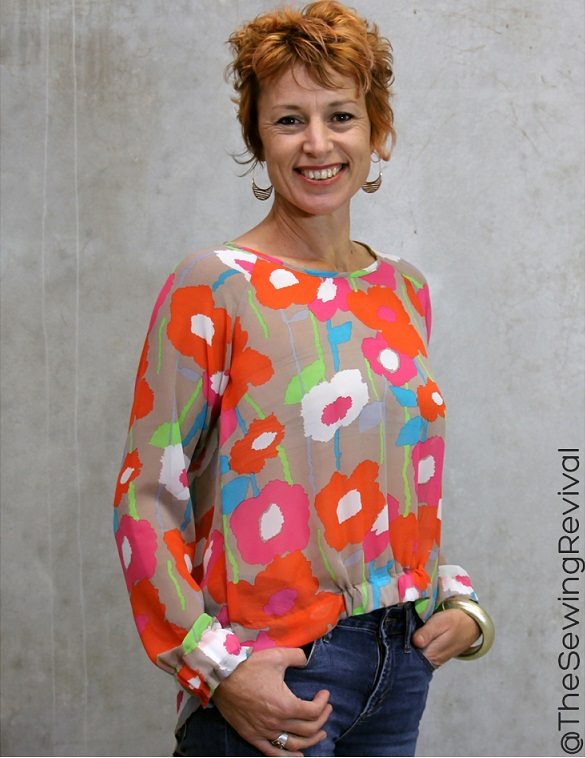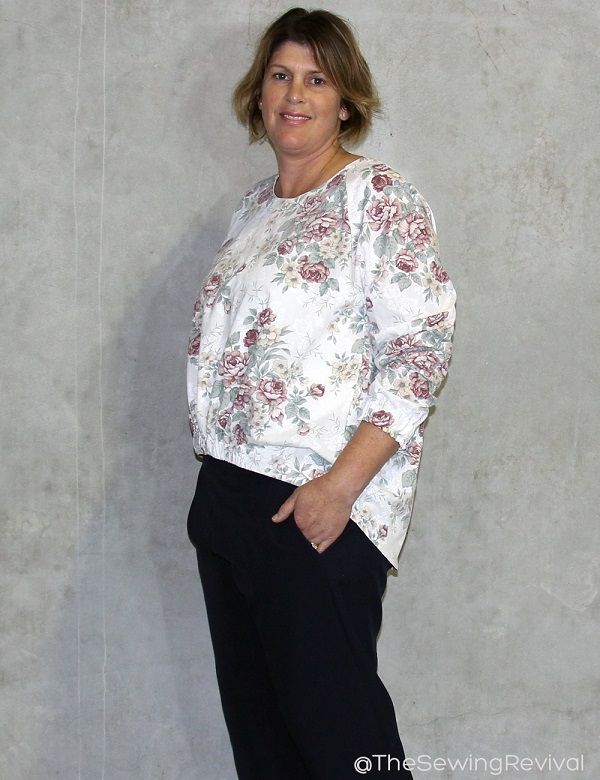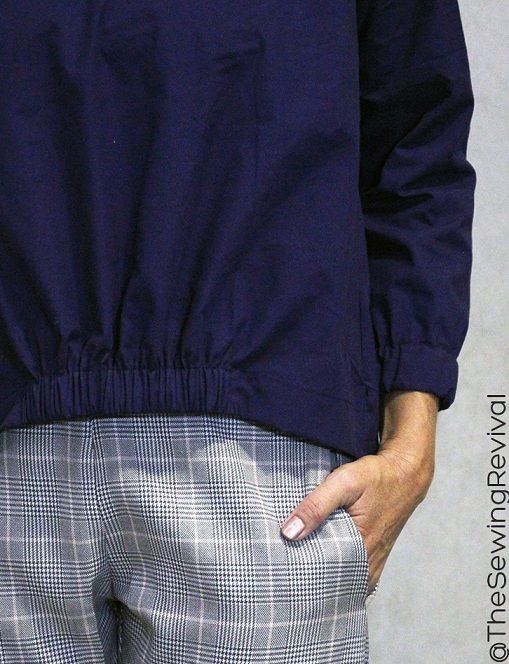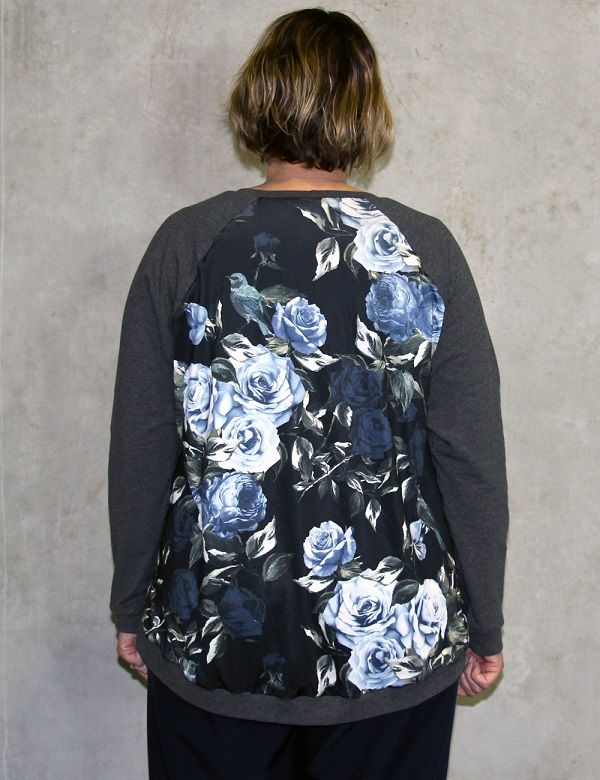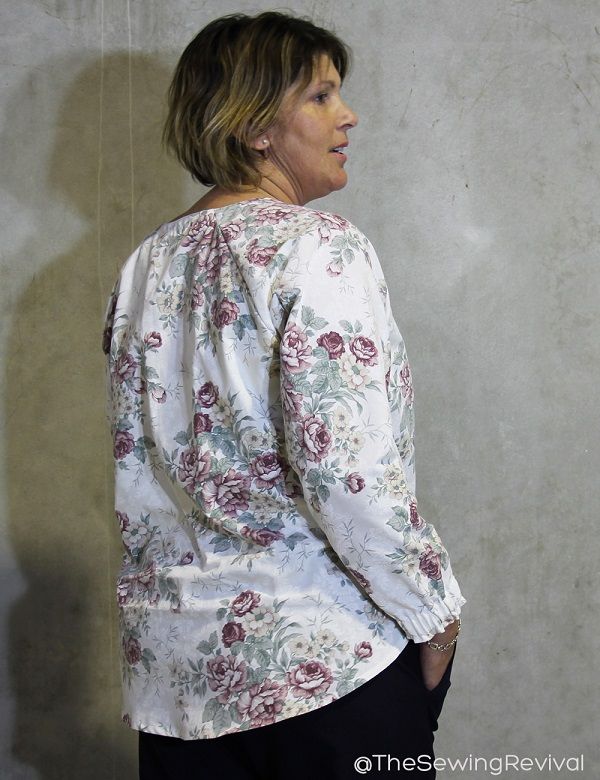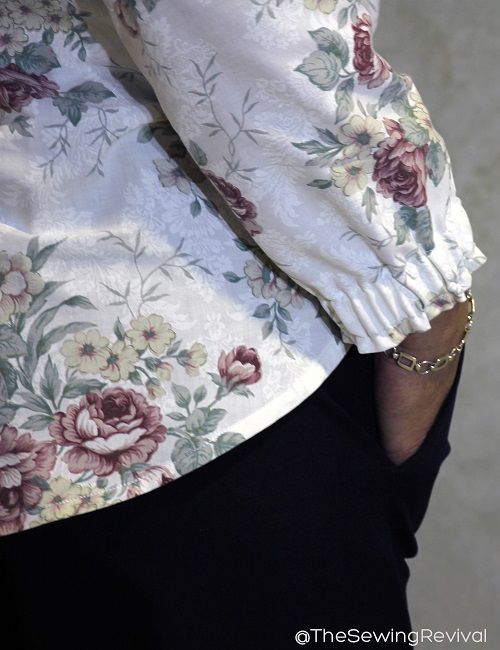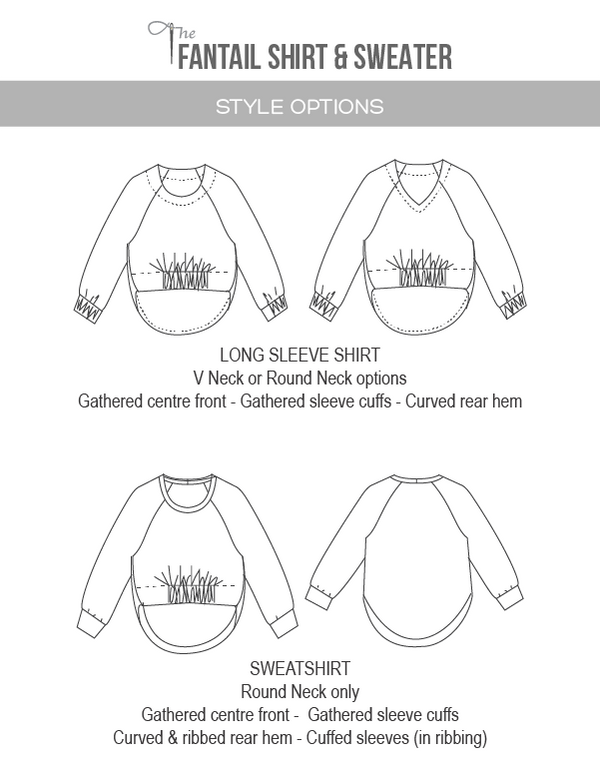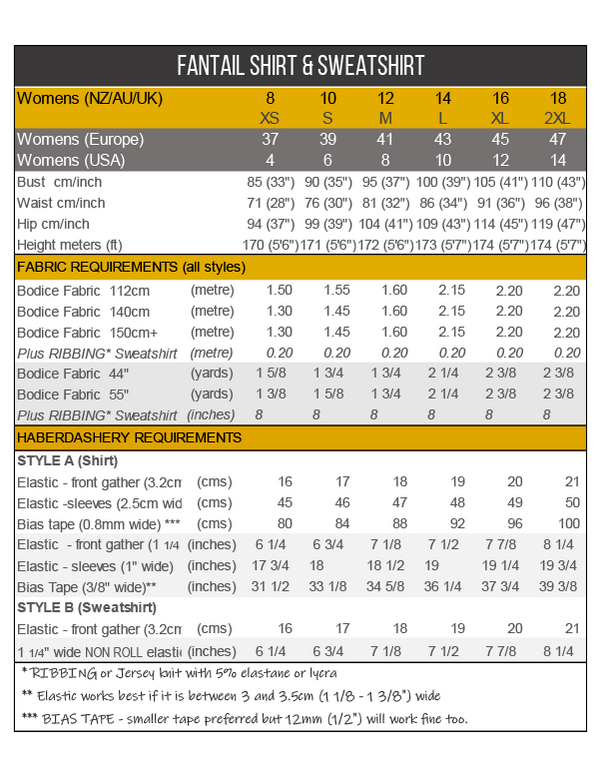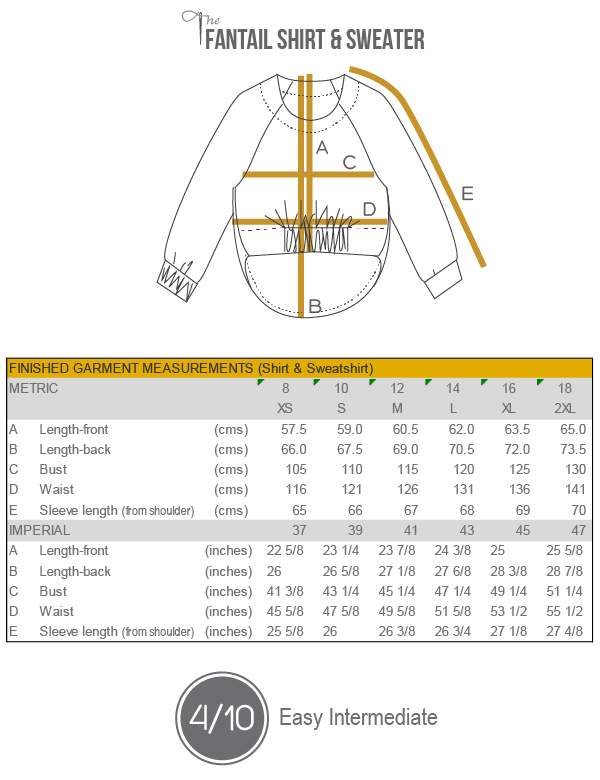 Fantail Shirt & Sweatshirt
A sister top to the Fantail Tank but with full length raglan sleeves. Easy to sew with a designer twist, the center front hem gather adds unique interest and the lowered back hem ensures the top is flattering around the derriere. A lovely line is created from the center front down along the hip and around the rear hem creating a "fantail". The Fantail Shirt is a simple sew and the curved hem made easy with bias binding.
This is a trans-seasonal top that can take you from smart casual to work.
Easy. Different. Flattering and is a perfect match with the Sidewinder Pants.
STYLE OPTIONS: Round neck and "V" neck in a SHIRT or SWEATSHIRT option. Refer design sketch in product images.
TIPS for a creating a bias neckline here (pattern instructions are for a facing)

For inspiration,Pattern hacks and the Testers feedback you might like to read the Fantail Shirt/Sweatshirt blog right here.
Share your makes on Instagram & Facebook tagging #FantailShirt #FantailSweatshirt and @thesewingrevival
FABRIC
Please refer to the FABRIC REQUIREMENT CHART as one of the last images on this product listing. You can magnify this image if viewing it on a mobile phone whilst in a fabric store. 
FANTAIL SHIRT: Designed for woven fabrics, we recommend cotton, rayon, viscose, polyester crepe and light weight linen.
FANTAIL SWEATER: Sew with light to medium weight knits (jersey cotton, sweat shirting and merino wool).
DIFFICULTY
Confident Beginner | Easy Intermediate (4/10).
The Fantail Shirt can be sewn with or without an overlocker (serger) to neaten the seams.
 SIZE & FITTING
This is a loose fitting top to accommodate the sweatshirt and top design options. If you prefer it to be a little less "roomy" or you are "in between" sizes then we suggest you downsize (especially if making the top). 
Each purchase comes with 4 sizes (please refer last image for size chart and international size comparisons):
Small - (NZ/AU/UK 6-8-10-12  | US 2-4-6-8)                       AOx1 pg | PAHx20 pg
Medium - (NZ/AU/UK 10-12-14-16  | US 6-8-10-12)           AOx2 pg | PAHx22 pg
Large - (NZ/AU/UK 14-16-18-20  | US 10-12-14-16)           AOx2 pg | PAHx25 pg   
X-Large - (NZ/AU/UK 18-20-22-22  | US 14-16-18-20)       AOx2 pg | PAHx25 pg

WHAT DO I GET WITH MY PURCHASE?
Please note you are purchasing a digital pattern that will be sent directly to your email inbox after payment. You can print this pattern at home on A4 or US letter-sized paper or take it to a print shop for large scale printing (AO size). *You will not receive a hard copy printed pattern.*
Instant download available immediately after checkout includes:

1. Instructions
2. PAH Pattern file (PAH=Print at home)
For printing in A4 or US Letter on a home printer. Printing at home is the most cost-effective, and sticking your pattern tiles together to make your full size pattern is easy. Further information for printing at home can be found in our Resources section here. 
3. AO Pattern file
AO is a large scale file designed to be printed at a Print Copy Shop. You cannot print this on your home printer as it is too big. If you choose to use this large file you will pay extra to have it printed but you do not have to stick anything together.
You can use the ADOBE LAYERS FEATURE to open the PAH pattern file and print only the size you need (and eliminate the "noise" of the unwanted sizes). You can also use the URL and bookmark links within the file to quickly access information and support. Download Adobe Reader for free (for Windows and Mac) here.
PRINTING
Each size bundle comes with 4 sizes (please refer last image for size chart and international size comparisons - hover over the image to magnify).
Small - (NZ/AU/UK 6-8-10-12  | US 2-4-6-8)                       AOx1 pg | PAHx20 pg
Medium - (NZ/AU/UK 10-12-14-16  | US 6-8-10-12)           AOx2 pg | PAHx22 pg
Large - (NZ/AU/UK 14-16-18-20  | US 10-12-14-16)           AOx2 pg | PAHx25 pg   
X-Large - (NZ/AU/UK 18-20-22-22  | US 14-16-18-20)       AOx2 pg | PAHx25 pg
*PAH = Print At Home. For help printing at home click here.
AO= Large scale requiring a special printer. For help printing at a Copy Shop click here.
Reviews
Customer Reviews
10/18/2023
Monica G.

Italy
A chic sweatshirt
I love this pattern and I am planning to use it several times. I have made a sweatshirt out of stretch French terry and decided to go down a size for it. The result was perfect. However I would certainly stick with my size if using a woven. I am very happy with my purchase.
09/21/2023
Lynnette A.

United States
Great pattern
Love this pattern…well written, easy to follow instructions. I made this top in an afternoon and have received a lot of compliments on it!
09/03/2023
Kathy T.

United States
Cute sweatshirt
I've made two of these. Both in fleece and I really like them. The patterns pdf's line up perfectly and the instructions are awesome! I look forward to making it in a woven fabric too.
07/30/2023
Kerry C.

New Zealand
07/24/2023
Marie H.

Australia
Fantail shirt pattern
I love this pattern and have already made this top and intend to make more.
06/30/2023
Betty M.

Canada
Great pattern, expertly designed
From the ease of assembling the PDF, the accuracy of the pieces, the instructions to sew the pieces, it all was top notch. Will go to Sewing Revival when I need another pattern.
05/16/2023
Erika H.

United Kingdom
A great and flattering pattern
I love this pattern. Instructions and photo's are very clear. I like it when both the body measurements and size of the finished garment are shown on the pattern. It makes it easier to chose which pattern size to go for.
03/13/2023
Gail B.

New Zealand
Fantail shirt
Great. Easy to put together. Nice pattern thanks
02/01/2023
Cathy

Australia
Super top, accurate sizing!
This top is so sweet, great instructions even if I did get myself into a bit of bother by moving ahead too quickly - trust the instructions, they are right! The top turned out so well, its comfortable and as smart or casual as you would like to make it.
12/29/2022
Sandra B.

United Kingdom
Lovely top (not sew easy)
This is a great top and I will certainly wear it, but as someone who is self taught I always go for the easier patterns. I struggled with the facings (could be the fabric choice) and also the flow of the curved hem into the front. Also a bit of advice for fellow UK fans, always size down - British sizing is notoriously mean and as a standard UK14, a NZ 12 is perfect in all these patterns that I have tried.
12/28/2022
Janeen H.

New Zealand
Fabulous Fantail
Great pattern, perfect fit, simple and stylish. So pleased with the results. Many thanks. Janeen.
10/04/2022
Lynne

Australia
Faintail Shirt
Love, Love, Love this pattern, have made 2 so far and the second one I did add a wee bit of length to it this will be a go to pattern for sure.
07/24/2022
Peta F.

Australia
Fan tail top
Well I'm always a bit stressed using a new pattern and especially a pdf, but my daughter helped me and printed it out etc etc. I was a bit stuck with the side seams where they aren't the same length BUT I put it aside for a little while and destressed and I reckon alls good Having said that I'm going to make more and I want to buy a long pants pattern as well. I will post a pic of the top when I finish it
06/17/2022
Hayley A.

Australia
Versatile and stylish
I've made 4 of the Fantail now, the first in a linen which I made as per the sizing. I'm a little apple dumpling so being worried about the height of the front, I did lengthen by an inch after the first one. Made another three versions, two in sweatshirt and one in viscose all with the extra inch. After wearing them a few times each now, I realise I really don't need that extra inch afterall. I think going forward I will stick to the standard size as per the chart..
06/05/2022
Claudia Z.

Germany
Schönes Schnittmuster
Einfach zu nähen und gute Passform , werde ich noch öfter nähen
05/10/2022
Ali S.

New Zealand
05/03/2022
Kim M.

New Zealand
Fantail Sweatshirt
A great versatile pattern. I have made this with lots of different material, linen, spandex & french terry, all adding something a bit different. Great pattern to follow for a novice sewer.
04/04/2022
Chris W.

New Zealand
Fantail shirt
Great pattern and a good sew with plenty of clear instructions, will be making this again
03/20/2022
Heather H.

United States
Excellent pattern
My shirt fits great and went together without difficulty. I will be making more.
02/04/2022
Kathy B.

New Zealand
Love It!
Whole process was very easy, download was simple and quick. Lots of instructions and photos which was awesome.