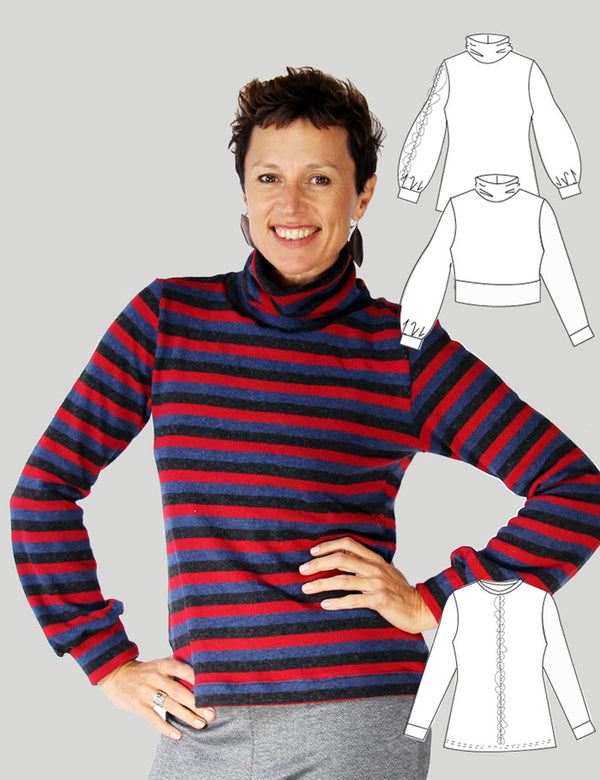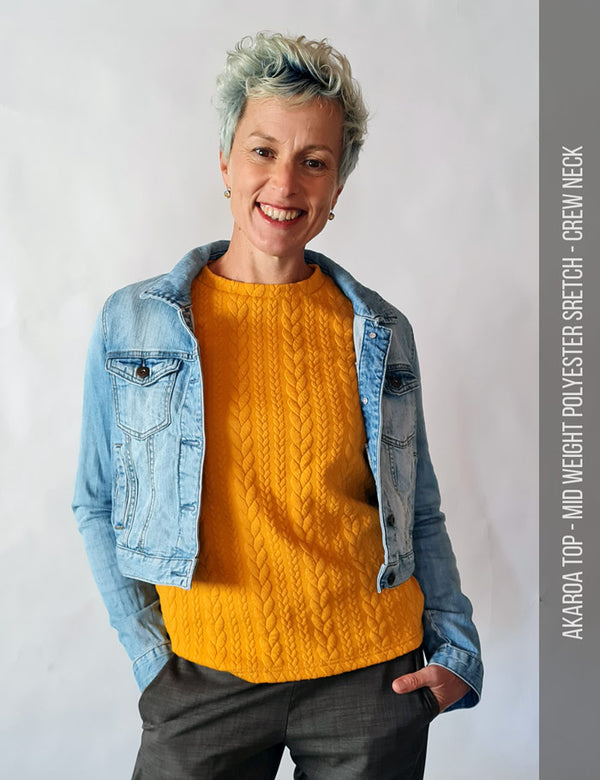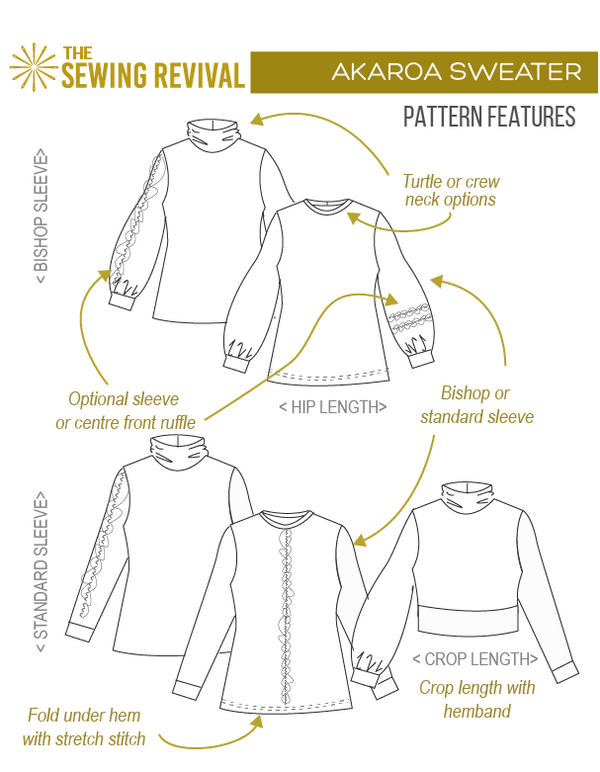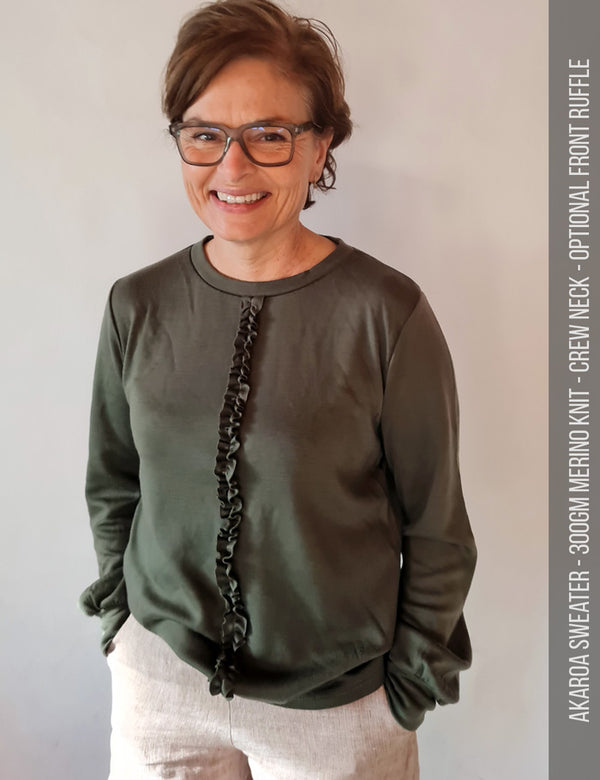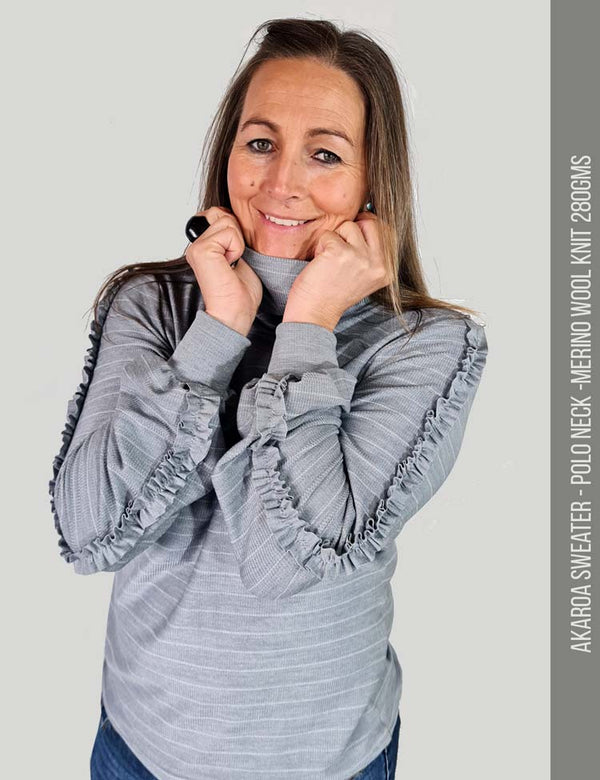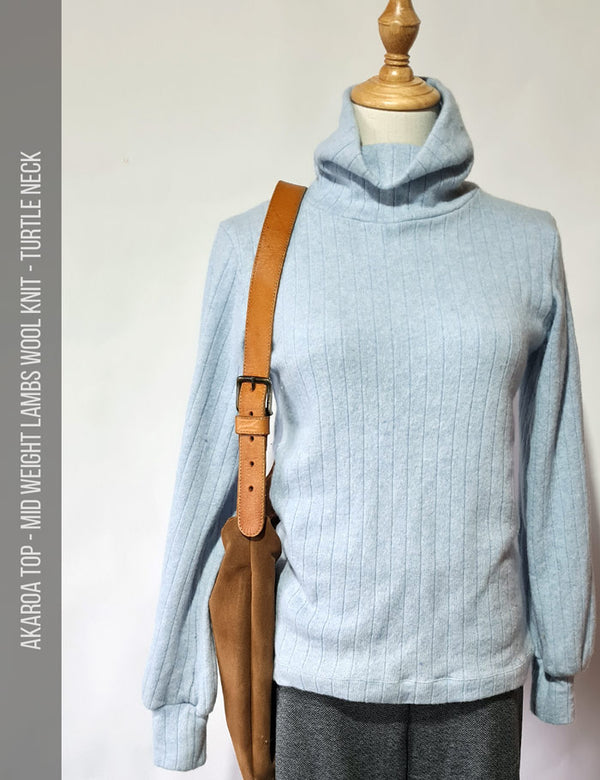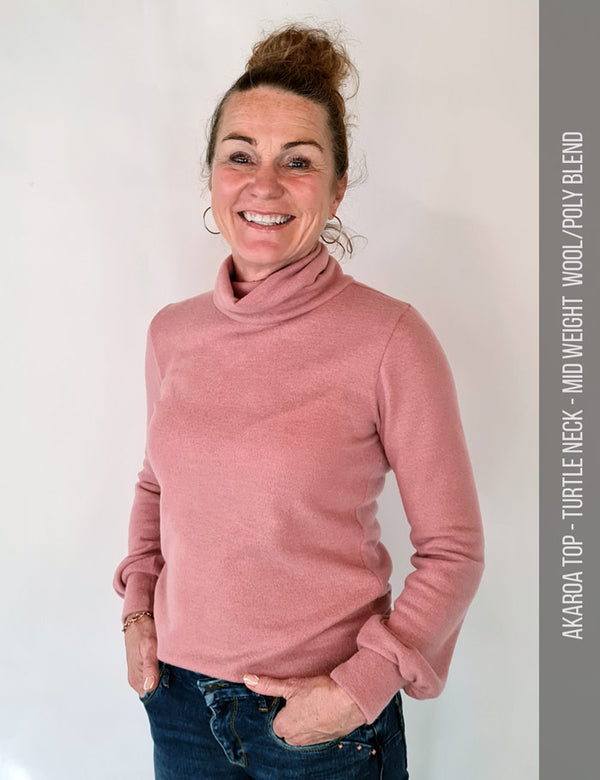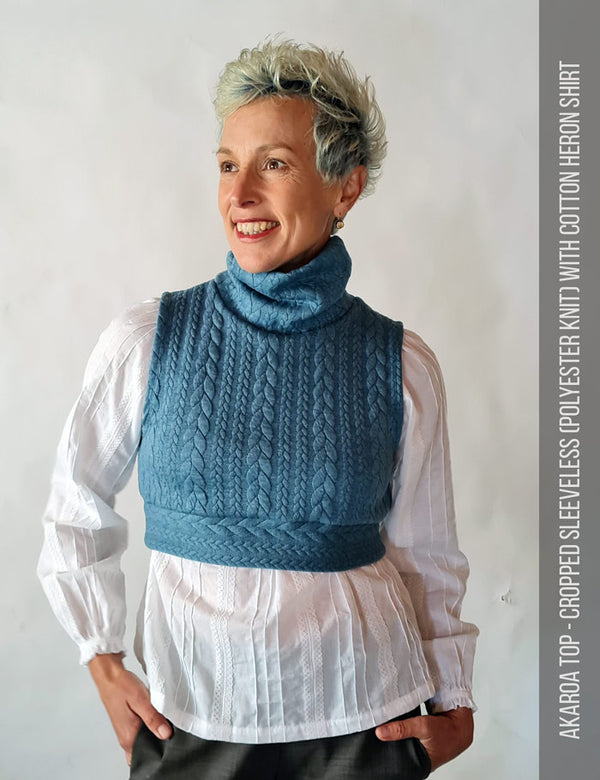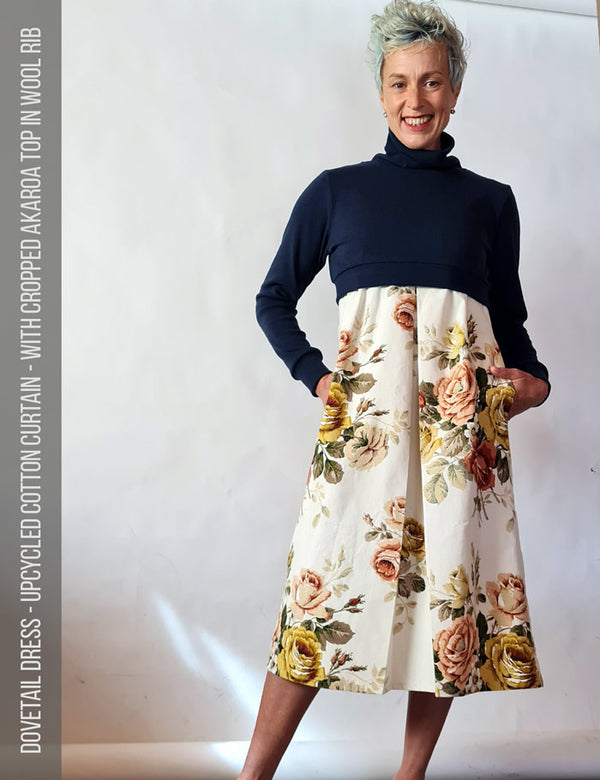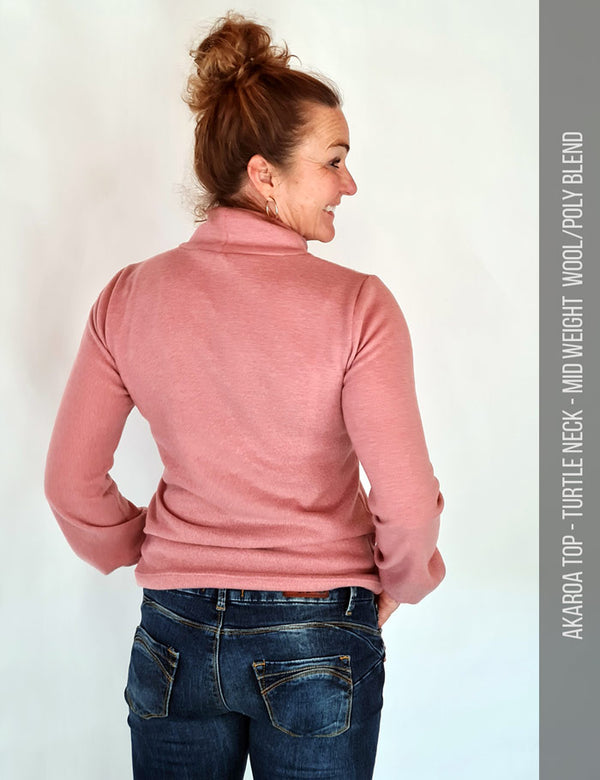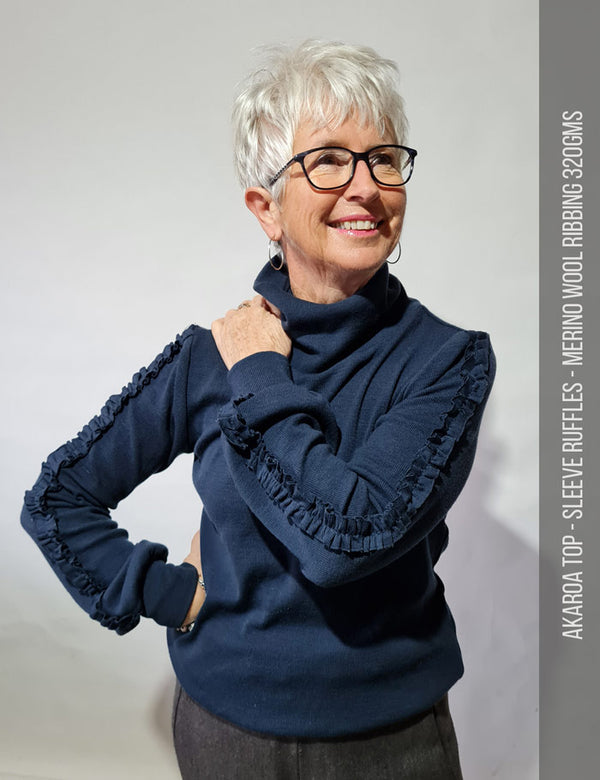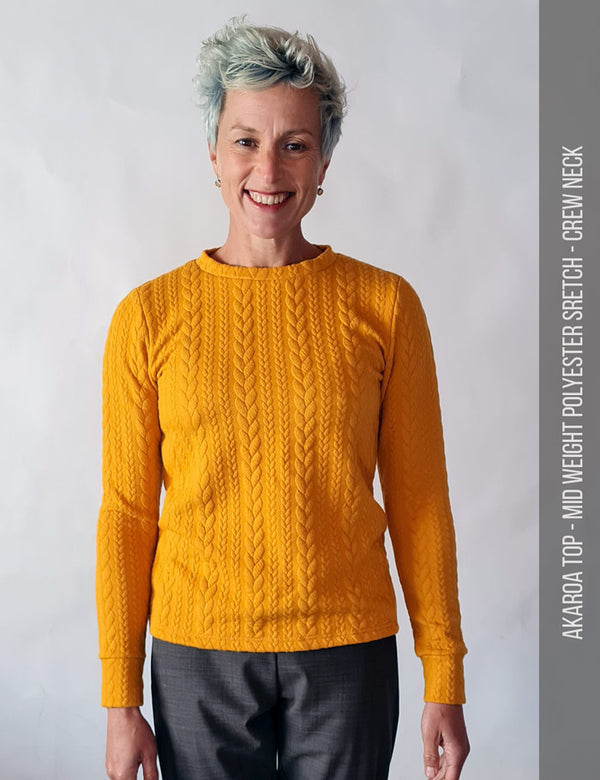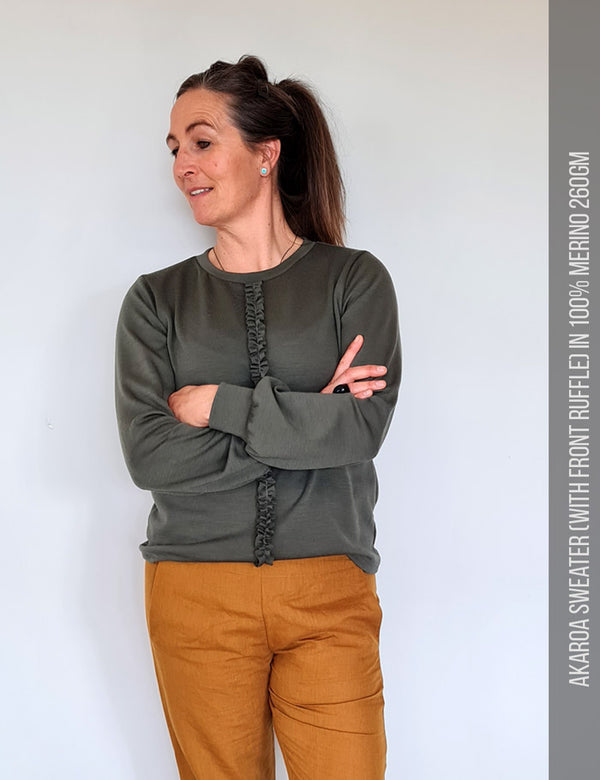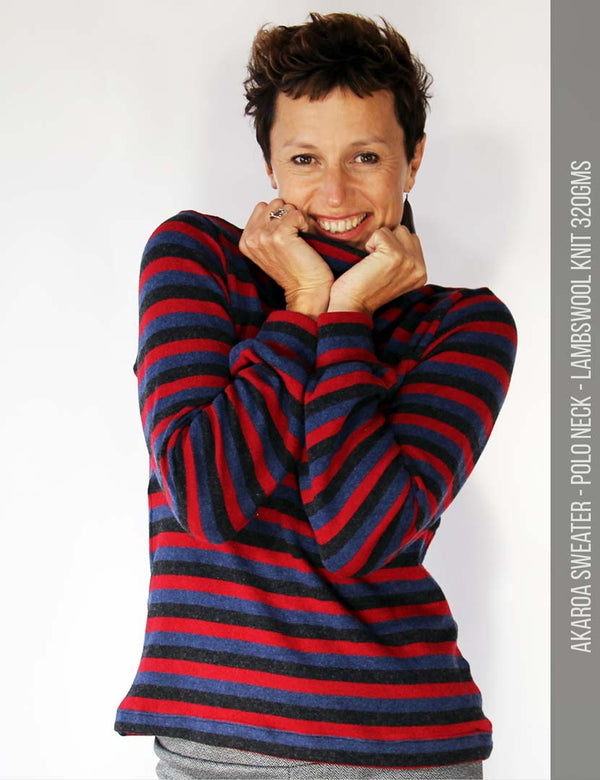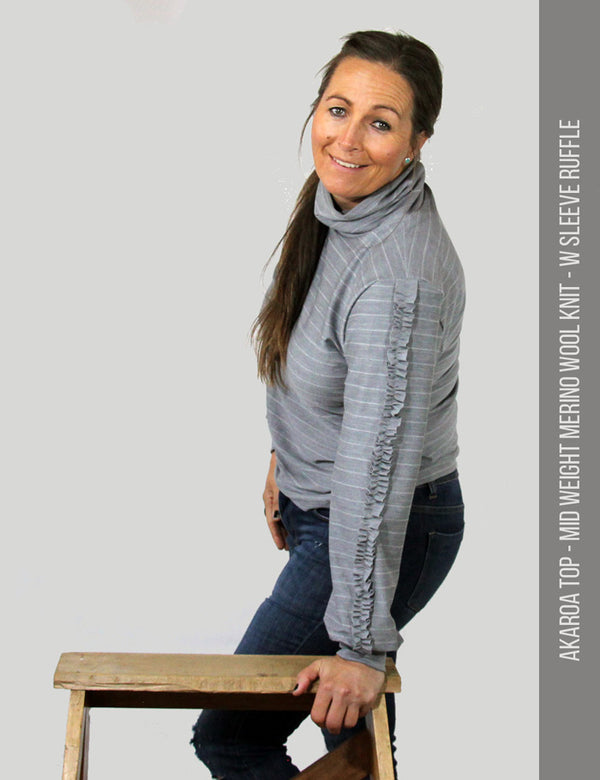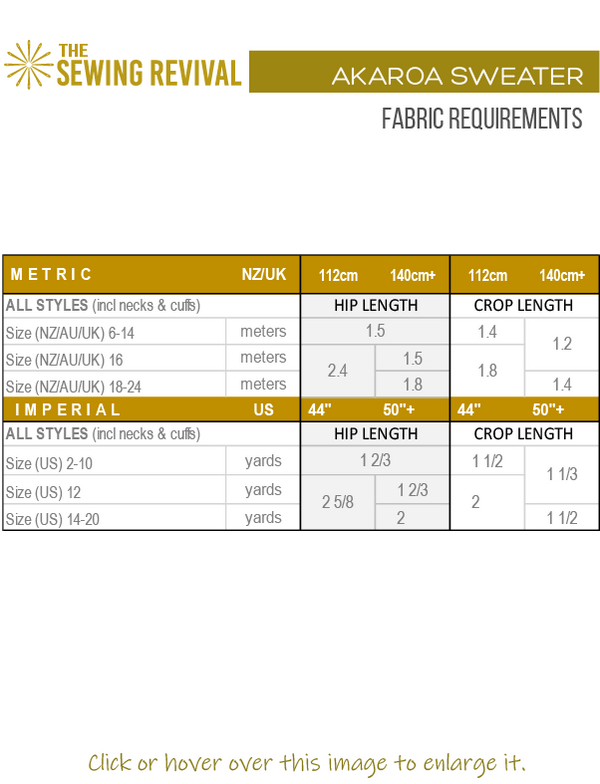 Inspired by the classic turtle neck and modernised with a small bishop sleeve providing subtle interest at the wrist, this sewing pattern also has crop & sleeveless options.  The Akaroa sweater is a winter weight outer with a classic slim (but not tight) fit so it can still be worn comfortably under a denim jacket or coat.
With 2 neck options (turtle or crew) and 2 sleeve options (bishop or standard) the Akaroa sweater can be a statement piece or wardrobe basic.
Crop the length or sew without sleeves to bring a modern twist. Add a centre front or sleeve ruffle for a little feminine elegance or leave it plain and let your fabric do the talking.
The Akaroa is designed for winter weight stretch knits for classic style. Perfect for wool and wool blend knits over 280 gms and 30%+ stretch.  Check out this tutorial to work out your fabric's stretch.
If you wish to sew a turtleneck from sweatshirt fabric, (or your knit fabric has less than 30% stretch), we suggest you check out the Southland Sweatshirt which has more ease.

 PATTERN FEATURES:
Turtle neck or crew neck

Small bishop or standard sleeve

Slim fit (neither tight nor loose)
Fold under hem

Designed for mid-heavy weight (280gms+) wool and wool blend knits with 30% stretch.
Sizes NZ/AU 6-24 | US 2-20 (purchased in size bundles of 4)-refer purchasing options
Share your makes on Instagram & Facebook tagging #TSRAkaroaSweater and @thesewingrevival
FABRIC
Please refer to the FABRIC REQUIREMENT CHART as one of the last images on this product listing. You can magnify this image if viewing it on a mobile phone whilst in a fabric store.
MID WEIGHT STRETCH KNIT fabrics : We highly recommend 280gm+ weight wool & wool blends with 30% stretch. Merino wool (particularly merino ribbing) works beautifully. 
See this video on how to work out your fabrics stretch.
Please note the green merino in the very last image is only 260gms and we think this is a little too light weight. The red & blue stripe is a 320gm lambs wool knit which is perfect.
DIFFICULTY
Without optional ruffles - CONFIDENT BEGINNER (Skill learnt: Sewing with knits)
With ruffles - EASY INTERMEDIATE
SIZE & FITTING
The Akaroa sweater has a slim fit. It is designed as a garment outer that is able to be worn under a jacket or coat. It has positive ease around the waist (so it doesn't cling to your stomach) but it is not designed to be "roomy".  If you do not like a slim fit, or would prefer a looser style, we recommend the Akaroa sweaters "sister", the Southland Sweatshirt.
Each purchase comes with 4 sizes (please refer to the last image for size chart and international size comparisons):
Small - (NZ/AU/UK 6-8-10-12  | US 2-4-6-8)                    
Medium - (NZ/AU/UK 10-12-14-16  | US 6-8-10-12)       
Large - (NZ/AU/UK 14-16-18-20  | US 10-12-14-16)        
X-Large - (NZ/AU/UK 18-20-22-24  | US 14-16-18-20)    
WHAT DO I GET WITH MY PURCHASE?
Please note you are purchasing a digital pattern that will be sent directly to your email inbox after payment. You can print this pattern at home on A4 or US letter-sized paper or take it to a print shop for large scale printing (AO size). *You will not receive a hard copy printed pattern.*
Instant download available immediately after checkout includes:

1. Instructions
2. PAH Pattern file (PAH=Print at home)
For printing in A4 or US Letter on a home printer. Printing at home is the most cost-effective, and sticking your pattern tiles together to make your full size pattern is easy. Further information for printing at home can be found in our Resources section here. 
3. AO Pattern file
AO is a large scale file designed to be printed at a Print Copy Shop. You cannot print this on your home printer as it is too big. If you choose to use this large file you will pay extra to have it printed but you do not have to stick anything together.
You can use the ADOBE LAYERS FEATURE to open the PAH pattern file and print only the size you need (and eliminate the "noise" of the unwanted sizes). You can also use the URL and bookmark links within the file to quickly access information and support. Download Adobe Reader for free (for Windows and Mac) here.
PRINTING
Each PDF sewing pattern comes with 4 sizes (please refer last image for size chart and international size comparisons - hover over the image to magnify).
Small - (NZ/AU/UK 6-8-10-12  | US 2-4-6-8)                     AO 2pg | PAH 23pg*
Medium - (NZ/AU/UK 10-12-14-16  | US 6-8-10-12)        AO 2pg | PAH 25pg
Large - (NZ/AU/UK 14-16-18-20  | US 10-12-14-16)         AO 2pg | PAH 25pg
X-Large - (NZ/AU/UK 18-20-22-24  | US 14-16-18-20)     AO 2pg | PAH 25pg
*PAH = Print At Home. For help printing at home click here.
AO= Large scale requiring a special printer. For help printing at a Copy Shop click here
Reviews
Customer Reviews
Akaroa Sweater
Perfect fit. Love the pattern, as usual easy to follow instructions. True to size. Will be making again…and again