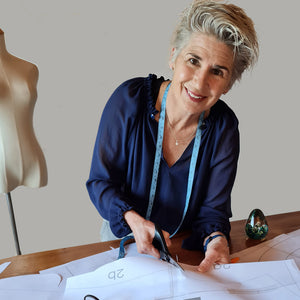 I find fashion fascinating, but style is so much more. It's more than the drape of a fabric, the cut of a sleeve or the colour of the season.
Style is enduring - and it's personal. You may even say it's subjective, but anyone with a strong sense of personal style is attractive in their confidence.
I think we are all at our most confident when we feel we are presenting ourselves to the world in a way that is authentically "us".

I have been exploring fabric and sewing since I was very young. A constant in my life that has always given me joy. Whilst I have never been obsessed with fashion, I have always been fascinated with construction, colour, drape and design. Finding my own style has been a journey of success and failures - and a realisation that style is not limited to what I wear. It's also the way I approach and live my life.
After a career in business I took a break to complete a course in pattern making and design in Auckland. I continued to sew for myself, family and friends (including several wedding dresses) until 2017 when I set up The Sewing Revival to create a space to inspire & support creative women to sew their own - and a way to share a passion that seems part of my DNA.
DESIGN ETHOS
If things are too complex, just getting started becomes daunting.

We aim to keep things simple and ensure that clever design and simple construction are not mutually exclusive. 
Beauty in simplicity
THE PATTERNS
At present, all our sewing patterns are digital. They are designed for printing at home or taking to your local Print Shop.

This makes them instantly available also reducing fuel & freight costs.
Learn more
FEEDBACK
Feedback is our lifeblood; after all, we cannot be the best we can be without it.
You can have your say via product reviews or messaging us via social media or email.
Latest reviews
Whatever your "style", I hope you find the inspiration & support you need within these pages. Our support goes well beyond the videos & tutorials, our FAQs and our pattern instructions; we hope you also enjoy inspiration and support from fellow sewists reviews, our Facebook & Instagram pages and in our newsletters (refer links in page footer).


"My mission in life is not merely to survive, but to thrive; and to do so with some passion, some compassion, some humour and some style."
<Maya Angelou>