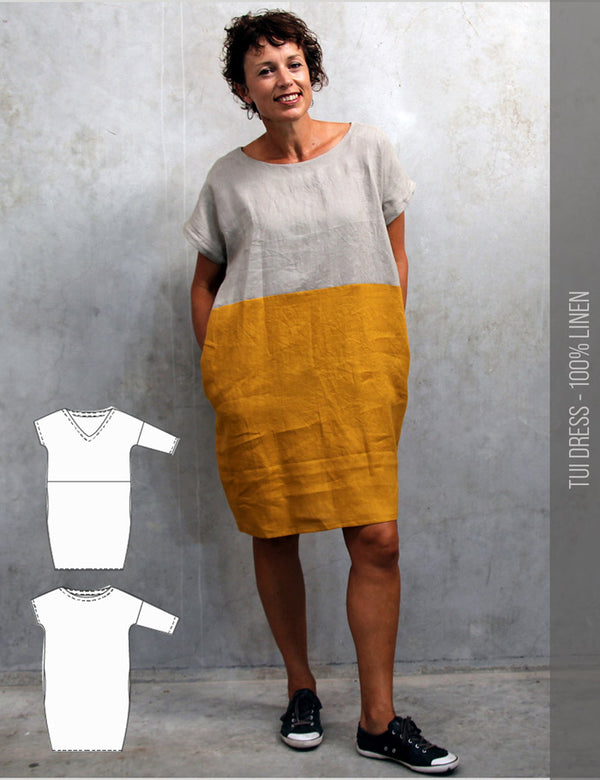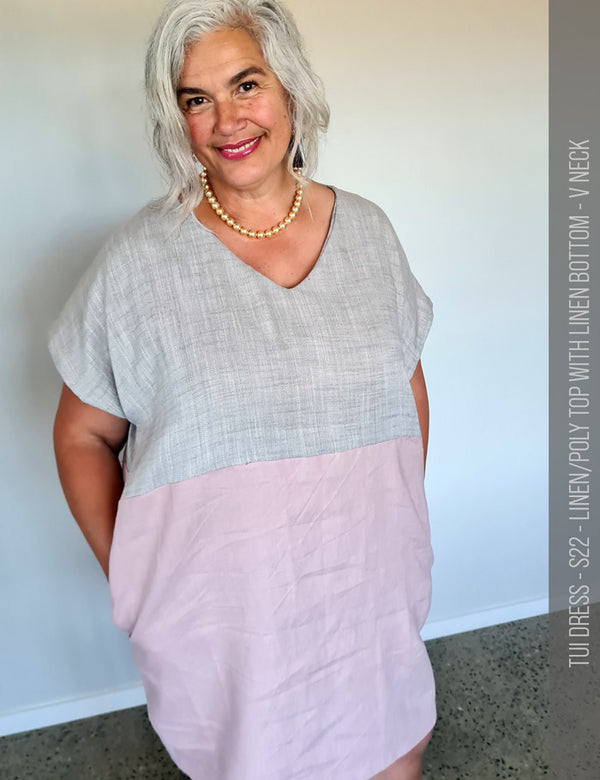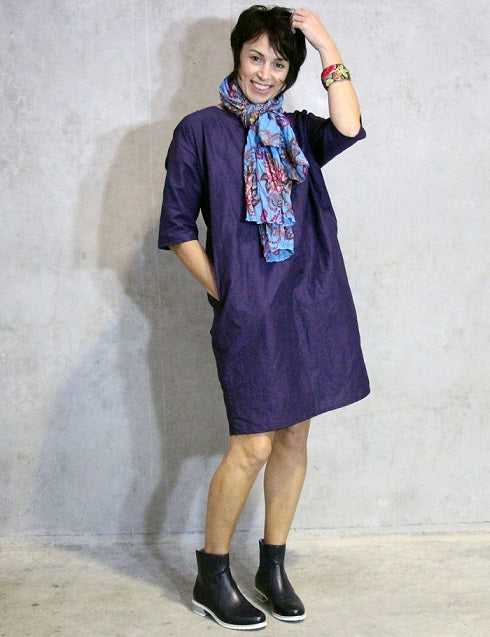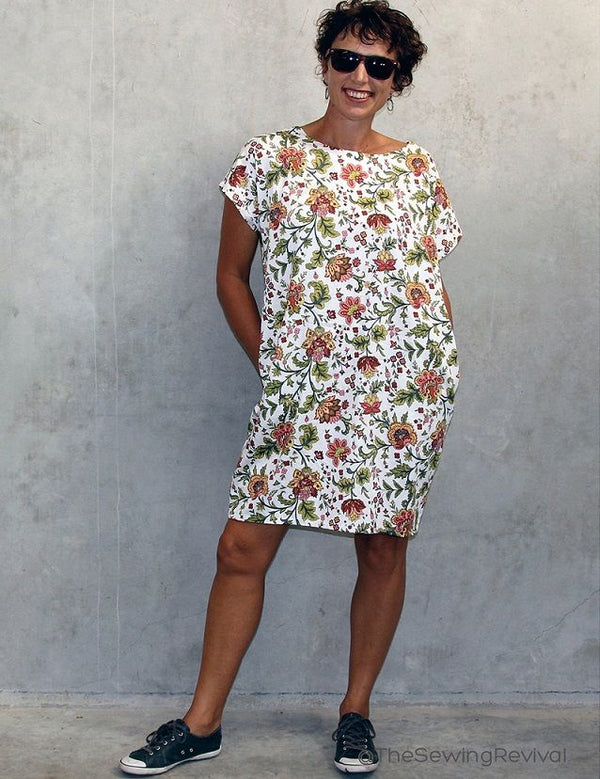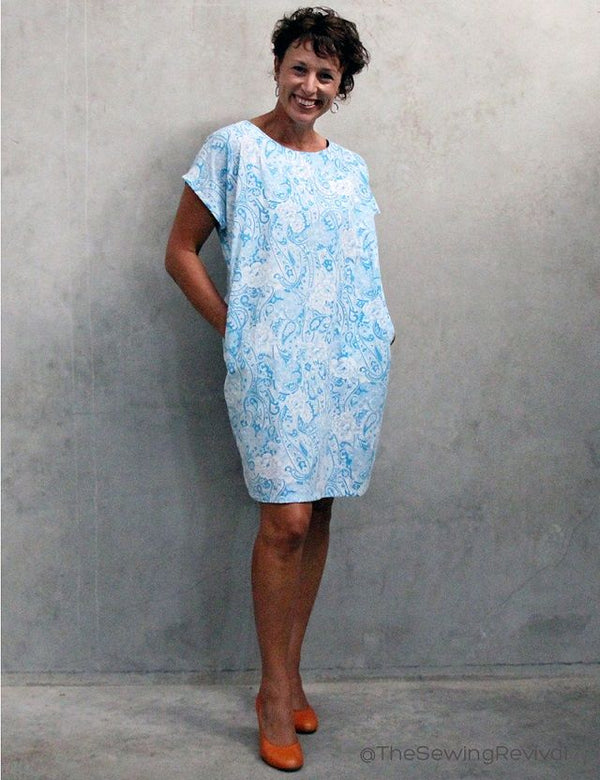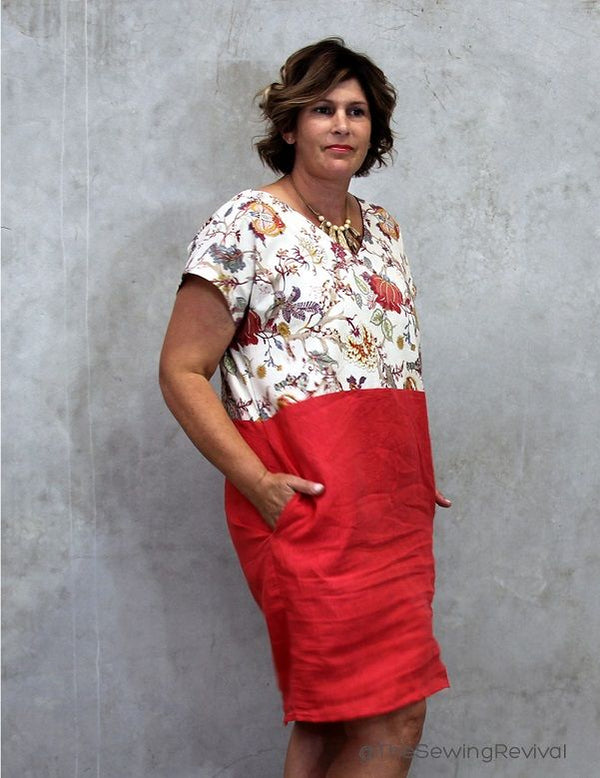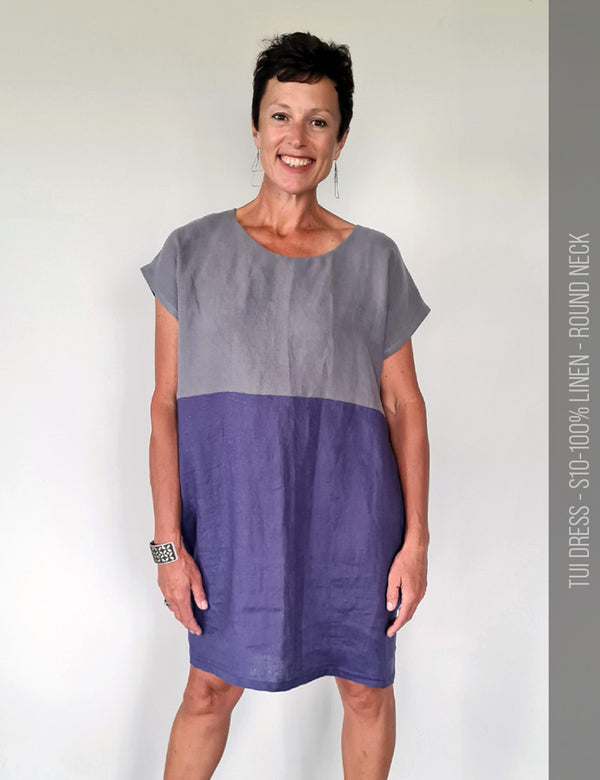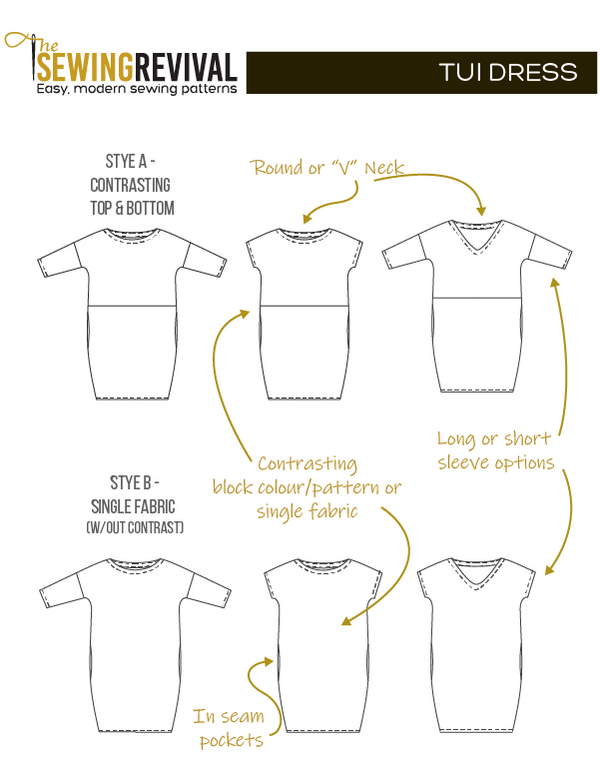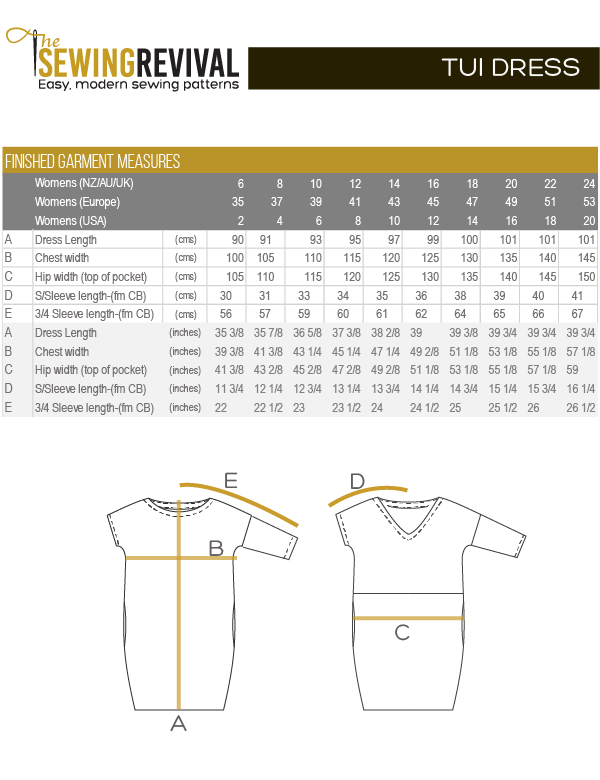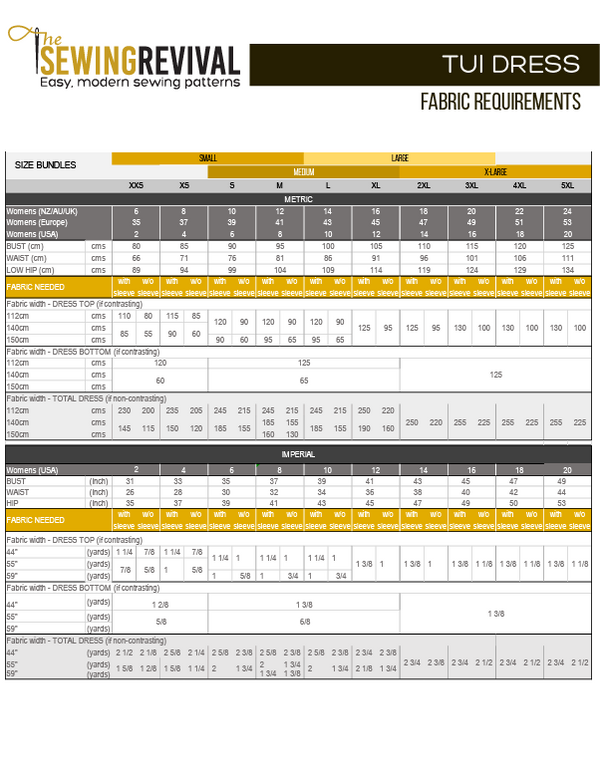 The Tui Dress PDF sewing pattern creates a simple, versatile, easy to sew cocoon style dress.  It is designed with optional internal pockets & tapered hemline.  The design is loose fitting, flattering & comfortable to wear. Perfect for those super hot days when you need something cool and loose. Dress it up with heels, or par it down with sneakers for the weekend.  The loose fit accommodates a range of figures.

The Tui dress looks and feels great in linens and cottons. Using plain or patterned fabric this dress pattern is extremely versatile. 
STYLE OPTIONS:
There are 2 styles and 2 options (with and without sleeves)
STYLE A | Block contrast dress (Round or V Neck option)
STYLE B | Single Fabric dress (Round or V Neck option)
This is a perfect dress for beginners or those that want to have a dress done and dusted in a few hours.  
PATTERN FEATURES:
Easy wear cocoon shape designed to sit just above the knee

In seam side pockets
Optional colour block (2 fabrics) or single fabric
Option of round or V neck

Neck facing for a professional (and easy) finish
Loose fit 

Sizes NZ/AU 6-24 | US 2- 20
See what others have made in the Reviews tab below (or to the left). Filter on "with photos" to view.
Share your makes on Instagram & Facebook tagging #TuiDress and @thesewingrevival
FABRIC
Please refer to the FABRIC REQUIREMENT CHART as one of the last images on this product listing. You can magnify this image if viewing it on a mobile phone whilst in a fabric store.
WOVEN fabrics : Most light to mid weight woven fabrics will suit this dress.
Linen, cotton and linen/cotton blends are highly recommended for this pattern.
*Please also note that all (new) fabric should be pre-washed in case of shrinkage. Some fabrics will not shrink but 100% cotton,linen and rayon are almost guaranteed to shrink. It doesn't hurt to be safe and remove any dodgy chemical build up that may have occurred during printing anyway.
DIFFICULTY
(2/5) This is a perfect beginner pattern or first dress. No closures (zips or buttons). Skill learnt: In seam pockets and neck facings.
SIZE & FITTING
Each purchase comes with 4 sizes (please refer last image for size chart and international size comparisons):
Small - (NZ/AU/UK 6-8-10-12  | US 2-4-6-8)                    Pages AO=1 | PAH=19
Medium - NZ/AU/UK 10-12-14-16  | US 6-8-10-12)          Pages AO=1 | PAH=19
Large - (NZ/AU/UK 14-16-18-20  | US 10-12-14-16)         Pages AO=1 | PAH=20
X-Large - (NZ/AU/UK 16-18-20-22  | US 12-14-16-18)     Pages AO=1 | PAH=22

This is a loose fitting garment. If you prefer it to be a little less "roomy" or you are "in between" sizes then we suggest you err on the smaller size. 
WHAT DO I GET WITH MY PURCHASE?
Please note you are purchasing a digital pattern that will be sent directly to your email inbox after payment. You can print this pattern at home on A4 or US letter-sized paper or take it to a print shop for large scale printing (AO size). *You will not receive a hard copy printed pattern.*
Instant download available immediately after checkout includes:

1. Instructions
2. PAH Pattern file (PAH=Print at home)
For printing in A4 or US Letter on a home printer. Printing at home is the most cost-effective, and sticking your pattern tiles together to make your full size pattern is easy. Further information for printing at home can be found in our Resources section here. 
3. AO Pattern file
AO is a large scale file designed to be printed at a Print Copy Shop. You cannot print this on your home printer as it is too big. If you choose to use this large file you will pay extra to have it printed but you do not have to stick anything together.
You can use the ADOBE LAYERS FEATURE to open the PAH pattern file and print only the size you need (and eliminate the "noise" of the unwanted sizes). You can also use the URL and bookmark links within the file to quickly access information and support. Download Adobe Reader for free (for Windows and Mac) here.
Reviews
Customer Reviews
12/08/2023
Kathryn P.

United States
Loved it
Pattern was easy to follow, and I love my dress!
12/04/2023
Nicola M.

New Zealand
Casually stylish
This is such a versatile pattern giving options to create radically different dresses. Love it!
10/26/2023
Christine G.

Australia
Love the simplicity of this design
Easy to buy from, love the clean lines of this adaptable pattern. Yet to make. Might lengthen slightly.
10/16/2023
Maree W.

New Zealand
Tui Dress
Very easy to follow instructions. Made up exactly as the pattern looked. Love it. Getting ready to make another one.
10/16/2023
Maree W.

New Zealand
Tui Dress
Very easy to follow instructions. Made up exactly as the pattern looked. Love it. Getting ready to make another one.
09/11/2023
Melinda W.

New Zealand
Tui dress pattern
My first ever pattern and sewing project! Easy to get printed and easy to follow instructions, thank you.
07/19/2023
Jeanne C.

New Zealand
Tui
Had difficulty downloading and printing then switched to another computer, and had a message saying I had downloaded too many times I still haven't downloaded the second pattern as I still have printer problems So all up in the air
07/19/2023
The Sewing Revival
Hello Jeanne, Please note that as soon as you click the Download button the files are automatically saved to the "Download" (or sometimes "Document) folder of your device. Please search your computer to find them and re-save in a new folder called "Sewing Patterns". These instructions were on both the Order confirmation email and download emails you received. Also on FAQs. Finally, please remember we are only an email away. If you cannot find the files please reach out to us at info@sewingrevival.co.nz.
07/09/2023
Trish S.

New Zealand
Sew Easy!!!
Downloading, printing, cutting, sewing, finishing. All super easy with Sewing Revival patterns!
06/17/2023
Sharon L.

Canada
Tui dress
Size 14 is huge. Going to try cutting the pattern down. wish I had ordered the Med size
06/18/2023
The Sewing Revival
Hi Sharon, The Tui dress has plenty of ease - but it should not be "huge". Maybe it is worth checking that you made the correct size (ie the UK14 not the US14)?
06/10/2023
Ali A.

United Kingdom
Excellent
As a complete novice this pattern was simple to follow with clear instructions. The Tui dress was made in an afternoon and and the finished garment was a resounding success - due to the excellent pattern and instructions rather than any inherent skill. My nearest and dearest are doubtful that I actually made it! I wholeheartedly recommend The Sewing Revival website and patterns.
06/09/2023
eva g.

Austria
beautiful
I like the pattern very much
05/03/2023
Jane C.

Portugal
Heron Shirt
Dreadful, frustrating, annoying. Requested a refund, none forthcoming. Two other downloads arrived and achieved. This one was a mess from the off. Obviously my fault though. Of course.
05/03/2023
The Sewing Revival
So as per my reply to your emails, you were trying to print the AO (large scale file) on your home printer. As I pointed out to you, you need to download and print the PAH (Print-at-home) file on your home printer - the large scale AO file is for printing at a Copy Shop. I even re-sent the PAH file attached to the email as I could see you had not downloaded it.
04/14/2023
Martina A.

Slovakia
Thank you!
Gorgeous pattern !! Love it!! Perfect fit, also as oversized :)
04/07/2023
Phyllis S.

Canada
Easy pattern
I have mapped out the pattern pieces and cut out the dress. I haven't started the sewing yet but so far it is an easy pattern to follow
04/06/2023
Heidi a.

New Zealand
I'm a relatively ordinary 12, maybe pushing 13 on hips. height 5.4. Made first 'sack' (my word) dress, and didn't adjust at waist, finished it, seemed way too wide across shoulders. pockets hung too long around hips. made a second dress, pulled back seam in to reduce neck/ shoulders. still looked oversized. made a third dress, took up waist to bring pockets up, only marginal improvement. if I attempt again, I'll bring both waist up and back seam in further - so, still not happy.
04/06/2023
The Sewing Revival
Hello Heidi, I wonder if you choose the right size for you. Please contact me by email with your body measures so I can recommend the size to sew - and check nothing has gone terribly awry here. Address: info@sewingrevival.co.nz and we'll get it sorted for you. Kind regards, Janine
03/24/2023
nancy h.

Canada
Great dress
It was easy to sew except for the pockets. I had to change their shape for a smoother fit
03/01/2023
Heather C.

New Zealand
You dress
Haven't used it as still having trouble downloading the pattern
03/01/2023
The Sewing Revival
Hi Heather, please feel free to get in touch at info@sewingrevival.co.nz so we can help you out. You will also find help on the website under the RESOURCES section of the Main Menu. If you can't find your files (or are getting a message that says your downloads have expired) simply check the "Downloads" (or sometimes "Documents") folder of your computer. Alternatively search your device for "Tui dress". Regards, Janine
02/09/2023
Ele S.

New Zealand
Rui Dress
Easy clear instructions, was easily able to add a frill if my own into the sleeves with no trouble. This is a pattern I will use over and over again !