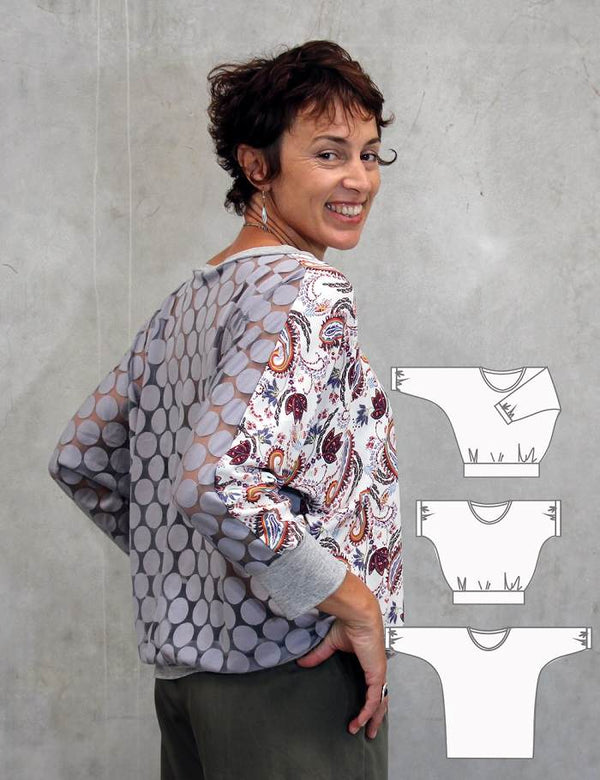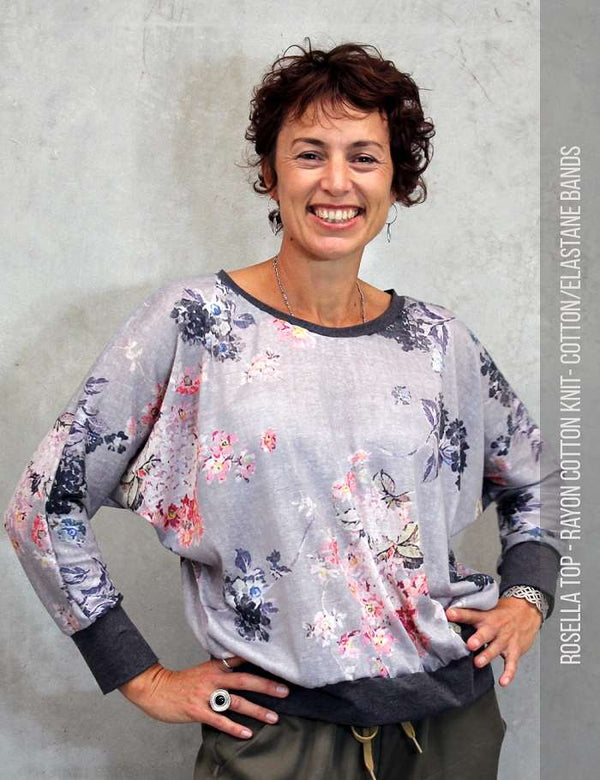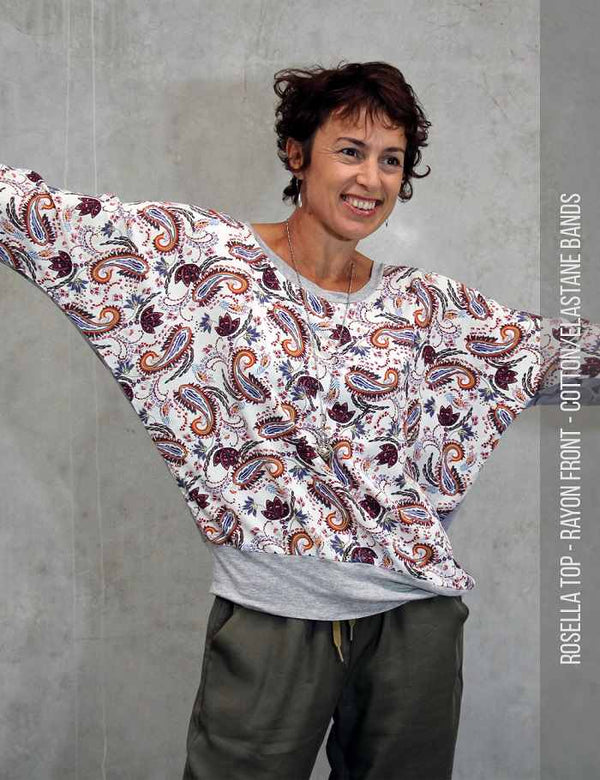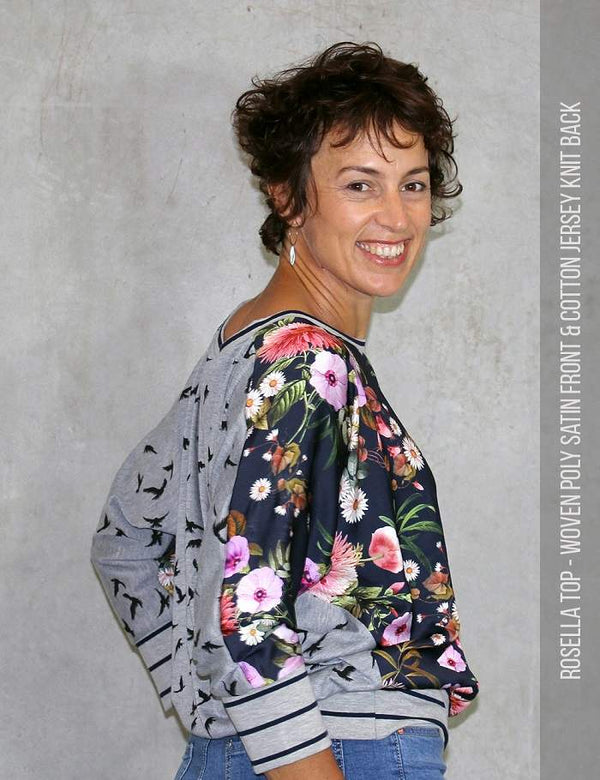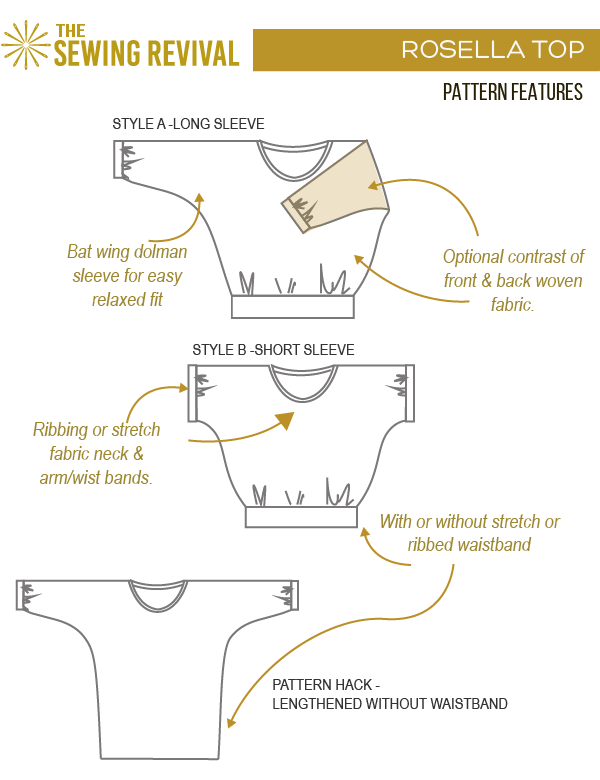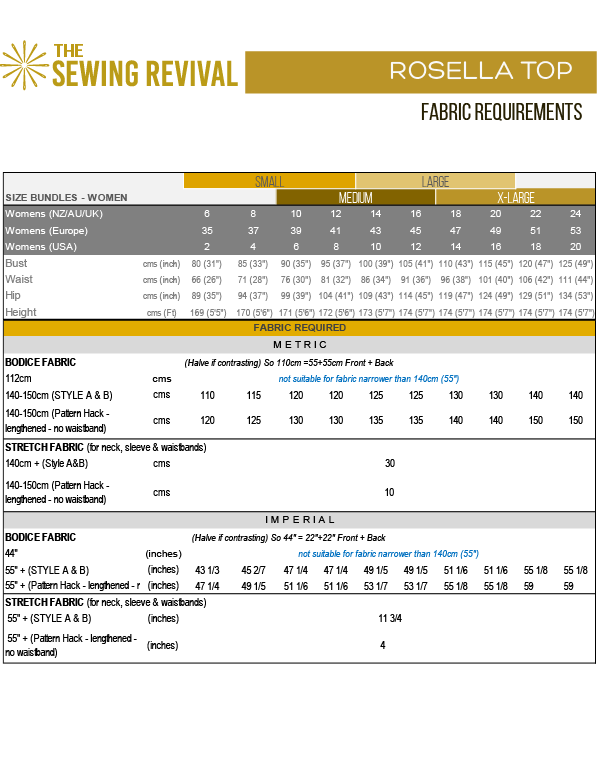 With a cleverly simple design, this pattern easy to sew and versatile to wear.  Mix and match mid-light weight wovens and knits to create a unique modern top for work or play.
Explore your creative side and contrast the front and back or go for a more consistent look. With  wide cotton/elastane knit sleeve & waist bands, this top is a bit different and versatile enough to be sewn in a knit or woven or a combination of both.  Sewing the sleeve and waist bands is easy, especially with the help of the online video tutorial. Use the stretch stitch (or zig-zag) on your sewing machine or an overlocker/serger if you have one.  
Great with a skirt, shorts or pant the Rosella Top can be dressed up or down.  
STYLE OPTIONS:
STYLE A - Long sleeve
STYLE B - Short sleeve
Pattern Hack - Lengthened hem without stretch waistband
Video tutorials for attaching the sleeve, neck and waist bands

Share your makes on Instagram & Facebook tagging #RosellaTop and @thesewingrevival
FABRIC
Please refer to the FABRIC REQUIREMENT CHART as one of the last images on this product listing. You can magnify this image if viewing it on a mobile phone whilst in a fabric store.
Most lightweight woven or knit fabrics will suit this top.
We recommend rayon/viscose, polyester chiffon, crepes, lightweight linen, cotton knits and cotton blends for summer.
Our long sleeve samples were sewn up in a range of rayons, polyester chiffons, cotton woven and knit blends. The white short sleeve sample is sewn in linen. All have 95% cotton 5% elastine or lycra stretch cuffs.
*Please also note that all (new) fabric should be pre-washed in case of shrinkage. Some fabrics will not shrink but 100% cotton,linen and rayon are almost guaranteed to shrink. It doesn't hurt to be safe and remove any dodgy chemical build up that may have occurred during printing anyway.
Garment length measurements given. To achieve a perfect, individual fit, you may need to adjust the patterns length (instructions included).
DIFFICULTY
Confident Beginner
SIZE & FITTING
Model wears size 10 (NZ/AU) and is 171 cm tall

Each purchase comes with 4 sizes (please refer last image for size chart and international size comparisons):
Small - (NZ/AU/UK 6-8-10-12  | US 2-4-6-8)                  Pages AO=1 | PAH=14
Medium - (NZ/AU/UK 10-12-14-16  | US 6-8-10-12)       Pages AO=1 | PAH=15
Large - (NZ/AU/UK 14-16-18-20  | US 10-12-14-16)       Pages AO=1 | PAH=17
X-Large - (NZ/AU/UK 16-18-20-22  | US 12-14-16-18)   Pages AO=1 | PAH=17

This is a loose fitting garment. If you prefer it to be a little less "roomy" or you are "in between" sizes then we suggest you err on the smaller size. 
WHAT DO I GET WITH MY PURCHASE?
Please note you are purchasing a digital pattern that will be sent directly to your email inbox after payment. You can print this pattern at home on A4 or US letter-sized paper or take it to a print shop for large scale printing (AO size). *You will not receive a hard copy printed pattern.*
Instant download available immediately after checkout includes:

1. Instructions
2. PAH Pattern file (PAH=Print at home)
For printing in A4 or US Letter on a home printer. Printing at home is the most cost-effective, and sticking your pattern tiles together to make your full size pattern is easy. Further information for printing at home can be found in our Resources section here. 
3. AO Pattern file
AO is a large scale file designed to be printed at a Print Copy Shop. You cannot print this on your home printer as it is too big. If you choose to use this large file you will pay extra to have it printed but you do not have to stick anything together.
You can use the ADOBE LAYERS FEATURE to open the PAH pattern file and print only the size you need (and eliminate the "noise" of the unwanted sizes). You can also use the URL and bookmark links within the file to quickly access information and support. Download Adobe Reader for free (for Windows and Mac) here.
Reviews
Customer Reviews
05/31/2022
Alana R.

New Zealand
Love it!
The pattern was very easy to use, instructions are clear and I love my Rosella Top! I've already bought some fabric to make my next one :)
04/08/2022
Julie C.

New Zealand
12/06/2021
Jane L.

New Zealand
Pattern Size and shape not ideal.
I printed the pattern at home and found that matching up the pieces a bit of a faff. I am a standard size 14 and this top was far too wide in the neckline, especially at the shoulders where one's bra strap would show. Also a bit more shape in the body would make it more appealing. I will have to take my top in because it is too big and blousy. I have cut a new square neck facing so I can wear the top and it will stay on my body and not show my bra straps. There is a Bernina Sewing Group in Nelson and when we last met another gal had had the same experience as me. She said a friend of hers had had problems with a skirt pattern. The general design is ok but I feel the pattern needs a bit of tweaking. Cheers Jane
10/30/2021
Charlotte H.

United Kingdom
Great pattern
Love this pattern. I've made 3 already. In scuba and jersey. It's great.
10/13/2021
Marilin N.

Ireland
Great pattern
This is a fab, easy to sew top. The fit is good and I am so pleased that the waist band isn't tight, but sits perfectly on the hips. I'll definitely be making more!
10/09/2021
Maxine M.

United Kingdom
Dressy but casual
The pattern was so easy to print and cut out. It was the first time for me using ribbing so it was a learning curve, but as the rest of the pattern is so simple that was fine. The customer service help was excellent when I asked a question. It's a really nice touch. There are endless possibilities with this top and I'm looking forward to trying them!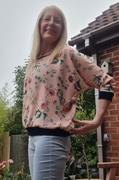 10/08/2021
The Sewing Revival
We're so glad you love your new Rosella Top Maxine. Thanks for sharing a photo too! Have a lovely weekend. Kind regards, Janine
09/28/2021
Tania Y.

New Zealand
Great top
Easy to make. The Rosella top is my favourite as you can use lovely drapey fabrics, which I like with the almost batwing sleeves. Such a simple pattern, great for a beginner sewer also.
09/14/2021
Jenny C.

New Zealand
Rosella Top
I really enjoyed making this top. It was extremely easy to make and looks lovely on. Can't wait to have the time to make another one on a wet Sunday afternoon, just need to find the appropriate fabric and colour for me. Will buy more patterns in the future.
09/04/2021
Bonnie R.

United States
Easy to sew pattern
Just made a fit-muslin - works great, but I'll be making longer, tapered sleeve cuffs on the next one to get the look I'm trying to accomplish - easy change, but the pattern went together well, and pieces fit accurately. It looks just like the pictures and the line drawing. It's a great basic, for a jumping-off point for variations.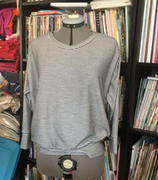 08/27/2021
Andrea F.

New Zealand
The Rosella Top - a great sew
As a reasonably novice sewer, I found the pattern download and instructions really easy to follow, and made the top up in no time (in a viscose stretch jersey). The pattern was easy to tweak (I shortened the sleeves a bit and narrowed the hem band) and the result was excellent, a lovely loose but modern fit. Am currently making it again in another material and will try the short-sleeve version as well. Such a cool top - thanks!
08/13/2021
Karyn C.

New Zealand
Rosella Top
Great pattern, very easy for a beginner sewer. Can see me making this pattern many times.
05/03/2021
Bronwyn C.

New Zealand
Rosella Top
Very disappointed in this pattern. Even the smallest size is far too big for me. Was so looking forward to being about to wear this style and bonus that the pattern could be made with a woven and a knit.
05/02/2021
The Sewing Revival
Hi Bronwyn, I am so sorry to hear that. Please email me (contact form on the website) with your bust and waist measures and your normal RTW size and I will ensure we get this sorted for you. I'm also interested in more specific feedback to see what has gone wrong for you. Kind regards, Janine
04/03/2021
Sue S.

Australia
My Sewing Revived
Great styles, patterns straight to my inbox. Easy to follow instructions!!! I have purchased more than once
10/02/2020
Monica M.

New Zealand
Fabulous pattern
This pattern was so simple to follow with great instructions provided.I'm amazed that I was able to make something like this. Great shape and fit, I'll definitely try some more patterns.
09/07/2020
Linda P.

New Zealand
Rosella top
Fantastic, so easy to make and have had loads of compliments
02/09/2020
Claire J.

New Zealand
I love this pattern. Its
I love this pattern. Its so easy to make and really gets me thinking about fabric combination possibilities which adds a lot of fun to the process!!
09/29/2019
Louise A.

Canada
What else?
I very much like the layered PDF patterns (easier to adjust if needed); the good range of sizes (I'm not so small anymore); the very detailed instructions (perfect to refresh my long unused sewing skills); the very effective simplicity of the designs; the big smiles of the charming models... What else? I am looking forward to your future patterns. Thank you!
07/23/2019
Jenny S.

New Zealand
Easy and stylish
This is a very easy pattern to whip up and with the right fabric choices can be dressed up or a casual piece. I'll be making a few of these!
Excellent easy to use pattern
This was easy to follow with good result - a lot of printing for the cape though!!
Rosella top
Great pattern . Great instructions. Easy to sew Have had loads of comments admiring this top. Will make some more definitely.