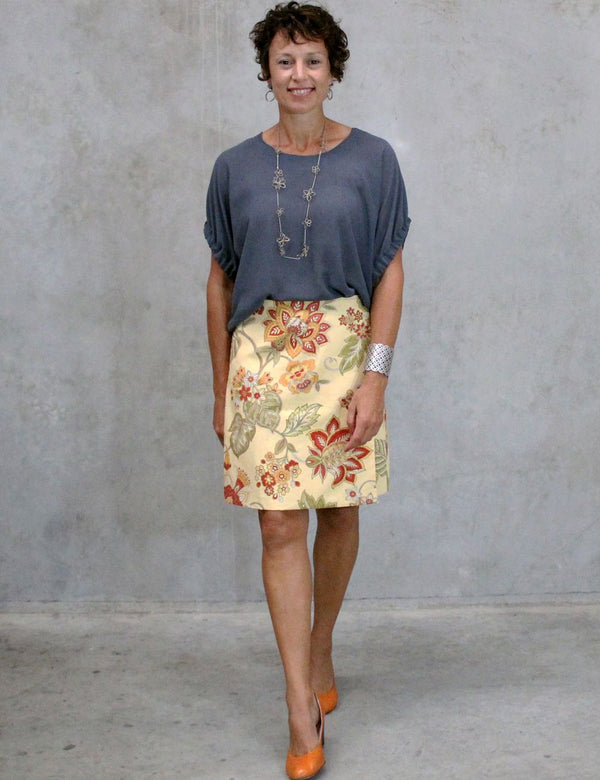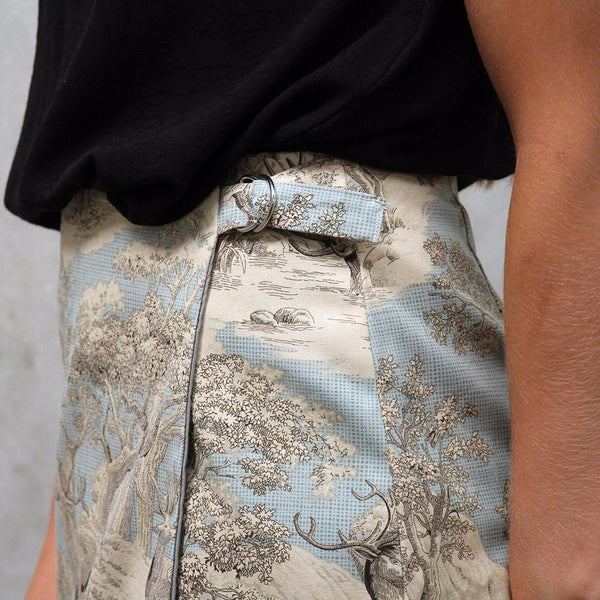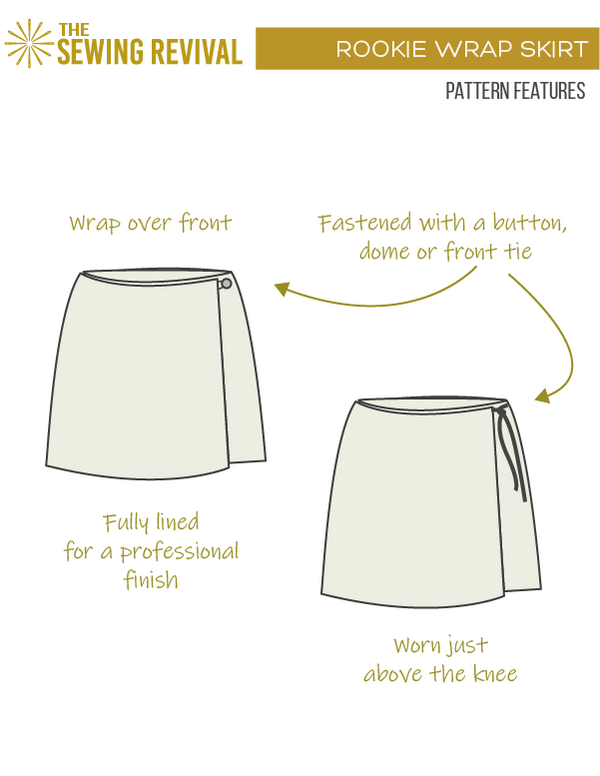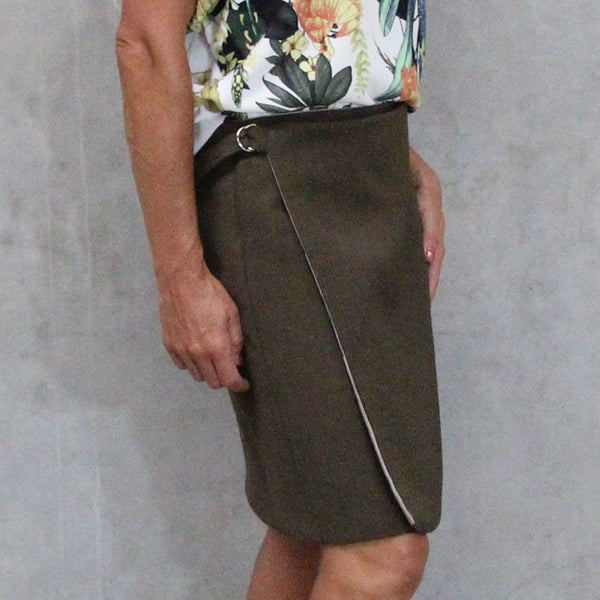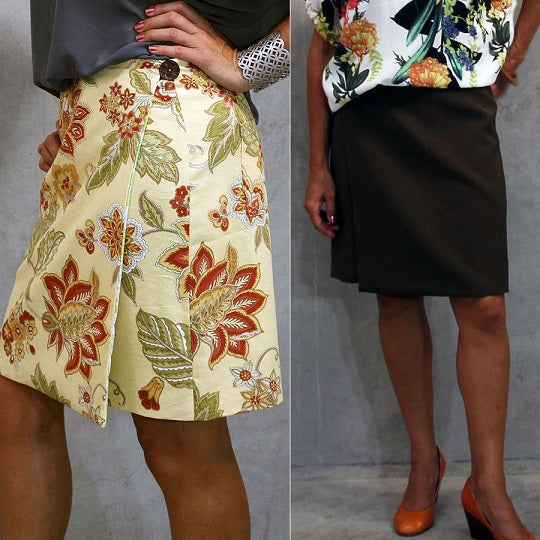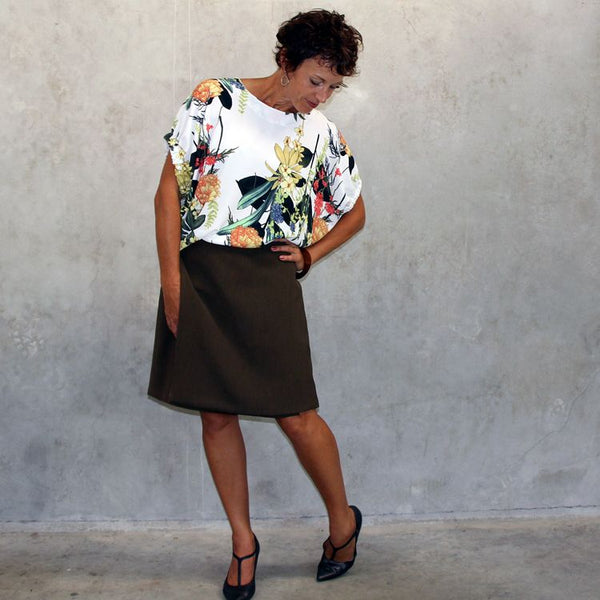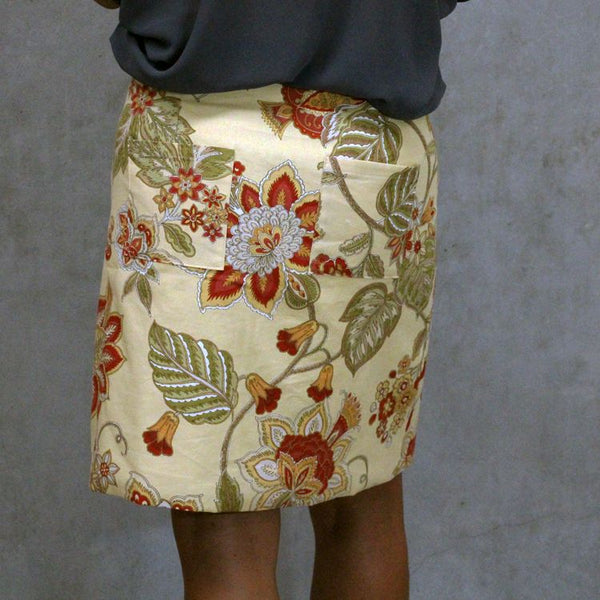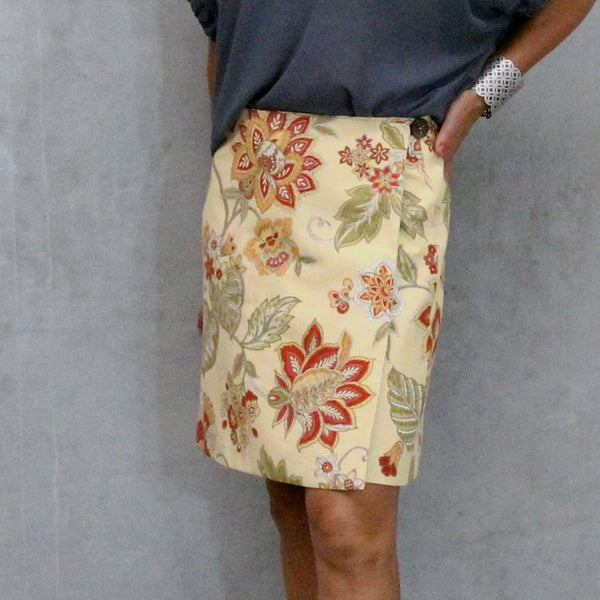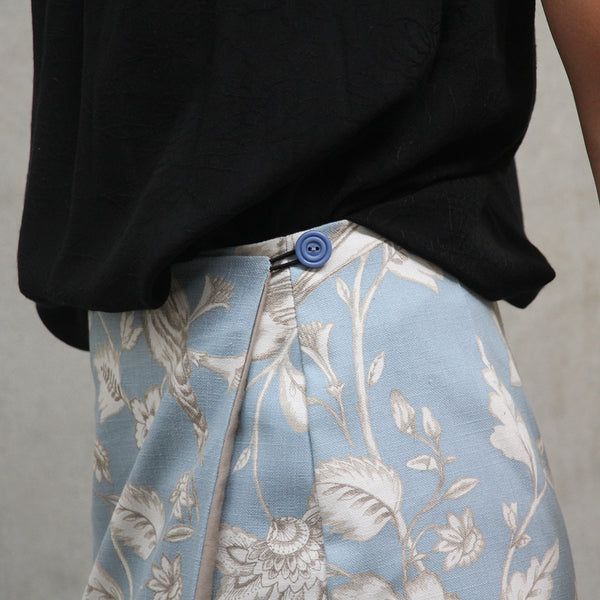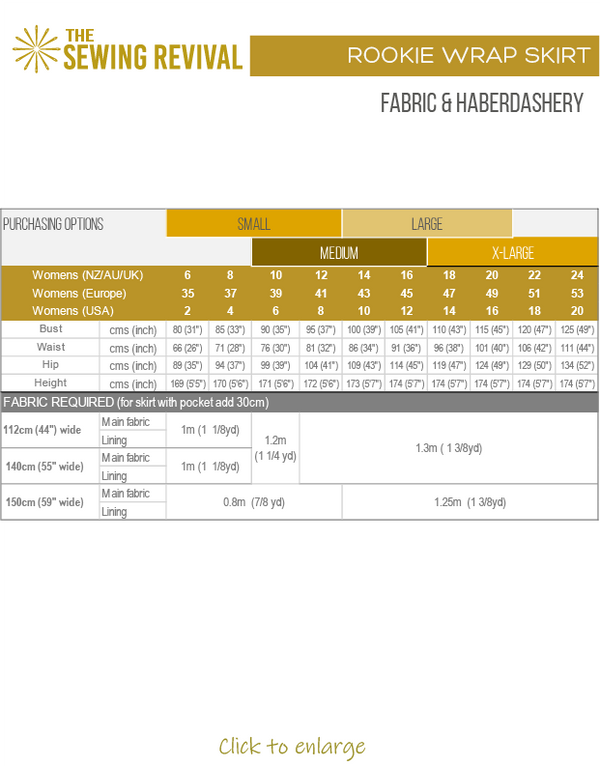 This PDF Sewing Pattern is instantly downloadable with clear instructions, photographs & diagrams. The Rookie Wrap Skirt is a simple and classic wrap skirt perfect for all occasions.
Dress it up with heels, or par it down with sneakers for the weekend.   Fully lined with optional rear pockets this pattern is not only easy to make but is also a adjustable fit, accommodating all figure types.
For beginners we recommend the external fastening with a button and elastic loop (no need for button holes) but you can also use fabric ties, D rings or a buckle. With a full lining the skirt could also be reversible.
Using plain or patterned fabric this skirt pattern is extremely versatile. We are sure you'll make it up more than once!
This pattern is extremely versatile and can be made with or without the rear pockets and using a huge variety of side fastenings. Instructions cover the how to of fastening:

Button & elastic loop

Fabric ties

Buckle

D ring
Share your makes on Instagram & Facebook tagging #RookieWrapSkirt and @thesewingrevival
FABRIC
Please refer to the FABRIC REQUIREMENT CHART as one of the last images on this product listing. You can magnify this image if viewing it on a mobile phone whilst in a fabric store.
SKIRT OUTER FABRIC:
Any form of woven fabric will suit this skirt so have a bit of fun using heavier weight woven fabric for winter and lighter weights (not flimsy) for summer. We recommend cotton and cotton blends, cotton drill, velvet (non stretch), corduroy or even light weight upholstery fabrics. As long as the fabric is not stretch, you can use just about anything.

Our orange floral sample is made up in cotton weave (it is retro fabric we found at a second hand store) and the paisey fabric with border is a heavier nylon/cotton blend. The 2 blue skirts are a cotton and a cotton blend and are heavier weight (but not upholstery weight).

SKIRT LINING
Use a lighter weight woven for the lining. We used 100% cotton
 upcycled retro sheets because they are cheap and fun and we are doing or bit for recycling.

*Please also note that all (new) fabric should be pre-washed in case of shrinkage. Some fabrics will not shrink but 100% cotton,linen and rayon are almost guaranteed to shrink. It doesn't hurt to be safe and remove any dodgy chemical build up that may have occurred during printing anyway.
DIFFICULTY
Suitable for Beginners. This skirt is able to be sewn with or without an overlocker (serger). 

SIZE & FITTING
The Rookie Wrap skirt has a flexible fit due to the wrap nature. We suggest you choose the hip size closest to you on the size chart.
Each purchase comes with 4 sizes (please refer to the last image for size chart and international size comparisons):

Small - (NZ/AU/UK 6-8-10-12  | US 2-4-6-8)                    
Medium - (NZ/AU/UK 10-12-14-16  | US 6-8-10-12)       
Large - (NZ/AU/UK 14-16-18-20  | US 10-12-14-16)        
X-Large - (NZ/AU/UK 18-20-22-24  | US 14-16-18-20)    
You can view our size chart here.
Please note that the size chart is not the finished garment measurements. We recommend that you also measure your body length and compare to the finished garment length measurements given. To achieve a perfect, individual fit, you may need to adjust the patterns length (instructions included).
WHAT DO I GET WITH MY PURCHASE?
Please note you are purchasing a digital pattern that will be sent directly to your email inbox after payment. You can print this pattern at home on A4 or US letter-sized paper or take it to a print shop for large scale printing (AO size). *You will not receive a hard copy printed pattern.*
Instant download available immediately after checkout includes:

1. Instructions
2. PAH Pattern file (PAH=Print at home)
For printing in A4 or US Letter on a home printer. Printing at home is the most cost-effective, and sticking your pattern tiles together to make your full size pattern is easy. Further information for printing at home can be found in our Resources section here. 
3. AO Pattern file
AO is a large scale file designed to be printed at a Print Copy Shop. You cannot print this on your home printer as it is too big. If you choose to use this large file you will pay extra to have it printed but you do not have to stick anything together. Further information for printing in large scale can be found in our Resources section here. 
You can use the ADOBE LAYERS FEATURE to open the PAH pattern file and print only the size you need (and eliminate the "noise" of the unwanted sizes). You can also use the URL and bookmark links within the file to quickly access information and support. Download Adobe Reader for free (for Windows and Mac) here.
PATTERN UPDATES

This pattern was updated on 23 February 2023 with the following improvements:
1. A front facing was added
2. Size range extended from NZ/UK 6-24 (US 2-20)
3. AO large scale file now included
Reviews
Customer Reviews
07/01/2023
Debora H.

United States
06/02/2023
Sharon R.

New Zealand
05/12/2022
Lee M.

New Zealand
Rookie Wrap Skirt
Another easy to follow pattern.
04/21/2022
C L.

New Zealand
Super easy wrap skirt
Can't believe it was so quick and easy to make! And it looks great. Super simple to make it fit just perfectly. I would definitely recommend this for any sewer, beginner or not. Great instructions and helpful tips.
03/24/2022
Julie C.

New Zealand
Rookie Wrap Skirt
I'm new to sewing off patterns but found the instructions really helpful. I was making the skirt as a reversible skirt, which it does say is an option, but didn't find instructions for this option. I made my skirt at sewing lessons so it was straight forward with class guidance. The Rookie Skirt is super comfy and I'm planning on making another with some different fabrics.
11/15/2021
Janet O.

Australia
Easy skirt to make
Loved how it turned out - very flattering figure wise
10/23/2021
Belinda E.

Australia
Rookie wrap skirt
Rookie mistake , Accidentally ordered the wrong size so pattern is no t used
10/25/2021
The Sewing Revival
Hi Belinda - it's super easy for us to re-issue you with the correct size. Please email info@sewingrevival.co.nz with the details and we'll sort it for you. Kindest regards, Janine
10/09/2021
Kaz H.

New Zealand
Super Easy Rookie Skirt
As a beginner, I love The Sewing Revival patterns. Easy to print and cut out, with clear instructions and photos. The advice on types of fabrics to use is also super helpful. Extra bonus as this skirt is reversible, so it's two for one. Love seeing what others have made too. So inspiring!
10/08/2021
The Sewing Revival
Thanks for adding photos of your makes Kaz. They look fabulous (and we love the matching masks!!)
10/05/2021
Anna W.

New Zealand
09/25/2021
Kathy K.

New Zealand
09/21/2021
Sharon W.

Australia
not yet recieved
I have not yet recieved it
09/21/2021
The Sewing Revival
Hi Sharon, I see this is the third printable sewing pattern you have purchased from us so I am unsure why you have not received the email with download link (our app records the email being sent immediately after your payment went through). If you have updated your computer security you may like to advise it that emails from The Sewing Revival are "safe". I have sent you a separate email with a link to your pattern files for downloading. We are always happy to follow up from our end if you ever have issues - simply email us through the website to receive a much quicker response rather than waiting to complete a review. Kind regards, Janine
09/14/2021
Wendy D.

New Zealand
Neat Chic Skirt
This skirt has a great outline. It looks stylish, slimming and fits. It was easy to make in fact the hardest part was trying to decide which buckle to use and how to attach that! This is my favourite skirt style for summer and I will be heading to the store for fabric to make more. It looks great with my Fantail tank, next I will make an Egret Top to go with it too. I'm a big fan of The Sewing Revival patterns.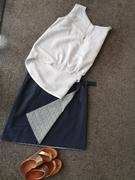 08/10/2021
Sarah R.

New Zealand
08/09/2021
Louise P.

Australia
Rookie Skirt
I found this a very easy pattern to print, cut and construct. Given that it is essentially three panels I was able to adapt it very easily to suit my needs: Because I intend to mostly wear it in our Northern Australian summer I felt the full lining would make it too hot. I instead used self bias on all edges, and French seamed the side seams to a neat finish. I made a straight size 10 with no adjustments and it's a perfect fit, even the length ((I'm 173cm tall). I like that it gives the opportunity to be creative with the lining/bias fabrics and colours, as well as the fastenings - I used snap fasteners and a retro buckle.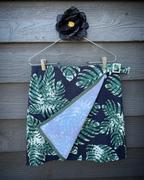 06/02/2021
Julie T.

New Zealand
Love this pattern!
This is such a great pattern! My third sewing revival pattern. I've made one in a tartan and one in brown faux leather. They both look awesome, fit like a glove and were super quick to make.... Need a black one now
04/06/2021
Hazel R.

Australia
Rookie Wrap
Great. Easy process, payment and convenient
04/03/2021
Anna C.

New Zealand
Awesome Wrap
This pattern is amazing with the way the lining is done. Plus it's a perfect fit, so will be making many more of these skirts in the future
03/04/2021
Adele H.

Australia
Very happy
Just today I was complimented on the skirt I made with your pattern, so very happy. The pattern was easy enough to download and put together and the sizing was accurate. Instructions were clear and I would definitely recommend this pattern if you are a beginner as I am.
03/02/2021
Vivienne S.

Australia
02/04/2021
Marion J.

Australia
Love this pattern and have made 2 skirts and will be using the pattern again. Simple instructions and a great fit.