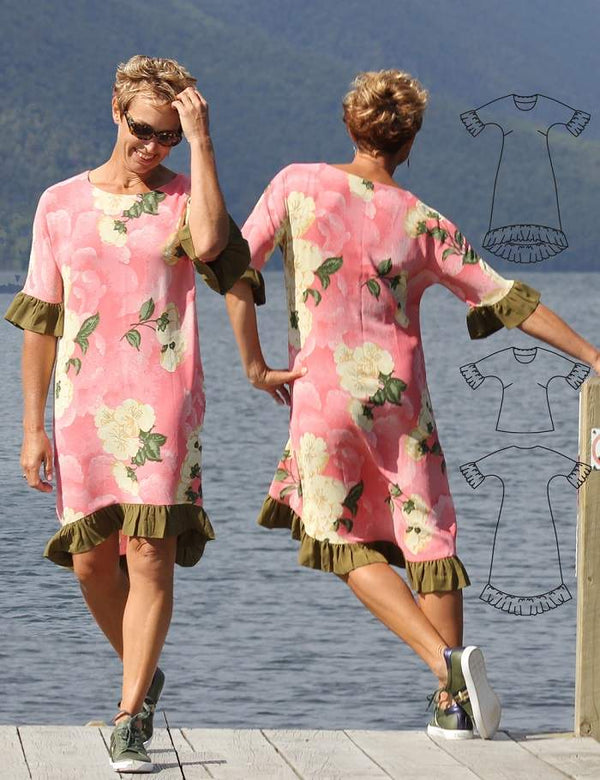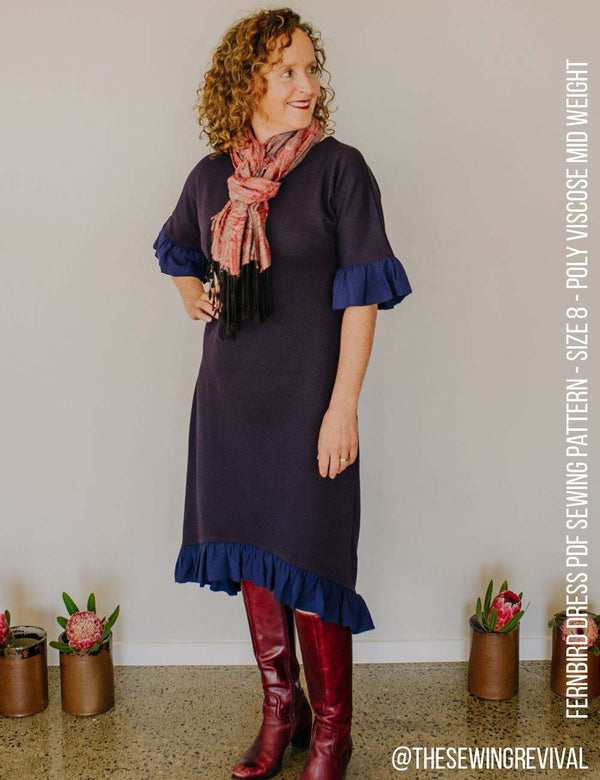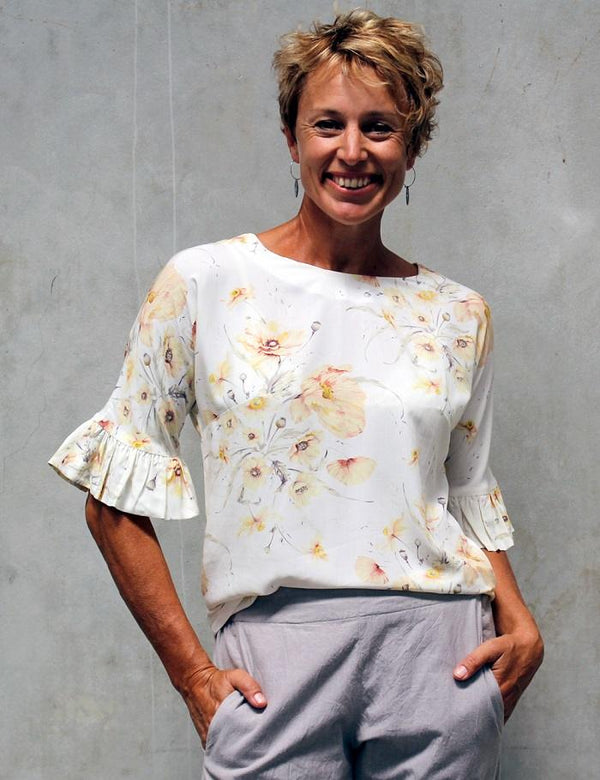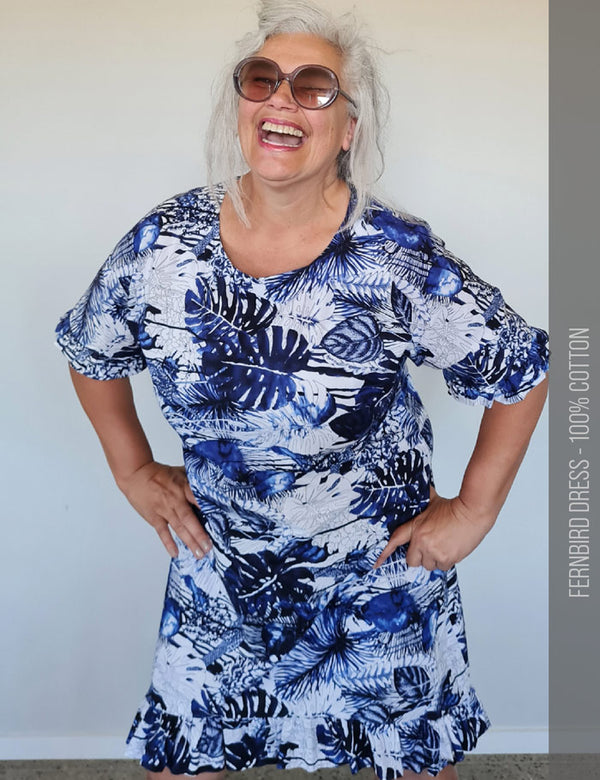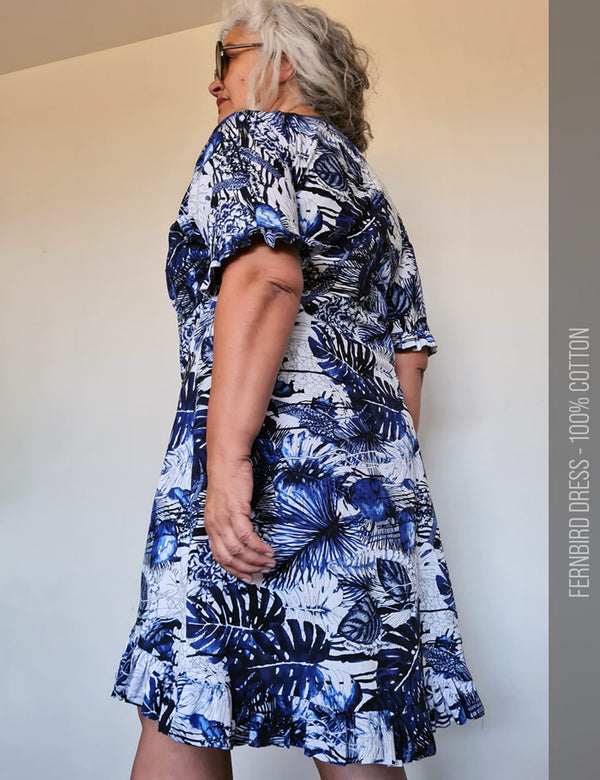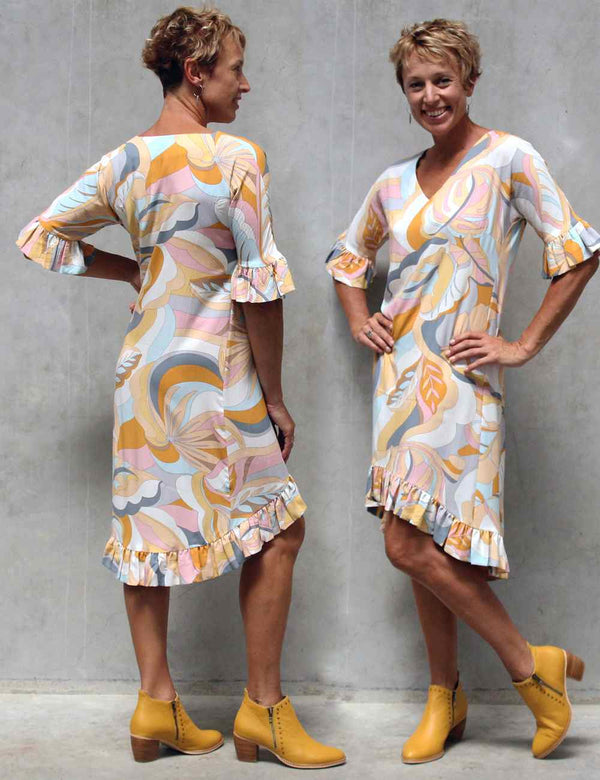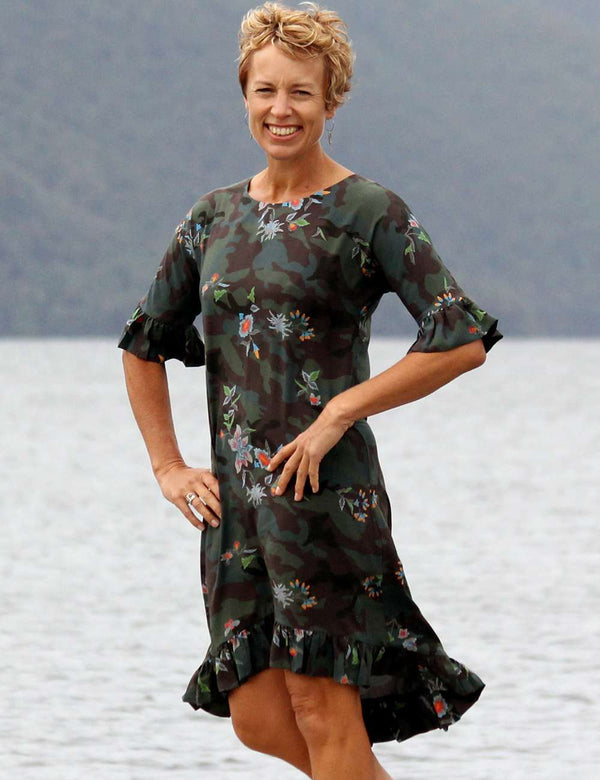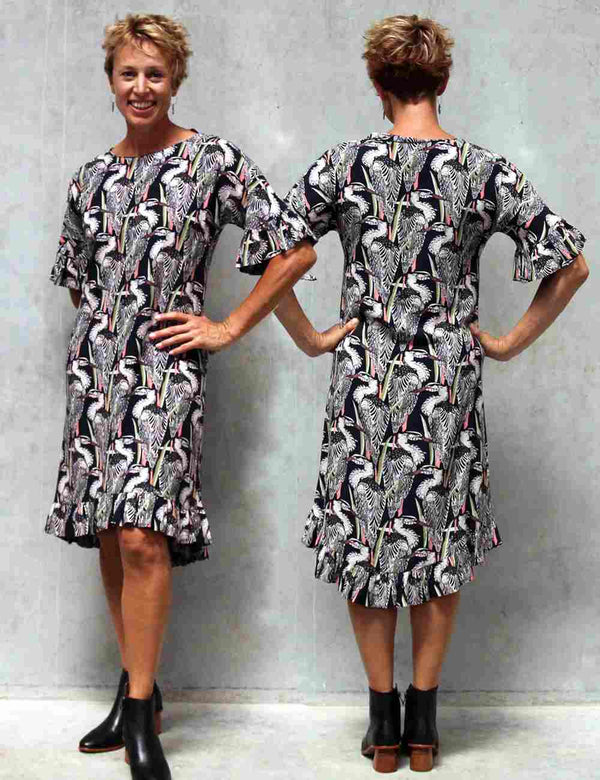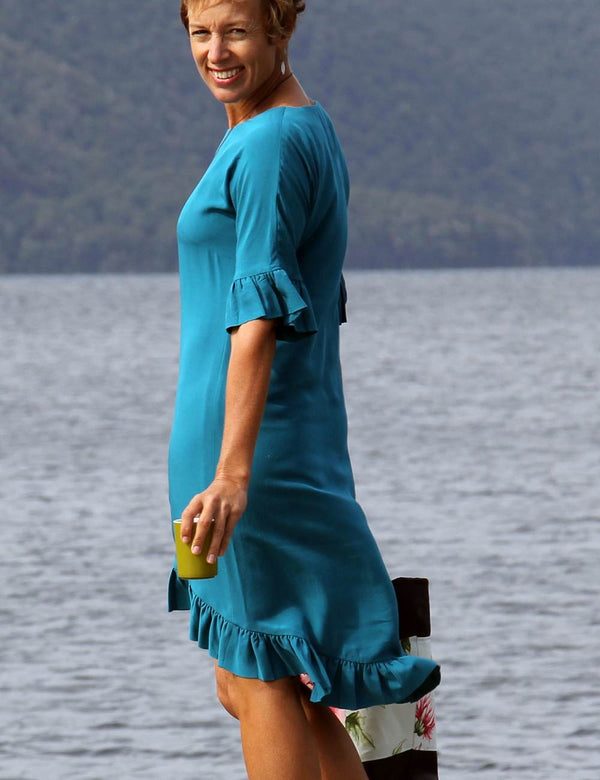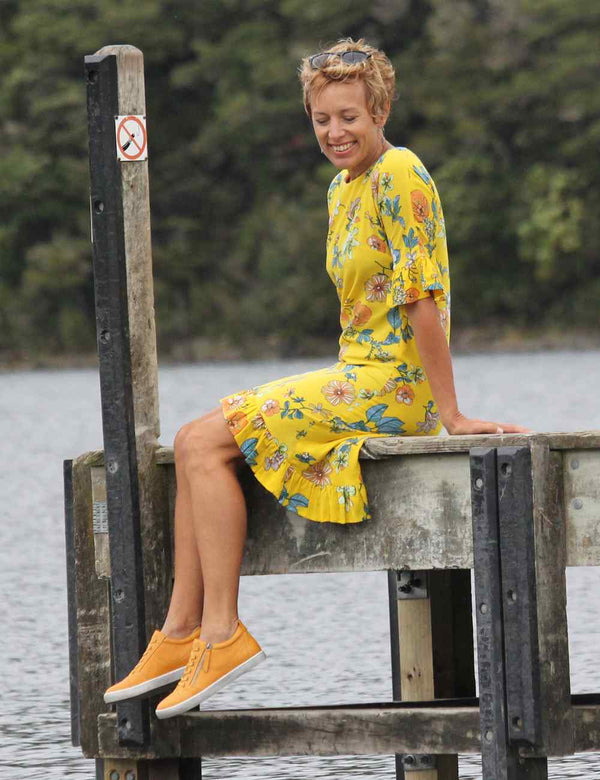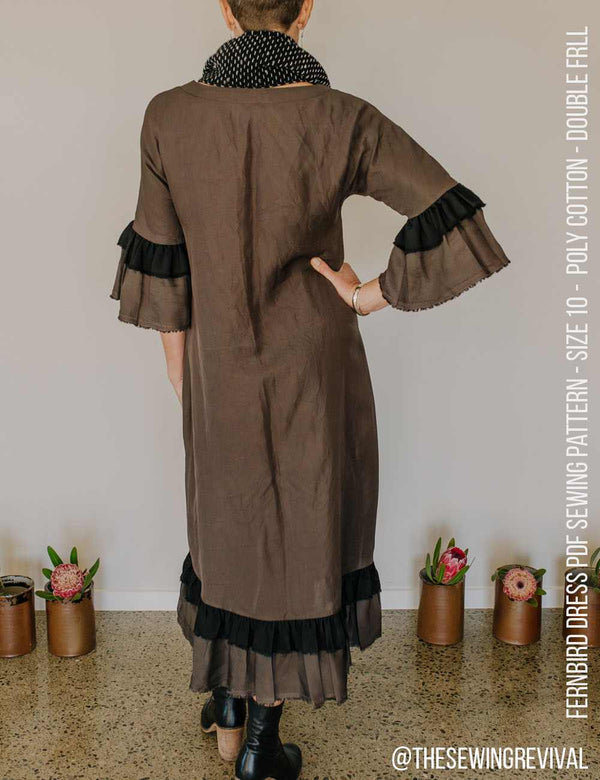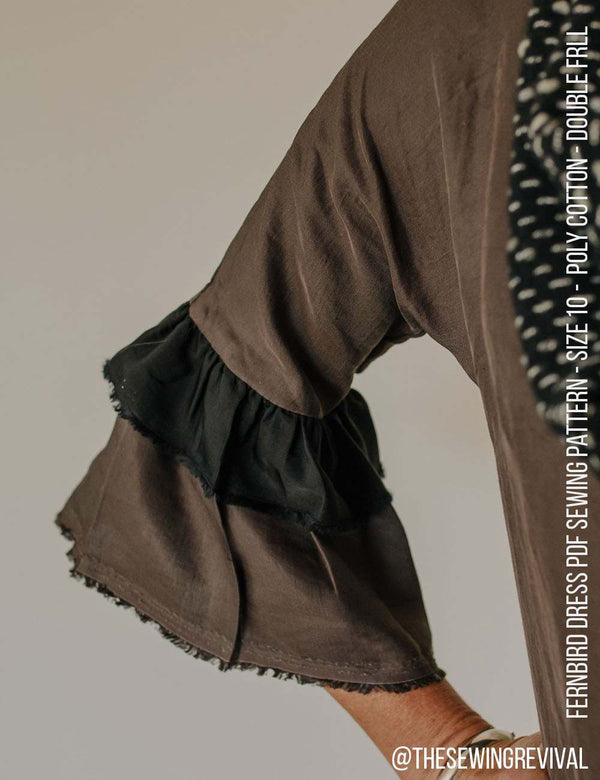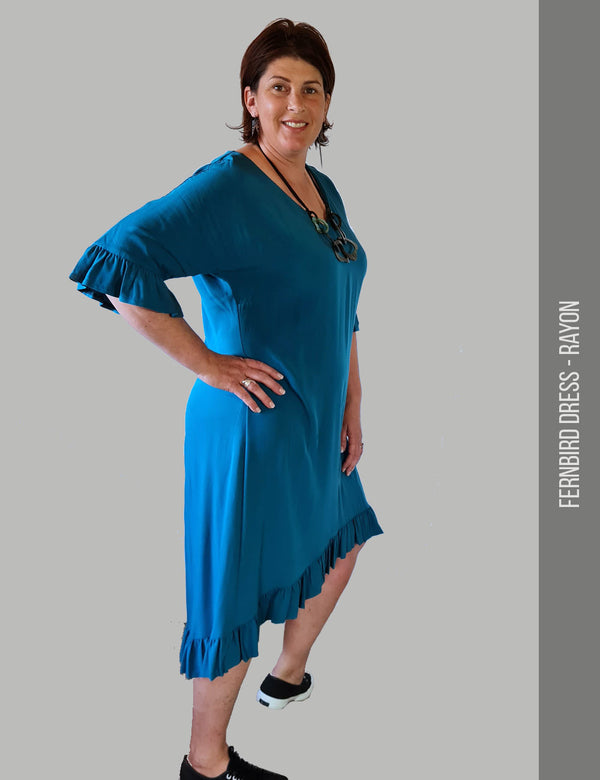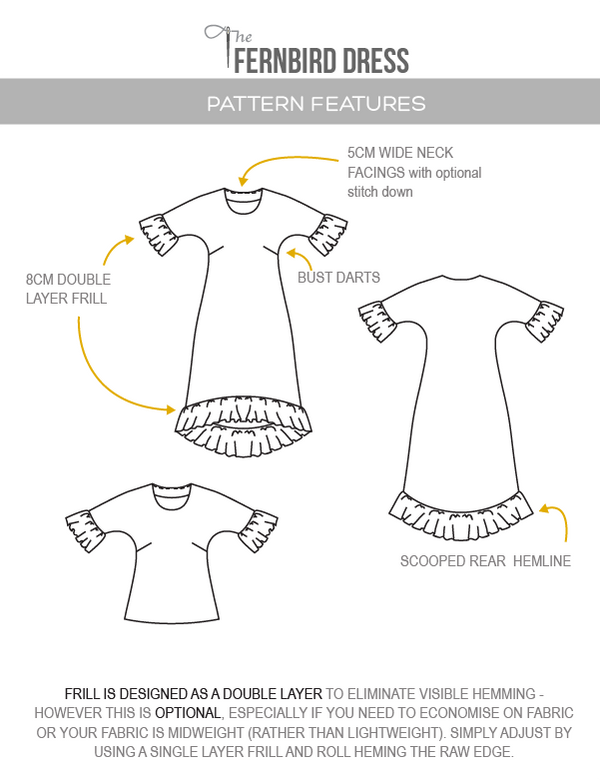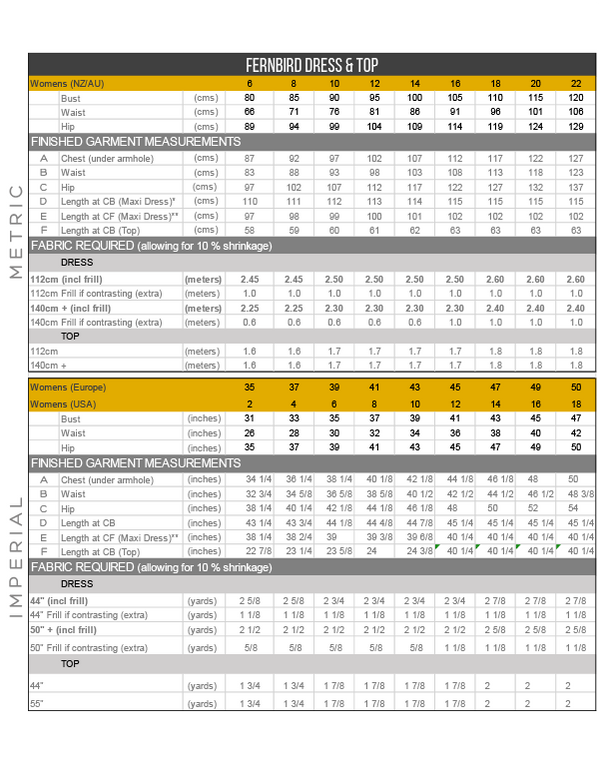 A pull on dress or top, the Fernbird is feminine, fun and easy to wear. With bust darts and "grown on" sleeves, the key design features are the deep double frills and scooped rear hem. This is a throw-on-and-look-glam-in-a-second dress, so easily worn with sneakers or heels. 
SUMMER - Beautifully cool in rayon/viscose the dress and top is professionally finished with a simple neck facing.
WINTER - Mid weight knits and woven blended wool suitings. This dress will work with almost any fabric, although it's a good idea to keep drape in mind. We recommend you use a light weight fabric for your winter frills (like contrasting rayon, cotton, chiffons & crepes).

PATTERN FEATURES:
Deep double frill (fold under so no frill hem)

Scooped rear hem line (dress only) for dramatic effect and emphasized design.
V Neck and round neck options
Loose fitting and designed to sit mid knee (front) and mid calf (rear) - but easily adjustable
Sizes NZ/AU 6-22
Share your makes on Instagram & Facebook tagging #FernbirdDress #FernbirdTop and @thesewingrevival
FABRIC
Please refer to the FABRIC REQUIREMENT CHART as one of the last images on this product listing. You can magnify this image if viewing it on a mobile phone whilst in a fabric store.
Light to mid weight fabrics with a good drape. 
We highly recommended rayon/viscose for this pattern, but tencel, silk, cotton/silk and cotton/poly blends. Have fun contrasting the dress body with the frill fabric. We even had a play with a light weight cotton/metal fabric in  contrasting frill which looks great.
DIFFICULTY
Confident beginner ready for the next step. Easy Intermediate (2/5). No closures (zips or buttons). Skill learnt: Gathering frills.
SIZE & FITTING
Each purchase comes with 4 sizes (please refer to the last image for size chart and international size comparisons):
Small - (NZ/AU/UK 6-8-10-12  | US 2-4-6-8)                Pages = 26
Medium - (NZ/AU/UK 10-12-14-16  | US 6-8-10-12)    Pages =27
Large - (NZ/AU/UK 14-16-18-20  | US 10-12-14-16)    Pages =27
X-Large - (NZ/AU/UK 16-18-20-22  | US 14-16-18)      Pages =27
WHAT DO I GET WITH MY PURCHASE?
Please note you are purchasing a digital pattern that will be sent directly to your email inbox after payment. You can print this pattern at home on A4 or US letter-sized paper or take it to a print shop for large scale printing (AO size). *You will not receive a hard copy printed pattern.*
Instant download available immediately after checkout includes:

1. Instructions
2. PAH Pattern file (PAH=Print at home)
For printing in A4 or US Letter on a home printer. Printing at home is the most cost-effective, and sticking your pattern tiles together to make your full size pattern is easy. Further information for printing at home can be found in our Resources section here. 
3. AO Pattern file
AO is a large scale file designed to be printed at a Print Copy Shop. You cannot print this on your home printer as it is too big. If you choose to use this large file you will pay extra to have it printed but you do not have to stick anything together.
You can use the ADOBE LAYERS FEATURE to open the PAH pattern file and print only the size you need (and eliminate the "noise" of the unwanted sizes). You can also use the URL and bookmark links within the file to quickly access information and support. Download Adobe Reader for free (for Windows and Mac) here.
Reviews
Customer Reviews
05/03/2023
Julene C.

Australia
Fernbird dress pattern
Bought a pdf pattern, download without any trouble, would buy from the sewing revival again
04/17/2023
Gill S.

South Africa
Fernbird Dress
This is just a joy to make. It's so quick, except of course the frills, which need some patience to make sure the gathers are nicely distributed. The grown in sleeves are a perfect length and very comfy to wear. I made a top too, with the round neck. It's my fave top at the mo. Will definitely make more. I used a lovely drapy viscose.
01/28/2023
Shelley M.

New Zealand
Quick and easy
Once the correct scale for printing was sorted it was a quick and easy project, I shortened the sleeves and added pockets, it's a great pattern and a lovely dress to wear, made with linen/cotton
01/22/2023
Liz W.

Australia
12/29/2022
Sandra B.

United Kingdom
10/20/2022
jo H.

New Zealand
new pattern
love the pattern going to make another one hav 5 patterns love them all look forward to new ones..
08/31/2022
Julie M.

New Zealand
Fernbird top
So easy to use & I had my Fernbird top cut & sewn in just a few hours. The fit is great & I'm very happy with it. Will definitely be using these patterns again.
03/22/2022
Lauren D.

New Zealand
Lovely easy to follow pattern
My experience was great. Couple of things I would do differently if I make again. One: Cut one size smaller. Two: not double up the fabric on the frills. Found the finish nice but too much fabric to the dress. I put pockets in my dress.
02/27/2022
Marrianne

New Zealand
Fernbird dress
Nice simple pattern. Definitely a make-in-a-day, from cutting out to sewing the last stitch, once you have your pattern sorted. However, a couple of things to note - the cutting instructions give two different depths for the ruffles - 10cm and 18cm (I went with 18cm) and there is no recommended hem measurement for the top that I could see. Using a sewing ham makes pressing those underarm and lower sleeve seams so much easier. There are a number of free patterns online to make your own.
02/13/2022
Jill E.

New Zealand
Fernbird dress
An enjoyable sew and it fitted me well. The instructions were easy to follow. I omitted the frill at the hem and made it a shirttail hem, am very happy with how it looks
02/04/2022
Kathy B.

New Zealand
Love It!
Awesome pattern and instructions. Nice and simple. Will use this lots.
01/31/2022
Jackie P.

New Zealand
01/30/2022
Caroline F.

New Zealand
Fern bird dress and top
I've never used a pdf before and it was a bit overwhelming at first. But I figured it all out and discovered the principle to be very simple and easy. The instructions were fantastic! I've never had such good instructions in any pattern before. I made it for a special event quite quickly, even making a few changes like adding an extra frill, and changing the length to be straight cross. I got the sizes mixed up.. followed US sizing instead of NZ sizing and ended up making it too big, but upon reflection, even tho it's far too roomy around the neck arms area, it did the trick! Can't wait to make another one and the optional varieties you could change around within this pattern are really exciting! I'll certainly be making this again!
02/03/2022
The Sewing Revival
Thanks so much for taking the time to review the pattern. Your make looks fabulous. So glad you enjoyed the process too.
01/23/2022
Brigid M.

New Zealand
I didn't think i was a frills woman, given i live in gumboots a lot...
however love this dress and have made two.... One a mixture of calico and scraps of old broderie anglaise to try the pattern out, and one in fine cotton batik. Both are a great success. I really like the shape achieved without zips or buttons. Initially tried to graduate the pattern from 14 bust to 10 waist to 12 hips but settled on 14 and 12 for my final pattern. I can see I'll use this pattern for really special fabric down the track. Thanks Janine, another winner.
01/22/2022
Debbie S.

New Zealand
Love it
Getting it printed, great way to do it! Not sewn it yet, bit nervous don't want to muck it up Deb
01/20/2022
Bronwyn S.

New Zealand
Love it… made a beautiful printed linen dress
Great … lovely fit
12/29/2021
Annaliese E.

New Zealand
Fern bird Top
Easy to follow pattern for a new sewist like me. I graded the sleeve to the next size up as I thought that it would be too narrow, was a perfect result! I have also made the Sidewinder pants and that pattern was easy to follow as well.
12/06/2021
Rochelle

New Zealand
Fern bird dress
Best dress pattern I have and dresses look fantastic. Knocked 2 dresses out in 1 day
11/22/2021
Wendy M.

Australia
Fernbird Dress
love the pattern, instructions are clear, will buy again
11/12/2021
Alison F.

New Zealand
Fernbird Dress & Top
Great! Lovely dress. Easy to understand instructions and to sew. Did the dress in cotton but now looking at doing a top in a jersey type material