A pull on dress, the Stitchbird styles a cross over pleat at the back and small centre front pleat to provide interest and style.  With both V neck and round neck options and a little more designer detail than the Tui Dress, it is still an easy sew. 
Beautifully cool in 100% cotton or linen the dress is professionally finished with a simple neck facing.

PATTERN FEATURES:
Cross over pleat at centre back
Simple vertical pleat at centre front
In seam side pockets

Loose fitting and designed to sit just above the knee
Sizes NZ/AU 6-22 | US 2-18
Share your makes on Instagram & Facebook tagging #StitchbirdDress and @thesewingrevival
FABRIC
Please refer to the FABRIC REQUIREMENT CHART as one of the last images on this product listing. You can magnify this image if viewing it on a mobile phone whilst in a fabric store.
WOVEN fabrics : Most mid weight woven fabrics will suit this dress, however we highly recommend linen, cotton and linen/cotton blends that press well to highlight the pleat feature at the back.
DIFFICULTY
Confident beginner ready for the next step. Easy Intermediate (3/5). No closures (zips or buttons). Skill learnt: Creating simple pleats.
SIZE & FITTING
Model wears size 10 (NZ/AU) and is 171 cm tall

Each purchase comes with 4 sizes (please refer last image for size chart and international size comparisons):
Small - (NZ/AU/UK 6-8-10-12  | US 2-4-6-8)                  Pages AO=2 | PAH=23
Medium - (NZ/AU/UK 10-12-14-16  | US 6-8-10-12)       Pages AO=2 | PAH=24
Large - (NZ/AU/UK 14-16-18-20  | US 10-12-14-16)       Pages AO=2 | PAH=28
X-Large - (NZ/AU/UK 16-18-20-22  | US 12-14-16-18)   Pages AO=2 | PAH=28

This is a loose fitting garment. If you prefer it to be a little less "roomy" or you are "in between" sizes then we suggest you err on the smaller size. 
WHAT DO I GET WITH MY PURCHASE?
Please note you are purchasing a digital pattern that will be sent directly to your email inbox after payment. You can print this pattern at home on A4 or US letter-sized paper or take it to a print shop for large scale printing (AO size). *You will not receive a hard copy printed pattern.*
Instant download available immediately after checkout includes:

1. Instructions
2. PAH Pattern file (PAH=Print at home)
For printing in A4 or US Letter on a home printer. Printing at home is the most cost-effective, and sticking your pattern tiles together to make your full size pattern is easy. Further information for printing at home can be found in our Resources section here. 
3. AO Pattern file
AO is a large scale file designed to be printed at a Print Copy Shop. You cannot print this on your home printer as it is too big. If you choose to use this large file you will pay extra to have it printed but you do not have to stick anything together.
You can use the ADOBE LAYERS FEATURE to open the PAH pattern file and print only the size you need (and eliminate the "noise" of the unwanted sizes). You can also use the URL and bookmark links within the file to quickly access information and support. Download Adobe Reader for free (for Windows and Mac) here.
Reviews
Customer Reviews
sew on and sew forth
Love the design. Timely delivery. Haven't had a chance to sew it up. Appreciate the opportunity to give feed back.
08/31/2022
CYNTHIA B.

United States
08/20/2022
Elaine D.

New Zealand
08/07/2022
Sara S.

United States
Stitchbird Dress Pattern
I love the pattern and all the extra help on your site. The extra help with printing the downloaded pattern was super helpful. I really like being able to print specific sizes also! The first make took a couple of days sewing and fitting until I got the fit/ease that I prefer. I have already made a second dress and plan more! I am already looking at several other patterns to purchase and try. I also love that you show your patterns on lots of models! I highly recommend The Sewing Revival patterns.
07/25/2022
Elisabeth S.

United States
Interesting dress
The instructions are clear and the sizing good as it fits well. I did go to Fed-Ex to get it printed in one piece, rather than tape hundreds together, it was well worth it. Will buy from Sewing Revival again.
07/08/2022
Doris P.

United States
Yes, I would definitely buy from you again.
The instructions were great! Really enjoyed sewing this pattern. Do plan to make it a second time. And maybe even a 3rd time. I think that my sister would love one also. Thank you.
06/23/2022
Jane J.

United States
06/07/2022
Claire G.

United Kingdom
Stitch bird Dress
Absolutely thrilled with dress and whole experience. Super easy and quick to make up, looks amazing. Will be making lots more in all sorts of fabrics. Love it.
05/27/2022
Sabina W.

United Kingdom
05/16/2022
Jill B.

United States
The switchboard dress pattern
This is an easy, comfortable dress that I thought looked nice on me. I have made two dresses that went together easily and sewed up in no time.
05/13/2022
julie h.

United Kingdom
stitchbird dress
I am pleased with the dress in the end but made 3 toiles in the process to get FBA and upper trunk shaping just right. Some tips on doing the FBA on this sort of sleeve would have been helpful. I am UK size 20-22, tall and with 38G bust. I also sewed the front pleat down as far as my bra band for a more flattering look on a large bust and also sewed the back pleat down for a few inches - again it gives a more shapely and refined look. I will make it again and do a forward shoulder adjustment. I've learnt a lot about fitting and adjusting patterns in the process.
05/02/2022
Adri v.

New Zealand
Sew sew happy!
I don't often sew for myself. It was a real treat buying this pattern and making the dress. The instructions were clear and easy to follow. I have never done darts or pleats and both came out GREAT. I LOVE the dress. The shoulder seams (and thus neckline) shift back when wearing, I am going to do so trouble shooting to fix that. I might enlarge the pockets on the next one. And, yes, there is already fabric waiting for the next one!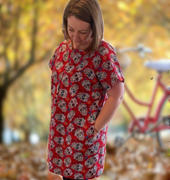 03/13/2022
Gail W.

Australia
Love my Stitchbird Dress
This is my first time using a pattern from The Sewing Revival. I found the whole experience from the pattern download to making the garment easy and very rewarding. I have had several compliments from friends on the new addition to my wardrobe. I most definitely will be purchasing more from The Sewing Revival. Thank you for designing interesting and innervating Patterns.
02/22/2022
June G.

Australia
Love the dress but not the grouped sizings
This was my first dress in memory and I liked the modern styling. I think if I made it again I might make the pockets slightly differently as I prefer ones where you sew the pocket bags together. Plus points for this looking fab on everyone I've seen it in. Negative- why oh why do we have to choose a size range in this day and age? I forgot I would need to grade up for my hips and had to guess. A lot of companies give you all sizes and some even the sizing in both ranges as well if they do a curvy fit.
02/23/2022
The Sewing Revival
Hi June, Thank you so much for taking the time to review the Stitchbird dress - and especially for adding photos of your make. It looks great! We sell our patterns in bundles of 4 sizes to minimize printing and paper costs. When all our sizes (NZ6-24)-are on the same print out, the smaller sizes end up wasting a lot of paper which can be avoided with bundling. 4 sizes still allows our customers to grade between sizes and in some cases, require less AO pages which is a significant cost saving. Kind regards, Janine
02/11/2022
Collette W.

Australia
Popular dress
Great instructions and simple to make. Delighted with the outcome
01/30/2022
Karen A.

Australia
The stitchbird
The pattern was terrifically easy to follow, the sizing perfect for me. There is a lot of ease but that makes it a bit easier to get a great fit. I would also like to thank Janine for her help getting the correct pattern size in the beginning.Personalised service is hard to beat.
01/22/2022
Margaret H.

Australia
Lovely shape
I enjoyed making this in a white wrinkle linen. It has a lovely, flattering shape and the pleat detail adds interest, making it both an enjoyable sew and a stylish garment.
01/08/2022
Sarah P.

New Zealand
01/05/2022
Carol M.

New Zealand
Stitchbird Dress
Excellent..... excellent in all aspects, from purchase to end result in Dress. I am size 14, made size 14 and perfect. Excellent pattern and instructions. Made for New Years Day family get together, and had so many compliments. Thank you, will definitely be making more, and buy from you again.