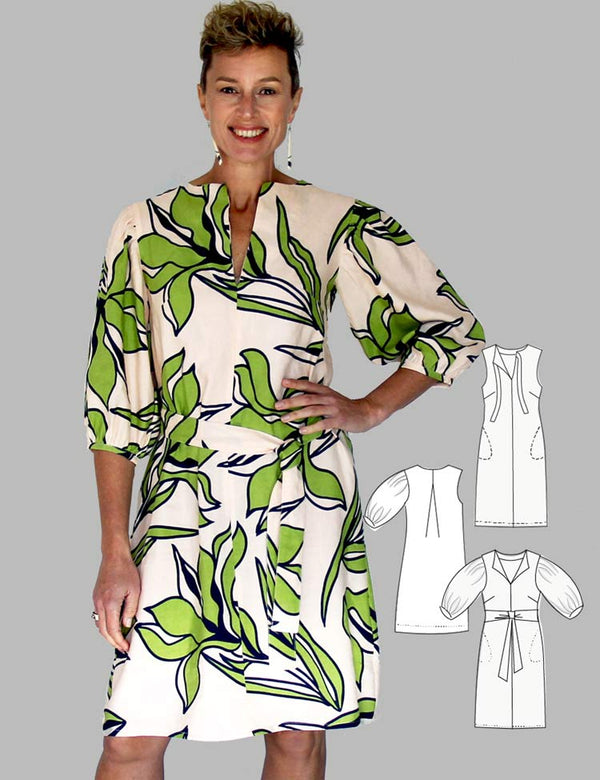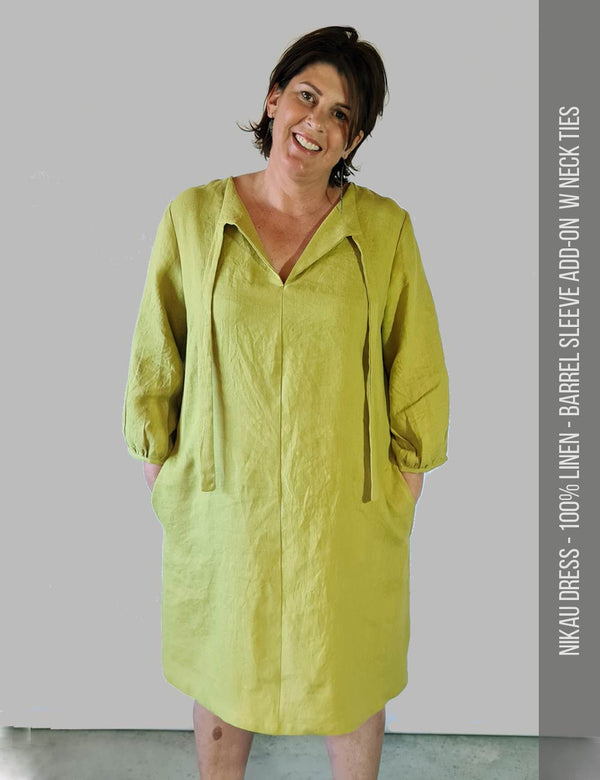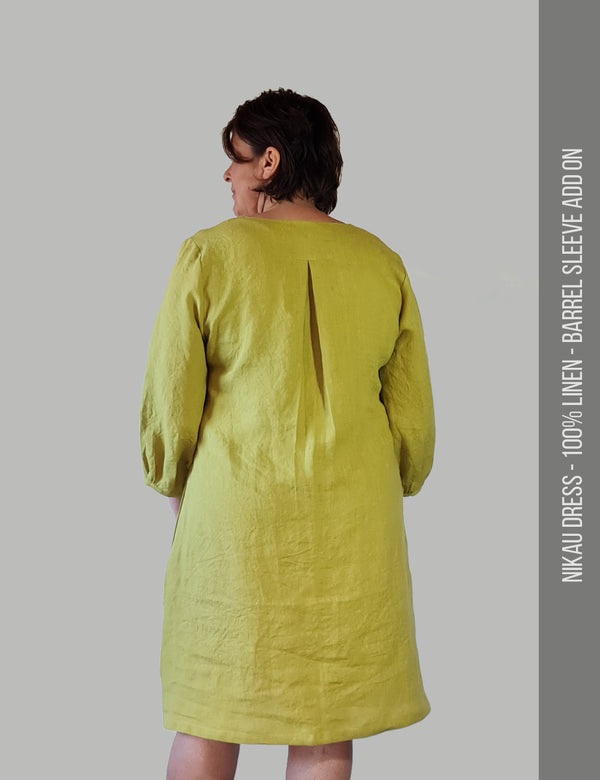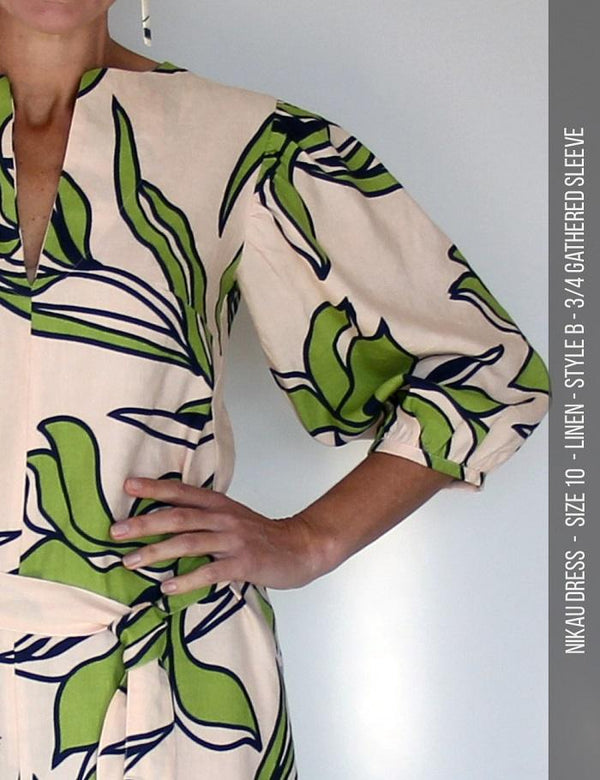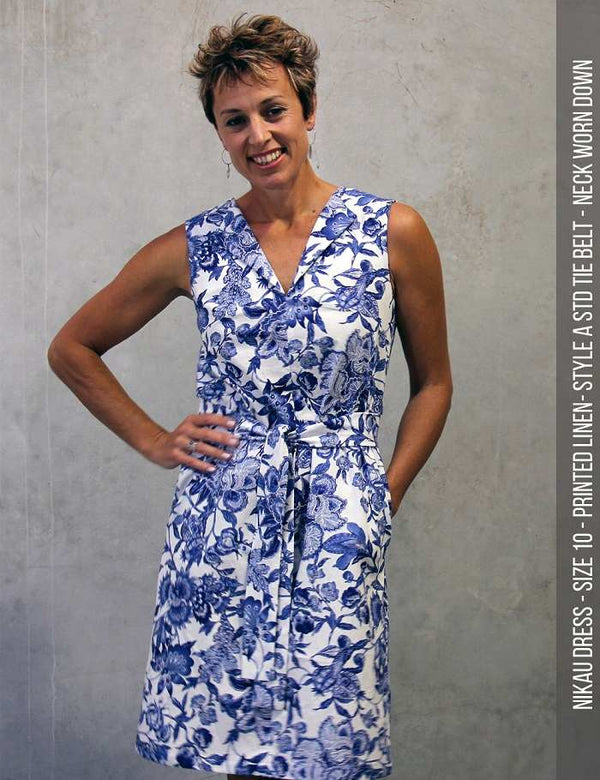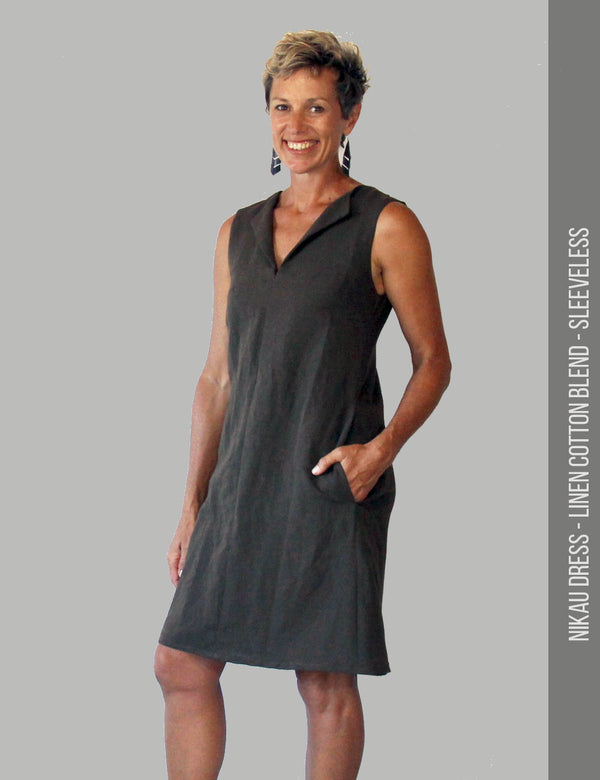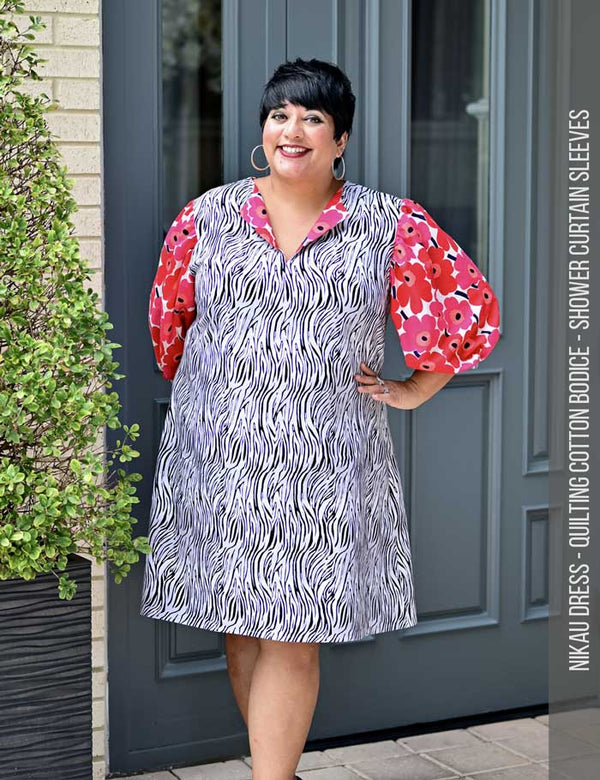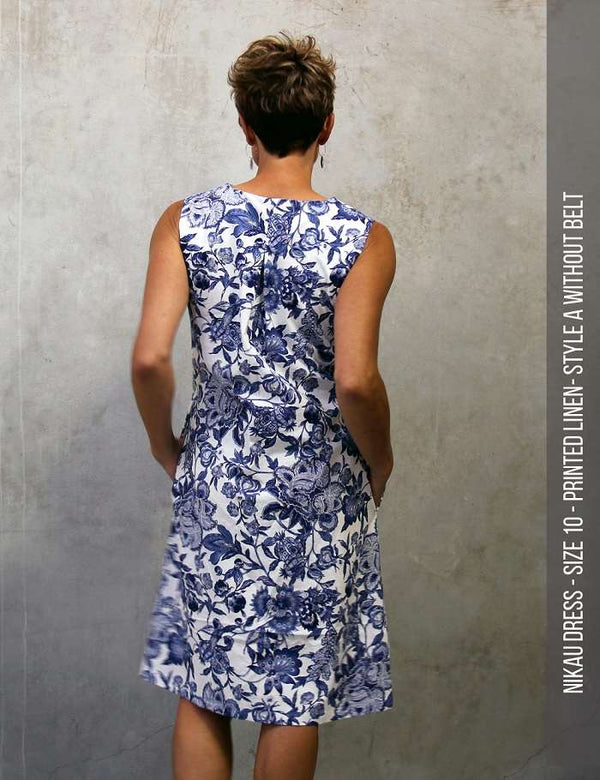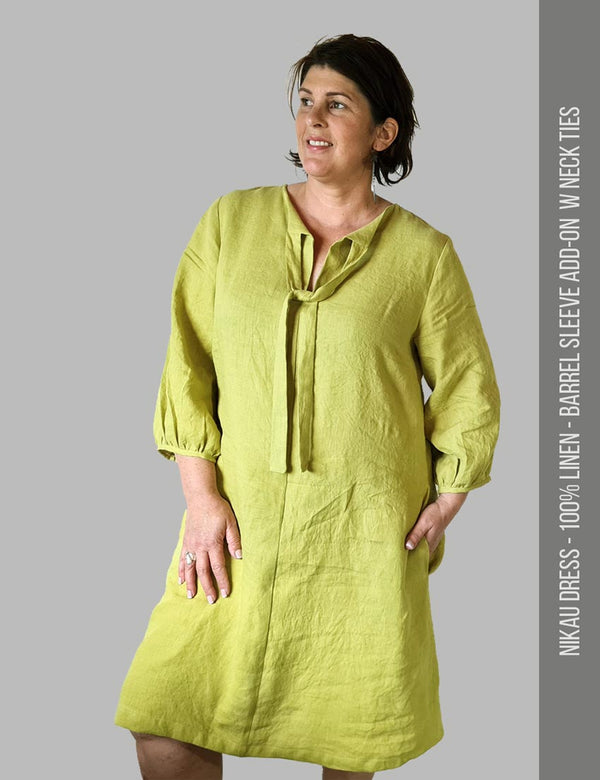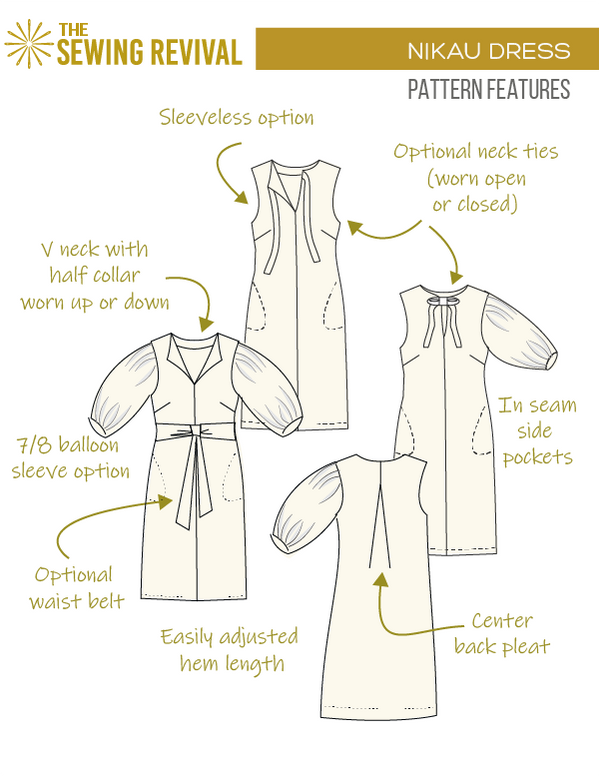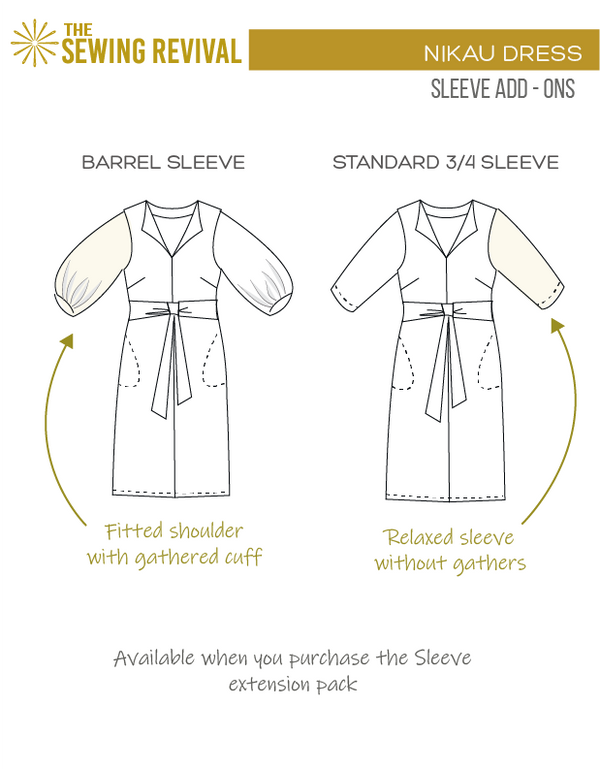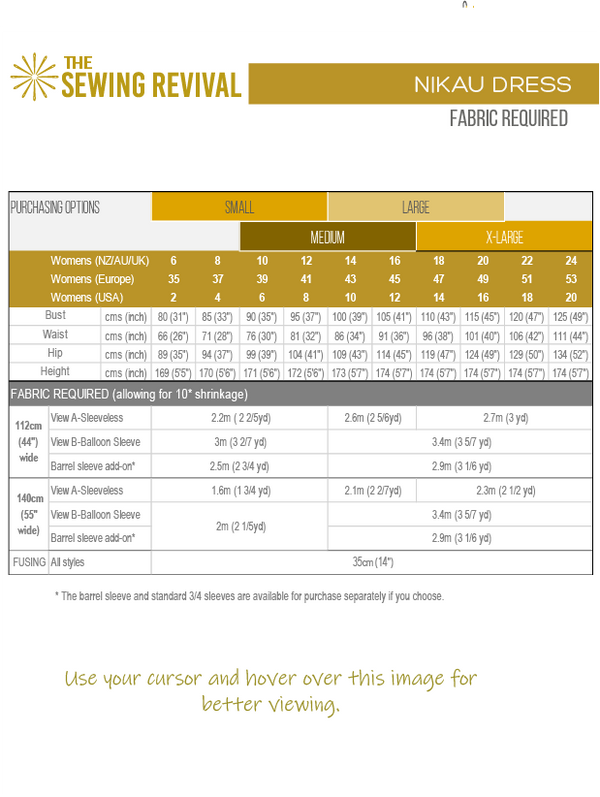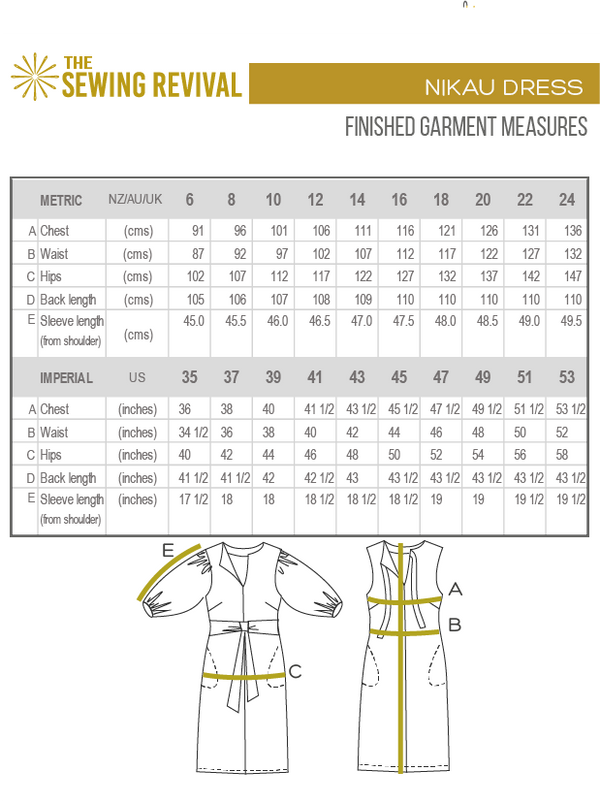 This pull on, open neck dress is a versatile all season staple with several mix and match style options.  Decide between the 3/4 featured balloon sleeve, wear your dress sleeveless or choose from 2 new sleeve options (the barrel sleeve or 3/4 standard sleeve - both purchased separately).
Professionally finished with a simple front facing, the collar can be worn folded or standing depending on your preference. Sew an optional waist belt or simply leave unbelted for a more casual and relaxed fit.

Beautifully cool in 100% cotton or linen for summer or sew in a wool or warmer woven for cooler months. 
This dress will take you from the beach to the board room.

PATTERN FEATURES:
In seam side pockets

3/4 balloon sleeve (gathered at both the shoulder and wrist) or sleeveless style options
Adding a barrel sleeve or 3/4 standard sleeve makes the Nikau dress extremely versatile (purchase separately as a sleeve Add On).
Easy sew combined neck and armhole facing for a professional looking finish (for the Sleeveless option)
Optional waist best

Collar can be worn folded open or standing

Watch the Video Tutorial on how to sew a combined neck and armhole facing
Share your makes on Instagram & Facebook tagging #NikauDress and @thesewingrevival
FABRIC
Please refer to the FABRIC REQUIREMENT CHART as one of the last images on this product listing. You can magnify this image if viewing it on a mobile phone whilst in a fabric store.
WOVEN fabrics : Most light to mid weight fabrics will work with the Nikau dress.
Linen, cotton and linen/cotton blends are highly recommended for summer. 
Wool blends and suiting or other mid weight wovens are great for winter.
DIFFICULTY
Confident beginner ready for the next step. Easy Intermediate (3/5).
SIZE & FITTING
The Nikau is a pull on dress that can be worn with or without a belt. It is neither fitted or too loose and easily graded between sizes (if you have a smaller bust and larger hips for example).
Each purchase comes with 4 sizes (please refer to the last image for size chart and international size comparisons):
Small - (NZ/AU/UK 6-8-10-12  | US 2-4-6-8)                   
Medium - (NZ/AU/UK 10-12-14-16  | US 6-8-10-12)      
Large - (NZ/AU/UK 14-16-18-20  | US 10-12-14-16)      
X-Large - (NZ/AU/UK 18-20-24  | US 14-16-18-20)       
PATTERN UPDATES

This pattern was updated on 8 October 2021 with the following changes:
* Optional neck tie was added
* Size range extended
* 2 more sleeve options were added (to be purchased separately)
   - Barrel sleeve (fitted at the shoulder and gathered at the forearm) - 3/4 length
   - 3/4 standard sleeve
* The double belt was removed

PATTERN HACKS

 The instructions provide tips on how to easily turn the Nikau dress into a top or shirt.
WHAT DO I GET WITH MY PURCHASE?
Please note you are purchasing a digital pattern that will be sent directly to your email inbox after payment. You can print this pattern at home on A4 or US letter-sized paper or take it to a print shop for large scale printing (AO size). *You will not receive a hard copy printed pattern.*
Instant download available immediately after checkout includes:

1. Instructions
2. PAH Pattern file (PAH=Print at home)
For printing in A4 or US Letter on a home printer. Printing at home (PAH) is the most cost-effective, and sticking your pattern tiles together to make your full size pattern is easy. Further information for printing at home can be found in our Resources section here. 
The number of pages to print for each size bundle:
Small - (NZ/AU/UK 6-8-10-12  | US 2-4-6-8)                   PAH*=37 AO=2
Medium - (NZ/AU/UK 10-12-14-16  | US 6-8-10-12)      PAH=40 AO=2
Large - (NZ/AU/UK 14-16-18-20  | US 10-12-14-16)       PAH=40 AO=2
X-Large - (NZ/AU/UK 18-20-24  | US 14-16-18-20)         PAH=41 AO=2
*PAH = Print-at-home pages (A4 and Letter)
*AO = large scale for printing at a Print Shop
 3. AO Pattern file
AO is a large scale file designed to be printed at a Print Copy Shop. You cannot print this on your home printer as it is too big. If you choose to use this large file you will pay extra to have it printed but you do not have to stick anything together.
You can use the ADOBE LAYERS FEATURE to open the PAH pattern file and print only the size you need (and eliminate the "noise" of the unwanted sizes). You can also use the URL and bookmark links within the file to quickly access information and support. Download Adobe Reader for free (for Windows and Mac) here.
Reviews
Customer Reviews
10/21/2023
Rita H.

Netherlands
Nikau dress
I missed a discription of the sewing order, and what fabric is best to use so that the dress falls beautifully .
10/21/2023
The Sewing Revival
Hello Rita, The recommended fabric is listed on page 3 of the Instruction file (and also under the FABRIC tab on the product listing) which is consistent for all our patterns. Sorry you missed them. I can also confirm that you received confirmation of the order and a second email with details about your order immediately after your purchase - and direct to your email inbox. If you ever have any trouble, please feel free to reach out directly to us via email so we can help. We strive to ensure all our customer experiences are extremely positive. Kind regards, Janine
06/23/2023
Sharon W.

United Kingdom
Classy looking dress
I made the sleeveless dress with tie belt from an old duvet cover, as a toile. This turned out great and I have worn it on holiday. I have also made the same dress in a lovely viscous which looks very classy. The pattern is easy to follow, and I will definitely be making more!
03/01/2023
Lynn P.

Australia
Nikau dress
Very good pattern goes together well. I am size 10 with small bust this pattern is great fit for me.
02/16/2023
Mary D.

United States
Lovely and Easy to Sew Dress
This was my first time using a pdf pattern and it was a success! The dress was easy to make. The pattern pieces were easy to put together and the instructions were easy to understand. I bought the optional extra sleeve pattern as well. I also appreciated that the seam allowances were included in the pieces. It was a great first experience and I will be using the pattern again and again!
09/13/2022
Maria R.

United Kingdom
Fabulous multi-option dress
This is an incredibly versatile dress pattern with lots of options for different sleeves and belts, so it is great value for money. I bought the barrel and straight sleeve add-ons so have 4 sleeve options altogether. I first made the sleeveless unbelted version in a medium weight linen, folding down the front neckline and it is a lovely day dress. I especially like the combined neck and armhole facing which gives a super neat finish and the pleat at the back adds interest. I then made the sleeveless double belted version, also in linen, and left the neck up which gives a much dressier version more suited to summer evenings out. I have plans to sew the barrel sleeved, single belted version in a drapier fabric for the UK autumn. I thoroughly recommend this pattern.
08/25/2022
Šárka D.

Czech Republic
Nikau dress
It was my first experience with the Sewing Revival pattern and I am excited. Dress has very elegant line and fits well. Instructions are clear and easy to follow.
07/02/2022
Anda R.

Latvia
Nikau dress pattern
Well sized for Large sizes. Great detailed instructions for begginer. Only one modification I did was to deepen pockets, so phone can be stored safely
06/23/2022
Heather B.

United Kingdom
A really elegant dress
Ordering was easy. The pattern is beautifully cut - such an elegant line. Instructions are excellent, like a mini-tutorial in themselves. The pattern is very versatile. Lots of options here from just the one pattern.
04/02/2022
Kay C.

New Zealand
Nikau Dress
Very happy with my dress great pattern to sew very straight forward with great results. I did do w few changes as it was a bit to full in the skirt for my liking so have put 3 tucks in the bottom and just one tuck on the sleeve. The add-on sleeve pattern is an excellent fight well done to the pattern makers. I will be making this dress again as it has so many options.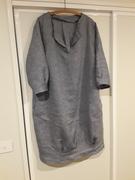 02/07/2022
Catherine F.

New Zealand
Gorgeous dress and easy to sew
The Sewing Revival patterns are my absolute favourites - they are easy to sew, come with great, clear instructions and create a beautiful dress to add to the wardrobe.
11/07/2021
Glenis D.

New Zealand
Nikau dress
This was the third Sewing Revival pattern I've used so you can see I'm hooked! I did have some trouble with the markings on the pattern for the pockets - notches not lining up correctly but it all worked out in the end. I put a small decorative button with loop at the neckline as it was a bit low for me and I don't want to wear a cami under it.
11/04/2021
Kerry W.

Australia
Nikki dress, lovely easy pattern
Lovely dress, comes together beautifully. Instructions easy to follow. Did no alterations except for length as I am short. Will definitely make a few more!
10/30/2021
Beth L.

Australia
Rear view
Hi I found the pattern quite easy - no problems really but I was disappointed that there weren't and back views of the dress either in photos or in sketch. As I didn't really want the pleat at the back.
11/07/2021
The Sewing Revival
Hi Beth, We do include garment sketches on all the product listings as well as all views. The back pleat is clearly marked on the pattern sketch and there is a rear view image visible is you scroll through the images. I am sorry it wasn't obvious.
10/30/2021
Loreen K.

Canada
I made the Nikau Dress
I was thrilled to get the expanded size of the Nikau Dress and the expansion pack with two more sleeve options. Overall the pattern was good with just a small problem of markings on the side seams that didn't match. I added the 3/4 length sleeve which is a nice length but a little too wide at the elbow, so I'll just take the seams in about 1 1/2 inches. Other than that, the Nikau Dress is an easy dress to sew and wear, so much so that I can see this becoming my 'uniform' this winter and have a couple of more planned in various lengths.
10/27/2021
Moira B.

United Kingdom
Nikau dress
Can't say as I haven't made the dress yet but I loved the pattern
10/25/2021
Monica P.

South Africa
Nikau Dress
I really do like the fit of this pattern and it certainly will become a staple in my wardrobe - easy to follow instructions and I particularly like the additional sleeve pattern. Great design.
09/14/2021
Lana G.

Australia
Nikau Dress
I loved this pattern and thought the instructions were very easy to follow and with well detailed finishes. I chose the option without a belt and was hoping you might give me a tip on how to fix the bubble it creates at the back.
09/21/2021
The Sewing Revival
Hi Lana, please send us a photo of your "bubble" so we can see what you mean. Either email us at info@sewingrevival.co.nz or send you pic via social media DM function. Kind regards, Janine
09/03/2021
Maria

United States
Great Summer Dress
I made a wearable muslin of this pattern (sleeveless version) using a printed fabric. It went together so quickly! The pattern was easy to adjust for petite alteration. I am planning to sew anothe one using a solid linen to show off the nice details like upper back pleat, front V opening and belt more accurately. Perfect for all skill levels!
08/25/2021
laura S.

New Zealand
Love the Puffed Sleeves
I love this dress! The versatility of the different sleeve and belt options means I have already made 3 different dresses!