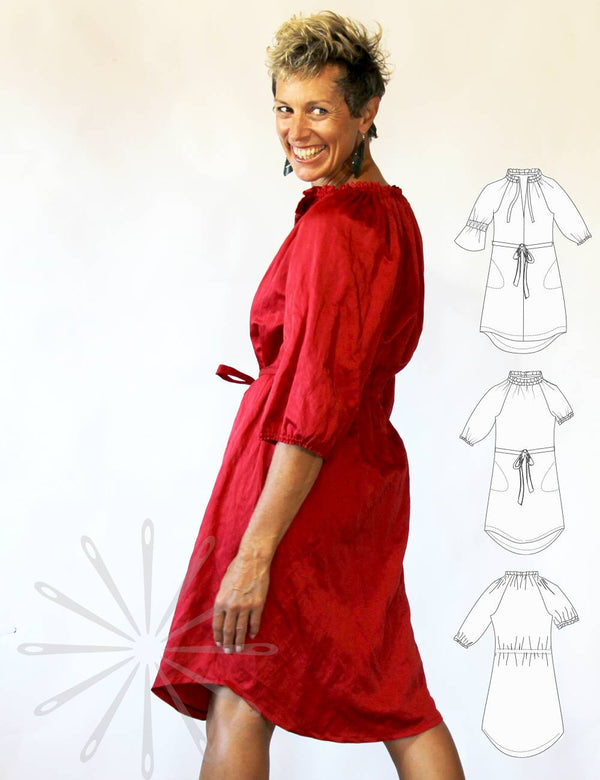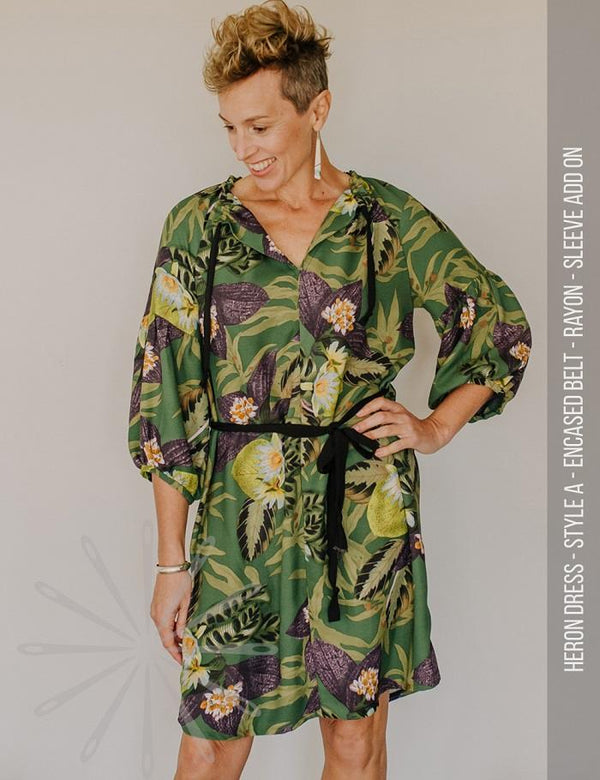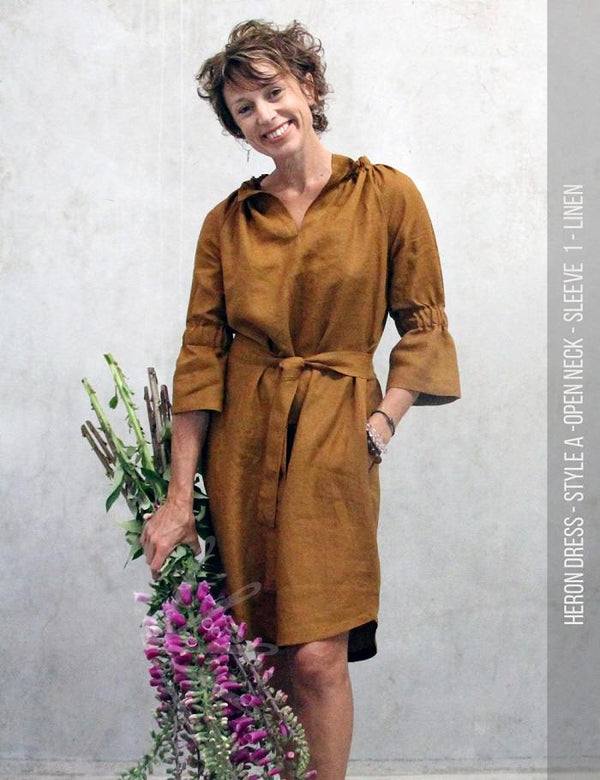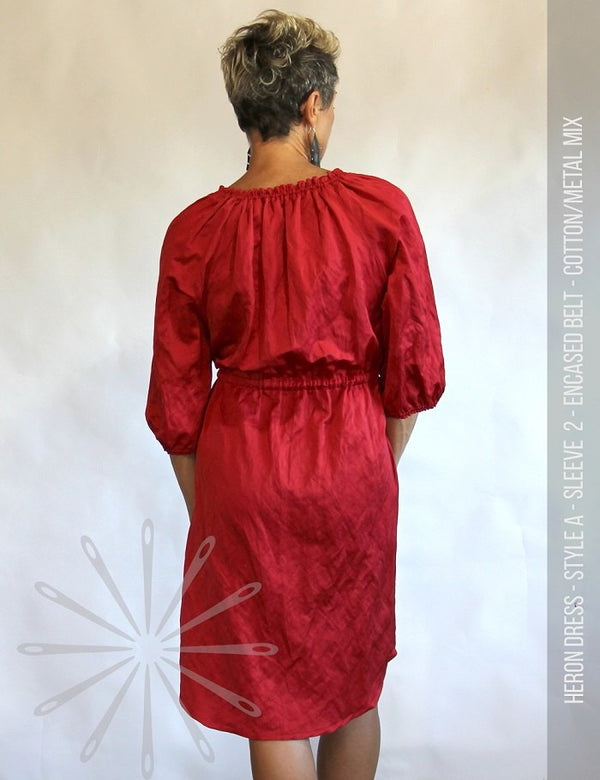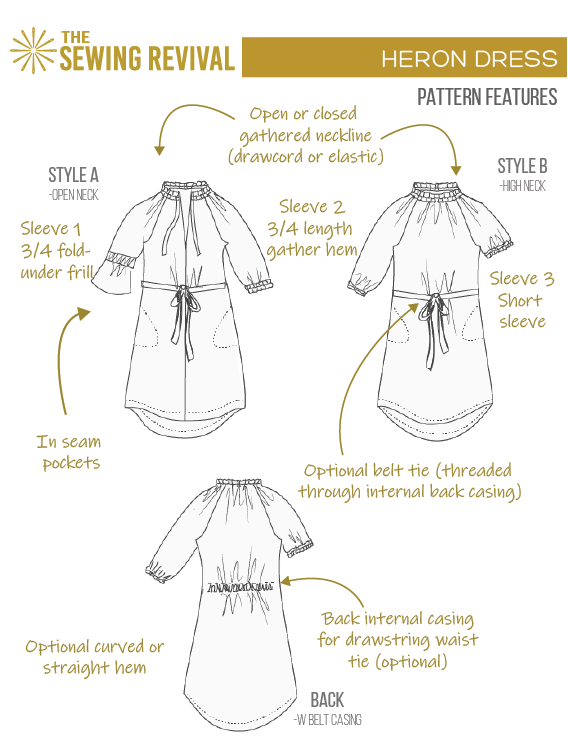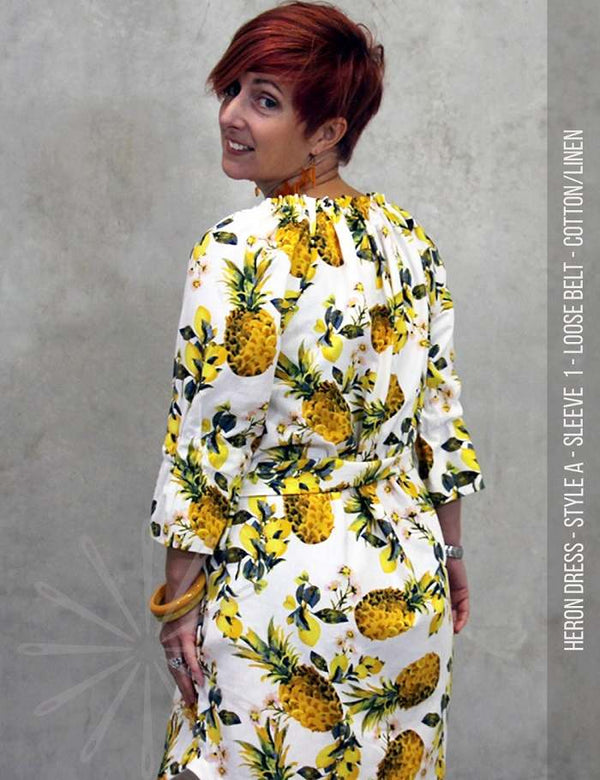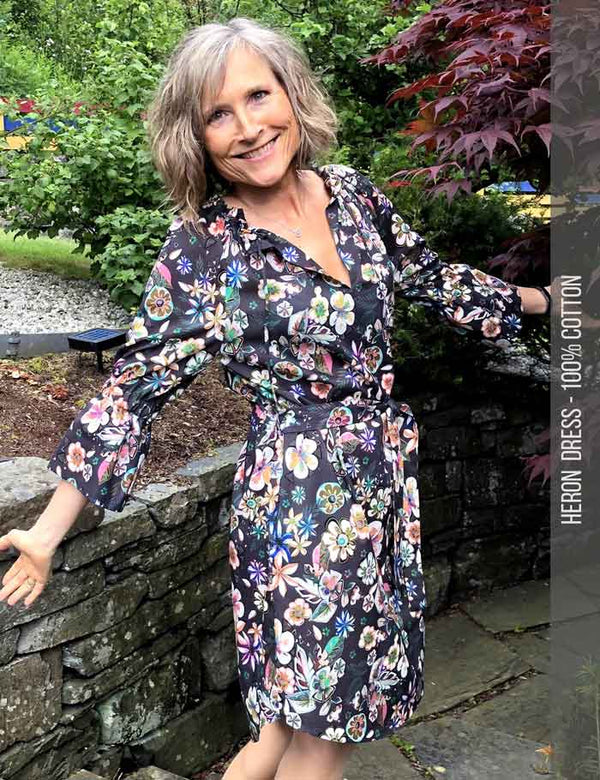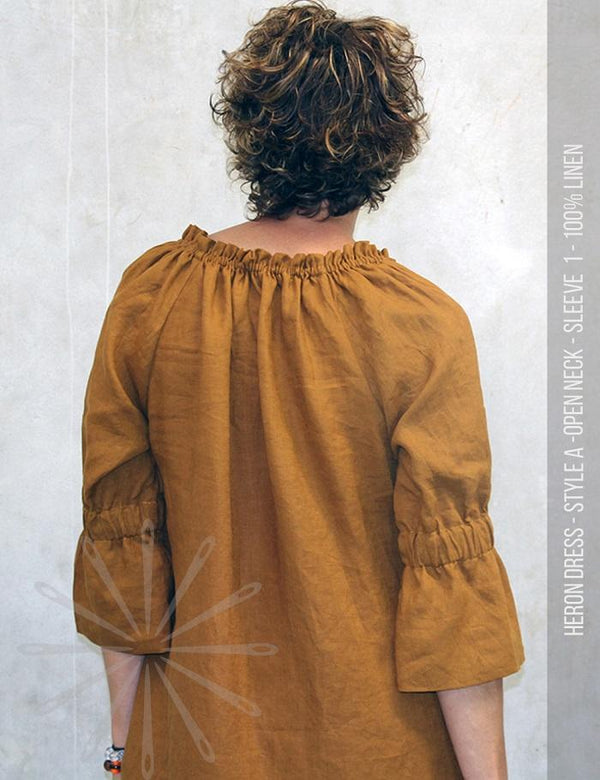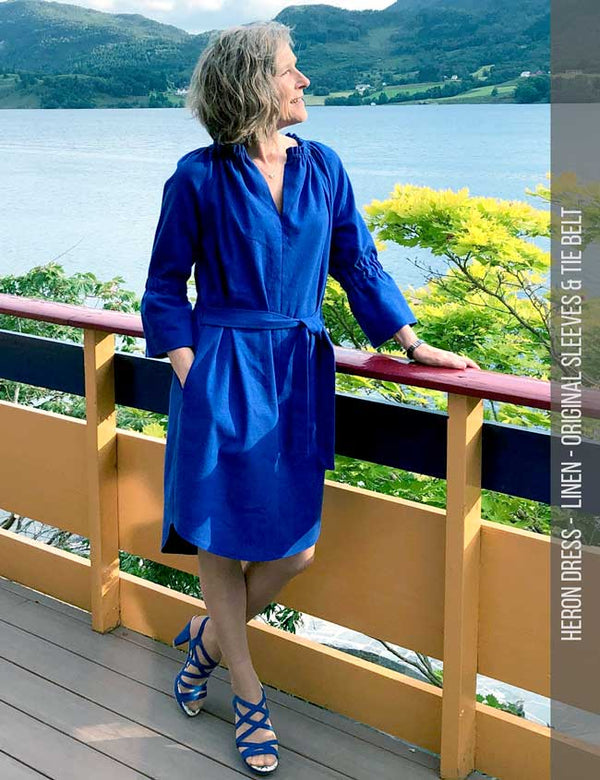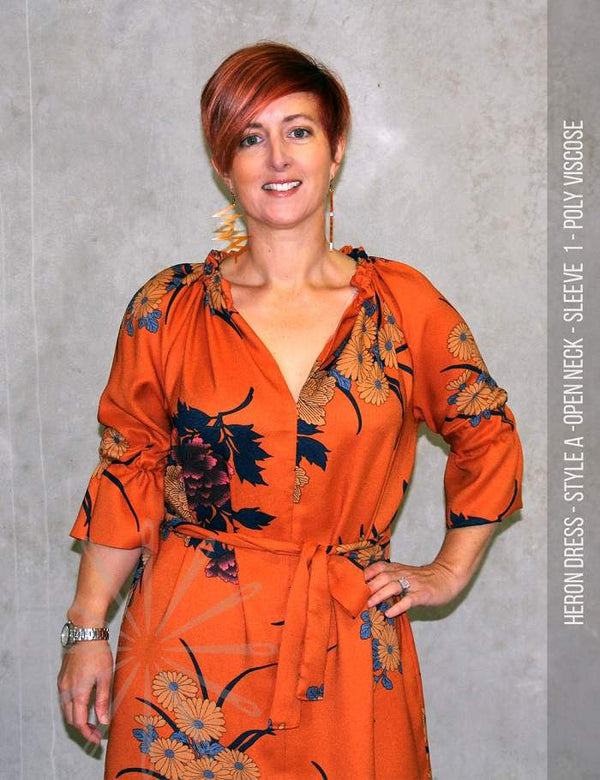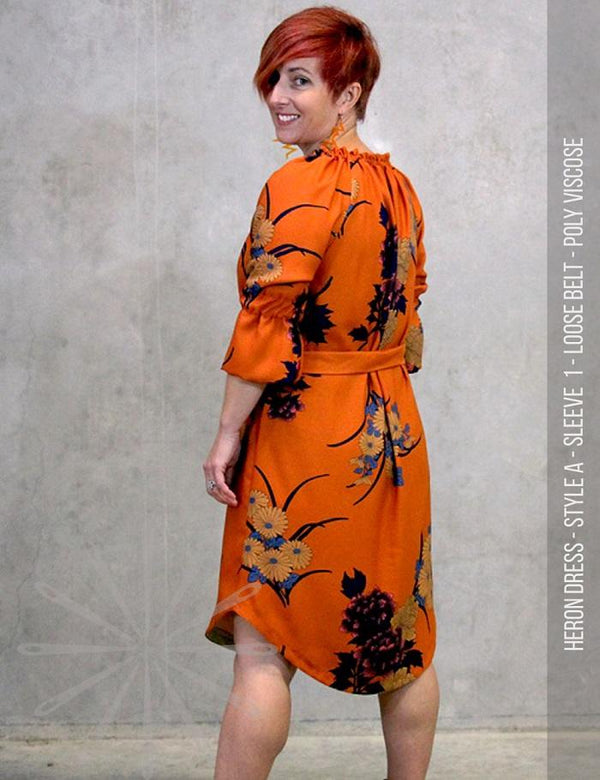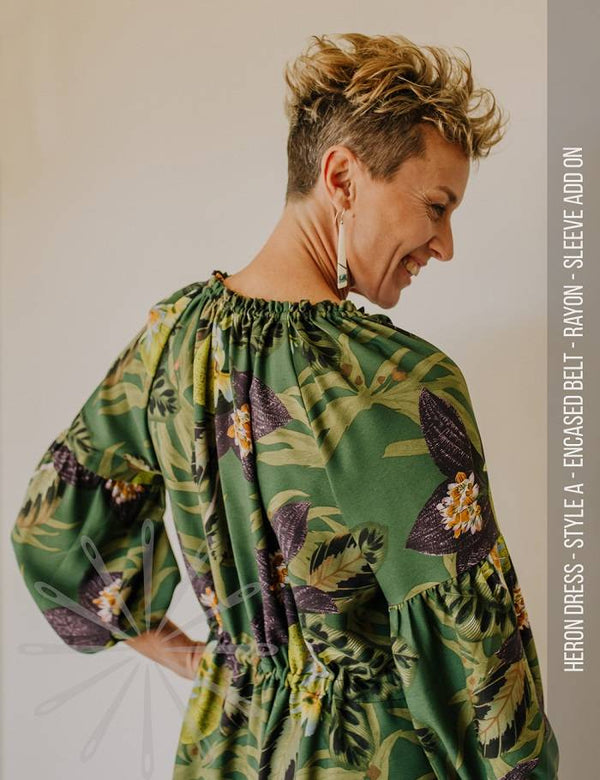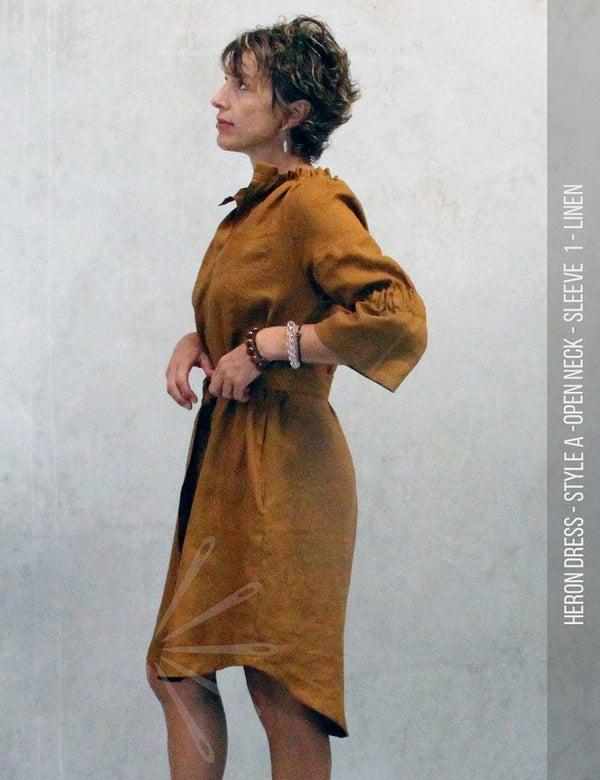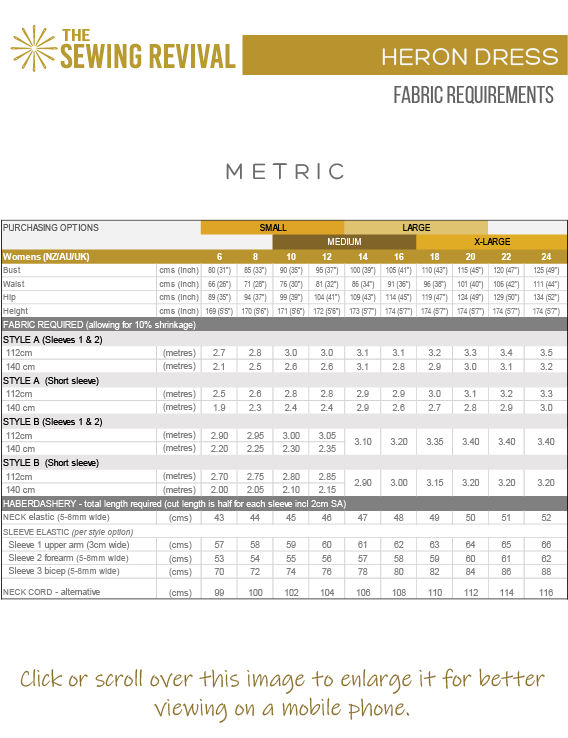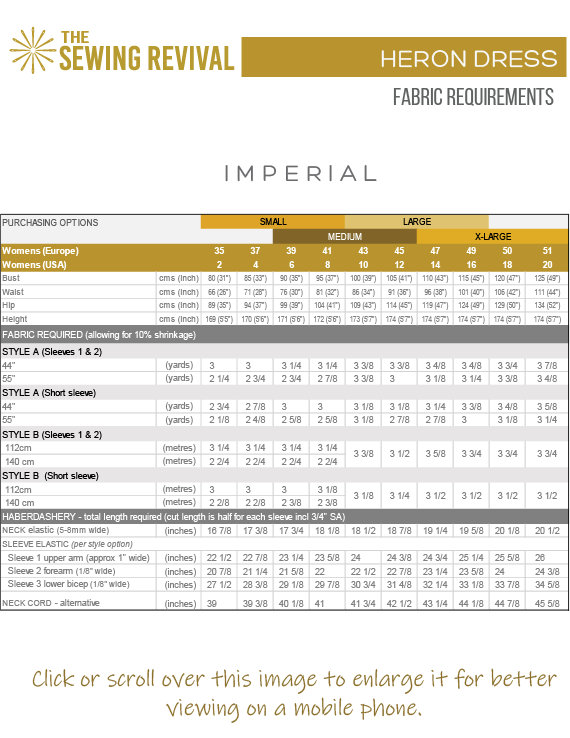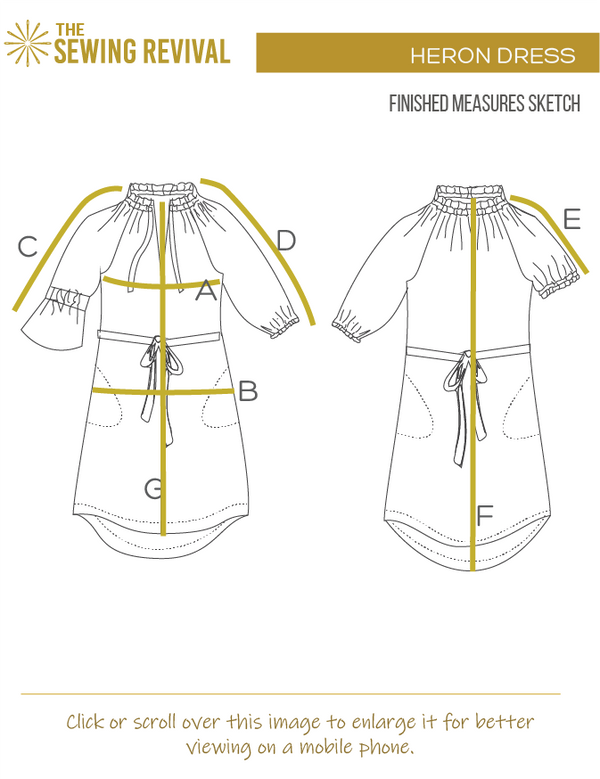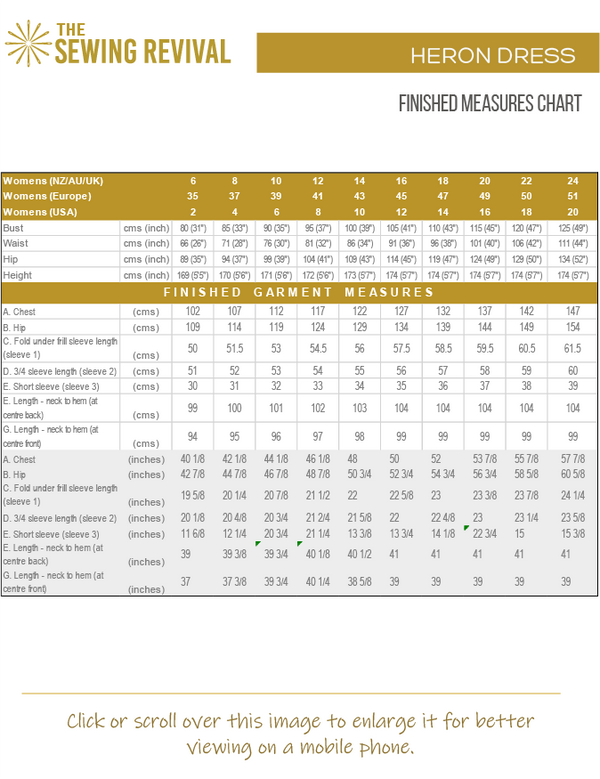 This dress is an easy intermediate or for confident beginners ready for the next step.  The open gathered neckline is easy to sew and the sleeves add a little something different and feminine. The Heron Dress is a go-to all season dress (choose your fabric for the season).
The Heron Dress is a sister to the Heron Shirt with different sleeve options that are interchangeable. Choose the Sleeve Add On option to add the 2 piece gathered sleeve.
PATTERN FEATURES:
2 neckline options (gathered open V or high gathered) 
3 sleeve options (plus sleeve add-on)

Flattering curved hemline (easily finished with bias tape).
Internal side pockets
Waist tie belt (with or without rear belt casing)
Shorten the hem to create a tunic dress
Easy pattern hack to add tiers to your dress here
Share your makes on Instagram & Facebook tagging #HeronDress and @thesewingrevival
FABRIC
Please refer to the FABRIC REQUIREMENT CHART as one of the last images on this product listing. You can magnify this image if viewing it on a mobile phone whilst in a fabric store.
WOVEN fabrics : Most light to mid weight woven fabrics will suit this dress.
We recommend rayon, light-mid weight linen, linen, cotton and blends, crepes and cotton/silk blends for summer.
DIFFICULTY
Confident beginner ready for the next step. Easy Intermediate (3/5).
SIZE & FITTING
Each purchase comes with 4 sizes (please refer to the last image for size chart and international size comparisons):
Small - (NZ/AU/UK 6-8-10-12  | US 2-4-6-8)                 Pages =29 AO=2
Medium - (NZ/AU/UK 10-12-14-16  | US 6-8-10-12)      Pages =33 AO=2
Large - (NZ/AU/UK 14-16-18-20  | US 10-12-14-16)      Pages =35 AO=3
X-Large - (NZ/AU/UK 18-20-24  | US 14-16-18-20)       Pages =39 AO=3
PATTERN UPDATE

19 September 2022:
The bottom section of the 2 piece sleeve (add-on) was reduced in size after customer feedback that it was too voluminous (and re-testing at our end). If you have already printed this pattern piece (number 5), you can easily adjust the width by following the instructions here.

If you purchased and printed after 19 September 2022 you will have the updated version of this pattern and no adjustments are required.





WHAT DO I GET WITH MY PURCHASE?
Please note you are purchasing a digital pattern that will be sent directly to your email inbox after payment. You can print this pattern at home on A4 or US letter-sized paper or take it to a print shop for large scale printing (AO size). *You will not receive a hard copy printed pattern.*
THE HERON DRESS has slightly different sleeve offerings to the HERON SHIRT. With the dress pattern you receive the following sleeves:
* 7/8 length gathered sleeve
*Short sleeve
*7/8 fold under gather with frill
You can purchase the 2 piece gathered sleeve as an ADD ON.
Instant download available immediately after checkout includes:

1. Instructions
2. PAH Pattern file (PAH=Print at home)
For printing in A4 or US Letter on a home printer. Printing at home is the most cost-effective, and sticking your pattern tiles together to make your full size pattern is easy. Further information for printing at home can be found in our Resources section here. 
3. AO Pattern file
AO is a large scale file designed to be printed at a Print Copy Shop. You cannot print this on your home printer as it is too big. If you choose to use this large file you will pay extra to have it printed but you do not have to stick anything together.
You can use the ADOBE LAYERS FEATURE to open the PAH pattern file and print only the size you need (and eliminate the "noise" of the unwanted sizes). You can also use the URL and bookmark links within the file to quickly access information and support. Download Adobe Reader for free (for Windows and Mac) here.

Reviews
Customer Reviews
11/05/2023
Moira Y.

New Zealand
love the design. sizing was alittle large, but now realize I am a 10 in your patterns
07/10/2023
Janine K.

Australia
Heron dress
Have made a toile which I am very happy with. The pattern was easy to put together. Currently searching for the perfect piece of fabric to make it.
11/09/2022
Jan R.

Australia
09/01/2022
Linda K.

United States
Love this dress.
This is my favorite dress. It is simple yet stylish because of the beautiful neckline. The belt channel is unique and makes this a great style for an apple shape. I made one in a cotton voile and another in rayon challis.
05/27/2022
Margaret E.

Australia
Heron Dress…a good basic pattern
Downloaded easily. Clear instructions. Pattern peiced together well. Yet to make up.
04/30/2022
Lynne A.

New Zealand
The long and the short of it... the Heron Dress
I loved sewing this dress! The instructions, including pattern layout were very easy to follow. I originally chose the scalloped - shirt bottom ending, and found it made it a little short for me (short is a good description, both of myself and the length), so I added a gusset in the middle to make it a straight hem. I've seen a similar dress with a gathered flounce around the bottom, so I think I might add this when I make the dress again - yes, it's certainly a dress you would want to make again. Choosing the dress pattern also means you can make the Heron shirt as well. It's also good to buy the additional sleeve options. Thanks Sewing Revival!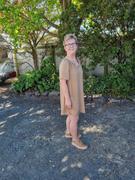 04/10/2022
Monique W.

New Zealand
Lovely well cut pattern
Great pattern, easy to follow for me as a reasonably experienced sewer. Love the modern design and different sleeve options. Great to be able to buy NZ made patterns :)
10/03/2021
Jeanette R.

South Africa
HERON PATTERN
Quick and easy. I had no problems with the printing nor with the making of the dress. Its a very easy pattern.
08/23/2021
Elin A.

Norway
06/28/2021
Laura R.

United States
Fantastic Heron Dress Pattern
Great easy to follow pattern. Will definitely purchase from you again!
06/03/2021
Jenny G.

United Kingdom
Feedback
I would prefer a paper pattern tbh even though it can be printed
05/26/2021
ANITA V.

United States
Easy to sew
I just recently got back into sewing clothes. The Heron dress pattern was cute and could be very casual. The pattern directions were clear and the links to help were, well, very helpful. I ended up having to go back and make the dress smaller but that was pretty easy to accomplish with the center front seam.
03/03/2021
Tracy S.

New Zealand
Love it!
Love this dress! I've made two dresses and shortened it to make a shirt.
09/24/2019
Keri A.

Australia
Stunning Pattern
The pattern looks good but I haven't had a chance to make it up yet. Printing was easy and painless. :)
Heron dress.
I purchased the pattern to make my sister a dress. It's a style she would love. So when I make it I will post some photos. Just checking out the pattern I may not elasticate the entire front neckline. I may feed chords through the front channels to allow the front neckline to be gathered randomly. Just an idea.
Great as i had Jane
Great as i had Jane Gilder to help me. I am in one of her classes.
heron dress in viscose/linen mix
I'm delighted with my first finished dress and I look forward to getting plenty of wear from this one, which will be quickly followed by another! I love the collar and sleeve elasticated details, and they are so quick to achieve, no laborious pulling up gathering stitches! very happy