A special sleeveless top that is easy to sew with a designer twist. The center front hem gather adds unique interest and the lowered back hem ensures the top is flattering around the derriere. A lovely line is created from the center front down along the hip and around the rear hem creating a "fantail". The Fantail Tank is a simple sew and the curved hem made easy with bias binding.
Perfect on a hot day worn with shorts or to an evening BBQ with jeans or summer trousers.
Easy. Different. Flattering.
STYLE OPTIONS: Round neck and "V" neck
Share your makes on Instagram & Facebook tagging #FantailTank and @thesewingrevival
FABRIC
Please refer to the FABRIC REQUIREMENT CHART as one of the last images on this product listing. You can magnify this image if viewing it on a mobile phone whilst in a fabric store.
WOVEN fabrics : We recommend cotton, rayon, viscose, polyester crepe and light weight linen. Refer to the product images noting how the different fabrics respond to the center front gather. A crisp cotton gives a lovely gather definition, whilst a softer draping fabric like rayon produces a softer gather.
Our samples are made up as follows:
Main image- round neck option in mustard linen
Grey V Neck version is cotton/polyester blend
White Round Neck in cotton lawn
DIFFICULTY
Confident Beginner | Easy Intermediate (4/10).
The Fantail Tank can be sewn with or without an overlocker (serger) to neaten the seams.
SIZE & FITTING
Select your size and you will also receive the sizes above and below to allow for grading between if you need. This pattern is a loose fit, so you might like to err on the smaller size if you are having trouble deciding. Refer the Size Chart for help if you need. 

This PDF pattern is available in bundles of 3 sizes (please refer to image number 14 for the size chart):  
 UK|AU|NZ 8-12   and  US 4-8                PAH x 23 | AO x 1 pages
 UK|AU|NZ 10-14   and  US 6-10            PAH x 26 | AO x 1 pages
 UK|AU|NZ 12-16 and  US 8-12              PAH x 27 | AO x 1 pages
 UK|AU|NZ 14-18  and  US 10-14           PAH x 28 | AO x 1 pages
 UK|AU|NZ 16-22   and  US 12-18          PAH x 30 | AO x 1 pages
WHAT DO I GET WITH MY PURCHASE?
After your payment is processed you will receive an email with links to instantly download the following:
1. Print-at-home file including instructions (on A4 or letter paper). This file includes instructions on how to sew up the Fantail Tank, links to a video tutorial and the Pattern Tiles to print and compile at home. This file lets you get started immediately.
Opening the file in ADOBE READER will maximize the pattern features (Layers feature will allow you to print only the single size you need).  You can also use the URL and bookmark links within the file to quickly access information and support. You can download Adobe Reader for free (for Windows and Mac) here.
and;
2. CopyShop(AO size) . This file contains the pattern in your chosen sizes in the large AO size. Take this file to your local Print Shop if printing & compiling at home is not your thing.
Reviews
Customer Reviews
07/10/2022
Angela G.

Germany
Fantail tank
Great pattern for a summer shirt, love the front gathered hem and longer back.
07/04/2022
Elizabeth D.

United States
Super Cute Top
This pattern sews up nicely and looks super cute on. I've made two so far - one in 100% cotton and one in broadcloth. I sewed a size down because it seemed really full in the bust. I also cut the elastic a little longer so the fantail would lay smoother in the back. I'm looking at ordering the full sleeve version for Fall sewing. It would be great made in flannel.
06/05/2022
Natasha T.

Canada
Easy to make top
I LOVE this pattern and didn't think it was so easy to make. I'm not experienced with sewing and found the instructions super easy to follow. I also learned a new technique, the burrito method, which is super cool. I will definitely be making more of this top and have just bought the full arm length pattern so can't wait to try it out.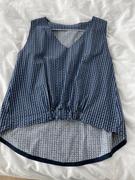 05/24/2022
Ulrike B.

Germany
Love it!!
Very well described and super easy by step instruction - with photos! Would buy it again!
02/27/2022
Kay C.

New Zealand
Fantail top
I really loved making this top. I leant a new technic which worked great. I was very pleased with the finished product. The only thing I have found that I am very full in the bust so the length of the top in the front is a little shorter than I like, so am trying to work out how I can change this so I can make the top again.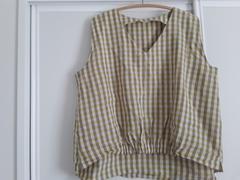 03/01/2022
The Sewing Revival
Hi Kay, Refer to the shorten/lengthen line on the bodice pattern to extend the length of your top. Refer page 5 for instructions on how to do this - or check out our on line tutorial from the link below: https://thesewingrevival.com/blogs/tips-tricks/adjusting-length Kindest regards, Janine
02/26/2022
S C.

New Zealand
01/30/2022
Paula

New Zealand
Love this pattern
This tank top is fantastic. Came together easily, the burrito method makes for such lovely neck line and arm holes. Feel great wearing it. I will go down a size for my next one.
12/07/2021
Sylvia D.

Australia
Fantail tank top
Love this top it came together quickly I have made two already more come
11/09/2021
Kaz

New Zealand
Super comfortable and stylish
Easy to make for a confident beginner. I conquered the burrito and learnt something new! I'm between sizes and after having read the other reviews, made the smaller size which fits perfectly. I chose blue linen for this one.
11/16/2021
The Sewing Revival
Great job Kaz. Your new Fantail Tank looks fantastic (thanks for sharing a photo to inspire others).
10/28/2021
Sue H.

New Zealand
Fantail Tank
I have made two now. I think this would be one of my favourite patterns. I did find the top was a bit big so went down a size with the second one and then graduated it back out for the hip area. The instructions are clear and I love the burrito method (I think that is the correct name) I think it is alot easier and neater than sewing facings the normal way. I am not an experienced sewer so if I can do it anyone can.
10/13/2021
Alice T.

New Zealand
Fantail Tank
Great. I love this tank. Easy to make and great instructions. I've made two so far and love them.
08/20/2021
Robin B.

New Zealand
Fantail Tank
I thoroughly enjoyed making this top. I learnt a new technique - the Burrito method for attaching a combined neck and armhole facing. I found the photos and instructions very clear to follow. Often I find tank top/singlet armholes to big, and a bit to revealing, but these ones were perfect for me. I really liked the front elastic band. I will definitely be making this tank top again.
08/06/2021
Sandra H.

Germany
Great pattern. Very detailed instructions. Love it :-)
Easy and quick to sew once you decided on the fabric... Very helpful instructions, many fotos.
08/05/2021
Lorraine M.

United Kingdom
Fantail Tank
Clear instructions. Lovely design which friends have admired.
08/04/2021
Frances H.

Australia
Nice singlet top.
Great. Love the sizing.
08/04/2021
Amrit D.

United States
I love the patterns.
It's probably my fault but I think I should have ordered a set a size down. I'm between sizes. It's a lovely pattern though.
07/18/2021
Catherine O.

Canada
Fits large. Instructions are very good.
My measurements are the same as XS. USA size 4. To fit, I needed to make the following adjustments to pattern. narrowed shoulder by 1 inch took in side seams by 1.5" ( 6" total) shortened by 2" I am 5.1" and weigh 105 lbs.
07/18/2021
Caroline G.

United States
Fantail Tank
I love my tank - it is modern, easy and fast to sew. I also really appreciate your advice when it came to pick the size.
07/13/2021
Ann R.

United States
Fantail Tank
Unable to download the pattern. I reached out to you and did not get a response. My plan was to buy another pattern. If I cannot download a pattern I cannot purchase from you. Thanks Annie
07/14/2021
The Sewing Revival
Hello Ann, Our records tell us you have in fact downloaded the pattern files on 4 July. You clicked the download link three times for both the AO (Large scale for Print Shop only) and PAH (Print-at-home) pattern file which includes the instructions (maybe you did this on your phone without realizing?). As soon as you click the download link, the files appear in the bottom LH corner of your screen (it's easy to miss this if you have not done this before). The idea is to click it and open the file and then save this to your computer (these instructions are on order confirmation and download emails you have received). Once you click "download" the files are also automatically saved on your device (that's why we recommend you do this at least once on a laptop or desktop not a mobile phone). Please take a look in the Downloads folder (or sometimes the Document folder) or complete a search on your device to locate the files. You can always email us at info@sewingrevival.co.nz for more help if you require. Kind regards, Janine
07/02/2021
Maitland C.

New Zealand
Fantail Top - Loved it
Learnt a new technique for sewing the armhole facings - thanks. Great design. Loved it. Easy to sew and get done in an afternoon. Made for some winter layering but will definitely sew some summer versions too.