A special top that is very easy to sew with a designer twist.

Neck facing with elastic sleeve cuffs, this top is unique and classy. Dress it up and wear it to work or with shorts and jeans for smart casual weekend wear. 
Versatile. Easy. Stunning. A very popular pattern.

STYLE OPTIONS: Round neck and "V" neck
Share your makes on Instagram & Facebook tagging #BellbirdTop and @thesewingrevival
FABRIC
Please refer to the FABRIC REQUIREMENT CHART as the last image on this product listing. You can magnify this image if viewing it on a mobile phone whilst in a fabric store.
WOVEN fabrics: Fabrics with a soft drape work best for the Bellbird Top.
We recommend rayon, silk, viscose, tencel, crepe and polyester (incl chiffon). Lightweight linen, cotton and cotton blends work OK, but stiff cottons will not get the best results.

Our samples are made up as follows:
Grey - polyester chiffon
Salmon pink floral (V Neck pic) - rayon
Cream with floral pattern - polyester
Blue & pink floral - 100% lightweight cotton
Red & black - nylon
DIFFICULTY
Confident Beginner (2/5).

The Bellbird Top is very simple and able to be sewn with or without an overlocker (serger) to neaten the seams.
 SIZE & FITTING
This is a loose-fitting garment. If you prefer it to be a little less "roomy" or you are "in-between" sizes then we suggest you make up the smaller size. 
This PDF pattern is available in sizes NZ/UK/US 6-22  (US2-18).
Each purchase comes with 4 sizes (please refer to the last image for size chart and international size comparisons):
Small:      (NZ/AU/UK 6-8-10-12  | US 2-4-6-8)
Medium: (NZ/AU/UK 10-12-14-16  | US 6-8-10-12)
Large:      (NZ/AU/UK 14-16-18-20  | US 10-12-14-16)
X-Large:  (NZ/AU/UK 16-18-20-22  | US 12-14-16-18)
WHAT DO I GET WITH MY PURCHASE?
Please note you are purchasing a digital pattern that will be sent directly to your email inbox after payment. You can print this pattern at home on A4 or US letter-sized paper or take it to a print shop for large scale printing (AO size). *You will not receive a hard copy printed pattern.*
Instant download available immediately after checkout includes:

1. Instructions
2. PAH Pattern file (PAH=Print at home)
For printing in A4 or US Letter on a home printer. Printing at home is the most cost-effective, and sticking your pattern tiles together to make your full size pattern is easy. Further information for printing at home can be found in our Resources section here. 
A4 or US Letter pages to print:
Small & Medium size bundles=11 pages 
Large & X-Large size bundles=12 pags
  
3. AO Pattern file

AO is a large scale file designed to be printed at a Print Copy Shop. You cannot print this on your home printer as it is too big. If you choose to use this large file you will pay extra to have it printed but you do not have to stick anything together.
You can use the ADOBE LAYERS FEATURE to open the PAH pattern file and print only the size you need (and eliminate the "noise" of the unwanted sizes). You can also use the URL and bookmark links within the file to quickly access information and support. Download Adobe Reader for free (for Windows and Mac) here.
 All size bundles require only 1 x AO sized sheet.
Reviews
Customer Reviews
05/27/2022
Sonya

Canada
Easy and classic style
I just started sewing again after 40 years and this top is a perfect project to get back in the game. Easy to print, cut and sew. Clear and simple directions. I will definitely be buying more Sewing Revival patterns,
05/19/2022
Kay C.

New Zealand
Bellbird Top
Love the top was easily to put together and have had lot a nice comments
05/12/2022
Lee M.

New Zealand
Bellbird Top
I love this top. I have made two. So easy to make and looks amazing!
05/03/2022
Kim M.

New Zealand
Bellbird Top
Great instructions to follow, really great top to sew up quickly. Extremely versatile for different fabrics. Look forward to making many more.
04/18/2022
lisa B.

New Zealand
04/05/2022
Pamela B.

Australia
Bellbird Top
Very easier to use and great instructions. Perfect for the beginner sewer.
03/21/2022
Charlotte J.

Denmark
02/27/2022
Sandi

United States
01/28/2022
Kaye B.

New Zealand
Bellbird top pattern pdf
The top turned out well and I'm very pleased with it. It was an easy sew. The instructions were good, but I did a couple of things differently - under stitched the facing, as well as topstitching the edge of it and I stitched both edges of the elastic casing.
01/21/2022
Mary M.

Australia
Bellbird Top
Easy sewing. Great look. I have made it up twice already
12/07/2021
Lisa H.

Australia
Bellbird Top
Wonderful pattern, easy to follow instructions, true to size. I loved it so much I have already made 2.
12/06/2021
Rochelle F.

New Zealand
Bellbird top
Easy pattern and stying was great
12/05/2021
justine H.

New Zealand
Awesome
Great pattern - so easy to follow - my daughter smashed out one of these in no time for me and we have made 3 more since! Looks great on.
11/11/2021
Donna E.

Australia
Pleasing result
My first Bellbird Top and it turned out better than I could have hoped for! So good in fact that I made another one the next day. Definitely give this pattern a go if you are wondering 'can I sew a top?' .. You can sew this one!!!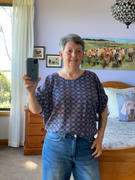 11/16/2021
The Sewing Revival
Thanks for the photo and kind words Donna. So glad you love it.
11/08/2021
Linda H.

New Zealand
Bellbird Top
With a little hiccup printing the pattern (that I will put down to user error and not the pattern)but communication with Janine at the time was very quick and easy. As I have very limited sewing experience I am very happy with the top, the instructions were very easy to follow and understand. Had a small problem with the sizing but put this down to inexperience. I am more than happy how the final product turned out, and how easy it was to put together, will definitely be purchasing further patterns.
11/03/2021
melanie G.

New Zealand
Bellbird Top
Really enjoyed making this pattern into a top,nice and easy with very clear instructions.A lot of fun.
09/27/2021
Tania Y.

New Zealand
Good basic
Very basic pattern, didnt take long to make.
08/05/2021
Susan H.

New Zealand
07/16/2021
Michele P.

United States
06/10/2021
Gail D.

United States
Quick and stylish!
I finally found the time to put this top together! Just a couple of hours and done! I am going to make a bunch of these....so comfy for summer! Thank you!