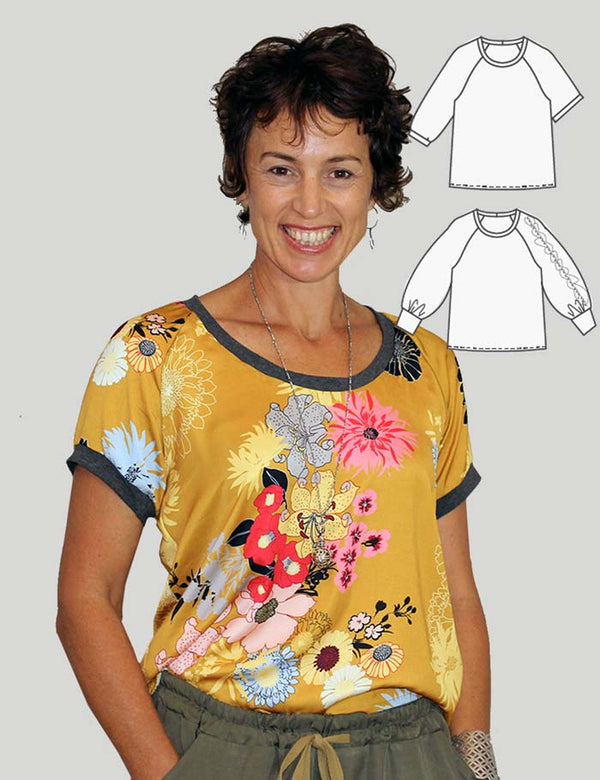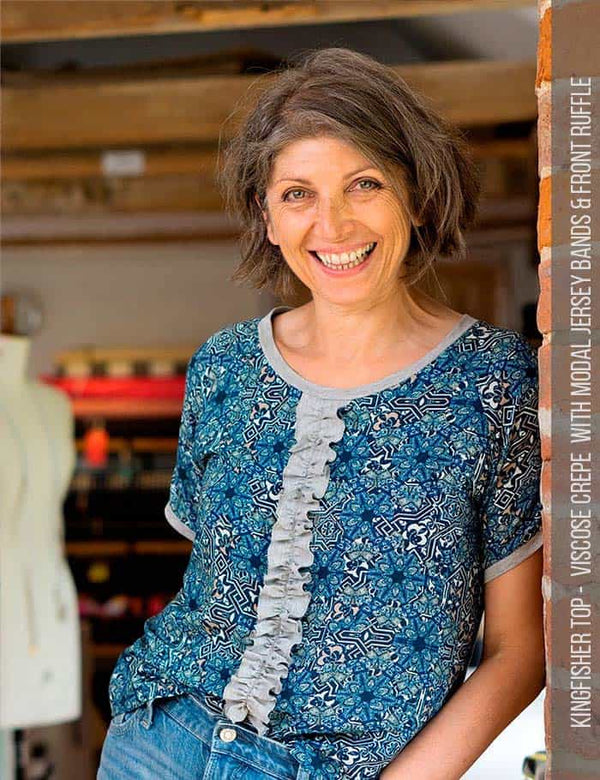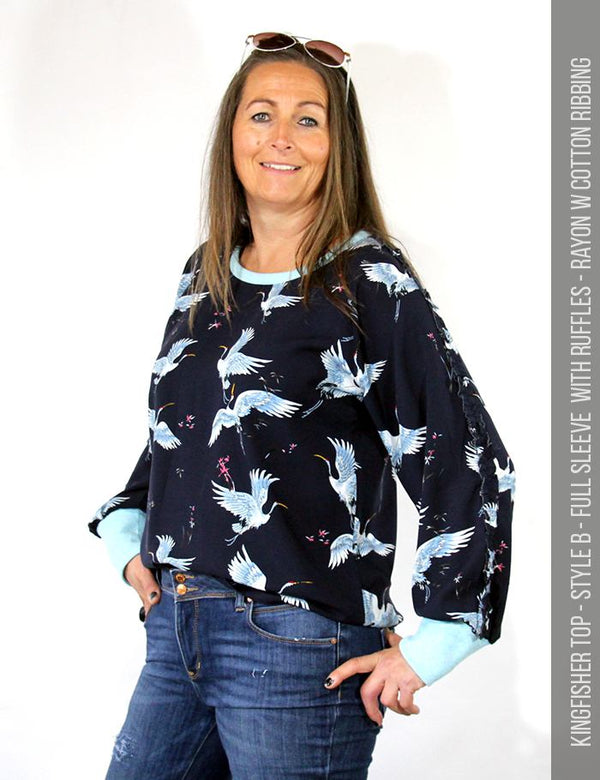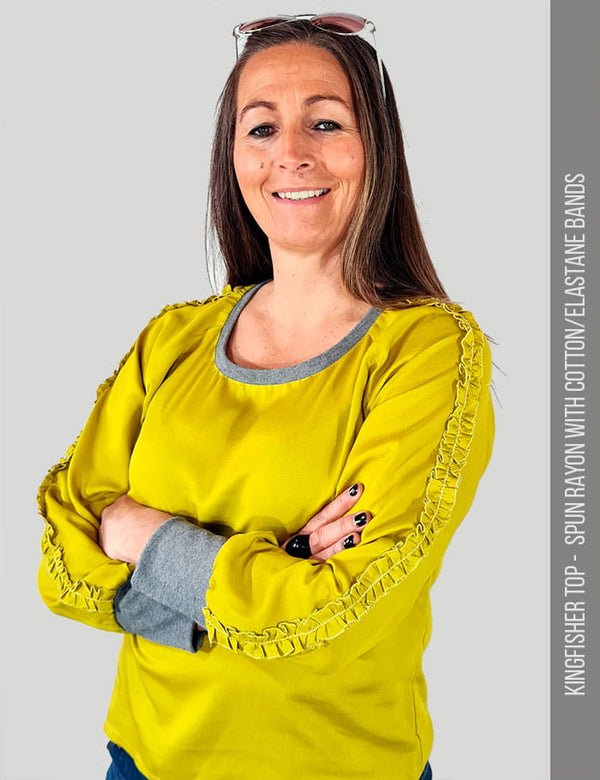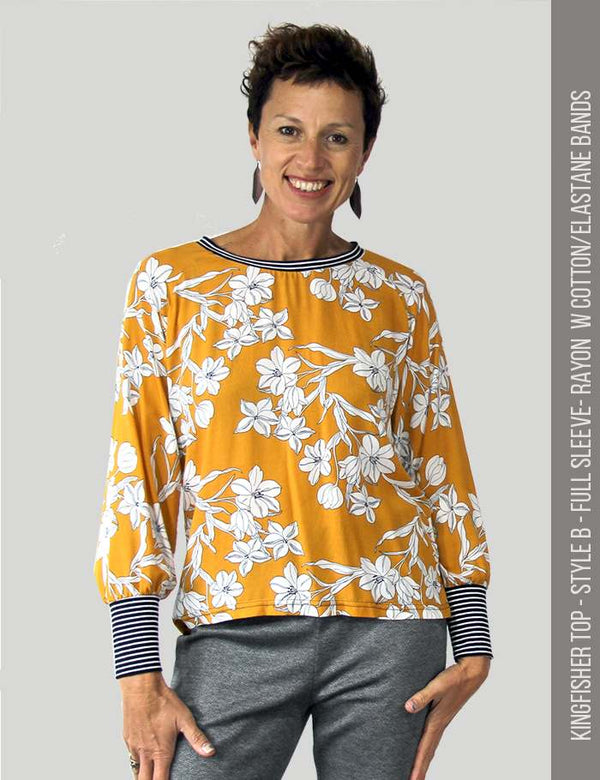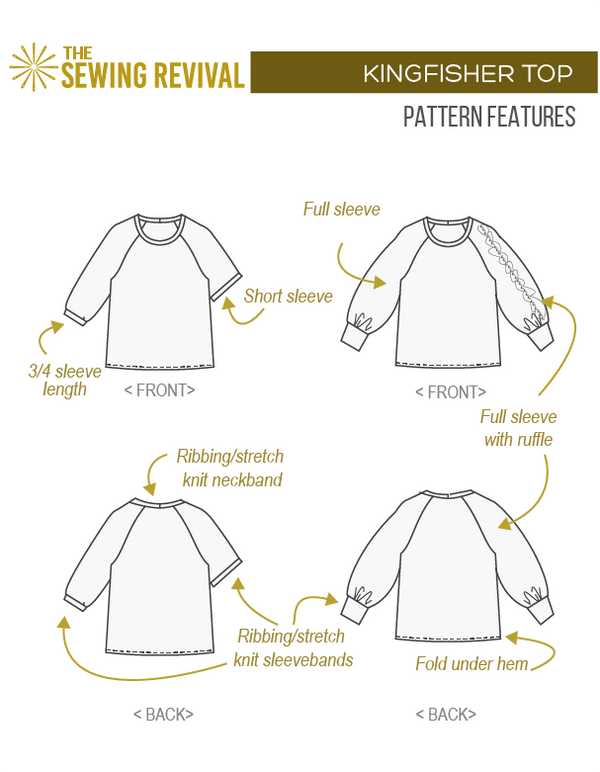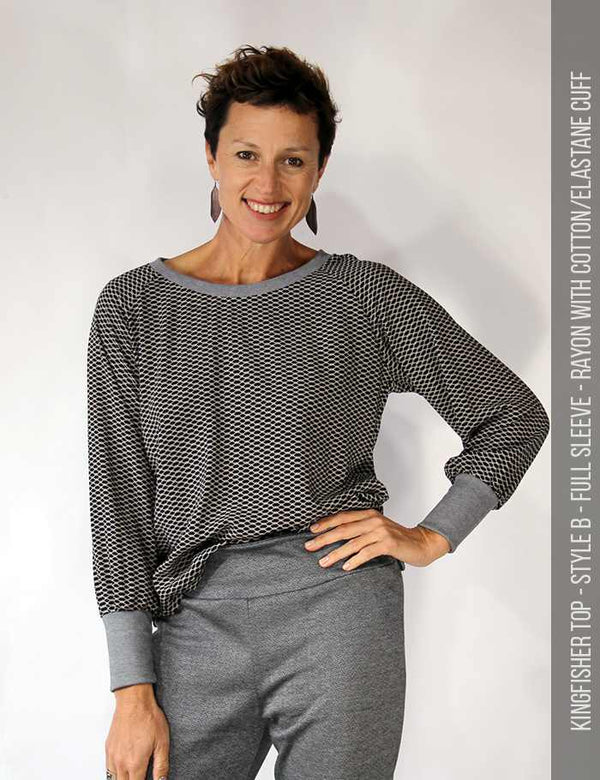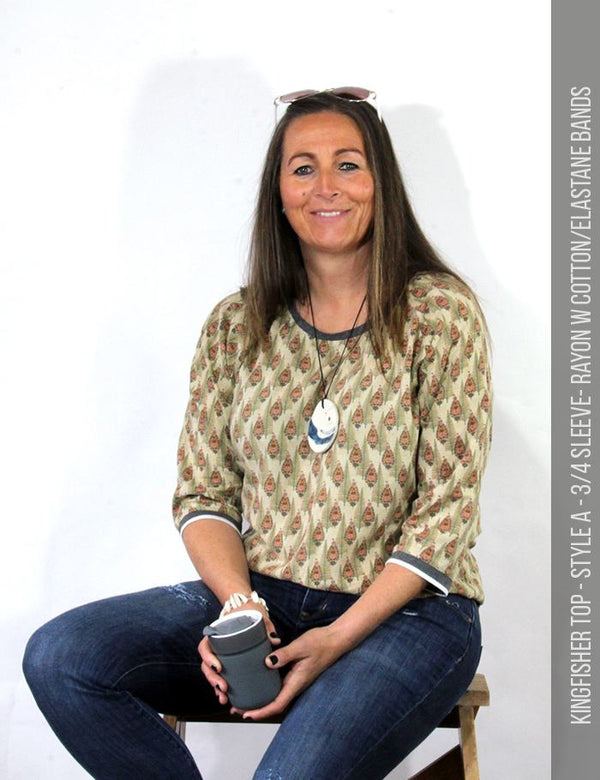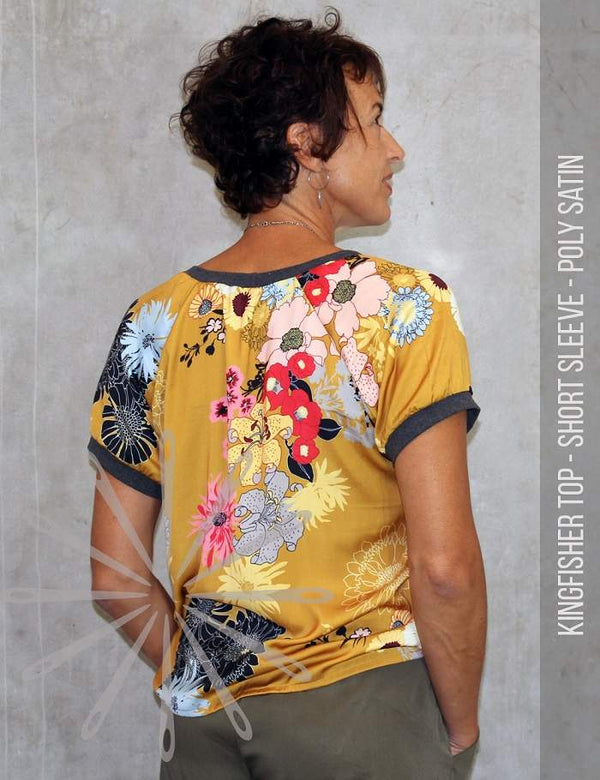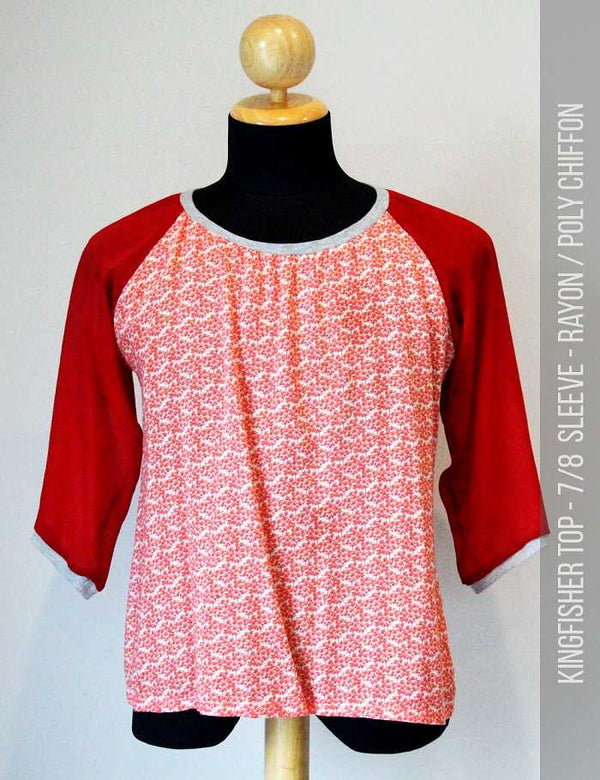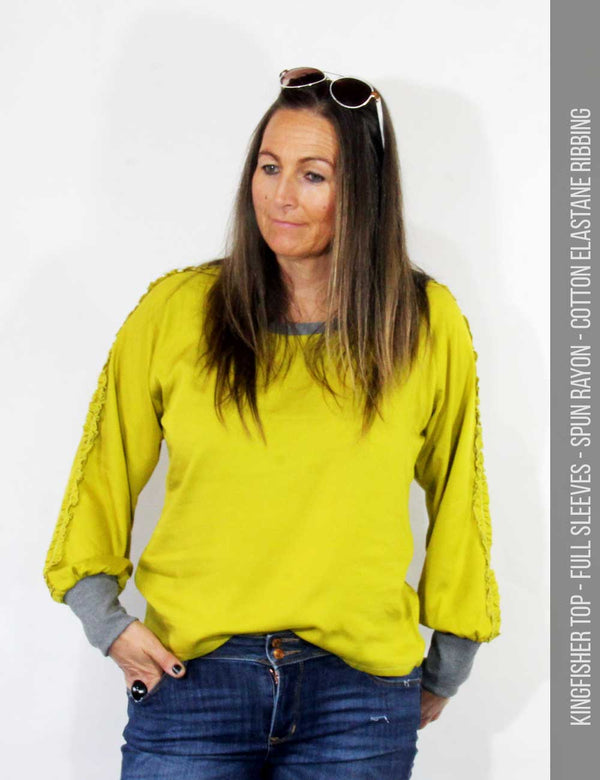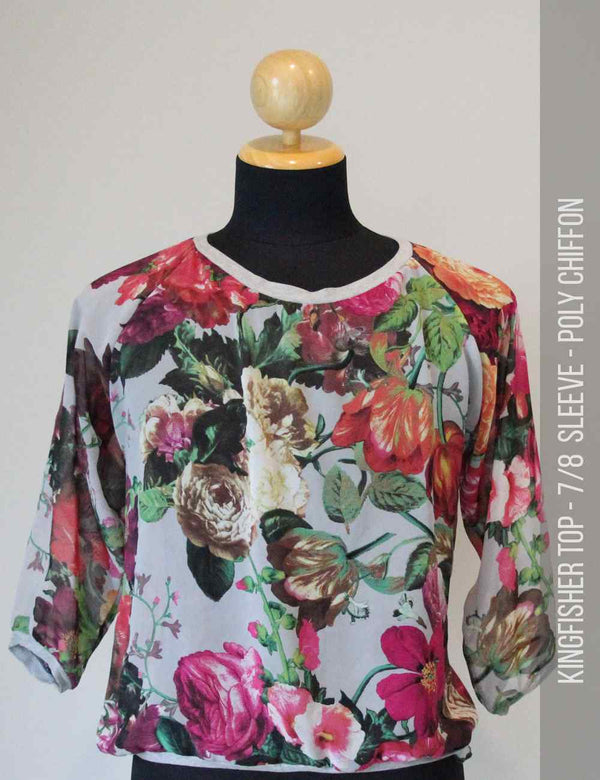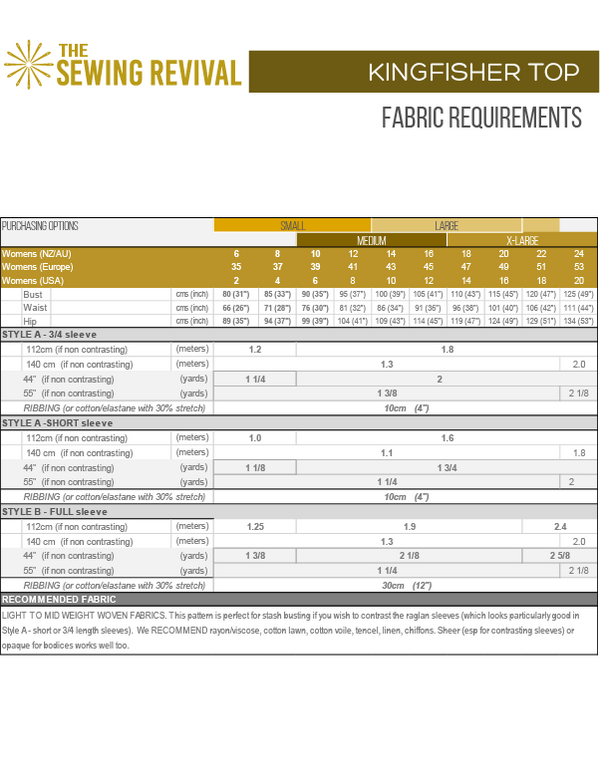 The most versatile sewing pattern in our collection, variations of the Kingfisher top have dominated my wardrobe for the last 10 years.  Designed to be sewn in woven fabric with neck and sleeve bands in ribbing or stretch, it can be made in short sleeve, 3/4 and now the new long sleeve with a ruffle option.  A pattern for all year round.

The raglan sleeve is easy to sew and the Kingfisher can be colourful in contrasting fabrics or more subtle in single coloured fabrics. 
Share your makes on Instagram & Facebook tagging #KingfisherTop and @thesewingrevival
FABRIC
Please refer to the FABRIC REQUIREMENT CHART as one of the last images on this product listing. You can magnify this image if viewing it on a mobile phone whilst in a fabric store.
The Kingfisher is designed for a woven bodice and sleeves with contrasting jersey knit/ribbing or cotton/poly/lycra blend stretch neck and sleeve bands.

Bodice: Most light to mid weight woven fabrics with a SOFT DRAPE are recommended for this pattern. Polyester crepe, polyester, rayon, chiffon and viscose are best. Soft draping cotton and cotton blends will also work.
DIFFICULTY
Suitable for Confident Beginners (although the sleeve ruffle option is an easy intermediate). The Kingfisher Top is able to be sewn with or without an overlocker (serger) to sew the neck and arm bands and neaten the seams. A simple zig-zag stitch will do the trick.

SIZE & FITTING
Each purchase comes with 4 sizes (please refer last image for size chart and international size comparisons) or refer the Size Chart for help if you need. 

Small - (NZ/AU/UK 6-8-10-12  | US 2-4-6-8)                    PAH pages=29* | AO pages=2 
Medium - (NZ/AU/UK 10-12-14-16  | US 6-8-10-12)        PAH pages=30* | AO pages=2 
Large - (NZ/AU/UK 14-16-18-20  | US 10-12-14-16)        PAH pages=30* | AO pages=2 
X-Large - (NZ/AU/UK 18-20-22-24  | US 12-14-16-18)    PAH pages=30* | AO pages=2 
*Instructions advise different pages to print depending on your sleeve choice, which reduces Print-at-home pattern tiles by 9-11 pages.
WHAT DO I GET WITH MY PURCHASE?
Please note you are purchasing a digital pattern that will be sent directly to your email inbox after payment. You can print this pattern at home on A4 or US letter-sized paper or take it to a print shop for large scale printing (AO size). *You will not receive a hard copy printed pattern.*
Instant download available immediately after checkout includes:

1. Instructions
2. PAH Pattern file (PAH=Print at home)
For printing in A4 or US Letter on a home printer. Printing at home is the most cost-effective, and sticking your pattern tiles together to make your full size pattern is easy. Further information for printing at home can be found in our Resources section here. 
3. AO Pattern file
AO is a large scale file designed to be printed at a Print Copy Shop. You cannot print this on your home printer as it is too big. If you choose to use this large file you will pay extra to have it printed but you do not have to stick anything together.
You can use the ADOBE LAYERS FEATURE to open the PAH pattern file and print only the size you need (and eliminate the "noise" of the unwanted sizes). You can also use the URL and bookmark links within the file to quickly access information and support. Download Adobe Reader for free (for Windows and Mac) here.
Reviews
Customer Reviews
11/20/2023
Anna S.

New Zealand
Very easy pattern that looks great
I made this top twice in one week, I was that impressed with the results. Firstly from a drapey rayon and knitted cuff/collar. Second time I got adventurous and used a knitted sleeve and cotton body. Took me a few goes to get the sleeve right (by not adding a cuff) and it too looks fab. I will definitely sew this again for an autumn/winter top. It's hugely versatile.
Kingfisher top
Such a versatile pattern! Have made short sleeves and 3/4 sleeves versions and have a feeling it will be a regularly used pattern. Nice easy instructions. Some topstitching or cover stitch info could be added as an 'optional' extra. Highly recommend this pattern!
11/13/2023
Tania B.

New Zealand
Kingfisher top
Such a versatile pattern! Have made short sleeves and 3/4 sleeves versions and have a feeling it will be a regularly used pattern. Nice easy instructions. Some topstitching or cover stitch info could be added as an 'optional' extra. Highly recommend this pattern!
08/20/2023
Robin D.

United States
07/14/2023
Nayth L.

New Zealand
Excellent easy to follow pattern!
Love this top! I've made the short and long sleeve version, about to make a 3rd one. I love it, easy to follow and looks lovely on.
06/22/2023
Tania H.

New Zealand
Pattern
Great, instructions were clear and pattern easy to use
02/27/2023
Anja G.

Germany
Lieblingsteil fürs ganze Jahr
Das perfekte Shirt mit vielen Ärmelvarianten, lässig oder edel, je nach Stoff. Es ist schnell genäht, der Schnitt und die Anleitung sind super gemacht
02/27/2023
Eva G.

Switzerland
little oversized
good pattern, very exact measuring and easy to understand, but really oversized. the neck opening is huge!
02/15/2023
SJ

New Zealand
Fantastic!
Great pattern- stylish, easy and fun to make, excellent result. I'm so pleased I'm going to make another one!! Thanks TSR
09/16/2022
Cher

United States
My New Favorite!
I love this pattern! It is easy to sew and the fit is extremely flattering. I used a knit without a lot of stretch, and it was a quick project! I'll definitely use this pattern frequently!
06/07/2022
Prasado S.

New Zealand
06/05/2022
Natasha T.

Canada
Love this pattern
I'm not experienced with sewing and have never tried sewing a top using ribbing as I was afraid of the overstretched neckline. However, the pattern is super easy to sew (short sleeve) and the instructions are very easy to follow. I love the styles of patterns offered by Sewing Revival (bought 3 of them) and will certainly buy more.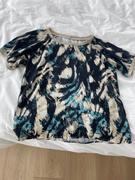 03/21/2022
Sally H.

United Kingdom
Kingfisher Top
I soon whizzed up a short sleeved t shirt, complete with frills, no adjustments necessary which is always a bonus. It's nice to have a pattern for a t shirt for woven fabric (apart from the neckband and sleeve band)
01/11/2022
Brigid M.

New Zealand
Love this pattern
I've sewn simple stuff for years but never tackled stretch and knit successfully but thanks to this pattern i'm a convert. I've made 2 x tops that fit well and look good.... great way to use up odds and ends of material. Many thanks Janine
12/08/2021
Lynn P.

Australia
Kingfisher Top
sizing and instructions great. Only issue i fund was the neckband length was too short . i had to add quite a bit of length to get a nice finish
11/27/2021
Sue C.

New Zealand
First purchase from Sewing Revival
Very happy with the end result. Fit and style is great. I opted to print the pattern at a local copy shop which was easy. I've now got confidence to get back into more sewing for myself and plan on using this pattern again this weekend and I'll be purchasing a couple of other patterns in the near future too.
11/15/2021
Lisa J.

United Kingdom
The first of many
Super quick and easy to make. Instructions are clear. It's also a great top to make with large 'scraps' of fabric because of the raglan sleeve style.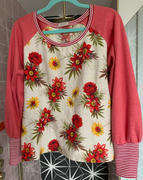 11/16/2021
The Sewing Revival
Thanks so much for your review and including a photo of your make Lisa. You've done a great job and we hope you get lots of wears (and compliments). Kindest regards, Janine
10/24/2021
Fiona J.

Australia
Kingfisher Top
I was looking for a casual summer top pattern to make out of a drapey viscose and I liked the combination of woven and knit fabric in the Kingfisher top. The pattern was exactly what I was looking for. It was well drafted and the instructions were clear. This pattern will go in my collection of 'go to' patterns for repeat use.
10/01/2021
Sarah M.

United Kingdom
Kingfisher Top
This pattern was super easy to sew and I plan to make more!
09/08/2021
Maree D.

New Zealand