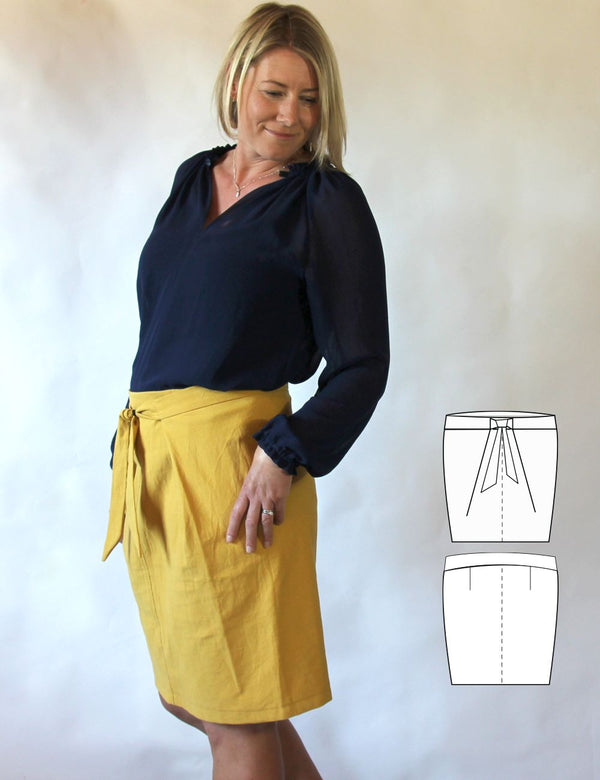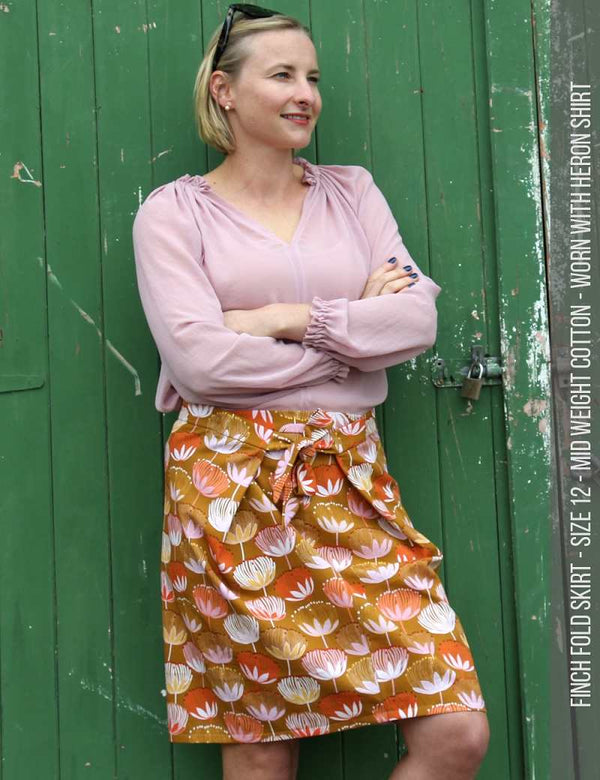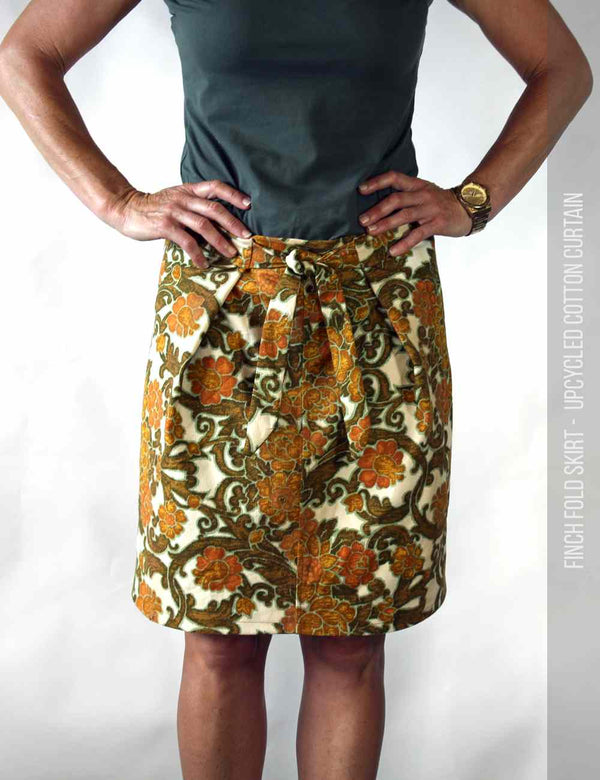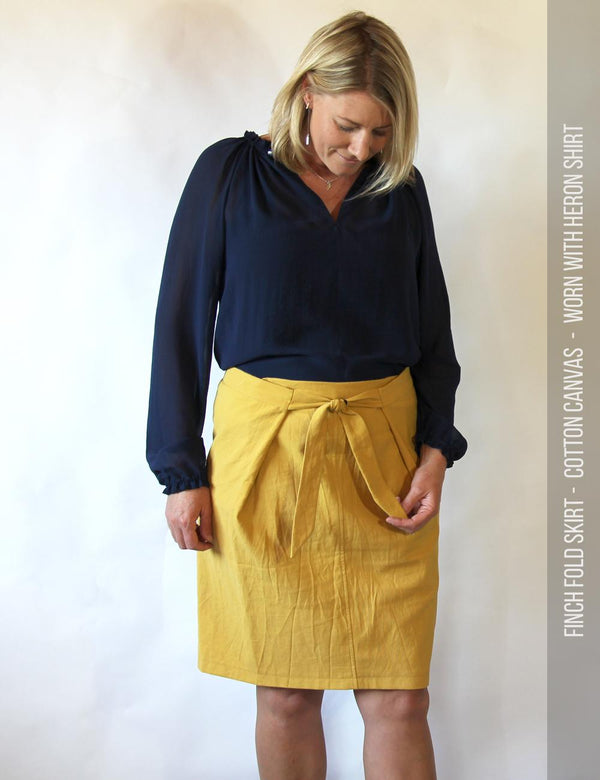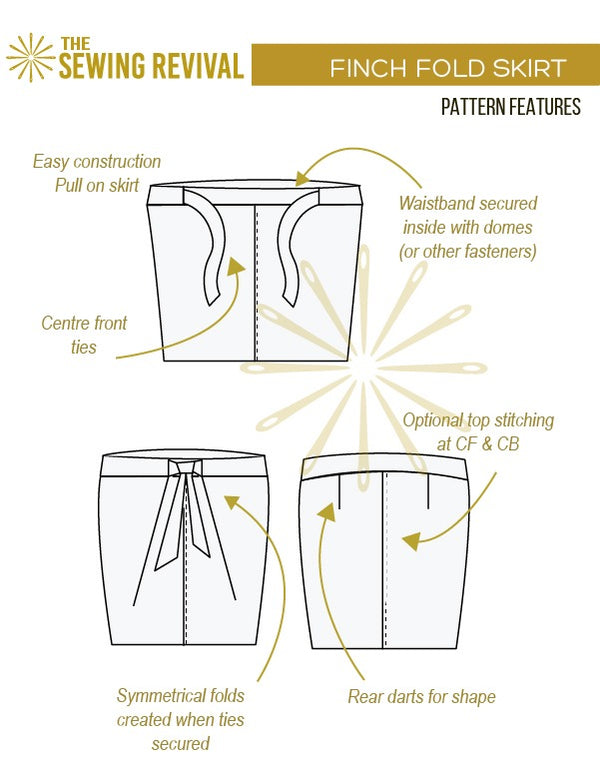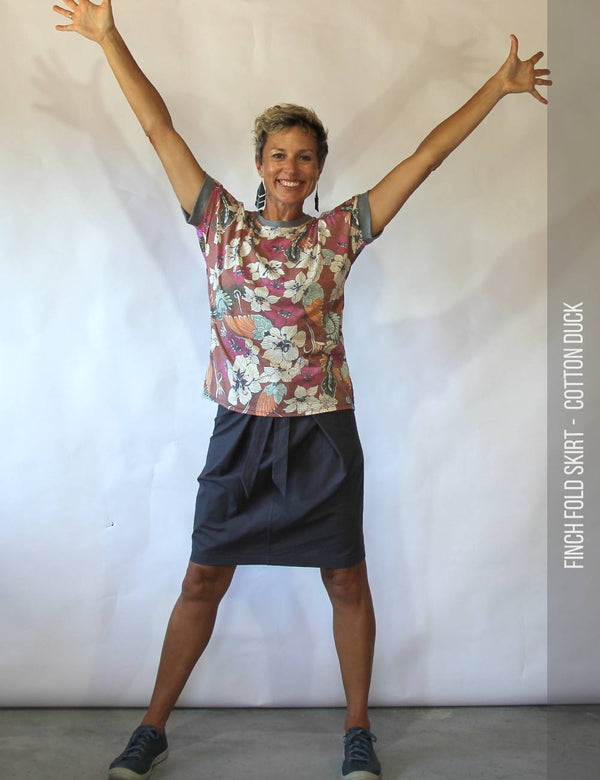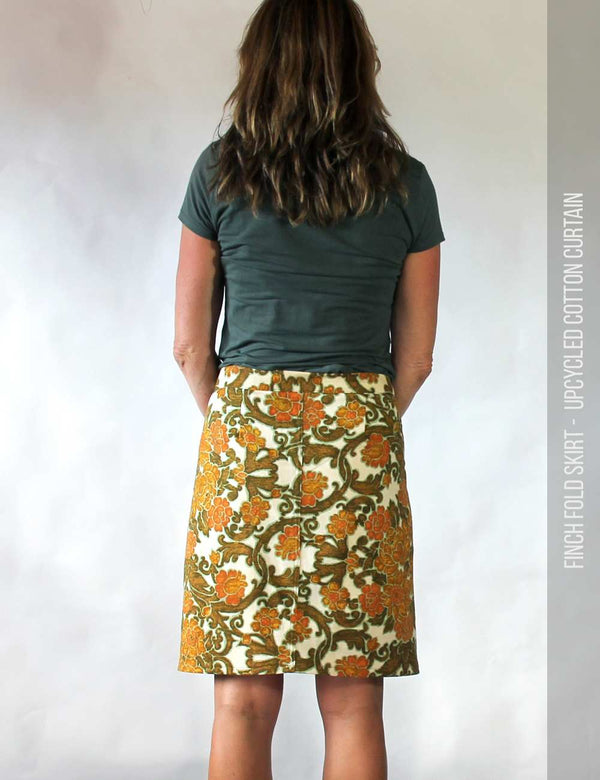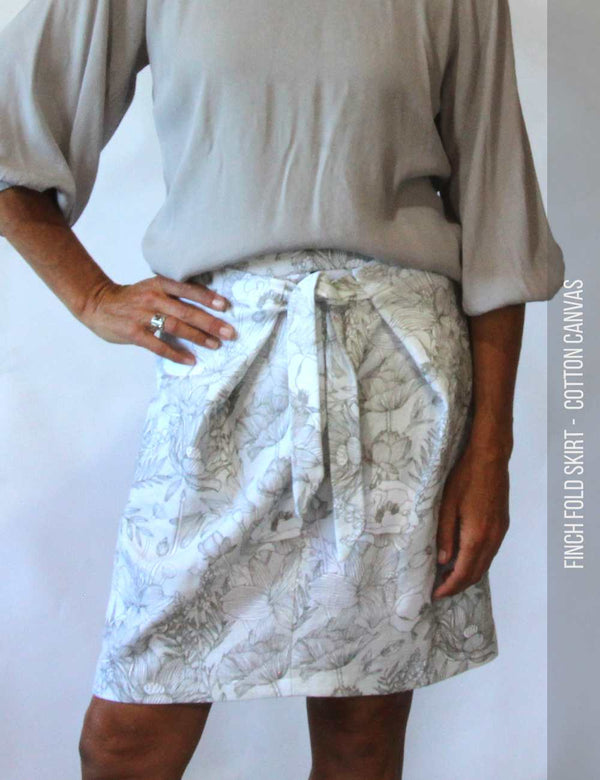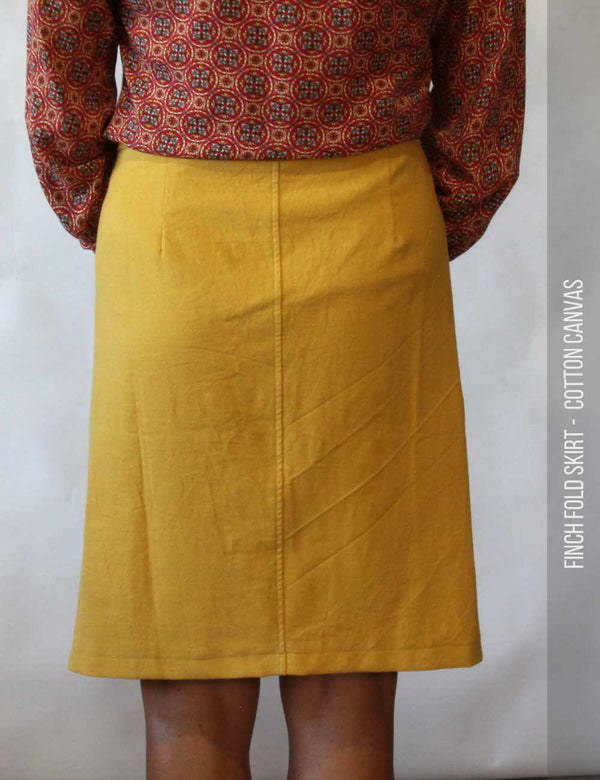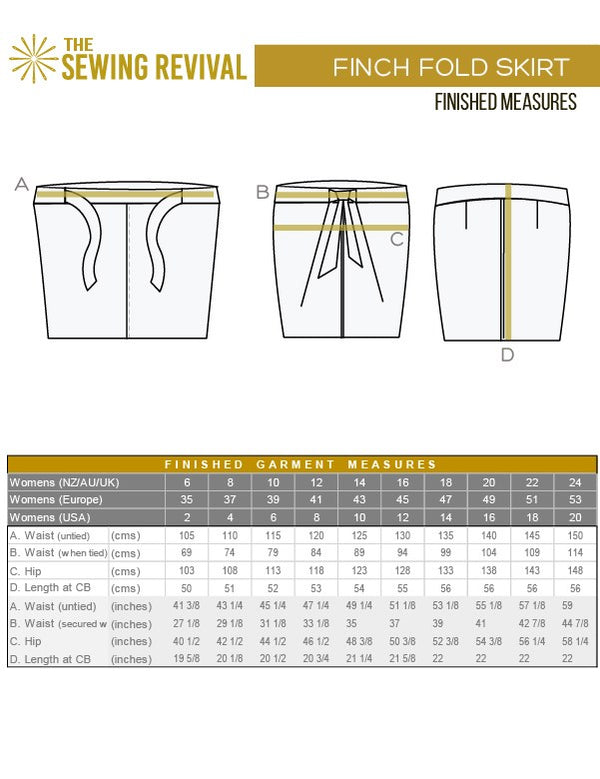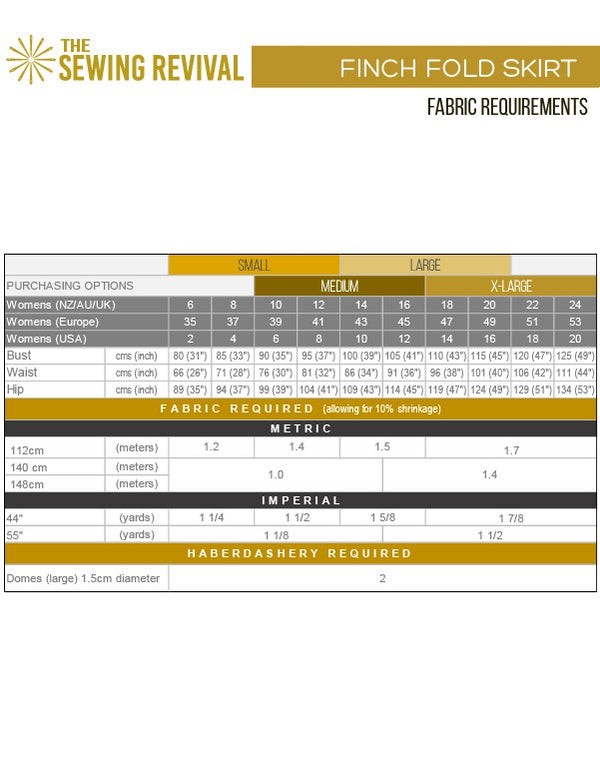 A quick-to- sew pull on skirt with pleats tied at the center front. Rear darts with center front and back seam.  This super easy skirt is great for confident beginners without compromising on design features. Wear above the knee or lengthen.
Perfect for summer but equally wearable over tights for colder months.

Wear your Finch Fold skirt as a smart every-day-casual with sneakers or sandals, or dress it up with heels for a smart work look.
 PATTERN FEATURES:
Pull on with folded front pleats secured with domes and front tie.
Rear darts
Easily adjustable waist allows for different body shapes (at the waistline)
Silhouette tulip shape brings the hem slightly inwards to streamline the body to a flattering finish just above, or on the knee.
Featured center back and center front seams (no side seams)
Share your makes on Instagram & Facebook tagging #EgretTank #EgretDress and @thesewingrevival

FABRIC
Please refer to the FABRIC REQUIREMENT CHART as one of the last images on this product listing. You can magnify this image if viewing it on a mobile phone whilst in a fabric store.
Well structured mid weight wovens (cotton duck, cotton canvas, cotton sateen, mid weight linens, light to mid weight denim) and woven or felted wool.
DIFFICULTY
Great for beginners and more experienced sewers wanting a quick result.

SIZE & FITTING
Each purchase comes with 4 sizes (please refer to the last image for size chart and international size comparisons):
Small - (NZ/AU/UK 6-8-10-12  | US 2-4-6-8)                 Pages = 11
Medium - (NZ/AU/UK 10-12-14-16  | US 6-8-10-12)      Pages =14
Large - (NZ/AU/UK 14-16-18-20  | US 10-12-14-16)      Pages =14
X-Large - (NZ/AU/UK 16-18-20-22  | US 12-14-16-18)  Pages =14
WHAT DO I GET WITH MY PURCHASE?
Please note you are purchasing a digital pattern that will be sent directly to your email inbox after payment. You can print this pattern at home on A4 or US letter-sized paper or take it to a print shop for large scale printing (AO size). *You will not receive a hard copy printed pattern.*
Instant download available immediately after checkout includes:

1. Instructions
2. PAH Pattern file (PAH=Print at home)
For printing in A4 or US Letter on a home printer. Printing at home is the most cost-effective, and sticking your pattern tiles together to make your full size pattern is easy. Further information for printing at home can be found in our Resources section here. 
3. AO Pattern file
AO is a large scale file designed to be printed at a Print Copy Shop. You cannot print this on your home printer as it is too big. If you choose to use this large file you will pay extra to have it printed but you do not have to stick anything together.
You can use the ADOBE LAYERS FEATURE to open the PAH pattern file and print only the size you need (and eliminate the "noise" of the unwanted sizes). You can also use the URL and bookmark links within the file to quickly access information and support. Download Adobe Reader for free (for Windows and Mac) here.
Reviews
Customer Reviews
A really cute and versatile skirt
I enjoyed making this pattern. The front wrap reminds me of Thai fisherman's pants and it's really comfy to wear. I cut a 16 but found it a little big so ended up sewing a 12. My first was in a heavy black linen, and the second in a wallpaper-type floral. For my shape, I did find that the addition of small back darts helped the skirt fit better on me.
06/22/2022
Siobhan H.

Ireland
Finch fold skirt
Love this sewing pattern. Easy to make and instructions were clear and precise.
12/12/2021
Mary A.

New Zealand
Easy and interesting pattern.
An interesting pattern to make. It is a good design and the folds add interest to the skirt. Excellent instruction booklet.
11/14/2021
Penny

Canada
Cute!
Very easy pattern to follow with lots of style - looks involved but a very simple sew.
10/25/2021
Susan P.

New Zealand
Finch Fold skirt
1st time user so I had an issue with downloading and printing pattern (I didn't read instructions fully and my printer settings were incorrect !!) - I received great support and got everything printed correctly- the pattern is great - I've made 2 so far.
09/19/2021
Suzanne M.

New Zealand
Loving the patterns
This is my third pattern and things fit well. I mucked up and thought the darts were at the front of the skirt and had to make again and it looked way better with the darts at the back.
08/15/2021
Adrienne R.

New Zealand
This is a fun skirt
I started by making a prototype and was most impressed by the cleverness of this pattern, and may even wear the prototype in the summer. The fabric I had specifically purchased for this skirt is a fine woven wool from The Fabric Store in Dunedin. It made up perfectly, I was worried about not lining it, but with a long petticoat it sits nicely and doesn't cling to my merino tights. I will make the pattern again probably in a linen for summer - a fabric with some structure for shape but not a 'stiff' or heavy fabric.
08/07/2021
Julie H.

New Zealand
Finch Fold Skirt review
liked the pattern easy sew, great instructions but didnt suit by body. Maybe my denim fabric was too heavy or I needed a smaller size. I will try again with different fabric and a smaller size soon. Still love the design. Keen to try some other Sewing Revival Patterns soon.
07/08/2021
Sharyn M.

Australia
Finch Skirt
Loved it. Very flattering.
07/08/2021
Tatiana P.

Russia
Finch Fold Skirt
Hi Janine, sorry for the delay in replying your message. I just wanted to start sewing this project before I answer your survey. As I am now in the process I can say that I like the accuracy of the pattern. I had no problems to assemble it from A4 pages. The instructions are easy to understand. I like the model of this skirt very much and I am generally now in pleasant process of sewing. I also noted 2 patterns more which I think I want to purchase too. I am very glad I saw the garments made using your patterns in Instagram. That is how I found out of you
05/09/2021
Debbie T.

New Zealand
Great skirt with a difference
Easy instructions with a great looking skirt at the end of it. Very quick to make
04/15/2021
Marianne K.

Canada
Finch fold skirt
I love the ingenious way the skirt folds over at the waistband. However I find fault with the lack of interfacing in the waistband. Since this is an important part of a good waistband, I gave this pattern 3 stars.
04/03/2021
Melanie H.

New Zealand
Love it
Have made this twice already and love it. Once in a soft crepe and the other in linen. Both look great. So quick to make and a very flattering style.
04/03/2021
Dianne W.

Australia
Disappointed not in the pattern but customer service.
I unfortunately purchased and downloaded my Finch skirt on my work computer. When I went to access my Finch skirt pattern again at home, the link wasn't available,I emailed the Sewing Revival requesting a new link and I was told to go and look in my downloads folder it would be there, as I was on a work computer our downloads are not saved to downloads this function is disabled so I was no longer able to access my Finch skirt pattern. I'm really disappointed that this company whom I've purchased many patterns from previously would not just send me a new link so that I could download at home. When I purchase something from a face-to-face store I'm getting something tangible and taking it home, unfortunately when you purchase an electronic download you have to get it right first time particularly from this company otherwise you lose the privilege of the download. In effect you've lost your money. I would have hoped for some sort of customer loyalty - given I've purchased before and have never misused their property.
04/03/2021
The Sewing Revival
Hi Dianne, I have just been back over our correspondence and note that you didn't explain to us that you were unable to find the downloads folder on your work computer. Your single email to us asked for a new link - and we responded as we do with most customers the first time they receive the expired link note, to explain that your computer automatically saves the pattern files to the downloads folder on your computer (so you don't actually need the extra downloads) - and that we recommend you save the files in a new folder on your computer for future reference. All of this information is in both the confirmation of purchase email and the downloads email you receive (but we do understand not everyone reads everything and we are always happy to reply to customers queries). We have no record of further emails from you advising us that you couldn't find the downloads folder on your work computer - or in fact that you still had issues. I have now reset and resent the link to your computer. We are always happy to work through any issues you have to ensure you have a positive outcome.
04/03/2021
Shaun G.

Australia
04/02/2021
Denise C.

New Zealand
Super quick & easy sew!
I whipped this skirt up one evening before a conference to wear the next day. Love the end result & got loads of compliments. Will make a few more too
04/02/2021
Deborah C.

Australia
Great pattern as always
Fantastic instructions and fit.
04/02/2021
Jo A.

Canada
Finch Fold Skirt Pattern Review
I just finished the Finch Fold Skirt by the Sewing Revival and I can't say enough good things about it! The fit was true to size and the ease of the instructions will have you wearing your skirt after an afternoon of sewing! I made my skirt out of a linen/cotton blend. There was enough structure to the fabric to hold the pleats without the waistband folding over. I did not need interfacing for the waistband. I have been recommending this pattern to many people and will be making more to add to my summer wardrobe. Thanks Sewing Revival for another great pattern!! Jo
03/10/2021
Lynn S.

Australia
A very clever comfortable skirt
A revelation in skirt making, love the style
03/08/2021
Julia S.

New Zealand
Easy sew
Lovely pattern, easy to follow and versatile for lots of different fabrics. Comfy and flattering fit which can be easily amended.