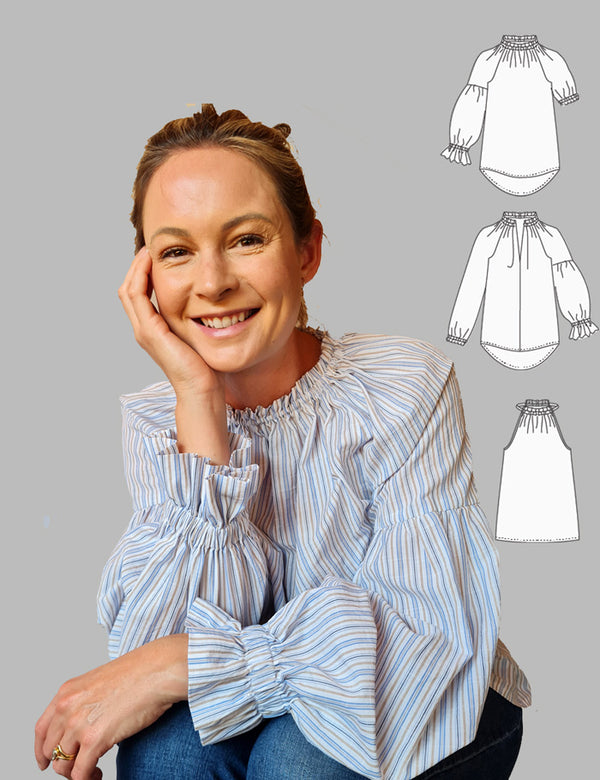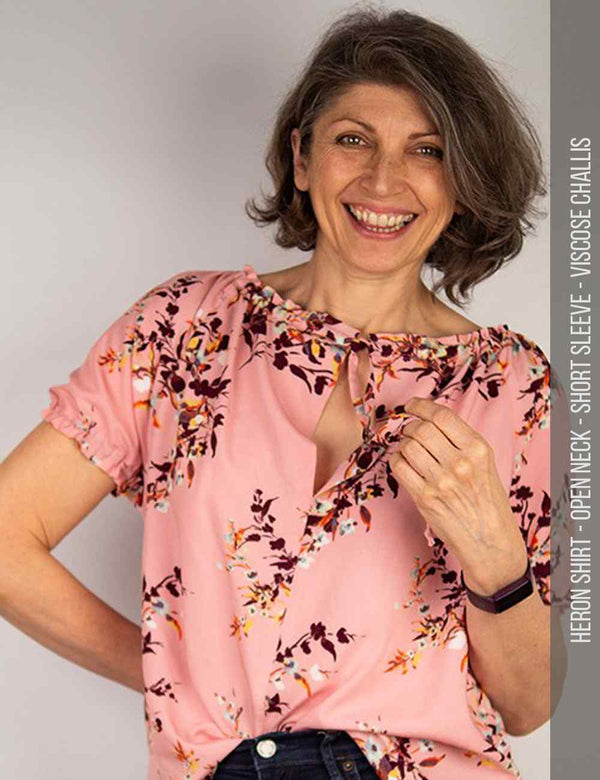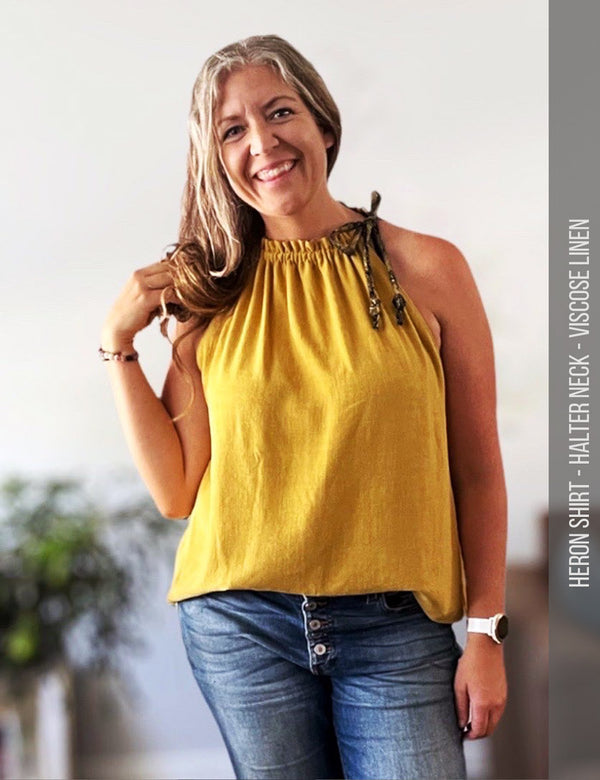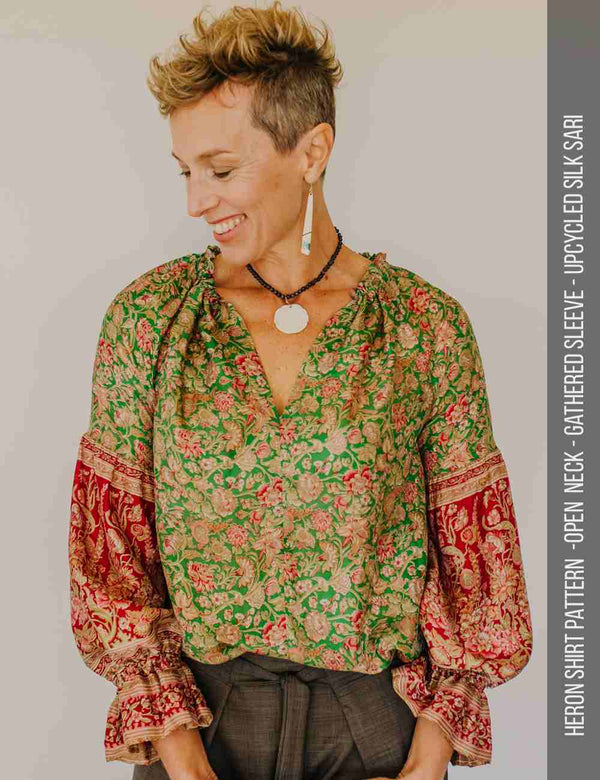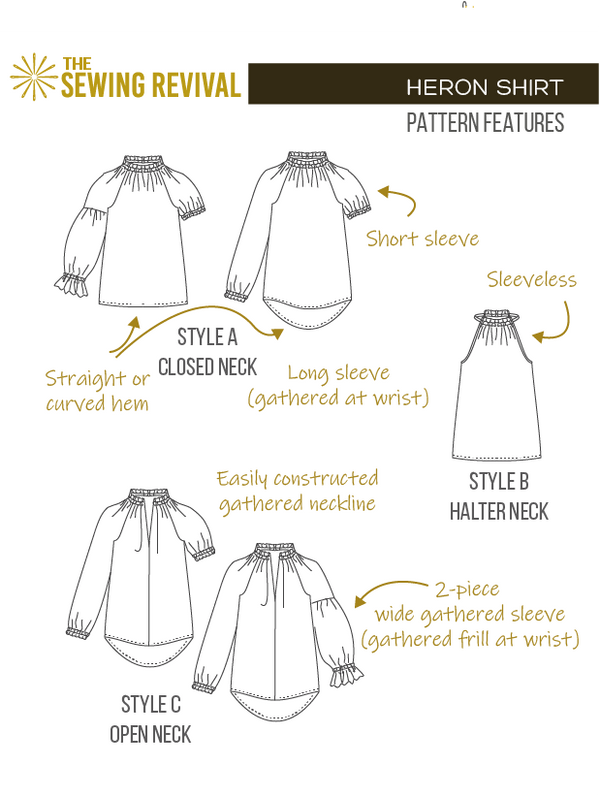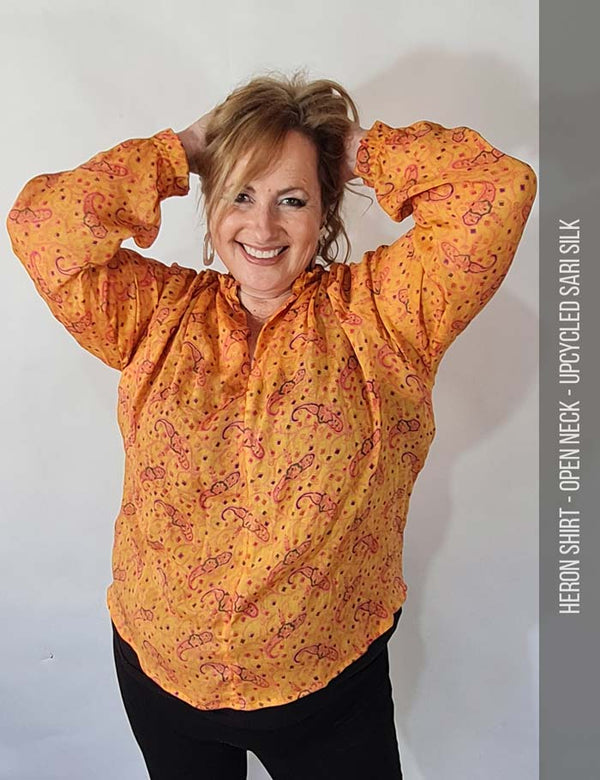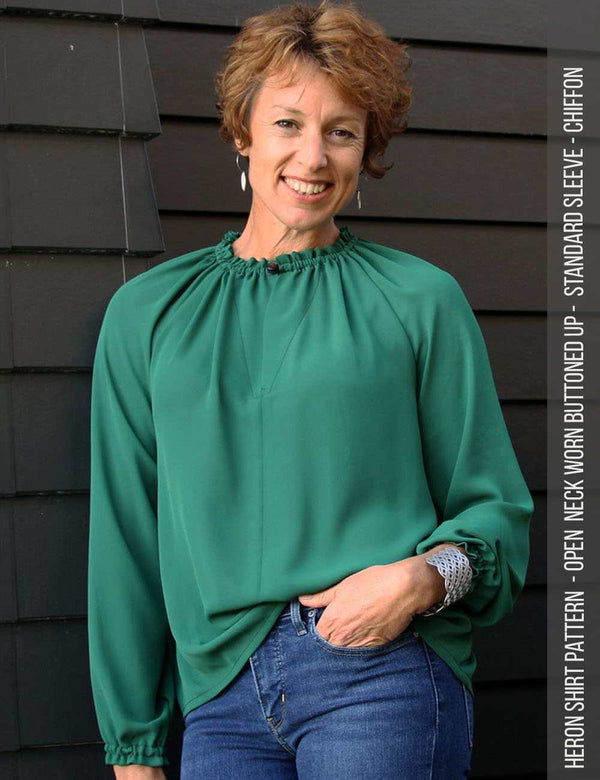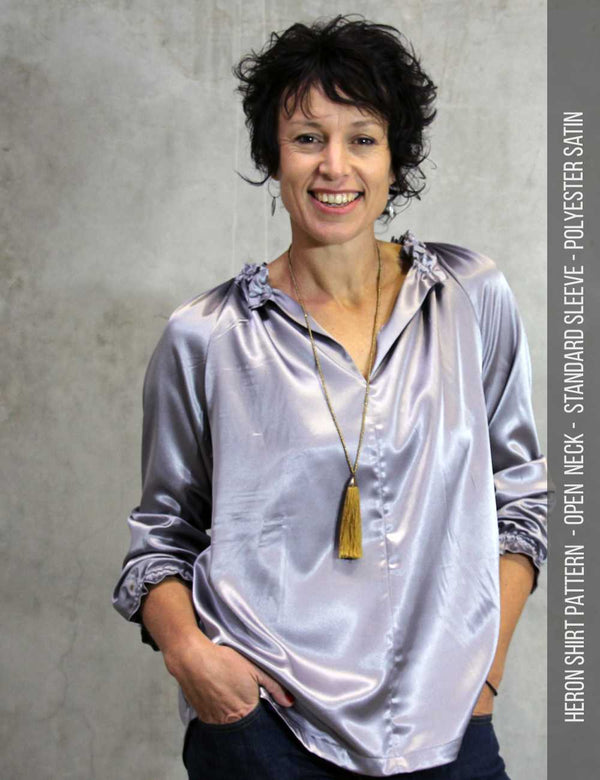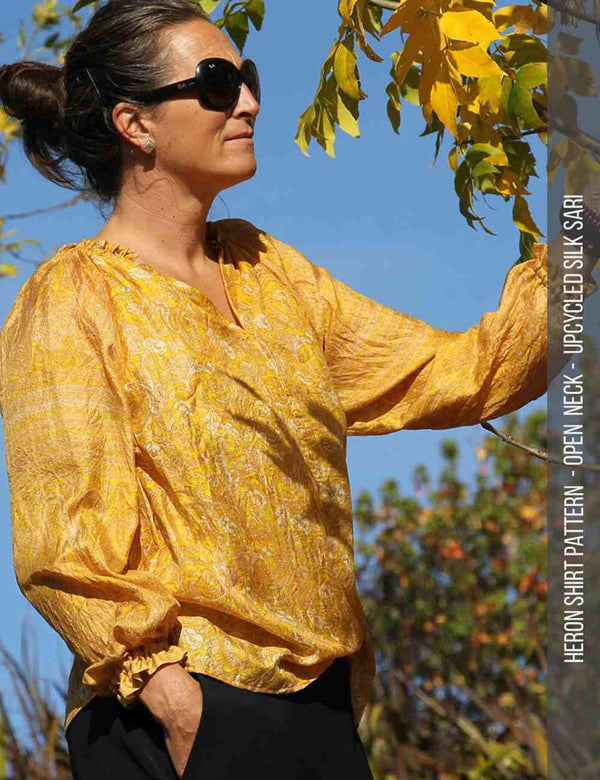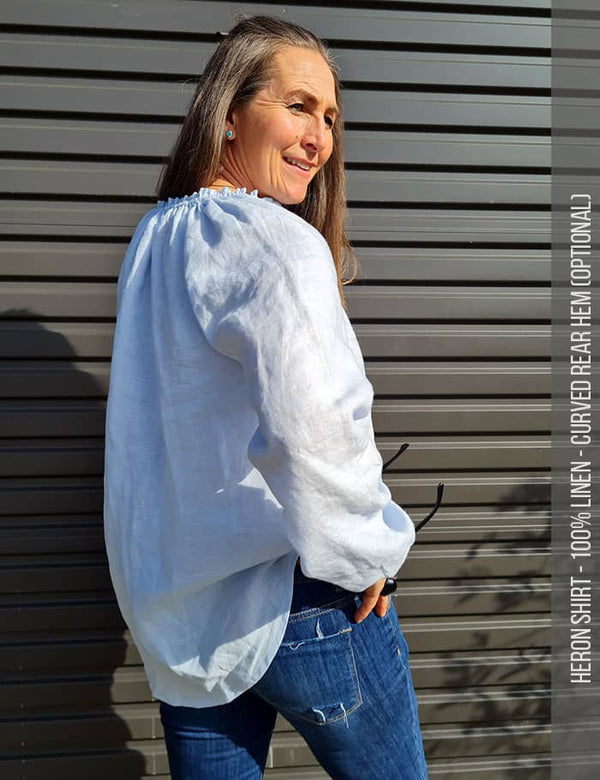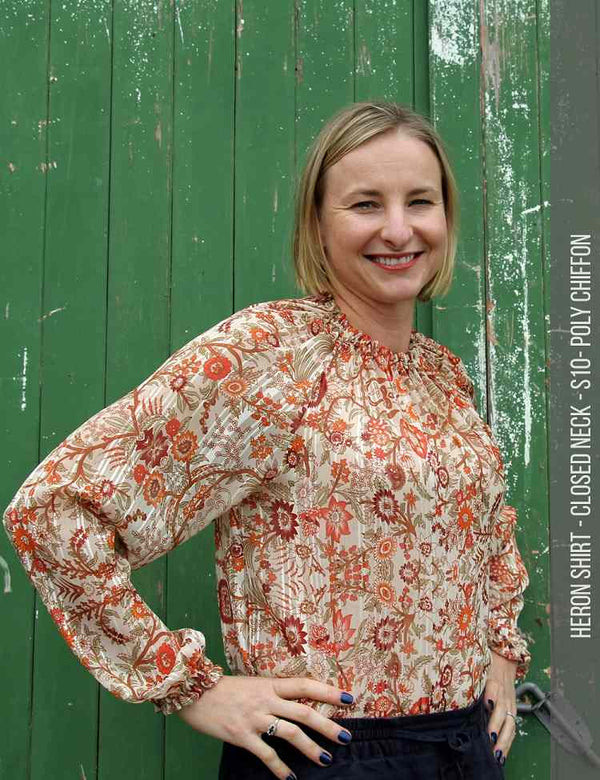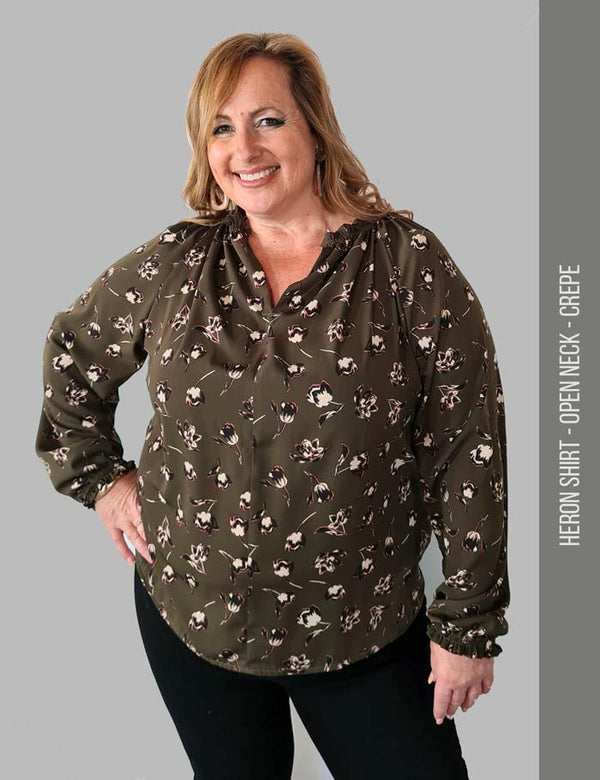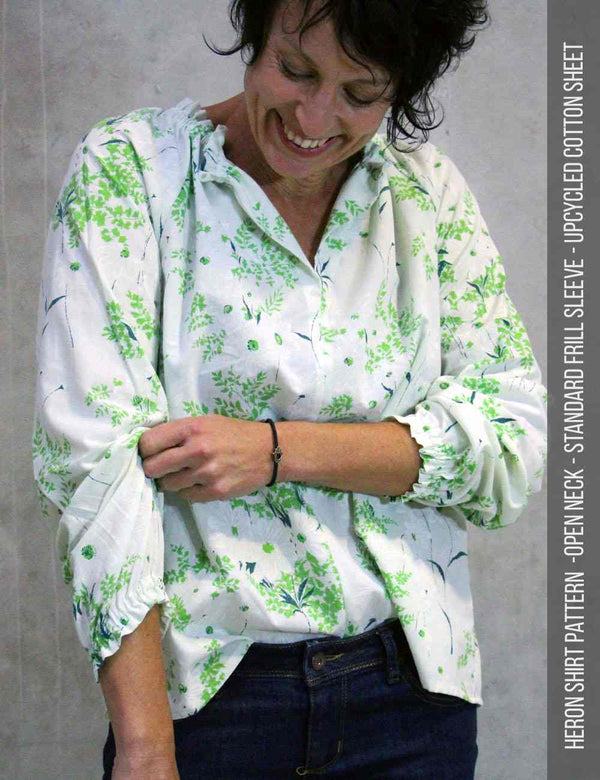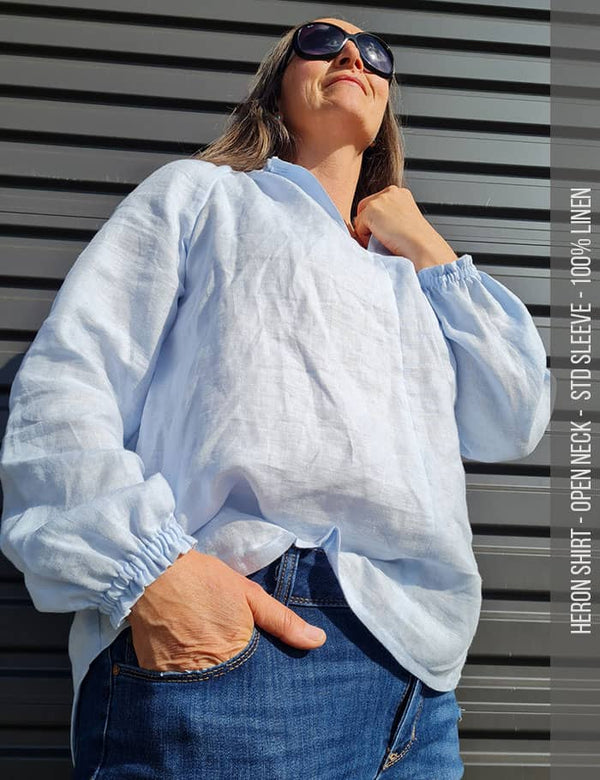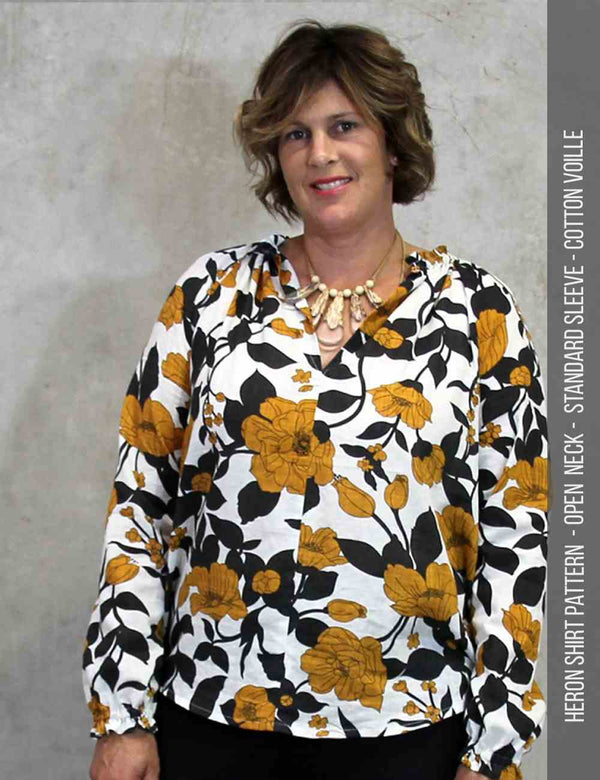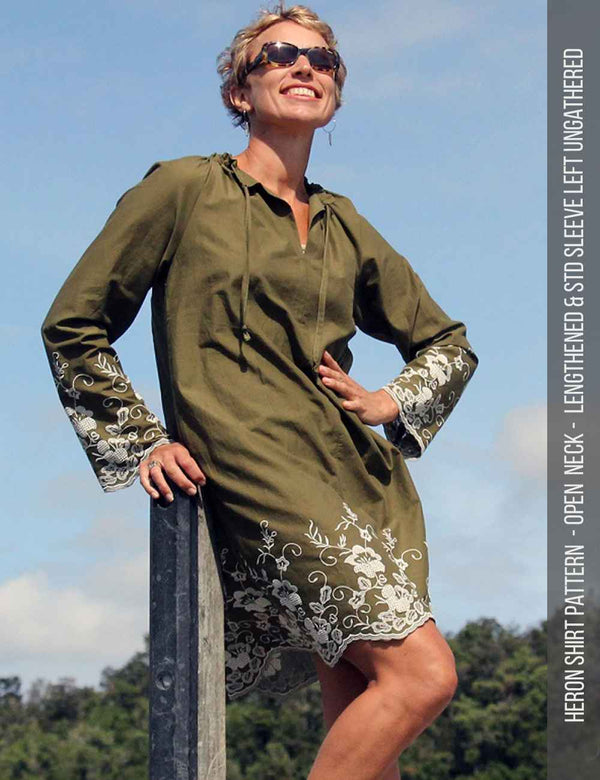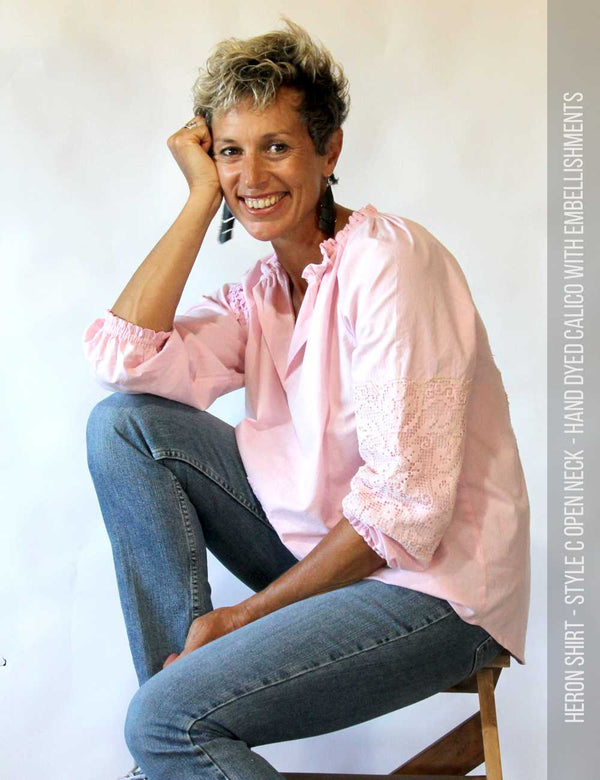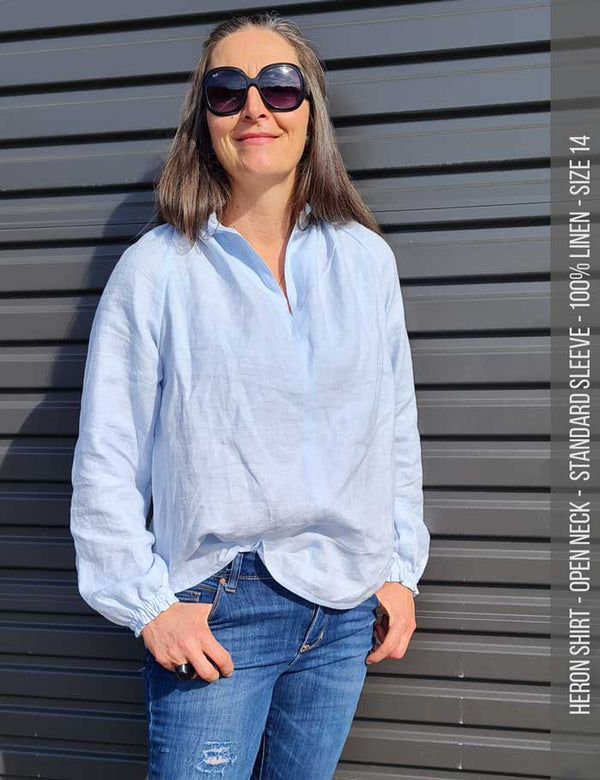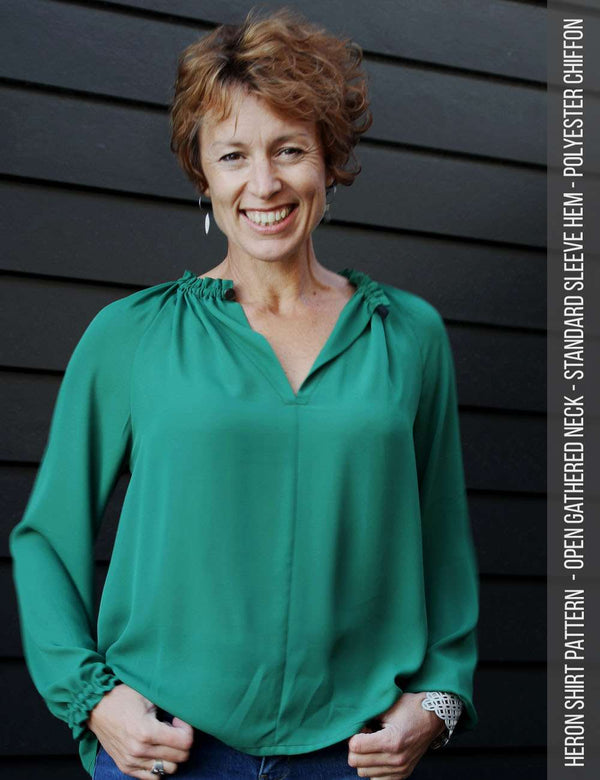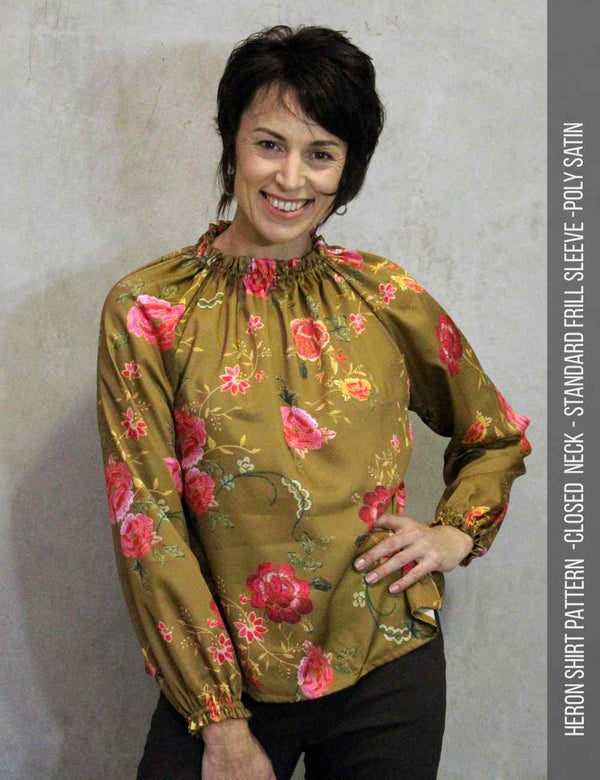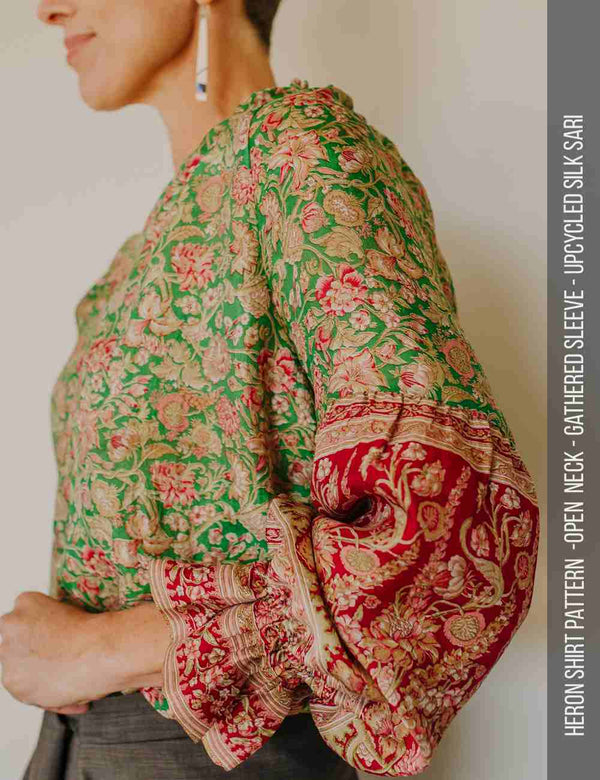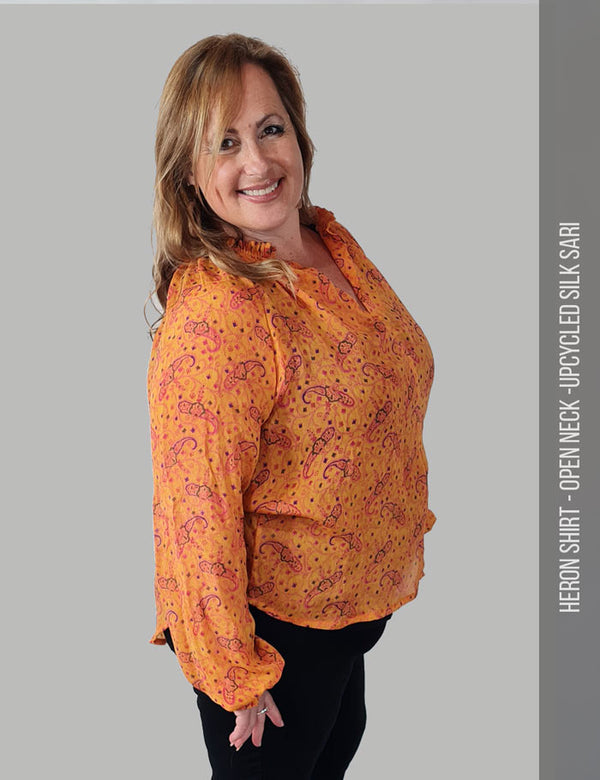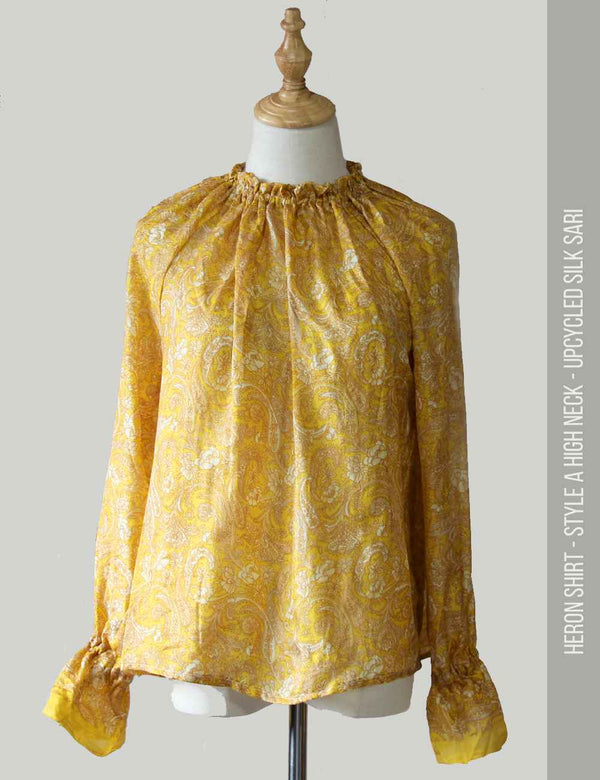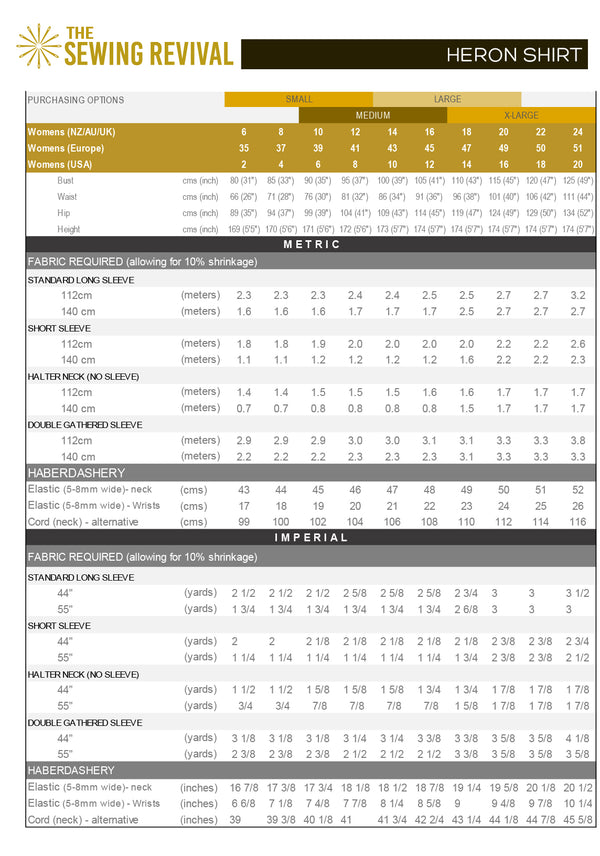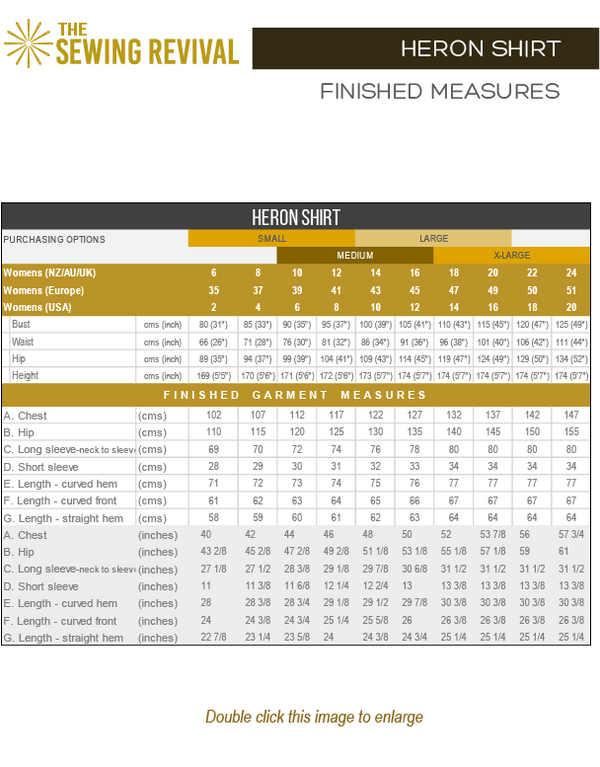 This pattern has a high, halter and open neck style options with long sleeve (standard or 2 part gather), short sleeve and sleeveless variations.  A shirt for all seasons and a pattern with lots of versatility. 

Super EASY to sew - the closed neck styles are great for beginners (with short or standard long sleeve). A perfect first shirt to sew without buttons or other closures. The open neck style is slightly more involved but still straightforward. If you are a beginner sewer wanting to extend yourself - the open neck style is perfect, and the gathered sleeves also a great "next step". You might like to trial it first in an up-cycled cotton sheet to build your confidence and your wardrobe at the same time. The easy-to-follow instructions build your skills as you sew.
The Heron Shirt is a sister to the Heron Dress with different sleeve options that are interchangeable. 
This pattern also looks great as a beach cover up simply lengthened (see our version in an olive cotton lawn embroidery anglaise).
Share your makes on Instagram tagging #HeronShirt and @thesewingrevival


FABRIC
Please refer to the FABRIC REQUIREMENT CHART as one of the last images on this product listing. You can magnify this image if viewing on a mobile phone whilst in a fabric store.
The Heron Shirt is designed for light to mid-weight WOVEN fabrics.
We recommend rayon, silk, polyester, lightweight linen, cotton and cotton blends for summer.  Please refer to the product images for inspiration on fabric types we have used.

*Please also note that all (new) fabric should be pre-washed in case of shrinkage. Some fabrics will not shrink but 100% cotton, linen and rayon are almost guaranteed to shrink. It doesn't hurt to be safe and remove any dodgy chemical build-up that may have occurred during printing anyway.
DIFFICULTY
The high neck options are great for confident beginners.
The open neck tops and 2-piece gathered sleeves are an easy intermediate level.
SIZE & PRINTING
This is a loose-fitting garment. If you prefer it to be a little less "roomy" or you are "in-between" sizes then we suggest you err on the smaller size. 
Each purchase comes with 4 sizes (please refer to the last image for size chart and international size comparisons):
Small - (NZ/AU/UK 6-8-10-12  | US 2-4-6-8)                    
Medium - (NZ/AU/UK 10-12-14-16  | US 6-8-10-12)      
Large - (NZ/AU/UK 14-16-18-20  | US 10-12-14-16)        
X-Large - (NZ/AU/UK 18-20-22-24  | US 14-16-18-20)     
PATTERN UPDATE

19 September 2022:
The bottom section of the 2 piece sleeve (gathered balloon style) was reduced in size after customer feedback that it was too voluminous (and re-testing at our end). If you have already printed this pattern piece (number 5), you can easily adjust the width by following the instructions here.

If you purchased and printed after 19 September 2022 you will have the updated version of this pattern and no adjustments are required. 

Please note the latest version will have  .v6 in the title.
WHAT DO I GET WITH MY PURCHASE?

Please note you are purchasing a digital pattern that will be sent directly to your email inbox after payment. *You will not receive a hard copy printed pattern.*
For the Heron Shirt will receive a link to download 3 different PDF files:
1. Instructions
2. PAH Pattern file (PAH=Print at home)
For printing in A4 or US Letter on a home printer. Printing at home is the most cost-effective, and sticking your pattern tiles together to make your full size pattern is easy. Further information for printing at home can be found in our Resources section here. 
3. AO Pattern file
AO is a large scale file designed to be printed at a Print Copy Shop. You cannot print this on your home printer as it is too big. If you choose to use this large file you will pay extra to have it printed but you do not have to stick anything together.
You can use the ADOBE LAYERS FEATURE to open the PAH pattern file and print only the size you need (and eliminate the "noise" of the unwanted sizes). You can also use the URL and bookmark links within the file to quickly access information and support. Download Adobe Reader for free (for Windows and Mac) here.
Reviews
Customer Reviews
11/05/2023
Sarah v.

New Zealand
10/13/2023
Nancy M.

Canada
Just what I was looking for
This was my first experience using a pattern from a website. The variety of photos excited me; the Heron shirt was exactly what I was looking for. I really appreciated the detailed and thorough instructions every step of the way. I made this top twice. The second one fits better. Typically (and according to the measurements given), I am a size 8, but it was a bit too big so I used the size 6 pattern the second time. Go down a size if you are not sure.
09/03/2023
Kathy T.

United States
Love the neckline!
This pattern is so cute and versatile. I made a sleeveless gauze version for summer. I'm looking forward to sewing it up in a pretty satin or rayon for the holidays. I have 5 TSR patterns so far and will definitely be getting more!
09/02/2023
Tessa M.

United Kingdom
Heron
I used the print at home option and it is one of the best I've used. The pieces went together really well. The pattern is easy to follow and the instructions superb. The shirt is so lovely and easy to wear. I'm going to make another with a slightly higher neck for the autumn. I love this pattern company
08/01/2023
Jenny H.

Australia
Heron shirt
Fantastic,love the pattern I've already made 3 variations of this shirt,definitely will be purchasing more patterns
07/29/2023
Ilaria G.

Italy
good but not excellent
my experience with this pattern was a bit disappointing: maybe photos instead of drawings in the directions could be helpful. in my opinion, additional help on sizing was also lacking.
07/06/2023
Nicola H.

United Kingdom
07/06/2023
Laura L.

United States
Nice set of options
Appreciate the flexibility of options w clear descriptions and instructions.
06/28/2023
Leigh H.

Australia
06/04/2023
Susan R.

New Zealand
Love my heron shirt
I can't believe how easy sewing can be when using your patterns. You inspire me to get the sewing machine out and not only save heaps of money making my own clothes but also create something of my own.
05/09/2023
Hayley A.

Australia
Deceptively simple, ultimately stylish
I call these my 'smoke and mirrors' blouses! I made two of these during the #sewaprilblouse23 Instagram challenge. I used the finished measurements as my guide and selected a size two down from what my measurements suggested in line with the amount of ease I prefer. I made these primarily for work, so didn't want them too voluminous. The pattern pieces went together perfectly and the instructions were clear and straightforward. I made both in the closed neckline with the long plain sleeve, although I did level off the hem of the second. The construction finishes are clean and neat. I made one in a rayon and the other in a viscose dobby. Both are gorgeous and for such a simple easy sew pattern, the end product looks classic and ready for work or weekend. Next up I'll make the open collar with the dramatic sleeve and a bit more volume!
05/07/2023
Jennie G.

New Zealand
Heron Shirt
I haven't done any sewing in years, but now we are empty nesters, I have some time on my hands. I have made 2 of these shirts and they have turned out fabulously. So pleased. The first one I didn't use bias binding for, the second one I did. Must say, much easier with bias binding. I would now like the same shirt pattern but with a flat crew neck and the gathered sleeve option. Loving my sewing. Thanks Sewing Revival.
05/02/2023
Tracey V.

New Zealand
Love this pattern…
Loved the Heron blouse pattern. Contemporary and on-trend design…Easy and fun to make. The finished product looks professional (and I'm not a hugely experienced sewer!)…have had lots of compliments on my blouse. Will make another one!
04/23/2023
Justine M.

New Zealand
Heron Shirt
Great pattern and website. Would definitely purchase more patterns from you
04/14/2023
Ros E.

New Zealand
Thrilled to bits!
Easy to follow pattern. Thrilled with the results. Made gathered neck, long sleeve style A pattern. The top looks fabulous and is a great boost to my confidence after not having done sewing for many years. So pleased with the pattern I am going to make a second. top.
04/10/2023
Lee

New Zealand
Loved sewing this shirt!
The instructions were so clear and I found it really easy to make, no problems. I'm in love with the top I made, and I want to make more now! Size and everything perfect.
04/10/2023
Karen

United Kingdom
Lovely shirt
The Heron is my first pattern from The Sewing Revival but definitely not my last. It comes together quickly and the raglan sleeves make for an easy sew. The instructions are super clear. I want to make all of the patterns now!
01/07/2023
Clare S.

United Kingdom
Great pattern
The pattern was extremely easy to follow, and resulted in a great shirt. It's a pattern I will be using many times over.
11/30/2022
Mariska G.

New Zealand
an enjoyable sew
I found this an easy sew and was happy with the result. I made the open necked shirt with short sleeves. It came together well and I am pleased with the result.I found the instructions clear and detailed.
11/09/2022
Lynn M.

New Zealand
Heron Shirt
Pattern was very easy to download and sew. Shirt was a perfect fit. Am definitely going to purchase more patterns.