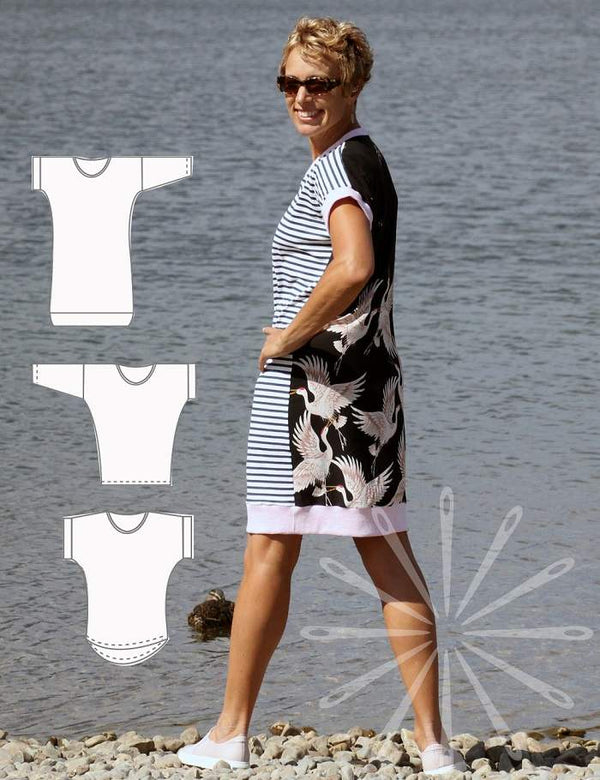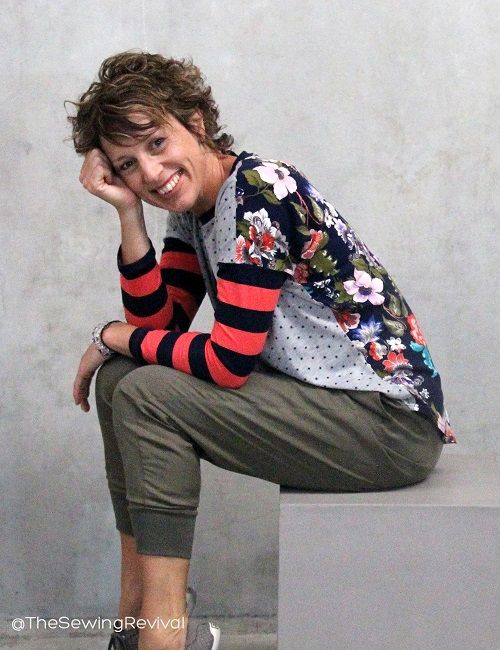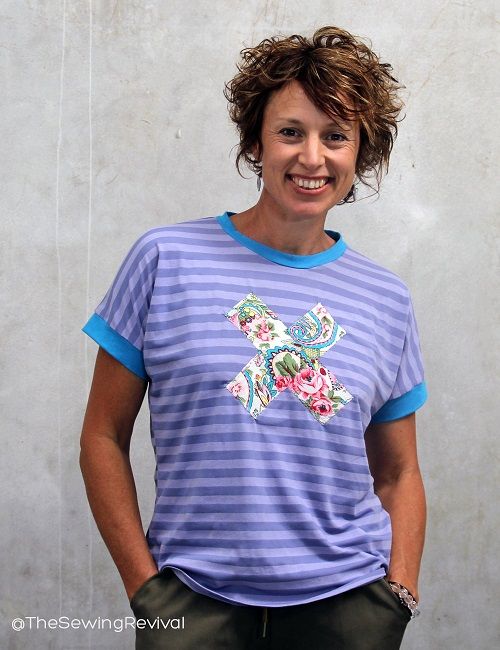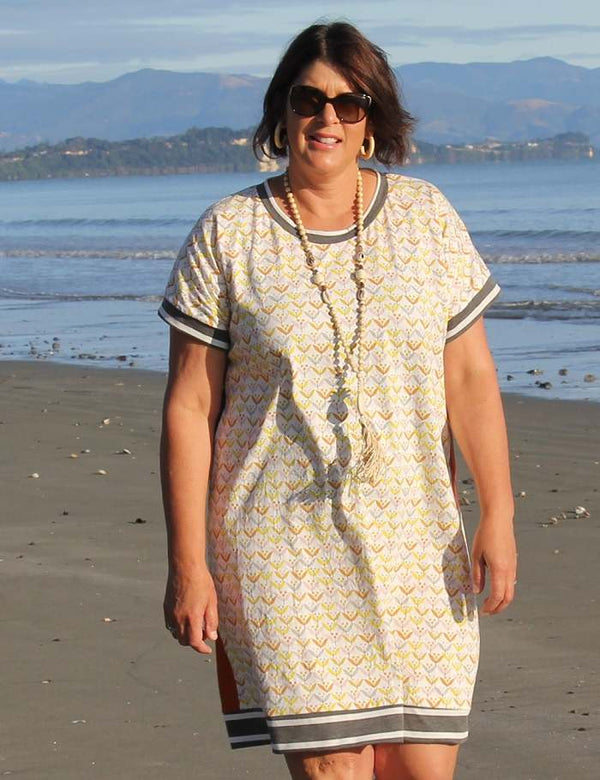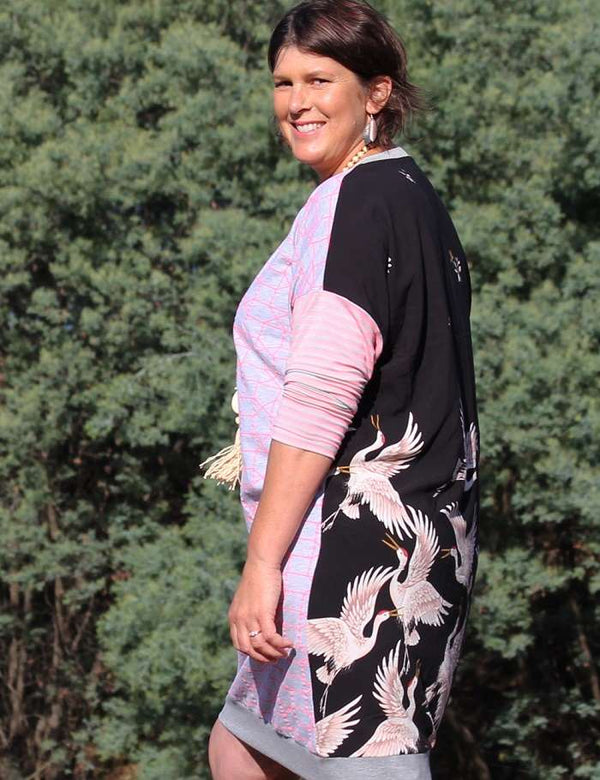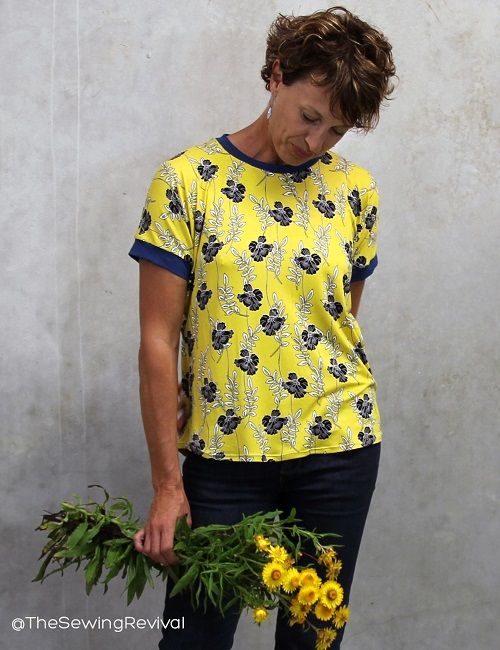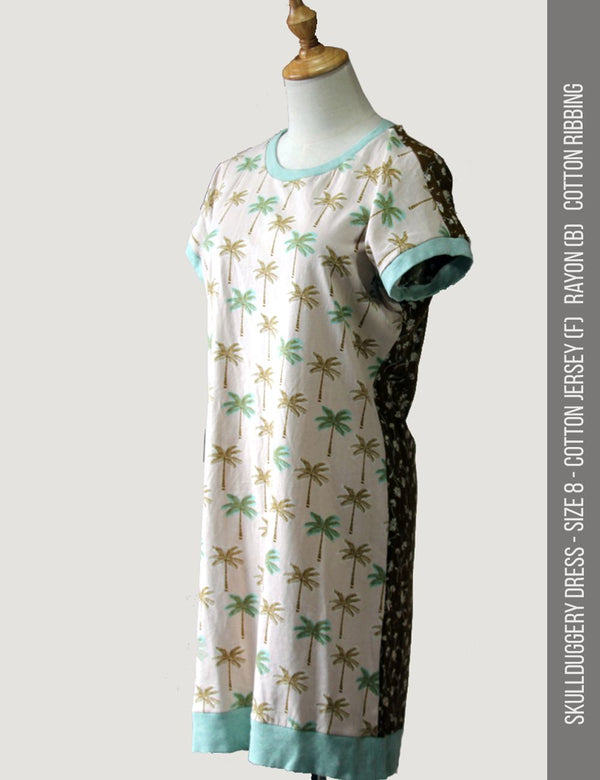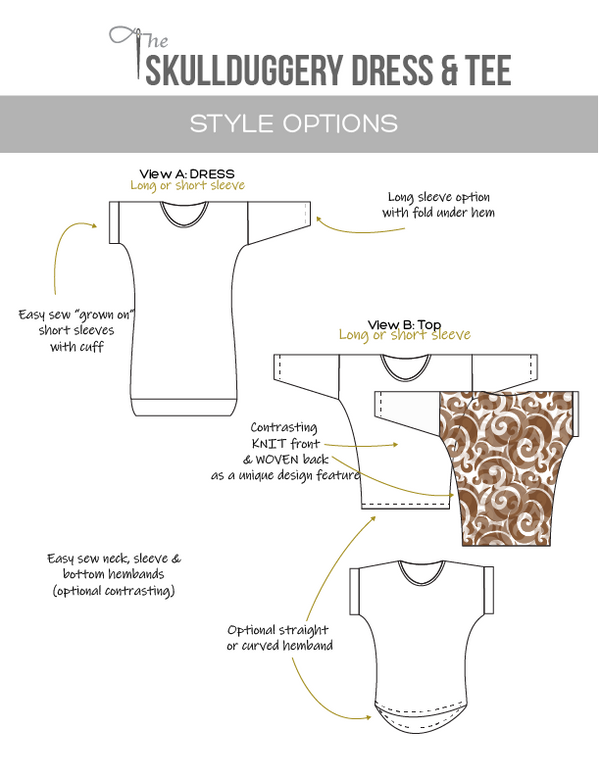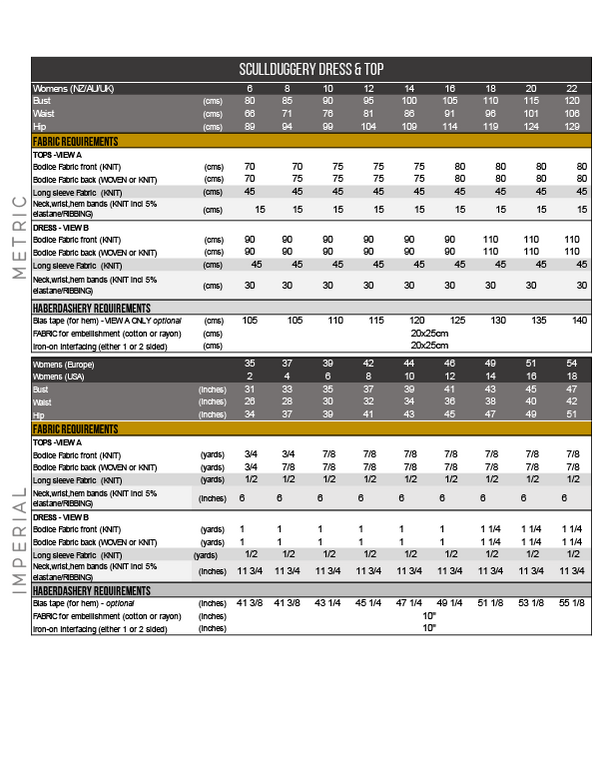 Skullduggery Dress, Tee & Sweatshirt
An easy to sew dress, tee & sweatshirt for all seasons.
Fun & versatile, this dress/tee comes in both long and short sleeve options. Mix a knit front with a woven back (recommended cotton jersey T shirting front) and contrasting neck, sleeve and hembands. The dolman sleeve makes it super quick and easy to sew - and no, you don't need an overlocker/serger.
The pattern comes with a range of applique templates - entirely optional - but fun to sew on a sleeve, back or front of your garment.
PATTERN FEATURES

Easy to sew (Beginners 2/5 - more experienced sewers will sew this up in no time) 
No overlocker or serger needed*
Womens sizes 6-22 (Au/NZ)
Sew with contrasting fabrics (knit front/woven back) for a fun and unique look - or use the same fabric for the bodice and contrast the sleeve and neckband.
Relaxed comfortable fit
16 modern and stylish applique templates for you to embellish your top (optional)
No overlocker needed (zig zig or stretch works just fine with light knit fabrics)
Dolman sleeve
Curved or straight hem
Help on Blog for sewing knit and stretch fabrics
Use the Adobe layers feature to only print your size (eliminating unnecessary lines and markings)
Simple instructions with clear photographs showing construction steps.
STYLE OPTIONS:  
DRESS - long or short sleeve
TOP - long or short sleeve
Share your makes on Instagram & Facebook tagging #SkullduggeryTee #SkullduggeryDress and @thesewingrevival
FABRIC
Please refer to the FABRIC REQUIREMENT CHART as one of the last images on this product listing. You can magnify this image if viewing it on a mobile phone whilst in a fabric store.
KNIT front: Cotton T shirting is perfect
WOVEN back : Most light to mid weight woven fabrics will suit this garment (viscose rayon, silk, polyester crepe, cotton and linen)
We recommend rayon, silk, polyester, light weight linen, cotton and cotton blends for summer. Heavier weight fabric and long sleeve options is perfect for cooler temperatures.  We also recommend putting the jersey knit fabric on the front (to allow for more movement/stretch over the bust) and the woven on the back.
Sample images:

Dress: 100% cotton jersey front, rayon back and cotton ribbing for bands

Long sleeve top (mid weight): Blue/red striped sleeve with 100% light weight cotton jersey knit front, woven rayon back and 95% cotton 5% elastane sleeves and neckband (curved turn up hem). 
Short sleeve tee: Mid weight jersey cotton front & back with embellished cross (rayon print). Turn up straight hem. 
Long sleeve top (heavy weight): The blue long sleeve (winter weight) is shown with a 100% heavier weight jersey cotton knit and 95% cotton 5% elastane sleeves and neckband.
DIFFICULTY
Confident beginner.
SIZE & FITTING
Model 1 wears size 10 (NZ/AU) and is 171cm tall.                                                                       Model 2 wears size 16 and is 174cm tall. 
This PDF pattern is available in sizes 6-22.
Each purchase comes with 4 sizes (please refer last image for size chart and international size comparisons) or refer the Size Chart for help if you need. 
Small - (NZ/AU/UK 6-8-10-12  | US 2-4-6-8)                    PAH pages=24 | AO pages=2 
Medium - (NZ/AU/UK 10-12-14-16  | US 6-8-10-12)         PAH pages=27 | AO pages=2 
Large - (NZ/AU/UK 14-16-18-20  | US 10-12-14-16)         PAH pages=28 | AO pages=2 
X-Large - (NZ/AU/UK 16-18-20-22  | US 12-14-16-18)     PAH pages=28 | AO pages=2 
WHAT DO I GET WITH MY PURCHASE?
Please note you are purchasing a digital pattern that will be sent directly to your email inbox after payment. You can print this pattern at home on A4 or US letter-sized paper or take it to a print shop for large scale printing (AO size). *You will not receive a hard copy printed pattern.*
Instant download available immediately after checkout includes:

1. Instructions
2. PAH Pattern file (PAH=Print at home)
For printing in A4 or US Letter on a home printer. Printing at home is the most cost-effective, and sticking your pattern tiles together to make your full size pattern is easy. Further information for printing at home can be found in our Resources section here. 
3. AO Pattern file
AO is a large scale file designed to be printed at a Print Copy Shop. You cannot print this on your home printer as it is too big. If you choose to use this large file you will pay extra to have it printed but you do not have to stick anything together.
You can use the ADOBE LAYERS FEATURE to open the PAH pattern file and print only the size you need (and eliminate the "noise" of the unwanted sizes). You can also use the URL and bookmark links within the file to quickly access information and support. Download Adobe Reader for free (for Windows and Mac) here. 
Reviews
Customer Reviews
06/24/2023
vicky b.

United Kingdom
Skullduggery dress
I love this pattern and the others I have bought! This is such a brilliant but simple pattern. Everything is easy from purchase, to download, printing and use. The instructions are thorough, clear and easy to follow and the end result is fantastic! Love it!
06/04/2023
Eleanor S.

United States
05/06/2023
Eunice S.

United Kingdom
Skullduggery Dress Pattern
I have been delighted with this pattern. It is very easy and quick to make and can be completed in a variety of fabrics like Knits and woven. I have made one in Knit and two with woven fabric and knit rib trims. Love it.
12/12/2022
julie s.

New Zealand
Skulduggery Top
Good clear instructions, always a successful make
09/05/2022
Sarah P.

New Zealand
08/03/2022
Mary A.

New Zealand
Quick sew with a great result
The pattern was very easy to follow and gave clear instructions. I made the dress with a Liberty stretch front and linen back and am really happy with the outcome. I didn't have to adjust the pattern, it is true to seize and a good fit.
08/03/2022
Mary A.

New Zealand
Quick sew with a great result
The pattern was very easy to follow and gave clear instructions. I made the dress with a Liberty stretch front and linen back and am really happy with the outcome. I didn't have to adjust the pattern, it is true to size and a good fit.
07/22/2022
Janine B.

New Zealand
Easy to use
Easy to understand instructions and very happy with the resulting garment!
06/19/2022
Lee M.

New Zealand
Skullduggery sweatshirt
Another easy pattern to follow. This was fun to make. I love sewing revival patterns.
07/07/2022
The Sewing Revival
Thank you so much for adding some photos of your make to your review Lee. I love your version of the Skullduggery tee. Fantastic job! Have a fabulous day. Kind regards, Janine
05/24/2022
Lee M.

New Zealand
04/08/2022
Gail W.

Australia
Love my Skullduggery Dress
This is my second Sewing Revival Pattern. I really love their designs. I have found them very easy to use with clear to follow instructions. Looking forward to purchasing and sewing more from Sewing Revival.
04/02/2022
Ruth K.

United Kingdom
03/21/2022
Kate D.

New Zealand
Beautiful patterns
The Skullduggery pattern is one of many that I've purchased from Sewing Revival. I'm a huge fan of the brand, I find the patterns come together well and are drafted well with minimal tweaking required to get the perfect fit for my shape. The instructions are clear and I love the photos, so much easier to follow than traditional diagrams.
03/13/2022
Elizabeth C.

New Zealand
Skullduggery Tee
Amazing service and fantastic pattern. A really fun sew.
01/28/2022
Kim L.

New Zealand
Easy to make
Really easy instructions to follow and my dress looks great
01/18/2022
Rach D.

New Zealand
Love my dress!
Great pattern to use - easy to follow.
01/17/2022
M W.

New Zealand
Fabulous flexible pattern
This pattern is fantastic, can easily be used for a dress or top in various different fabrics and always looks great. Really easy to sew too.
01/09/2022
Julie S.

New Zealand
12/06/2021
Lauren R.

New Zealand
Skullduggery
I found the printing instructions very confusing and wasn't able to figure out how to print the pattern at home. I asked a family member to help and the link had expired, so I haven't even got the pattern.
12/05/2021
The Sewing Revival
Hi Lauren, Please remember we are only an email or message away and here to help. RE the expired link, please note: When you click the download button the file(s) are downloaded to your device (that's why it's important to only click the download button on the device you will print from – but we do give you 3 attempts for this reason). You only need to download once - the file will appear on the bottom left hand corner of your screen. Click to open it and save it on your computer for printing any time you want. The file is always automatically saved in the Downloads folder of your computer – so if you missed it, have a peek in there (you can use the search option on your computer). Simply drop us an email to info@sewingrevival.co.nz if you are still having trouble and we'll help you sort it. Remember you can also just take the AO (large scale print file) to a Print Shop to print on big paper so you don't have to print at home.
12/01/2021
Jane B.

Australia
A bit confused
I am not used to PDF patterns so I wanted to give it a go. So far I'm a bit confused about how I get my less than A4 pattern pieces to the full size - I'll keep reading the instructions which seem comprehensive in the hope that I can move from doll size to real size
12/01/2021
The Sewing Revival
Hi there Jane, remember we are always available on email (or messenger) if you need help at any point. Firstly, please ensure you have opened and are printing the PAH file (Print-at-home) not the AO (large scale file) which is designed for the Print Shop if you so choose. As long as your scale is set at 100% and you are opening and printing from Adobe Reader, there should be no problem. You can also read the tutorials under the Resources section of the main menu. Please email us directly if you are still having trouble. Kind regards, Janine