A classic style and summer wardrobe basic, these pull on shorts have minimal rear gather, flat front waistband and angled front pockets. Easily dressed up or down, the classic shorts are at home on a casual weekend or out and about on a summers evening.
Mid rise (sitting just below the belly button) the shorts are comfortable and can be sewn up with or without a belt.
PATTERN FEATURES:
Angled front pockets
Flat front waistband

Pull on with gathered rear waistband (minimised)

Designed for wovens but could also be sewn in a jersey knit.

Sizes NZ/AU 6-24 | US 2-20 (purchased in size bundles of 4)-refer purchasing options
Share your makes on Instagram & Facebook tagging #MapuaShorts and @thesewingrevival
FABRIC
Please refer to the FABRIC REQUIREMENT CHART as one of the last images on this product listing. You can magnify this image if viewing it on a mobile phone whilst in a fabric store.
WOVEN fabrics : Most mid weight woven fabrics work well.
Linen, cotton duck, cotton sateen, cotton canvas and linen/cotton blends are highly recommended for this pattern. We have also had success with upcycled cotton curtains.
DIFFICULTY
STYLE A - Without belt: CONFIDENT BEGINNER (Skill learnt: Creating angled pockets)
STYLE B - With belt (and belt loops); EASY INTERMEDIATE
SIZE & FITTING
Each purchase comes with 4 sizes (please refer to the last image for size chart and international size comparisons):
Small - (NZ/AU/UK 6-8-10-12  | US 2-4-6-8)                  Pages =15
Medium - (NZ/AU/UK 10-12-14-16  | US 6-8-10-12)       Pages =17
Large - (NZ/AU/UK 14-16-18-20  | US 10-12-14-16)       Pages =19
X-Large - (NZ/AU/UK 16-18-20-22  | US 12-14-16-18)   Pages =19
WHAT DO I GET WITH MY PURCHASE?
Please note you are purchasing a digital pattern that will be sent directly to your email inbox after payment. You can print this pattern at home on A4 or US letter-sized paper or take it to a print shop for large scale printing (AO size). *You will not receive a hard copy printed pattern.*
Instant download available immediately after checkout includes:

1. Instructions
2. PAH Pattern file (PAH=Print at home)
For printing in A4 or US Letter on a home printer. Printing at home is the most cost-effective, and sticking your pattern tiles together to make your full size pattern is easy. Further information for printing at home can be found in our Resources section here. 
3. AO Pattern file
AO is a large scale file designed to be printed at a Print Copy Shop. You cannot print this on your home printer as it is too big. If you choose to use this large file you will pay extra to have it printed but you do not have to stick anything together.
You can use the ADOBE LAYERS FEATURE to open the PAH pattern file and print only the size you need (and eliminate the "noise" of the unwanted sizes). You can also use the URL and bookmark links within the file to quickly access information and support. Download Adobe Reader for free (for Windows and Mac) here.
Reviews
Customer Reviews
03/07/2023
SUNA V.

South Africa
Mapua shorts
Perfect fit and clear instructions. Beautiful pattern.
02/14/2023
Carolyn M.

New Zealand
Great pattern
I made 4 pairs of shorts already and have plans for more. This was an easy pattern to sew. Loved the pocket construction. Great instructions. Great fit.
02/05/2023
Lee M.

New Zealand
01/07/2023
Kay C.

New Zealand
Mapua Shorts
These are great shorts, a very nice pattern smart on. Clear instructions with a great look
10/16/2022
Judith H.

Australia
New favourite shorts pattern
I've finally found a flattering shorts pattern that fits well and is a quick, easy sew. I've made two pairs already and will be making more. The instructions are clear with good use of photos and graphics. The flat front is so much more flattering than a standard pair of elastic waist shorts and the pockets are a bonus. They're a good length too. Thank you!
10/01/2022
Karen H.

New Zealand
Great Shorts
Easy to follow pattern. Currently making a second pair in a smaller size - I should have gone with my hip measurement. I also made them 5cm longer in the leg.
09/21/2022
Cheryl S.

United Kingdom
Great shorts but have turned out a bit roomy.
I recently made my first Sewing Revival pattern, which was the Sidewinder pant. I made an 8 based on the chart, but they turned out a bit snug, so made the 10 and found them much better (I'm usually an Aus 10). This time with the shorts I started with the size 10 and I find them a bit roomy. That said, they turned out really well and I think it's a great pattern. Hopefully can find time soon to try the size 8.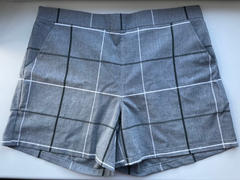 08/04/2022
DiAnne H.

United States
Fairly simple pattern
I like the shorts. The instructions were pretty clear and easy to follow. The yardage recommendation was a little off for the larger sizes, if youre making the version with the belt. I would add a quarter yard more. If you plan to lengthen the shorts you will need to buy even more extra fabric. I added 4 inches to make them longer and so I could cuff them. I needed to go back and buy another 2/3 of a yard. Had I bought it all in one cut I probably would have only needed a 1/2 yard extra. But that's on me. No fault of the pattern. Overall, it's a nice pattern. Maybe runs a tad large.... As a side note pay attention to the different sizes US vs NZ and double check your printer settings, matching the 2 inch square.
05/03/2022
Kim M.

New Zealand
Mapua Shorts
Another great Sewing Revival pattern. Great instructions to follow & the fit is fantastic. I have made them in rust linen & looking forward to wearing these this coming summer.
02/24/2022
Bernie H.

New Zealand
Disappointed
These are really oversized, I was so disappointed in them i didn't finish them. I made a size 12 based on my measurements and the finished measurements and they were absolutely huge. I was expecting the fit to be more like the Sidewinder pant. I've also made Simplicity 1887 and prefer the construction of the waistband from that pattern and the inside leg from Closet Core Jenny shorts. I think these should be redrafted
02/24/2022
The Sewing Revival
Hi Bernie, These pants are true to size and well tested. Can I ask you to please check that you made up the size 12 NZ/AU sizing and not the size 12 US by mistake (which would be a size 16 NZ/AU). Kind regards, Janine
01/09/2022
Rachel R.

New Zealand
Summer shorts
Straighforward pattern, fits well. I lengthened them easily and will make a second pair
01/04/2022
Donna E.

Australia
Two pairs made with varying results
Overall I love the outcome of this pattern. The first pair I made I tried really hard to use the finished measurements and decided on a size 14 … I am usually an 'off the rack Australian 12' but was trying to be a 'good sewist'. They were … one size too big (hahaha). Second pair I made in size 12 was spot-on. I consider myself a confident beginner but obviously I'm still learning.
01/01/2022
Moyra M.

Australia
Great shorts
My shorts turned out really well, but will have to drop a few kilos to be able to carry off the tie belt better. Will be making a few more for sure !!!
12/29/2021
Siwsan P.

New Zealand
Shorts and longs
A really good and easy pattern to follow, I made the shorts as a mock up for a longer pair of trousers. It turned out so well I now have both. The sizing was good, which is always a bonus when you are on the plus size of "ordinary". I have also purchased the stitch bird dress, but haven't made that yet. Thank you
12/14/2021
Karren P.

Australia
Very easy to sew shorts
The shorts came together very easily and quickly. Straightforward instructions that worked! I'll definitely be making these again this summer.
12/08/2021
Maureen O.

New Zealand
Mapua Shorts
Cute shorts! Very easy to make
11/27/2021
Janelle D.

Australia
The best fitting shorts ever worn
A mental challenge for me to do pockets, belt loops, waistband etc, but very enjoyable to succeed and be able to wear the end result so proudly. Have already made two pairs in one weekend, and searching for the fabric for my next pair! Very comfortable and a perfect amount of leg flare.
11/14/2021
Penny F.

Canada
Comfy shorts
Easy to follow pattern, great fit, great style!
11/03/2021
TRACY G.

Australia
Mapua Shorts with belt - my new go to
These turned out so well I made another pair straight after! The pattern is easy to follow and I love the elastic on the back - although I found the instructions here a bit tricky on the first pair. Being 5ft 3in I found the front rise about right, but someone taller would find them quite low I would think (it does advise they sit just below the belly button). All in all I love this pattern and will definitely make more!
10/28/2021
shirley r.

New Zealand
Mapua Shorts
I have made 2 pairs of these shorts now and really like the pattern. They were a good fit with no alterations required. Pattern instructions are mostly straightforward except for the elastic in the waistband. I cannot understand how it gives the best finish on the sides of the shorts. Overall this is not a detractor and it is a great pattern.