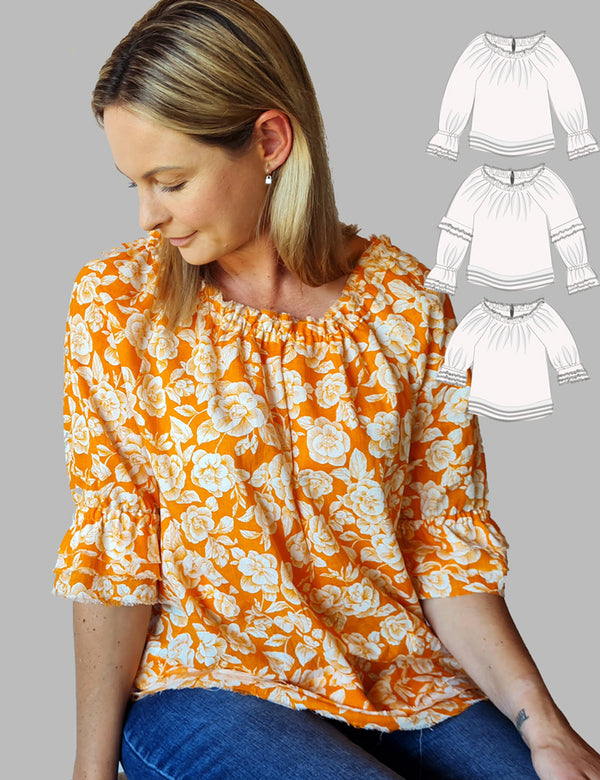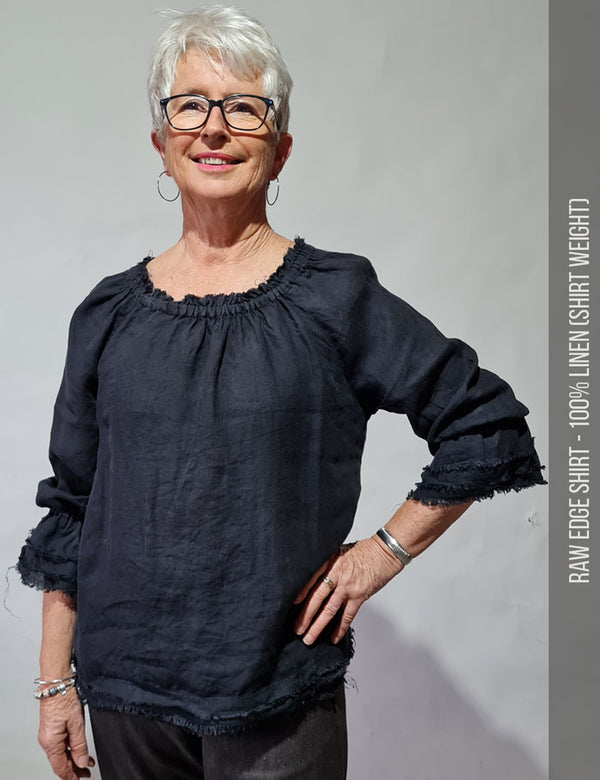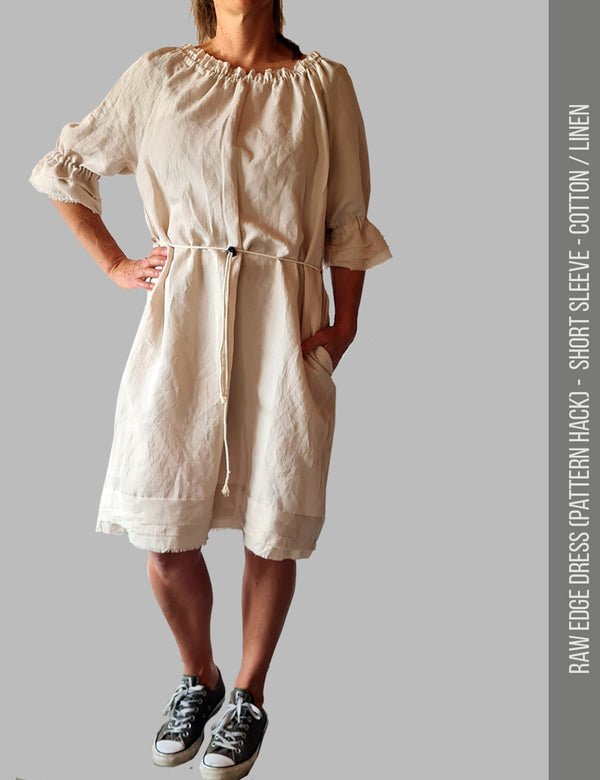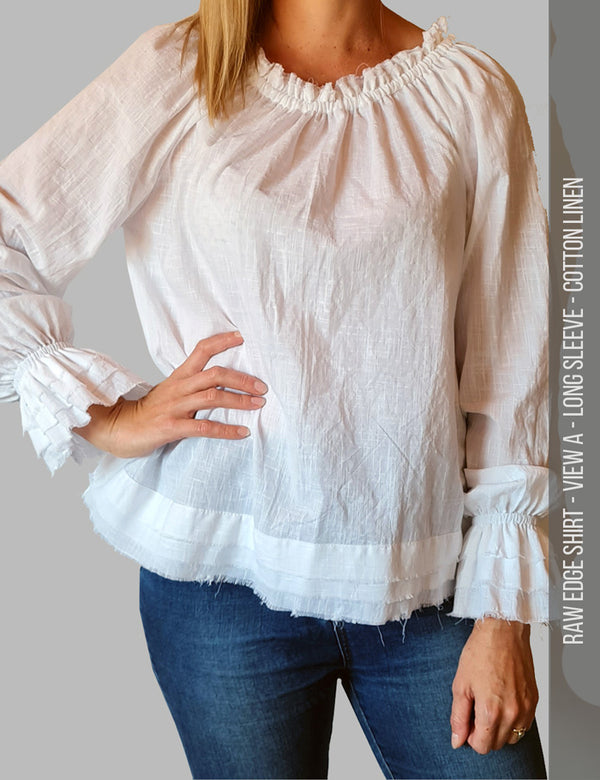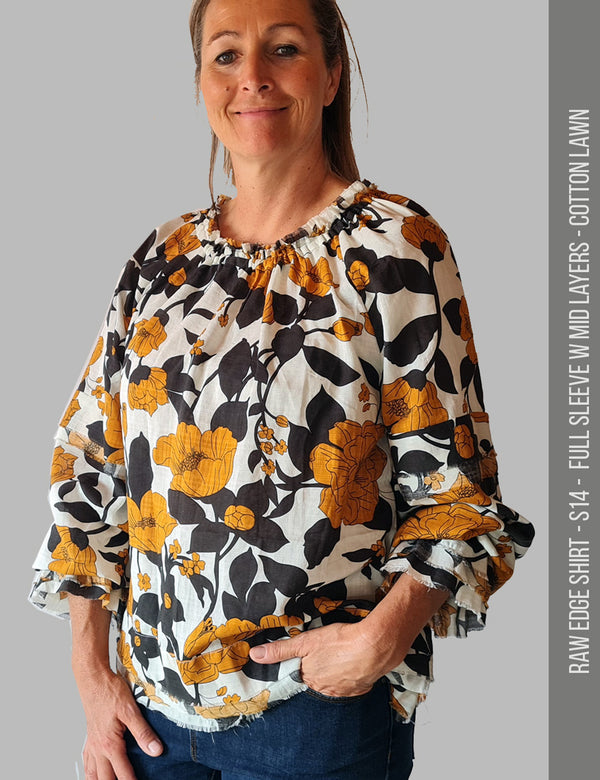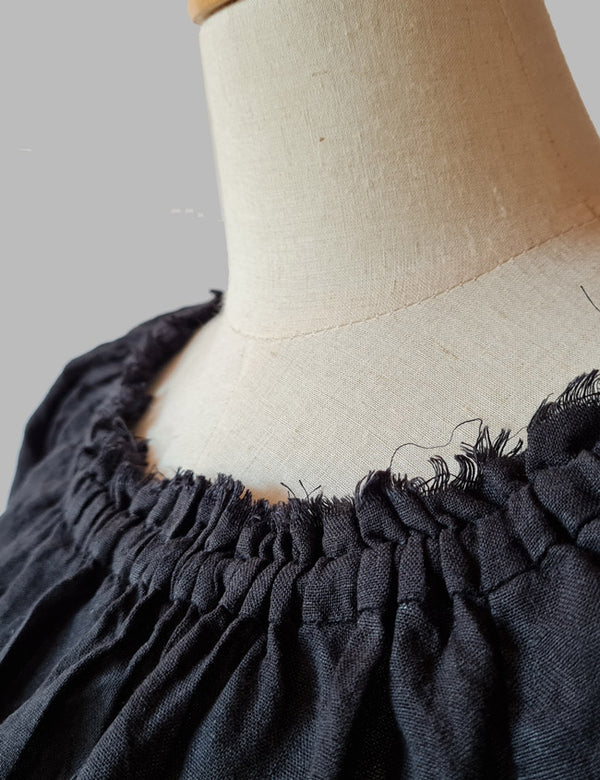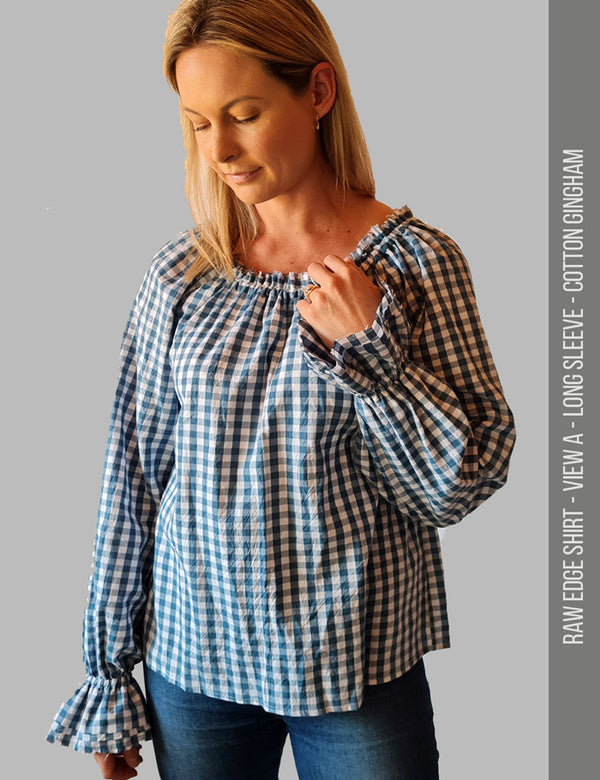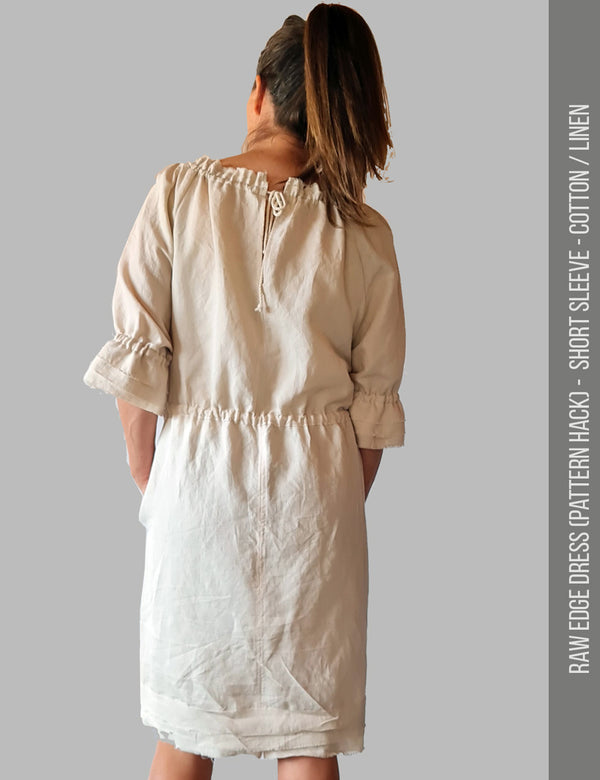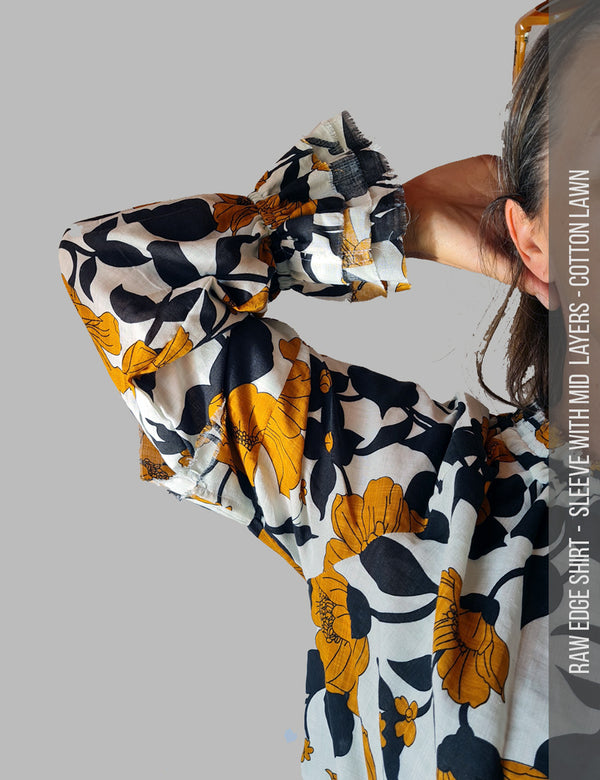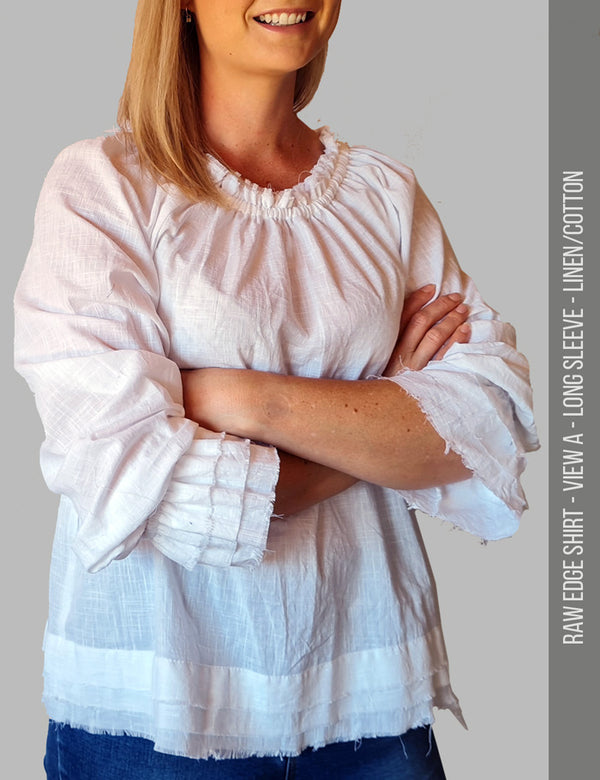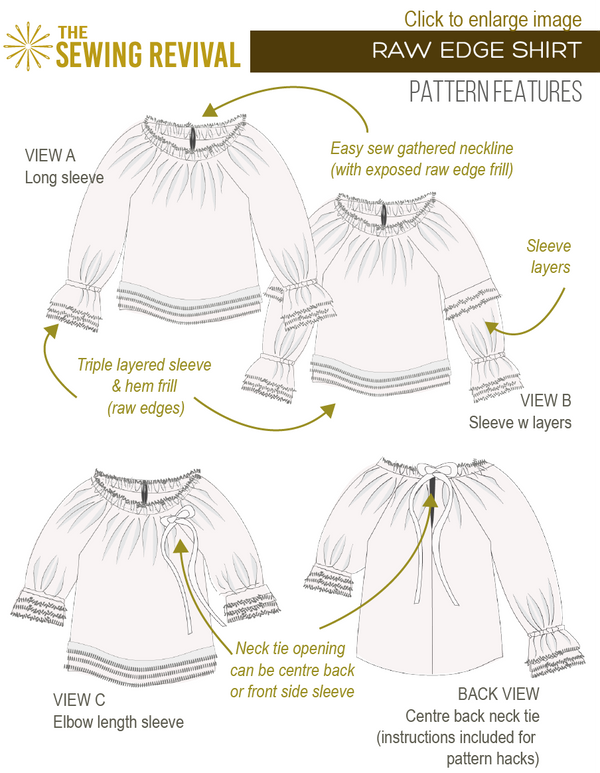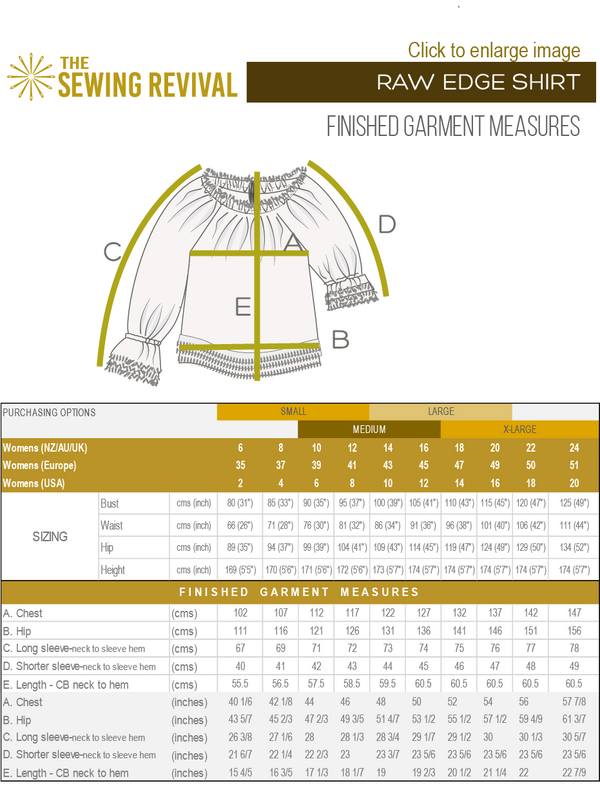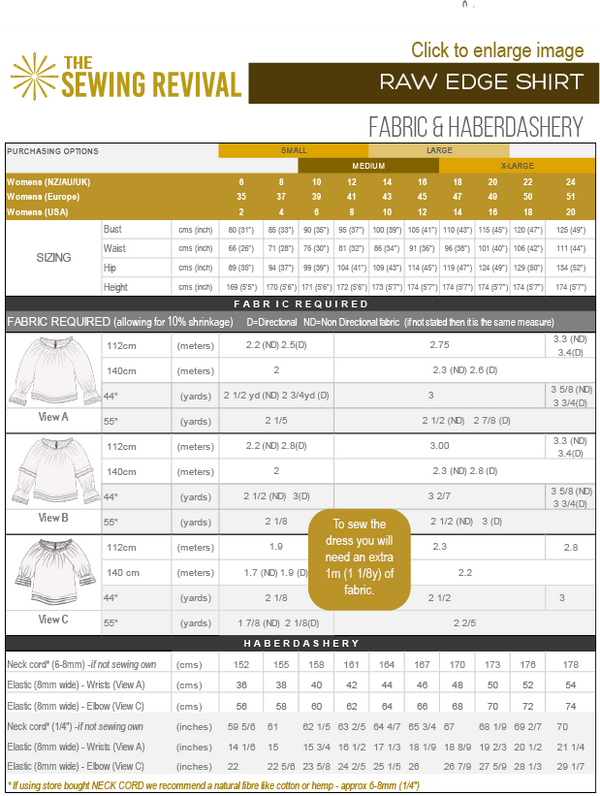 Raw Edge Shirt (& dress hack)
with layered raw neck, wrist and hem edges this shirt is a little something different. Sewn in linen or a range of cotton weaves in order to maximize the impact of the frayed raw hems, the Raw Edge Shirt celebrates natural fibers with style.
A sister shirt to the ever popular Heron Shirt, with a lower neckline and a bit more "sass".

We use layered wrist panels to also construct the elastic wrist band and provide design features for the hem and optional mid sleeve. You have the choice of long or elbow length sleeves (and anything in between). Instructions included to easily hack this shirt to a dress.
Have some fun and celebrate something a little different.
Skill level: Easy intermediate
Pattern Features:
* Raw frayed edges on the layered neckband, wrist & hem bands
* Draw string gathered neck with center back or front shoulder seam neck tie
* Triple layered wrist and hem bands
* Raglan sleeve for an easy relaxed fit
* Easily adjusted hem length
* Instructions for pattern hacks (sew a dress, front shoulder neck tie opening)
* Trans seasonal dressing (summer and winter)
Raw edge dress hack: download the free dress pocket bag pattern (print at home) and follow the instructions to turn this shirt into a dress.Share your makes on Instagram tagging #TSRRawEdgeShirt and @thesewingrevival
FABRIC
Please refer to the FABRIC REQUIREMENT CHART as one of the last images on this product listing. You can magnify this image by clicking on it if viewing on a mobile phone whilst in a fabric store.
The Raw Edge Shirt is designed for light to mid-weight woven LINEN & COTTON. Shirt weight wovens are perfect to get the best gather and most effective fraying of the raw edges.

*Please also note that all (new) fabric should be pre-washed in case of shrinkage. 100% cotton & linen will shrink during the first wash. It doesn't hurt to be safe and remove any dodgy chemical build-up that may have occurred during printing anyway.
DIFFICULTY
Easy Intermediate



SIZE & PRINTING
This is a loose-fitting garment. If you prefer it to be a little less "roomy" or you are "in-between" sizes then we suggest you err on the smaller size. 
Each purchase comes with 4 sizes (please refer to the last image for size chart and international size comparisons):
Small - (NZ/AU/UK 6-8-10-12  | US 2-4-6-8)                    A4/Letter=29   AO=2pages
Medium - (NZ/AU/UK 10-12-14-16  | US 6-8-10-12)        A4/Letter=30   AO=2pages
Large - (NZ/AU/UK 14-16-18-20  | US 10-12-14-16)        A4/Letter=33   AO=2pages
X-Large - (NZ/AU/UK 18-20-22-24  | US 14-16-18-20)     A4/Letter=34   AO=2pages

WHAT DO I GET WITH MY PURCHASE?

Please note you are purchasing a digital pattern that will be sent directly to your email inbox after payment. *You will not receive a hard copy printed pattern.*
You will receive a link to download 3 different PDF files:
1. Instructions
2. Print at home Pattern Tiles (PAH=Print at home)
For printing in A4 or US Letter on a home printer. Printing at home is the most cost-effective, and sticking your pattern tiles together to make your full size pattern is easy. Further information for printing at home can be found in our Resources section here. 
3. Large scale Pattern file (AO) for taking to your local Print Shop 
AO is a large scale file designed to be printed at a Print Copy Shop. You cannot print this on your home printer as it is too big. If you choose to use this large file you will pay extra to have it printed but you do not have to stick anything together.
You can use the ADOBE LAYERS FEATURE to open the PAH pattern file and print only the size you need (and eliminate the "noise" of the unwanted sizes). You can also use the URL and bookmark links within the file to quickly access information and support. Download Adobe Reader for free (for Windows and Mac) here.
Reviews
Customer Reviews
04/26/2023
Karen G.

New Zealand
Love this pattern!
I haven't knit for ages but loved this pattern so decided to give it a try. It's a great pattern and the instructions are easy to follow. I'll definitely make it again.
04/11/2023
Delia

United States
such fun!
I can't tell you how much I've enjoyed making this shirt and dealing with Sewing Revival. FINALLY! Sewing patterns that are stylish AND uncomplicated! How much can I tell you about having a printed pattern as opposed to all those old tissue paper ones! Just fabulous. The raw edge shirt is adorable. It is a little fuller in the neck but that is my smallest area so I may do some adjusting on my next one. HIGHLY recommend!
01/23/2023
Tracy

New Zealand
Raw-ish Edge Dress
Having made quite a few long-sleeved raw edge tops that I enjoy wearing, I decided to try the dress hack, it worked perfectly, and I love it. Great instructions and I love the multiple options you have to make this unique for you. I only left the neck as raw edge and have hemmed everything else and did not add a belt as I preferred it loose fitting. I also used cord for the necktie which I like with this material.
01/14/2023
Tanya D.

Australia
Blouse
Very happy with my purchase, the pattern was easy to follow and I've already used it twice
11/23/2022
Annie F.

New Zealand
Raw edge shirt
Great fast make. Lots of compliments! Will be making this one multiple times.
11/12/2022
Yvonne S.

Australia
raw edge shirt
this pattern is lovely. great instructions and I am happy with the result. about to make another on.
10/26/2022
Robyn C.

Australia
Very easy to following, have made 4 for myself and family. Love it
10/16/2022
Ms C.

Australia
08/24/2022
Lee M.

New Zealand
07/24/2022
Jodie D.

United States
Great pattern
I've never been able to sew a blouse that fit properly. This one did and exceeded my expectations. It's so cute in a summery orange gingham!
05/30/2022
Tracy N.

New Zealand
Love Linen
I have now made 2 of the Raw ( not so raw) Edge Shirts and have just completed the dress version. Love the raw neck edge as it is easy to construct but I couldn't cope with the raw edges on the sleeves or the hem so have hemmed all of those and love it done that way. Great fit and am loving working with the Linen/Cotton blend, easy to sew and sits nicely.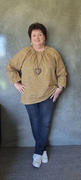 05/19/2022
Janet M.

Canada
Raw Edge Shirt
Just purchased this pattern and plan to make the dress for a special occasion.
05/18/2022
Linda M.

New Zealand
Raw edge shirt
I look forward to sewing this top, love the features.
05/16/2022
Wendy D.

New Zealand
Dressy Shirt with a casual finish
This is an elegant shirt that can be dressed up or have the edgy casual finish. It was quick and easy to make with great instructions. I used elastic in the neck instead of a tie which was an easy change to make. The key to this shirt is choosing the fabric. Not too heavy and easily frayed. I chose an embroidery anglaise which didn't fray well but with perserverence (while watching tv) I spent the time fraying it around the fiddly embroidery bits which totally changed the appearance. I love it now and I have already bought more fabric to make another one.
05/13/2022
Kris H.

New Zealand
Raw edge shirt
Excellent - luv the finished results and will make many more - sizings great - the hardest part is pulling the threads to give it the look - lol
05/12/2022
Anne B.

New Zealand
A Fun and Quick Sew
Very easy to download, choose the size and print and a quick, easy sew, thank you
05/10/2022
Helen S.

United Kingdom
Another fab pattern
I love the adaptability of this pattern can be made into many styles 10/10 fab instructions as always a*