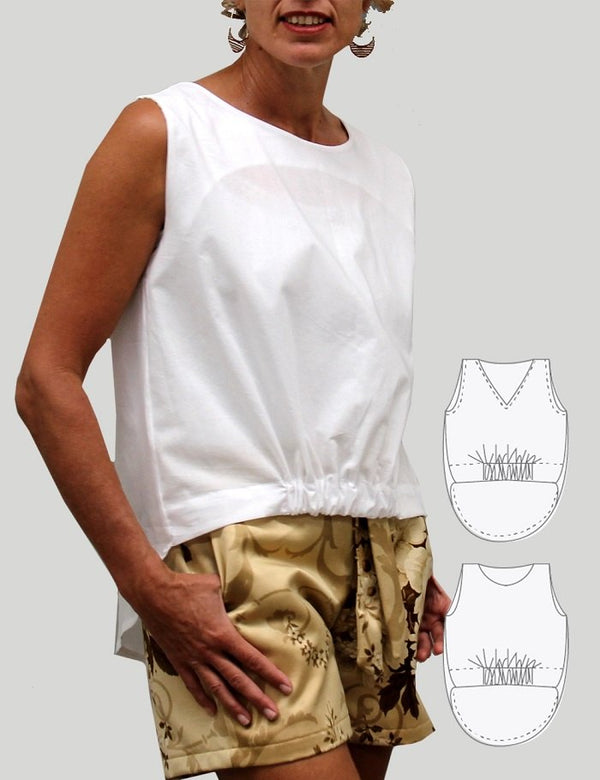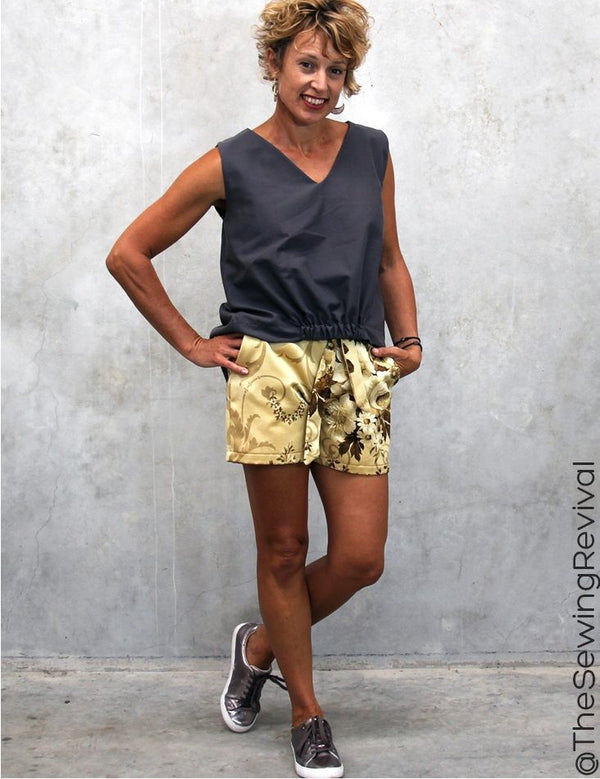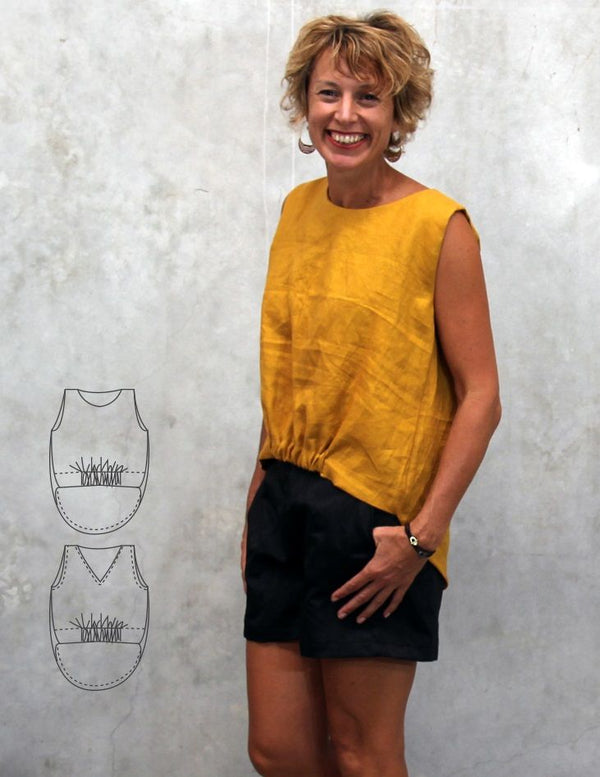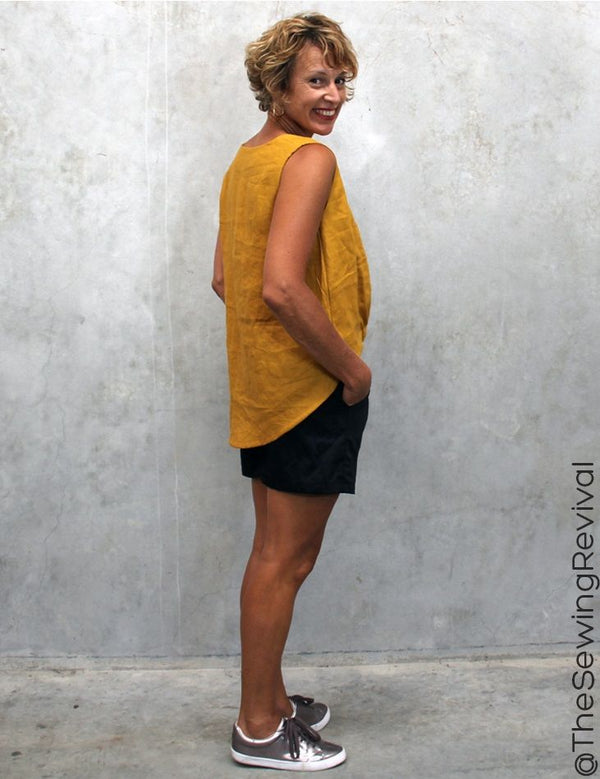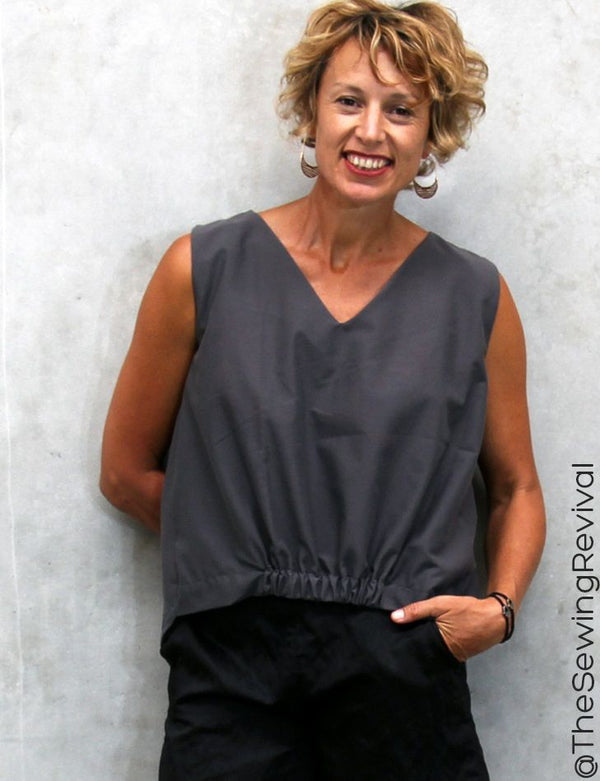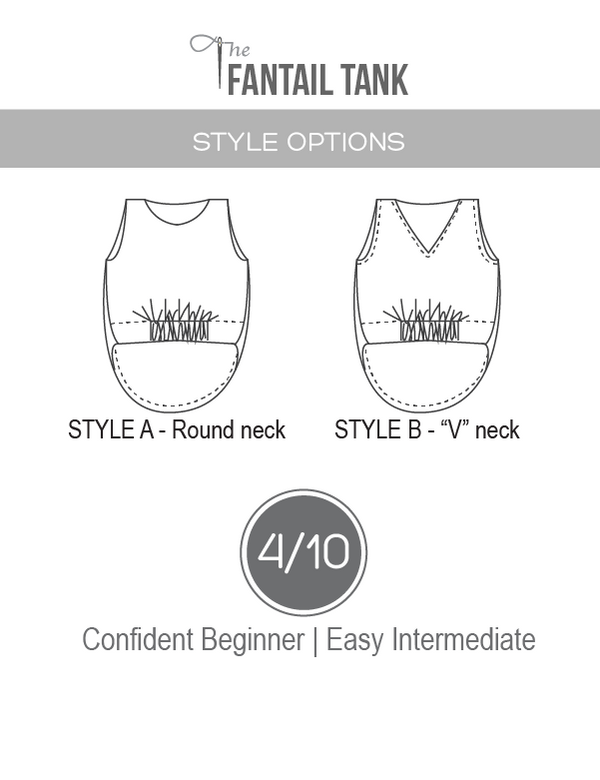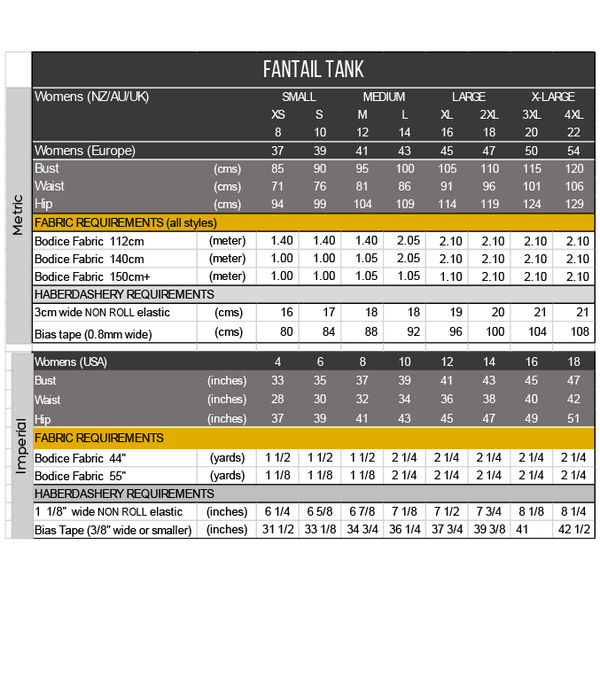 A special sleeveless top that is easy to sew with a designer twist. The center front hem gather adds unique interest and the lowered back hem ensures the top is flattering around the derriere. A lovely line is created from the center front down along the hip and around the rear hem creating a "fantail". The Fantail Tank is a simple sew and the curved hem made easy with bias binding.
Perfect on a hot day worn with shorts or to an evening BBQ with jeans or summer trousers.
Easy. Different. Flattering.
STYLE OPTIONS: Round neck and "V" neck
Share your makes on Instagram & Facebook tagging #FantailTank and @thesewingrevival
FABRIC
Please refer to the FABRIC REQUIREMENT CHART as one of the last images on this product listing. You can magnify this image if viewing it on a mobile phone whilst in a fabric store.
WOVEN fabrics : We recommend cotton, rayon, viscose, polyester crepe and light weight linen. Refer to the product images noting how the different fabrics respond to the center front gather. A crisp cotton gives a lovely gather definition, whilst a softer draping fabric like rayon produces a softer gather.
Our samples are made up as follows:
Main image- round neck option in mustard linen
Grey V Neck version is cotton/polyester blend
White Round Neck in cotton lawn
DIFFICULTY
Confident Beginner | Easy Intermediate (4/10).
The Fantail Tank can be sewn with or without an overlocker (serger) to neaten the seams.
SIZE & FITTING
Select your size and you will also receive the sizes above and below to allow for grading between if you need. This pattern is a loose fit, so you might like to err on the smaller size if you are having trouble deciding. Refer the Size Chart for help if you need. 

This PDF pattern is available in bundles of 3 sizes (please refer to image number 14 for the size chart):  
 UK|AU|NZ 8-12   and  US 4-8                PAH x 23 | AO x 1 pages
 UK|AU|NZ 10-14   and  US 6-10            PAH x 26 | AO x 1 pages
 UK|AU|NZ 12-16 and  US 8-12              PAH x 27 | AO x 1 pages
 UK|AU|NZ 14-18  and  US 10-14           PAH x 28 | AO x 1 pages
 UK|AU|NZ 16-22   and  US 12-18          PAH x 30 | AO x 1 pages
WHAT DO I GET WITH MY PURCHASE?
After your payment is processed you will receive an email with links to instantly download the following:
1. Print-at-home file including instructions (on A4 or letter paper). This file includes instructions on how to sew up the Fantail Tank, links to a video tutorial and the Pattern Tiles to print and compile at home. This file lets you get started immediately.
Opening the file in ADOBE READER will maximize the pattern features (Layers feature will allow you to print only the single size you need).  You can also use the URL and bookmark links within the file to quickly access information and support. You can download Adobe Reader for free (for Windows and Mac) here.
and;
2. CopyShop(AO size) . This file contains the pattern in your chosen sizes in the large AO size. Take this file to your local Print Shop if printing & compiling at home is not your thing.
Reviews
Customer Reviews
11/15/2023
Tina

Germany
10/12/2023
Claire F.

Australia
Fantail tank
I am really happy with this pattern. I have only used the pattern once so far and made a couple of mistakes… 2nd attempt will be better but that's on me, not the pattern. I learnt two new things (the burrito facing method and how to use bias binding) so I consider this purchase money well spent on skill development :). Would recommend to others!
09/27/2023
Monica G.

Italy
Love it!
The pattern and instructions are clear and easy to follow. The fit is great (being petite, I only shortened the pattern a bit to keep proportions right). Instead of using bias tape to hem the bottom edge, I made a narrow hem and it worked just fine with my linen fabric. I love my Fantail Tank!
08/24/2023
Sue O.

New Zealand
love your patterns
always love your patterns and learnt a new trick with the facings as well. I have several of your patterns and have not been dissappointed with any of them. Thanks again!
08/22/2023
Amanda

New Zealand
Quick, easy and flattering
This is my 3rd TSR pattern, and just like the previous 2, I'm extremely satisfied. The instructions are clear, the pattern is very flattering and it all went swimmingly! I chose the tank rather than the sweatshirt as I wanted some flexibility with adding my own type of sleeves (not a fan of the sleeves that are part of the sweatshirt pattern). So far I've made 2 versions, both with long sleeves added, and I love them! Will be using this pattern a lot in the summer, both with and without sleeves. Highly recommended if you like to do a bit of pattern hacking and live on the edge :)
08/20/2023
Marcia D.

United Kingdom
Fantail Top
Just finished my first sewing revival pattern and loved the experience. I'm used to having to trace patterns so wasn't put off by having to print and make the pattern from the tiles. I liked the fact that seam allowances are included as that made cutting out easier and more accurate. I'm a UK size 12 so made the 10 following comments on the site and think it's a good fit. Little baggy under the arms but that's the style, and like others I am definitely planning to make more and might even go down another size for a slightly different look. The pictures and tutorials were really helpful, yep a fan of the burrito roll too. Overall I can't believe how professional the garment looks. I'm an OK beginner on simple projects.
07/31/2023
Tina

Germany
I'm a fan
I love making new clothes out of old ones. Cut a skirt in two halves and used them to sew this top. I'm super happy. Getting everything right with printing took a while but then worked out really well. Putting together the pattern tiles was very easy and done with little effort and no confusion. Good instructions. Thank you.
07/31/2023
Lynn

Canada
Fantail shirt
Very easy pattern. Loved using the "burrito" roll technique for the facings. I made this out of linen with matching "sidewinder" pants. This makes a beautiful set. I receive many compliments each time I wear it.
07/24/2023
Ina M.

Germany
Lotete shirt
I love this shirt. My first attempt at size M (my size) was too big. But in size S it fits perfectly. I found it a bit complicated to sew the curve, it didn't fit so well. I'll start with the curve next time. Maybe that's better ;) Thanks for this great pattern.
06/10/2023
Kanae S.

United Kingdom
No reply for my SOS email
I had problems with my own printer so I asked my friend to print this pattern . But I only ask her to print just as pattern without instructions. Then I wanted to see the instructions later on my own iPad, it was expired. So I emailed to your help but no response at all.
06/15/2023
The Sewing Revival
Hello Kanae, My apologies for thedelayed response. On researching this I did find your email and my apologies that I missed it. Please note that your files are automatically saved in the "Downloads" (sometimes Documents) folder on your device. We always recommend right clicking and saving the files in a new folder on your computer so that you can find them and print from them as many times as you wish in the future. Please search your device for the instructions and don't hesitate to email (or direct message) me if you need further help. Kind regards, Janine
06/08/2023
Beverly R.

United States
Fun Sew
Instructions and patterns are top notch! absolutely loved that there was no hand stitching on this pattern. I'll be making several!
06/02/2023
Astrid J.

Germany
A great sewing pattern
First I had problems with sewing the facing, but suddenly I understood and then it was easy. It is modern and comfortable. I love it. Thank you.
04/25/2023
Sharon W.

United Kingdom
Another fabulous pattern
Love the way the elasticated front elevates the style. A very useful holiday top.
04/22/2023
cheryl S.

United States
Pattern
Ordered my pattern April 3rd. It is now 4/22 and I still have not received the pattern
03/02/2023
Steffie A.

South Africa
Best ever
Easy, quick sew with outstanding results. Made this in the morning. Wore it that afternoon and went to buy more fabric for 2 more of these tops.
02/22/2023
Terri R.

New Zealand
Easy Peasy
This pattern was really easy and simple to sew even though I'm a intermediate beginner. I opted to have the AO printed at a copy shop which made cutting the pattern out so simple. While somethings were the first time trying for me I found the instructions easy to follow along with. Love the fit and flow of the top, very comfortable to wear.
02/16/2023
Julie B.

United Kingdom
Fantail top pattern
Excellent, I've made two for my holiday, quick and easy, result is lovely, my Mum thought I'd bought them.
02/02/2023
Sharon

New Zealand
I just love making the Fantail Top
Great pattern. I usually tuck my shirts slightly on one side so I dont look so frumpy but with this pattern I dont need to as it creates a nice lift. I did a little bit of Sashiko stitching on this one - material is Jersey.
02/16/2023
The Sewing Revival
Thanks for your review Sharon. I really love the Sashiko stitching on the front too. Definitely takes it up a notch.
01/29/2023
Jayne S.

New Zealand
Professional look
This top was easy the do with very support instructions for the beginner that I am. Very pleased with the result.
01/05/2023
Pauline V.

Australia
Excellent
Pattern great. Have almost finished top in a blue linen blend. Instructions with photos brilliant.