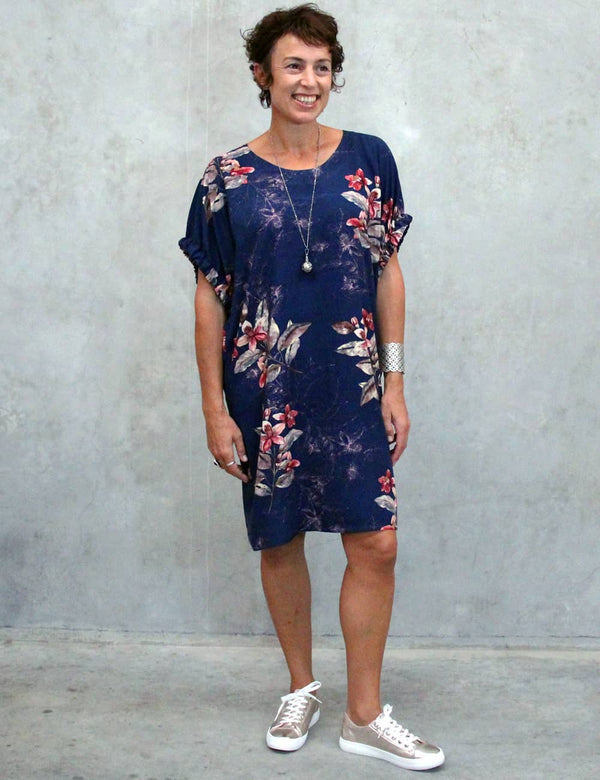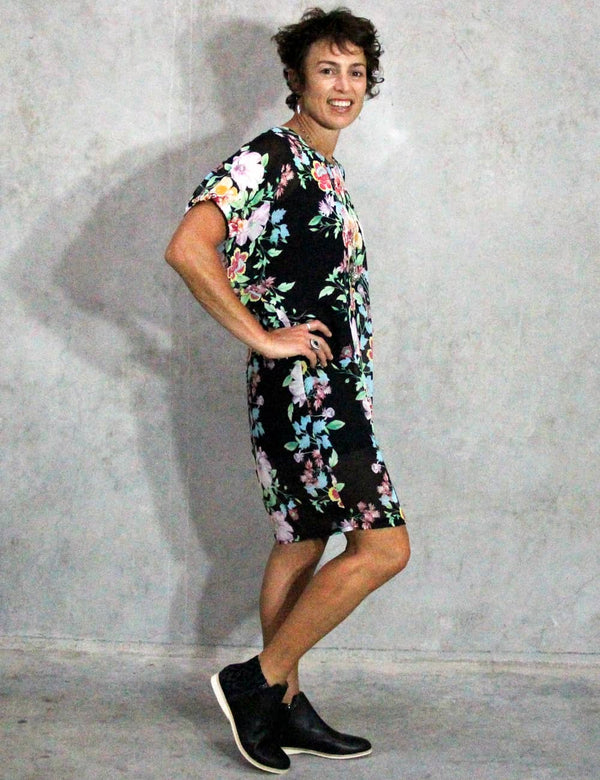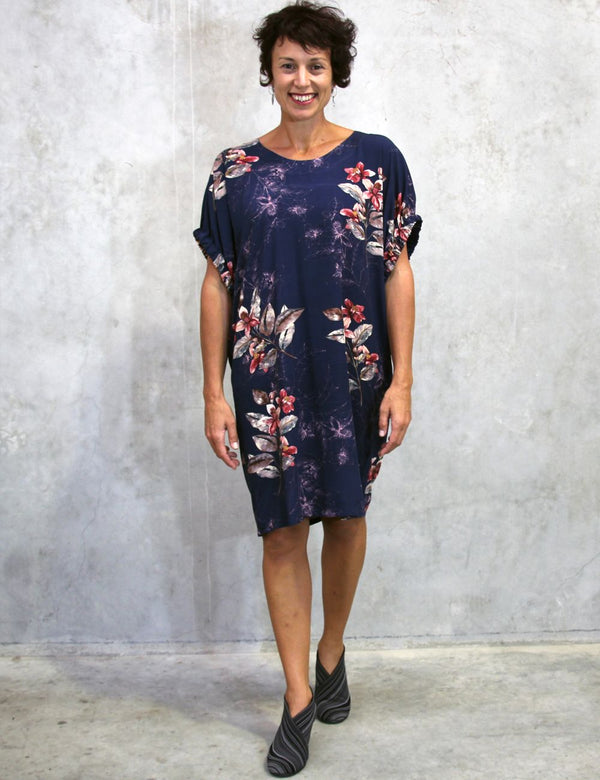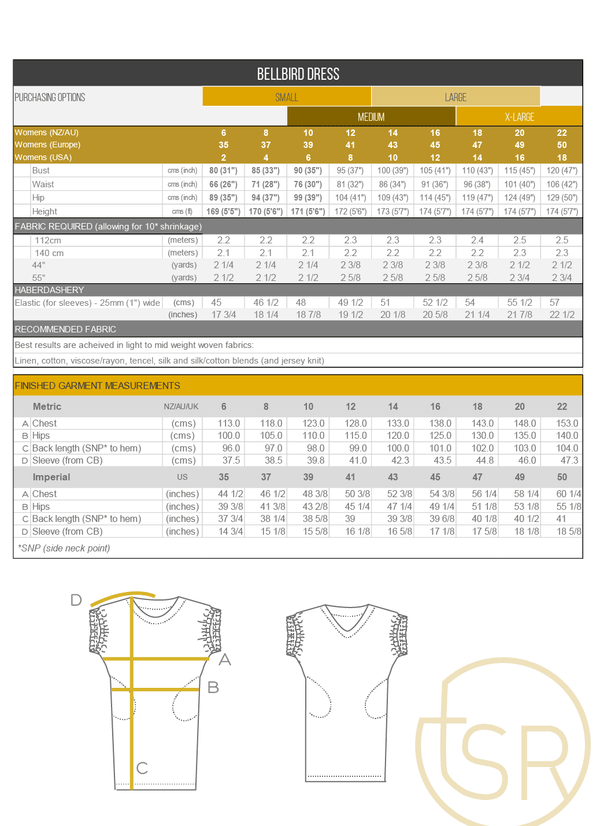 A pull on dress, the Bellbird has featured deep gathered dolman sleeves.  Super smart or casual and very much a beginners sewing pattern.  With both V neck and round neck options this is a sister dress to the Bellbird top with a fuller bodice to allow for shaping of the hips, placement of the pockets and extended length. The optional pockets work well in more structured fabrics (like linen and cotton) but are best left off for lighter and more delicate fabrics (like polyester crepes).
Beautifully cool in 100% cotton, linen or rayon/viscose, the dress is professionally finished with a simple neck facing.
Dress the Bellbird up or down choosing your shoes and accessories to set the mood.
PATTERN FEATURES:
Deep gathered dolman sleeves

Inseam side pockets

Loose-fitting and designed to sit just above the knee
Sizes NZ/AU 6-22 | US 2-18
Share your makes on Instagram & Facebook tagging #BellbirdDress and @thesewingrevival
FABRIC
Please refer to the FABRIC REQUIREMENT CHART as one of the last images on this product listing. You can magnify this image if viewing it on a mobile phone whilst in a fabric store.
WOVEN fabrics: Most light to mid-weight woven fabrics will suit this dress.
Linen, cotton and linen/cotton blends are highly recommended for this pattern.
Rayon, silk, silk & cotton blends, tencel and even jersey knits.
DIFFICULTY
Total beginner sewers can make this dress (we recommend leaving off the pockets if it is your very first dress) Rated a 2/5 for difficulty. No closures (zips or buttons). Skill learnt: Inserting elastic and neck facings.
 SIZE & FITTING
This is a loose-fitting garment. If you prefer it to be a little less "roomy" or you are "in-between" sizes then we suggest you err on the smaller size. 
Model wears size 10 (NZ/AU) and is 171 cm tall.
Each purchase comes with 4 sizes (please refer to the last image for size chart and international size comparisons):
Small - (NZ/AU/UK 6-8-10-12  | US 2-4-6-8)
Medium - (NZ/AU/UK 10-12-14-16  | US 6-8-10-12)
Large - (NZ/AU/UK 14-16-18-20  | US 10-12-14-16)
X-Large - (NZ/AU/UK 16-18-20-22  | US 12-14-16-18)
WHAT DO I GET WITH MY PURCHASE?
Please note you are purchasing a digital pattern that will be sent directly to your email inbox after payment. You can print this pattern at home on A4 or US letter-sized paper or take it to a print shop for large scale printing (AO size). *You will not receive a hard copy printed pattern.*
Instant download available immediately after checkout includes:

1. Instructions
2. PAH Pattern file (PAH=Print at home)
For printing in A4 or US Letter on a home printer. Printing at home is the most cost-effective, and sticking your pattern tiles together to make your full size pattern is easy. Further information for printing at home can be found in our Resources section here. 
3. AO Pattern file
AO is a large scale file designed to be printed at a Print Copy Shop. You cannot print this on your home printer as it is too big. If you choose to use this large file you will pay extra to have it printed but you do not have to stick anything together.
You can use the ADOBE LAYERS FEATURE to open the PAH pattern file and print only the size you need (and eliminate the "noise" of the unwanted sizes). You can also use the URL and bookmark links within the file to quickly access information and support. Download Adobe Reader for free (for Windows and Mac) here.
Reviews
Customer Reviews
02/08/2023
Robyn G.

New Zealand
Bellbird Dress
Very easy pattern to follow. Sizing was rather too large for my measured size however the style of dress is supposed to be flowing style but was just too big on me I have made another dress and downsized the top half and am happy with the results
06/22/2022
Jan S.

United States
Looks great!
I haven't used the pattern yet, but it is well-written and looks like it will be easy. When I find the right fabric I'll give it a go.
05/12/2022
Lee M.

New Zealand
Bellbird Dress
Very easy pattern to follow. Quick to sew. I love this dress. I decided not to put the pockets in it.
04/28/2022
Julie S.

New Zealand
Bellbird bliss
Loved this pattern, instructions clear, can't wait to make another
03/01/2022
Lorelle D.

Australia
11/18/2021
Lorraine A.

New Zealand
Bellbird Dress
Brilliant! Easy construction. Easy to fit in the way I like to wear dresses these days. Makes a gorgeous top as well.
11/16/2021
Vivienne R.

New Zealand
Alternations
I found I had to do a lot of alterations to this pattern. I measured myself to the 16 but I am only 5 feet tall. I first had to remake it as it was to bulky and big on me even though I was a 16 size. So ended up reshaping and making the side seams a 12 size. I then had to reshape the curve under the seam as this looked far too bulky on me. Thank goodness I am not a new sewer
11/17/2021
The Sewing Revival
Hi Vivienne, I am sorry you need to make so many adjustments. We do include a Finished Garment Measurement chart with every sewing pattern and the Bellbird dress finished measures are both in the instructions and on the product listing on the website (last image). We do urge you to refer to that to help decide which size to sew up if you are not sewing a toille (test version) first. Also just wondering if you have sewn the correct size (eg- that you havn't got a NZ/UKsize 10 mixed up with a US size 10 for example)? Kind regards, Janine
11/07/2021
Kathy K.

New Zealand
A great style
A great pattern. I made it for a friend. Very flattering. I used rayon which fell beautifully. (Didn't put the pockets in because I thought the fabric would be too soft) I love the Bellbird top too which looks fantastic with the wrap skirt. Fabric in the wash to make another one.
09/30/2021
Irene F.

New Zealand
Happy
Super happy with my patterns the process was very easy and quick. I haven't made it up yet but I can see it will be great. Regards Irene
09/28/2021
Tania Y.

New Zealand
Nice easy dress
Whipped this dress up in no time. Good for a beginner sewer. Choose a lovely drapey fabric or quality linen and you have yourself a nice versatile dress.
08/14/2021
Robin B.

New Zealand
Bellbird Dress
I love Sewing Revival patterns and have already bought a few patterns which I am absolutely delighted with but I have just printed off this pattern and was disappointed to see that one pattern piece included the front and back. I understand this has probably been done to save paper/printing costs but I want to possibly make this more than once. When I cut the front neck I've lost the pattern markings for the back neck. Also, I am unable to lay out all the pattern pieces on my fabric before starting to cut. It would have been nice to have a front and back piece.
08/14/2021
The Sewing Revival
Hi Robin, We appreciate you taking the time to reply. You are correct - the front and back pattern pieces are overlayed to save printing costs (& compilation time) - however, if you prefer 2 separate pattern pieces you can simply re-print the pages. Easy peasy. Kindest regards, Janine
04/05/2021
Sandy R.

New Zealand
Bellbird Dress
I love this pattern. Very easy to follow and use. I've adapted the design easily and have now made dresses for myself and daughters in laws.
03/03/2021
Kelly W.

New Zealand
Beware for those with hips
As usual I did my measurements to decide which size to cut the pattern. Sadly, when I came to trying the dress on after sewing the side seams, it was way too tight around the hips. If you have hips like me, cut the pattern a size bigger than you think. You can always take bits in here and there but at least it will fit over your hips.
01/04/2021
Clare M.

New Zealand
Very fabric dependent
I had some issues getting the pattern to print properly at 100%. This was odd because I regularly print pattern pdfs from other companies. I made the dress up in silk and it was ok but was very 'flappy' under the arms. Eventually I reshaped it and used a narrower elastic and the result was OK but not as great as I was hoping for with such a beautiful fabric. I have also reused the modified pattern in a lighter cotton silk to make a top which was fine.
11/03/2020
Darryl R.

New Zealand
Three Greats
Great pattern Great service Great experience!
04/11/2020
Caroline O.

United Kingdom
Beautiful Bellbird
This was my first time using a PDF pattern. I found it easy and simple to put together and a joy to sew up. I used a soft and floaty polyester crepe, and took it slowly. I am really pleased with the outcome and look forward to the summer to wear it.
11/27/2019
Maria G.

Uruguay
Bellbird
Have not yet started this project. So far, the pattern seems easy to sew and I've already bought white and navy blue printed viscose.
10/26/2019
jo H.

New Zealand
Patterns
Great patterns hav made 3 things love them look forward to more to come
09/23/2019
Alison M.

New Zealand
Bellbird dress
Nice easy pattern. Dress looks great made up
Bellbird dress & blouse
Easy to use pattern.Have made 3 Blouses &2dresses.in different fabrics I have already purchased more patterns &look forward to making these