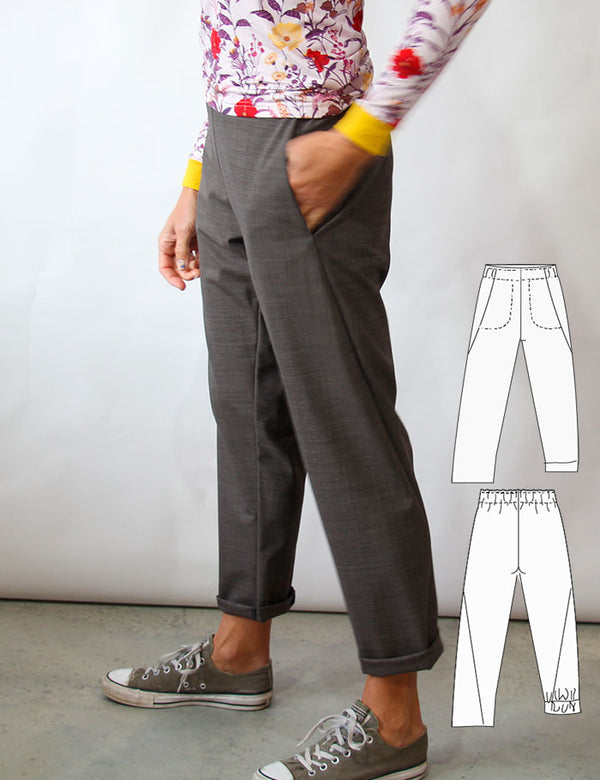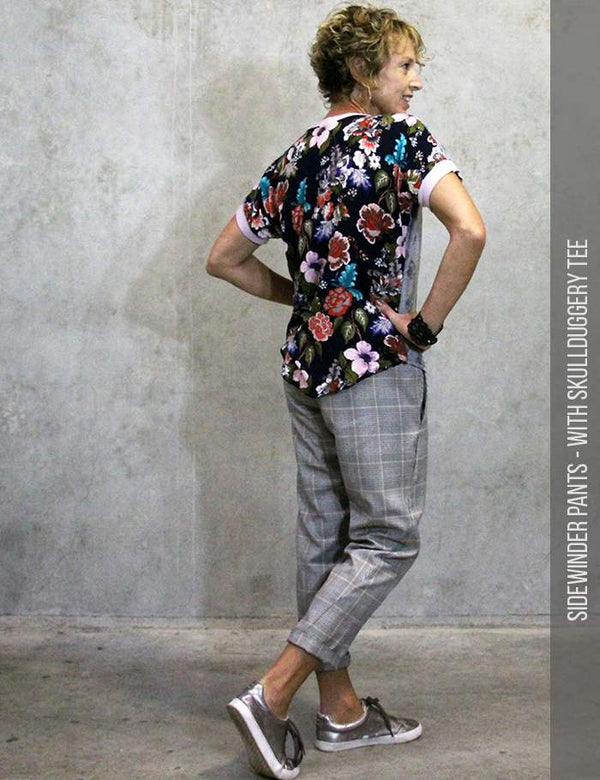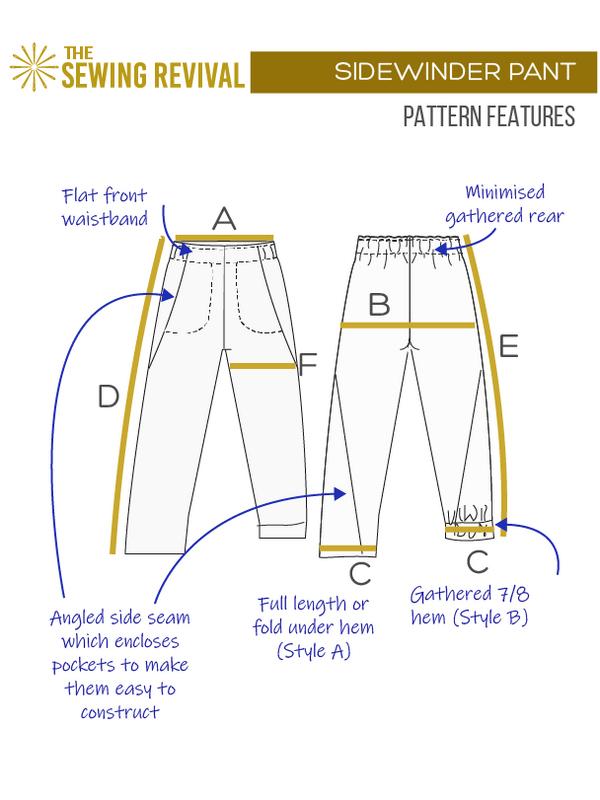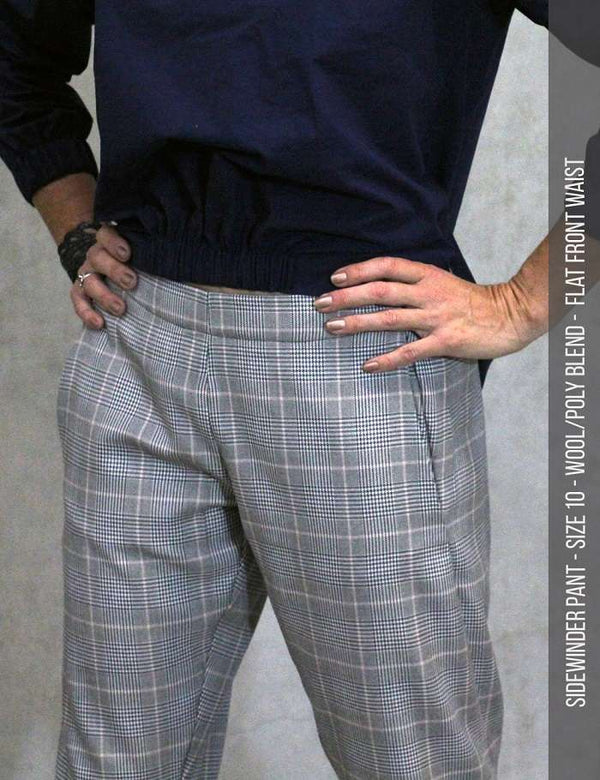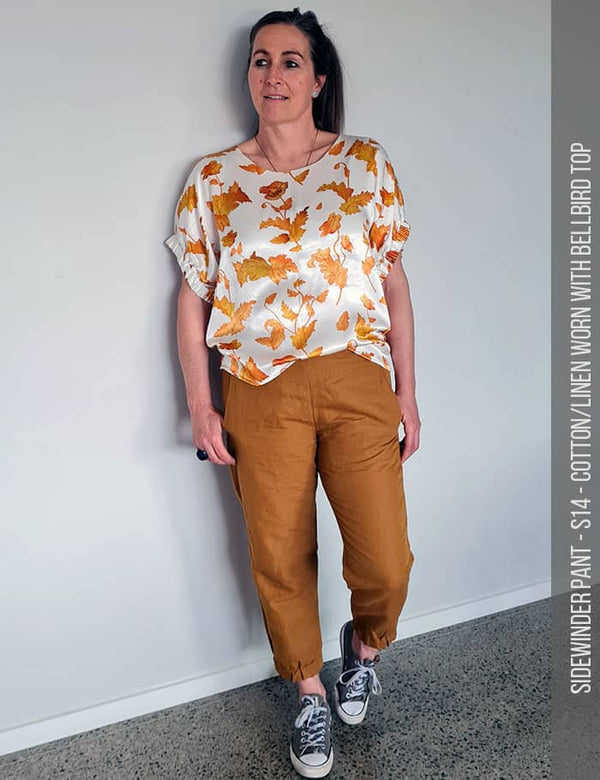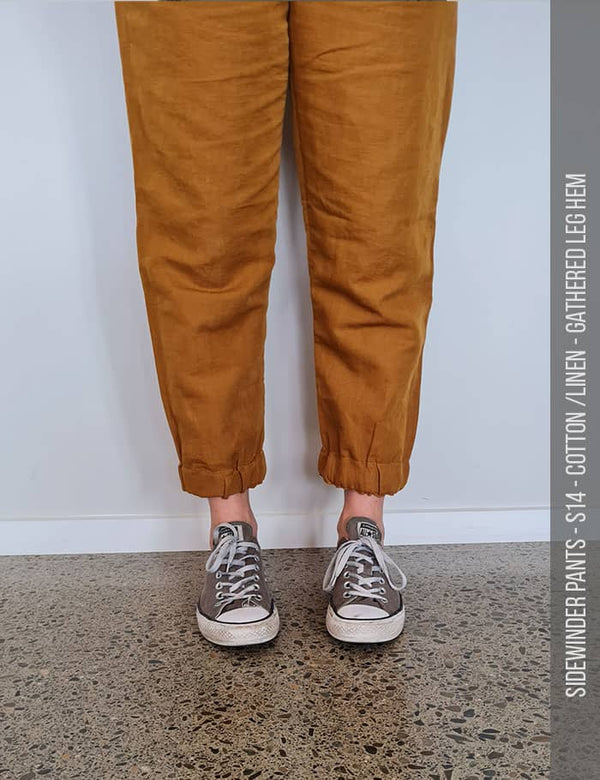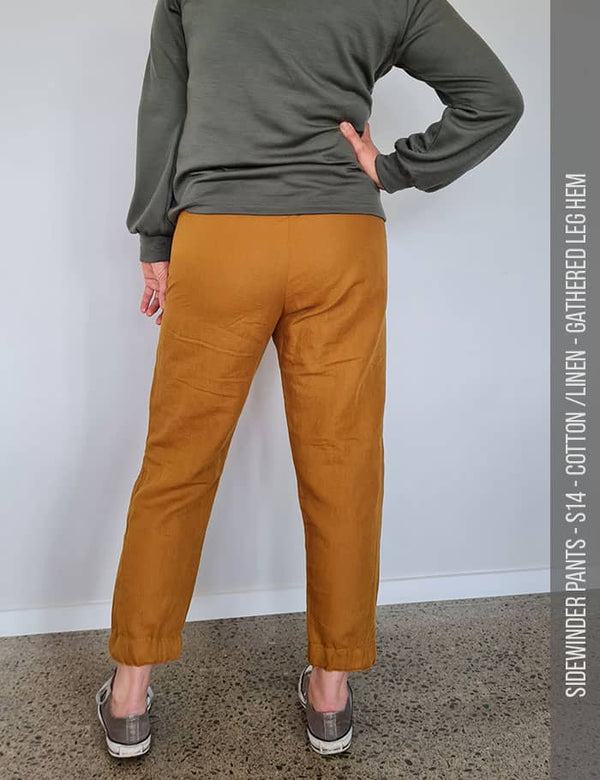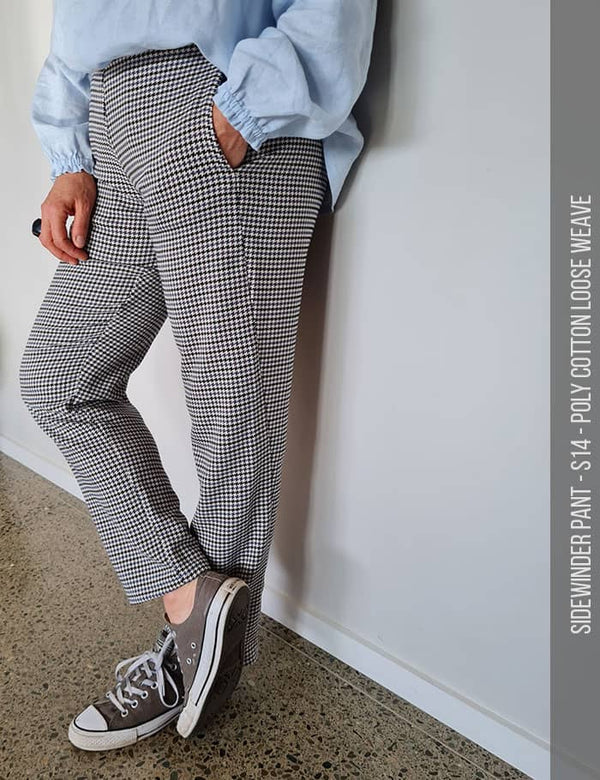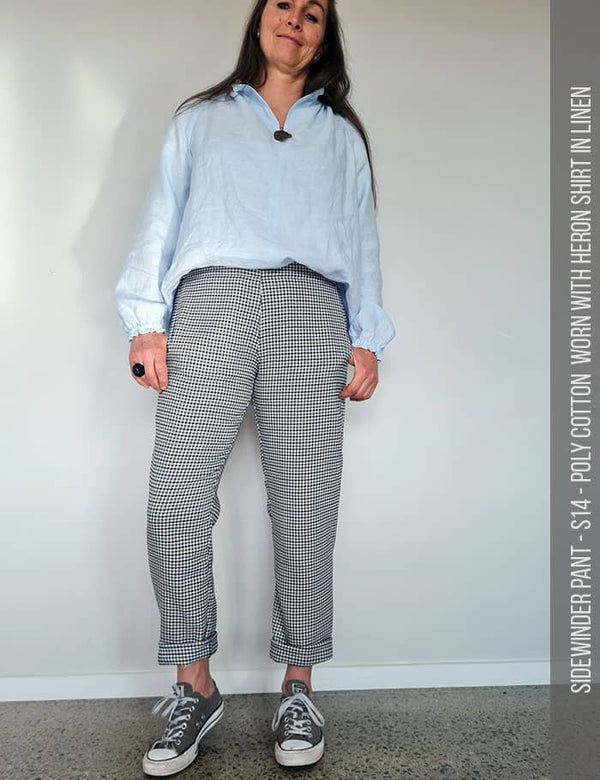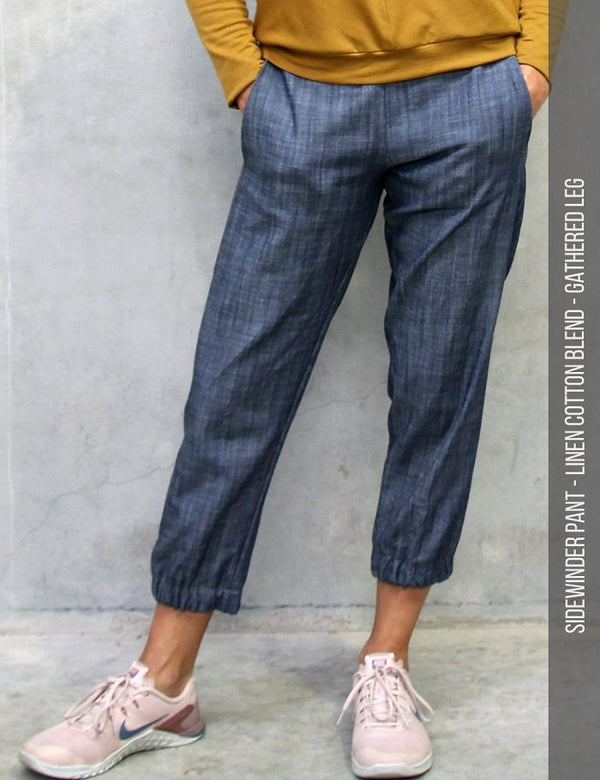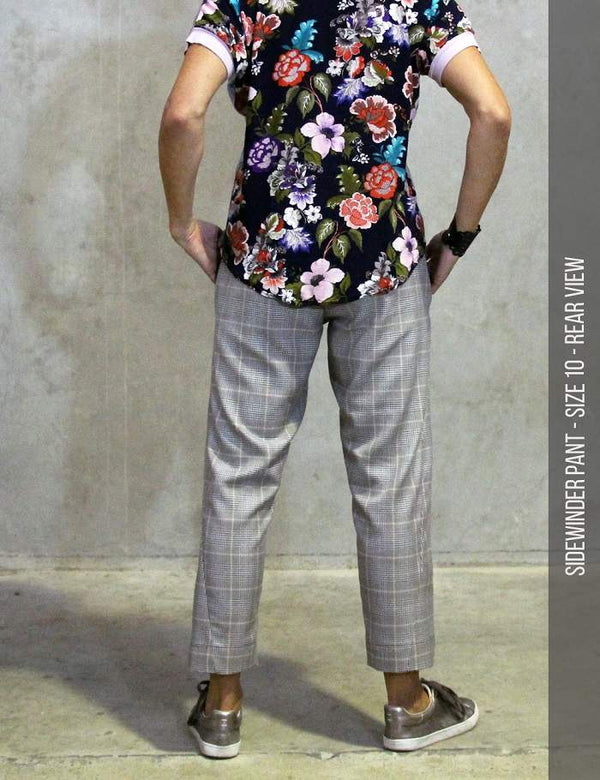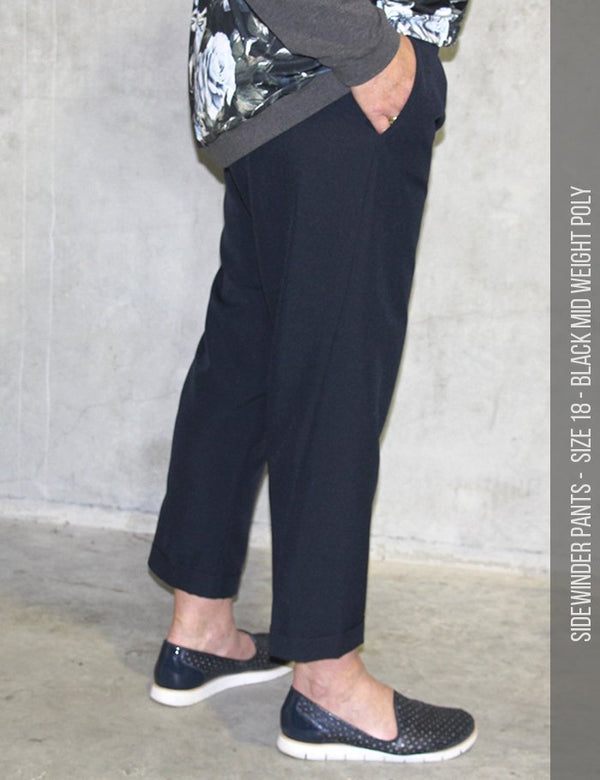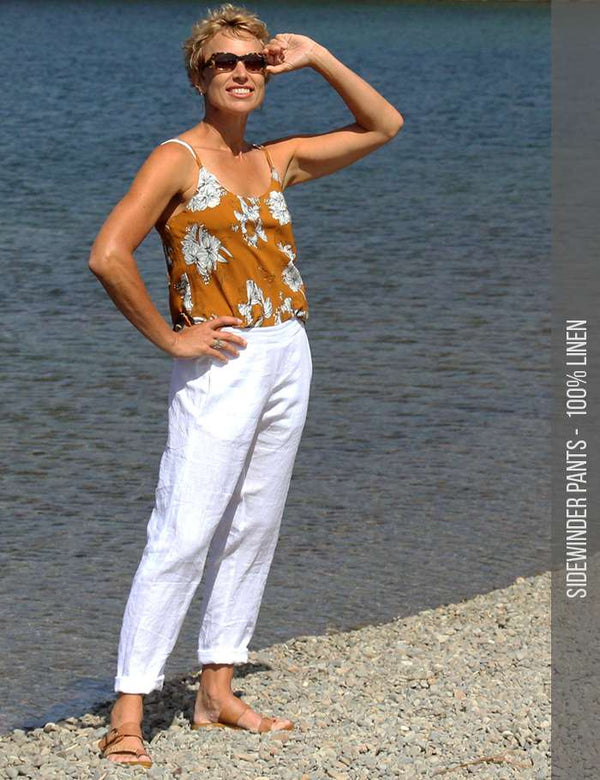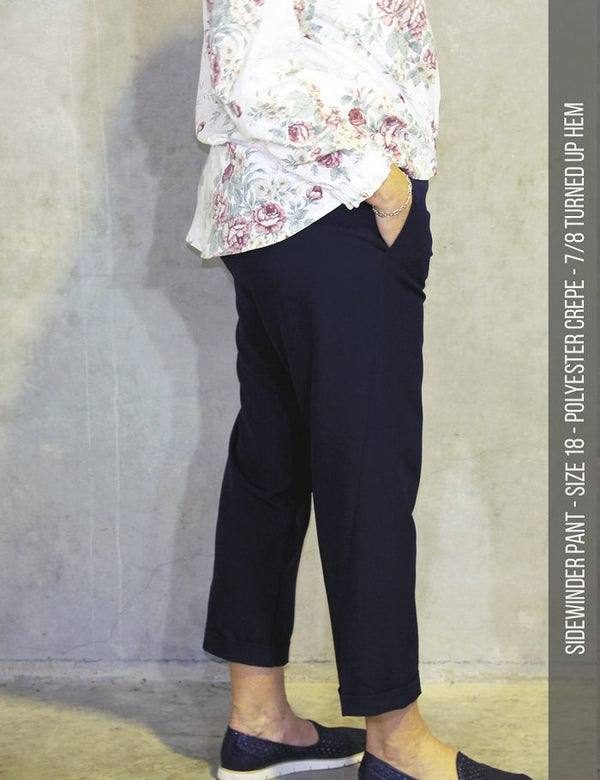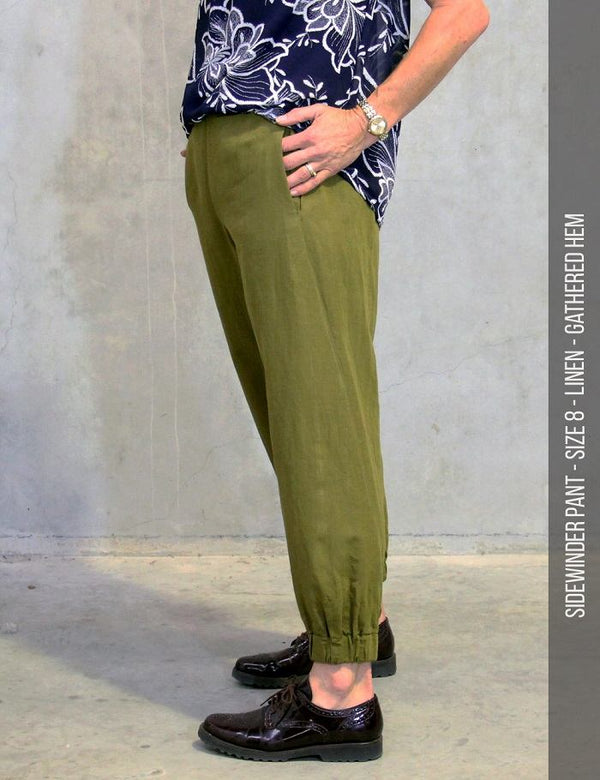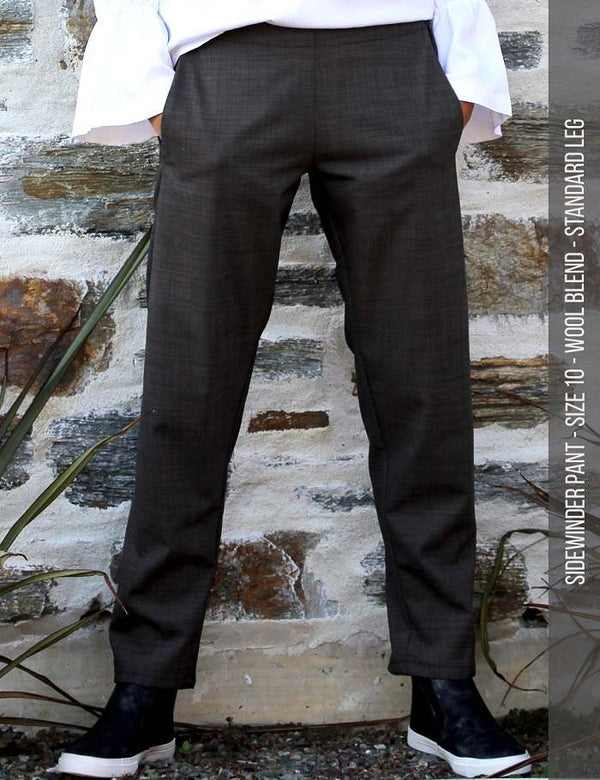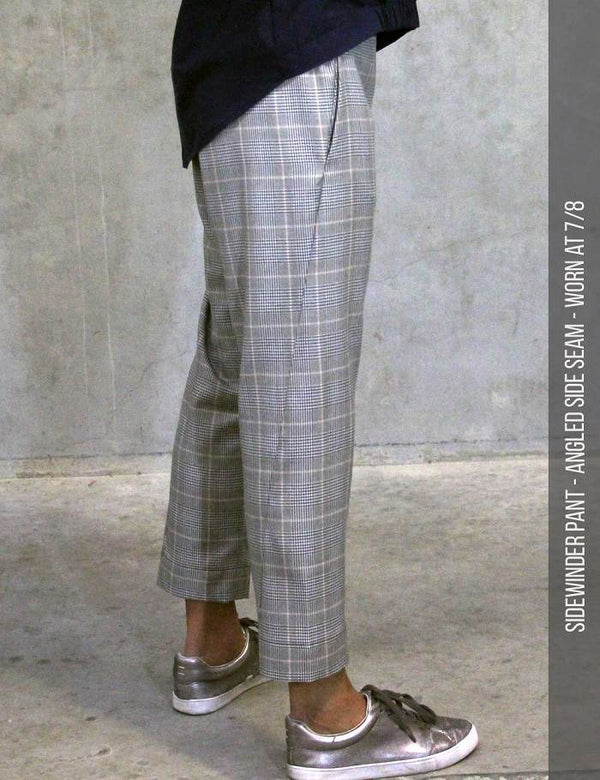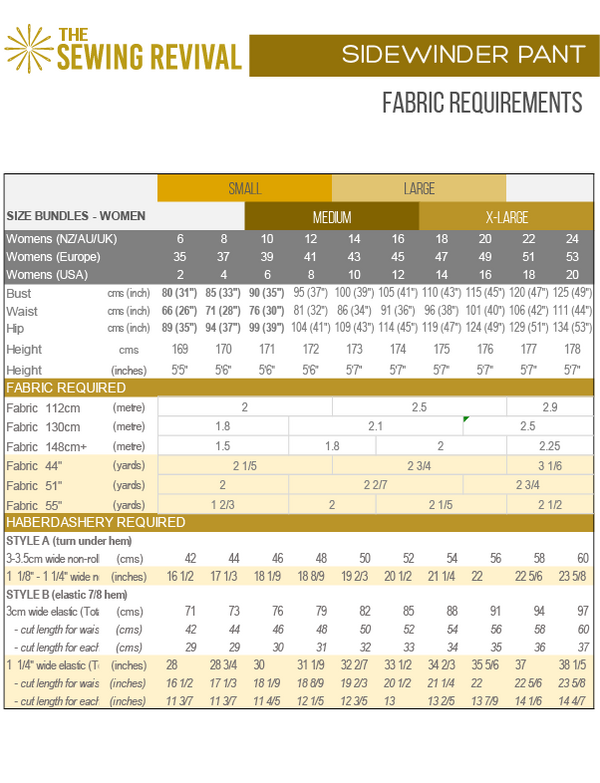 A simply constructed pant with a side seam that wraps the leg in diagonal line to flatter and streamline. The angled seam encompasses the easy-sew front internal pocket. The Sidewinder pants are pull on, with minimal back gather and easily constructed without buttons, zips or fastenings.

With a lightly tapered leg, these pants are designed to be worn just above the ankle with either a standard, fold up or deep gathered hem. The Sidewinders look just as flattering in the full length trouser option.
A perfect pattern for your first trousers - ideal for confident beginners.
STYLE OPTIONS: 
Fold under hem 

in 7/8 or full length.

Gathered hem in 7/8 or full length.
HELP: 
Choosing your Sidewinder Pant size 
How to lengthen the Sidewinder pants 


See what others have made in the Reviews tab below (or to the left). Filter on "with photos" to view.
SHARE  your makes on Instagram & Facebook tagging #SidewinderPants and @thesewingrevival
FABRIC
Please refer to the FABRIC REQUIREMENT CHART as one of the last images on this product listing. You can magnify this image if viewing it on a mobile phone whilst in a fabric store.
Designed for mid weight WOVEN fabrics, the Sidewinder Pants work well in polyester, viscose, tencel, linen and cotton blends. The pattern also has good results  in a light weight wool blend suiting for colder temperatures.  Keep in mind that a mid weight fabric that drapes well is preferred. If the fabric is too heavy or stiff the back waist gather will not flatter. 
Patterned fabric - The side seam is a key design feature and important to keep in mind when choosing your fabric. Jacquards, small prints and plain (block colour) are the easiest to sew. Plaids also look good (refer sample images) but are best matched at the side seam (intermediate sewers will find this easy enough and there is a tutorial to help here).
Sample images- our grey plaid sample is our stand out favourite and is constructed in a polyester/viscose weave with 2% spandex. The spandex is not essential but the fabric drapes beautifully, moves well and is easy to sew. The Sidewinder pants are designed for non-stretch woven fabrics so we do recommend you consider sewing down a size if you are using fabric with stretch.
DIFFICULTY
Confident Beginner (2/5).
The Sidewinder pants can be sewn with or without an overlocker (serger) to neaten the seams.
SIZE & FITTING
Please note that if you are in doubt, please choose the size depending on your HIP measurement. Choose your hip measure closest to the size chart in the first instance (and then refer to the finished measure chart for the amount of ease if you are "in between" sizes).
These pants have a gathered rear waistband (flat front) so the waist is easily adjustable. The hip measure should decide the size.
Each purchase comes with 4 sizes (please refer to the last image for size chart and international size comparisons). Hover over the image to magnify.

Small - (NZ/AU/UK 6-8-10-12  | US 2-4-6-8)                     
Medium - (NZ/AU/UK 10-12-14-16  | US 6-8-10-12)       
Large - (NZ/AU/UK 14-16-18-20  | US 10-12-14-16)        
X-Large - (NZ/AU/UK 18-20-22-24  | US 14-16-18-20)     

Please refer here for help choosing your Sidewinder Pant size

Refer our tutorial here for adjusting length of the Sidewinder Pants.
PATTERN UPDATES

The Sidewinder pants pattern files were updated in June 2021 to our latest pattern formats and size bundles. The pant leg was also adjusted to drape better.
If your version of the sewing pattern is not in a size bundle labelled S,M,L or XL then you have the older version and we highly recommend you log into your account (please note you will have to set up an account if you haven't already) to download the latest. Please get in touch at info@sewingrevival.co.nz if you need some help with this.

WHAT DO I GET WITH MY PURCHASE?
Please note you are purchasing a digital pattern that will be sent directly to your email inbox after payment. You can print this pattern at home on A4 or US letter-sized paper or take it to a print shop for large scale printing (AO size). *You will not receive a hard copy printed pattern.*
Instant download available immediately after checkout includes:

1. Instructions
2. PAH Pattern file (PAH=Print at home)
For printing in A4 or US Letter on a home printer. Printing at home is the most cost-effective, and sticking your pattern tiles together to make your full size pattern is easy. Further information for printing at home can be found in our Resources section here. 
3. AO Pattern file
AO is a large scale file designed to be printed at a Print Copy Shop. You cannot print this on your home printer as it is too big. If you choose to use this large file you will pay extra to have it printed but you do not have to stick anything together.
You can use the ADOBE LAYERS FEATURE to open the PAH pattern file and print only the size you need (and eliminate the "noise" of the unwanted sizes). You can also use the URL and bookmark links within the file to quickly access information and support. Download Adobe Reader for free (for Windows and Mac) here.
PRINTING
Each Sidewinder pant PDF sewing pattern comes with 4 sizes (please refer last image for size chart and international size comparisons - hover over the image to magnify).
Small - (NZ/AU/UK 6-8-10-12  | US 2-4-6-8)                     AO 2pg | PAH 23pg*
Medium - (NZ/AU/UK 10-12-14-16  | US 6-8-10-12)        AO 2pg | PAH 25pg
Large - (NZ/AU/UK 14-16-18-20  | US 10-12-14-16)         AO 2pg | PAH 25pg
X-Large - (NZ/AU/UK 18-20-22-24  | US 14-16-18-20)     AO 2pg | PAH 25pg
*PAH = Print At Home. For help printing at home click here.
AO= Large scale requiring a special printer. For help printing at a Copy Shop click here.
Reviews
Customer Reviews
12/04/2023
Nicola M.

New Zealand
All of the style none of the fiddly bits
Easy to follow instructions make it a great experience getting your pants from cutting table to body with the least amount of fuss. The pattern coverage means that you get a nice pair of pants from a criminally small amount of fabric.
11/28/2023
Robyn H.

New Zealand
Technical Problems
I could not use the patterns because I did not receive the promised pdf link and when I tried to follow up on the info@sewingrevival.co.nz I got bounce back emails telling me that the mail box is full and that this is a "permanent problem". There is no other way to communicate with this business so this very problematic…I am hoping that I may hear from The Sewing Revival via this review
11/23/2023
JULIE W.

United Kingdom
Brilliant Sidewinder Pants
This pattern put together excellently, all pieces fit very well. I made the size according to my measurements and they fit great. This was an easy make it took me an afternoon. Well done on a fabulous pattern!!!
11/09/2023
Jane F.

United Kingdom
Well fitting, smart, comfortable trouser pattern
The whole process of downloading and printing the PDF was easy and the instructions were clear. The sizing was accurate. I made my first pair in medium weight Italian linen and I'm very happy with them. I'm currently trying to decide which fabric I'll use for my next pair.
10/15/2023
Karen W.

United Kingdom
Another great pattern
Clear instructions were easy to follow.Love my new pants!
09/13/2023
Marie L.

United States
09/10/2023
Pauline H.

New Zealand
Sidewinder Pant
Love the pattern! Instructions are super easy to follow! Love the fit! The Sewing Revival are amazing to deal with. I had an issue with my download and they helped me through the process. Would recommend the pattern and pattern company to the world :))
09/02/2023
Terri T.

United Kingdom
Easy and very stylish
I've just finished my first pair of Sidewinder pants and am starting the second. The fit is perfect with no alterations at all and I love how quick and easy it is to sew. I've started my second pair in lightweight gingham cotton and the only thing I will change is to understitch the pockets to help them lie flat along the seam. I'm planning to make a wool pair for winter and then a linen pair next summer.
08/24/2023
Patricia B.

Germany
Best fitted pattern also for hourglas-Type
I've been thinking for a long time, if i should buy annother pattern, that will not fit without adjustment - and will look frumpy with a stretch-waistband. But i wanted to try the sidewind. My first one is a wider linen-pant and there will follow some more - trying different fabrics. I'd like to see more patterns with "special-effects". And its really easy to sew by following the instructions it's my first that doesn't look as a DIY-project
08/23/2023
Sonya F.

Canada
Yay for the Sidewinder pants pattern
I was curious how these pants would turn out because of the curved leg design—and they are fabulous. I used dark green linen. The pattern is easy to put together and the instructions are clear. I can't get over how well they fit. This is the second Sewing Revival pattern I've made. The Bellbird top is also easy to make and looks great in so many fabrics. I made another one in a beautiful soft, batik-type cotton to go with my new pants.
08/20/2023
Penny W.

United Kingdom
Great pattern
Easy to make and easy to wear.
07/30/2023
Diane R.

United States
Great pattern
Very clear directions Easy to assemble True to size The only modification I made was an increase in the rise as I prefer the waistband at my true waist Would definitely purchase from Sewing Revival again
07/27/2023
Lynn V.

Canada
Sidewinder Pant
PDF was easy to assemble & the pants came together very easily. I am a senior, apple shape, US size16 & did not expect a great fit, without making considerable adjustments. I did a mock up 1st from an old bed sheet & only had to adjust the length. The fit is perfect!! I've made 1 pair from linen and am now making a second pair from silk noil.
07/13/2023
Michelle C.

Australia
love the pattern
As yet have not made it up - need to go through my stash or shop for just the right fabric.
07/01/2023
Denise V.

United States
Sidewinder pant
First time sewing a pattern from Sewing Revival. Great pattern, well drafted and easy to sew!
06/28/2023
Dalene W.

South Africa
Sidewinder pant
Easy to work with the pattern. The pattern size is a good fit. The sidewinder pant is looking good on and complimenting the legs.
06/16/2023
Claudia S.

Germany
Super einfach - super bequem
Ein wirklich einfacher Schnitt. Als Anfänger machbar und das Teil sieht super aus!
06/15/2023
Malinda C.

United States
Sidewinder pants
Not good my daughter was printing the pattern and she opened the file to often and I never got pattern.I have been looking at the pattern for a long time and I missed my chance. Maybe I will try again thanks.
06/15/2023
The Sewing Revival
Hello Malinda, Please refer the instructions on both the order confirmation email and the download email (and the note on the download page) which states that your files are automatically saved in the "Downloads" (or sometimes "Documents") folder of your device. We do recommend that you right click to save them to a folder called "Sewing patterns" or somewhere you can find them again (and use them as many times as you wish) in the future. Please simply search your device for the pattern files or contact us if you have accidentally used all your downloads by viewing on a mobile phone. We are only ever an email away if you ever have any problems with our patterns. Never hesitate to reach out. Kind regards, Janine
06/15/2023
Malinda C.

United States
Sidewinder pants
Not good my daughter was printing the pattern and she opened the file to often and I never got pattern.I have been looking at the pattern for a long time and I missed my chance. Maybe I will try again thanks.
05/30/2023
Lindsay V.

South Africa
Great pair of trousers
Flattering pair of trousers. Flat fronted waist. Pockets don't add bulk.